Christmas markets, festive holiday lighting, mild weather, and fewer crowds: there are many reasons to visit Florence in winter.
Winter is actually a great time to visit Florence, as it's home to some of Italy's most impressive museums and art galleries… perfect winter activities, as they're all indoors!
Note: This post contains affiliate links, which means I may receive a small commission if you purchase something through one of these links. Thank you for supporting the free content on this site! For more information on affiliate links and cookies, see my disclosure page for more details.
Although there is much more you can do in Florence, like eating delicious Tuscan food and drinking some of the best Italian wine, the main reason to visit Florence is to discover its beautiful landmarks, palaces, and museums.
If you visit Florence in winter, you can take advantage of the smaller crowds, especially in popular places like the Uffizi Gallery and the Accademmia, where you can find the Statue of David.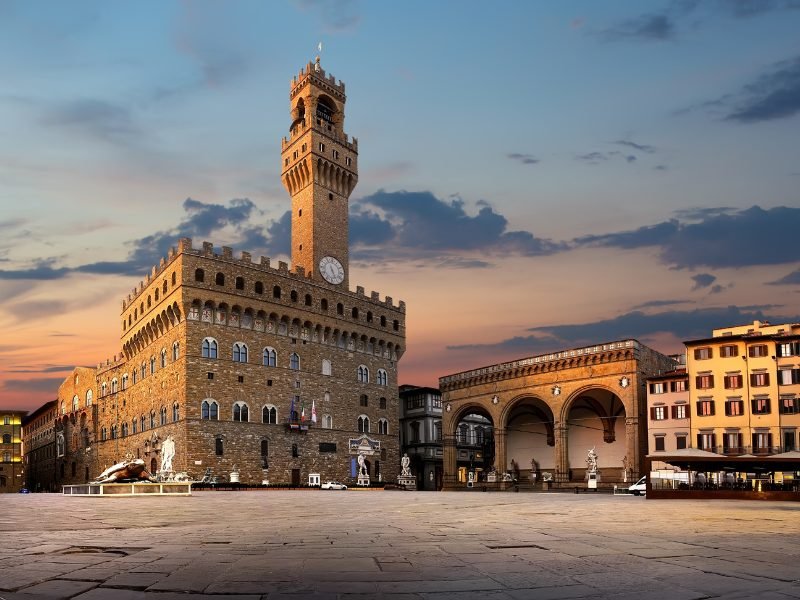 Plus, you can experience some truly unique winter events in Florence, like the Firenze Light Festival.
Read on to find out how to escape the winter cold in Florence, including the best museums and landmarks you shouldn't miss in winter in Florence when it's low season.
Combine the tips here with the general outline of our Florence itinerary (or this abbreviated one-day version) to plan the perfect winter Florence trip!
Best Things to Do in Florence in Winter
Check out the Christmas Market in Piazza Santa Croce.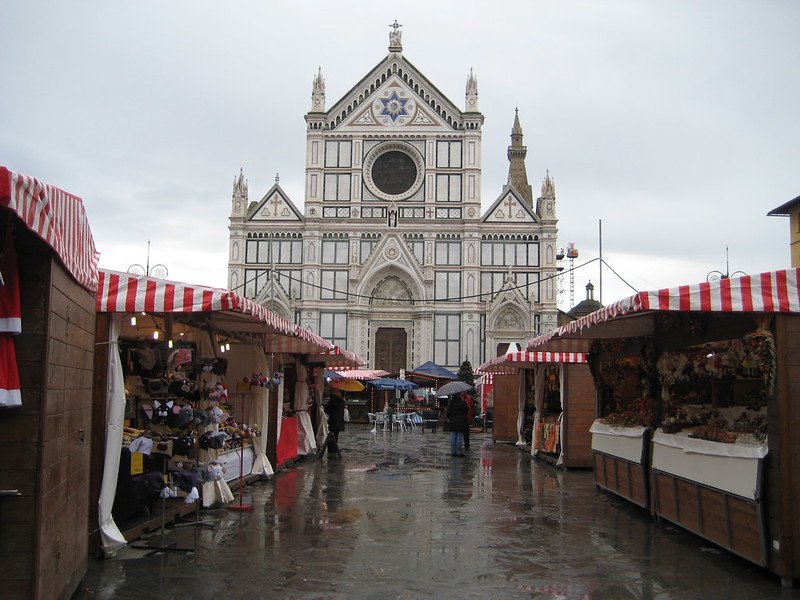 Although Christmas markets are not as popular in Italy as in the rest of Europe, Piazza Santa Croce hosts a quaint German-style market called the Weihnachtsmarkt Santa Croce every year in November and December.
In 2023, the official dates are November 18th through December 17th — yup, it wraps up a week before Christmas, so keep that in mind when planning a winter trip to Florence!
In the wooden market stalls in front of Santa Croce Basilica, you can buy anything from Christmas decorations to handmade toys to food & drinks.
To add to the festive spirit, there's also a decorated Christmas Tree and one of Italy's famous nativity scenes located in the piazza.
To celebrate German-style, you can eat bratwurst and traditional gingerbread cookies and drink beer or mulled wine… it's the ultimate way to feel the Christmas in Europe spirit.
This is the biggest Christmas market in the city of Florence, and visiting it is a must if you're in Florence between late November and Christmas.
Take advantage of the smaller crowds and visit the Duomo.
Winter is a great time to visit all the monuments in the city center and Piazza del Duomo without the crowds!
You can choose between three ways to visit the Florence Duomo: a Cathedral & Brunelleschi Dome ticket, the same sights with a guided tour), or a Cathedral only tour (no dome).
The Brunelleschi Dome options is the most complete, allowing you access to the Baptistery of San Giovanni, Giotto's Bell Tower, Brunelleschi's Dome, the Opera del Duomo Museum, and the ancient Basilica of Santa Reparata.
The great thing about this pass is that it is valid for three days from the chosen date for all monuments except for the Dome, which requires you to respect the chosen time slot.
Go ice skating at Firenze Winter Park.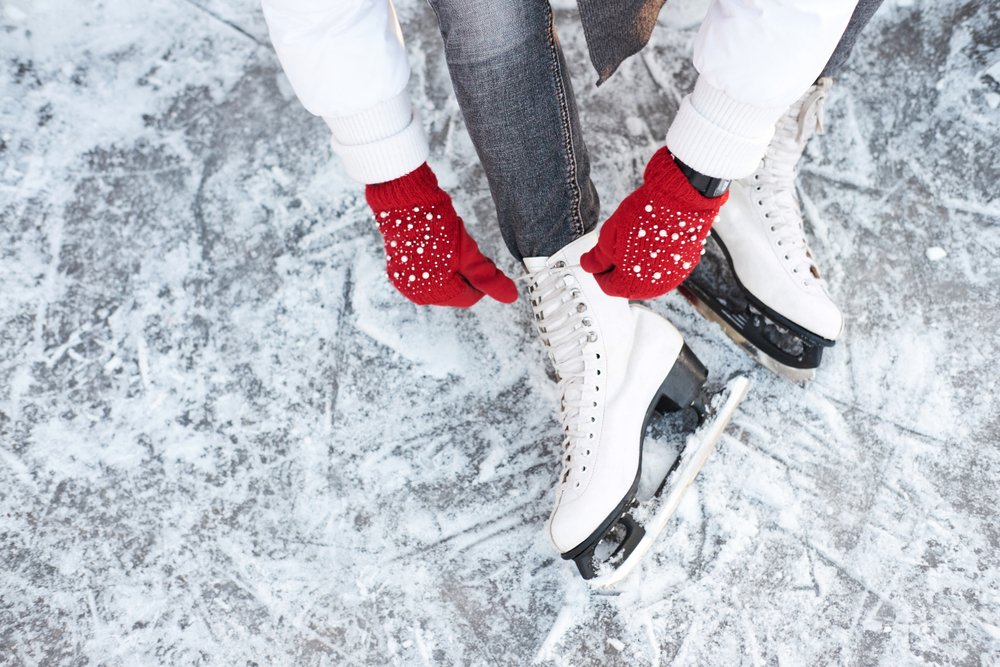 Firenze Winter Park is an event that brings winter activities to Florence from late October until the end of February, all throughout the winter months.
The event takes place in a wonderful location along the Arno River, in the gardens of the event venue Tuscany Hall.
At Firenze Winter Park, you can go ice skating on your own or even take ice hockey or artistic ice skating lessons!
After spending some time on the ice rink, fill up on some Italian or international cuisine at Il Rifugio del Firenze Winter Park.
The experience wouldn't be complete without a mug of mulled wine or hot chocolate and some roasted chestnuts or sweet crêpes to finish your day!
Admire the frescoes at Cappella Brancacci.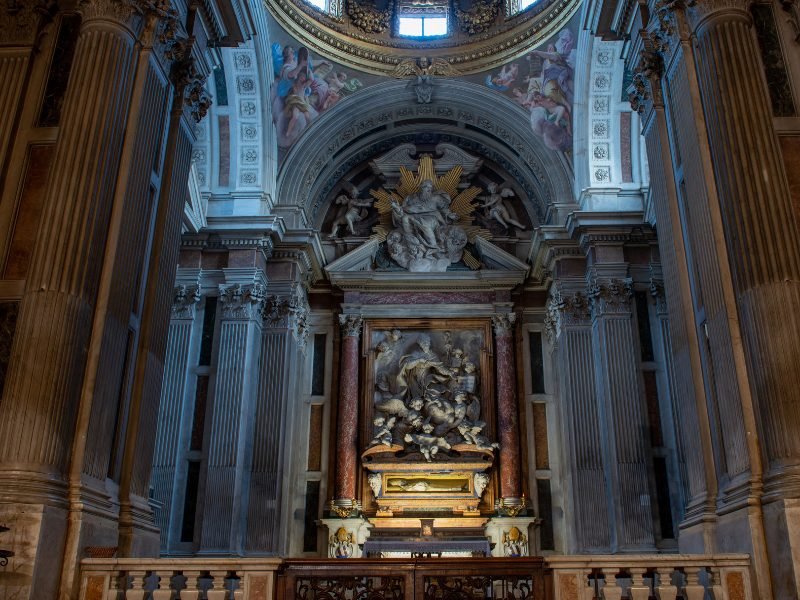 If you're just passing by the Santa Maria del Carmine Church, it's easy to think it is just a plain old church with nothing special.
However, the church houses a marvelous chapel covered in frescoes illustrating the life of St. Peter!
The church was partly destroyed in a fire in 1771, and many believe it is a miracle that the chapel remained intact.
Though small, this chapel houses an important example of Florentine Renaissance art.
Note that you can't access the chapel from the church. You must book a ticket in advance to visit the small museum since entry is limited to small groups for a maximum of half an hour.
Note: the chapel is only open from Friday to Monday.
Escape the cold in the luxurious Pitti Palace.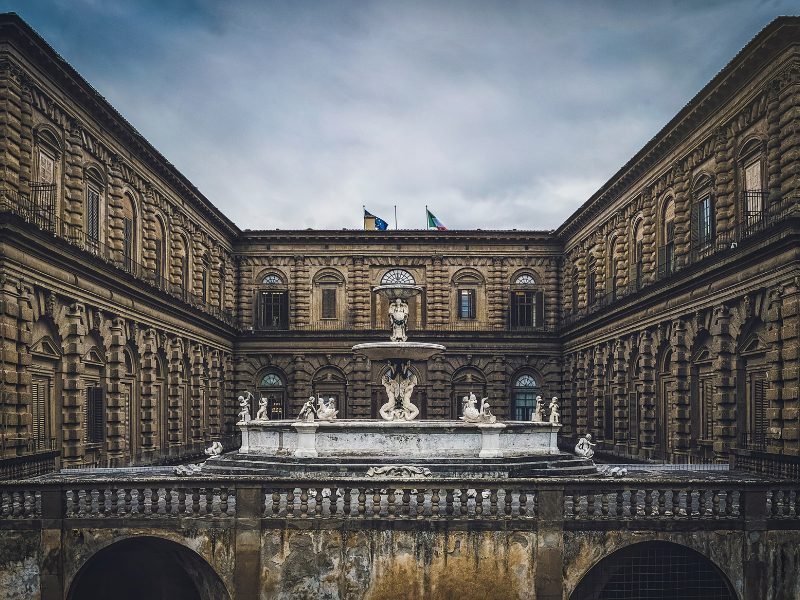 A symbol of the Medici family's power over Tuscany, Pitti Palace (Palazzo Pitti) once served as the Grand Ducal residence and the Court of the House of Habsburg-Lorraine and the House of Savoy.
At the time, it replaced the Palazzo Vecchio (which is now Florence's City Hall) in Piazza della Signoria as the main ducal residence.
However, the palace is still named after its first owner, Luca Pitti, who started building it in the 15th century.
Nowadays, in the Pitti Palace, you can visit the Treasury of the Grand Dukes, the Palatine Gallery and the Imperial and Royal Apartments, the Gallery of Modern Art, and the Museum of Costume and Fashion.
Pitti Palace is the perfect rainy day spot, as there is plenty to see if you want to escape the dreary weather on a Florence winter day.
Want another reason to visit the Pitti Palace in winter?
From the 1st of November to the end of February, you get a 50% discount on admission tickets after 3 PM. This means you can visit all the collections for just 5€!
While visiting Pitti Palace, don't miss the chance to stroll through Boboli Gardens, which are decorated beautifully during the winter season.
Visit the Uffizi Gallery without the usual crowds.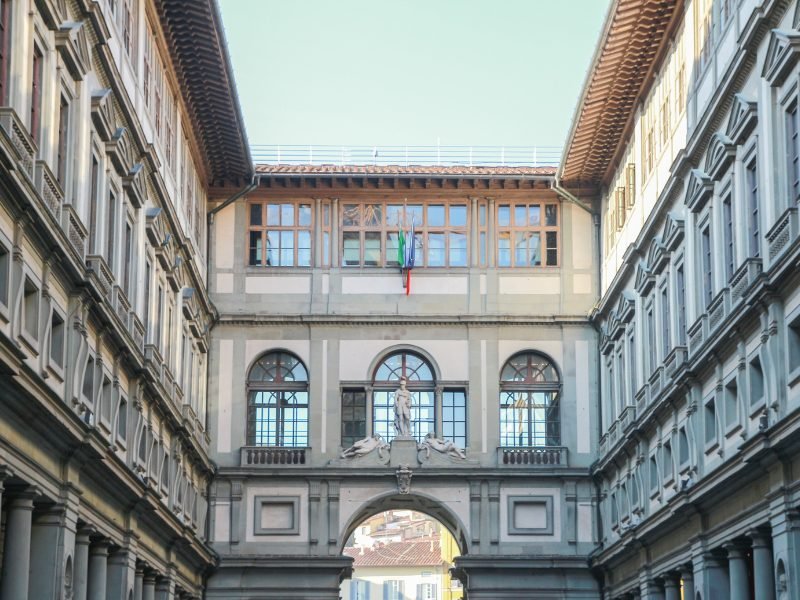 The Uffizi Gallery is by far the most important museum in Florence!
In 2021, this famous Florentine museum was the most visited museum in Italy, surpassing even the Colosseum and the Vatican Museums!
Owing to this, it's safe to say you'll find the place packed in high season… but not in the winter months!
One of the perks of visiting Florence in winter is that you'll find fewer crowds in the museums, and the Uffizi is no exception.
However, you may still find a line also during the low season. Buy your ticket in advance to save time and skip the line.
The museum boasts an incredible collection of ancient sculptures and paintings, including masterpieces by Leonardo, Raffaello, Botticelli, Michelangelo, and Caravaggio, to name a few.
You can easily spend half a day exploring the Uffizi and still not see everything, so it can be beneficial to book a guided tour so that your tour guide can point out all the most important parts of the museum.
Book a tour of the Uffizi here! Or, if you just want to skip the lines, book your entry ticket here.
Have a typical Florentine dinner at a local restaurant.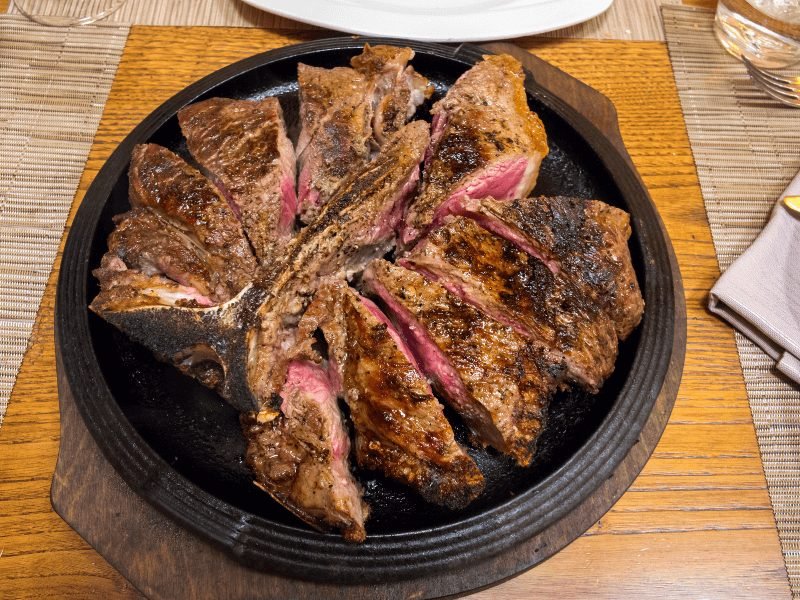 No trip to any Italian city would be complete without enjoying traditional Italian cuisine!
In Florence, by far the most famous dish is the Florentine steak, ideally served "al sangue" or rare.
Some of the most popular places that serve great Fiorentina are I' Tuscani 2, Trattoria Mario, Trattoria Antico Fattore, Natalino, and Trattoria dall'Oste.
If you don't eat meat, there are many other choices! Most restaurants serve some vegetarian pasta and other dishes like hearty stews and soups.
Some must-try winter dishes are the ribollita, a soup with bread and vegetables, or the carabaccia, the Tuscan onion soup. Try them at Trattoria Baldini or Acquacotta Trattoria.
Go see the famous David of Michelangelo at Accademia Gallery.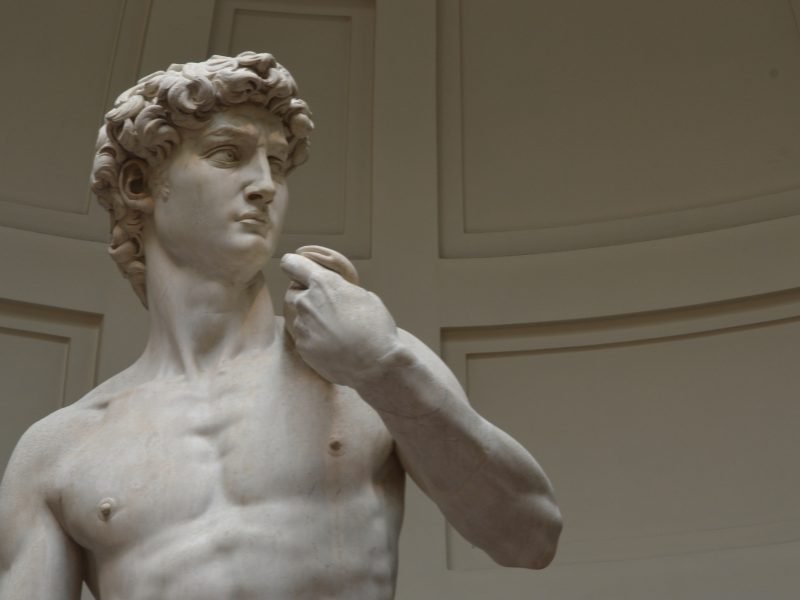 The main reason to visit the Accademia Gallery is to see one of the most famous sculptures in the history of art, Michelangelo's David.
The masterpiece, a symbol of the High Renaissance style, draws hundreds of thousands of visitors to the museum each year.
Winter is the best time to admire the iconic statue, thanks to the smaller crowds. However, this is not all the museum has to offer!
Despite being quite a small museum, it houses many Renaissance paintings, several other Michelangelo sculptures, and an impressive collection of musical instruments collected between the 17th and the 19th centuries.
You can buy tickets for the Accademia Gallery online to skip the line or at the on-site ticket office.
Tip: If you visit on the first Sunday of the month, you can take advantage of free entry!
Check out the Firenze Light Festival.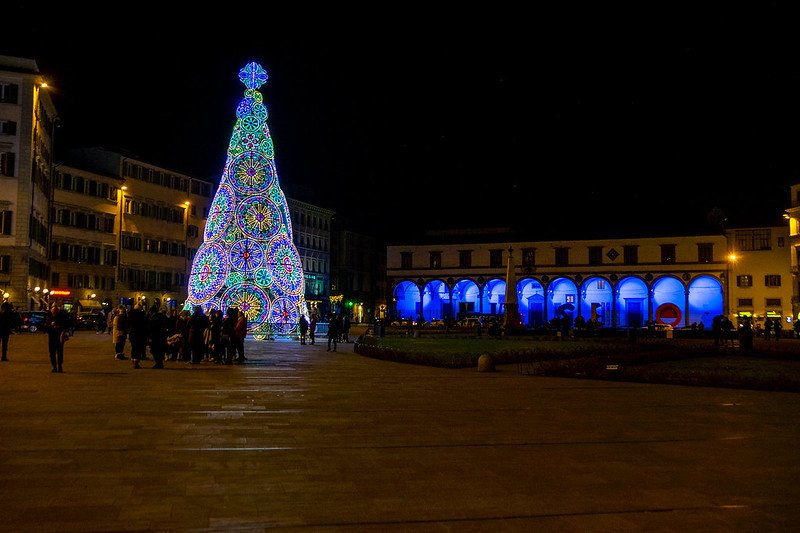 During the holiday season, from early December until the beginning of January, Florence becomes the scene of the F-Light or Firenze Light Festival.
During this time, the most important locations and landmarks in Florence are illuminated with light installations, illustrations, and shows.
Some of the must-see spots during the F-Light are Ponte Vecchio, Piazza San Lorenzo, Piazza Santissima Annunziata, and Museo Galilei.
Many other buildings all over the city are part of the festival, including old city gates and towers.
The lights turn on in the late afternoon and illuminate the city until midnight. Walking around Florence during this time is magical!
Every year there is a different theme for the festival, from important personalities to historical events.
Past editions celebrated Leonardo Da Vinci, Dante, and the 50 year anniversary of the moon landing.
Warm up with a hot chocolate at Venchi or Vestri.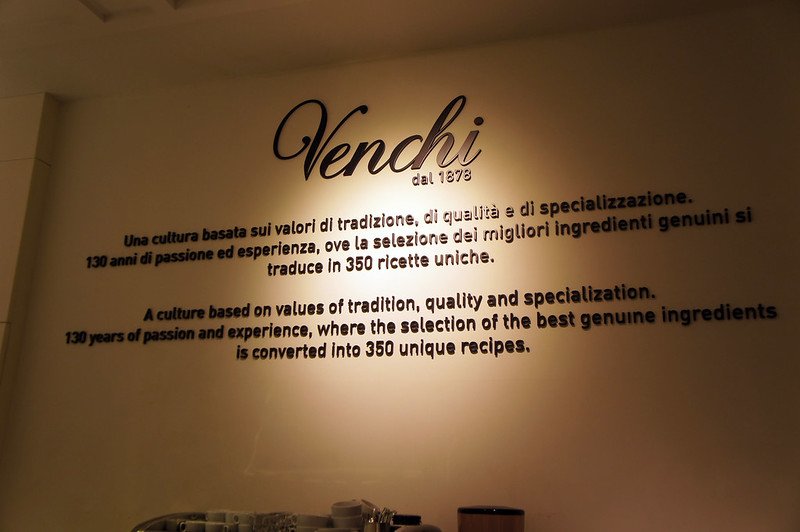 On cold afternoons, a great way to warm up in Florence is by indulging in delicious hot chocolate!
Contrary to what you might expect, hot chocolate in Italy is not exactly a drink. Italian hot chocolate is so thick and creamy that you can eat it with a spoon!
There are many places to enjoy hot chocolate in Florence, like the several locations of Venchi, an old Italian gourmet chocolate manufacturer.
Another unique place in Florence is Vestri, a small artisan chocolate manufacturer that sells delicious gelato in summer and delightful hot chocolate in winter.
Discover the latest exhibition at Palazzo Strozzi.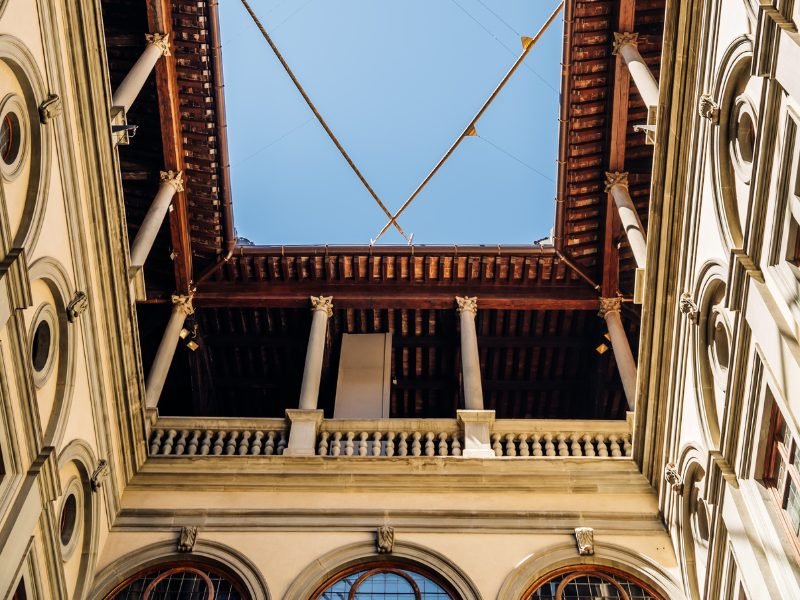 Palazzo Strozzi is a beautiful Renaissance palace in Florence that belonged to the Strozzi family, a rival of the Medici family.
In 1940, the palace became an exhibition venue and continues to be the most important one in Florence.
The palace has a lovely inner courtyard that often houses impressive art pieces, depending on the ongoing exhibitions.
At Palazzo Strozzi, you may find anything from Renaissance art to modern art and even digital art.
The space constantly houses at least one temporary exhibition, so you'll find something new every three to four months.
The gallery is open daily, but the ticket office is usually only open during the week. You may also buy tickets online and show up at the chosen time.
Go shopping during the winter sales.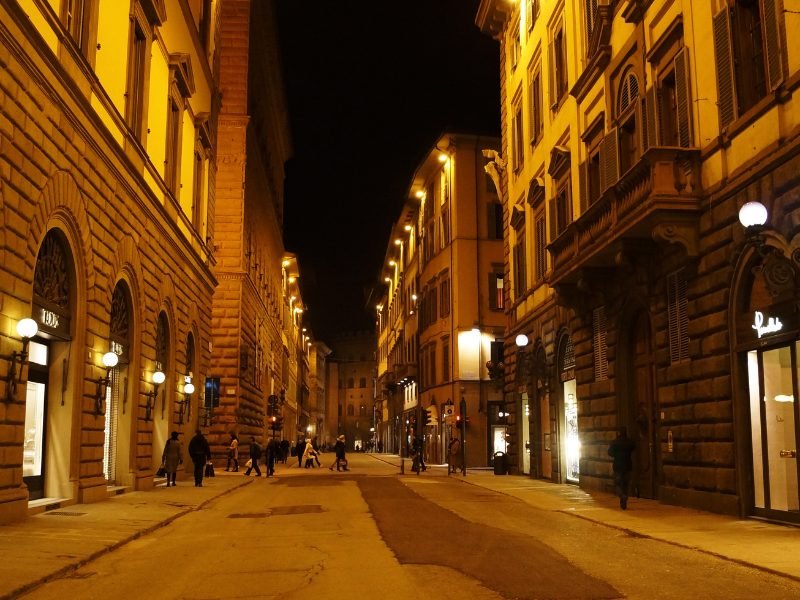 Every year, around the 6th of January (the Epiphany holiday), winter sales begin in Florence and last for roughly two months.
This is your best occasion to renew your wardrobe with some Italian fashion at excellent prices!
Florence is full of shopping streets and malls with anything from high-end fashion to small artisan shops selling leather goods, scarves, and other handmade items.
The most famous shopping street in Florence is Via de' Tornabuoni, where you can find brand stores like Gucci, Versace, Roberto Cavalli, Emilio Pucci, and many others.
Via dei Calzaiuoli has a variety of stores, from luxury ones like Chanel to department stores like Coin.
If you want to find small artisan stores, head to Via del Corso or Via Santo Spirito.
Wonder over historical scientific artifacts at Museo Galileo.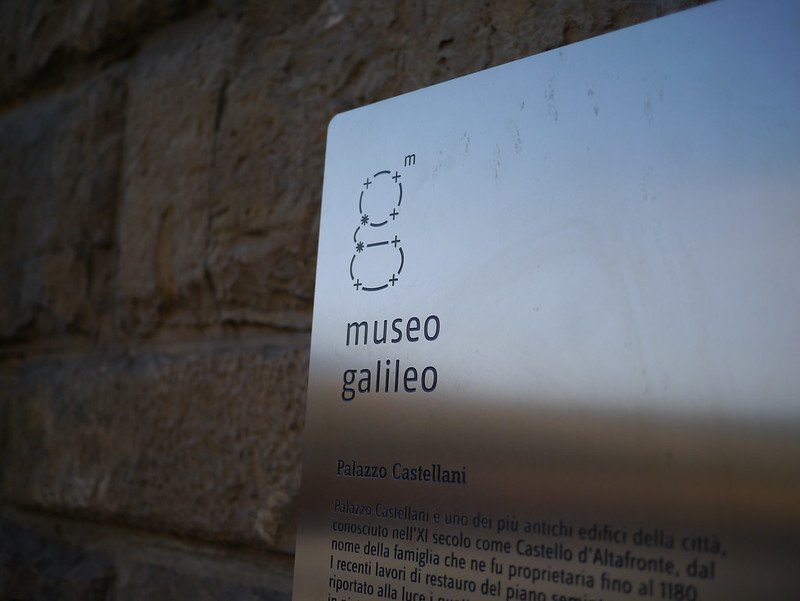 If you're passionate about everything science, Museo Galileo is a great place to spend some time indoors in Florence in winter!
This collection of scientific artifacts started with the Medici family in the 16th century. However, the museum as you see it today was only opened in 1930 by the University of Florence.
The permanent exhibition includes a vast collection of artifacts and instruments used in astronomy, pharmacy, biology, physics, and chemistry.
You can see items like the telescope used by Galileo, a collection of world globes, ancient maps, and even Galileo's finger and tooth!
The museum rarely is crowded, but it's even less so during wintertime. You can take your time wandering around the rooms and admiring the many different items on display.
Shop for local products and have lunch at the Central Market.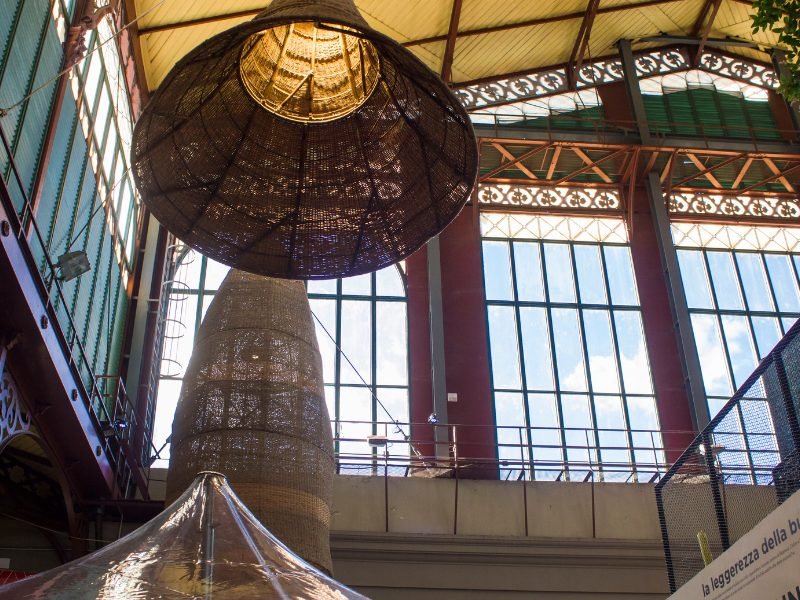 The Central Market is a food market housed in the historical San Lorenzo market hall.
On the ground floor, you can shop for local products like cheese, cured meats, fruits and vegetables, and much more.
You can also find specialty stores selling artisan and homemade products that you can buy as gifts to bring home. You'll find products like truffle oil, honey, extra-virgin olive oil, or balsamic vinegar.
In the recently renovated gourmet food area on the second floor, you can have a delicious lunch. The large market hall brings different Italian culinary traditions to one place!
Try Neapolitan pizza, sample different types of cheese, drink Chianti wine, try Sicilian cannoli, eat Materan specialties, and drink great coffee.
You can even take cooking lessons at the Lorenzo de' Medici Cooking School!
Outside the market, you'll find stalls selling all kinds of leather goods and souvenirs. This is the place to go to find good deals on unique leather items!
Visit Bargello, Italy's first national museum.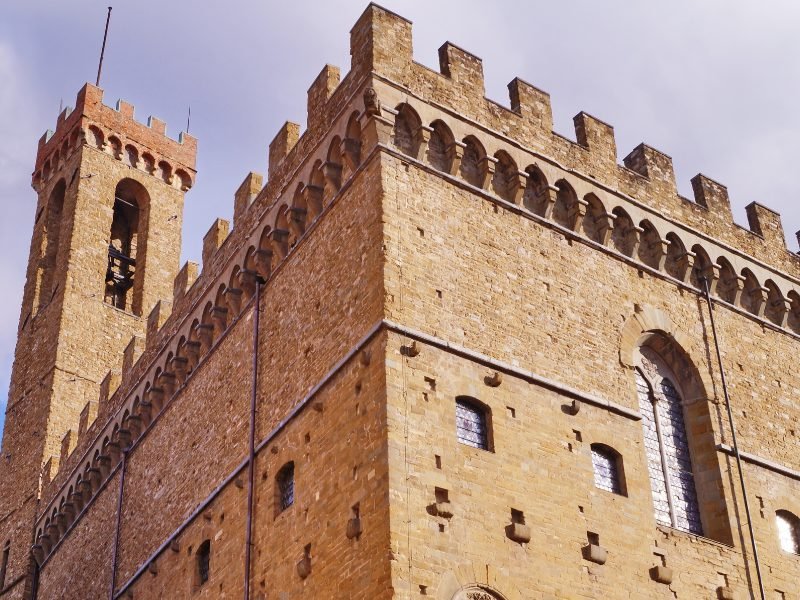 Cold winter days in Florence are perfect for visiting museums, and Bargello National Museum is one of the most underrated ones that is still definitely worth a visit!
Located in a historical Florentine palace, Palazzo del Podestà, this was Italy's first national museum in 1865.
The 13th-century building is itself a must-see, with the impressive inner courtyard and beautifully decorated rooms.
The museum houses a permanent collection featuring masterpieces by Donatello, Michelangelo, and other Renaissance artists.
Aside from the impressive sculptures, you can see tapestries, ceramics, and textiles from the Medici collections.
If you plan on spending more than three days in Florence and enjoy visiting museums, you can get a reduced cumulative ticket for all the Bargello Museums over three days (Bargello, Medici Chapels, Davanzati, Orsanmichele, and Casa Martelli).
Drink a glass of Chianti in an enoteca.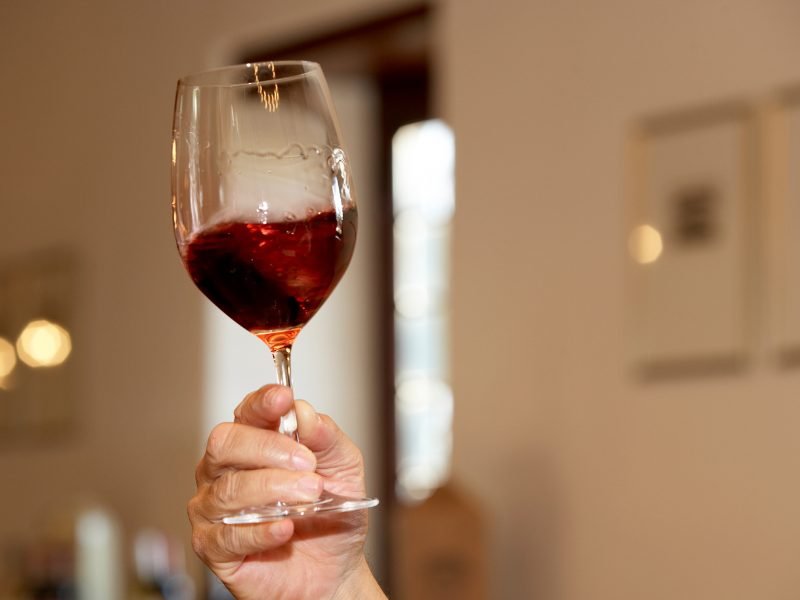 If you like wine, a perfect way to warm up on a cold evening is to drink a glass of Chianti, the most famous Tuscan wine!
There is no shortage of wine bars (enoteche) in Florence. You'll find them all over the historic center and on the opposite side of the river.
Some of the most popular places are Enoteca Pitti Gola e Cantina, Le Volpi e l'Uva, Il Santino, Note di Vino, and Casa Del Vino Firenze.
Savor a glass of wine on its own or pair it with a cheese or charcuterie board and make it an aperitivo or even a light dinner!
Take a day trip to try Tuscan wines.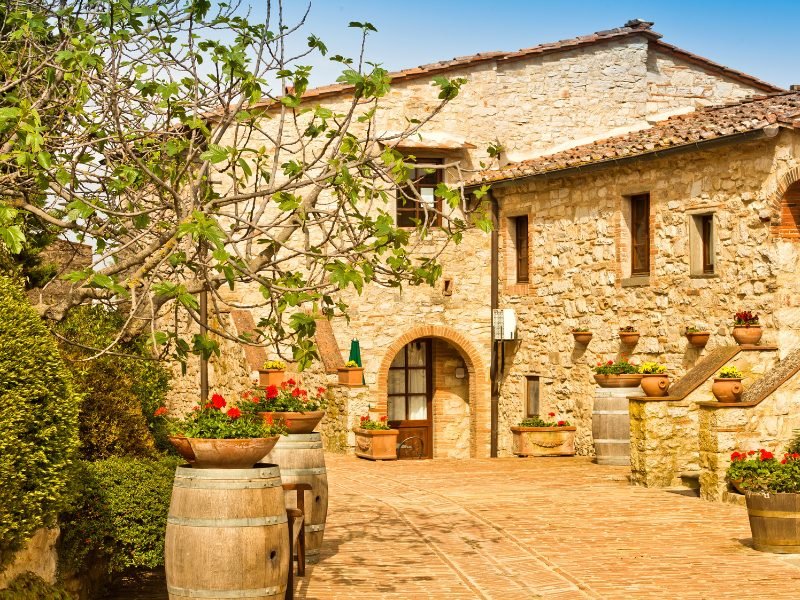 If you're a real wine geek, you won't just want to visit the enoteche of Florence… you'll likely want to go on a true wine tour of Tuscany, one of the best day trips from Florence in the winter!
There are a number of wine tours of Tuscany you can take as a day trip from Florence, bringing you to quaint Tuscan towns and villages like San Gimignano, Siena, and more.
There are a number of Tuscan wine tours to choose from — we suggest this one that visits two small but esteemed wineries in Tuscany, including tastings of wine and olive oil.
You could also spend several days — from 5 days in Tuscany to a week or more — exploring this wine region!
Where to Stay in Florence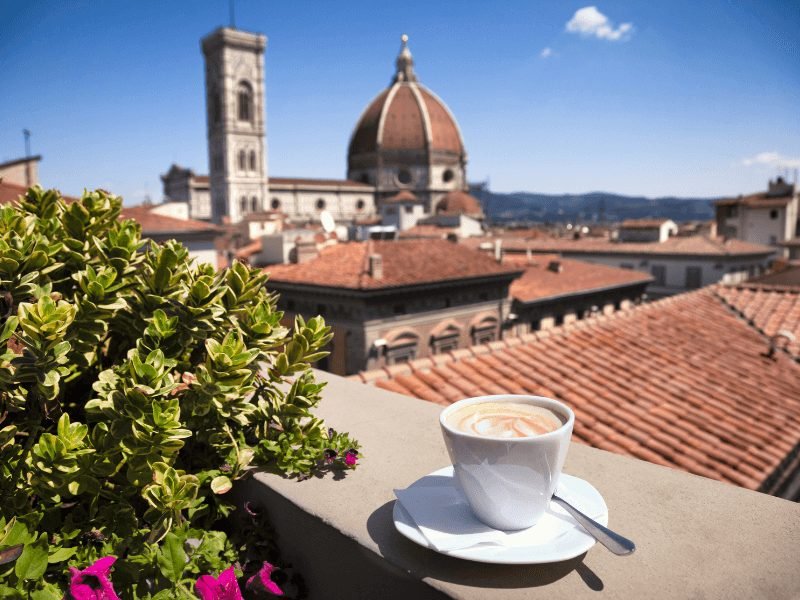 City Center
The historic part of town is often more crowded and touristic since it hosts some of the most visited landmarks in Florence.
That said, there are lots of great places to stay in the area for any budget, especially in the winter months when the prices are lower.
For instance, Cicerone is a comfortable guest house with great reviews, in the heart of the city center, perfect for solo travelers and small groups!
Oltrarno
The Oltrarno district, instead, is quieter and has a more local vibe. It hosts a few hotels but also several rental homes and vacation apartments, perfect for a longer stay or simply a more relaxed kind of stay.
Piccolo Borgo Antico is a small but cozy apartment in the Santo Spirito district of Oltrarno offering easy access on foot to the gorgeous Boboli Gardens.
Santa Maria Novella
The area near the train station, known as Santa Maria Novella can also be a good place to stay. It is not as crowded as the train station in Rome or Milan nor as notorious for pickpockets.
Budget travelers can find plenty of accommodation choices in the area, for example, Hotel Unicorno, a 3-star hotel set in a building dating back to the seventeenth century, is only steps from many of Florence's celebrated attractions.
Don't Forget Travel insurance!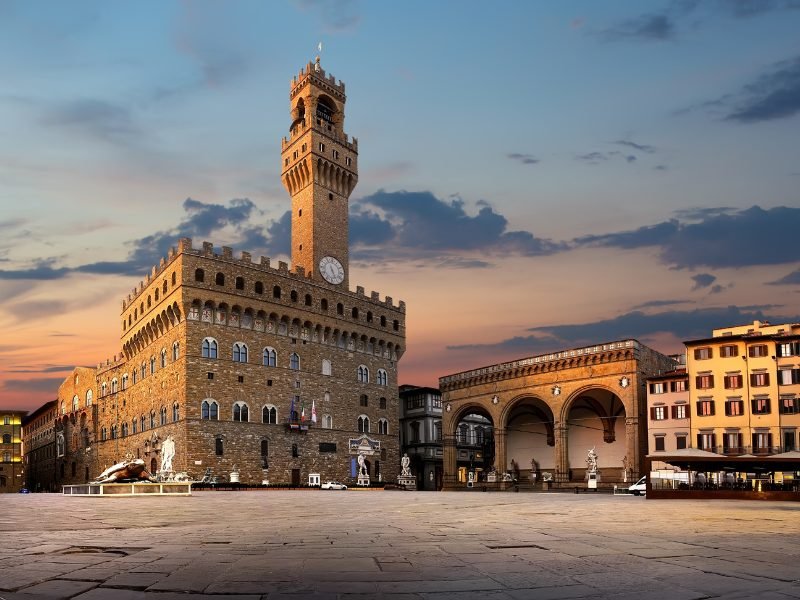 When planning any trip, especially a winter trip, be sure not to forget about travel insurance!
I use SafetyWing and its Nomad Insurance to insure all of my international trips for its affordable rates and comprehensive coverage for all my travel needs.
It provides both travel insurance (coverage for trip delays, cancellations, interruptions — the likelihood of which increases in winter) and travel medical insurance (coverage for things like accidents, illnesses including Covid, etc. — also more likely in winter!).
Coverage is really affordable — for me, it costs roughly $12 USD for a week of coverage outside of the U.S., with a policy max of $250,000 after a deductible of $250. Not bad!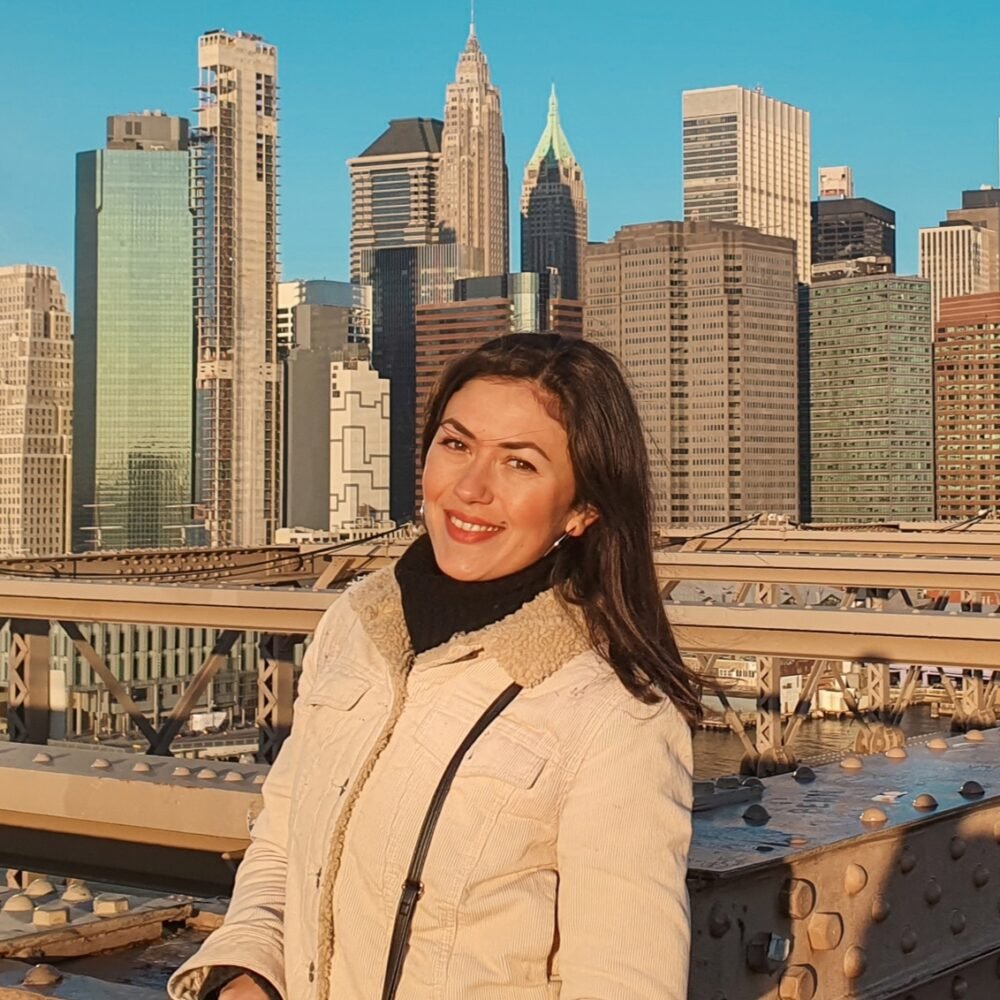 Roxana is a Romanian-born freelance travel writer who has lived in Italy for over 15 years. She has a Master's in Journalism and a Bachelor's in Film Studies. Her mission is to find hidden gems, even in the most popular travel destinations, and to inspire people to explore new places and cultures with the same curiosity! When she is not traveling, writing, or planning her next trip, she is either binge-watching TV shows or reading books.