If you're planning a tropical vacation to Tahiti and other French Polynesian islands like Moorea and Bora Bora, here's a Tahiti packing list that will help!
Whether you plan to just relax and chill in an overwater bungalow on a Bora Bora or Moorea getaway, or have a more active trip filled with water activities like scuba diving and jet skiing all over Moorea and Tahiti, this guide will help!
I just got back from a 10-day trip to Moorea and Tahiti (a 5 day itinerary in Moorea, and a 5 day itinerary in Tahiti) and here's what I packed — and a few things I wished I packed!
Notes on Packing for French Polynesia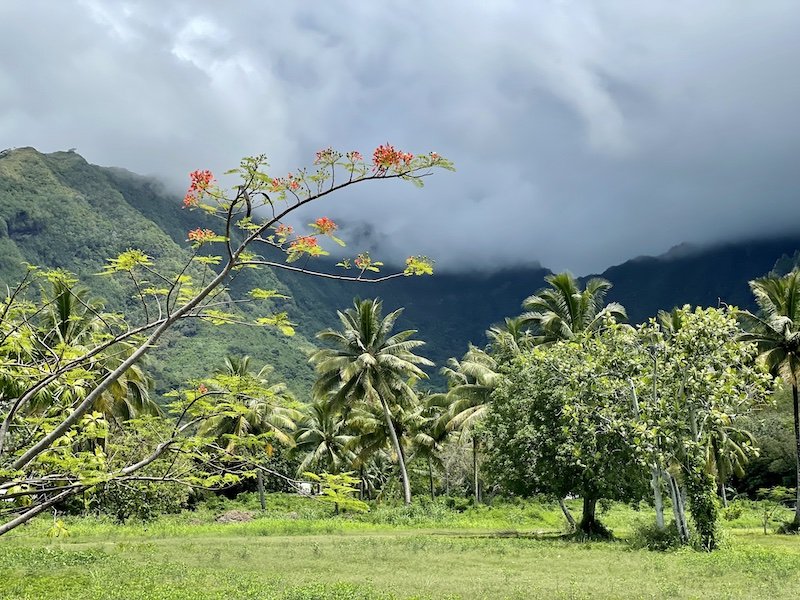 Note: This post contains affiliate links, which means I may receive a small commission if you purchase something through one of these links. Thank you for supporting the free content on this site! For more information on affiliate links and cookies, see my disclosure page for more details.
For biosecurity reasons, there are strict limits on bringing in fresh fruit and food items into French Polynesia. You can read about them here.
I wouldn't bring a lot of food from home — just enough to consume on the plane — or you risk having to throw it out at the airport when you arrive.
Another thing to consider is whether you are traveling only between Tahiti and Moorea, which only requires ferries, or if you are also traveling to other islands, such as Bora Bora.
If you fly to other islands, be aware that inter-island flights via Air Tahiti have stricter weight limits.
The planes are a lot smaller than the jets that bring international travelers to Tahiti… you're hopping between tiny islands in the South Pacific, after all!
Don't get hit with tons of excess baggage charges. Pack lightly to save a headache!
You'll also want to leave a little room in your suitcase for bringing back Tahiti souvenirs!
Travel Documents & Preparation
Passport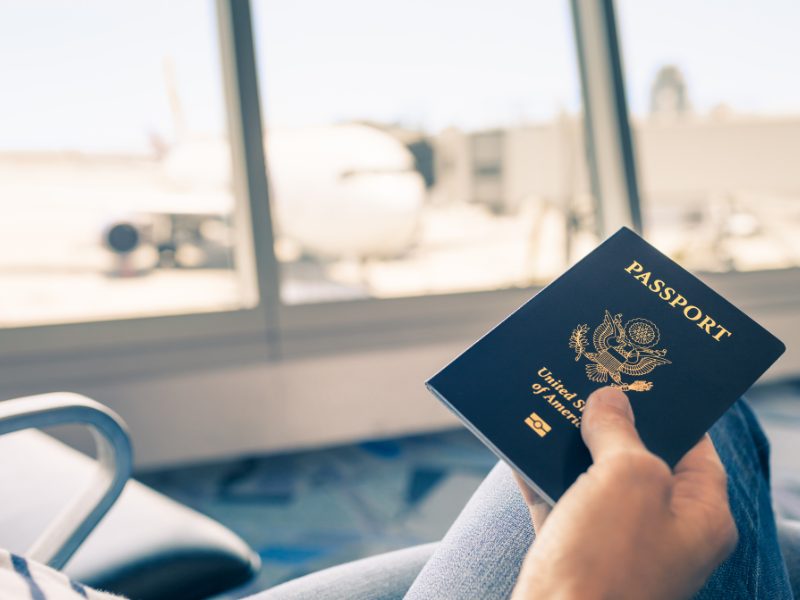 French Polynesia is part of France, so if you typically need a visa for France, you may need one for the islands of French Polynesia.
This helpful visa wizard on the French government website will let you know if you need a visa.
Generally, if you don't need a visa to enter the Schengen European zone, you won't need one for French Polynesia, but I suggest you double check.
Also, make sure your passport has at least six months of validity — I've had too many close friends and family members have travel plans derailed or delayed due to forgetting to check on this!
Also, if you're a European citizen, you'll get to enjoy a zippy, expedited passport control line that moves a lot faster than the non-EU citizen line!
Driver's License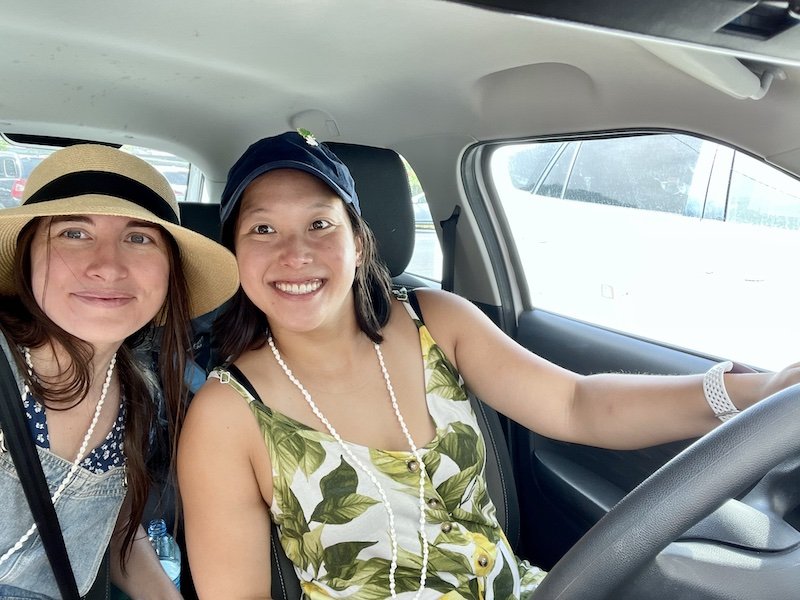 I strongly recommend renting a car while you are in Tahiti!
We didn't have a car rental in Moorea and we regretted it, but we loved having a car in Tahiti.
The one exception would be if you plan to strictly have a resort stay where you don't leave the resort and all your activities are planned by the resort… but where's the fun in that?
If you plan on renting a car while exploring Tahiti or other larger islands, you'll need to bring your driver's license.
As long as your driver's license is in English or French, you should be good to go.
If your driver's license is in another language, you will want to have an international driver's permit just in case.
Credit Card + Debit Card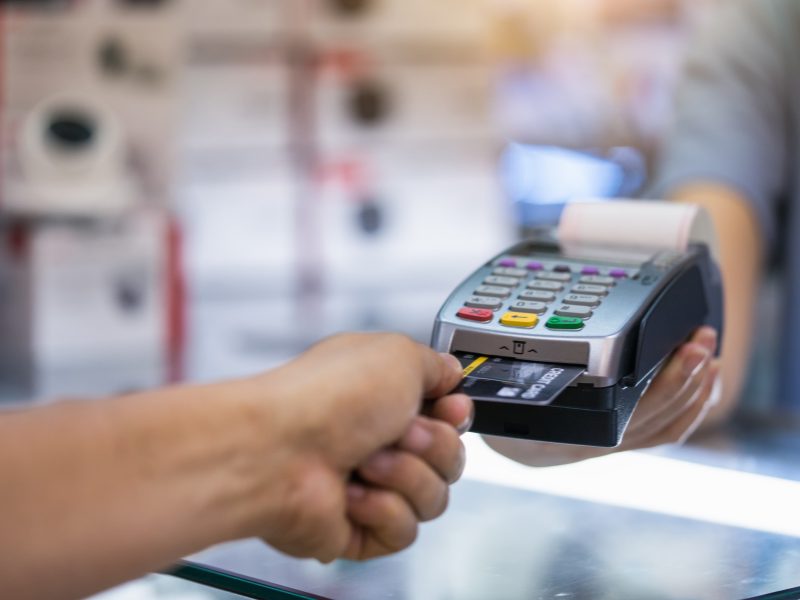 Be sure to bring at least one credit card (especially if renting a car) and a debit card for your trip to Tahiti.
And of course, be sure to notify your card companies that you'll be traveling to avoid any hassle upon arrival!
You may also want to bring a backup debit card just in case you lose one.
You will need cash for a handful of things in French Polynesia, such as taking taxis, so to be without a debit card would be a real hassle.
PADI Card (If Diving)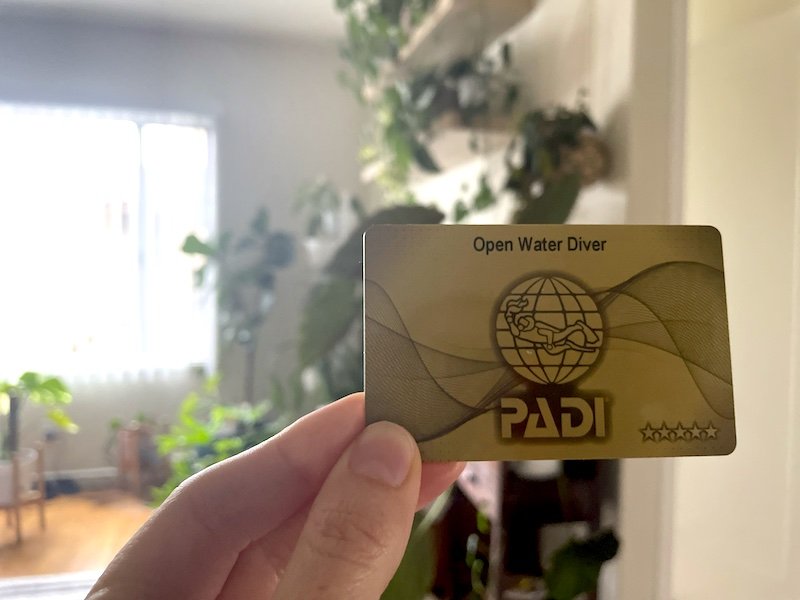 If you're a certified scuba diver, you'll definitely want to bring your PADI card and log book.
Be sure to have dive insurance or travel insurance that covers diving as well. I used Safety Wing to cover me for my most recent trip.
They actually cover dive-related medical expenses so long as you're certified, which is rare with travel insurance companies!
Travel Insurance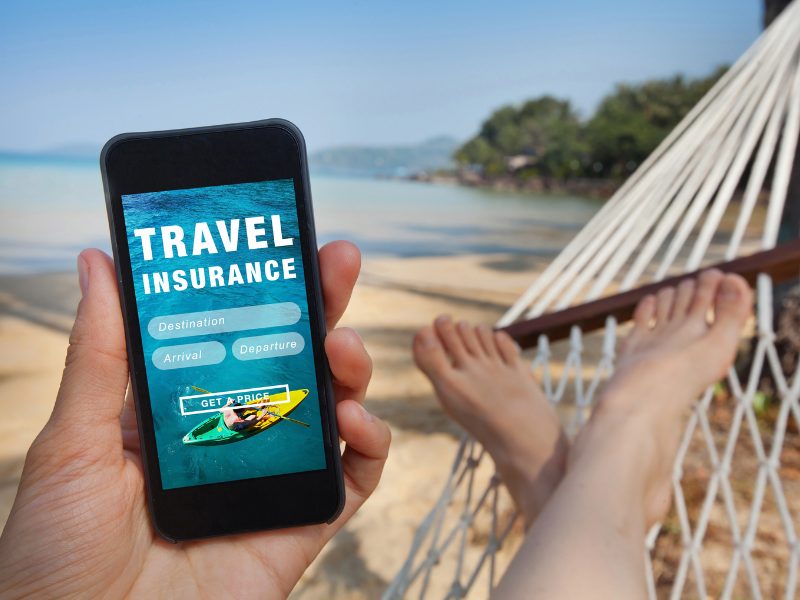 I used to always book my travel insurance through World Nomads but I've recently switched over to SafetyWing.
Not only is it dramatically cheaper while maintaining the same benefits, it also covers diving, so long as you are PADI certified (which you had to pay extra for with World Nomads).
Dive insurance can be expensive, so I thought it was great that SafetyWing includes dive coverage in their basic policy, the Nomad Insurance travel medical insurance coverage.
For my recent trip to French Polynesia, I paid just $18 for a 10-day trip — a great deal, especially considering the overall cost of my trip!
Their Nomad Insurance is both travel insurance (covering delays, interruptions, and cancellations) as well as travel medical insurance (covering illness including Covid-19, accidents, etc.), so you can rest easy on your trip.
Get a free quote for your travel insurance to French Polynesia here!
In-Flight Essentials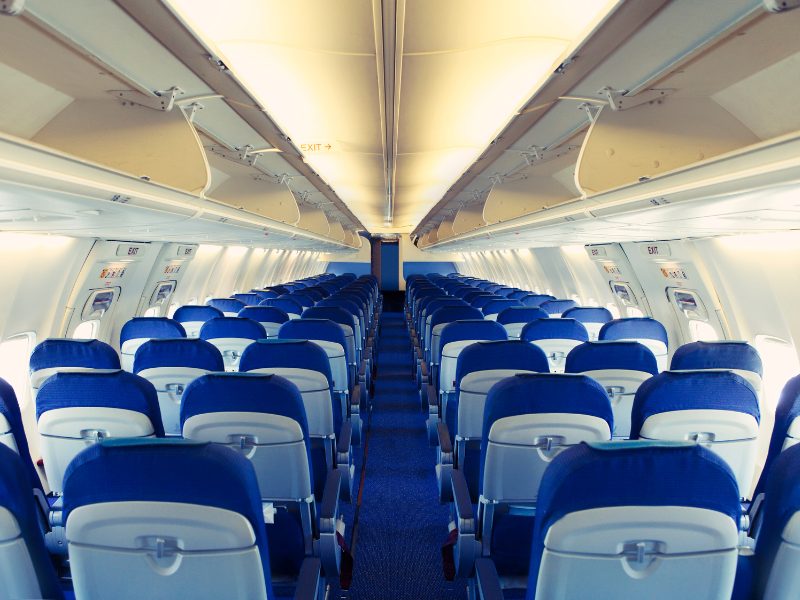 No matter what you're coming from, a long flight to Tahiti is inescapable. These islands are smack-dab in the middle of the Pacific Ocean, after all!
Be sure to pack your bag properly with all the essentials for long haul international flights!
Typically, most airlines will allow you to carry both carry-on bags and personal items.
We flew French Bee and they allowed one carry-on and one personal item.
However, remember that carry-on items — especially roller bags — risk potentially being checked if it is a full flight.
Always make sure the most essential things that you can't risk losing are on the plane with you in your personal item!
Comfortable Clothing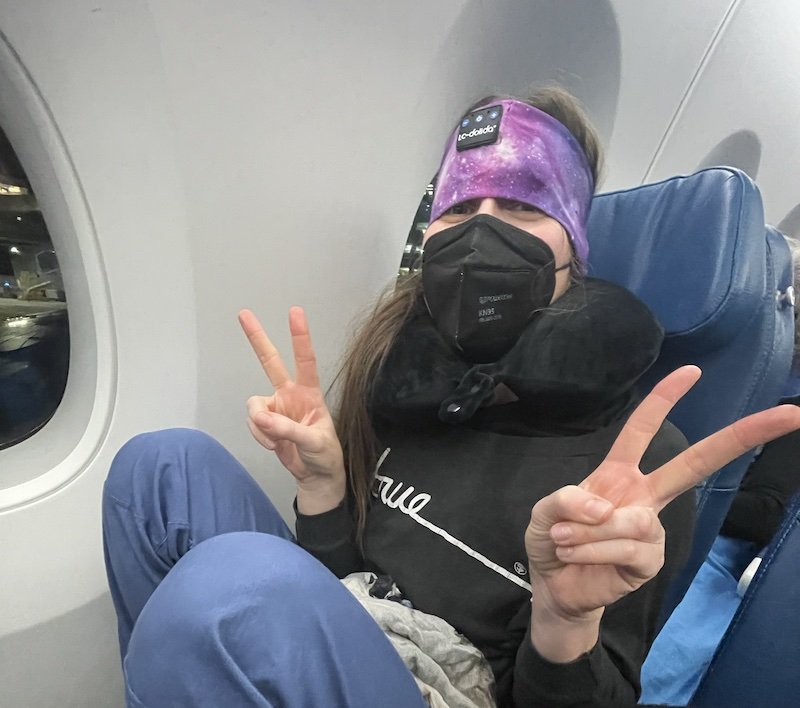 I always make sure I wear comfortable clothing I can shift and move around in on flights.
You'll spend a lot of time in these clothes, so make them comfortable!
My new go-to plane pants are my Patagonia Caliza climbing pants — they're surprisingly comfortable and moveable, while still looking put-together enough for flying.
I also wear a T-shirt with a long-sleeve shirt on top of it so I can control my layers since airplane temperatures swing wildly.
Compression Socks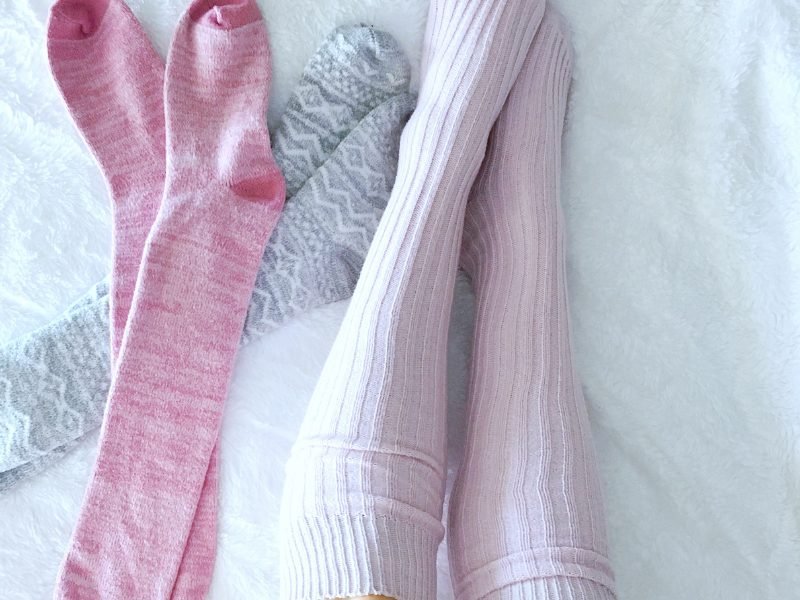 I wore compression socks for the first time on my recent trip to Tahiti and I am a convert — I'll never go back to not wearing them on long-haul flights!
My feet weren't swollen after an 8-hour overnight flight, and I felt a lot more energized in general when I landed.
No need for anything fancy — I wore simple compression socks like these.
Travel Pillow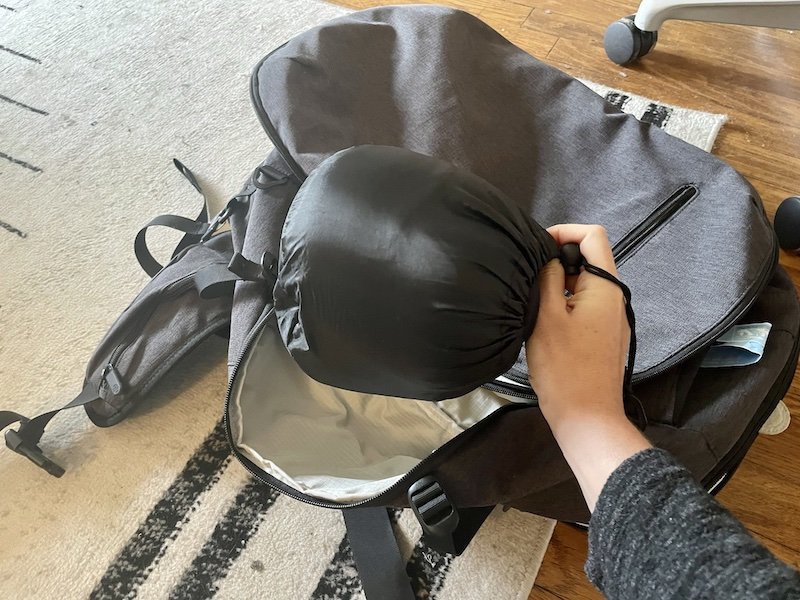 Most flights from the U.S. to French Polynesia are overnight, like ours that left from San Francisco shortly before midnight.
I brought this scrunchable memory foam travel pillow with me and I loved it!
It offered a lot more support than blow-up travel pillows, and it packs down smaller than a bead-filled travel pillow (which I have accidentally ripped open on a plane while trying to rip off the tag, sorry flight attendants…)
Contoured Eye Mask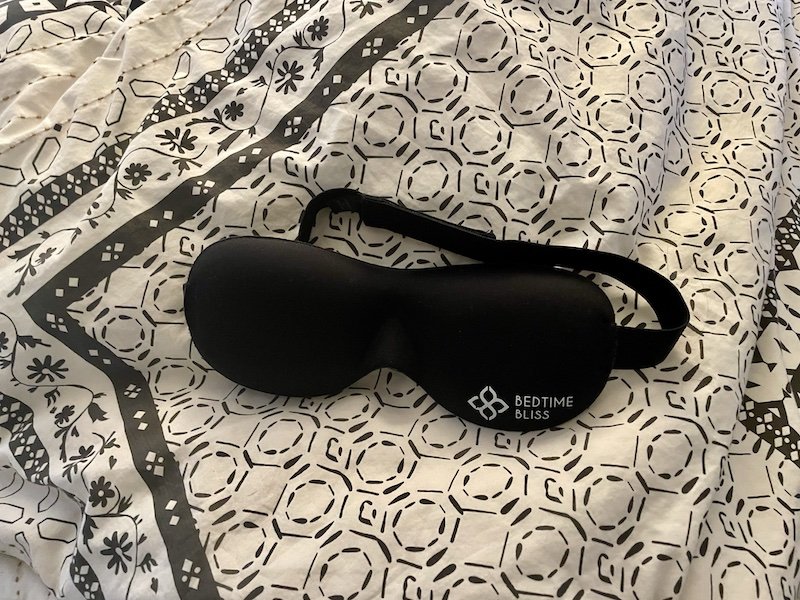 I'm in love with contoured eye masks for sleeping on planes and in hotels where I'm not sure what the lighting situation is, since I need it to be very dark to sleep.
I love this contoured eye mask so much that when I looked it up to grab the link, Amazon reminded me that I've ordered it four times (because I keep misplacing it).
You may want to grab a spare because there's nothing I hate more than losing an eye mask while I travel!
Pen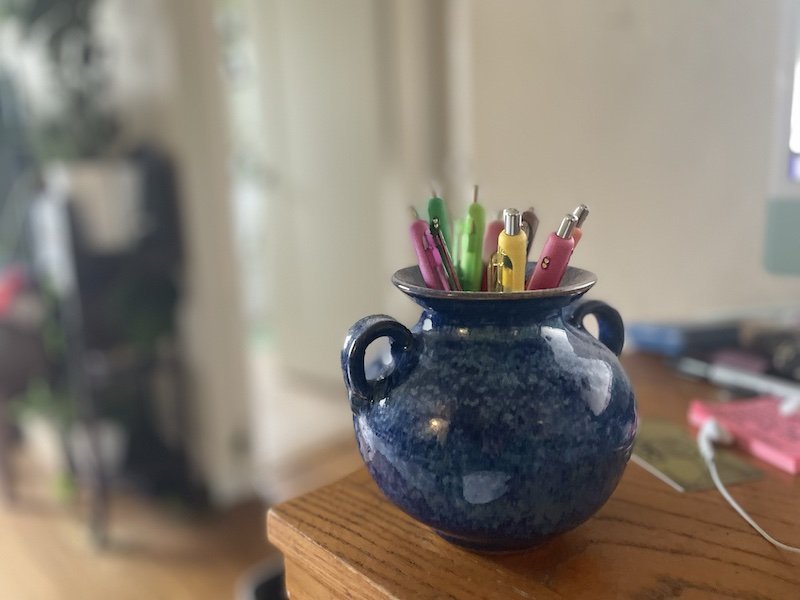 This is something I always forget when I'm traveling internationally in the digital age, but you'll often have to fill out customs and entry forms with pens.
Since the pandemic many airlines are not distributing pens alongside the cards, so having a pen comes in handy!
Noise Canceling Headphones
I used to always just use my iPhone earbuds until I realized how noise-sensitive and how much ambient-seeming noise actually truly frays my nervous system.
I've since invested in Bose noise-canceling headphones (the 700 version) and I'm obsessed.
Normally, noise-canceling headphones are rather bulky, but these have a really sleek and flat-laying profile which makes them far easier to pack and fit in your bag than other similar headphones.
I'll never travel without them in the future!
Also, fellow noise-sensitive people, if you pair some Bose headphones with the ever-incredible (and dare I say, stylish?) Loops earplugs… it's sensory heaven.
Beach & Water Essentials
Microfiber Beach Towel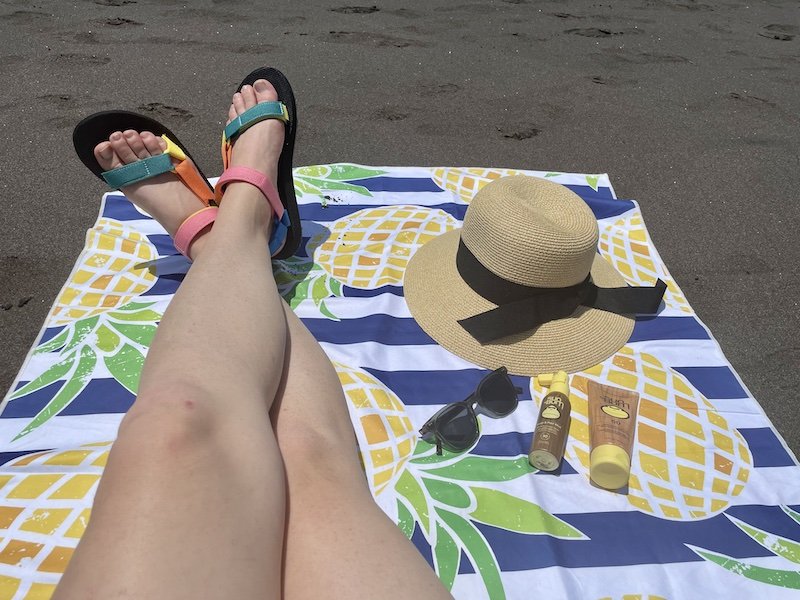 Beach time is one of the must-do things in Tahiti!
Unless you're staying in a resort where you can count on unlimited beach towels to be provided for their hotel guests, it's a good idea to bring a microfiber beach towel of your own.
Even then, I like having a microfiber beach towel with me that I can bring on dive boats, snorkeling trips, or even to lay underneath my beach towel.
Microfiber beach towels repel sand better than beach towels, which tend to soak up sand and track it everywhere.
I have this cute pineapple-covered striped microfiber beach towel and I love it!
Reef-safe Sunscreen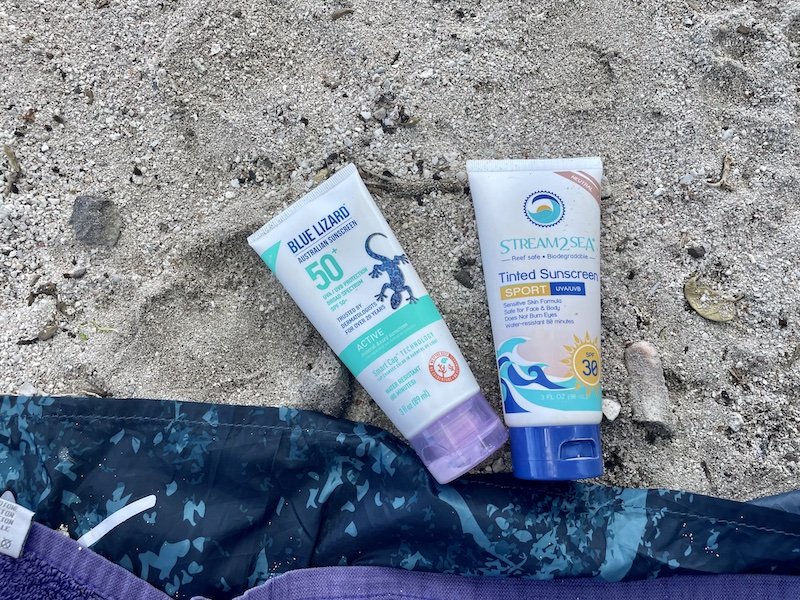 Protect your skin, and the beautiful reefs of French Polynesia, with reef-safe sunscreen free of coral-killing chemicals while on your tropical island vacation!
My girlfriend and I brought different brands of reef-safe sunscreens with us so it was fun to be able to compare.
She brought this tinted Stream 2 Sea sunscreen. While it was only SPF 30, it covered so well and stayed so well that I felt it was better than the SPF 50 I brought.
I brought this Blue Lizard SPF 50 sunscreen, but I didn't feel like it soaked in as well, and I did end up slightly burned after wearing it.
Between the two, I'd pick Stream 2 Sea! There are also non-tinted versions available, but I personally liked the tint as it helped disguised the zinc-y-ness of the mineral sunscreen.
Aloe Vera
No matter how diligent you are with your sun protection, a sunburn is always a possibility on sun-soaked islands like you'll find in the South Pacific.
I sometimes remember to bring a little aloe vera from home so that I'm not forced to buy a large, overpriced bottle… but I forgot this time.
Luckily, I got burned at the end of my trip, and not too badly, so I didn't need to buy a huge bottle to bathe myself in.
I suggest these carry-on friendly, travel-size aloe vera bottles.
Beach Bag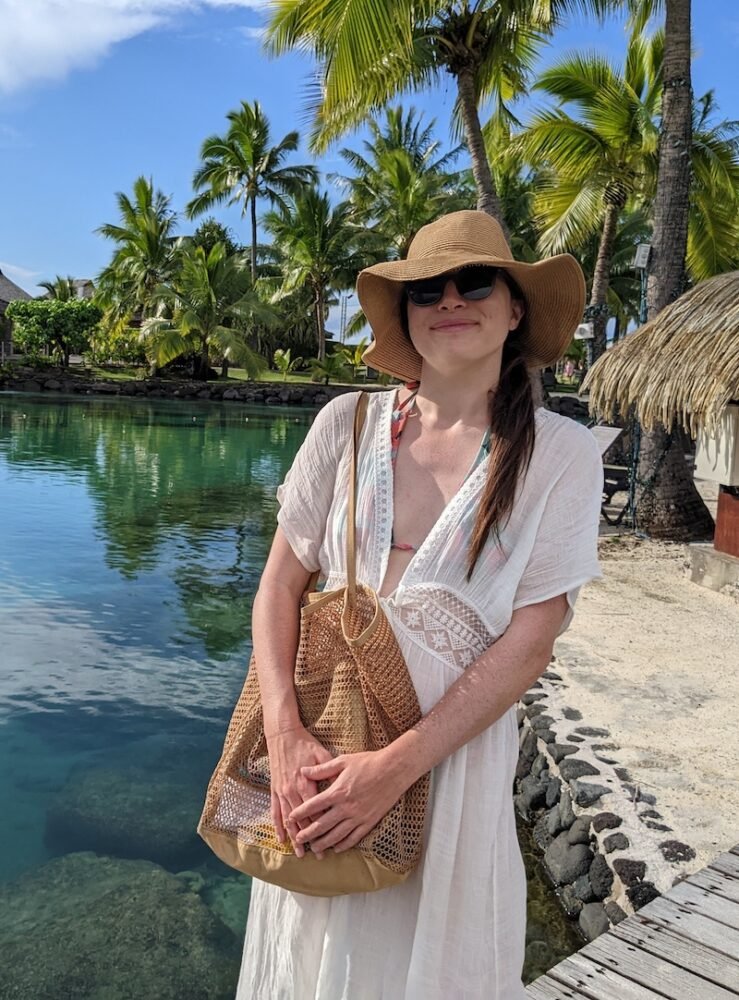 I used a beach bag as my 'personal item' and stuffed it full of things I'd need for my trip.
I bought this tan mesh beach bag and really liked it! The holes are not too loose that anything would fall out of them.
There is also a secure pocket that I kept things like keys and my phone that I wanted quick access to.
Dry Bag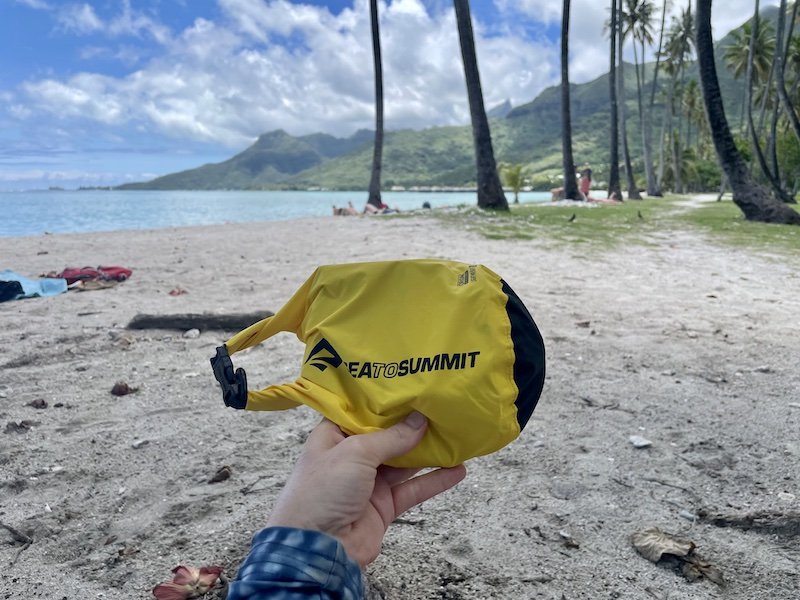 If you're traveling on boats, etc. you'll want to have a dry bag with you to keep your key electronics and documents safe!
Sneaky swells and waves can have you caught off guard and you don't want to end up with your passport wet, or an expensive mirrorless/DSLR camera covered in salt water!
Sea to Summit is the gold standard for dry bags — you can get a set of them, or just get the size you need.
GoPro (with Dive Accessories, if Needed)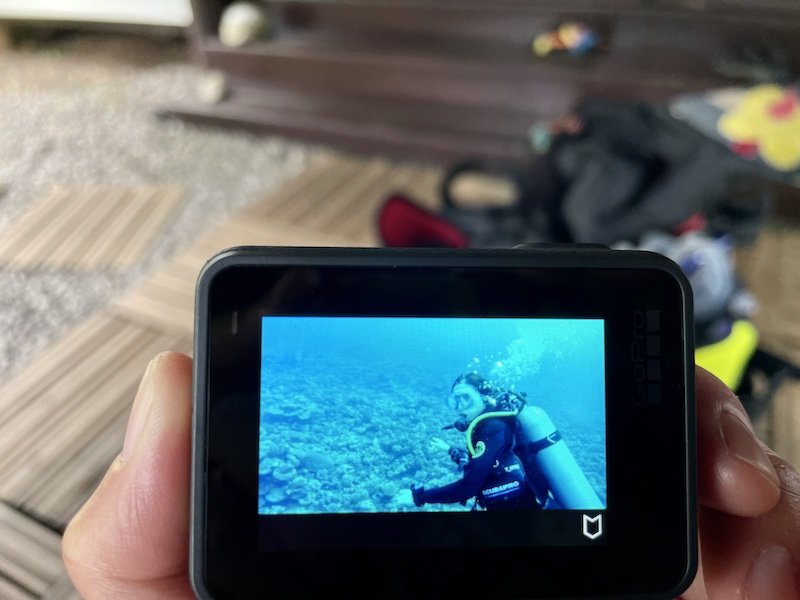 A GoPro is an essential if you plan to dive or snorkel!
The new GoPro Hero 11 is the best they've put out yet — it has incredible image stabilization (very helpful when taking shaky snorkel/dive footage) and 5.3K video (basically, better than 4K).
Plus, the Hero 11's image sensor is better than previous ones — you can zoom in, crop, change lenses, and adjust the aspect ratios, all things that were difficult or impossible to do on past GoPros.
Note that while the GoPro is waterproof, it's only waterproof to 10 meters (and I've ruined a GoPro diving below that without a case… so yes, they do mean it).
If you plan to dive, you'll need additional dive housing (and filters will also help you get the perfect color clarity). I suggest this dive housing set that includes four filters.
You'll also want a GoPro grip that you can clip to your BCD, but that also can cinch around your wrist so that it won't slip off while you are diving. I suggest this waterproof grip.
Snorkeling Gear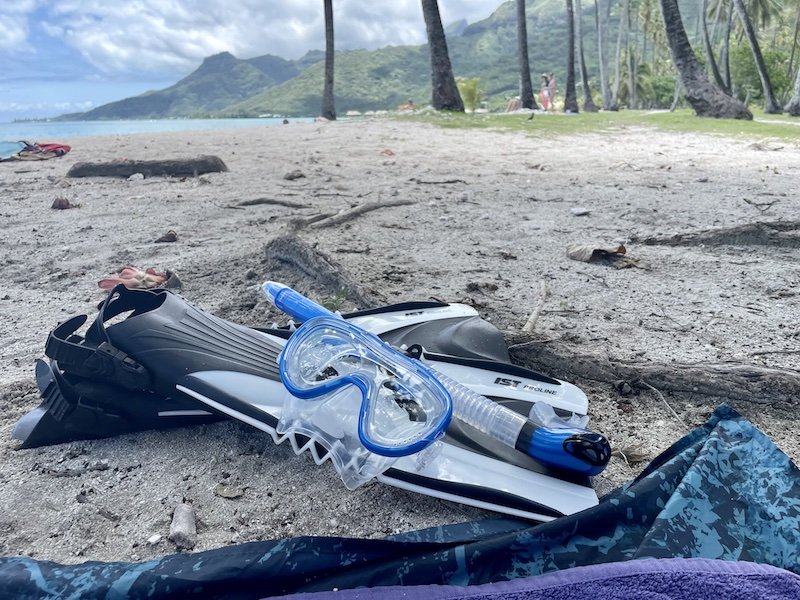 Personally, I like to have my own mask and snorkel set when it comes to traveling to island destinations where I can snorkel.
It came in handy when I wanted to snorkel from where I was staying in Moorea!
I use it for shore snorkeling as well as when I dive, so I can use my own equipment that is perfectly fitted to me so that I don't have a learning curve with new equipment.
Also, some beaches – like Temae Beach in Moorea (one of Moorea's best attractions) – have incredible snorkeling but don't have infrastructure where you can rent snorkeling gear at the site, so you'll absolutely want to bring your own from home!
I recently invested in nicer snorkeling gear, since I also use it for diving and I want it to last a lifetime.
I have a TUSA mask that is specifically for scuba diving and I also have a TUSA snorkel that is a game-changer for snorkeling!
It has a the Hyperdry Elite Top, which is a dry top that quickly closes the gasket when it is submerged underwater.
Basically, the water pressure of going underwater closes the valve so that the water doesn't flood into the snorkel.
Then, all you have to do is blow fairly lightly on the angled purge chamber in order to clear the snorkel!
It's pretty amazing — I was shocked at how little water would get into my snorkel when I'd dive down to get a better look at coral while snorkeling.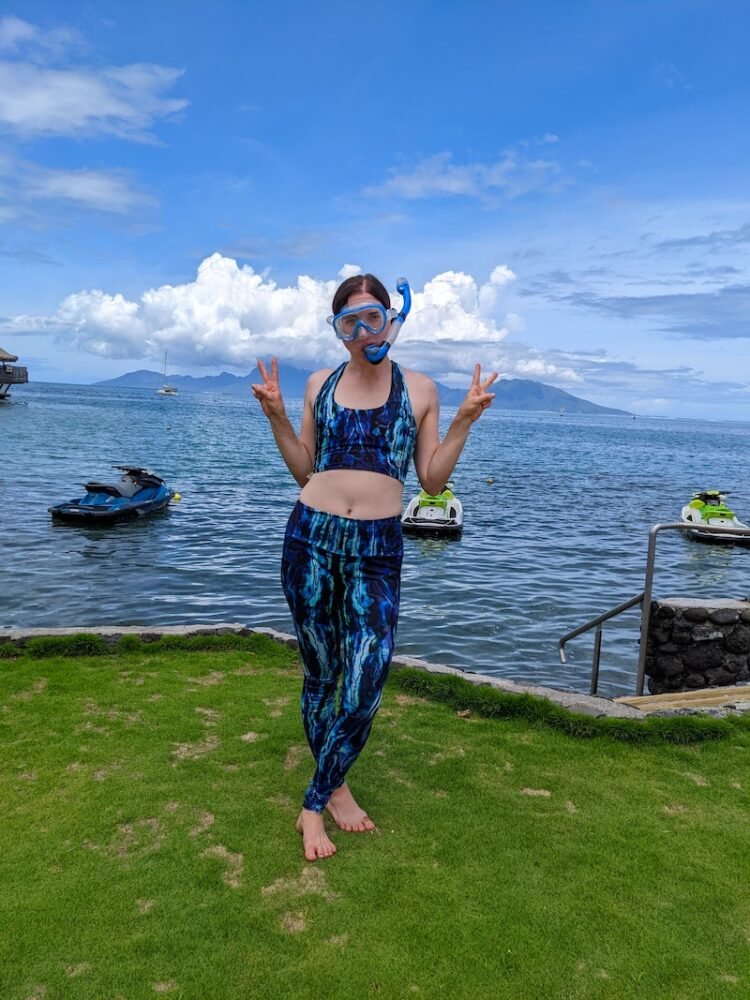 That said, if you don't snorkel or dive frequently, a cheaper set may suit you just fine, like this set.
I also have these IST Proline Fins, which were absolutely necessary for both diving and snorkeling.
Much of the snorkeling in Tahiti and Moorea involves enough of a swim that you'll want fins for safety/energy conservation reasons.
My fins are so good that I was able to snorkel for 2 hours without getting tired… much to the chagrin of the shoulders I later burned.
Scuba Gear, if Needed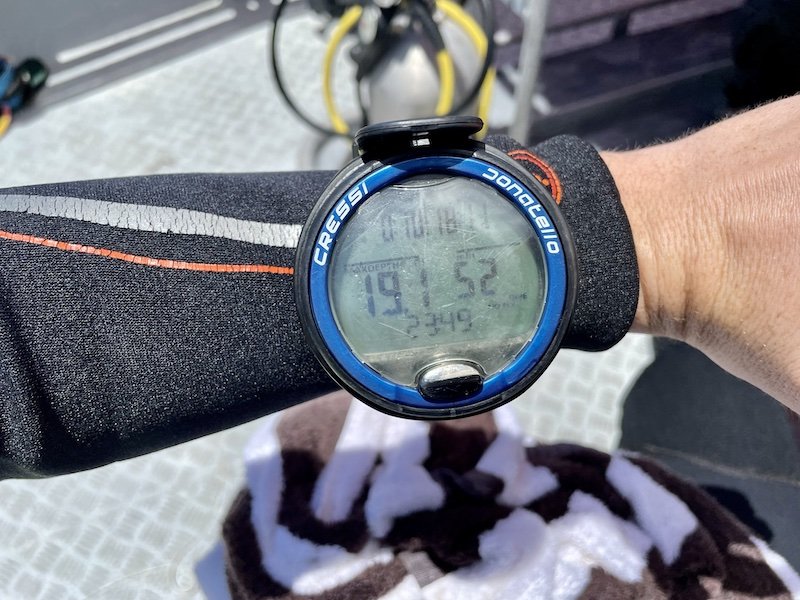 Personally, I only brought my own mask, snorkel, and fins on this last trip.
However, some people like to bring their own equipment such as wet suit, BCD, etc. and just rent oxygen tanks while there.
If you have scuba gear, like a dive computer (not sure what to get? Read my guide to the best entry-level dive computers here), etc., bring it!
After my last trip diving in Cozumel, I decided to get the full monty: BCD, regulator, wetsuit (3mm and 5mm), SMB…
Read my full dive gear packing list here if you want to bring more than the basics.
A Good Book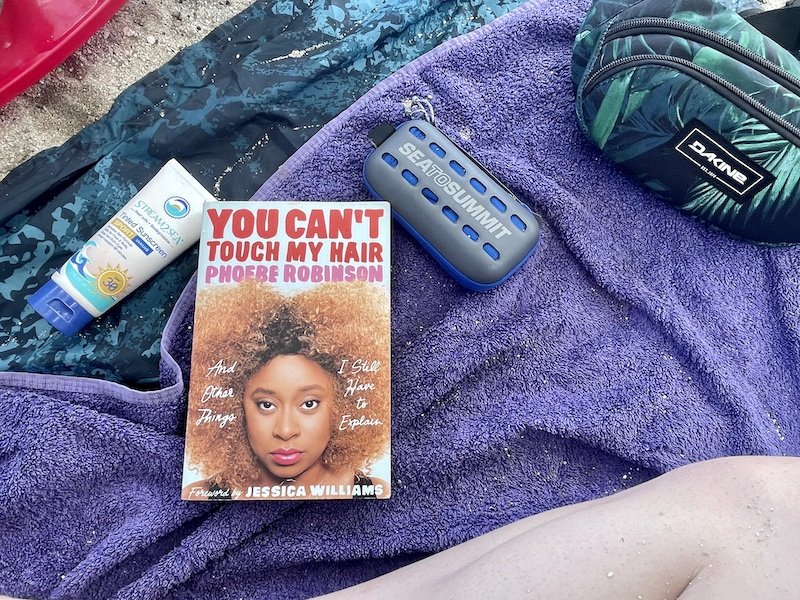 If you like reading on the beach, I recommend bringing a good book from home!
You won't have much luck finding English-language book titles here, so bring whatever you've been wanting to read from home.
If you tear through books, I suggest bringing a Kindle instead so you can reload new books as you go through them without having to worry about finding a bookstore.
Reusable Water Bottle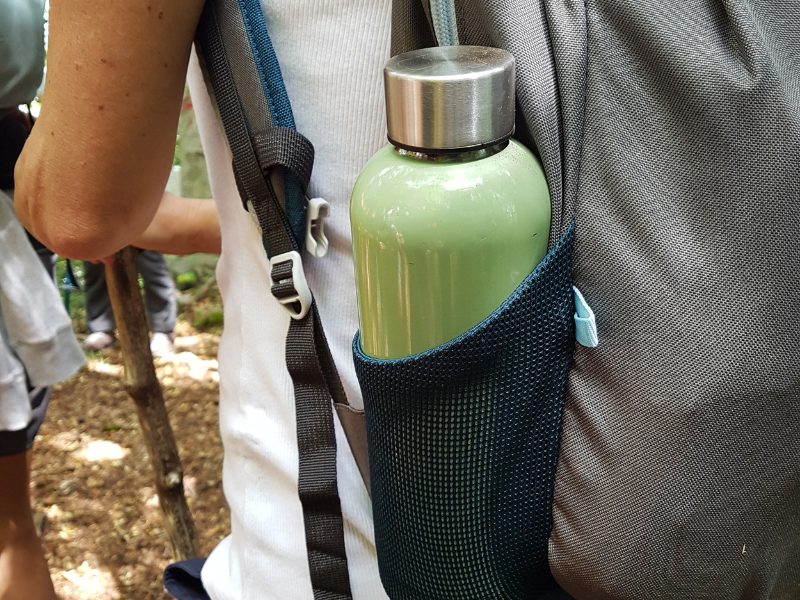 Bring your own reusable water bottle from home and you won't waste as many plastic water bottles!
The tap water on many islands in French Polynesia is totally drinkable without any added treatment. The water on Tahiti, Moorea, and Bora Bora are all drinkable, for example.
If you visit more remote islands, I suggest asking your host if it's safe to drink, or you can use a water purifier bottle like this Lifestraw to be extra safe.
What to Wear in Tahiti (Women)
Tops (~5-7 light tops)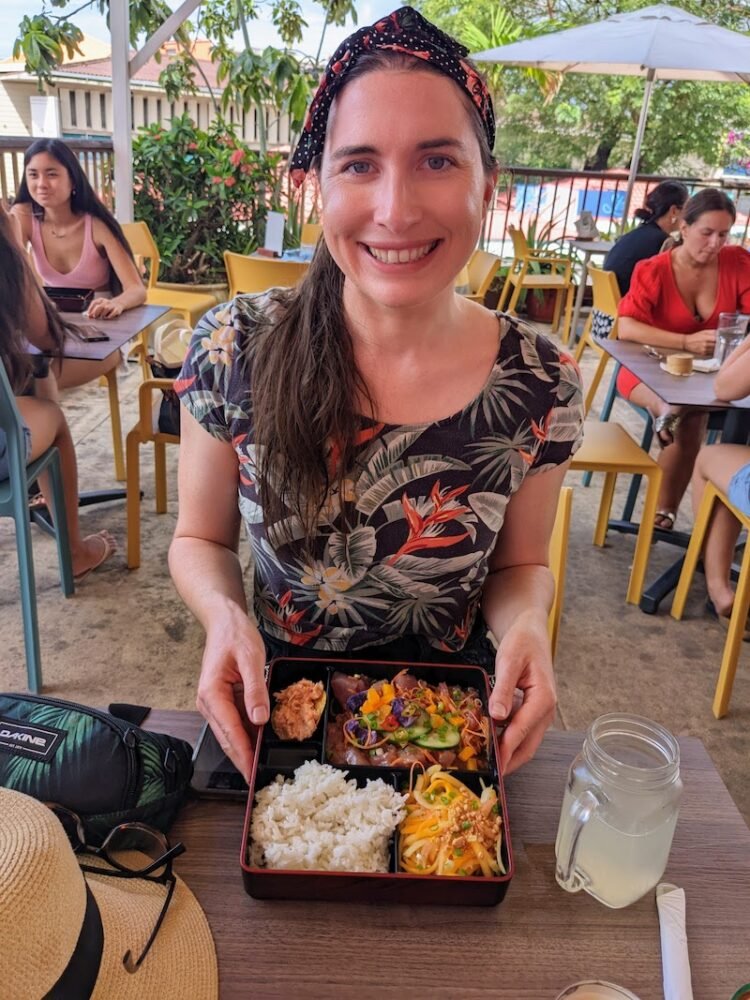 I would suggest bringing a selection of shirts, such as a tank top, a short-sleeve shirt, a sleeveless blouse that is breathable, etc.
In general, opt for loose fitting light clothes made of breathable materials, like linen or hemp blends.
I tend to avoid 100% cotton clothing, as it takes forever to dry, as well as synthetic fabrics like polyester that don't wick moisture and sweat well.
I brought mostly small, thin crop tops so I was able to bring a bunch of tops with me without taking up a lot of space.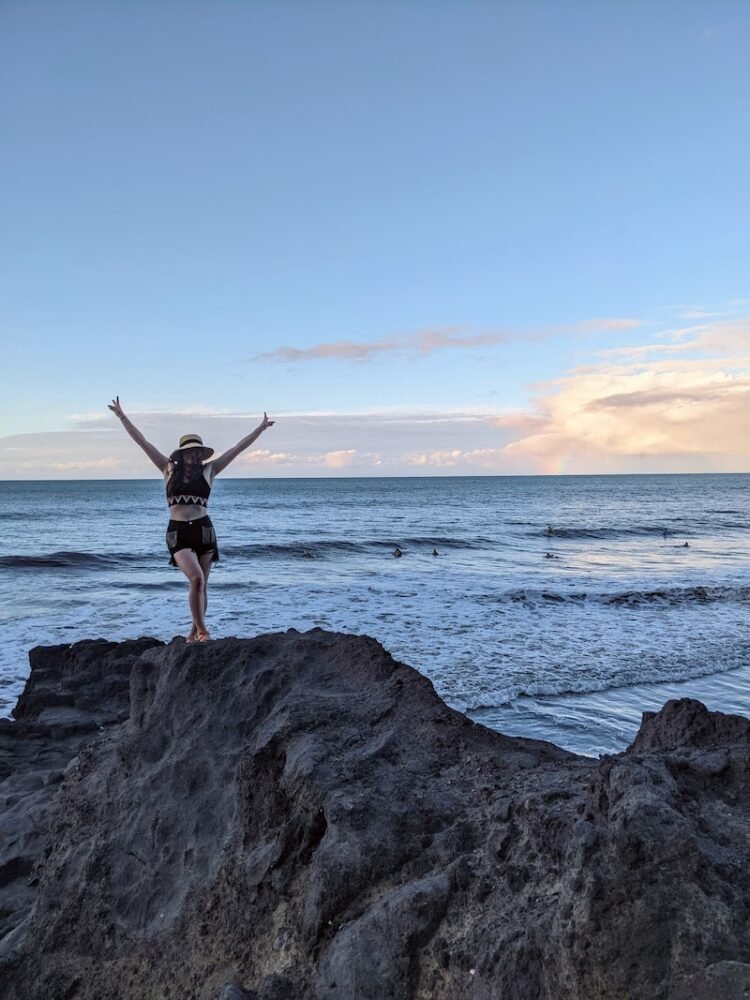 Here are a few crop tops similar to ones I brought on my trip: one, two, three, four, and five.
I'd also suggest bringing one or two long sleeve shirts for the evening — spray with Permethrin spray if mosquitos tend to target you!
Bottoms (~3-4 options)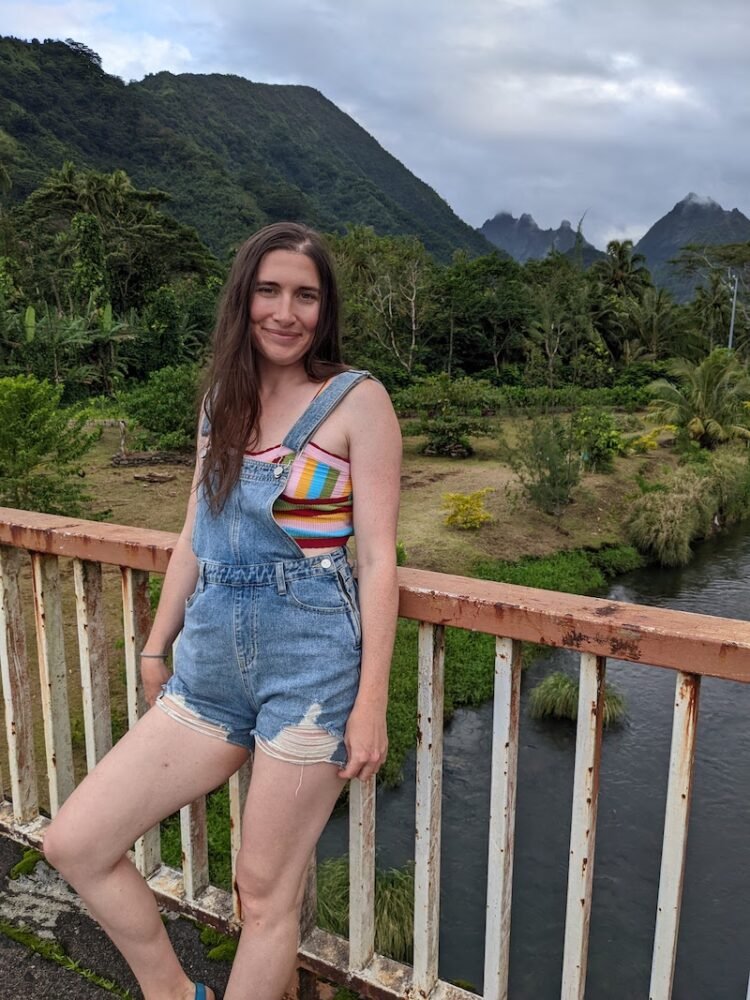 I prefer shorts, so that's what I went with. If you prefer skirts, go for that!
Here's what I brought: a pair of distressed overall shorts similar to these which were my go-to, these fun rhinestone-fringe distressed black denim shorts, and a plain pair of Levi's denim shorts.
I also had my Patagonia Caliza climbing pants which I wore when it was raining or cool out, or when I wanted to cover my legs from pesky mosquitos.
Rompers or Dresses (~3-4 options)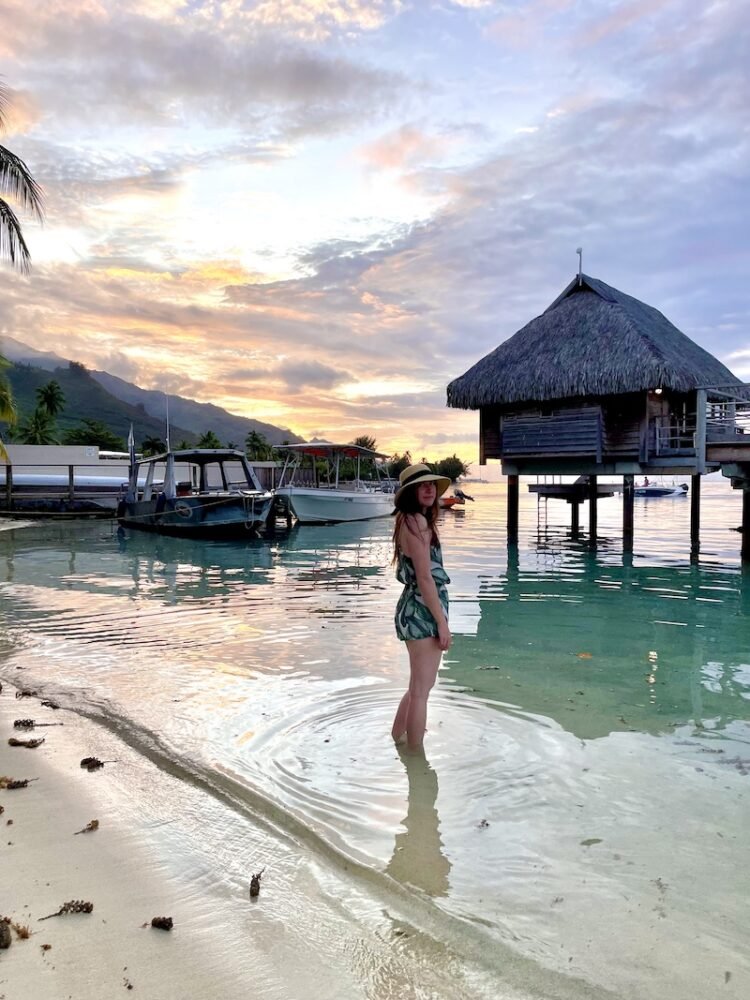 I rarely wear dresses because that chub rub life is so real.
Also, I have sensory processing issues due to my ADHD/ASD that make any chafing sensation pretty much unbearable.
Enter: the romper! I brought several which I have accumulated over the years that are no longer available online.
Here are a few similar ones: one, two, three, and four.
I did also bring one maxi dress similar to this one which I only wore at night and when I didn't have to walk around too much.
Nicer Outfit(s) if Staying at Resorts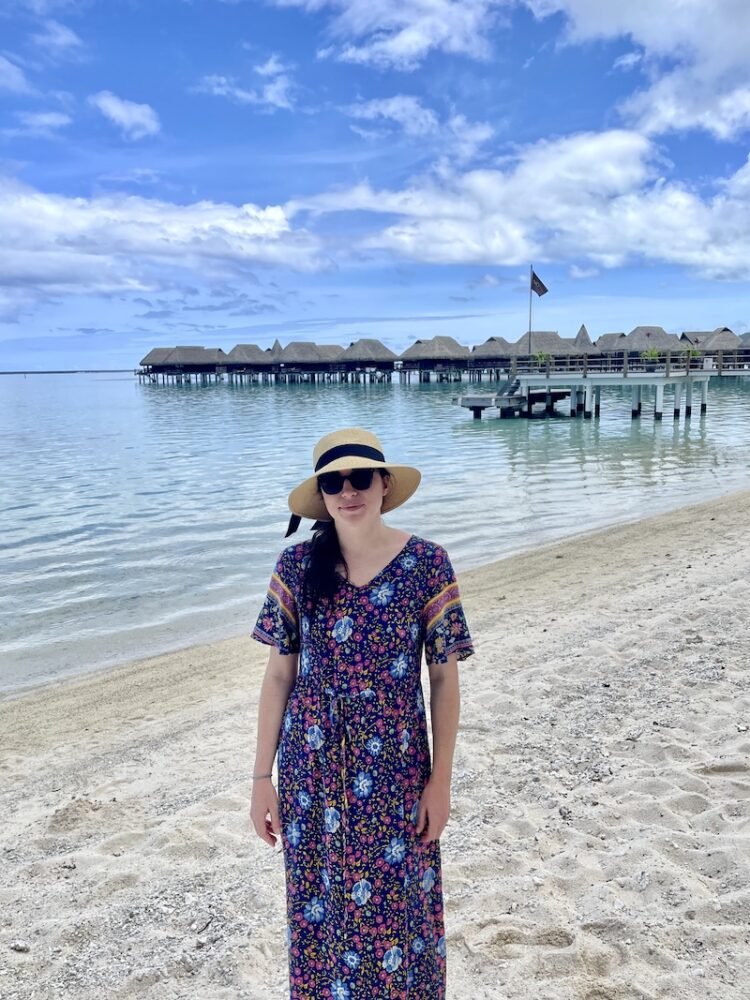 While in general, Tahiti is a pretty casual type of trip, you may want some nicer outfits for places that have a dress code.
This will depend on where you are going. A laidback, independent beach vacation warrants a different packing list than fancy resorts on Bora Bora!
If you need something more elegant, a black jumpsuit like this one is still casual but better suited for dinners.
Otherwise, fun colorful maxi dresses are great for toeing the line between comfort and dressy.
Swim Cover-ups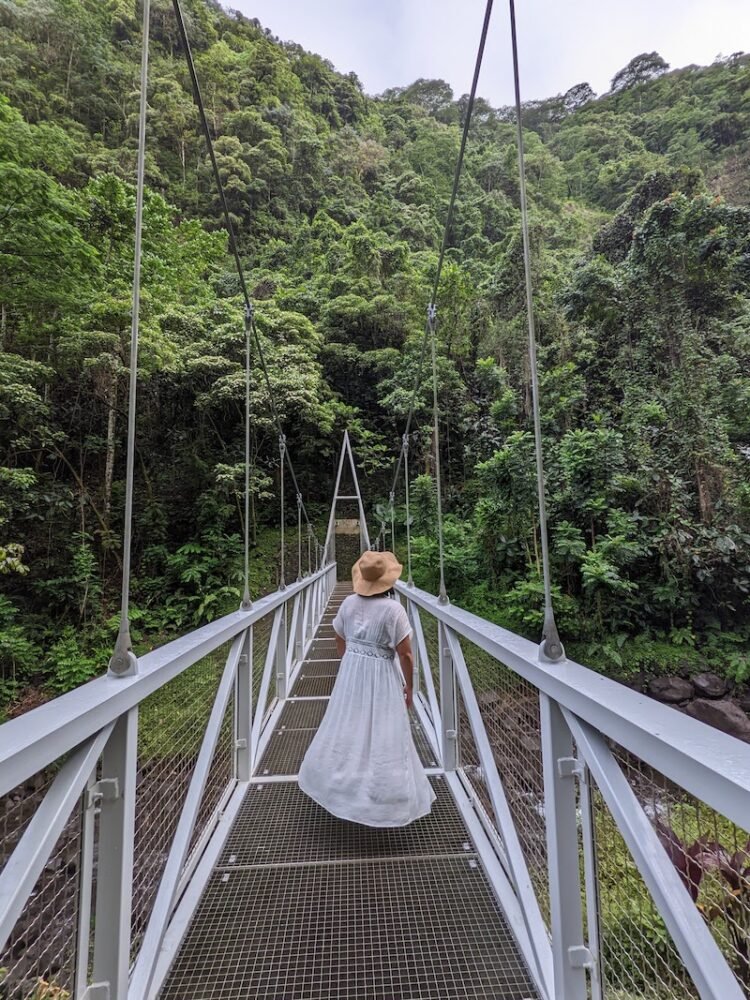 I brought this white sheer lace swim coverup and absolutely loved it!
It's so elegant yet easy to wear, it doesn't wrinkle, and it covers up beautifully.
I also love this fun monstera print cover-up from Moss Rose, and enjoyed having both to switch between.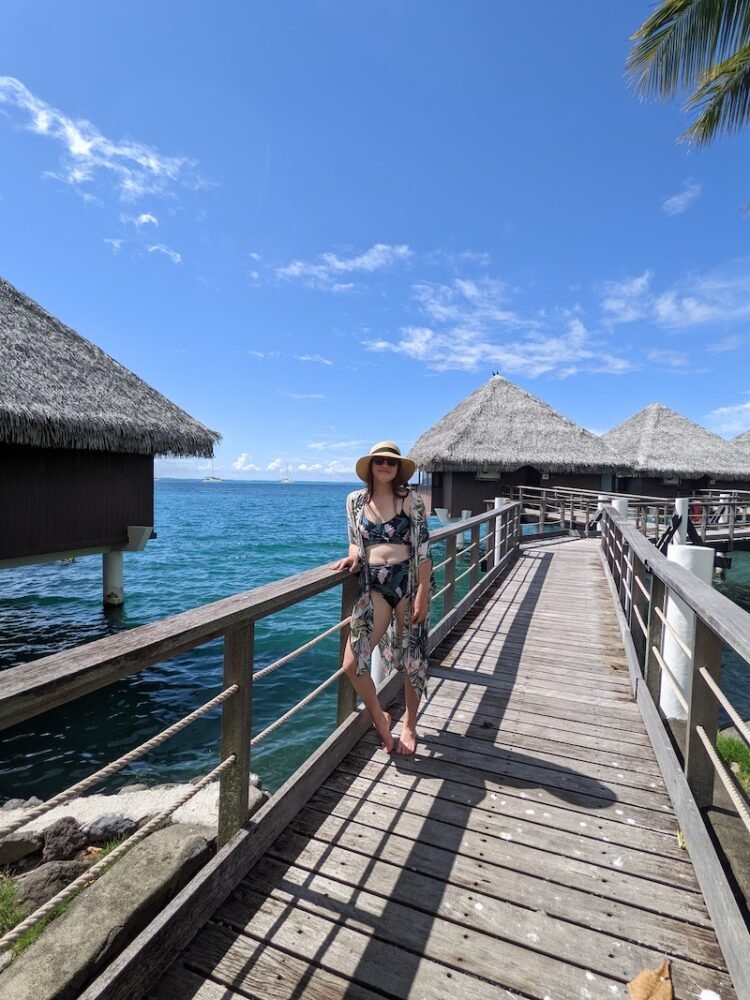 You should bring at least two because they'll get damp from covering you up, plus they're lightweight and it's fun to switch them up.
Plus, they're very lightweight and easy to throw extras in your bag, and they'll liven up and add accessories to your swimwear photos!
Rain Jacket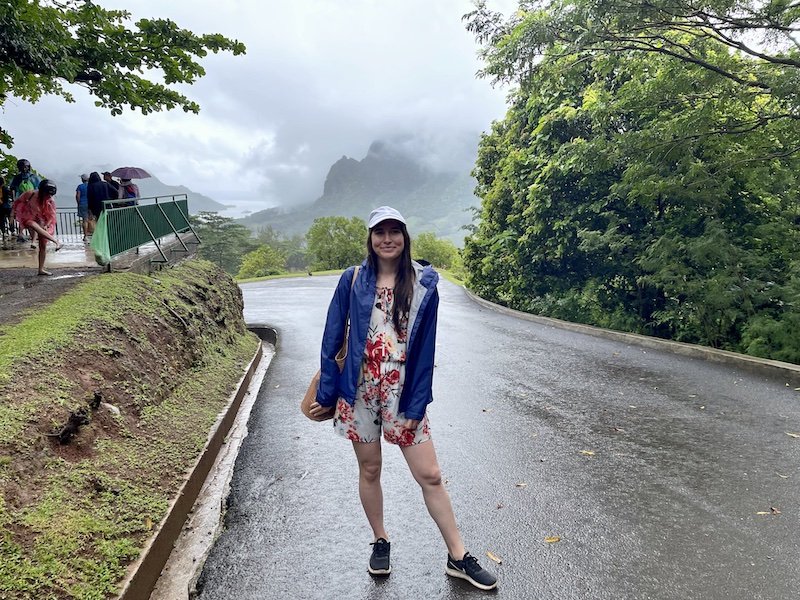 You'll want to bring a light jacket that is waterproof, whether you are visiting Tahiti and its islands in the rainy season or the dry season.
Being a tropical island, heavy rains are always a possibility and you'll want to be prepared!
We traveled in the wet season and were grateful for our rain gear: the Patagonia Torrentshell is a classic for a reason, and the underarm zippers for added breathability are perfect in hot climates.
Sun Hat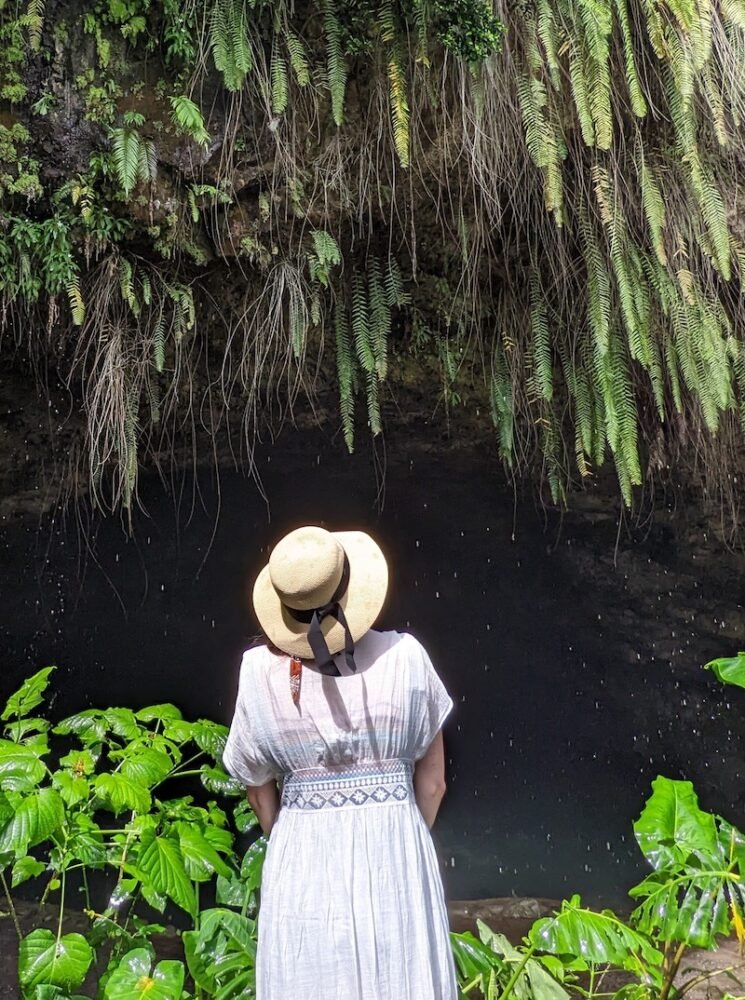 Tropical weather means lots of sun exposure, and a sun hat should be the first layer of protection for your face against the sun, followed by facial sunscreen.
Bring a large sun hat with a wide brim to protect your face from harsh rays. I brought this packable SPF sun hat that can be crushed without losing its shape.
Baseball Cap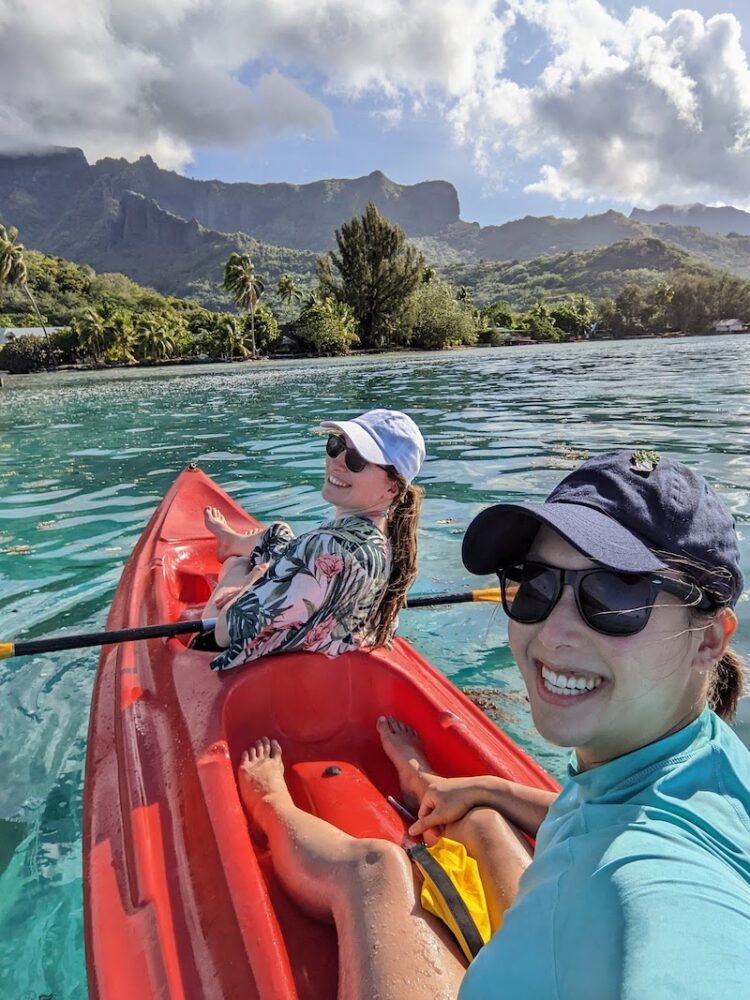 In addition to a wide-brimmed sun hat, I was glad to have a baseball cap for active outdoor time!
This was good for time on the boat where a sun hat would have easily blown away, as well as for activities like kayaking.
I brought this white one that was leftover from my Halloween costume, but they have all colors!
Multiple Swimsuits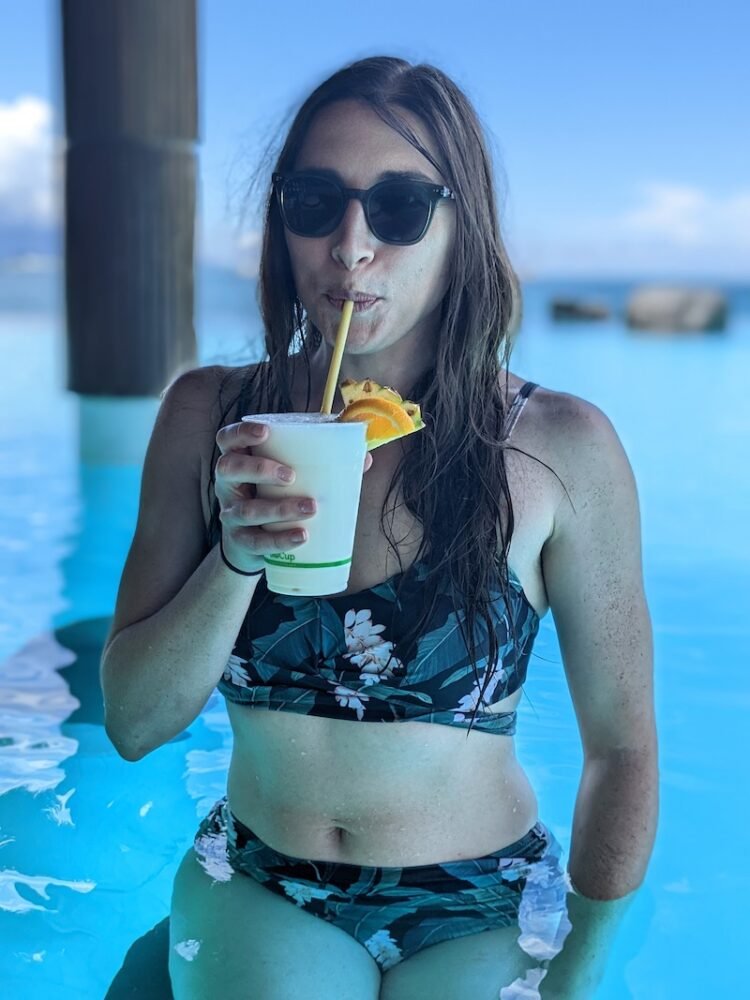 If you're visiting tropical island paradises, what better excuse than to wear as many cute swimsuits as possible?
I wore this cute planty/floral one with a high waist as my #1 swimsuit and an older triangle bikini somewhat similar to this one.
Swimsuits are great to wear under wetsuits if you plan to dive, but you may also want to bring some rash guards or other types of sun protection.
Underwear, Bras, and Socks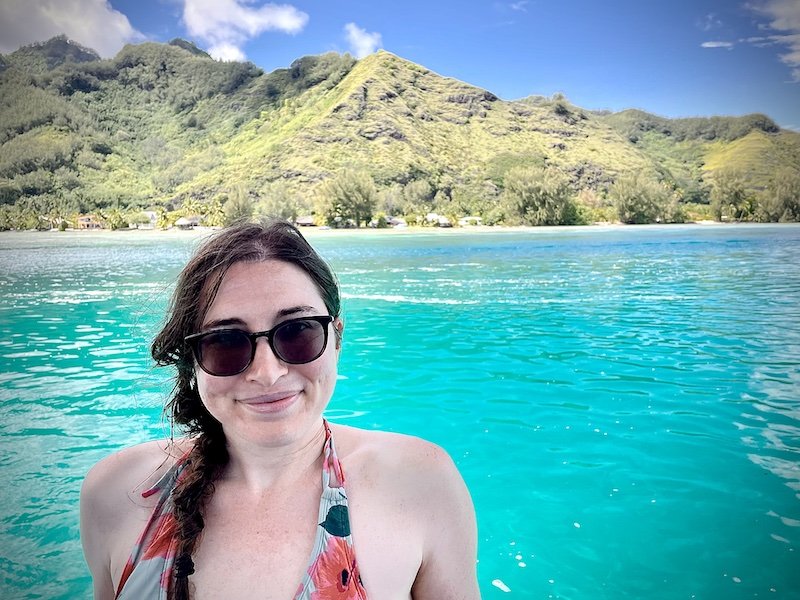 Bring enough underwear for the number of days you'll be in Tahiti, and a little extra unless you want to do laundry while you're there.
I only needed a few bras since I didn't wear them with many of my outfits — I was in a swimsuit and cover up many of the days!
Same with socks — I only needed two pairs because I rarely wore my sneakers and mostly wore sandals.
Flip Flops
You'll want some rubber flip flops like Havaianas for your beach days exploring beaches of the islands of Tahiti, Moorea, etc.
Water Shoes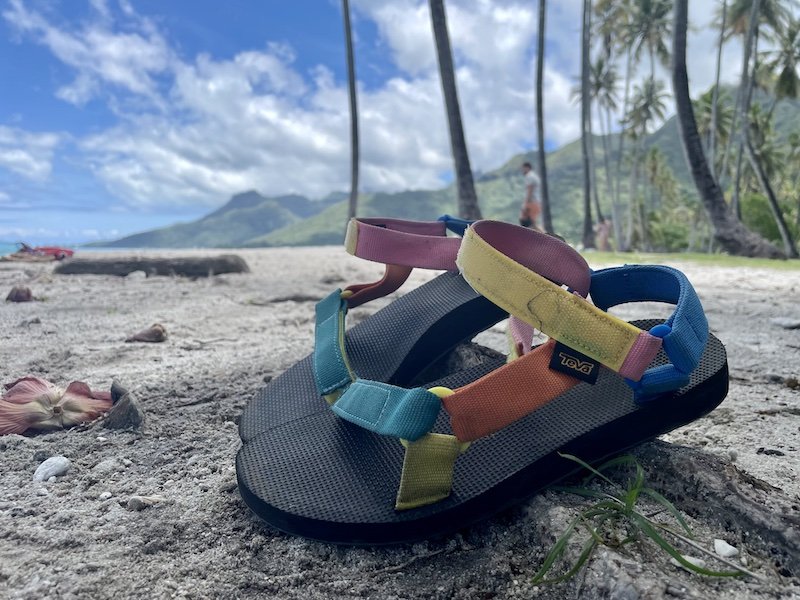 I brought some water shoes like my colorful Tevas that are cute enough to wear outside of the beach but also will allow me to wade in any shallow water that's a bit rocky.
My girlfriend had really cute black Chacos and I was very envious of her sandals — they were understated and practical.
Sneakers
If you plan to hike or do any other active land activities, you'll want a pair of sneakers.
I have a simple pair of black Nikes that I always bring on trips.
What to Wear in Tahiti (Men)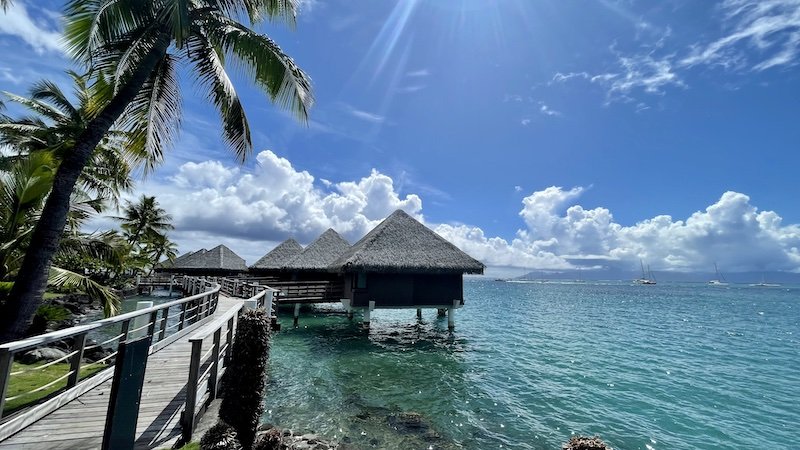 I won't go into as much detail here because well, I don't wear men's clothes and I didn't travel with a male partner!
I would imagine you'd want to bring the following:
5-7 casual, breathable shirts
2-3 pairs of shorts
1 pair of nice-ish pants for dinners out
1 nice dress shirt
sandals/water shoes
nicer shoes
sneakers and socks
underwear for the trip's duration
Toiletries, Medicines & Other Essential Items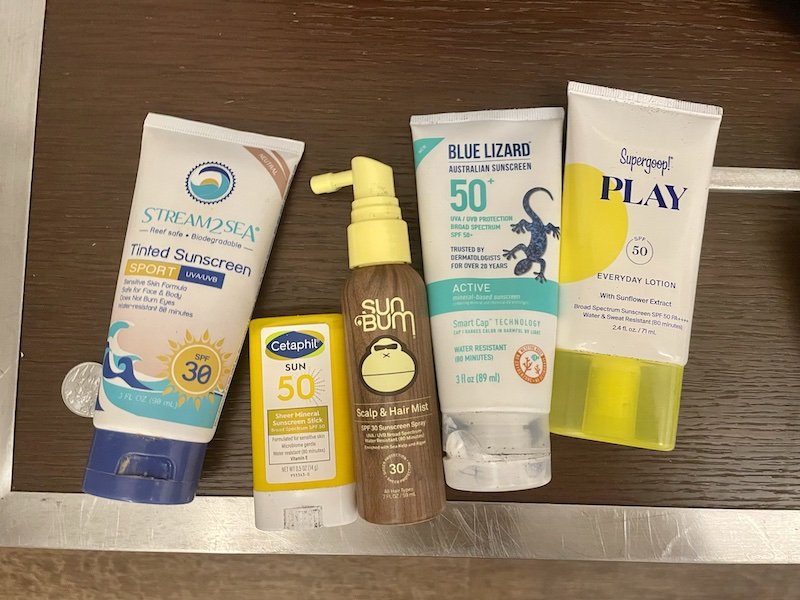 While you can find many toiletries in Tahiti at supermarkets like Super U, it's best to have your own so you don't have to spend your precious vacation time looking for them!
I suggest using GoToobs — these little bottles are made of silicone and are easy to squeeze your favorite toiletries into.
Here is a quick bullet point list of toiletries you may or may not want to bring, depending on what you use and what you expect your hotel or guesthouse to have:
Shampoo
Conditioner
Body Wash
Dr. Bronner's soap (for hand washing laundry, etc.)
Makeup/nail polish (I like pink nails for tropical climates!)
Moisturizer
Regular sunscreen (for not when in ocean water)
Deodorant
Toothpaste & Toothbrush
Razor & Shaving Cream
Insect Repellent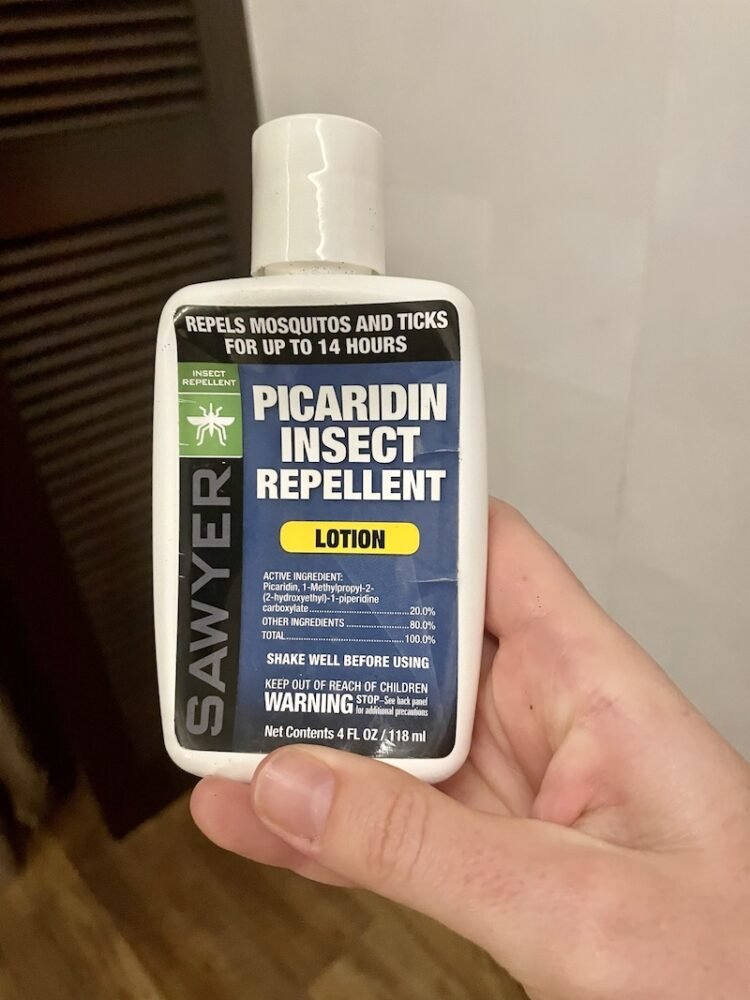 Tropical climate means a higher chance of mosquitos! You'll definitely want to bring mosquito repellant on your trip.
We used Picaridin with some success, but a few particularly ambitious mosquitos were able to get past it.
DEET is stronger, but it may bother more sensitive skin.
I suggest bringing some mosquito repellant wipes in your bag at all times!
Wipes are easier to keep in your bag without worrying about things getting uncapped/leaking… plus, you'll always remember it when suddenly you find yourself being devoured!
After-Bite Care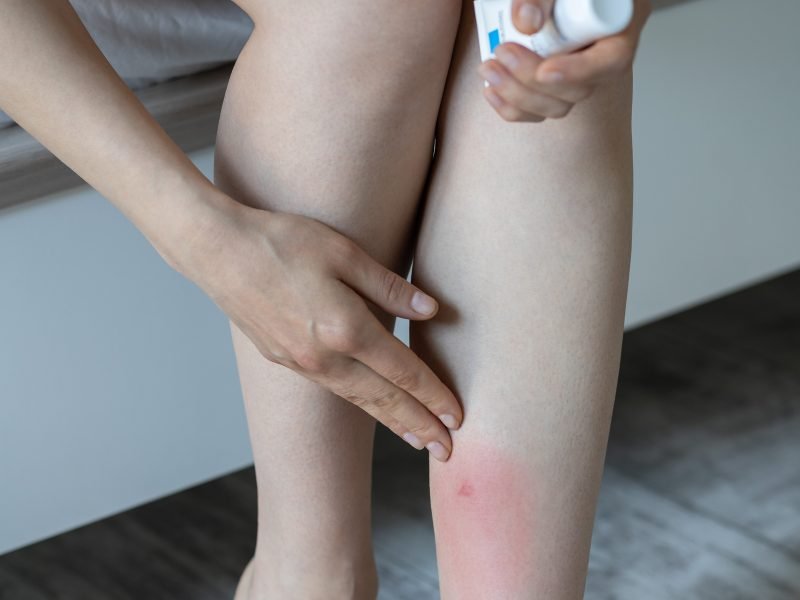 You'll inevitably end up with a few bites no matter what, so you might as well be prepared.
After-bite balms can be helpful, and there are other methods like this one that use the immediate application of heat to spike bloodflow to the area and reduce swelling and inflammation.
My girlfriend, who was a mosquito magnet on this trip, swears by the heat method and would only find relief by scalding herself with hot showers or placing hot spoons on her bites.
I'm getting her this anti-itch heat applicator for our next trip somewhere tropical so she'll find relief a lot easier.
Dramamine or Anti-Motion Sickness Tablets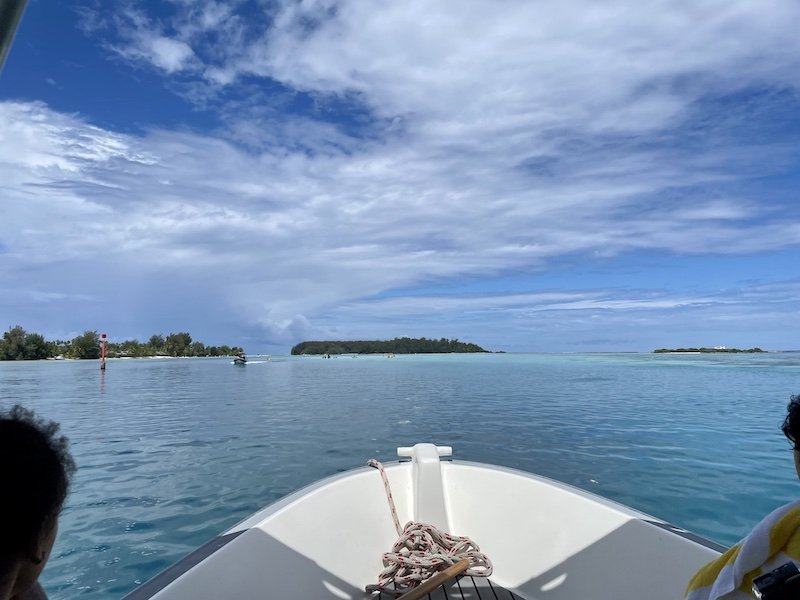 I always bring Dramamine from home because often when I buy it abroad I can only find the super drowsy versions that knock me out.
If I bring it from home I can make sure I'm bringing something non-drowsy!
I take Dramamine about an hour before a boat ride that would normally make me nauseous and I'm so much better.
I take these ones because they are in pill/swallowable form. Note that the chewable forms of Dramamine have food dye in them, which are a migraine trigger for many.
Small First Aid Kit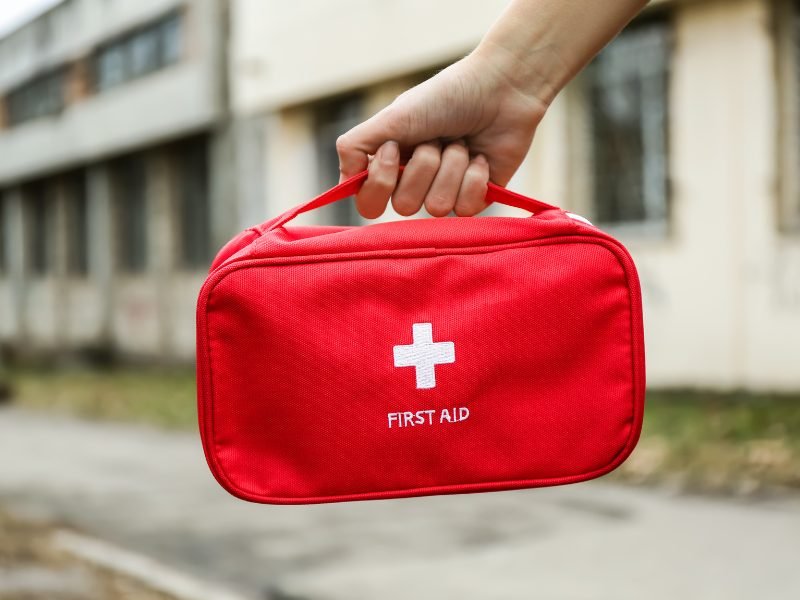 Bring a small first aid kit from home with common medicines in it to supplement whatever isn't in it.
I would suggest painkillers like ibuprofen or acetaminophen, stomach medication like Pepto Bismo in pill form as well as Imodium (anti-diarrheal), and any essential prescription medications from home.
I also use a premade first-aid kit that has things like bandaids, gauze, etc.
Umbrella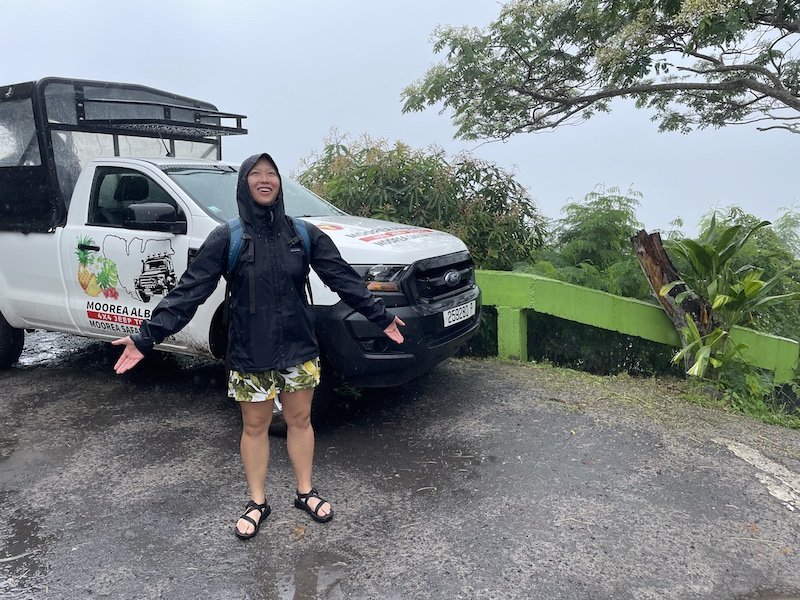 While most of the time, there will be light rain, there will occasionally be a downpour!
During those rare times, you'll be happy for having a sturdy umbrella.
Electronics for Tahiti
Phone and Charger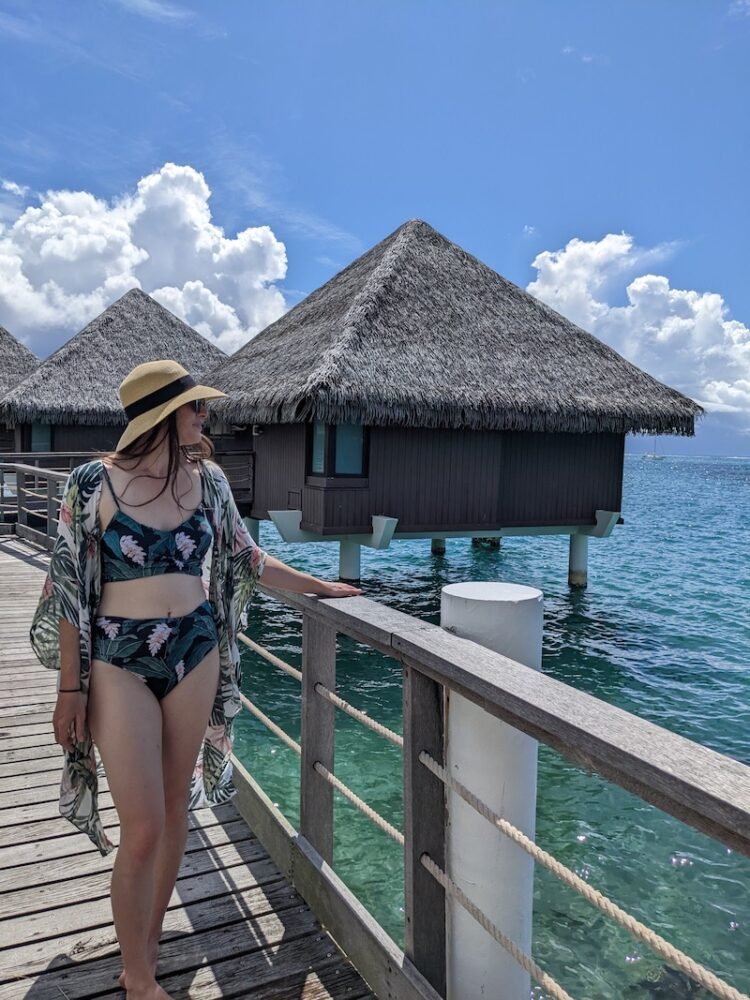 These days I take more and more photos with my phone and leave my camera behind!
In fact, for this trip I just used my iPhone 11 and my girlfriend's Google Pixel 5 and was super happy with how all of our photos turned out!
Laptop and Charger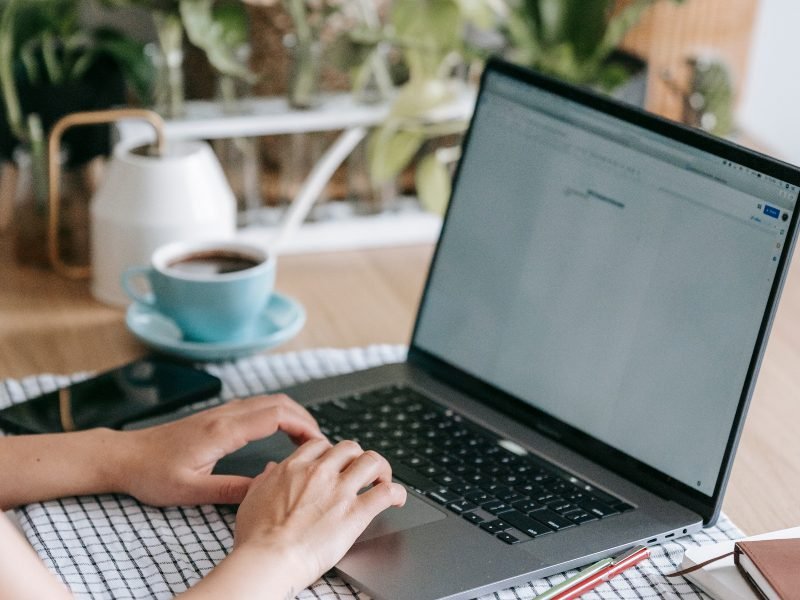 If you need your laptop on your trip, be sure to bring it!
Don't rely on having good Wi-Fi, though, especially outside of Tahiti and Papeete.
External Hard Drive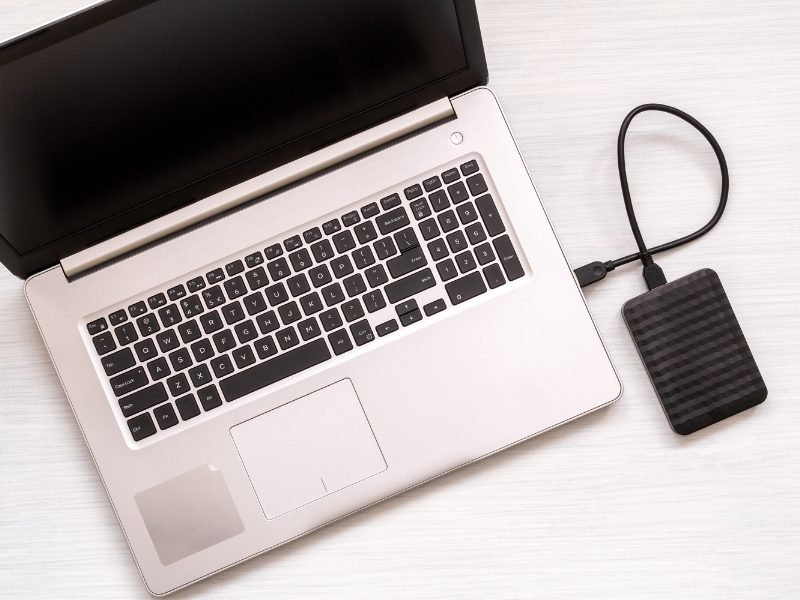 This is a good way to back up your phone's camera or memory cards if you have a digital camera like a mirrorless or SLR camera.
Pro Tip: Throw a few favorite shows or movies on your hard drive too because the WiFi on the islands of Tahiti is not great.
A hard drive like this one will serve you well!
External Battery Charger
With all the photo taking you'll be doing, you'll likely run down your phone's battery quickly!
Anker is perhaps the most reliable battery brand, so it's what I personally use (I have this one) — it's never let me down.
Adaptors
Tahiti is a French territory, so it uses the same outlets as you'll find in France and most of continental Europe.
Grab a universal adaptor or two for all your charging needs if you have a different type of outlet back home.
Allison Green is a former educator turned travel blogger. She holds a Masters in Teaching and a B.A. in English and Creative Writing. Her blog posts merge her educational background and her experience traveling to 60+ countries to encourage thoughtful travel experiences that both educate and entertain. She has been a speaker at the World Travel Writers Conference and her writing, photography, and podcasting work has appeared in National Geographic, CNN Arabic, CBC Canada, and Forbes, amongst others. Now based in the San Francisco Bay Area where she grew up, she has also lived in Prague, Sofia, and New York City.