With iconic landscapes quickly shifting from sand dunes like the Sahara to volcanic terrains like Hawaii to Caribbean-esque beaches, Fuerteventura is an intensely varied island with so much crammed into a small little patch of land.
Though it's possible to visit without a car, I'm adamant that renting a car in Fuerteventura gives you the most freedom.
Note: This post contains affiliate links, which means I may receive a small commission if you purchase something through one of these links. Thank you for supporting the free content on this site! For more information on affiliate links and cookies, see my disclosure page for more details.
This way, you'll have those wild beaches, Martian-esque landscapes, and picturesque remote villages all at your fingertips and on your own schedule.
Having rented a car in Fuerteventura to explore the island, I'm here to share the ins and outs of driving here.
I'll share both the rules of the road as well as a few insider tips from my experience.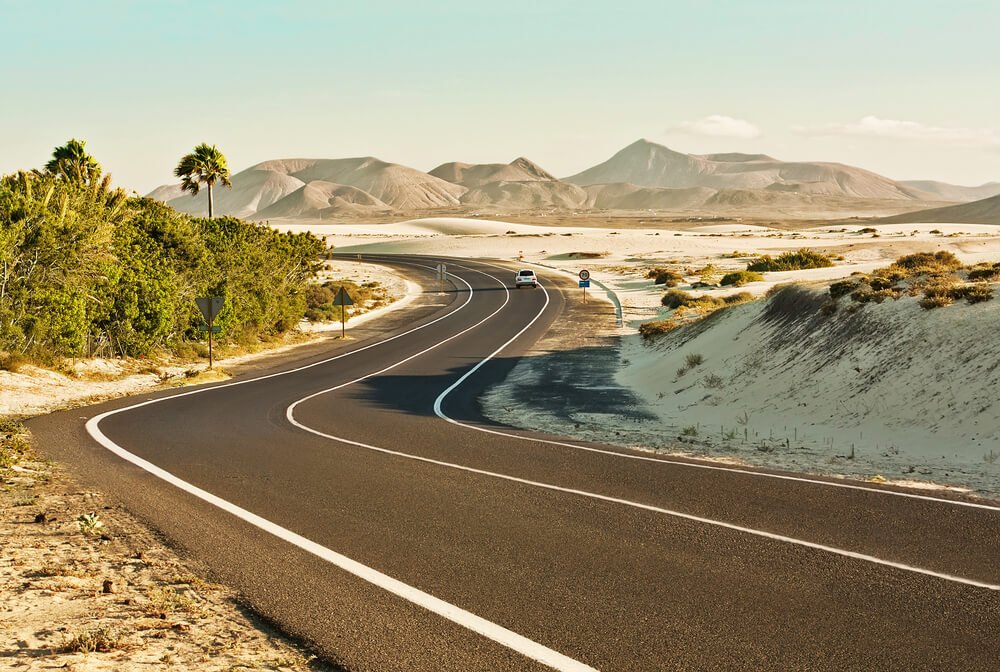 I've compiled all my tips for renting a car in Fuerteventura to share with you before your trip, including tips on driving in Fuerteventura (and places to watch out for!)
Ready? Let's get started!
Can You Explore Fuerteventura Without a Car?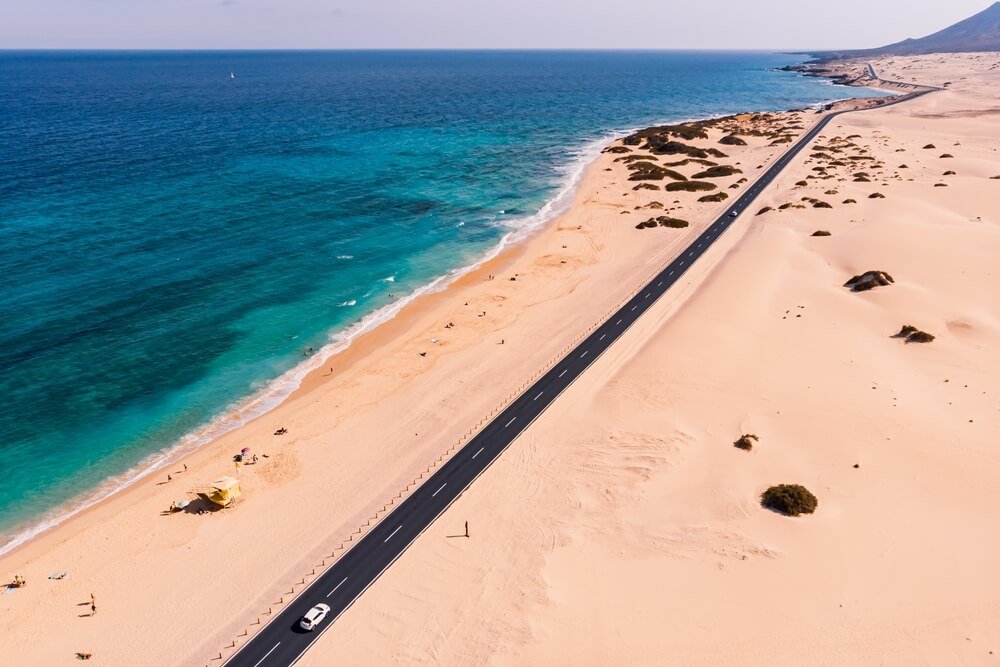 Traveling around the Canary Islands without a car is possible, but renting a car in Fuerteventura has a few advantages.
First, you can drive to places that can be hard or impossible to reach by bus.
Although the island generally has decent public transportation, buses can't get everywhere — and they're also slow to do so.
Secondly, having a car allows you more flexibility — it's what makes shorter trips like this 3 or 4 day Fuerteventura road trip possible.
You don't have to stick to bus schedules and can reach popular places at times like sunrise or sunset when they are free of crowds.
Lastly, you can book unique accommodations in more remote places, rather than being stuck in city centers.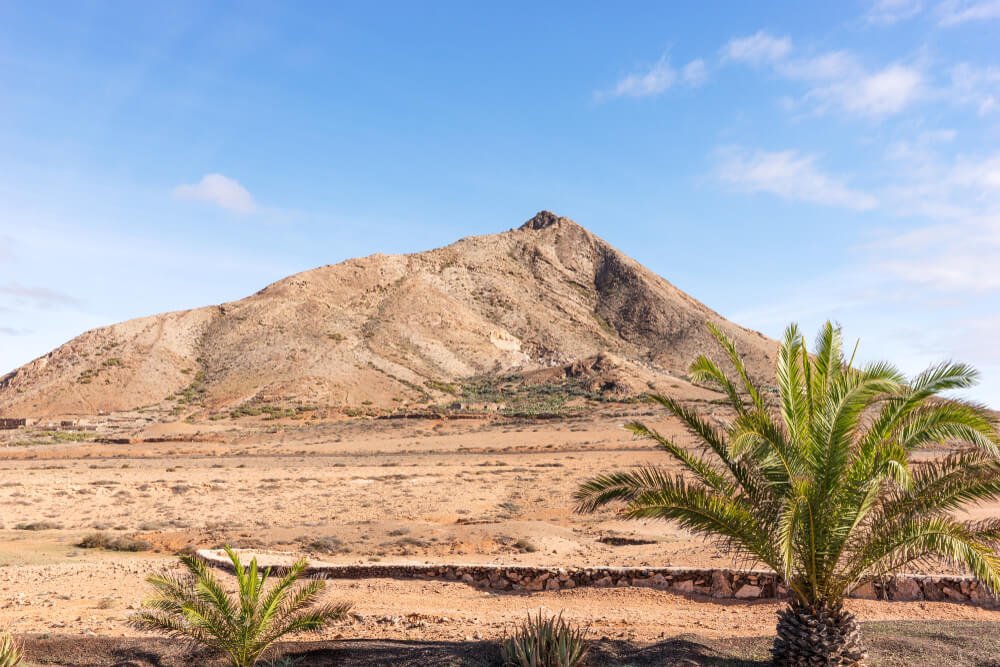 In short: yes, you should rent a car in Fuerteventura if you want to venture outside the few big cities and explore anything inland, to the south, or on the western coast.
Although public transportation works well along the eastern coast, buses rarely reach the inland and southernmost part of the island.
Renting a car in Fuerteventura allows you to explore remote places, be more flexible with your schedule, and even spend the night in areas you couldn't reach by bus.
Cost of Renting a Car in Fuerteventura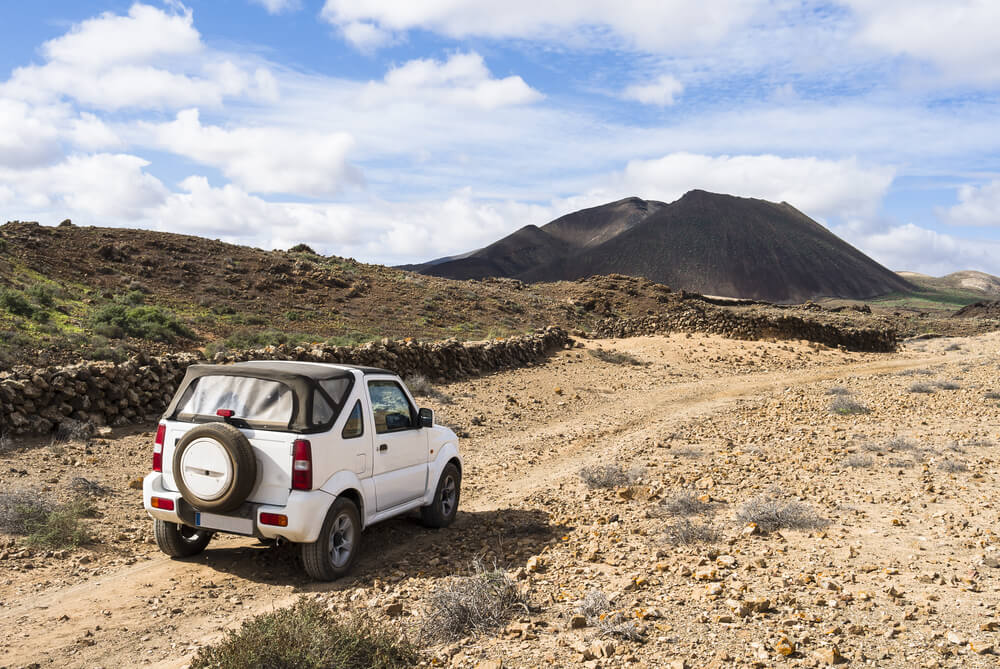 The price of renting a car in Fuerteventura can vary greatly depending on a few factors, but primarily A) seasonality B) car type you're booking and C) how far in advance you're booking.
To give you a range, a rental car on Fuerteventura can cost anywhere from $25 per day to even over $100 per day. And yes, that's a wide range, but it accurately reflects the different car types and variance in season.
I use Discover Cars for rentals in Fuerteventura since it allows me to check a variety of rental car prices all at once, because it looks at over 500+ companies (including small local agencies with better prices and terms) to find the cheapest price.
As a general rule, you will usually save money by booking early when there is the most inventory and choice, although there is a chance you may find good last-minute deals too.
The season you visit matters less in the Canary Islands than in other European destinations.
Since the islands have pretty excellent weather year-round, you can expect the prices in winter to be the same as in summer… if not higher!
The thing that makes the most difference in price is the car type.
Compact and economy cars are the cheapest, while large cars, convertibles, and SUVs are more expensive.
Features like automatic transmission will also increase the price — sorry, Americans who can't drive manual cars, you'll have to eat the price difference here!
Can You Bring Your Fuerteventura Rental Car to Other Islands?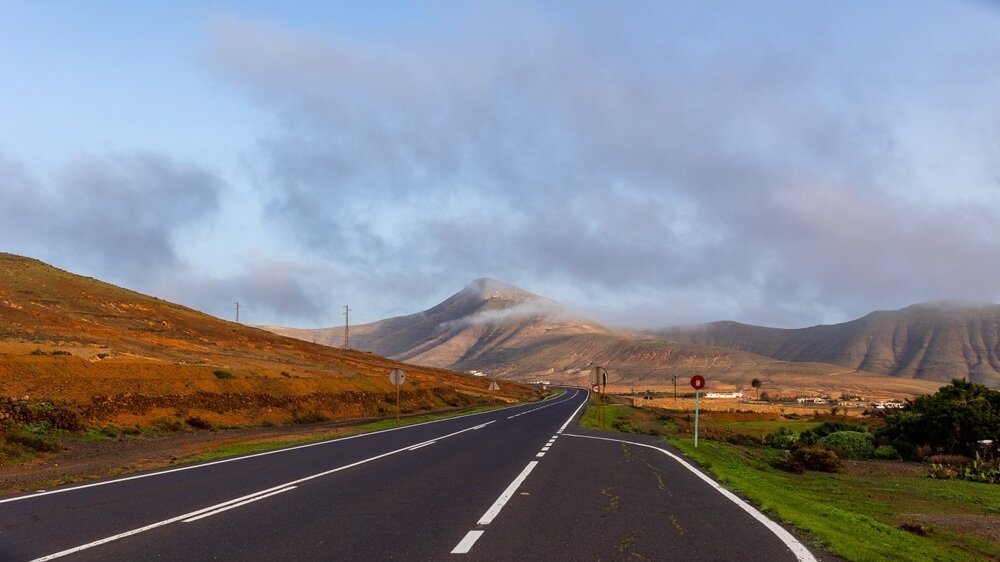 Although the ferries that connect the Canary Islands allow boarding cars, rental agencies don't permit taking the vehicle to other islands.
What that means for travelers is that if you plan on visiting multiple islands, say like visiting both Fuerteventura and Lanzarote, know that you must rent a car separately on each island.
In that case, you'd rent a car on Lanzarote separately, perhaps picking up near where the ferry drops you off.
The good news is that rental costs don't vary much from one island to the other, so there is no advantage in renting the car on one island and taking it to the others.
If anything, it's just a slight hassle, but you'll probably save money overall, considering that you don't need to pay the car toll on the ferries.
Tips for Renting a Car in Fuerteventura
Be sure you have all the right documentation.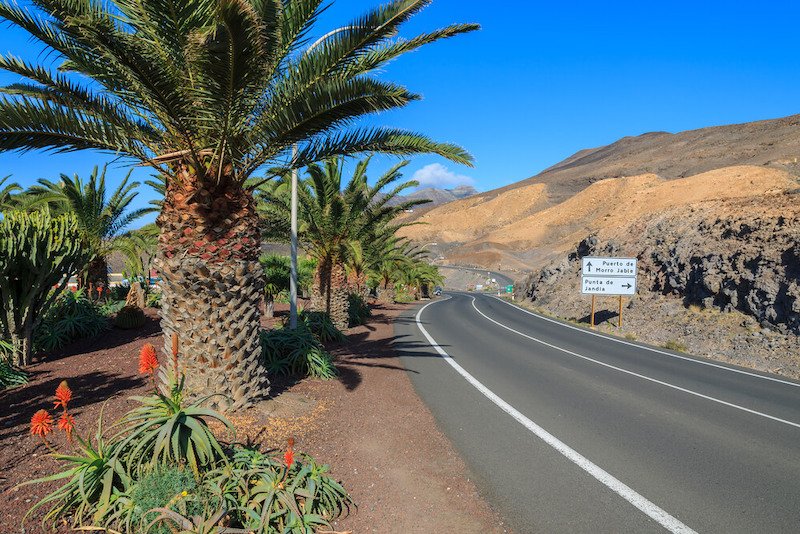 To rent a car in Fuertventura, you will need a valid driving license and sometimes an International Driving Permit (IDP) as well.
EU member state citizens can drive in the Canary Islands without additional documentation.
However, the majority of outside-the-EU citizens, including US travelers, must have an IDP alongside their license.
You will also likely need a credit card; though some rental companies may accept debit card payments, most will require a credit card for the deposit.
You will also need your passport or national ID (for EU citizens) — be sure the names match on the passport/ID and the credit card.
Lastly, although the driving age in Spain is 18, you must be 21 to rent a car in the Canary Islands.
Furthermore, you can expect to pay an extra fee (a young driver surcharge) if you're under 25.
A higher minimum age may apply for some cars, so always double-check before booking.
Be aware of what insurances you want or need.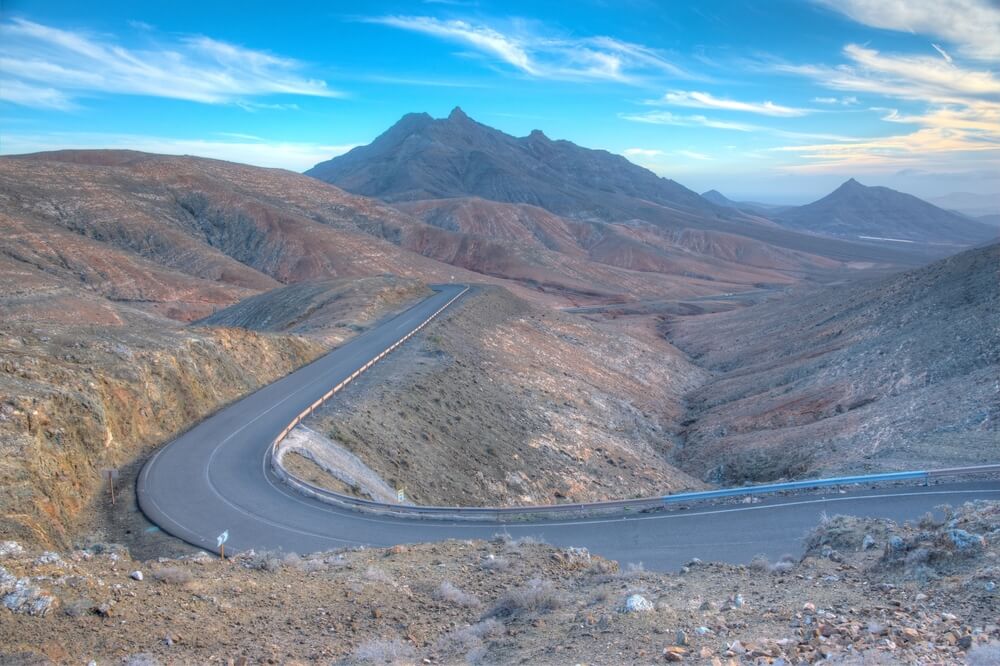 All rental cars in Spain, including the Canary Islands, include unlimited third-party liability insurance, which is required by law.
In addition to this, most rental cars come with CDW (Collision Damage Waiver).
The included CDW usually comes with quite a high deductible, but you can always pay extra for zero-deductible CDW and theft protection.
Third Party Liability is another type of insurance you can buy but is not mandatory. This covers material damages caused to other people's vehicles.
Lastly, though not proper insurance, you can add roadside assistance, which covers issues like a flat tire, losing the car keys, or other problems with the car not caused by an accident.
Note that if you have a credit card that provides international rental car insurance, you'll want to research the terms of your specific policy, as it almost always requires that you decline certain insurances that the rental agency offers.
Be sure to have documentation about this to back it up, as it's my experience that rental agencies often push back on this.
Typically, I buy full coverage insurance when I'm booking my rental, as it's a small added amount when you pre-book it (usually around $7 per day if booked with Discover Cars).
Why full coverage? Well, it covers the little things that are a lot more likely to happen during your rental period.
It's rare that you'll severely damage your car or have a collision while you're renting, but things like scratching a car while parking, denting your car, getting your windshield cracked, etc. are a lot more likely.
Having full coverage insurance is a small price to pay for peace of mind.
Also, keep in mind that car rental insurance covers your car, not your health or any trip interruptions that may happen as a result of car issues.
For that, you'll want your own personal travel insurance, which luckily can be gotten for an affordable price and gives you invaluable peace of mind.
Protect your travel investment!

Travel insurance coverage helps you recoup your losses in case of emergency, accident, illness, or theft.

I rely on SafetyWing for coverage when it comes to trip interruptions and cancellations as well as accidents and medical emergencies.

It offers great rates starting around $12/week with clear, easy-to-read coverage.
Choose your car type (and what roads you drive!) carefully.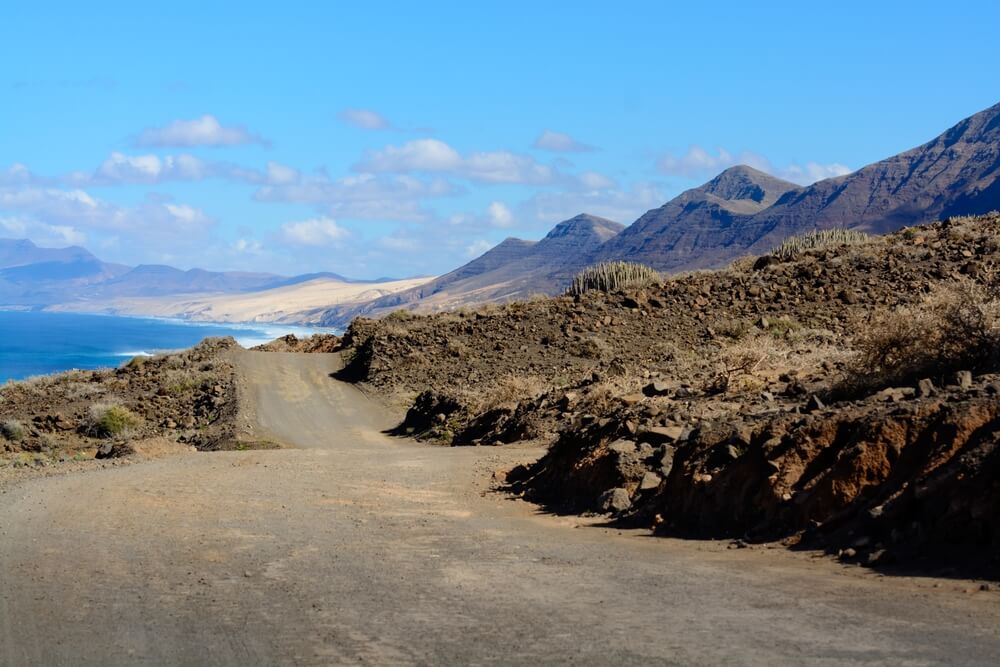 Choosing the right car type for Fuerteventura is key to stressing less during your trip.
Firstly, you need to consider the number of passengers and the amount of luggage. You don't want to be squeezed into a compact car just to save money.
Next, the car type you choose depends on the activities you want to do. Since Fuerteventura is mostly flat, you don't need an incredibly powerful car.
However, there are some unpaved roads in Fuerteventura, namely in the Cofete area.
If you read the fine print of your rental agreement, many specify that you can't take your rental on unpaved roads… which would include reaching Cofete Beach.
That means that any damage you incur during your trip may not be covered by insurance or roadside assistance.
While generally the road is in good enough to drive a typical car so long as you're careful, you might want to consider a higher-clearance car, like a large car or even an SUV.
4x4s are generally prohibitively expensive so I wouldn't suggest that.
If you're particularly prone to worrying, you can always not take the car all the way to Cofete.
Instead, park at Morro Jable and take the Line 111 bus to Cofete — find the schedule here — or you can take a guided 4×4 Jeep tour that includes Cofete.
Use offline navigation tools.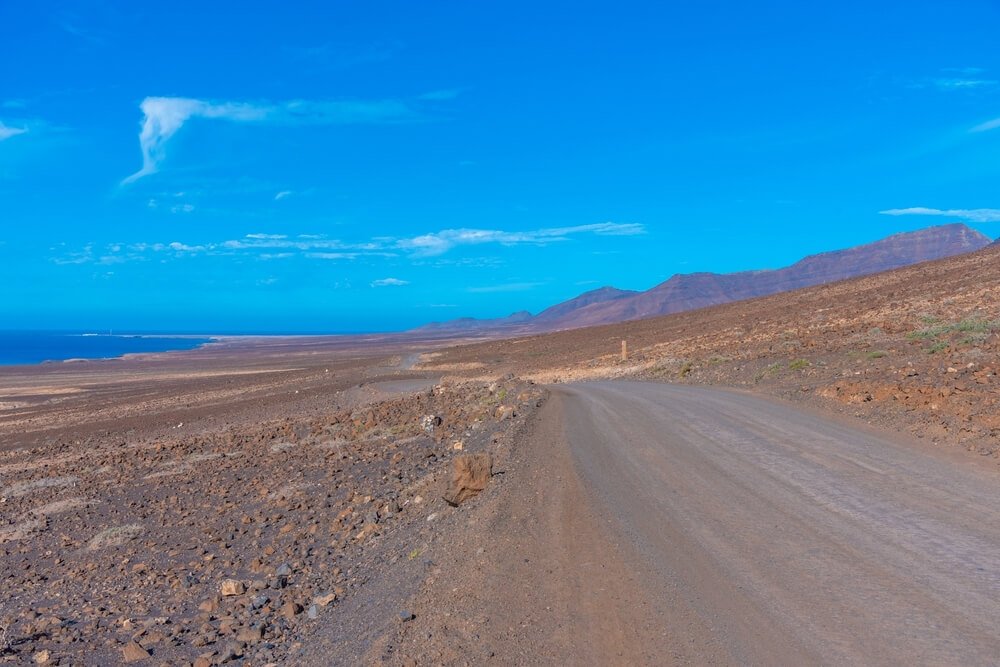 Driving through areas with little to no phone reception is not unusual in Fuerteventura.
This means that online maps and navigation apps may not always work. Download an offline map as soon as you get Wi-Fi access to avoid getting lost.
Although directions are straightforward across the islands, having an offline map can be a lifesaver. Plus, it's a great way to save data and phone battery.
Rejoice — there are no road tolls!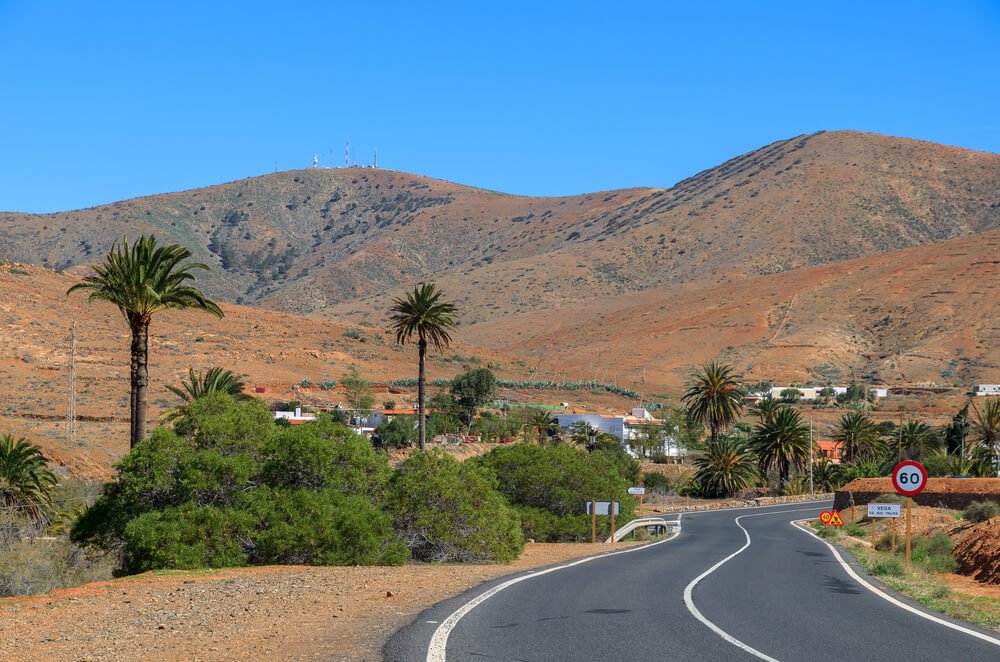 The great news is all roads in the Canary Islands, including those on Fuerteventura, are toll-free.
Although this is not the case for mainland Spain, where highways have tolls, in the Canary Islands, you can drive on all kinds of roads for free, including highways.
Just one less thing to worry about while driving in Fuerteventura!
Know a few things about parking rules.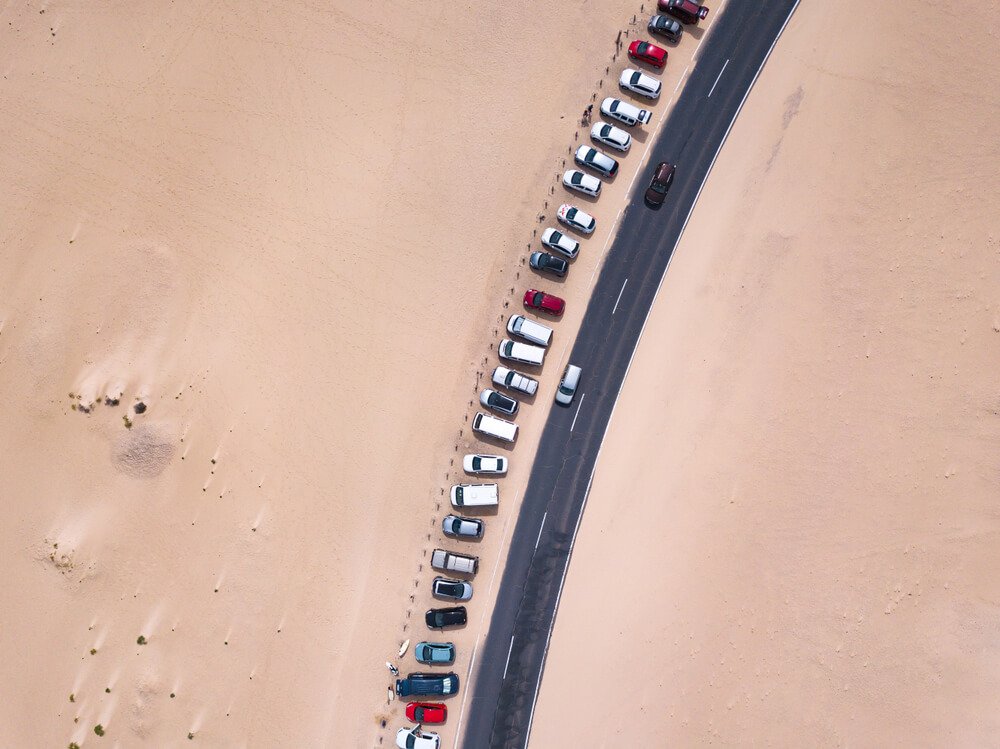 Parking rules are pretty easy in Fuerteventura, as with the rest of the Canary Islands.
You will usually have no problem finding free parking spots in most places.
Exceptions include extremely popular attractions and big cities, but even there, you usually have options.
As far as rules go, if you see parking lots marked by white lines, they are free.
Blue lines mean paid parking, while yellow lines signal you can't park there.
Remember these three simple rules, and you'll have no problem across the islands.
Lastly, if you're visiting popular spots like the Corralejo dunes, getting there early or late in the day is usually the way to go!
Don't drink and drive.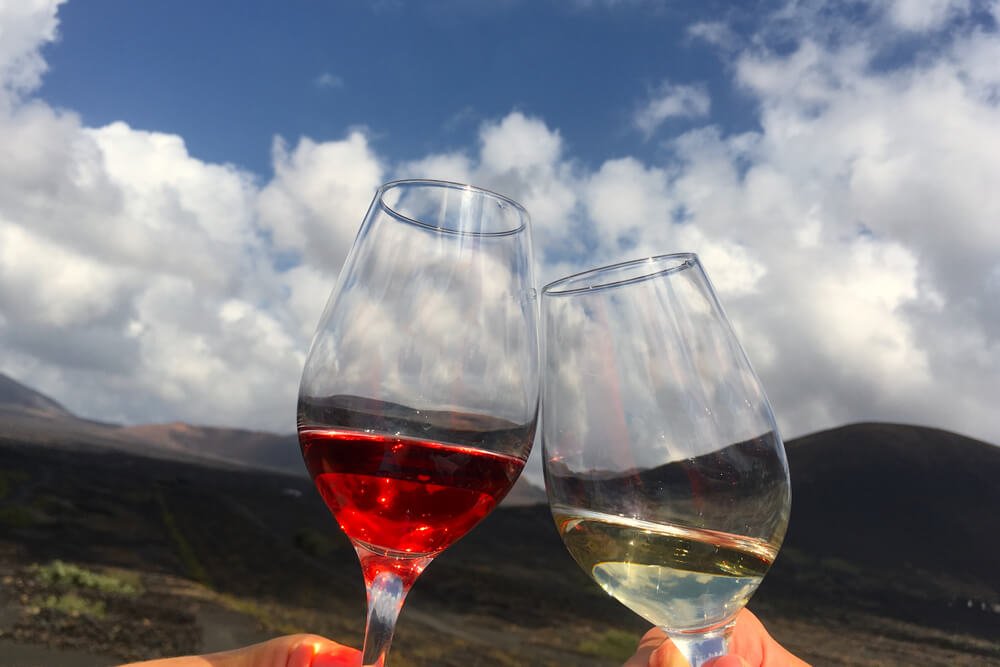 The Canary Islands (like all of Europe in general) are relatively strict about drinking and driving.
The legal limit is 0.05% BAC — by contrast, in America, the legal limit is 0.08% BAC, which is actually a fairly significant difference.
As a rule of thumb, having one drink with food allows you to stay within the limits, so long as you have a leisurely meal.
If you plan on drinking more, do so after you're done driving for the day to stay safe and avoid legal issues.
You can also take a tour, like one of these wine tours of neighboring Lanzarote — there are even wine tours that depart from Fuerteventura like this one!
Pick up your rental car in the right spot.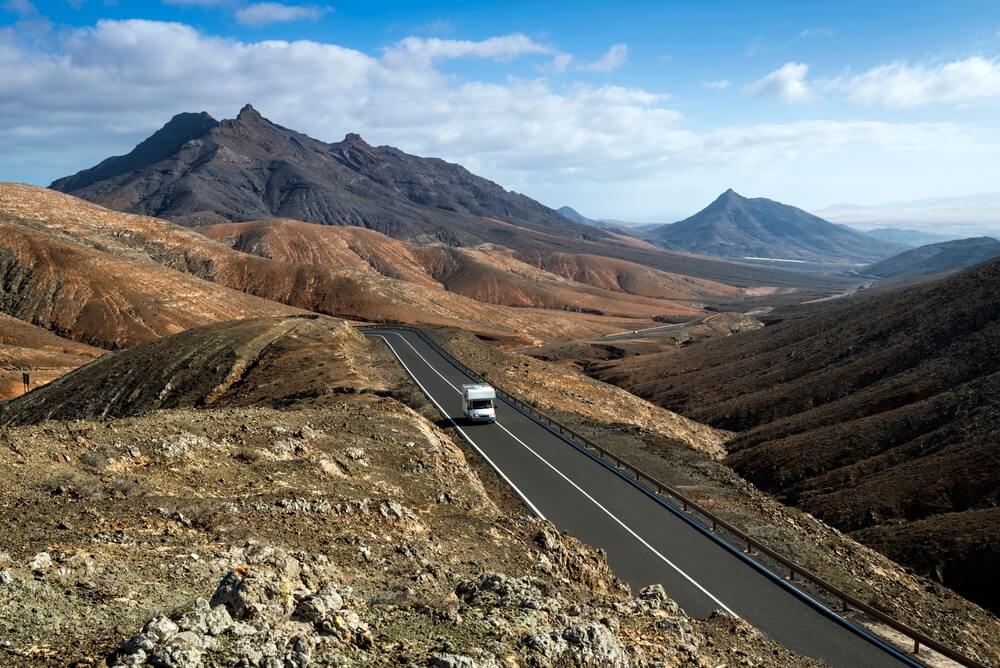 The three most popular places to rent a car in Fuerteventura are the airport, the capital of Puerto del Rosario, and Corralejo.
Corralejo is the northernmost city on the island, as well as the the harbor for ferries to Lanzarote and Isla de Lobos (which you can't take your car to).
You can also rent a car in the south of Fuerteventura, mainly in Costa Calma and Jandía, but you typically won't find the best prices here.
Renting your Fuerteventura rental car at the airport provides the most diverse options, including last-minute rentals.
The prices tend to be similar throughout the island, although you may need to book in advance in less popular locations where available cars tend to be rented out fast.
Unless you plan on spending a significant amount of time in Fuerteventura's cities, it makes the most sense to simply rent the car from the Fuerteventura airport in the first place, saving you time and energy.
Be aware of the varying road conditions.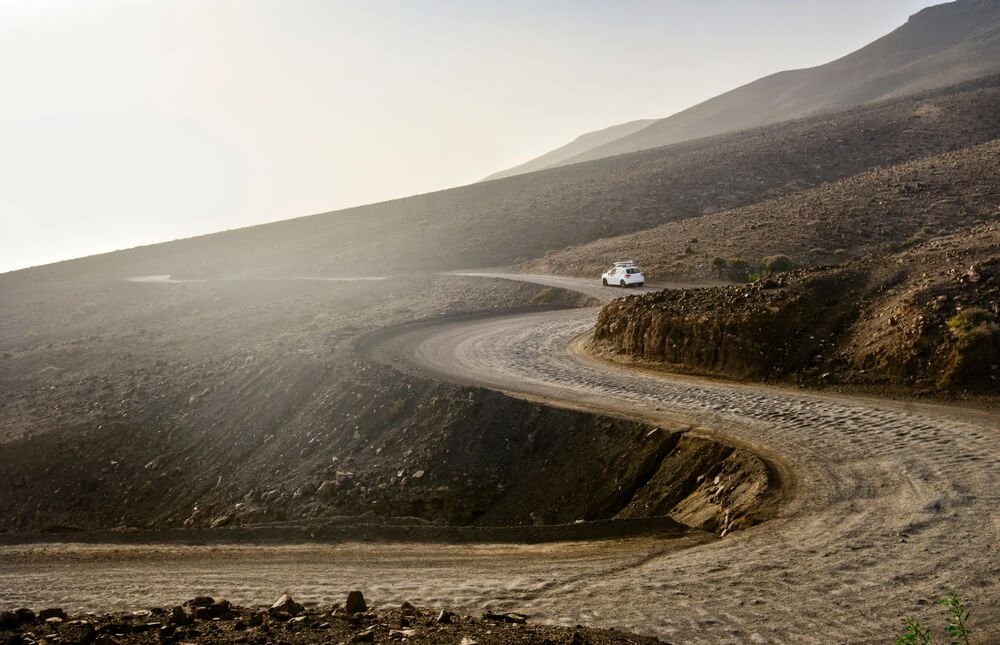 Fuerteventura has one highway running along the eastern coast from its northern tip, in Corralejo, to the south, in Las Gaviotas.
Driving along this road is a pleasant and relaxing experience since it's mostly straight and flat — with gorgeous views throughout to sweeten the deal.
The secondary roads reaching inland are smaller, but still easy given the lack of altitude across the island.
However, the southern tip of Fuerteventura and the western coast have virtually no paved roads.
Some small towns along the coast like Ajuy, Puertito de los Molinos, and El Cotillo, are connected by paved roads… but none are running along the coast, so you might have to backtrack quite a bit between these towns to stay on paved roads.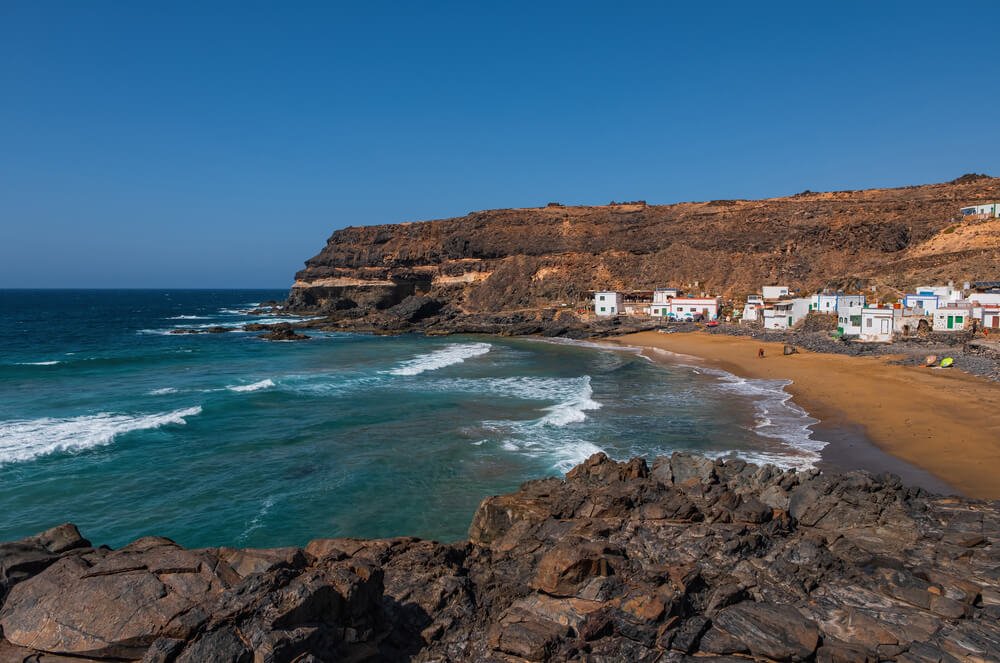 The same is true for Parque Natural Jandía as well as some other areas inland.
While the roads in these remote areas are not necessarily difficult, it can be a little legally tricky to drive here with a rental car since driving off of paved roads is not permitted.
How much risk you're willing to accept in terms of potentially invalidating your rental insurance is up to you, but I generally recommend staying on the paved roads as much as possible.
Know the best places to go with a rental car in Fuerteventura.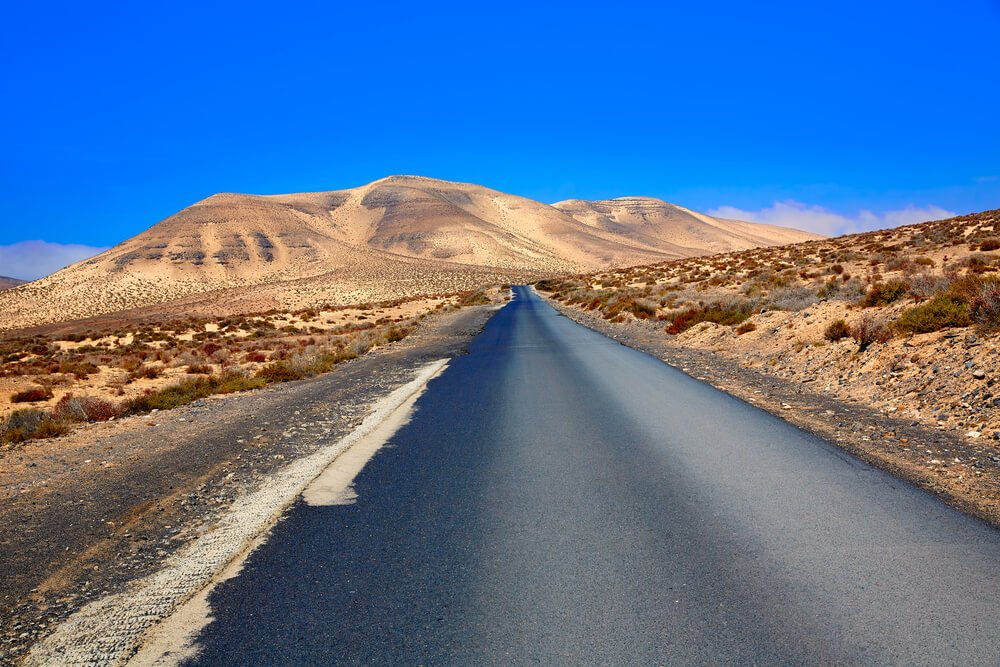 If you rent a car in Fuerteventura, you should spend some time exploring Betancuria Rural Park, Parque Natural Jandía, and the beaches in the northwest of the island.
These areas are difficult, if not impossible, to reach by bus, so having a car to explore these parts of the island is a must.
One of my favorite parts of the island, Betancuria Rural Park is among the most spectacular places in Fuerteventura.
This park's impressive landscapes are defined by its spectacular reddish mountains, towering volcanic cones, stunning rock formations, and gorgeous little villages like Betancuria — which was once the capital of Fuerteventura.
Parque Natural Jandía is a wild and unspoiled area in south Fuerteventura, home to spectacular, remote beaches and impressive nature.
Unfortunately, most of the park has no paved roads, but there is still much you can explore even if you don't want to venture off-road.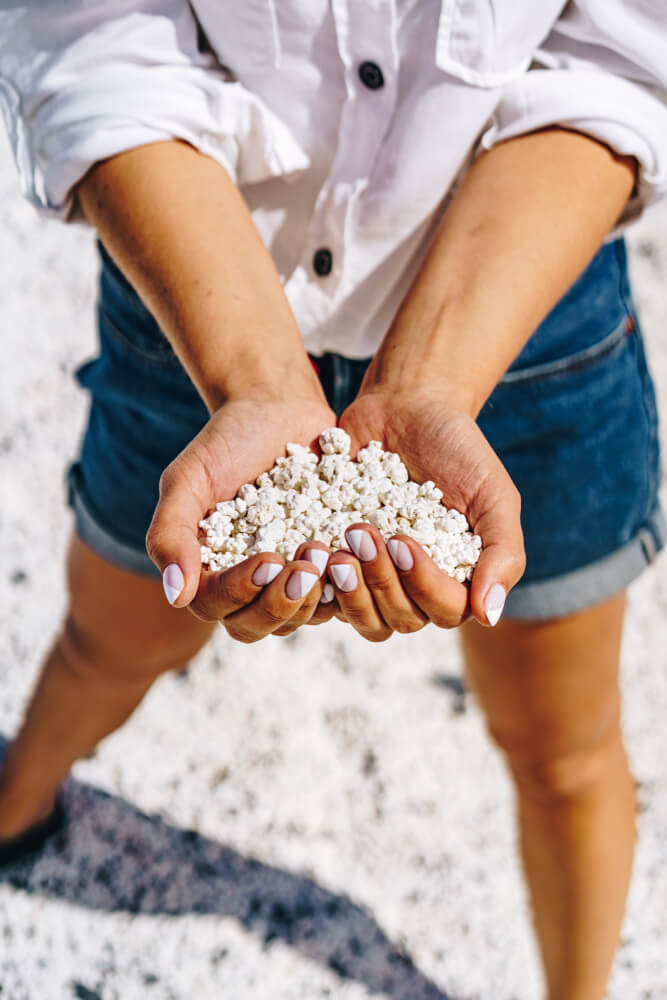 Lastly, the beaches in the northwest of Fuerteventura, just a short drive from Corralejo, are impossible to reach by public transportation.
The famous Playa El Mejillón, also known as Popcorn Beach, is just a 10-minute drive northwest of Corralejo.
However, this area too is mostly served by unpaved roads, so venture here at your own risk.
You can also walk from Corralejo, which takes about an hour, if you're unsure about the drive.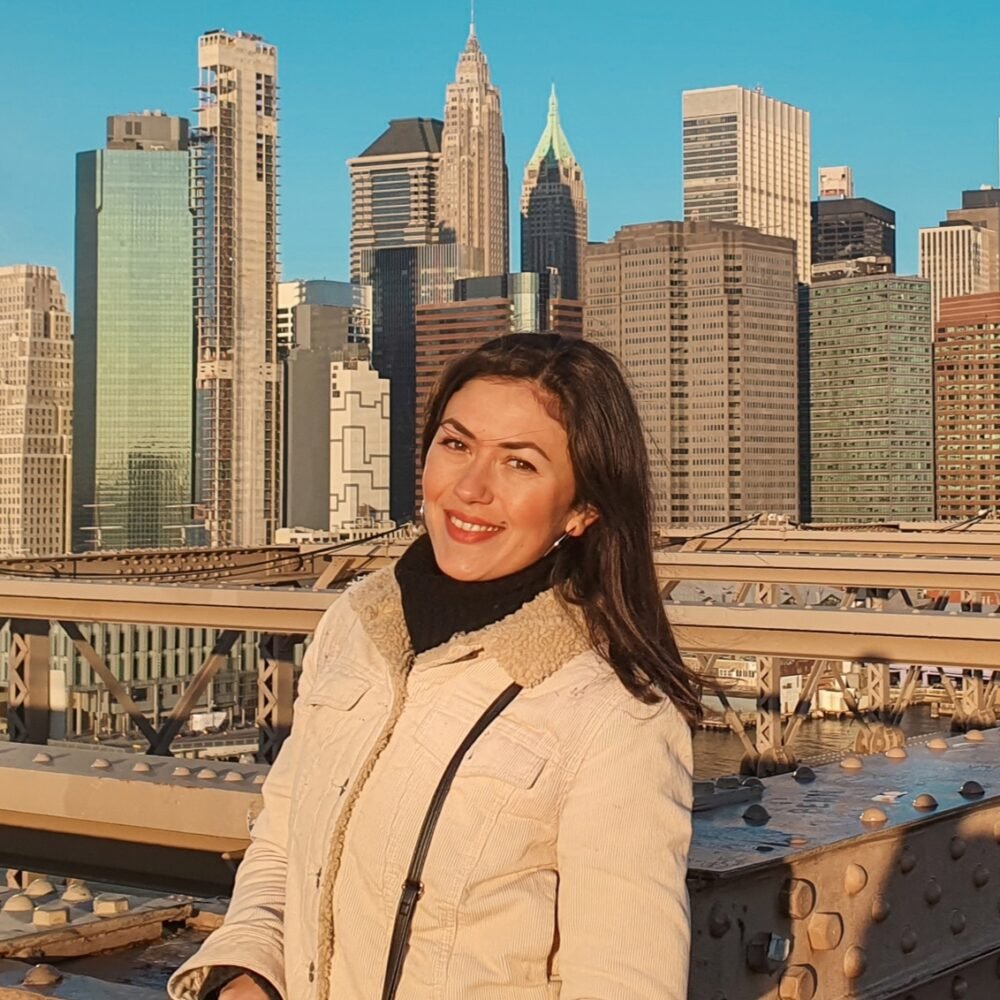 Roxana is a Romanian-born freelance travel writer who has lived in Italy for over 15 years. She has a Master's in Journalism and a Bachelor's in Film Studies. Her mission is to find hidden gems, even in the most popular travel destinations, and to inspire people to explore new places and cultures with the same curiosity! When she is not traveling, writing, or planning her next trip, she is either binge-watching TV shows or reading books.