Florence is a beautiful city known as the "Cradle of the Renaissance," and it features not only stunning landmarks, but some of the best museums in Italy.
This rich cultural heritage is an absolute must-see for anyone, but especially for aficionados of art history!
Note: This post contains affiliate links, which means I may receive a small commission if you purchase something through one of these links. Thank you for supporting the free content on this site! For more information on affiliate links and cookies, see my disclosure page for more details.
However, if you plan on spending a considerable length of time in the city, or if you've already visited before and you're just visiting Florence for a day or two on a return trip, you may find yourself getting curious about exploring more of its surroundings.
Great news: once you leave the city limits, you'll find that there's so much to discover!
Tuscany is one of Italy's most beautiful and rich regions, and you'll have your choice between exploring arts, architecture, and natural landscapes.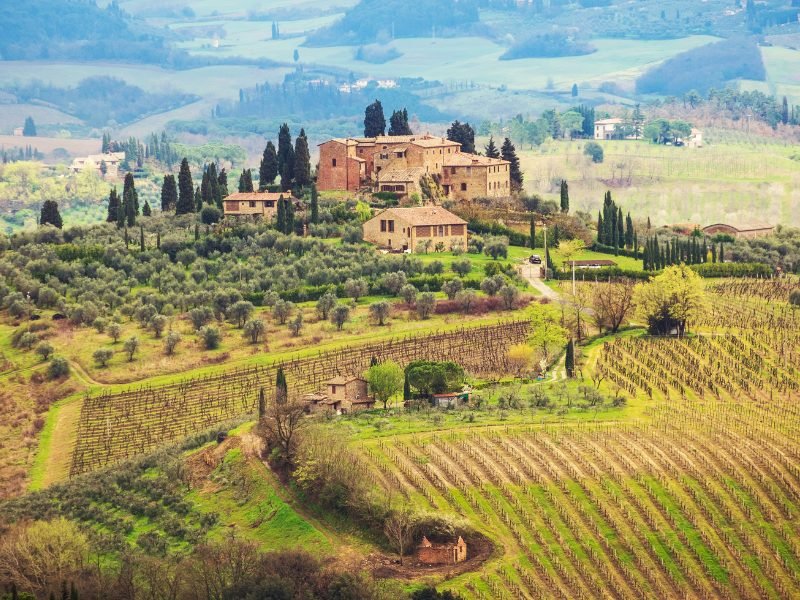 From big cities to charming little villages, you can plan day trips from Florence to suit any taste!
Depending on how much time you're willing to spend on a Florence day trip — something nearby or if you're willing to travel a few hours — the possibilities are wide-ranging, from Tuscan hill towns and beyond!
The Best Day Trips from Florence
Siena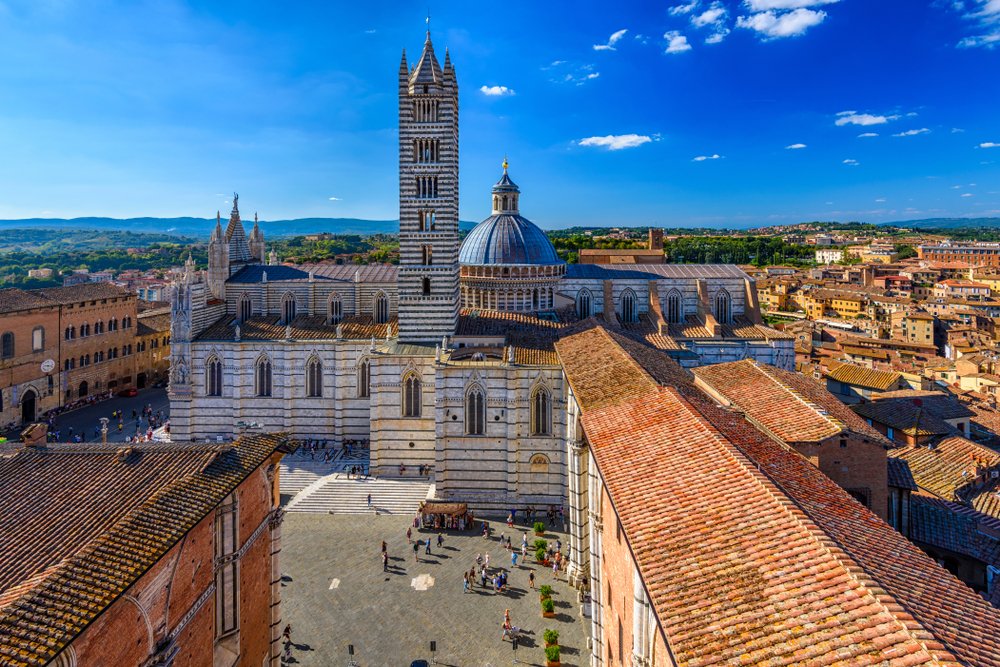 90 minutes south, Siena's beauty is said to rival even the famous Tuscan capital.
Best known for its medieval center and its central square, Piazza del Campo, Siena is gorgeous larger city in Tuscany that still retains a bit of a small-town feel.
While you could do Siena as a day trip from Florence, it's even better on its own as a multi-day trip (see this two-day itinerary, for example).
Every summer, it gets crowded as people from all over Italy and abroad descend on the city for the Palio di Siena, the world-famous horse race.
But beyond that, Siena has many gorgeous landmarks worth working into your day trip itinerary.
Don't miss the Duomo di Siena, the town's cathedral famous for its signature black and white marble stripes.
You should also reserve time to see the Palazzo Pubblico with the iconic Torre del Mangia. Climb to the top of the tower for the most impressive views of the city!
While you're in town, Basilica Cateriniana San Domenico is another important landmark worth checking out.
How to Get to Siena from Florence
There are direct trains about once an hour via the Firenze Santa Maria Novella train station, which take about an hour and a half. There are also trains with a transfer that add on a little more time.
The 131/131R Autolinee Toscane bus goes from Florence to Siena about once an hour, taking about an hour and 15 minutes. There's also a once-daily Flixbus that makes the trip in about an hour.
If you go by rental car, it's about a one-hour drive, depending on if there's traffic.
San Gimignano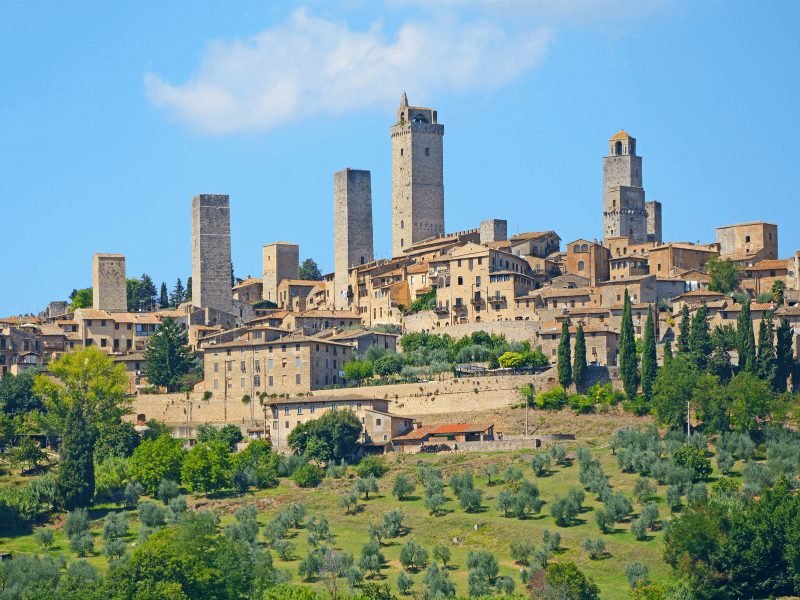 An easy day trip just two hours away by bus, San Gimignano is one of most beautiful hilltop towns in Tuscany (and indeed, all of Italy).
Collect UNESCO sites? You can add one to your list by visiting San Gimignano, as the medieval town center became a UNESCO World Heritage Site in 1990.
The best thing to do in San Gimignano is to simply wander around the lovely medieval town and discover beautiful views of its beautiful architecture and rich history.
Stop by the triangular-shaped Piazza della Cisterna, surrounded by towers and medieval buildings, and pay a visit to Duomo Collegiata di Santa Maria Assunta.
If you're up for a uniquely dark attraction, consider stopping in for a visit to the Museum of Torture. The subject matter might be a bit grim, but the museum is a fascinating look into the dark side of history!
For beautiful views of the town, climb one of the many towers. Torre Grossa may be the largest, but Torre Rognosa and Torre Chigi also offer amazing views.
San Gimignano is even nicknamed the "Medieval Manhattan" due to its many towers, so this skyline is absolutely not to be missed!
How to Get from Florence to San Gimignano
You can take the hourly 131 bus, getting off in Poggibonsi — this takes about 50 minutes. Then, transfer to the 130 bus, which takes another 25 minutes or so to reach San Gimignano. With wait time, it's about 2 hours by bus.
You can do a similar route partly by train, taking the train to Poggibonsi and then taking the 130 bus to San Gimignano. This takes a little longer since the train is not as direct.
If you have a rental car, it's only about an hour's drive from Florence.
Suggested Tour: Full-Day Pisa, Siena & San Gimignano Day Trip

Want to tick off three Florence day trip destinations in one easy tour? This day trip does it all for you.

This tour handles all the logistics and transfers, giving you 1.5 hours of free time each in Pisa and San Gimignano.

On your way to Siena, you'll have lunch (included) in a traditional Tuscan winery, including a wine tasting.

Then, you'll enjoy a guided tour of Siena (and the Siena Cathedral) before being given some free time, totaling 2.5 hours in Siena.

➜ Check prices and tour availability here!
Prato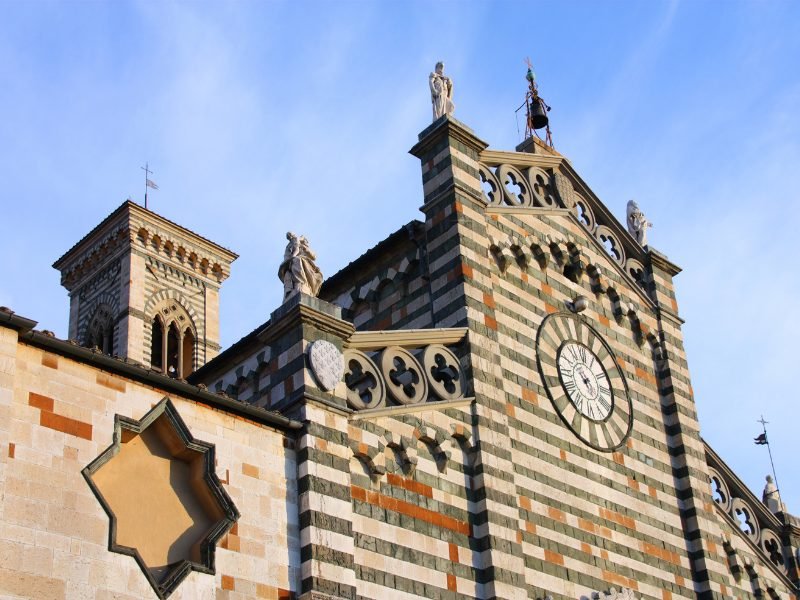 Just outside Florence, the city of Prato is a quick 20-minute train ride from Santa Maria Novella station.
If you're short on time but want to see something other than Florence, you can visit Prato in just a half-day.
Prato is renowned for its textile district, where brands from all over the world have their factories.
You can learn all about the history of textiles in the city at the Prato Textile Museum, one of the prime attractions the city has to offer.
Be sure to visit the Romanesque St. Stephen's Cathedral, the medieval castle Castello dell'Imperatore, and the Museo dell'Opera del Duomo with its gorgeous cloisters.
Another beautiful sight is the Villa Medici at Poggio a Caiano, located just outside Prato, featuring wonderful gardens. It's the perfect little oasis in the middle of your trip!
How to Get from Florence to Prato
There are trains from Firenze S.M.N. station to Prato 2-3 times per hour, taking anywhere from 20 to 30 minutes depending on the train.
There are also buses every 30 minutes to an hour, but those take about 40 minute so they don't save you any time.
If you have a rental car, you could drive it in 20 minutes, but honestly, the train is faster and less stress. It's likely cheaper, too, once you factor in parking.
Pisa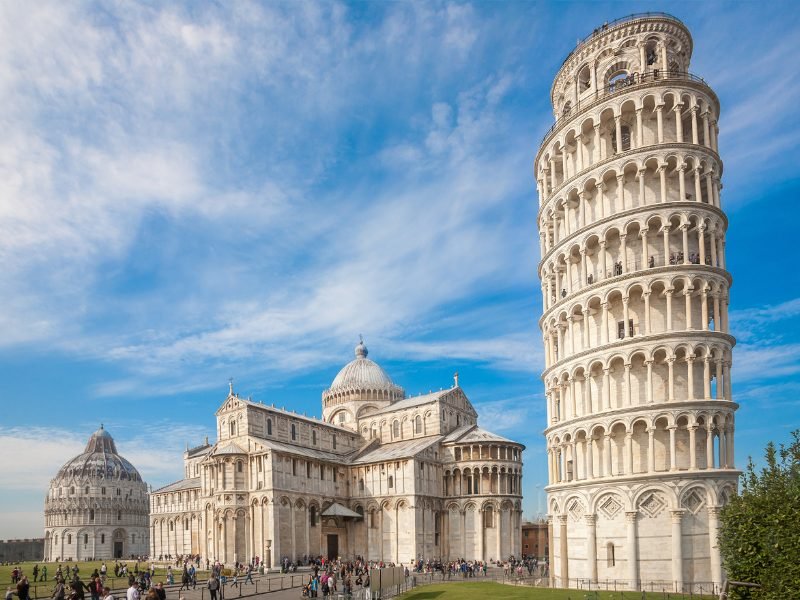 I probably don't even have to say it, do I?
The number one reason you'd visit Pisa is to see — what else? — the Leaning Tower of Pisa.
However, what you may not know is that the iconic tower is actually part of a complex of landmarks!
The complex encompasses the buildings of Piazza dei Miracoli (Plaza of Miracles) includes the Pisa Cathedral, the Pisa Baptistery of St. John, and the Monumental Cemetery.
You can easily spend a whole afternoon sightseeing around Piazza dei Miracoli and visiting all the landmarks.
Be sure to save some time though, because you'll also want to explore the lovely Borgo Stretto neighborhood with its gorgeous medieval houses and beautiful arcades.
While you can do Pisa as a day trip easily, it benefits from more time, like this 2 days in Pisa itinerary lays out.
How to Get from Florence to Pisa
Trains depart regularly from Santa Maria Novella train station, and the trip from Florence can take as little as 50 minutes for the most direct route!
Buses are less convenient here, so the train is the best option.
If you want to see Pisa as well as other sights, you can also book the Pisa, Siena, and San Gimignano tour mentioned above.
Volterra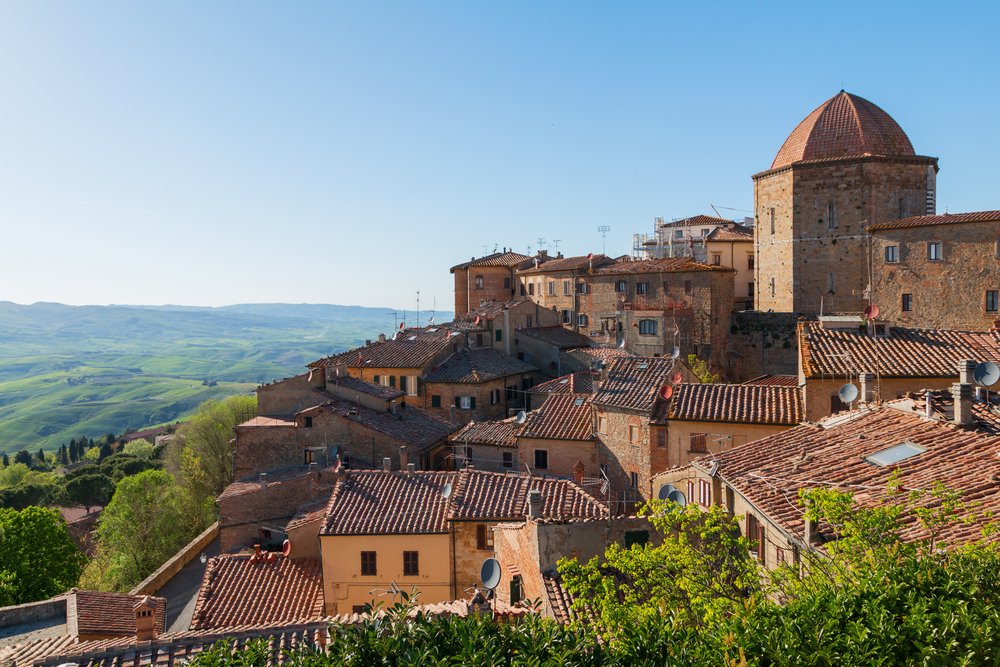 If you've ever seen the Twilight Saga, you might be familiar with the medieval town of Volterra.
If you didn't, go ahead and skip the movie and just take a day trip to Volterra from Florence.
This beautiful little Tuscan town is just over two hours from Florence by public transit
Volterra is a delightful small town to walk around: poke around down narrow alleys, meander through lively squares, and delight in the views of the historic.
Spend some time in Piazza dei Priori, then see it from above! The views from the tower of Palazzo dei Priori offer one of the best views of Volterra.
You should also dedicate some time to pay a visit to the Cathedral of Santa Maria Assunta.
If you're a fan of museums, stop in at the Etruscan Museum Mario Guarnacci to learn about the town's long history.
Volterra has a rich Etruscan heritage (and Roman and Medieval as well), with its earliest settlement nearly three millennia back, all the way back in 8th century BCE!
How to Get from Florence to Volterra
There are no direct buses or trains between Florence and Volterra, so the easiest thing to do is take the train to Pontedera and then the 500 Autolinee Toscane bus to Volterra.
This can be a bit hectic, so a guided tour may be the better bet, like this one that combines Volterra, San Gimignano, and some Chianti wine tasting to sweeten the deal.
Suggested Tour: Full-Day Volterra & San Gimignano with Lunch and Wine Tasting

This tour eliminates the need to fuss over public transit and combines two typically hard-to-reach cities into one guided tour.

Your day starts in San Gimignano, where you'll have a guided tour of the city as well as a wine tasting, and a free taste of gelato from a world champion winner! Then you'll have free time in the city.

Next, you'll head onto Volterra, where you'll have another guided tour followed by a lunch (included) in a local traditional Tuscan restaurant.

On the way back, you'll stop by a winery for a sunset wine tasting including the world-famous Super Tuscan wines — not a bad way to cap off a day trip from Florence!

➜ Check tour availability and prices here!
Certaldo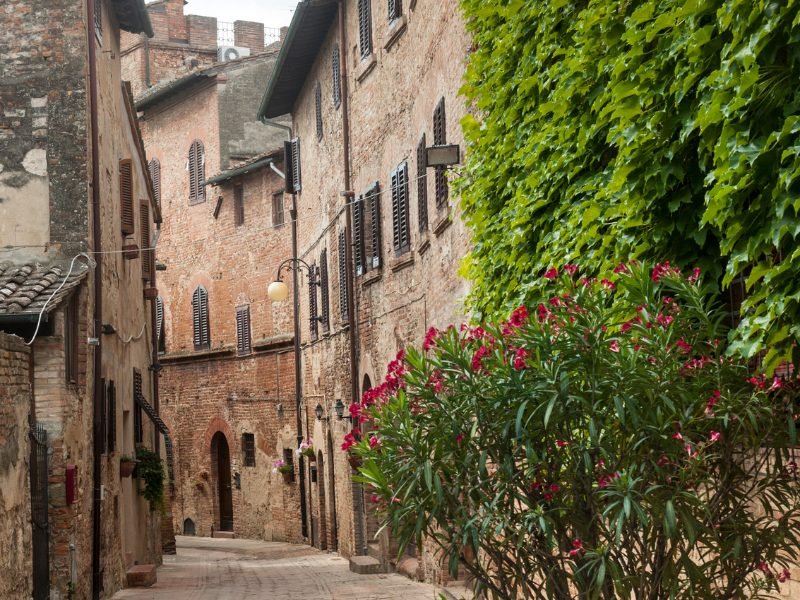 If you enjoy exploring small Tuscan towns, then Certaldo absolutely has to be on your list of day trip destinations from your stay in Florence.
The picturesque town is less than an hour from Florence and features a lovely hilltop medieval town reachable via cable car.
The top landmark in Certaldo is Palazzo Pretorio, a 12th-century palace that houses beautiful frescoes and historical artifacts, and features a tower with spectacular panoramic views.
Another must-see is Boccaccio's House, which belonged to the famous Italian writer Giovanni Boccaccio, who was born and died in Certaldo.
As a bonus, the house also offers gorgeous views of the surrounding town!
How to Get from Florence to Certaldo
There are direct trains about once an hour from Florence, taking a little under an hour, and there are even more options if you take the train with a transfer in Empoli (taking about 1 hour, 20 minutes).
There are no direct buses, so taking the train or driving in a rental car is your best bet.
By car, it's about 50 minutes, so there's no benefit to driving over taking the train if Certaldo is the only place you're visiting.
Cinque Terre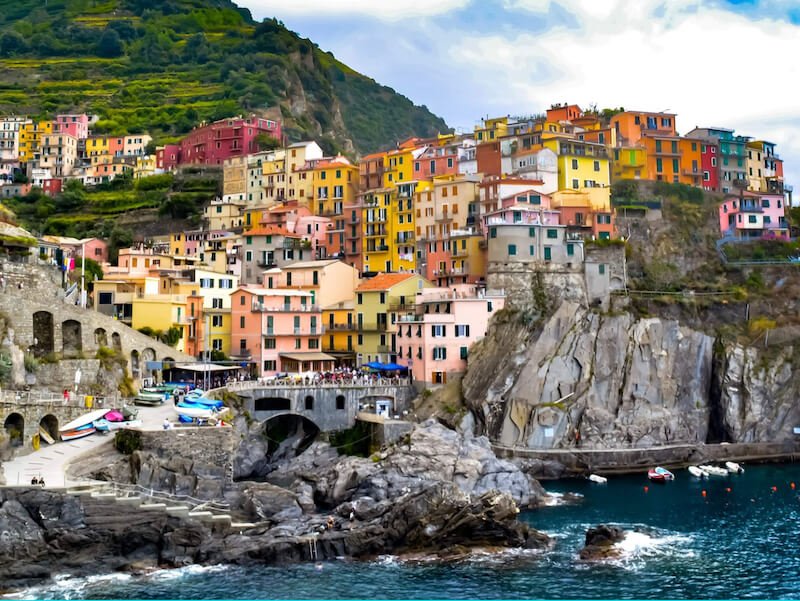 One of Italy's most beloved sights, the Cinque Terre, is truly worthy of at least one or two full days.
However, if your trip to Italy has very limited time, it may be worth visiting Cinque Terre from Florence on a day trip.
However, you'll want to take a tour to make every moment count and not get tripped up on the details and working out all the train connections.
This Florence Cinque Terre Day Trip is a full-day tour that handles all the logistics getting you between Florence and Cinque Terre National Park.
This tour includes time in all five colorful seaside villages (Manarola, Corniglia, Vernazza, Riomaggiore, and Monterosso).
If selected, you can also include a hike from Corniglia to Vernazza. Don't worry if you prefer a lower-impact outing, you can also get to Vernazza by train!
In the peak season, you'll also be able to take a boat cruise along the Cinque Terre coastline — as long as the weather behaves.
The tour also includes an optional seafood lunch at a local restaurant, where you can try traditional Ligurian dishes.
How to Get from Florence to Cinque Terre
While it's possible to get from Florence to Cinque Terre via public transportation, I don't recommend it for a day trip.
There are simply too many transfers involved when it comes to visiting Cinque Terre, and it's a lot to work out on your own.
A guided tour is the best and easiest way to do Cinque Terre as a day trip.
Suggested Tour: Full-Day Cinque Terre Tour with Hike, Lunch, and Boat Cruise

This easy tour includes visits to all five of the villages of the Cinque Terre on a day trip from Florence through expert planning and smooth transfers.

It'll be a jam-packed day but it'll be worth it, especially if you add on the option to take a hike through the vineyards to lovely Vernazza.

You can also add on a seafood lunch or figure out lunch on your own time.

Finally, on tours between April and October, you'll be able to take a boat cruise along the coast as long as the weather permits.

➜ Check tour availability and prices here!
Bologna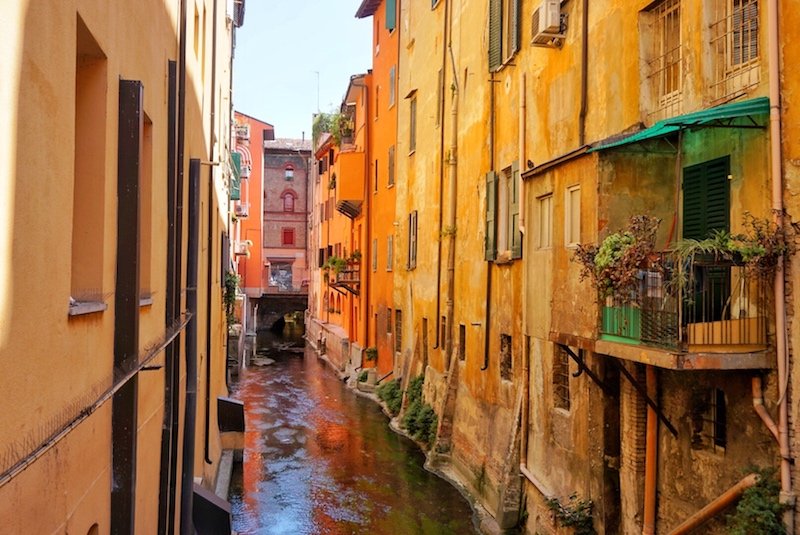 Bologna is very close to Florence, which means it's perfect for a day trip!
Bologna is primarily a student city, as it is the home of the world's oldest university, in continuous operation since 1088.
Additionally, Bologna is a great place to eat delicious food. A must-try is the classic green lasagna, but the tagliatelle al ragù is also delicious.
If you're just in the mood for a quick snack, try a sandwich with mortadella, the favorite local cold cut!
In the city center, wander around Piazza Maggiore and Piazza del Nettuno, climb one of the towers to enjoy great views, and visit the Cattedrale Metropolitana di San Pietro.
One particularly cool spot that recently became popular is La Piccola Venezia (Little Venice), a small canal you can view from a window on Via Piella.
How to Get from Florence to Bologna
For the fastest train ride, you can spend a bit more for the Frecciarossa high speed train, which takes only 40 minutes.
Alternately, you can save some money and opt for the cheaper regional train that takes a little under two hours.
Chianti Region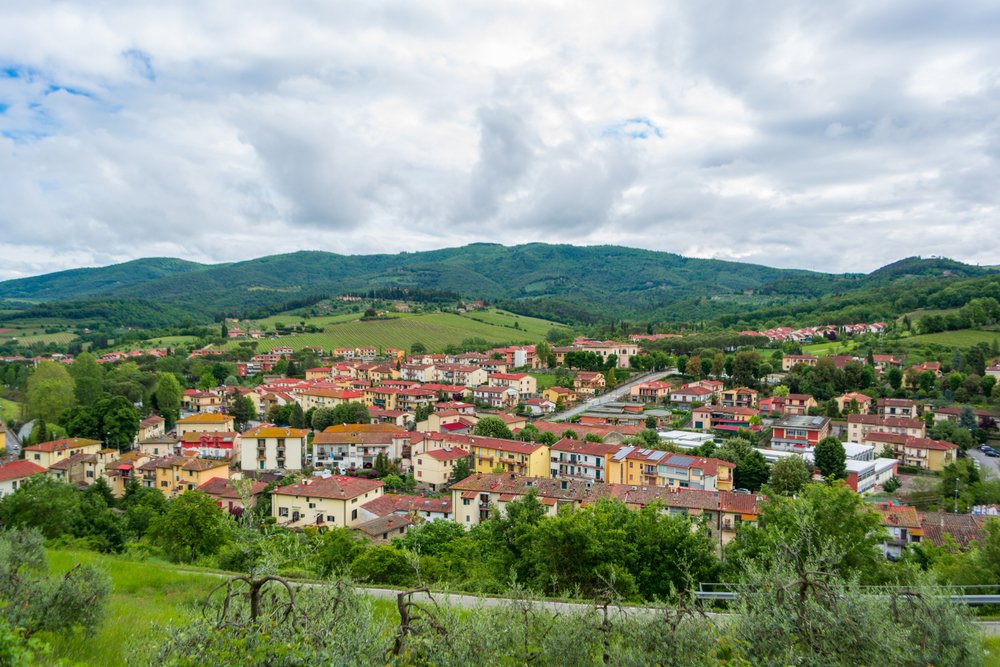 For an authentic experience in the Tuscan countryside, wine lovers should head to the Chianti Region.
Chianti, alongside Prosecco and Barolo, is one of the biggest names in Italian wine!
While you can opt to rent a car and explore Tuscany on your own, I don't recommend it if you plan on wine tasting.
So you don't have to worry about designated drivers, you can book a guided tour like this Chianti Wineries Tour with Food and Wine Tasting.
A Tuscany wine tour offers a bit of everything in a single jam-packed day trip: not only will you be exploring the gorgeous Tuscan countryside, but you'll also be visiting local wineries, and of course, sampling local wines like Chianti Classico!
Organized tours usually run between 5 and 8 hours exploring the Chianti wine region, and typically include everything from transportation to Chianti wine tasting and expert guides.
How to Get from Florence to Chianti
Since wineries are dispersed from the main cities in Tuscany, it's typically best to get around Chianti by car.
However, with alcohol involved, driving in a rental car is out unless you have a designated driver.
Instead, I suggest taking a guided tour so that everyone can enjoy.
Lucca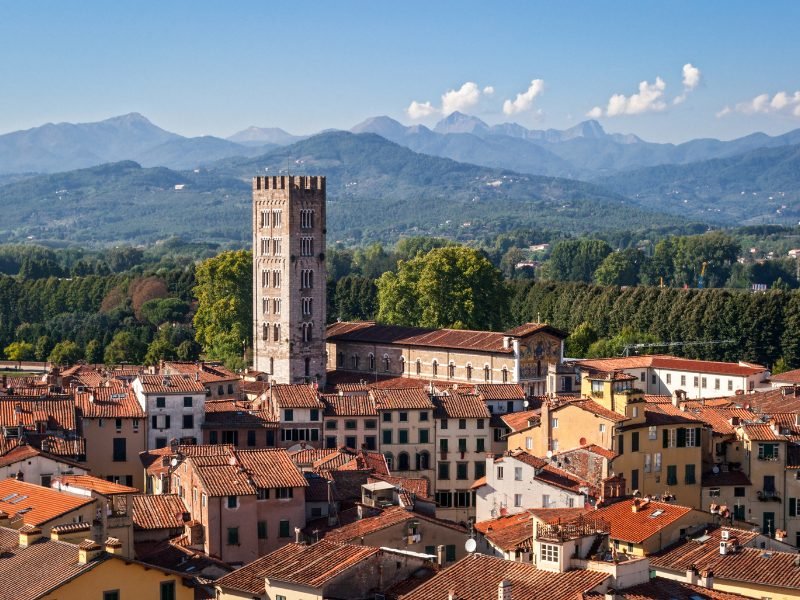 Lucca is one of the most spectacular cities in Tuscany and is easy to get to from Florence for a great day trip.
Check out the beautiful Piazza dell'Anfiteatro, climb to the top of Torre delle Ore for stunning views, and visit the beautiful St. Martin Cathedral.
If panoramic views are your thing, you can check out another gorgeous view from Guinigi Tower, which features a wonderful rooftop garden where the only thing more beautiful than the plants is the stunning setting.
Lucca also has many museums, like the Puccini Museum housed in the birthplace of the Italian composer, the stunning Museum of Villa Mansi, and the gorgeous Palazzo Pfanner with its wonderful gardens.
How to Get from Florence to Lucca
To reach Lucca from Florence, you can enjoy another train ride through the beautiful Italian countryside and its rolling hills – this one takes just a little over an hour.
There are direct trains roughly twice an hour so you'll be sure to catch a train fairly quickly when you arrive at the train station.
Since trains are so easy, it's not worth bothering with buses or rental cars.
Rome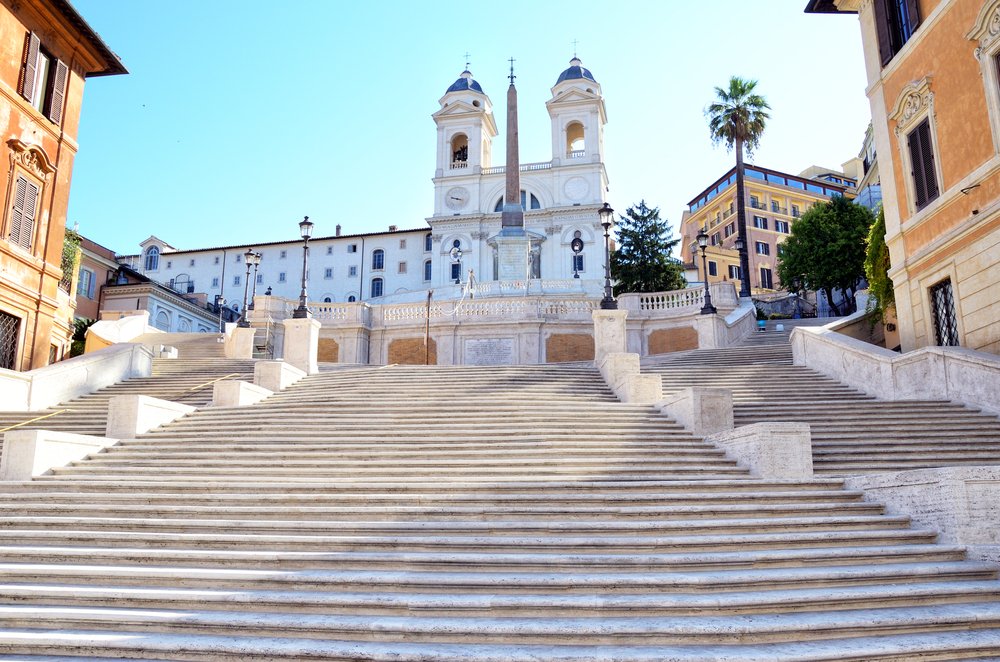 Many would argue that Rome should not be a day trip but rather an itinerary of its own… and I would agree, in an ideal world!
But I would also say that if a day trip is your only chance to see Rome, you absolutely should do it, and it's very easily achieved from Florence.
Just an hour and a half away by high-speed train, Rome and its many millennia of history beckon.
Do I even need to go into all the reasons you should visit Rome? Of course, there's the Colosseum, the Vatican Museums (and Vatican City, technically its own country!), and the Pantheon.
But there's also the beautiful squares like Piazza Navona and Campo de' Fiori, the charming little neighborhoods like Trastevere where you'll find delicious Roman trattorias serving up some of the best pastas of your life, and scenic parks like Villa Borghese.
You could honestly just walk around Rome without an agenda and call it a successful day trip, that's how spectacular this city is.
But if you want a little guidance, here's a plan for seeing Rome in a day.
How to Get from Florence to Rome
The Frecciarossa fast train covers the distance between Rome and Florence in an impressive hour and a half.
This same route takes over 3 hours by car, so that's quite impressive — so there's no reason why you'd do anything but take the fast train if you only have a day.
Pistoia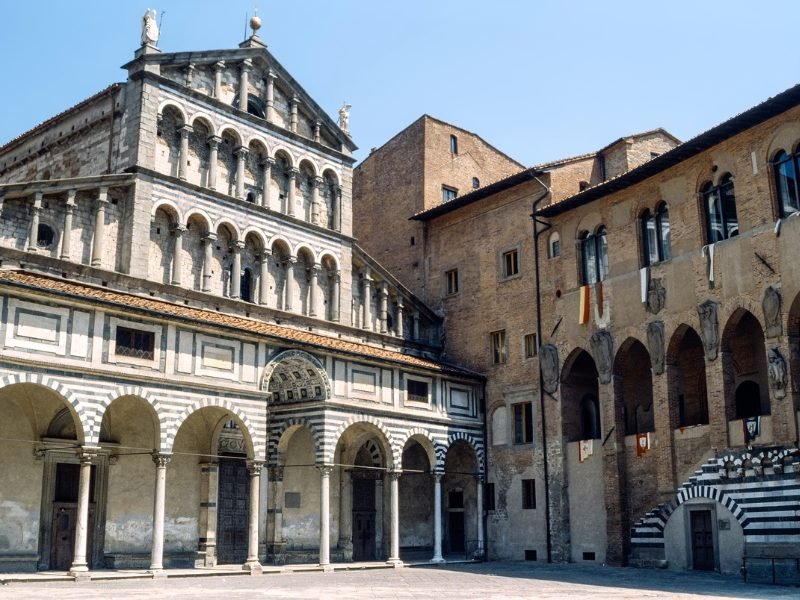 A hidden gem that many visitors skip when traveling to Tuscany, Pistoia was Italy's Capital of Culture in 2017, and for good reason.
Less than an hour from Florence, you can explore this historic city's charm easily in a single day.
Admire the medieval Cathedral of San Zeno, explore the town center, and take a mid-day break Italian-style for a delicious coffee or aperitivo in the lovely Piazza della Sala.
If you're up for visiting a museum, check out the fascinating Museo dello Spedale del Ceppo, dedicated to the history of the medical profession.
While in Pistoia, don't miss out on delicious local food!
The traditional dish of the city is the "carcerato", a soup with bread, beef entrails, and cheese.
The name translates to "prisoner" because the dish was cooked for the prisoners… but we swear, it's better than it sounds!
For a delicious vegetarian alternative, try the "farinata con le leghe" with black cabbage.
How to Get from Florence to Pistoia
Luckily, this is an easy one, with direct trains several times an hour.
The train ride is comfortable and takes only about 40 minutes from Firenze S.M.N., the main train station in town.
Cortona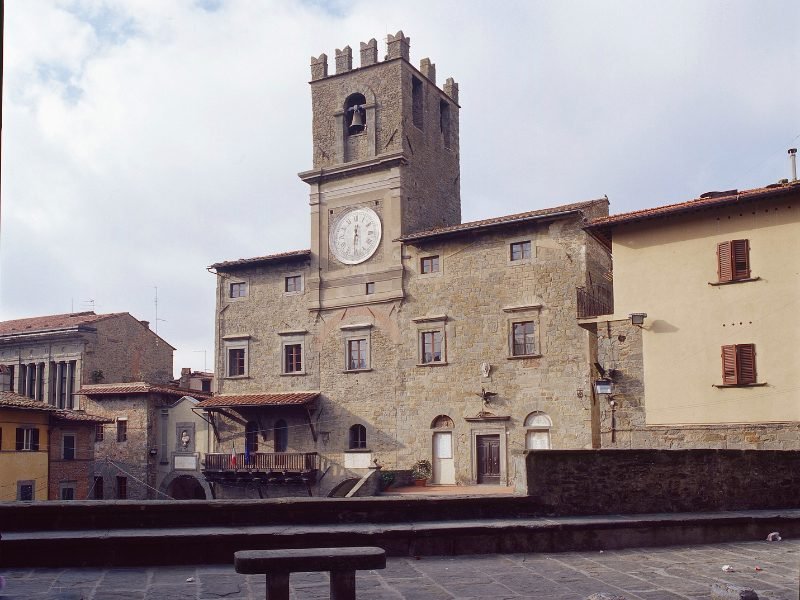 For another charming hilltop town in Tuscany, visit the lovely Cortona.
Not only is the medieval architecture of town itself picturesque, but the views over the countryside are spectacular.
Wander down cobblestone streets as you take in its key landmarks, like the Etruscan Academy Museum and the lovely Church of San Francesco.
Cortona also has many small art galleries where you can take home a piece of local artwork.
How to Get from Florence to Cortona
You can take a train to Camucia-Cortona which takes about an hour and a half. It'll bring you about 3 kilometers outside of Cortona.
From there, you can take a bus (though the schedule is a bit sporadic, so check the timing) or a taxi (which wouldn't be too expensive as it's rather close).
You can also drive to Cortona, which takes about an hour and 20 minutes.
Arezzo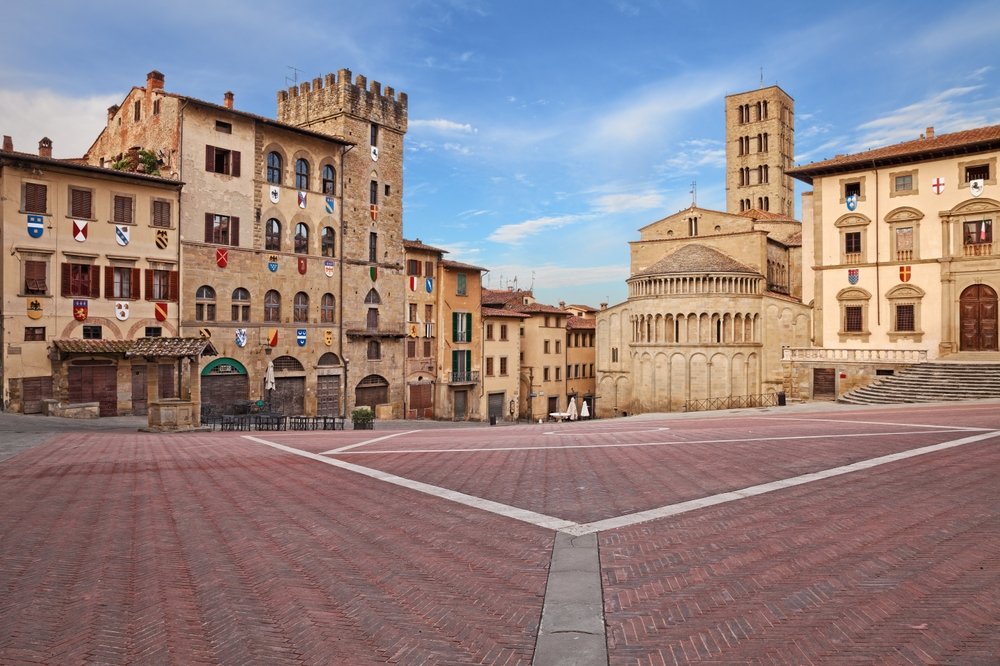 Southeast of Florence, the stunning hilly city of Arezzo is easily reached by train — and in less than an hour, too.
The hilltop Arezzo Cathedral is the main reason to visit, known for its beautiful frescoes and stained-glass windows.
Close to the cathedral, you can stroll around Arezzo Park to enjoy lovely views and visit the Medici Fortress.
Aside from the cathedral and fortress, there is much to discover in the historic center of Arezzo.
Visit the Basilica of San Francesco, have a coffee break at one of the cafés in Piazza Grande, and admire amazing works of art at Casa Vasari and the National Museum of Medieval and Modern Art.
Make sure to spend some time walking around the historic center.
You'll come across many picturesque alleys, beautiful churches, art galleries, and historical landmarks!
How to Get from Florence to Arezzo
There are many trains to Arezzo each day departing from Firenze S.M.N.
The fastest trains can get there in around 30-40 minutes. There are also other direct trains that take about an hour and 20 minutes, but they're not much cheaper, so I'd just opt for the faster train.
Livorno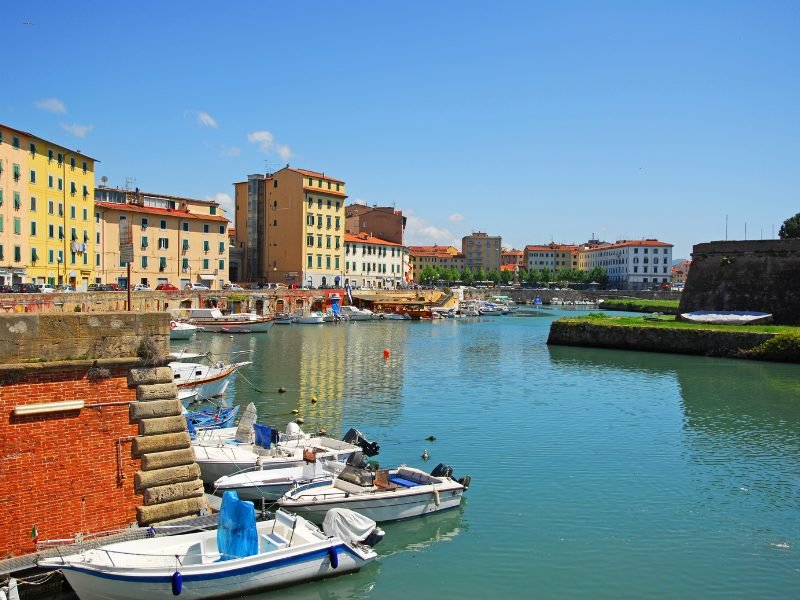 If you want to escape to the coast for a day, one of the easiest cities to reach from Florence is Livorno, under two hours away by train.
This Tuscan port city is the place to go for delicious seafood, medieval landmarks, and an impressive modern seaport.
Near the seaport, visit the 11th-century medieval fort known as Fortezza Vecchia (Old Fort), check out the Monument of the Four Moors, enjoy the views from Terrazza Mascagni, and maybe visit the Livorno Aquarium if you're a marine life geek.
Fortezza Nuova (New Fort) is located in an area of the city called Venezia Nuova (New Venice) because of its little islands and canals.
Via Grande is the main commercial area lined with stores, cafés, and ice cream shops. And trust me, you're going to want to make a trip to these ice cream shops.
How to Get from Florence to Livorno
There are several direct trains from Florence to Livorno each day, typically about one per hour.
It takes about 1 hour and 20 minutes by train to Livorno Centrale.
Montepulciano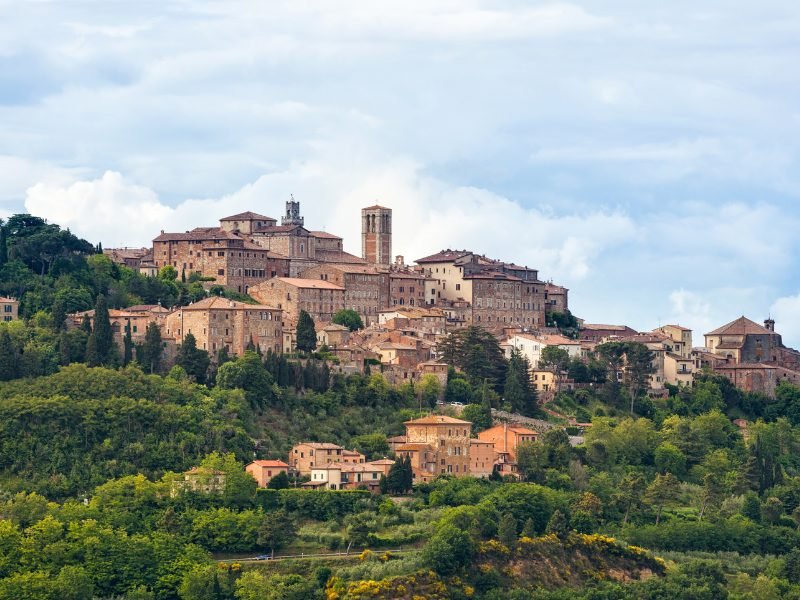 Wine geeks' ears will perk up when they hear that Montepulciano can be visited on a day trip from Florence!
Home to the world-famous Vino Nobile de Montepulciano, you'll find several wineries worth visiting in and around Montepulciano. There's even a winery located at a 14th century palace, Palazzo Contucci!
Besides its wine, though, there are several other reasons to visit Montepulciano.
The main square, Piazza Grande, is a great place for a mid-day gelato. People-watch while surrounded by beautiful Renaissance-era buildings like the Palazzo Comunale and the Palazzo Contucci.
The 16th-century Cathedral of Santa Maria Assunta is worth visiting for its beautiful Baroque features as well as its frescoes inside.
Don't miss the Church of San Biagio just outside of Montepulciano, widely considered one of the best examples of Renaissance architecture in the entire country, particularly for its white marble facade.
There's also the 14th century Fortress of Montepulciano – while there's not too much left of the fortress itself these days, it does offer stunning views over the rolling hills of Tuscany!
How to Get from Florence to Montepulciano
Getting from Florence to Montepulciano with public transit is quite a lot of trouble for a day trip, requiring a transfer and taking over three hours.
Instead, I recommend going by car if you have a rental car (about an hour and a half) or going as part of a guided tour.
This day tour includes visits to both Pienza and Montepulciano (with a wine tasting to boot!)
Both these places are difficult to get to by public transportation, so a day trip that knocks out both in one go is a great option.
Viareggio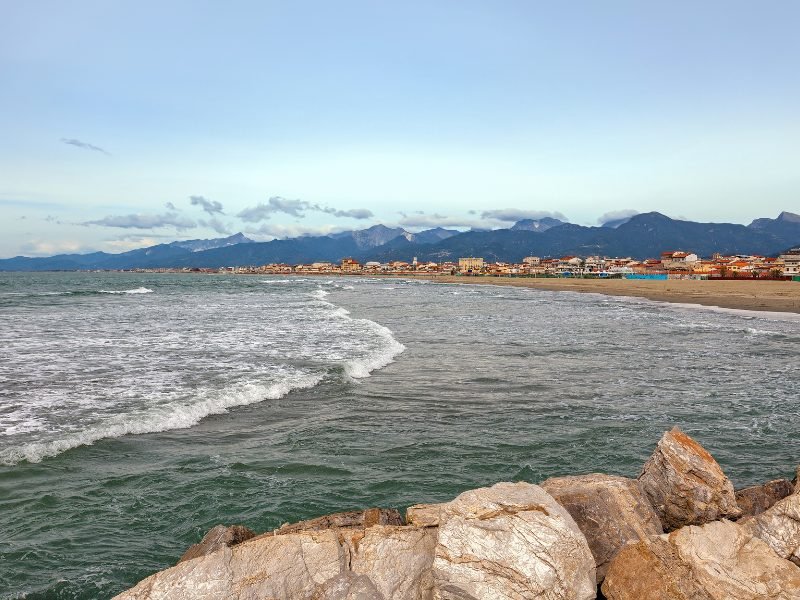 The best time to visit Viareggio is during the Carnival, between the end of January and the beginning of March.
The Carnival of Viareggio is probably second only to the one in Venice, famous for the impressively large floats parading on Viale Giosuè Carducci, also known as La Passeggiata.
If you don't happen to be in Viareggio during the Carnival, you should still go for a walk along La Passeggiata, lined with Liberty-style buildings, hotels, and restaurants.
In summer, walk along the long sandy beach and enjoy a meal at one of the great fish restaurants with striking sea views. Make sure to also stop by Villa Puccini and Villa Paolina.
How to Get from Florence to Viareggio
You can get to Viareggio by train from Florence in under two hours. Some trains are direct, but others require a transfer in Pisa.
Exact journey time varies on the train, but it can be as quick as an hour and 20 minutes or as long as two hours.
Forte dei Marmi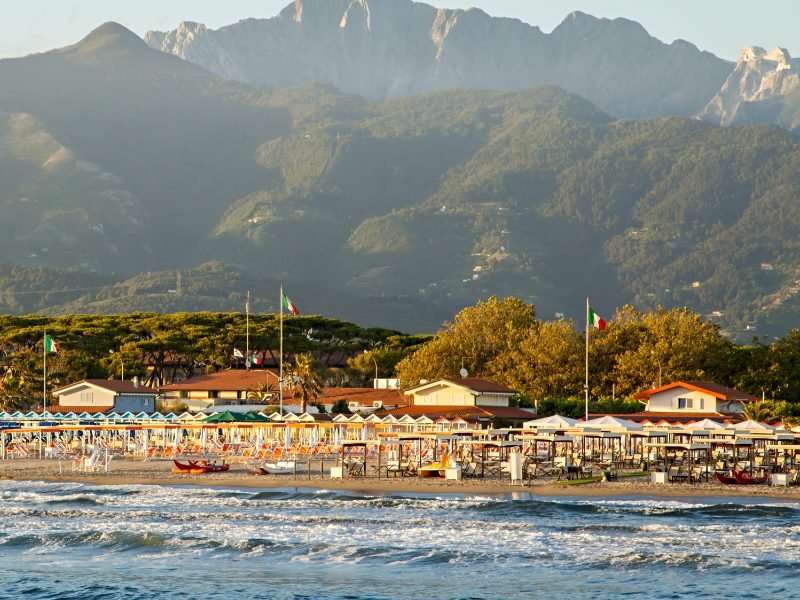 While Florence is a spectacular city, there's one thing it doesn't have: the sea!
It can get roasting-hot in Florence in summer, so if you want to cool off for a day, head to Forte dei Marmi.
The popular resort town is roughly two hours away from Florence and is among the top beach destinations in the area.
Boasting an uninterrupted long sandy beach, great restaurants, beach clubs, and boutique shops, Forte dei Marmi is the place to go if you want to relax, enjoy good food, and maybe even do a little retail therapy (or window shopping).
Since it's a beach town, the best time to visit Forte dei Marmi is summer, but you keep in mind the peak months are July and August and there will be crowds!
How to Get from Florence to Forte dei Marmi
It's a bit tricky by public transportation but it's still doable. You'll have to take the train to Viareggio and then take the E1 bus, which takes another 30 minutes.
All in all, you're looking at a journey of about two hours by train/bus, or if you're renting a car and driving, it's about an hour and a half.
Pienza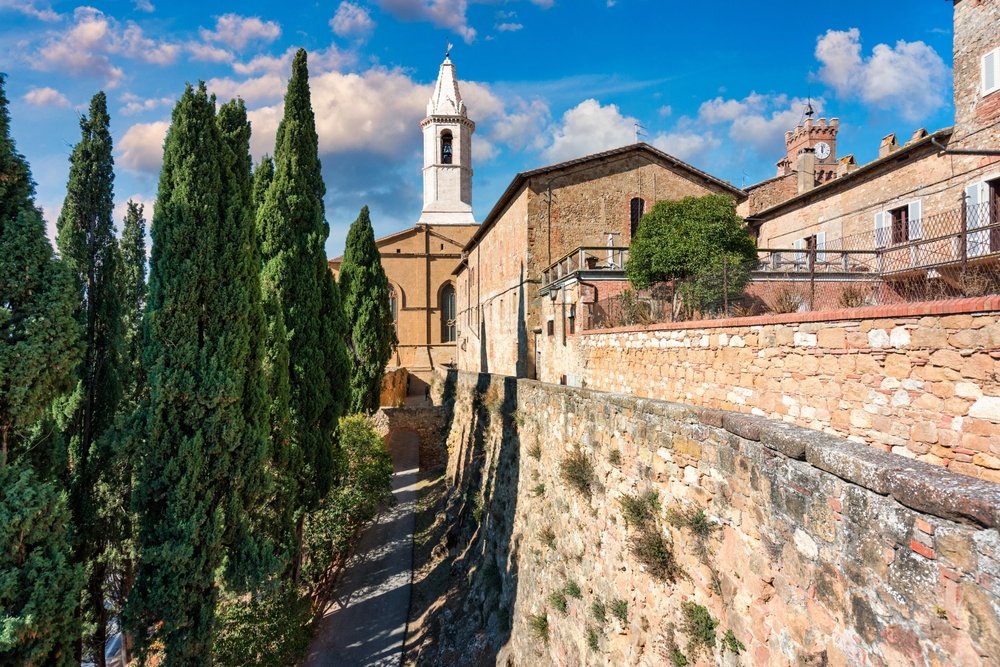 Another day trip option from Florence is Pienza, a hilltop town with intriguing Renaissance history and gorgeous architecture.
The views as you look out from Pienza are incredible since they overlook the Val d'Orcia, one of the most scenic parts of Tuscany.
In addition to being just plain scenic everywhere you look, the town also has several landmarks worth visiting.
In particular, the Palazzo Piccolomini with its Renaissance architecture and beautiful courtyards, as well as the Cathedral of Santa Maria Assunta are both worth your time.
Take a brief pause in Piazza Pio II for some people-watching and an espresso to keep you on your feet for more sightseeing.
Another sight worth adding to the list is Pieve di Corsignano, a Romanesque church just outside of Pienza, with frescoes dating back to the 14th century.
How to Get from Florence to Pienza
The most direct way to get to Pienza is by rental car or by guided tour, since buses and trains both require several connections.
As mentioned above, I recommend this tour of both Montepulciano and Pienza, which includes a wine tasting as well as time in both cities.
Perugia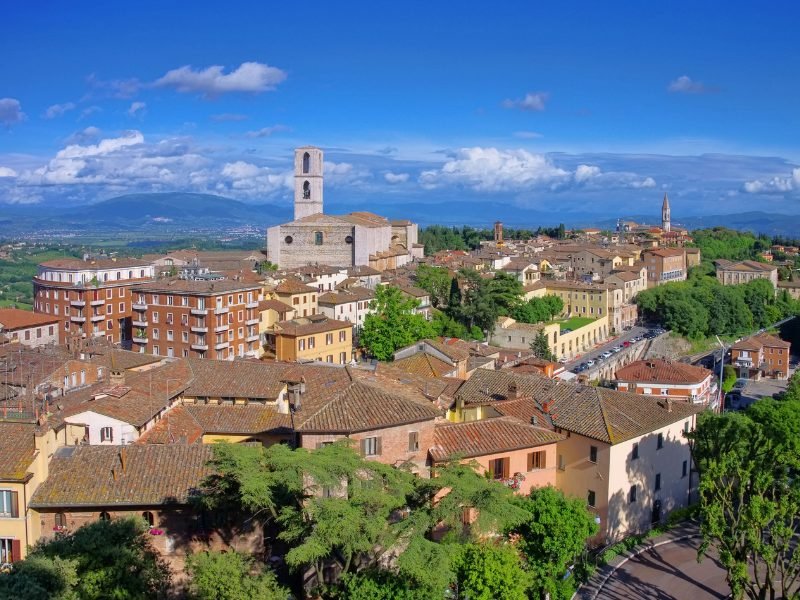 Perugia, Umbria's scenic capital city, is only a couple of hours by train from Florence, so it's a doable day trip.
Perugia is best known for its enclosed historic center surrounded by medieval walls, but it also has several intriguing historical landmarks and museums.
One of the highlights of Perugia's historic center is Palazzo dei Priori, which houses the National Gallery, a museum featuring both important medieval and Renaissance art.
The palace is in the central square, Piazza IV Novembre, just opposite another must-see landmark, the Gothic Perugia Cathedral.
Around the square, you can explore the narrow alleys to discover more impressive historical buildings – this part of the city is full of hidden gems!
Perugia is also famous for chocolate making, as it is the birthplace of the Baci Perugina chocolates.
Every October, the city hosts a chocolate festival, Eurochocolate — if you have a sweet tooth, this is one event worth planning around!
Even if you can't make it to the festival, you can still take a tour of the Casa del Cioccolato Perugina, just outside the city center.
How to Get from Florence to Perugia
There is a small handful of direct trains to Perugia each day, taking about 2 hours and 15 minutes to arrive.
There are more options if you also allow for a transfer.
Monteriggioni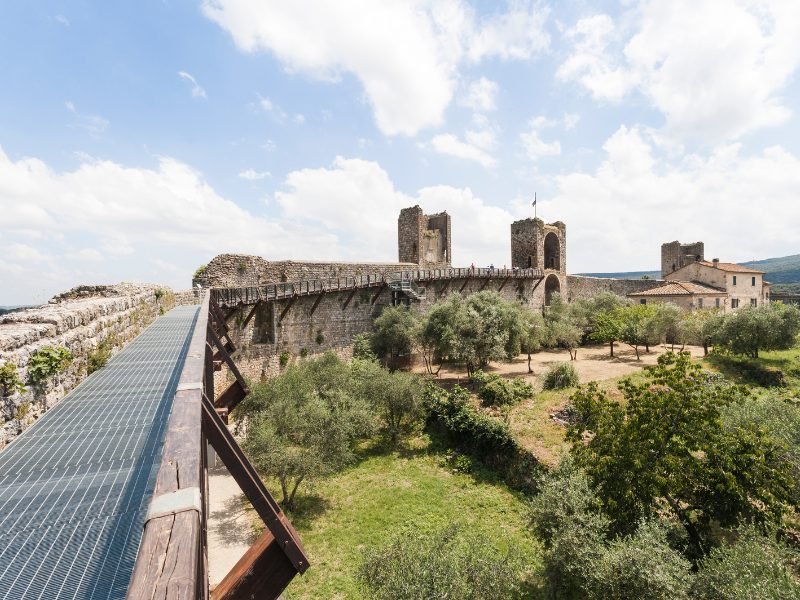 About an hour by car from Florence, Monteriggioni is a small town near Siena worthy of a day trip!
It's best known for its historic city walls, originally built by the then-Republic of Siena to defend in wars against its neighboring state of Florence. You can walk along the walls to take in the stunning views!
Another key thing not to miss is the Monteriggioni Castle, once a defensive structure (also against Florence), now a museum.
Speaking of museums, the Museum of Monteriggioni in the main square is worth visiting, as it lays out the history of the wars between the Florentine Republic and the Republic of Siena and what role Monteriggioni played in that. It also has a number of interesting medieval artifacts!
At any point during your day trip, you can rest your feet at Piazza Roma, a great place for a gelato and some people-watching.
Another sight worth seeing is the Parish Church of Santa Maria Assunta, notable for its wooden statue of the Madonna that dates all the way back to the 14th century.
How to Get from Florence to Monteriggioni
The easiest way to get here is by driving, but if you prefer public transport, you can also take the 131 bus, which has three daily departures and takes about an hour and 15 minutes.
Do check the timing for the way back, though, so you don't get stuck!
By car, it's less than an hour, so it may be a convenient choice if you're renting a car in Tuscany.
Montalcino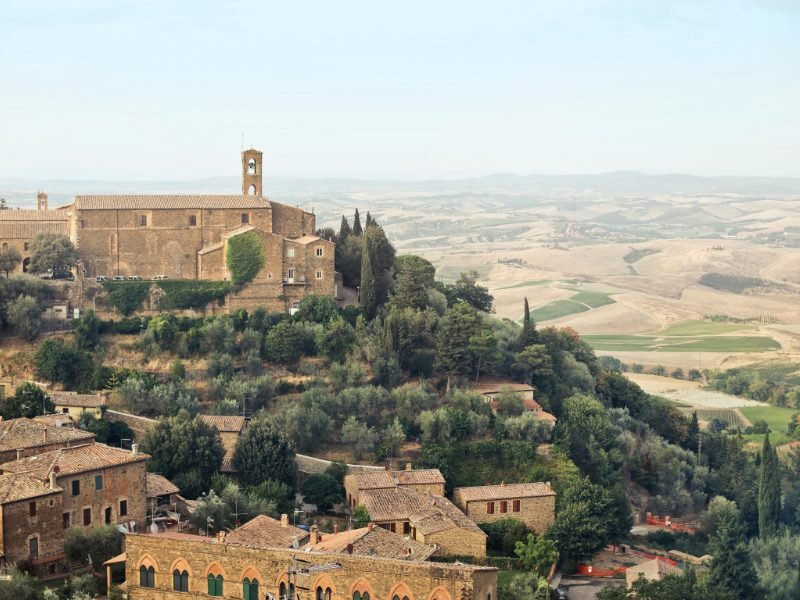 Another cute Tuscan hilltop town, Montalcino is best known for its Brunello di Montalcino wine… but the town itself is also worth a visit!
A few things worth seeing include the Fortezza di Montalcino, a historic fortress with great views over the surrounding Tuscan countryside and its wineries and olive groves.
There's also the Piazza del Popolo, where you'll find landmarks like the Palazzo dei Priori and the Church of Sant'Agostino in a cluster around the main square.
Another sight worth seeing is the 12th-century Abbey of Sant'Antimo just outside of town — it's worth the detour!
How to Get from Florence to Montalcino
It's a bit of a hassle to get between these two places in Tuscany for a day trip via public transit, but it can be done in about three hours.
To get to Montalcino, you'll need to first take a bus or train to Buonconvento, and then take the 114 bus about 30 minutes further.
It's easier to get here by rental car, which takes an hour and 45 minutes.
Alternately, you can take a wine tour that also includes the town of Montalcino.
Assisi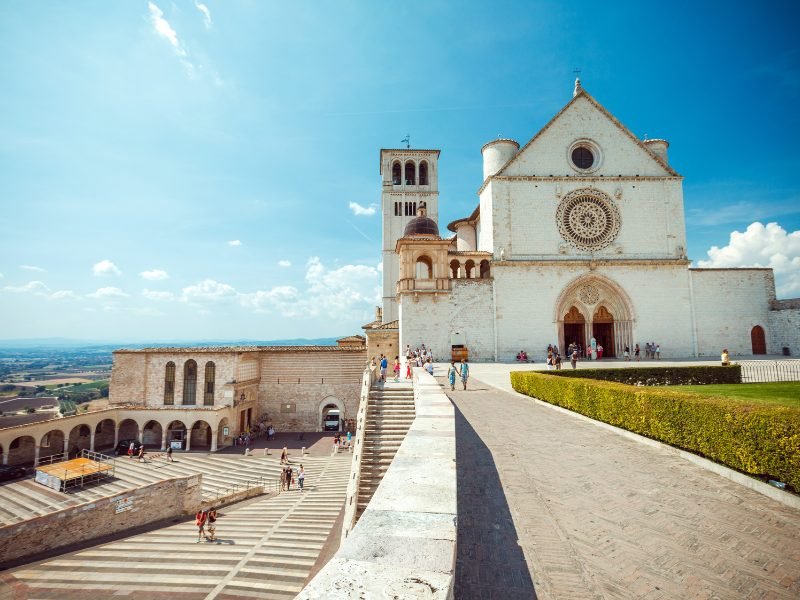 The last place on our list, Assisi, is a bit far from Florence, but it's one of the most iconic places in Italy, so if you want to check it out, you could do so on a day trip from Florence.
The train ride takes roughly two and a half hours from Firenze Campo Marte to Assisi station.
Don't miss the spectacular Basilica of San Francesco d'Assisi, which is also a UNESCO site.
While the church's facade is stunning to behold, its interior is where it really shines: it's home to important frescoes by Giotto and Lorenzetti.
Assisi is home to many other beautiful churches, all of which are well worth visiting.
The Church of Santa Maria sopra Minerva in Assisi is built inside a 1st-century temple, as you can see from its entrance.
The Chiesa Nuova di San Francesco Convertito is built on what is thought to be the site of St. Francis's birthplace, while the Cathedral of San Rufino is where St. Francis was baptized.
How to Get from Florence to Assisi
There is a handful of direct trains (and more options for trains with transfers) every day from Florence to Assisi, taking about two hours and 40 minutes.
You can also drive, but it won't save too much time: it'll take about two hours and 10 minutes in that instance.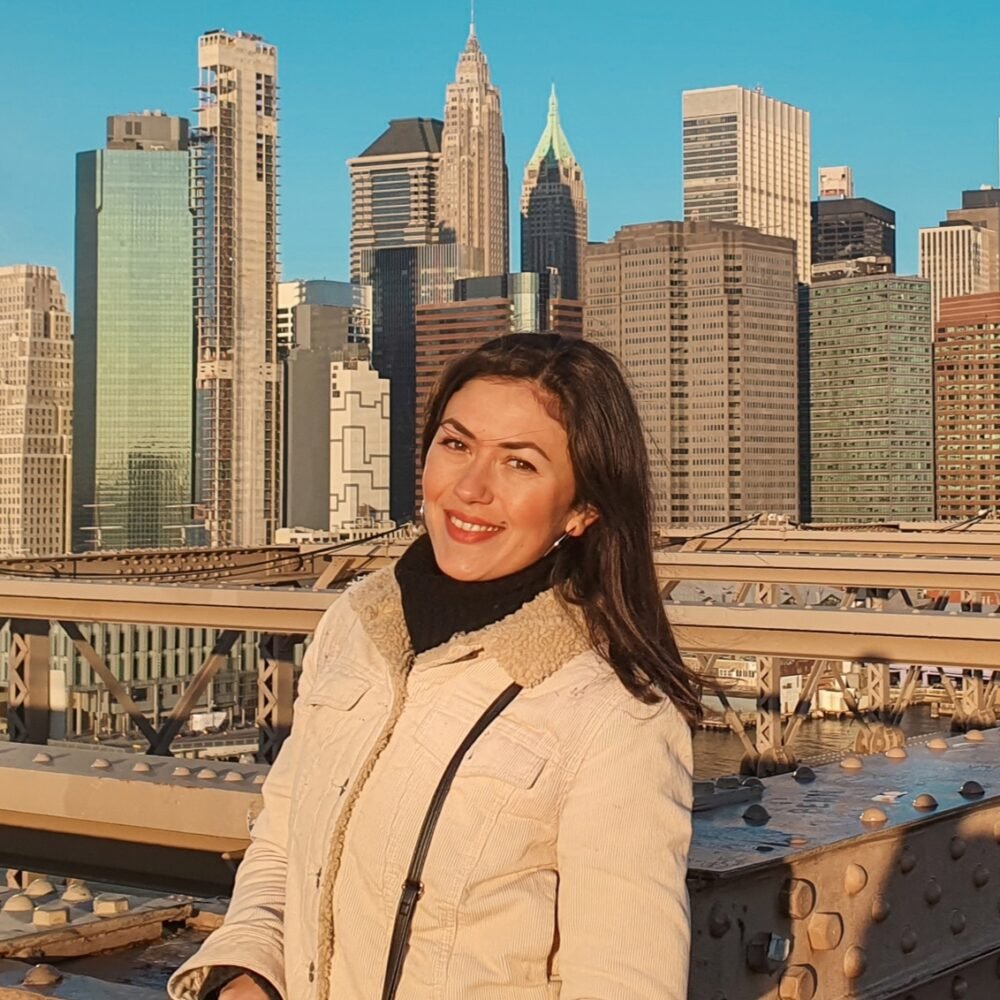 Roxana is a Romanian-born freelance travel writer who has lived in Italy for over 15 years. She has a Master's in Journalism and a Bachelor's in Film Studies. Her mission is to find hidden gems, even in the most popular travel destinations, and to inspire people to explore new places and cultures with the same curiosity! When she is not traveling, writing, or planning her next trip, she is either binge-watching TV shows or reading books.