There is simply so much to do and see in the USA that completing your USA bucket list could take a lifetime… luckily, that's kind of the point of a bucket list!
I've included some of my must-dos in the USA, but other travel bloggers have also contributed their expertise on the best bucket list activities to add to your USA bucket list!
It's by no means a full list, but I hope this gets you started!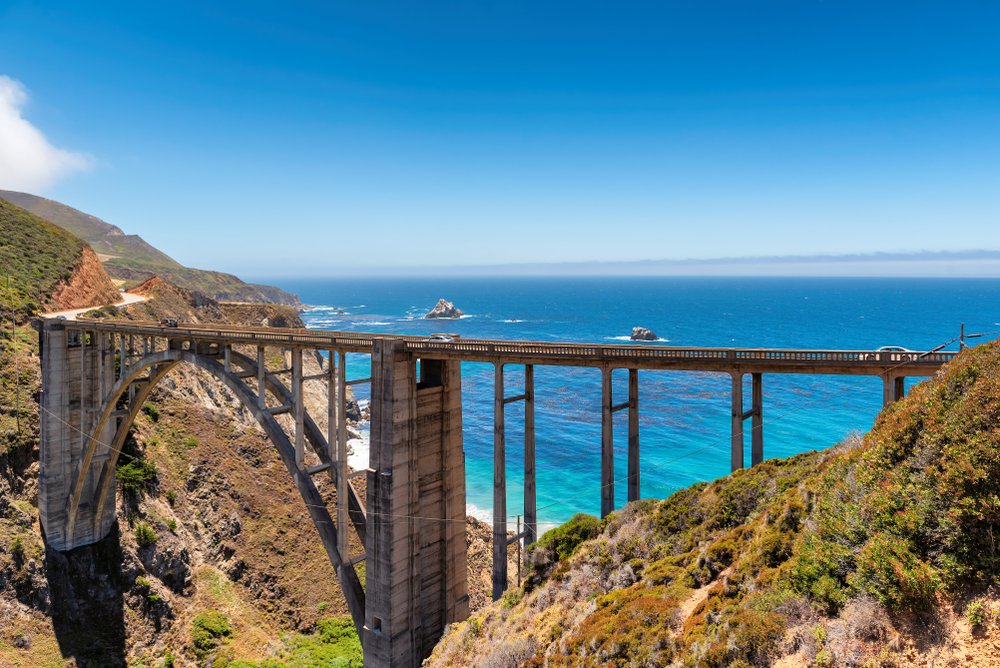 Note: This post contains affiliate links, which means I may receive a small commission if you purchase something through one of these links. Thank you for supporting the free content on this site! For more information on affiliate links and cookies, see my disclosure page for more details.
USA Bucket List: West Coast
Visit Emerald Bay in Lake Tahoe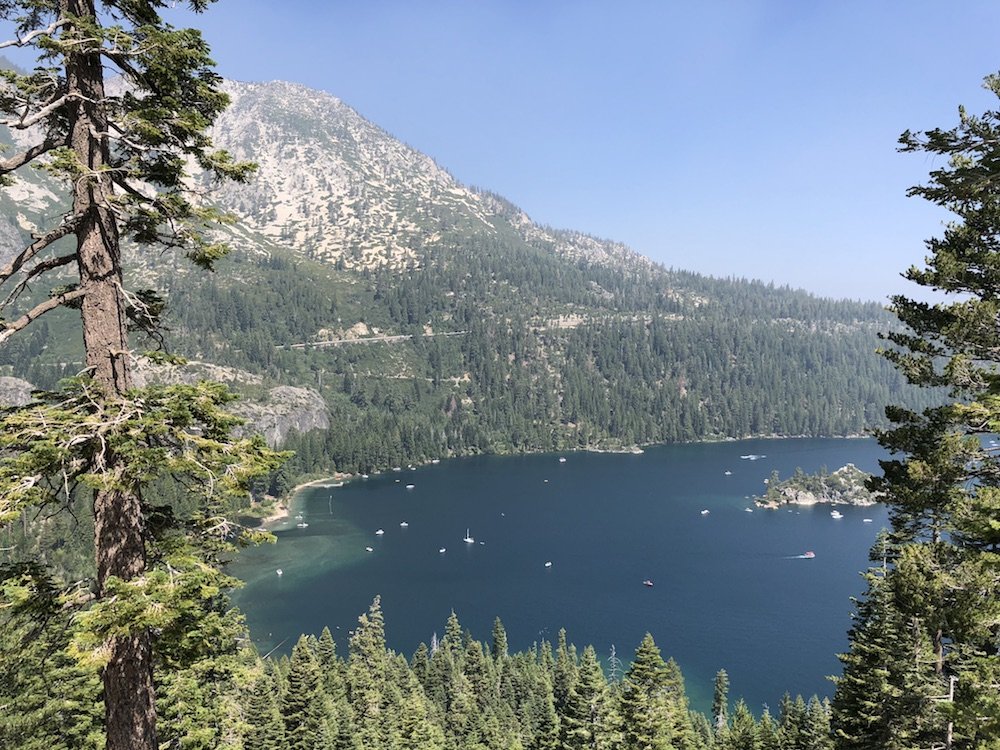 Contributed by Katie of The Hollapinos
Visiting Emerald Bay should be in your travel bucket list when planning a trip to Lake Tahoe.
Being the most photographed place in Lake Tahoe, Emerald Bay will mesmerize you with breathtaking panoramic views of a sparkling blue water bay surrounded by granite cliffs and tall pine trees with a small island in the middle.
This small island is the Fannette Island and the only island in Lake Tahoe. The ruins of a miniature castle that used to be the tea house of the owner of the Vikingsholm Castle stands in the middle of Fannette Island. You can rent a kayak or a paddleboard and visit Fannette Island.
Aside from kayaking and paddleboarding, some of the famous activities when visiting Emerald Bay is a tour inside the Vikingsholm Castle, hiking the Eagle Falls, swimming at the beach, and camping at the Eagle Point Campground.
See the Giants at Humboldt Redwoods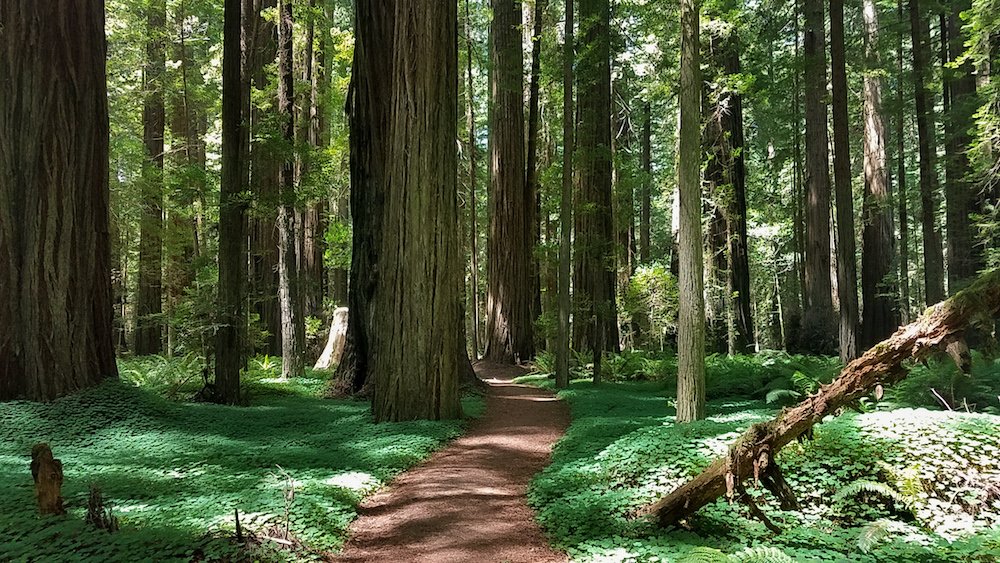 Contributed by Kristel and Gabriel Glasier of Chef Travel Guide
Imagine walking through the world's densest and most impressive stands of big trees, with the distinct smell of pine in the air, the rushing sound of the creeks and rivers, and the dark canopy formed from by the towering redwoods, this is what awaits you at Humboldt Redwoods. Spanning over 53,000 acres, this California state park measures twice the size of the city of San Francisco.
No trip to this area is complete without driving through the Avenue of the Giants. This 32-mile scenic drive takes you through narrow roads between giant redwoods as you cruise through a string of old-growth groves intermixed with hardwood forests and open fields. In order to see the best groves on foot, make sure to stop by the Founders' Grove for the largest and most impressive grove; Bull Creek Flats to get a taste of the Rockefeller Forest; and Drury-Chaney Grove for the plush carpet of redwood sorrel.
Go hiking in Joshua Tree National Park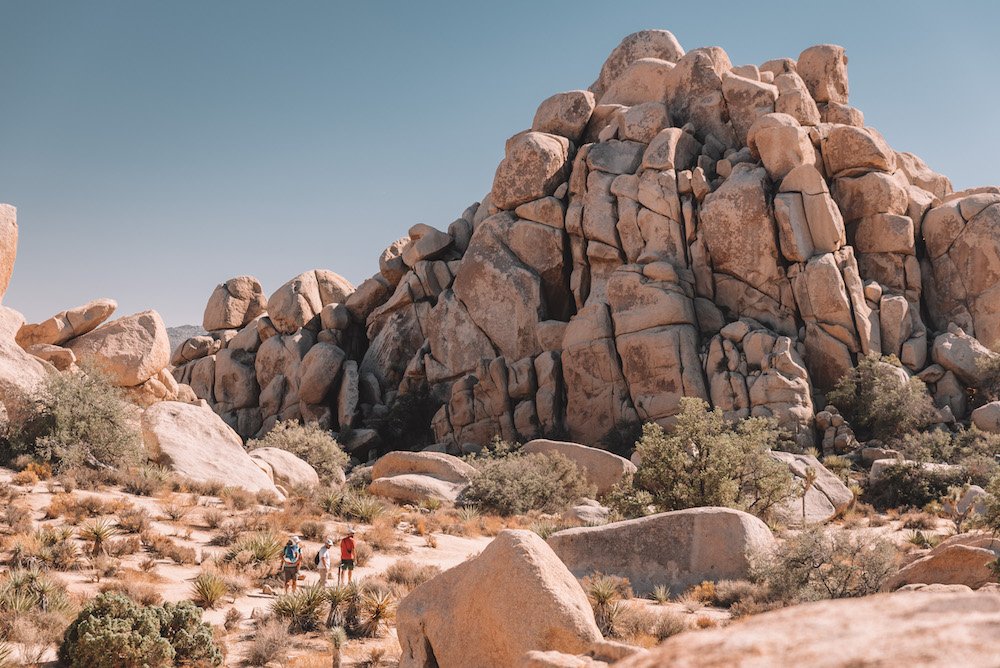 Contributed by Nadine Maffre of Le Long Weekend
Encompassing not one but two deserts, the Joshua Tree National Park offers a landscape like none other.
Otherworldly rock formations, distinctive Joshua trees, cacti gardens, and the unique wildlife make it an infinitely interesting place to go hiking and the varied trails mean there's something for everyone to enjoy.
Those stopping into the National Park for the day will be able to complete several of the shorter trails like the Hidden Valley Trail or the Barker Dam Track – even if you're visiting Joshua Tree with kids.
The tracks are well marked out and if you stop at the visitor centre on the way in, they'll give you a handy map with your NP pass. Don't miss the Cholla Cactus Garden, and be sure to drive up to the Keys View Lookout for sweeping views over the Coachella Valley and Mount San Jacinto.
Go hiking in Oregon's Silver Falls State Park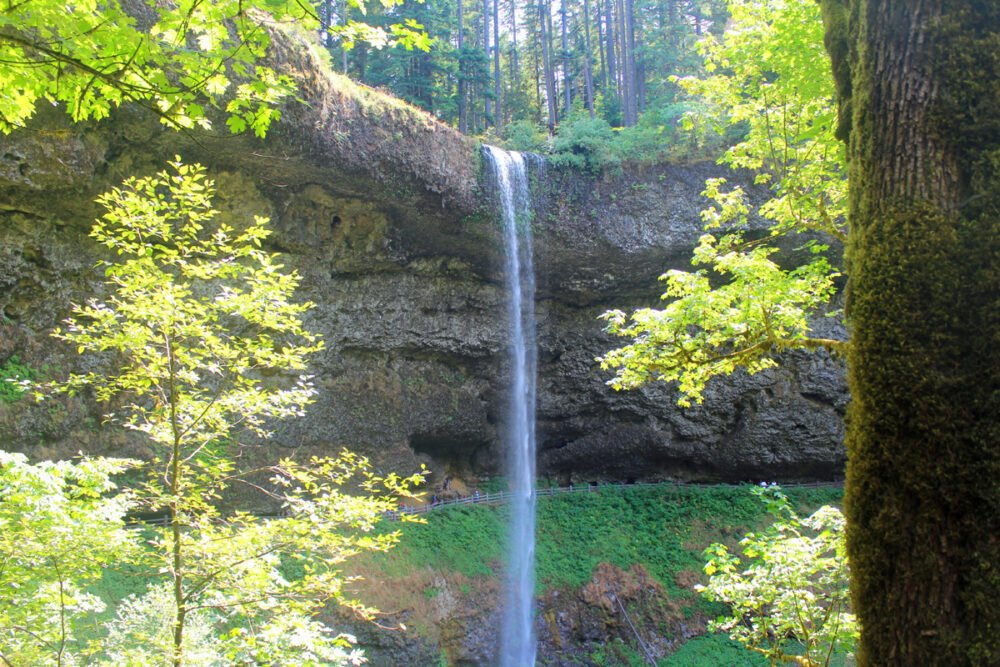 Contributed by Heather of Oregon Outdoor Family
When you visit Oregon, one must-do outdoor adventure is hiking through Silver Falls State Park. The entire loop features 10 waterfalls over 7.2 miles. Or you can drive along one end of the loop and hop out for short hikes to five of the waterfalls.
The waterfalls are among the tallest in Oregon and the trail goes behind two of the falls so you can stand behind the falling water. Hear the roar of the falls while the mist brings cool relief on a hot summer day. The "Trail of Ten Falls" hike is suitable for families with kids of all ages.
Take swimsuits and relax by the riverside at the end of the day. Don't miss visiting the historic lodge for an ice cream cone or coffee. There's even a nearby campground if you want to split your adventure into multiple days.
Finish your trip with a visit to nearby Panezanellie Breadstick Shoppe for some of the best cinnamon rolls in Oregon.
Go hiking in Fern Canyon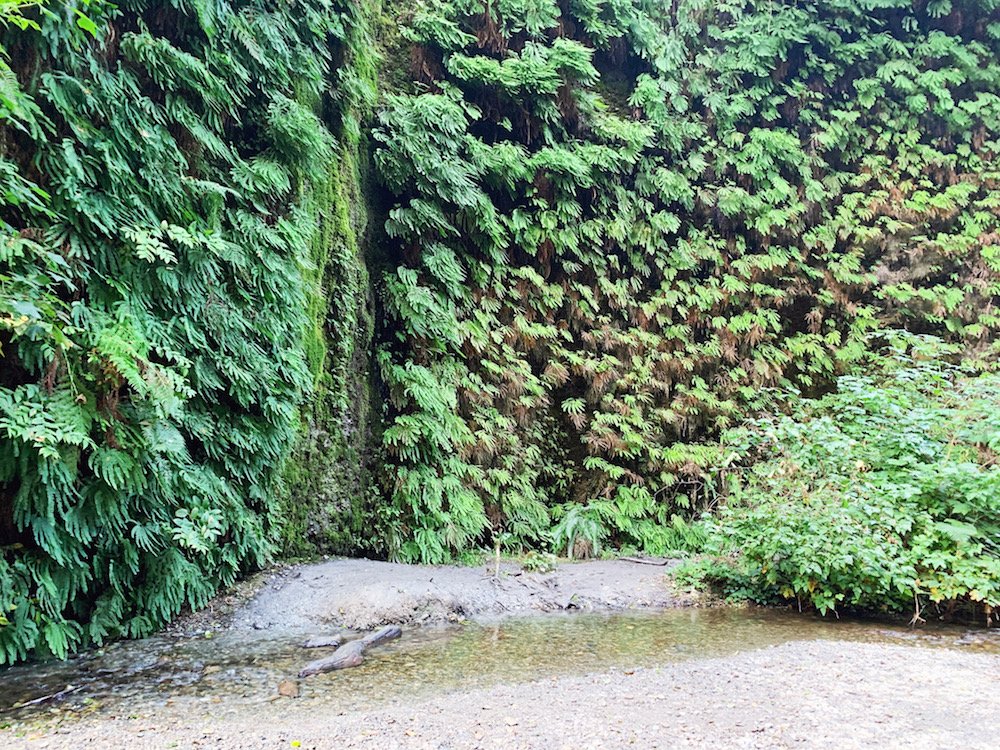 Contributed by Jessica of A Passion and A Passport
Looking to take one of the prettiest hikes in all of Northern California?! Go hiking along the Fern Canyon trail!
Located in Prairie Creek Redwoods State Park, you'll be walking between lush canyon walls, with waterfalls trickling over the edge and moss cascading down the sides! No wonder it's so popular! The Fern Canyon hike is literally an emerald gem of Humboldt County.
And the best part? You don't need to devote hours and hours to admire all the greenery – the hike is roughly a mile and takes approximately 30-90 minutes to complete (depending on how often you stop for photos of course!).
Although it's kinda a pain to get to (down a dirt road with multiple stream crossings), you'll be wowed the minute you get there!
Go skiing on Mammoth Mountain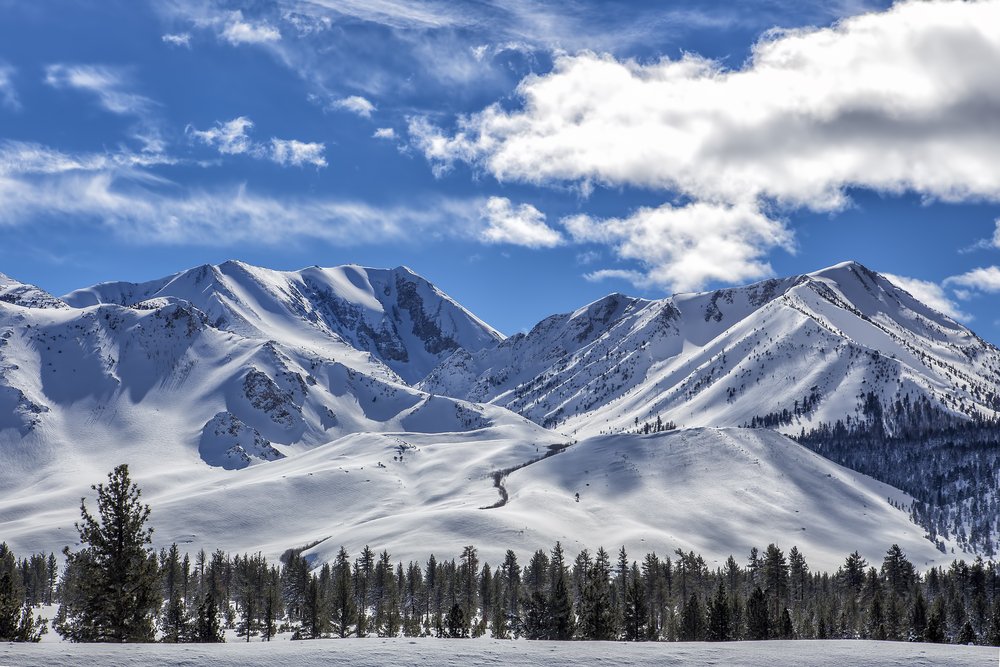 Contributed by Barbara of Let's Go Mum
Skiing at Mammoth Mountain, California is an essential activity for your USA travel bucket list.
Just a one hour flight or few hours drive from Los Angeles, the gorgeous little town of Mammoth Lakes services Mammoth Mountain, a world-class ski resort for all skiing abilities – from the absolute beginner to the very advanced.
Ski hire is available on the mountain, as are ski lessons for all skiing levels.
For non-skiers there are plenty of fun snow activities too, including tobogganing and snow tubing – plus a bowling alley in the town and some excellent restaurants and bars for apres-ski enjoyment!
The Village accommodation precinct features a heated swimming pool surrounded by snow, fire pits to toast s'mores and a direct gondola to the ski slopes.
It's worth traveling to Mammoth Mountain for the incredible snowy mountain vistas alone – it's a beautiful and fun destination in the great state of California.
See a wildflower superbloom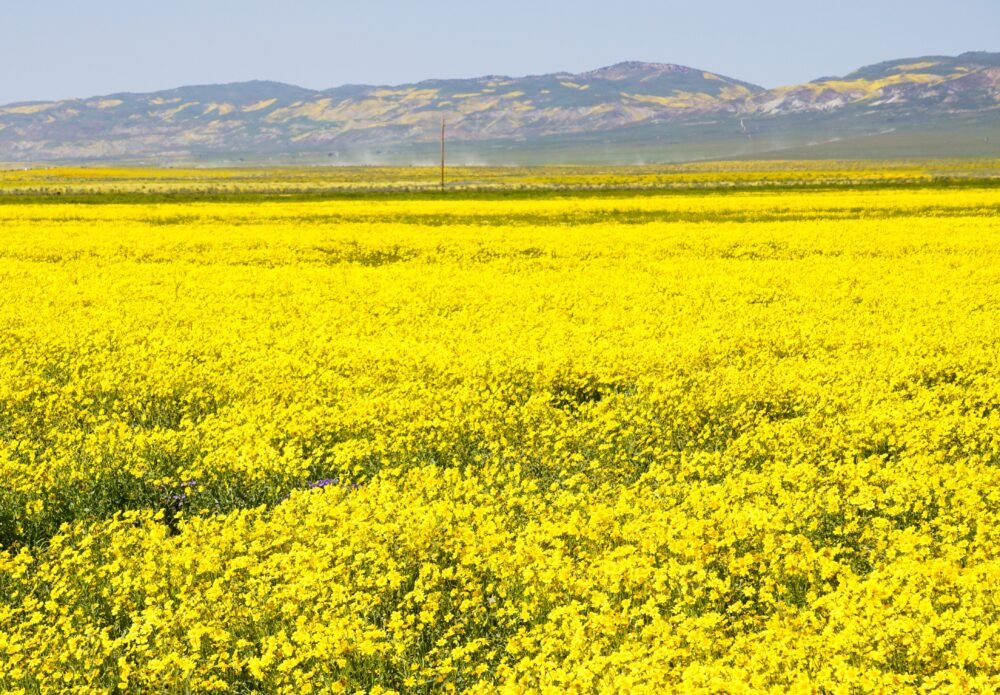 Contributed by Dhara from Roadtripping California
California's wildflower superblooms are so spectacular that you can even see them from satellites in space! Viewing a wildflower superbloom should definitely be on your USA bucket list if you love nature.
Superblooms occur in many places around the Golden State, so if you are visiting in the spring of a superbloom year, you can easily weave in a few destinations into a California road trip itinerary.
Anza-Borrega Desert State Park, the Antelope Valley California Poppy Reserve, and the Carrizo Plain National Monument are just some of the places that have showstopper wildflower displays. At peak, you will see entire hillsides painted in swathes of yellow, orange, and purple, and meadows of wildflowers stretching as far as the eye can see. It truly is a sight to behold!
Check out the Golden Gate Bridge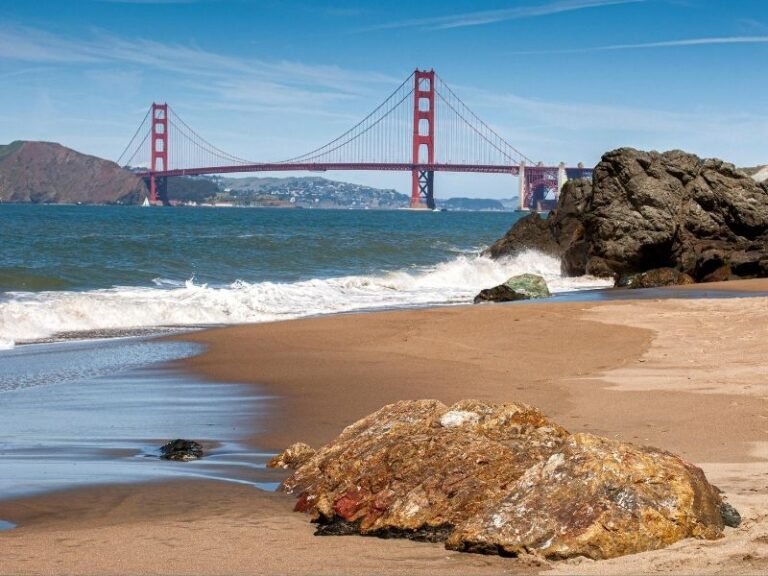 Contributed by Mayuri from ToSomePlaceNew

One of the bucket list items in the USA is to walk across the Golden Gate Bridge.
An engineering marvel and an iconic landmark of the city of San Francisco in California, the Golden Gate Bridge is a must-visit. More than 10 million people visit this attraction each year, and take in views of the blue waters and the red bridge!
The bridge is completely free to walk across, view, and photograph. There are sightseeing cruises and buses available if you wish to explore this landmark in a different way. Highly recommend the Golden Gate Bridge and its park area to be part of your San Francisco Itinerary, on your next visit!
Ascend the Space Needle in Seattle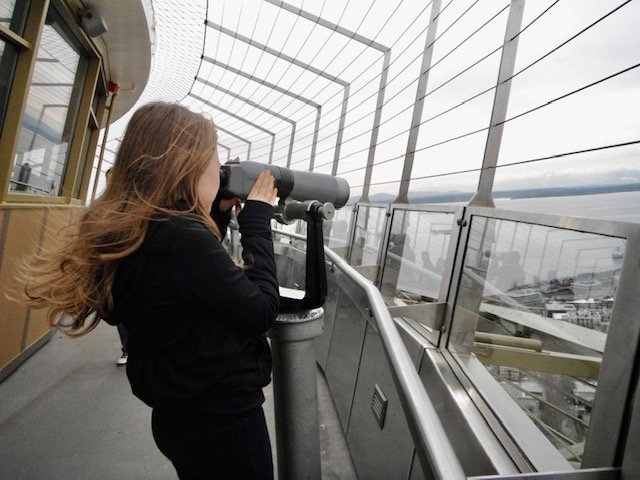 Contributed by Theresa Ladner of Adventures in Middle Aged Travel
The Space Needle in Seattle is one of the must-do activities when you are there.
Located downtown, it's easy to find as you can see it from almost anywhere in the city.
For $35 you can ride up the elevator to the observation deck at 520 feet. At 500 feet is the Loupe, a glass-floored walkway that is not for the faint of heart.
You can also get a table in the café on the upper observation deck or book a sunset wine experience.
Do a Boeing Factory tour in Seattle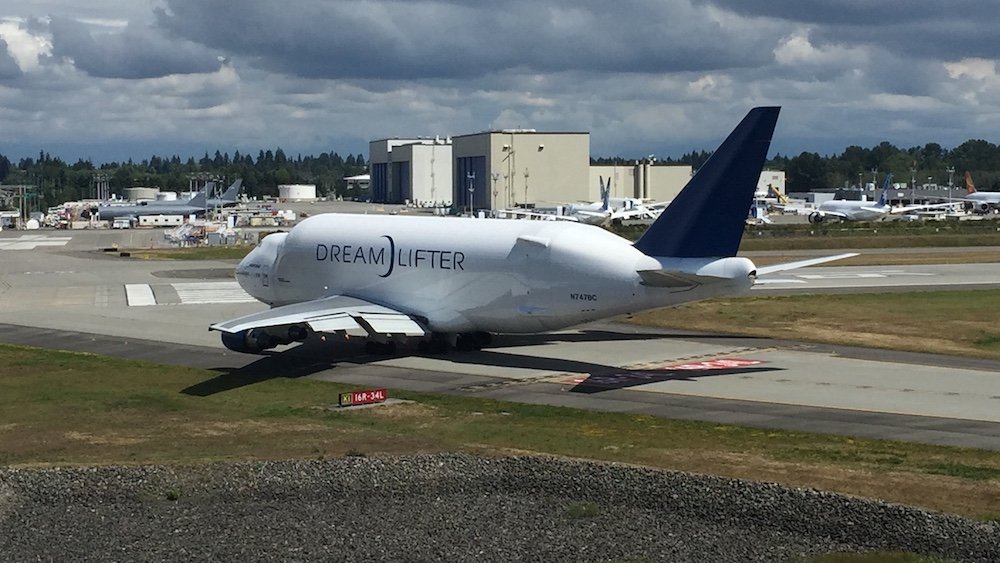 Contributed by Karen of Big Adventures for Little Feet
Looking for something a little out of the ordinary to do in Seattle? A great activity is visiting the Futiure of Flight Aviation Centre and taking one of their Boeing Factory Tours. Get a behind the scenes understanding of what goes into building a commercial airplane on these really fascinating tours.
The museum within the Future of Flight Avaiation Centre provided lots of contextual information on the history of Boeing as one of the primary aircraft builders in the world. But the real action starts when you start your briefing and head into the aircraft hangars to observe the real-life construction of planes.
The Seattle-Everett Base is home to the Boeing twin aisle planes predominantly the Dreamliners and 777, 787 planes and at the time of our visit there were multiple aircrafts being worked on at the same time. Back outside you can also watch the testing of new aircraft as they run through their routine checks for take-offs and landings.
This is a super activity for all travelers. Tickets should be pre-purchased as they do sell out.
Wine taste in Napa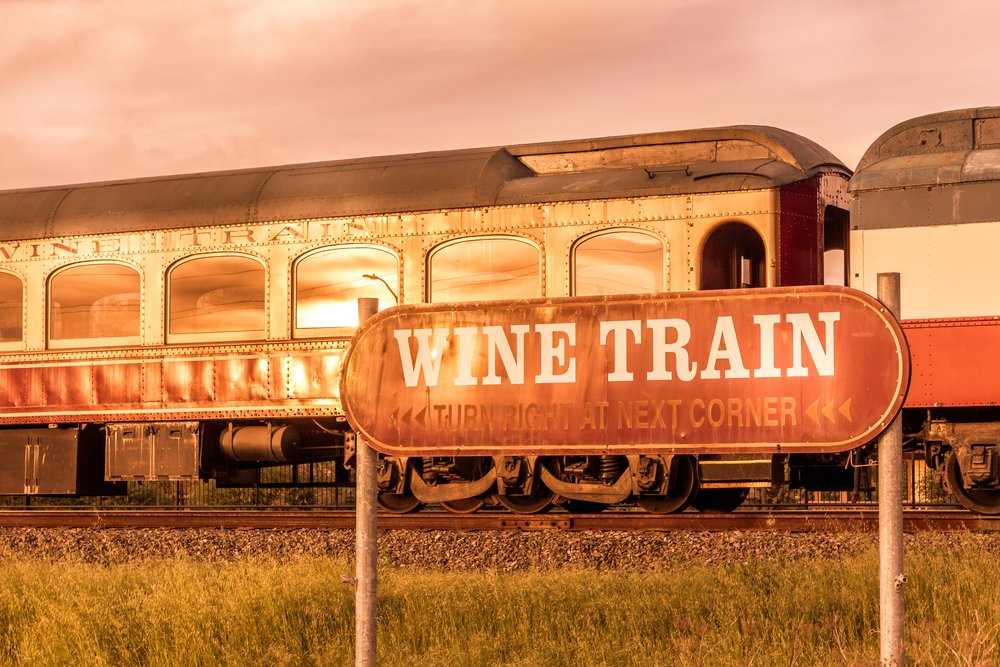 Contributed by Anisa of Two Traveling Texans
Napa Valley is the best-known wine region in the US and one of the most beautiful places you will ever visit. Some of the views will take your breath away.
There are over 500 wineries in Napa, so you will not run out of wines to try. Some of the most popular options are Chateau Montelena, Castello di Amorosa, Stag's Leap Wine Cellars, Luna Vineyards, and Domaine Carneros. The offerings at each winery vary. Some run tours and have food pairings, others have lovely grounds to explore. If you want a fun alternative to traditional wine tasting, you could go on the Napa Wine Train.
Since Napa is not too far from San Francisco, it makes an easy day trip. Ideally, stay for a least a weekend so you can have more time to explore the area and visit Sonoma County too. You don't have to spend all your time drinking, there are also plenty of things to do in Napa besides wine tasting.
Whale watch in San Diego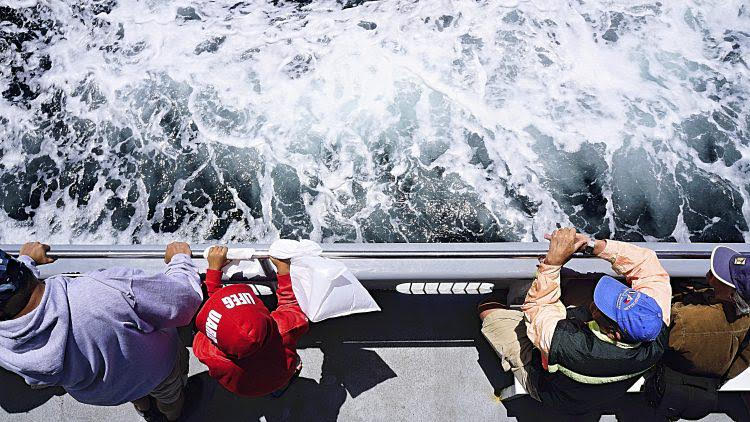 Contributed by Maria Haase of San Diego Explorer
Whale watching in San Diego is the perfect bucket list item for your US trip. While there are some spots, like Torrey Pines, Cabrillo National Monument, or the Birch Aquarium, where you can see the whales from land, a whale watching tour on a boat is the best way to see them.
You'll get to see and learn more about some of the most fascinating animals on the planet AND get to spend a day out on a boat off the coast of San Diego. What's not to love?
Southern California is a great location to go whale watching. Depending on the time of year, you can either see blue whales in the summer or grey whales and humpback whales during the winter.
There are also "residential" whales species like Minke or Fin whales that have been seen year-round in the water of the coast of San Diego.
Take a Death Valley road trip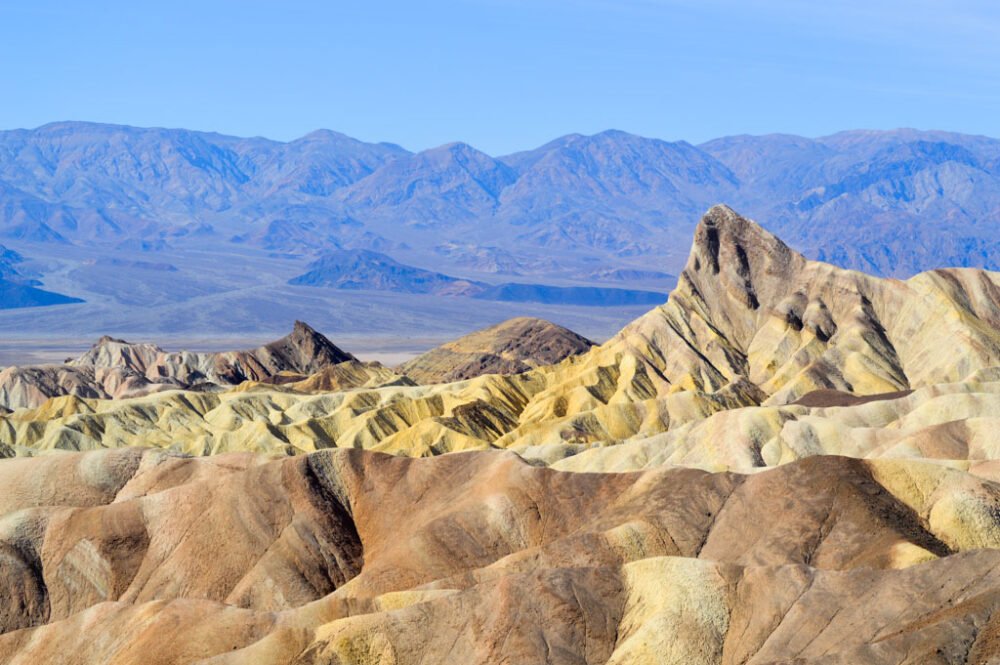 Contributed by Katalin Waga of Our Life Our Travel
Road tripping in the Death Valley is a must-have item on your US bucket list. The best way to explore this scorching yet stunning place is by car as the National Park is too hot for spending extended time outdoors during a significant part of the year.
Make sure you take enough water with you and stops at least the most unique sights: the Badwater Basin's salt flat is the lowest point of the continental US, while Furnace Creek is the hottest place in the world.
The Eureka Dunes are simply spectacular, so are the Ubehebe crater and the colorful badlands near the Zabriskie Point.
Go for a bike ride in Santa Monica
Contributed by Barbara of Let's Go Mum
Hiring a bike to cycle along the Santa Monica, California beachfront is the perfect USA bucket-list item!
Hire a bicycle direct from the Santa Monica Pier – but before you go, don't forget to get a photo with the "End Of Trail – Route 66" sign!
There are miles of bike paths in either direction, but a must-do trail is The Pier to Venice Beach and back. The trail is flat and easy with no busy roads, so perfect for bike riders and families of all ages and abilities.
There's plenty to see along the way with the gorgeous beach and ocean to one side, and the eclectic shops and murals of Venice Beach on the other – and of course the famous Venice Beach skate park.
Upon your return, head farther along the Santa Monica Pier to the Pacific Park fun fair and ride the iconic Santa Monica Ferris wheel for unsurpassed California coastal views.
Round off the day by making your way to the end of the Pier and watch the stunning spectacle of a Santa Monica sunset into the sea – just magic!
USA Bucket List: Southwest
Helicopter over Sedona's red rocks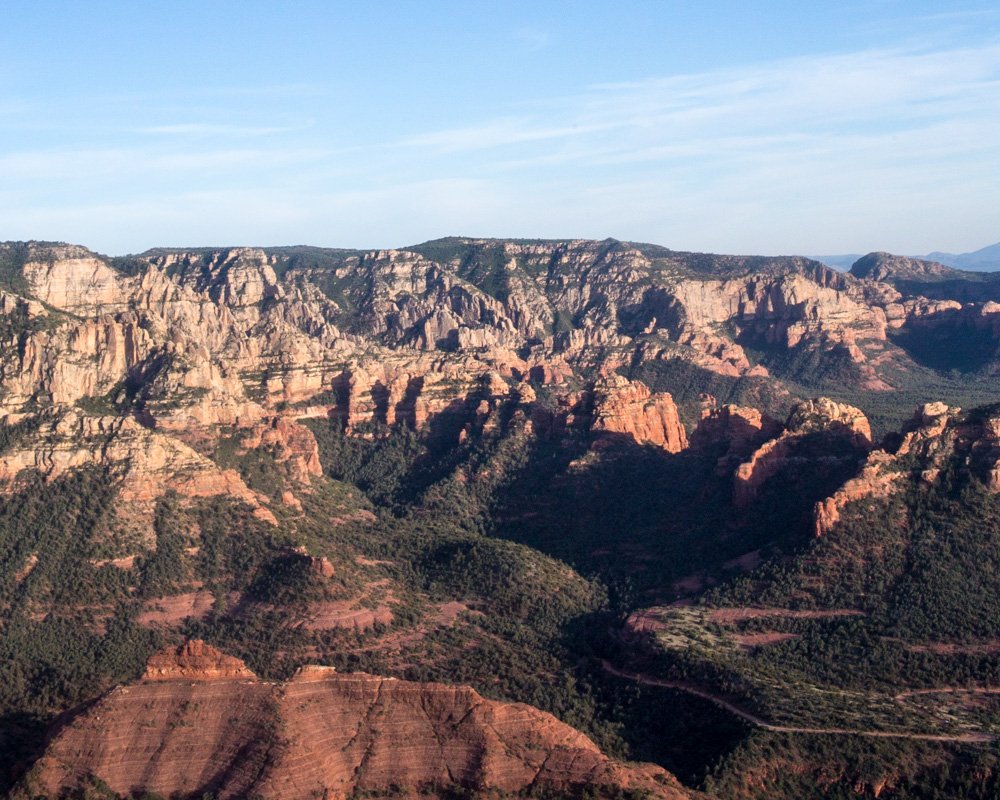 Contributed by Erin McLaughlin of The Gal On The Go.
Everyone needs to experience Sedona once in their lifetime, but the best way to do so is by helicopter.
This ride is undoubtedly a bucket list item in the United States you won't want to miss! What better way to see the breathtaking red rock landscape then from an aerial view?
You will fly over iconic rock formations such as Cathedral Rock, Bell Rock, Snoopy Rock, and Steamboat Rock. Watch the sunset as you soar above Bear Wallow Canyon.
Be sure to pack a camera to capture the epic views. This unforgettable experience is sure to bring you to priceless memories!
Take a romantic gondola ride at the Venetian, Las Vegas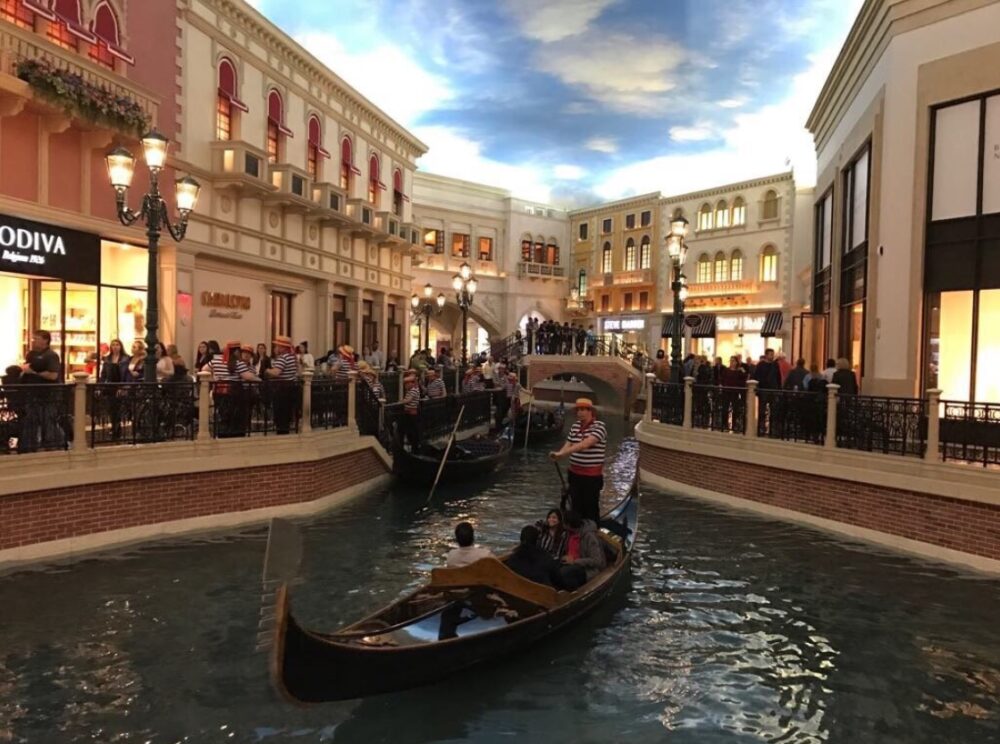 Contributed by Nikki of Attractions of America
Las Vegas, Nevada, is beaming with amazing places to go for a date night that is sure to make memories that will last a lifetime with your significant other. One such unique activity that Las Vegas offers is taking a Gondola Ride at the Venetian.
Every gondola ride is led by a singing gondolier taking you on an adventure down canals passing by all kinds of sites and sounds. You have the option to take a gondola ride inside or outside to have two totally different views.
You can take a gondolier ride Monday through Thursday, and Sunday from 10 AM-11 PM, as well as Friday and Saturday from 10 AM- 12 AM. No matter where you venture around Las Vegas, make sure to add a date night onboard a Gondola at the Venetian part of your travel itinerary.
Visit the Salt Flats in Utah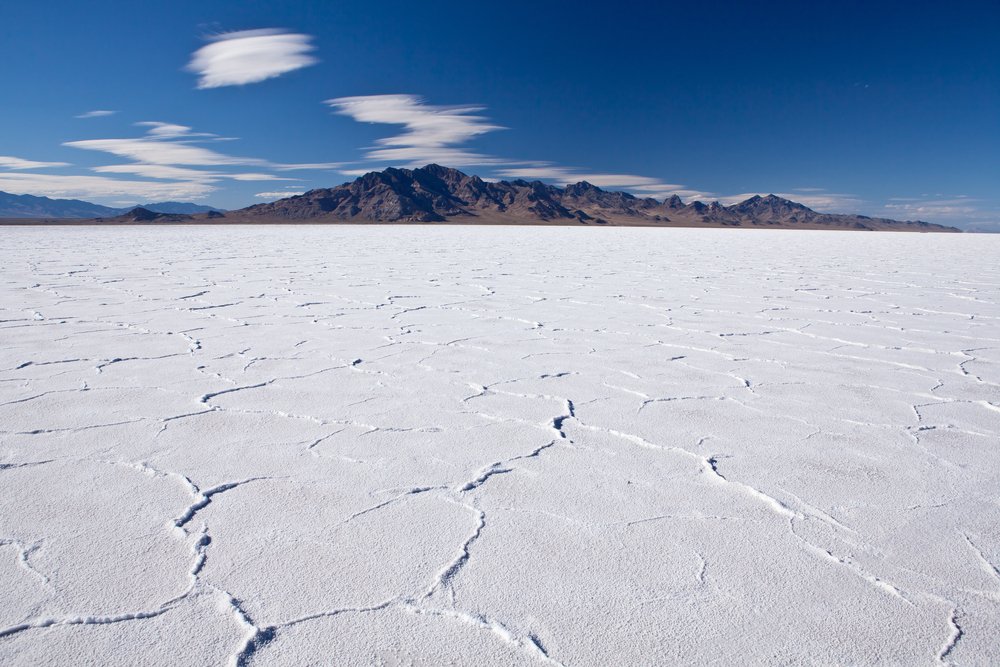 Contributed by Deb of The Visa Project
There are very few unique, otherworldly landscapes in North America like the beautiful Bonneville Salt Flats in Utah. Barely an hour and a half from Salt Lake City, it is perfectly flat and uniform whiteness spanning for 46 square miles. While working in the USA, I lived in Utah and visited it many times.
The aesthetic of the flats makes it the perfect destination for photography. Watching the sunrise and sunset from the flats is as wonderful as gazing at one of the darkest skies full of stars at night.
And if you can set your personal speed record on the uniform, flat surface of the flats with zero chances of a collision. In reality, many speed racing events are organized yearly on the Salt Flats.
Salt Flats is open to the public most of the year, without any entrance fees.
Hike the Navajo Loop trail in Bryce Canyon National Park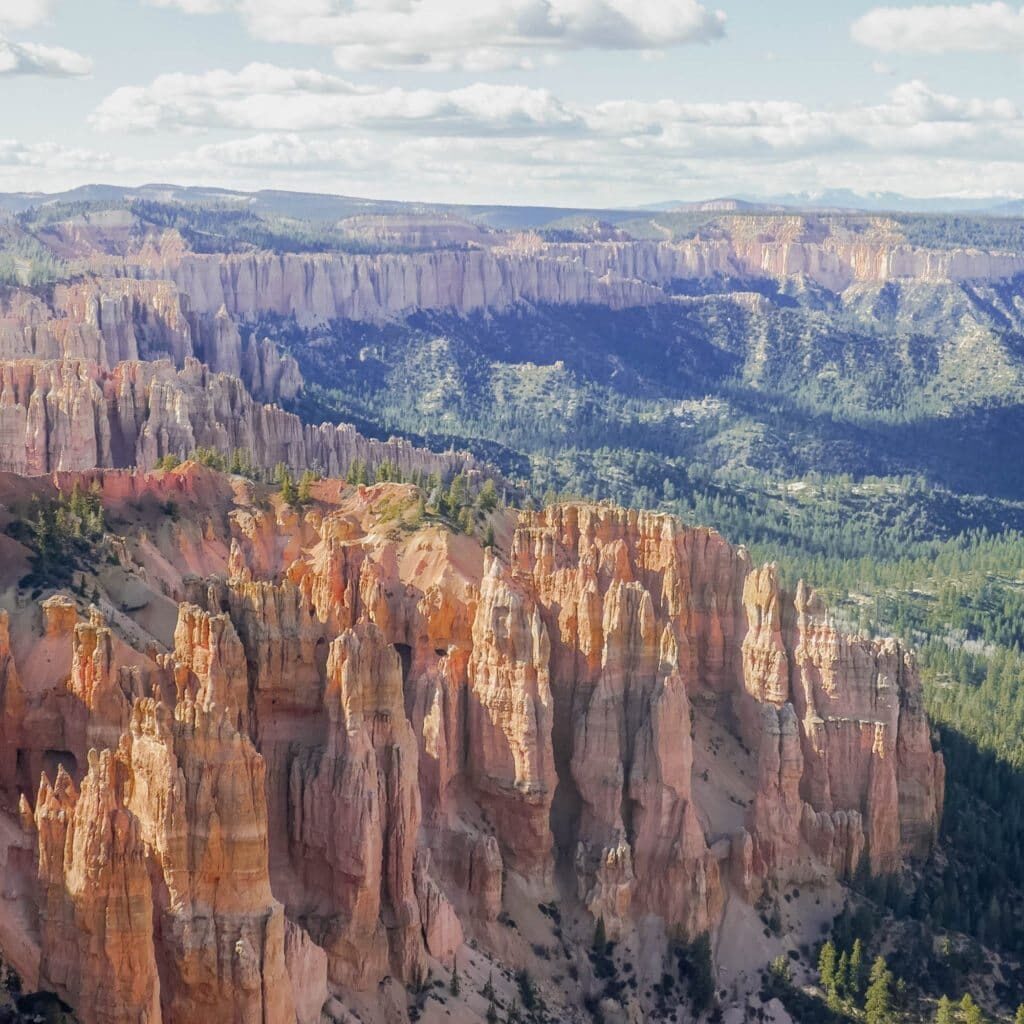 Contributed by Hannah of Thatadventurer.co.uk
Bryce Canyon National Park in Utah is a beautiful National Park with incredible scenery. Seeing the Hoodoos, tall, narrow rock formations that the park is famous for, is a highlight of any trip and the best way to see them is to take a hike.
The Navajo Loop trail is one of the best hikes in Bryce Canyon National Park and should be on your USA bucket list!
Starting at Sunset Point in the Bryce Canyon amphitheater you'll head down amongst the hoodoos going past some incredible scenery including Thor's Hammer (a small boulder balancing on top of a tower), Two Bridges and Wall Street which is a cool part of the trail where you're surrounded by the rocks and pass through a fairly narrow corridor between them before returning to where you started.
Go white water rafting on the Colorado River in Utah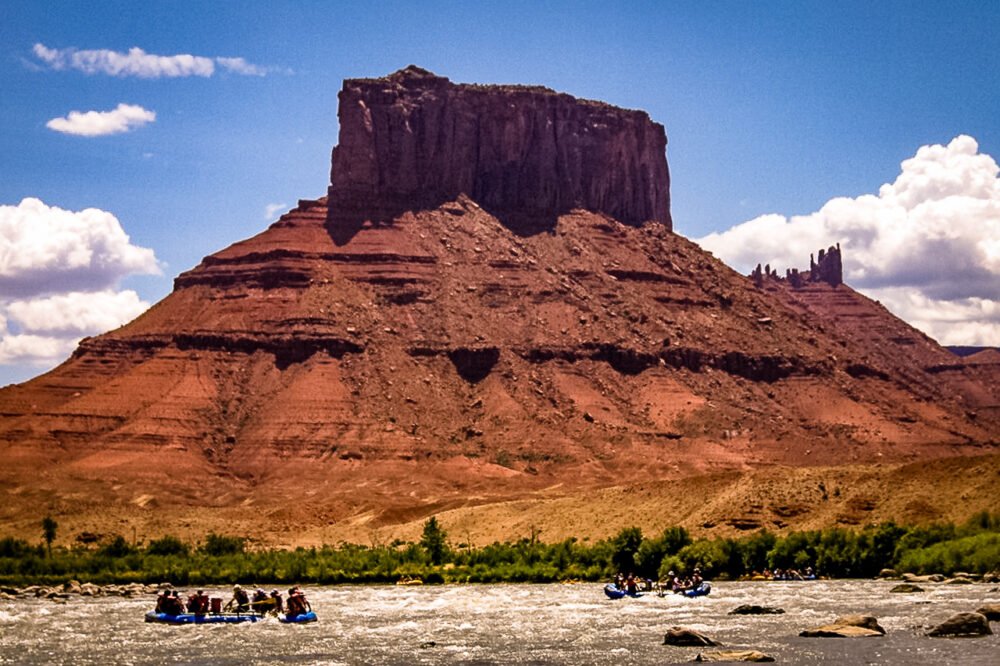 Contributed by Heather Raulerson of RaulersonGirlsTravel
One of the most exciting bucket list adventures I've been on was experiencing a white water rafting tour on the Colorado River in Moab, Utah.
The white water trek starts calmly enough with the rafts gently floating down the river in smooth waters and you can marvel at the buttes and the stunning red rock canyons that rival Monument Valley as you float by them.
We were even allowed to slide out and swim next to the raft for a bit. Later on down the river, our raft was bobbing up and down with the rapids (Class I-II).
As we paddled to our guide's instructions, all you could hear was laughter as someone in the raft got splashed by a wave. If you are new to white water rafting, this portion of the Colorado River in Utah is a fabulous place to start your white water adventure.
Hike in Arches National Park, Utah
Contributed by James Ian of Travel Collecting
You absolutely must go hiking in Arches National Park.
There are super short and easy hikes like those to Sand Dune Arch and Skyline Arch and the incredible Double Arch in the Windows section of the park. There are also medium hikes like that to Delicate Arch.
Time your visit to see the sunset. The beautiful freestanding arch, which features on Utah's license plates, glows an incredible golden color in the late afternoon light.
Or, for the more adventurous, venture into the narrow alleys of Fiery Furnace or the all-day hike into Devil's Garden. This last trail takes you past eight arches, across the tops of narrow ridges and deep into Fin Canyon.
Go fruit picking at the Capitol Reef Orchards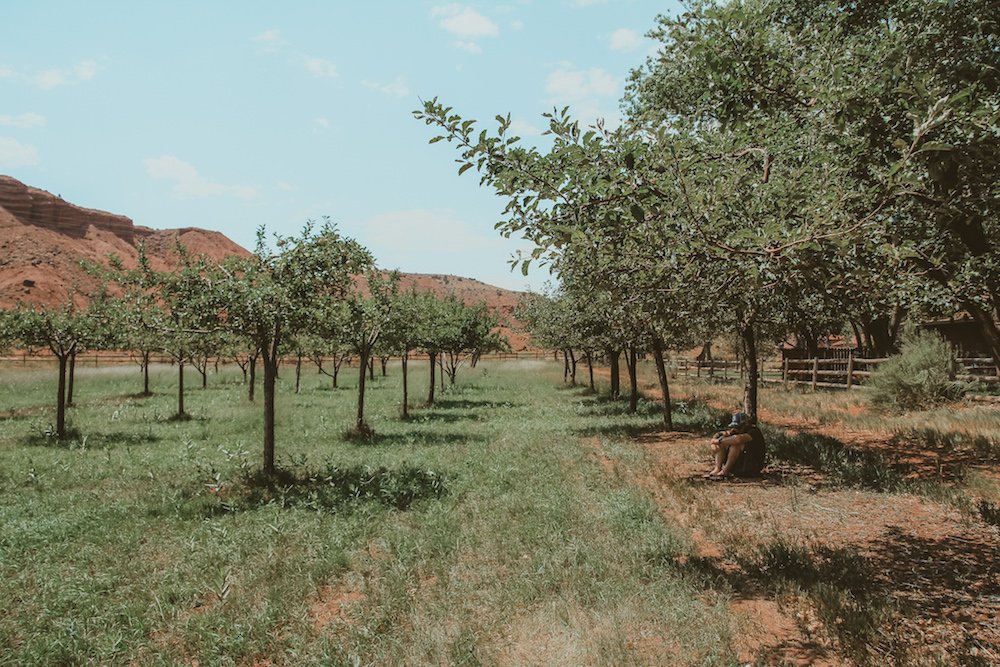 Contributed by Megan Johnson of Red Around the World
Capitol Reef National Park in Utah is totally underrated, but it is full of amazing things to do. The Capitol Reef orchards are the best and not something you'll find in almost any other national park.
It has some of the coolest hikes like Cohab Canyon, Hickman Bridge, Sulphur Creek, Headquarters Canyon, and Surprise Canyon. Make sure to stop at the Gifford Store for some homemade pie, ice cream, cinnamon rolls, and salsa.
This is also one of the best places for stargazing in Utah thanks to its location and lack of proximity to any cities.
Capitol Reef is also the perfect stop to break up the long drive between Moab and Bryce Canyon or Zion, which is what most people will be driving between. It's such a unique park and one of my personal favorites.
Go scuba diving at Santa Rosa Blue Hole, NM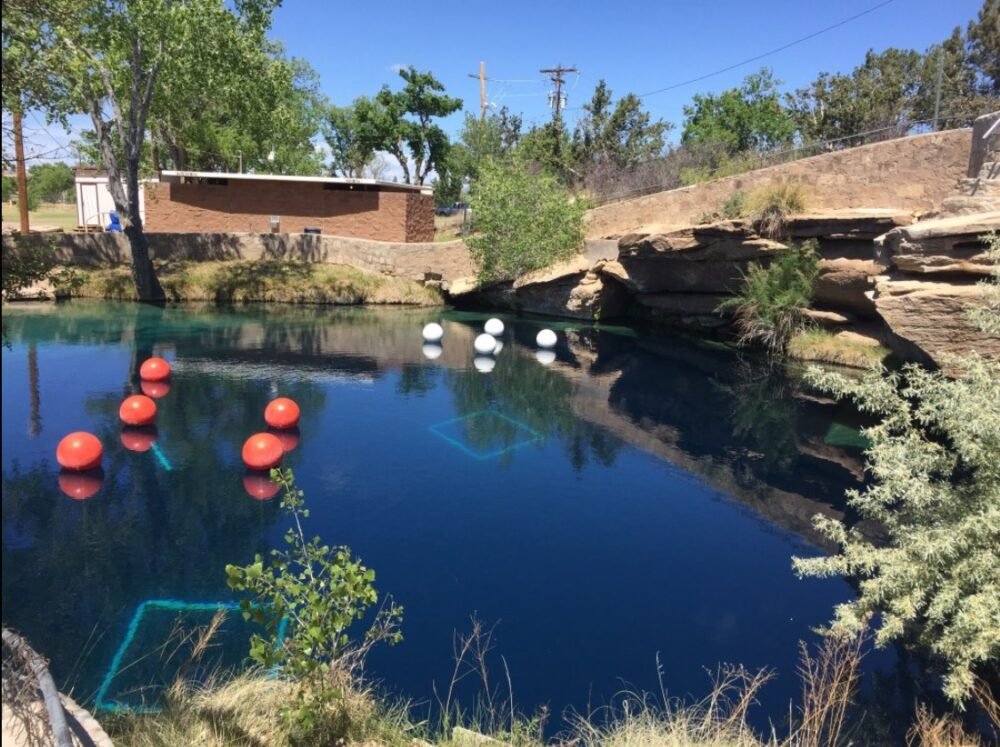 Contributed by Nikki of Santa Rosa Blue Hole
New Mexico is full of natural beauty from caverns to sand dunes, mountains, lakes, and more. One beautiful escape in New Mexico is the Santa Rosa Blue Hole, a seemingly beautiful gem of a lake that appears right in the middle of the desert.
The Blue Hole was earlier a National fish hatchery before being transformed into this incredible diving destination in the US. A spring feeds and replenishes the water within the Blue Hole every day, creating perfect and clear diving conditions.
A big draw of Santa Rosa Blue Hole is the pristine crystal blue water that allows clear views for up to 100 feet underwater that stays around 62 degrees year-round.
There is a Santa Rosa Dive Center nearby with scuba diving equipment available to rent for your underwater adventure. The Santa Rosa Blue Hole is truly a geological wonder that people come from miles around to explore.
Hike the Narrows in Zion National Park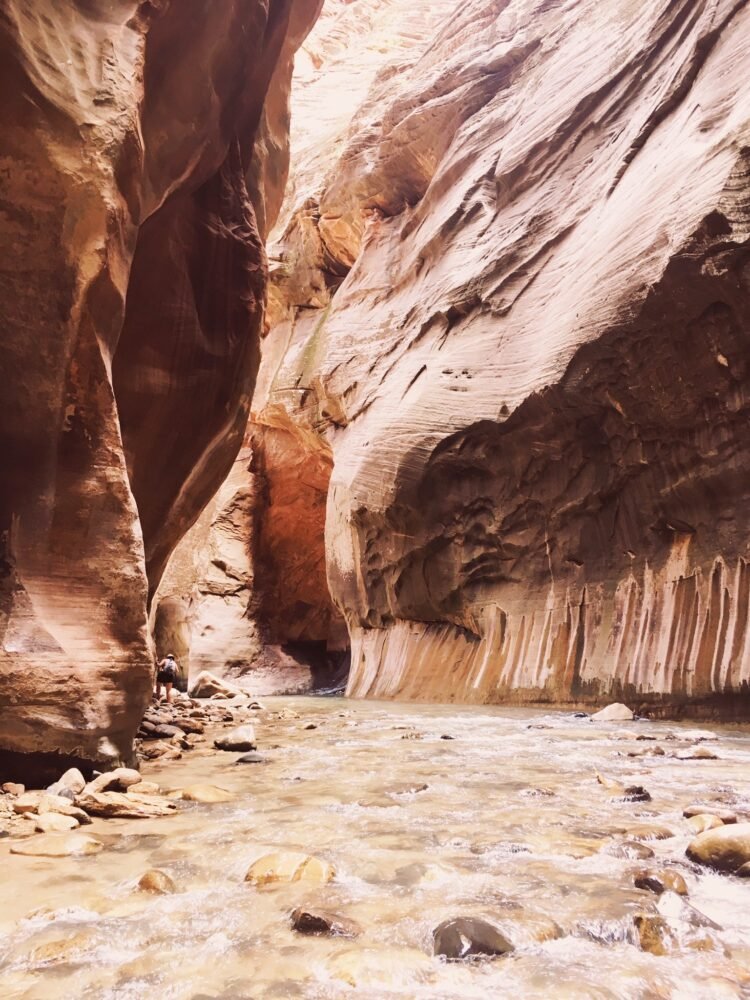 Contributed by Caroline Ikeji of Pictures & Words
While there are many incredible hikes in Zion National Park, the Narrows is one of the best. It is one of the most iconic hikes in Zion, and gives you an unforgettable experience of hiking in the north fork, through the narrowest section of the Zion Canyon.
You can either hike the entire span of the Narrows as a 16-mile top-down hike (permit required), or just a part of it as a day hike. Either way, it is an absolute must as it is an absolutely unique experience.
In the Narrows, you actually hike in the river. At the shallowest part, the water is ankle deep, but gets up to waist high at the deepest point (water levels change depending on rainfall and time of year). The scenery is absolutely breathtaking throughout, and it was cool to see how it changes as you get deeper into the canyon.
At the very least, it is recommended that you hike up to Wall Street, the beginning of the narrowest part of the canyon, about two miles into the hike. This is where the Narrows is absolutely breathtaking, especially seeing the light streaming through the narrow canyon walls. An absolute bucket list experience!
USA Bucket List: Mountain West
Chill at the Dillon Ice Castles
Contributed by Dalya of Sweet Little Journey
If you've ever wanted to see what 25 million pounds of ice in the form of a castle looks like, visit the Ice Castles in Colorado during winter.
These castles get constructed by hand every year and feature ice tunnels, an ice slide, fountains, colorful LED lights, and thrones.
They're built by ice artists using thousands of carefully hand-placed icicles. These castles are highly dependent on the weather and usually stick around from the end of December till early March, so make sure not to miss this wonderful temporary display of frozen winter wonderland.
Your ticket here is a timed entry which allows you to only enter at a certain time. You're welcome to stay as long as you want, but note that crowds tend to accumulate near the end of the day!
See a live performance at Red Rocks Amphitheatre near Denver, CO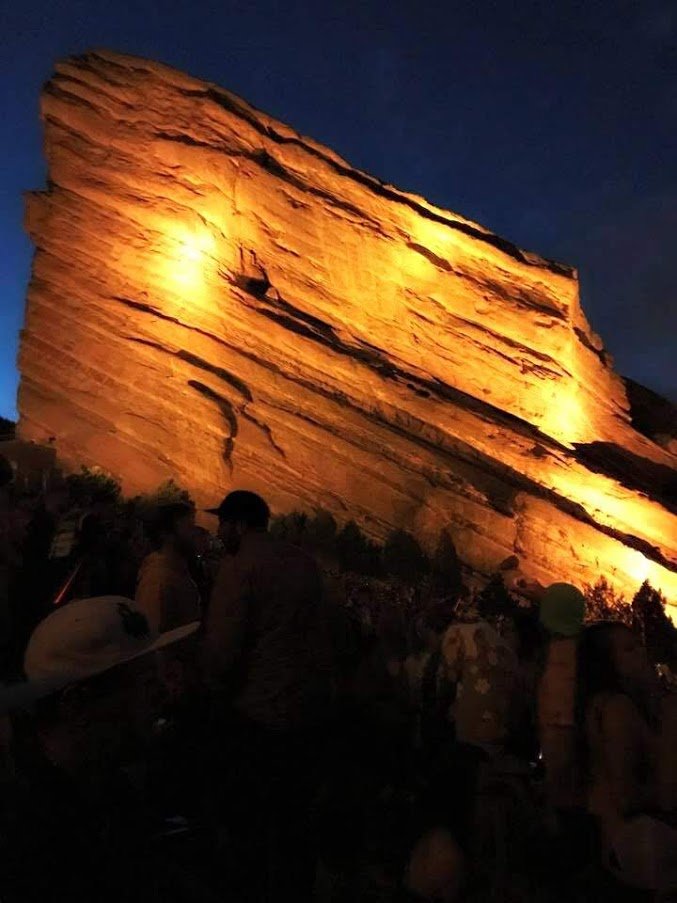 Contributed by Kara Patterson of Destination: Live Life
This one is for the music lovers out there, and no bucket list could be complete without catching a live performance at Red Rocks Amphitheatre outside of Denver, CO.
Red Rocks is a natural outdoor amphitheatre with towering red rock formations that help create the most incredible, natural acoustics. This venue is beloved by fans and artists alike, many of whom dream about the opportunity to play amongst the rocks.
In fact, many impassioned debates have been had about whether Red Rocks is the best outdoor music venue in the country (PS, it is). Due to its proximity, basing yourself in Denver is your best bet.
In Denver you can find an incredible Denver Airbnb options, amazing bars and restaurants, and all the sights and activities a person can handle. It's the perfect place to round out an incredible bucket list activity!
Take a road trip in the mountains of Colorado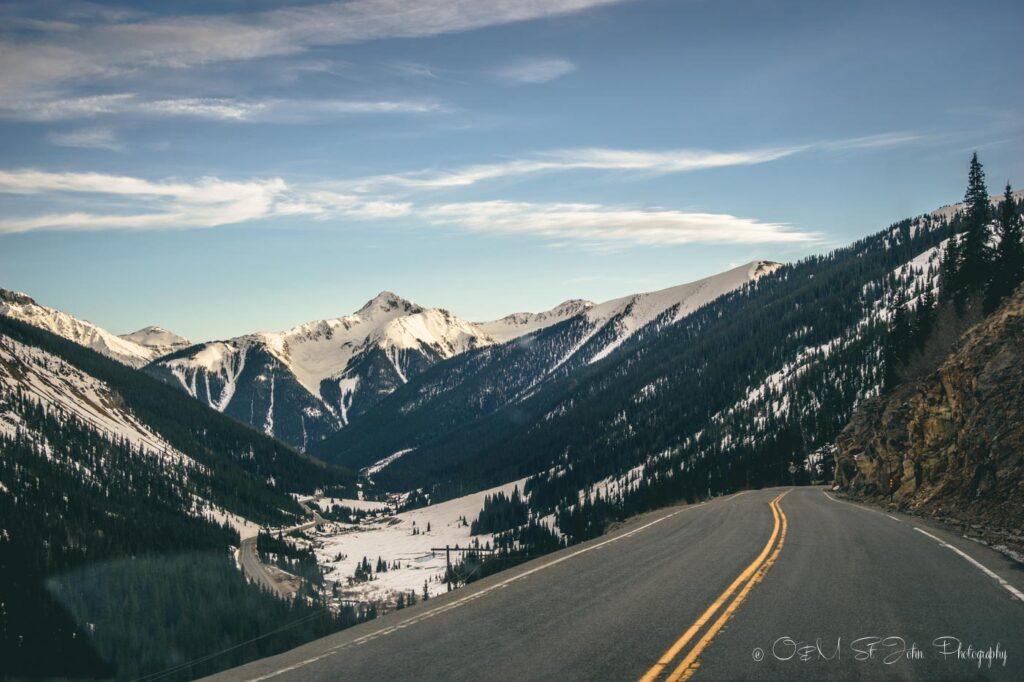 Contributed by sustainable travel bloggers Oksana & Max from Drink Tea & Travel.
For anyone interested in a mountain adventure, a Colorado road trip is a must-do! Start your trip in Denver, head to the hip town of Boulder and then onto Glenwood Springs, Ouray, and Mesa Verde National Park. The latter of which is home to the ancient dwellings of the Pueblo People. From there, you can visit another stunning national park – the Great Sand Dunes National Park. The otherworldly landscape of this park is made up of a sea of sand dunes.
Back in the mountains, experience Buena Vista and Colorado Springs before heading back to Denver. You'll want to spend at a minimum of 2 weeks on this road trip but if you are anything like us you will end up lingering around much longer than planned!
Try sand-boarding at Sand Dunes National Park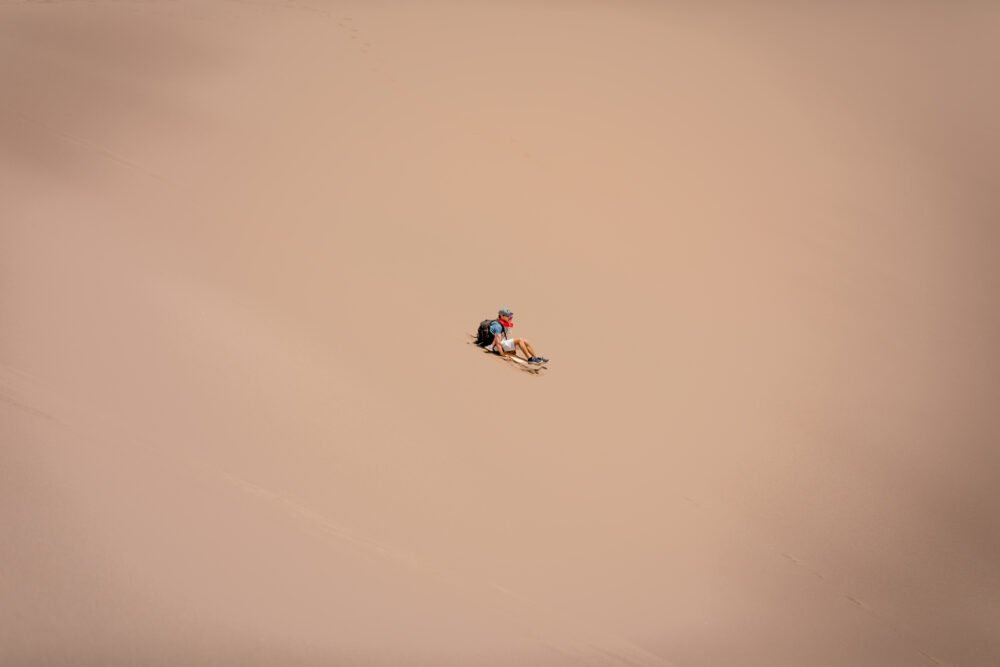 Contributed by Dalya of Sweet Little Journey
Sand boarding is one of those things you have to try at least once in your lifetime! And what better place to try it than the tallest sand dunes in North America!
The tallest dunes in Sand Dunes National Park is almost 700 feet. Keep in mind that the base elevation here is 7520′ which is already fairly high for someone who is not from Colorado so you may feel a bit out of breath climbing these dunes.
You can rent a sandboard or bring your own and go down any dune you have your heart set on. The park is open year-round, but is best experienced in the early spring and early fall when temperatures are milder.
Spend time at a dude ranch In Montana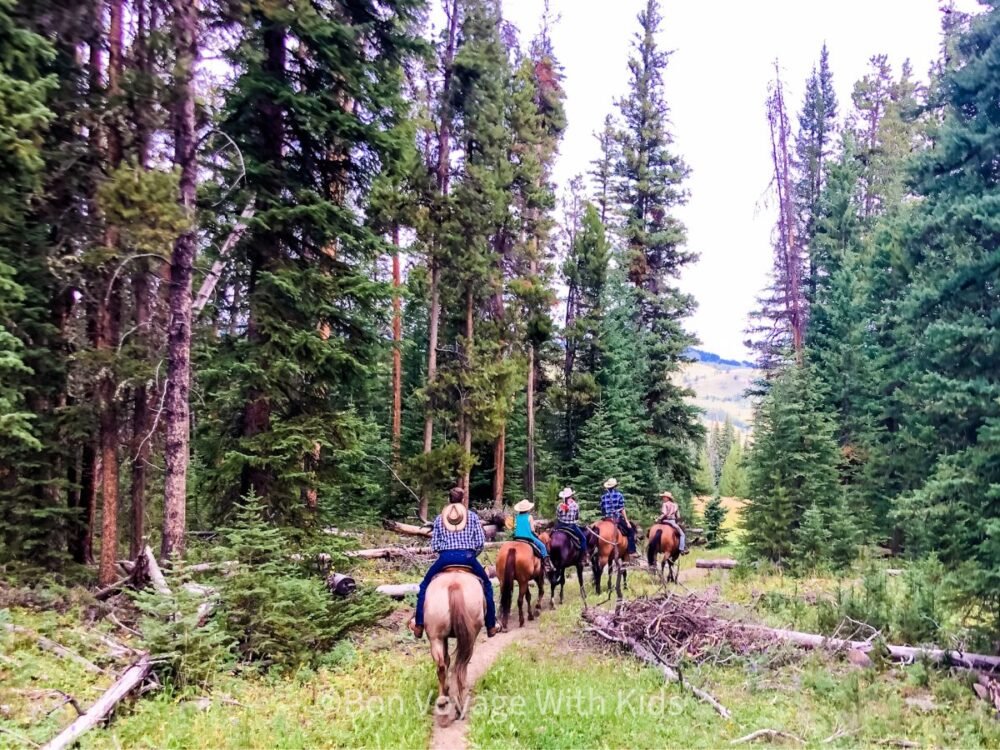 Contributed by Keri of Bon Voyage With Kids
One of the very best bucket list activities to do in the United States is to spend a week at a dude ranch in Montana.
An absolutely spectacular place and experience to get off the grid and spend a week like a cowboy or a cowgirl, it is an amazing experience for couples, solo travelers, families, and multigenerational families.
While there are many types of dude ranch experiences in different states, a simple ranch in Montana gives you the chance to enjoy the glorious mountain views on guided trails seeing "big sky country."
As any visitor to Montana will tell you, there is something uniquely special about this place that makes you want to come back for more. Experiencing it by horseback is an amazing way to connect with nature, disconnect from technology, and enjoy the quiet simplicity of ranch life.
Our family enjoyed a glorious week at one such ranch this summer, about 30 miles from West Yellowstone. Beginners are welcome, and we stepped into a life completely foreign to our own. But by the end, we were riding horses like we had been doing it for years.
Walking up each morning to the sounds of horses being wrangled, running for meals at the sound of the meal bell, learning to fly fish in fresh streams, and watching cozy sunsets from the porch of our log cabin was a glorious way to spend a vacation. A Montana dude ranch experience is an absolute MUST DO USA bucket list item for any traveler.
Driving Going-to-the-Sun Road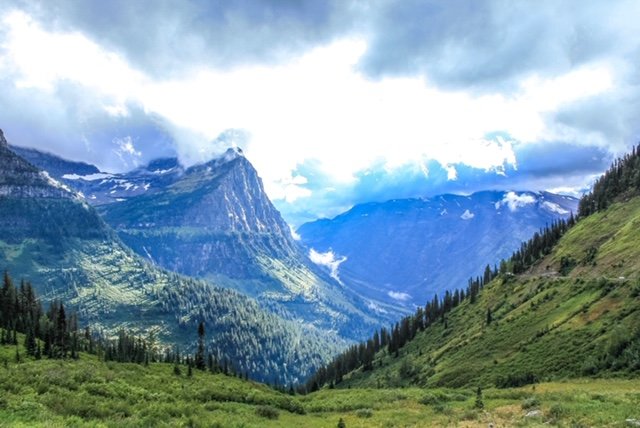 Contributed by Lora of Explore with Lora
The USA is full of amazing adventures but one you don't want to miss is driving Going-to-the-Sun Road inside Glacier National Park. If you're feeling really adventurous you can even try biking it!
Located in northwestern Montana, Going-to-the-Sun Road begins in West Glacier, spanning over 50 miles to the East entrance of the national park in St Marys. It crosses the continental divide at Logan Pass, taking you through majestic mountains, breathtaking valleys, and incredible waterfalls.
Glacier National Park is full of amazing wildlife so on top of the breathtaking landscapes you may also spot mountain goats, bighorn sheep, and grizzly bears while driving along this road! Visitors come from all over the world just to make this drive, so you'll definitely want to add to your USA bucket list.
Check out otherworldy landscapes at Yellowstone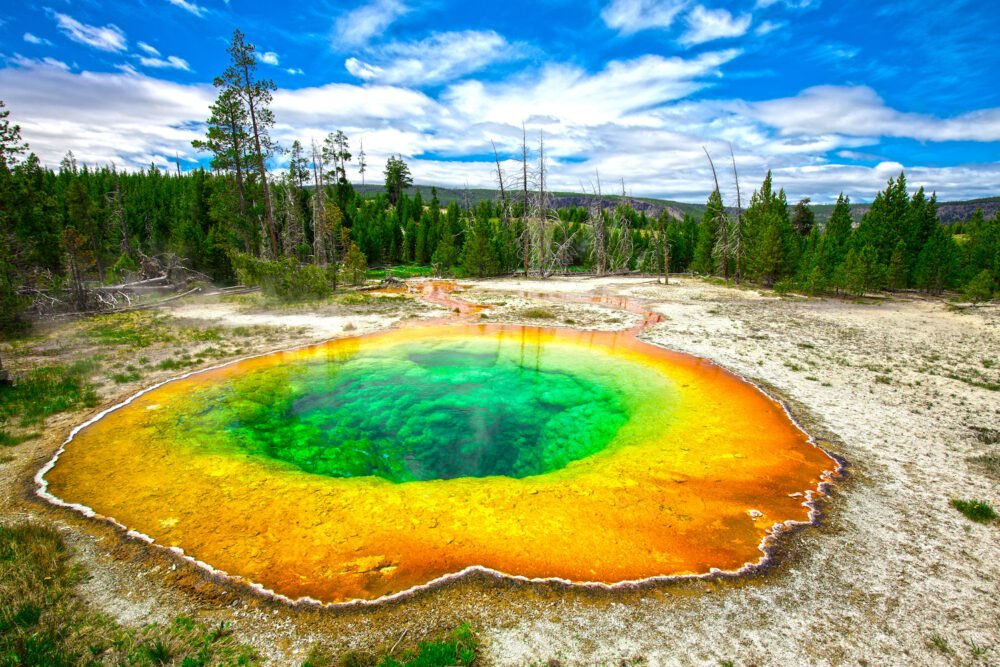 Contributed by Megan of Megan & Aram
A USA bucket list item is to head to Yellowstone National Park and check out landscapes that are completely out of this world. The geysers, hot springs, and photogenic scenery will be sure to blow your mind and be a memory ingrained in your head for eternity.
Be sure to not miss the Morning Glory Pool of the Upper Geyser Basin as it is one of the best sights in the park and needs to be a part of your Yellowstone itinerary. Mammoth Hot Springs is another jaw-dropping sight to see in Yellowstone.
Yellowstone may be packed with tourists during the summer months, so opt for a trip out of season to experience fewer crowds and cheaper prices. The National Park is a must-visit if you're looking for the best scenery in the United States.
USA Bucket List: The South
Go swimming with manatees in Crystal River, Florida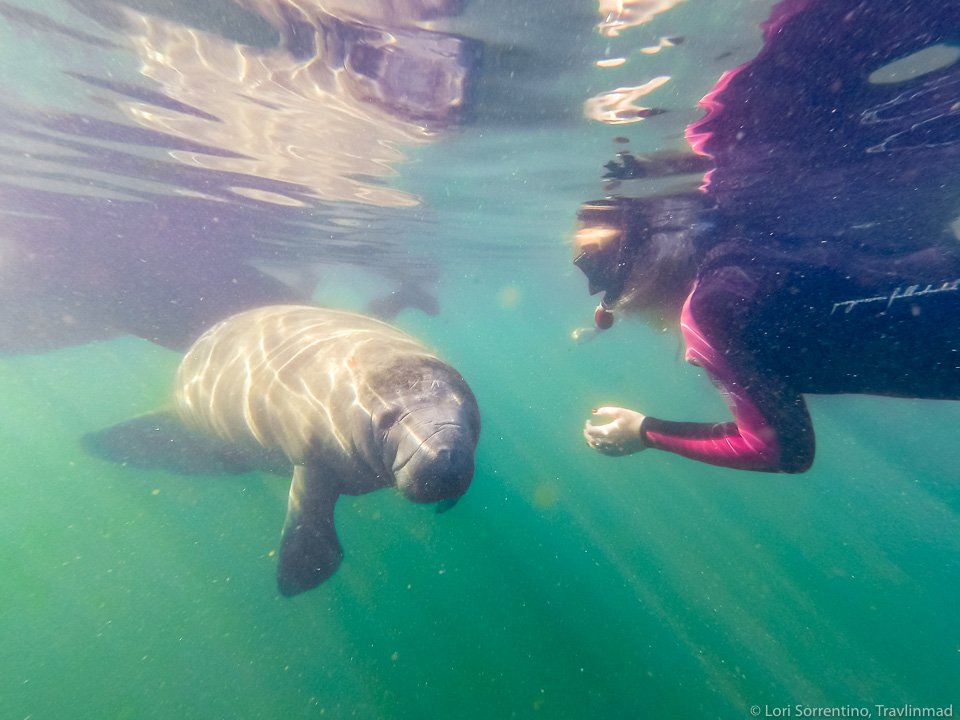 Contributed by Lori Sorrentino of Travlinmad
There are lots of bucket list adventures to be had in Florida but for a completely unique experience, try swimming with manatees in Crystal River, on the central Gulf Coast known as Florida's Nature Coast.
Here you'll find the West Indian manatees in large numbers throughout the year. But in winter when the Gulf temperatures drop, manatees head to the warmer waters of the natural springs around central Florida that remain a constant 72 degrees (F).
Crystal River is the only place in Florida where you can swim with these gentle aquatic mammals in their natural habitat. You'll float around as they swim by and play, passively observing them from a distance.
A truly amazing eco-experience you'll only find in Florida!
Kayaking to Caladesi Island, Florida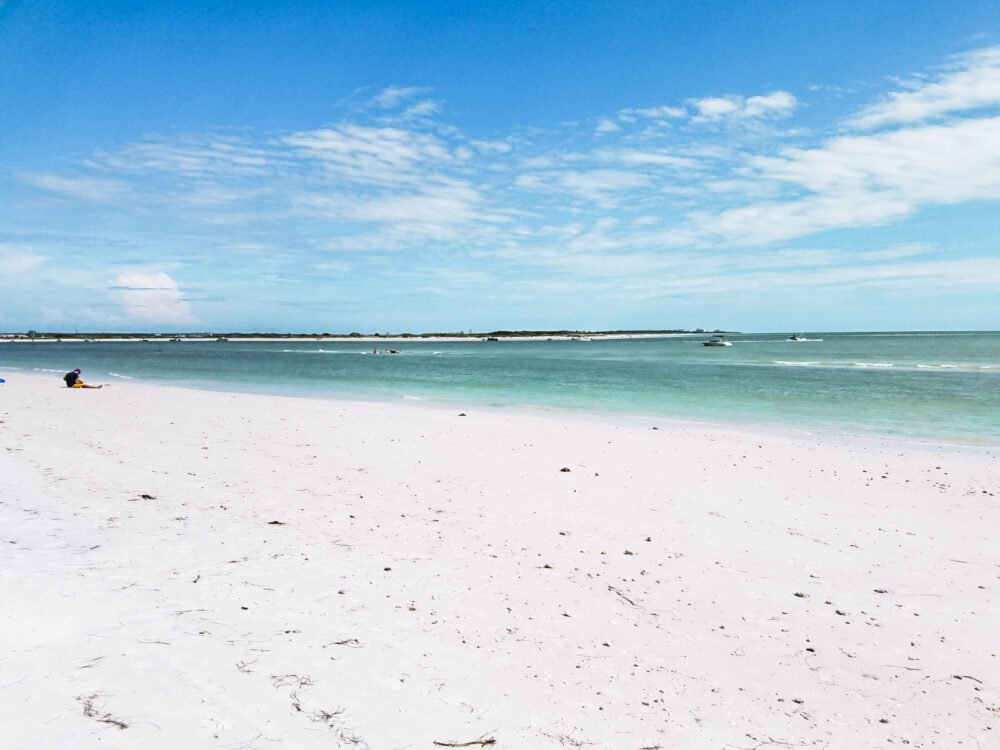 Contributed by Paula of Paula Pins the Planet
One of the best Florida bucket lists is to kayak to the Caladesi Island State Park, and to experience not only the spectacular beach — one of the best family beaches in Florida — but also the plentiful wildlife along the way. 
Caladesi Island is one of the few untouched islands along the Gulf Coast, and you can paddle a kayak from the causeway that goes to Honeymoon Island State Park.
While kayaking to Caladesi Island you can see dolphins nearby, magnificent frigate birds overhead, and roseate spoonbills in the mangrove. On the island, you can walk on the three miles of Caladesi Island beach with soft, white sand with many shells and swing on the clear turquoise water.
Caladesi Island is a beach paradise and very isolated and away from the crowds. In fact, Caladesi Island was named number 1 beach in America in 2008.
Road trip down Florida to Key West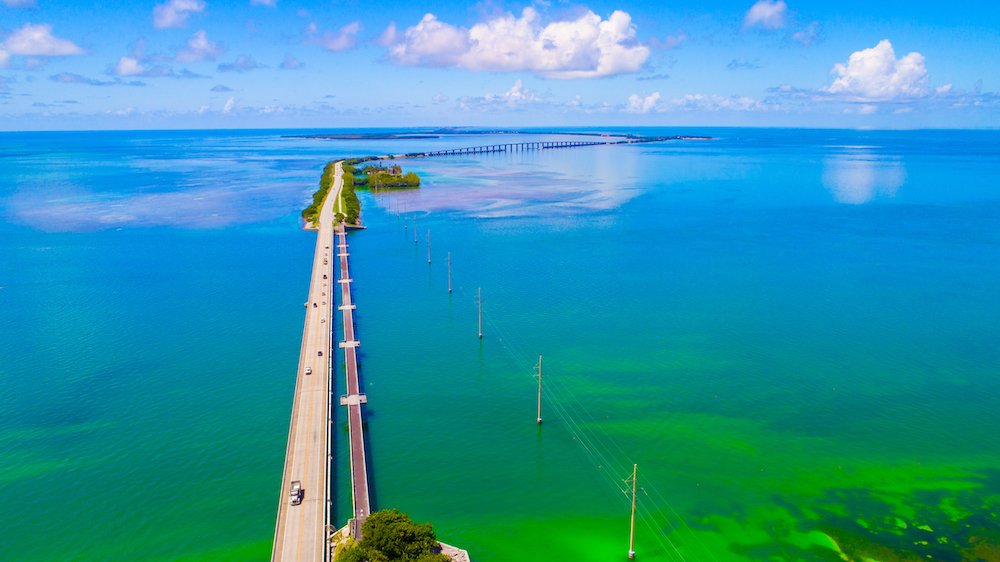 Contributed by Jenni Fielding of Cruise Mummy
A road trip down the East Coast of Florida from Jacksonville to Key West is the perfect way to see the state's best sights.
Best done in a convertible car to make the most of the views and the Florida sunshine, the drive only takes eight hours but it's best to allow a week for the best experience.
Top places to visit on the way include the historic city of St Augustine, Orlando's theme parks, the Kennedy Space Centre, funky Fort Lauderdale, trendy Miami Beach and then each of the islands in the Florida Keys.
You'll finish the trip in Key West, at the southernmost tip of the USA.
Admire the murals at the Wynwood Walls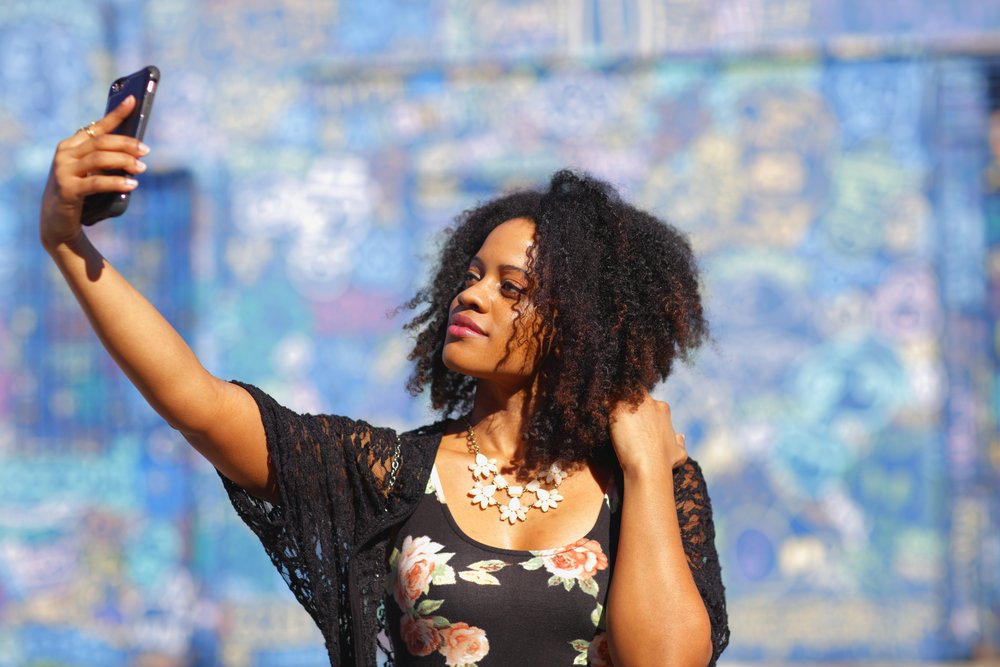 Contributed by Roshni of The Wanderlust Within
The Wynwood Walls in Miami, is one of the most colorful places in the US. This outdoor art exhibition is ever changing and has showcased the work of over 50 graffiti and street artists from 16 different countries.
The exhibition is made up of insta worthy murals that line the Wynwood District and have become a must see attraction in the USA and inspired many famous Miami quotes.
Even though entry is free, it is best to do one of the paid walking tours so you can learn more about the background of the piece and some insight into the behind the scenes process.
Eat Cuban food in Little Havana, Miami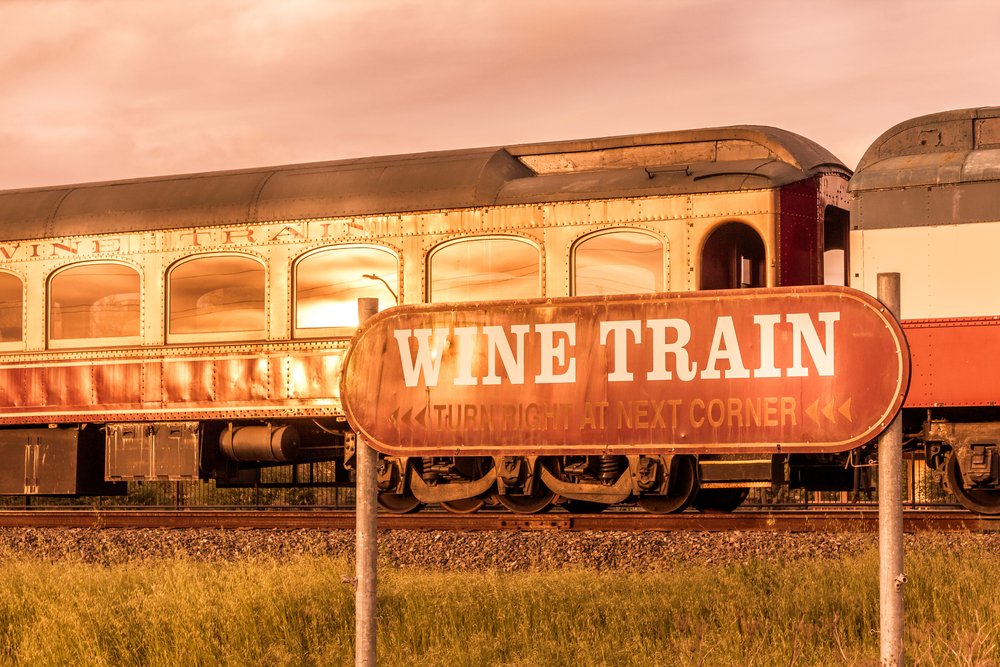 Contributed by Rose Monday of Where Goes Rose
Experiencing Cuban culture in Miami is a must for your USA bucket list. This area was populated when Cubans fled their homeland under the dictatorship of Fidel Castro.
When you wander the neighborhood today, you'll find more Spanish than English spoken and stumble across Cuban cigar stores and galleries displaying Cuban artwork.

The best activity might be exploring the best restaurants in Little Havana and sampling Cuban cuisine. Must-trys include Cuban coffee and empanadas at Le Pub, mojitos at Ball & Chain, gelato at Azucar Ice Cream and Cuban sandwiches with ham, swiss cheese and pickles at Old Havana Cuban Bar & Cocina.
Not only will you try the food but you'll meet the locals and learn about their culture!
Walk the squares in Savannah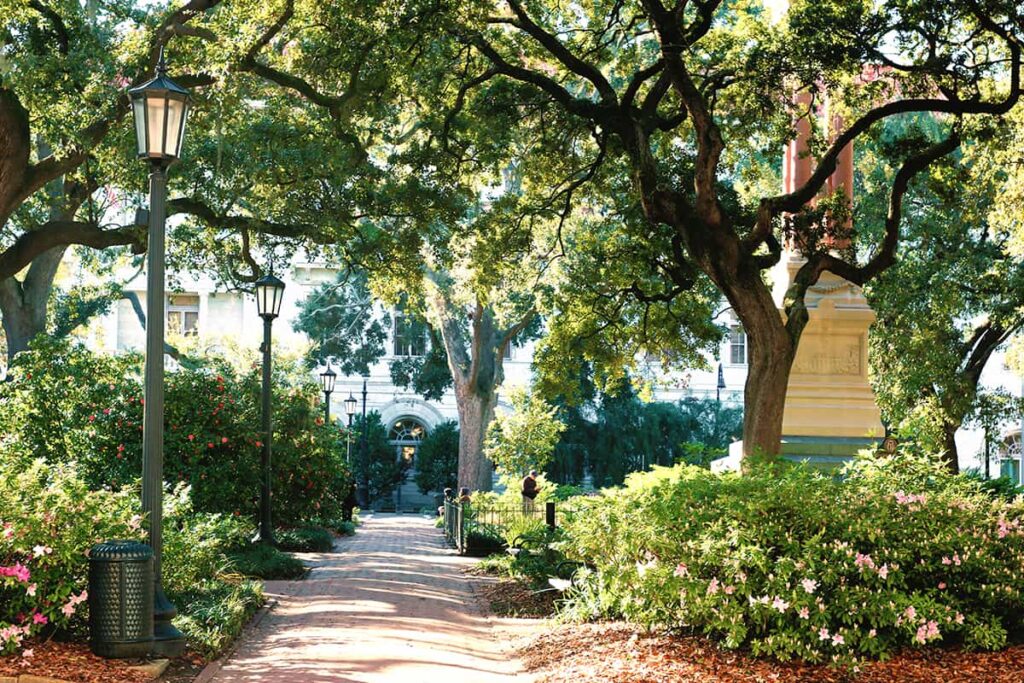 Contributed by Erin Clarkson of Savannah First-Timer's Guide
When Oglethorpe landed along the banks of the Savannah River in 1733, he established the city built around four squares. Today, there are 22, and many are surrounded by historic homes.
If you're planning to explore all of them, it IS possible to do in one day. However, it's better if you have an entire weekend to get it done.
Here are a few of the more well-known squares to prioritize:
Chippewa Square is the picturesque spot where Forrest Gump famously sat on a bench while narrating the story of his life.
The Mercer-Williams house, from Midnight in the Garden of Good and Evil fame, faces Monterey Square, which is also home to Temple Mickve Israel..
The beautiful Cathedral of St. John the Baptist is adjacent to Lafayette Square, where you'll also find Flannery O'Connor's childhood home.
Wright Square and Calhoun Square are known for being two of the most haunted!
Go to the Houston Rodeo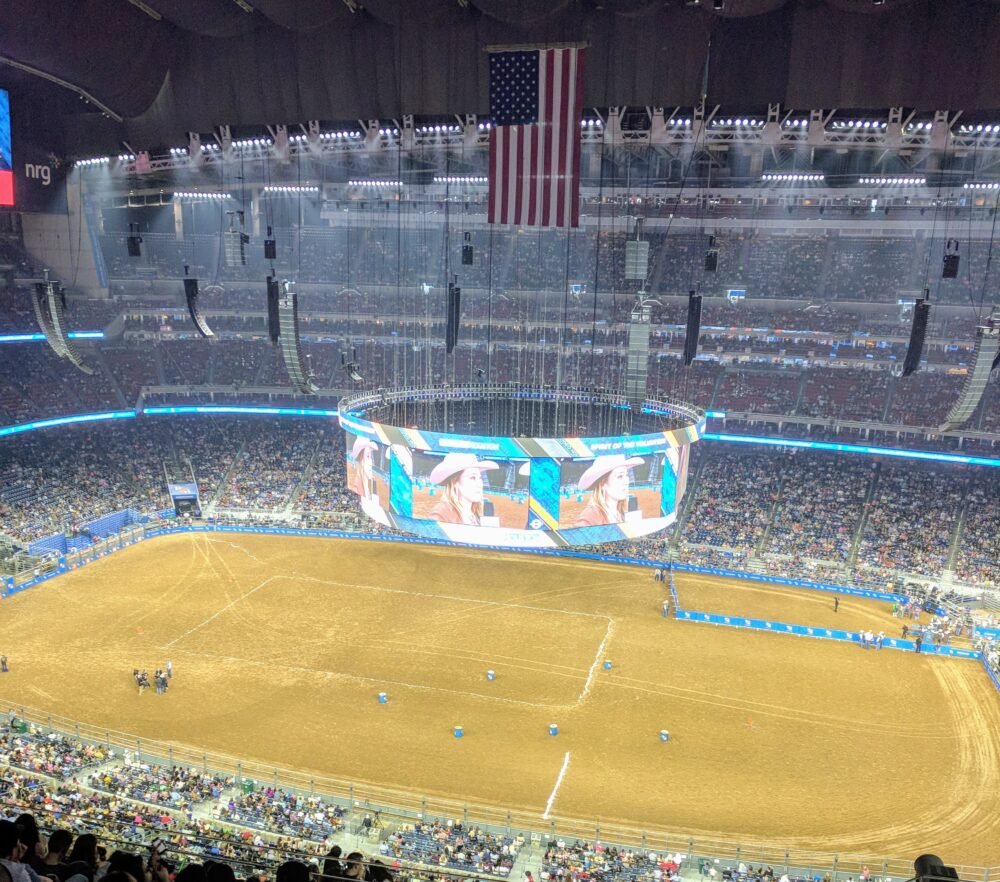 Contributed by Yo Schlachter of Texas Wanderers
The Houston Livestock Show and Rodeo is one of the most popular things to do in Texas, drawing millions of people each year. The event lasts three weeks, and is packed with exciting rodeo events like bull riding, barrel racing, steer wrestling, and more.
Don't miss the mutton bustin' where tiny kids compete to stay on their sheep longest, hanging on as they race to the other side of the arena. Ending off the rodeo events every night is a concert by another popular musical artist.
Outside the rodeo, a carnival offers 80+ different rides, with dozens of food vendors selling typically Texan fare like smoked turkey legs, funnel cakes, and even a deep-fried cookie dough sundae!
Bring the kids to the livestock show to watch baby chicks being born, view newly birthed cows, and walk through the 'farm experience,' where kids can pick fake vegetables, milk a fake cow, collect fake eggs, and then 'sell' it all at the market.
Take a driving or biking tour of the Natchez Trace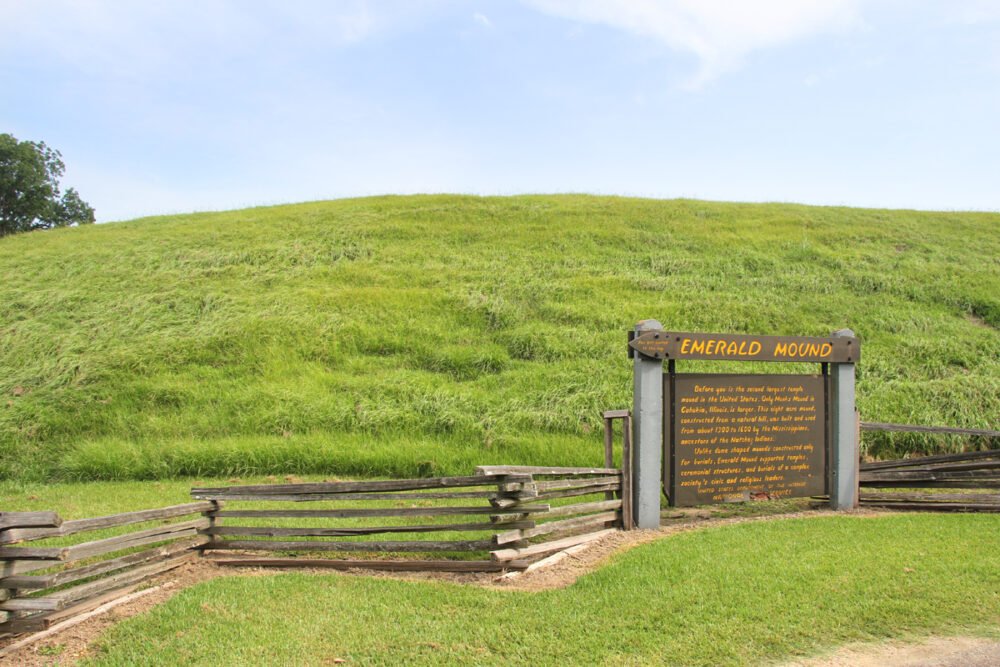 Contributed by Jennifer Campbell of Just Chasing Rabbits
Taking a driving, biking, or motorcycle tour of the Natchez Trace is a must-do when visiting the state of Mississippi. This 444-mile parkway follows a historic trail that winds from Natchez, Mississippi to Nashville, Tennessee, providing beautiful scenery and stops where visitors can experience nature and learn about thousands of years of history on one of America's oldest roadways.
The original path was created by migrating animals, like deer and bison, as well as the Native Americans that followed the herds. Travelers on the Trace can visit Native American sites like Emerald Mound, Pharr Mounds, and Chickasaw Village Site.
Later, the Trace would be used by explorers, pioneers, soldiers, and more. One of the original inns (Mount Locust) still stands near Natchez, and graves of unknown Confederate soldiers along the Old Trace are a grim reminder of the Civil War.
Today, the Natchez Trace is maintained by the National Park Service. The visitors center in Tupelo, Mississippi provides opportunities to learn more via exhibits, a film presentation, and knowledgeable rangers.
Hike the waterfalls at the Great Smoky Mountains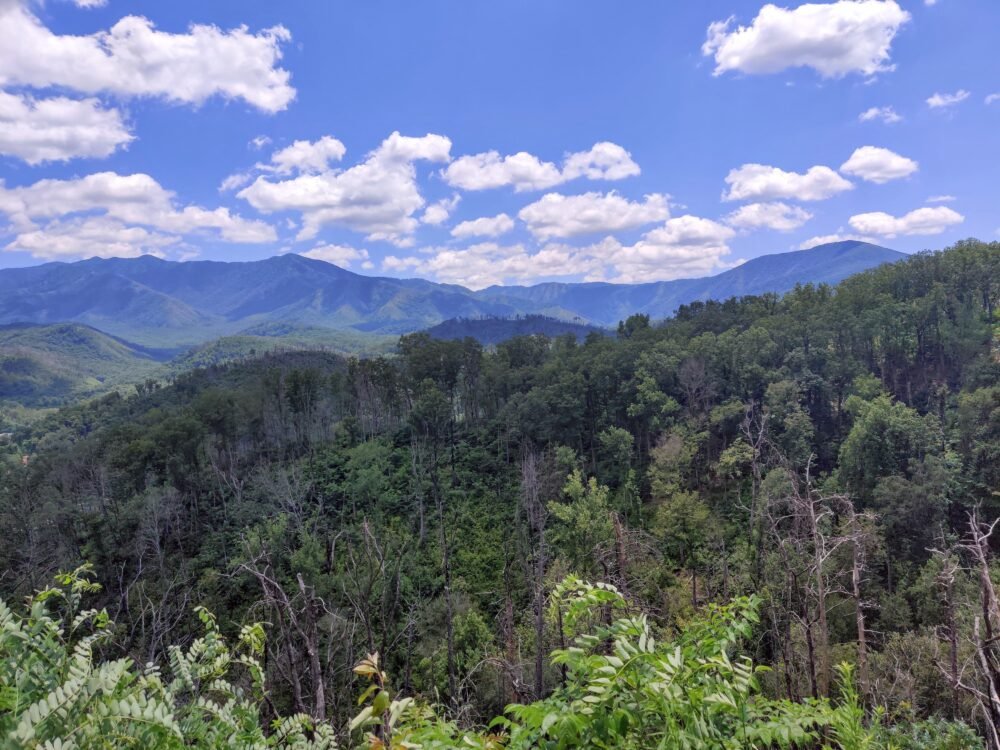 Contributed by Corritta from It's a Family Thing
You can't have a USA bucket list without including the Great Smoky Mountains. It is one of the most beautiful National Parks east of the Mississippi River.
What makes this park amazing are all of the waterfalls throughout the park. You have to hike through this park to see all of its natural beauty. There are over 100 waterfalls in this 500,000 acre National Park.
The best waterfalls in the Smokies are Laurel Falls, Grotto Falls, Abrams Falls, and Mouse Creek Falls. Remember to keep an eye out for wildlife, because black bears, deer, and bobcats are known to frequent the park.
Once you visit this oasis you'll want to return year after year to see all of the gorgeous waterfalls this massive park has to offer.
Go tubing in the Great Smoky Mountains National Park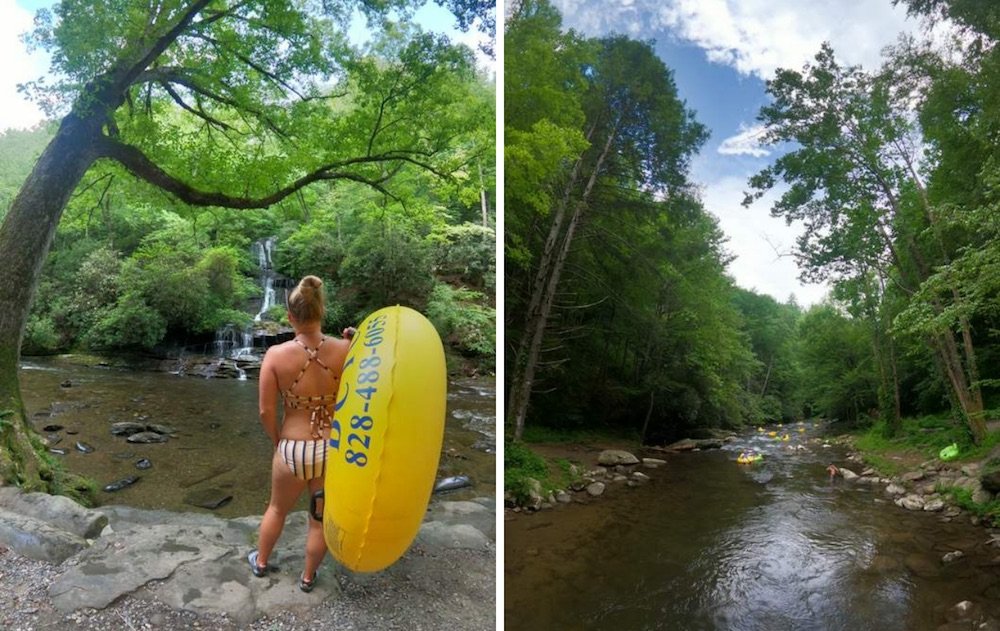 Contributed by Rachel of Grateful Gypsies
Tubing down the river never disappoints but there's something special about tubing inside a national park. The Great Smoky Mountains National Park offers many places for tubing but the best is in Deep Creek near Bryson City, NC.
It's a bit different from other tubing experiences as vendors are not allowed in the park on the North Carolina side. You must first rent your tube. Then you drive it into the park yourself and hike about a half-mile up to the starting point, of which there are two. The lower starting point is more chilled out with fewer rapids.
But if you enjoy a bit of adventure, you should continue on to the upper starting point as there are more rapids and steeper drops. The best part is that you can go down the river as many times as you please. You just need to return the tube, still inflated, by the time the shop closes.
Go wine tasting in Texas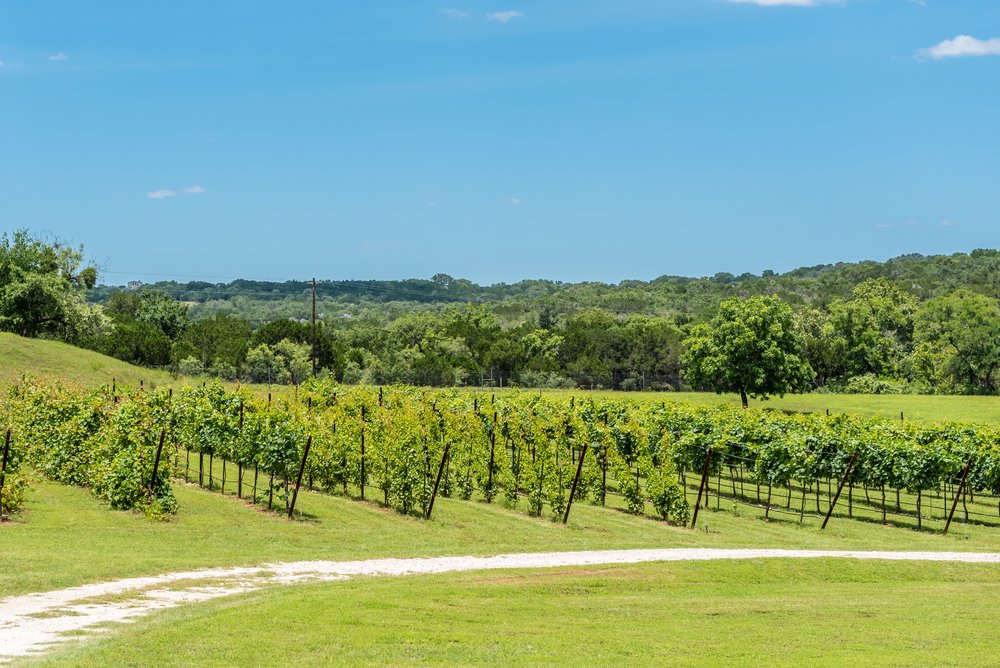 Contributed by Bruna Venturinelli of Maps 'N Bags
Sipping wine in the Texas Wine Country should be on everyone's USA bucket list!
Just an hour from San Antonio and Austin, Fredericksburg is a lovely German town packed with some of the state's best wines!
While discovering the Texas Wine Country, you will want to stop at some of the best wineries in Fredericksburg to taste a couple of wines from the Lone Star State and get personal with the southern hospitality–it's a fantastic experience.
Tree-lined creeks, rolling hills, and bluebonnets are some of the backdrops you can spot since Fredericksburg is located in the heart of the Texas Hill Country. Excellent wine, sweeping landscapes, and southern hospitality–what's not to love?
USA Bucket List: Midwest
Drive Route 66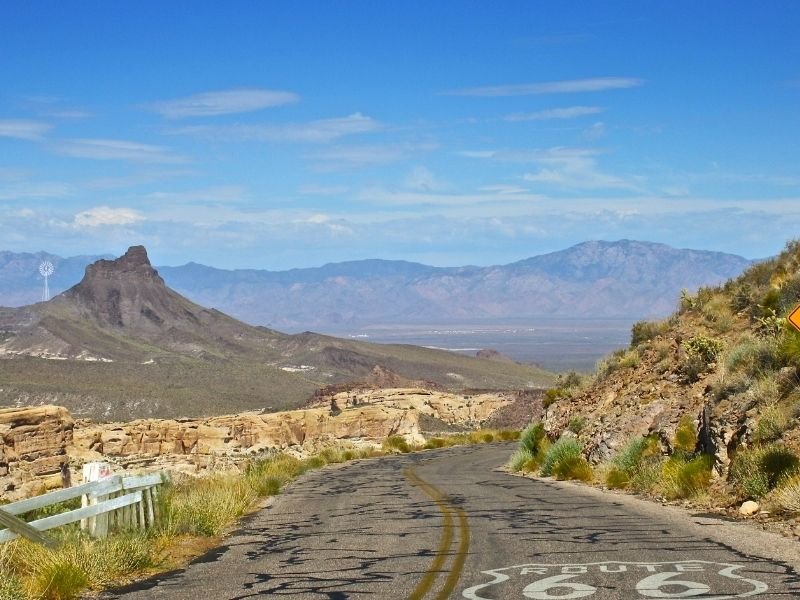 Contributed by Stephanie Craig of Oklahoma Wonders
Route 66 is the ultimate American road trip, and no USA bucket list is complete without penciling in a week or two to explore the "Mother Road."
Historically important as one of the primary ways Americans migrated west, Route 66 at first became synonymous with Okies who used it to flee the Dust Bowl for a better life.
This was such a common phenomenon that Will Rogers joked "When the Oakies left Oklahoma and moved to California, it raised the I.Q. of both states." Of course, today travelers love Route 66 for its kitschy, throwback vibes.
There's no better way to see the interior of the country than spending your nights at vintage motels and your days at great American wonders like the Grand Canyon and the Painted Desert.
While you'll never run out of things to see on Route 66, it does help to plan out your itinerary ahead of time. Otherwise you'll want to pull over to ever motel and every stop along the way!
Kayak around the Apostle Islands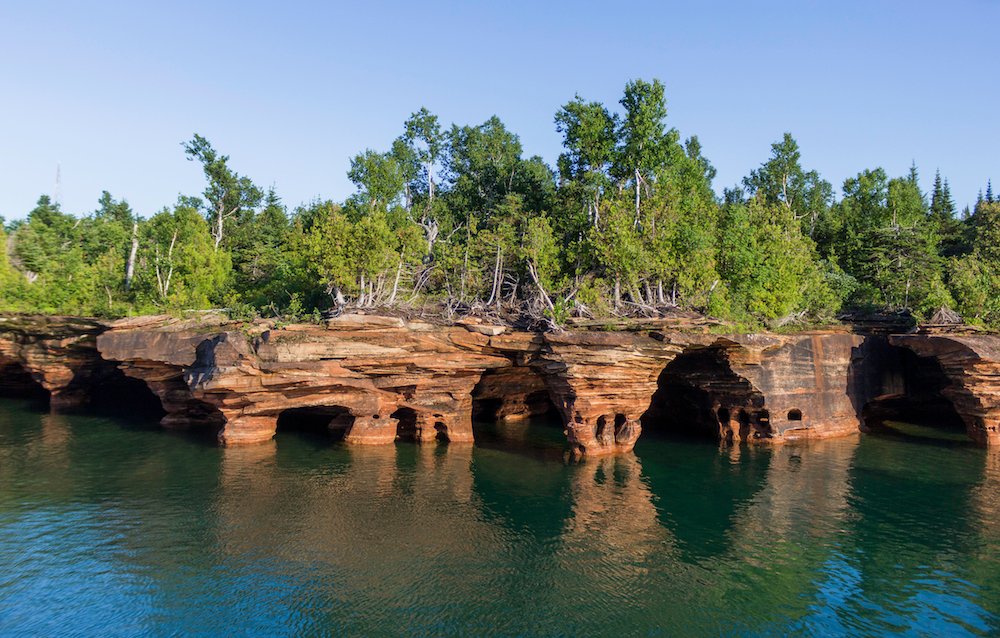 Contributed by Paulina of Paulina on the Go
If you think Lake Superior is peaceful, you are in for a surprise: it is one of the infamous lakes in the world which gets squalls out of nowhere!
But most of the time the lake is dead silent, and there is no other lake anywhere in the world in the world where you could find a complete silence while you're paddling your kayak.
A lot of people visit Apostle islands to see the famous sea caves as the weather and the waves have managed to carved intricate passages through the rocks. You can easily find arches and caverns to slip your kayak through. In addition to this, finding luxury cabins in Wisconsin for your stay is quite easy near the national park.
As the summer season starts to rise, the national park is a perfect place for kayakers to test their paddling skills while still enjoying the view.
USA Bucket List: East Coast
Go wild blueberry picking in Maine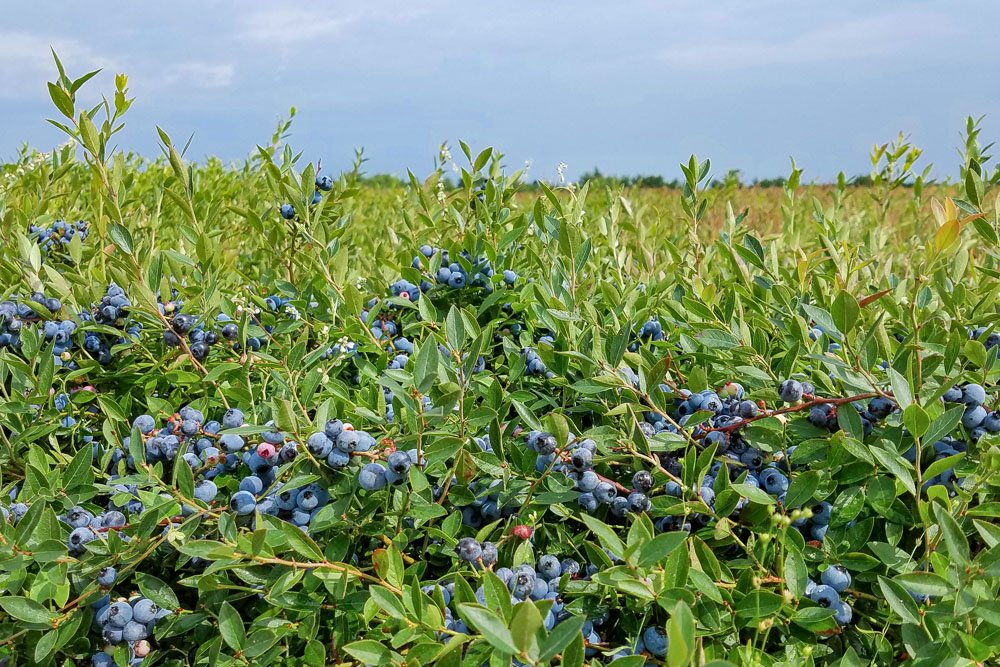 Contributed by Naomi of Roaming the Americas
While Maine is most well-known for lobster, there's another food it deserves renown for: wild blueberries. Trust me when I tell you that you haven't had a blueberry until you've had a wild blueberry, and picking them is a Maine summer rite of passage.
These tinier, flavor-packed versions of high-bush cultivated blueberries grow wherever they feel like it all over Maine—low to the ground in rocky, acidic soil—but are most prevalent on the coast from the Acadia National Park area to Canada.
Wild blueberry season is typically during the first few weeks of August, though it may come slightly earlier or later some years. There are a few pick-your-own operations, and it's common to find them along hiking trails. If you're on public land and know how to identify them, pick to your heart's content.
Go leaf-peeping in Vermont in fall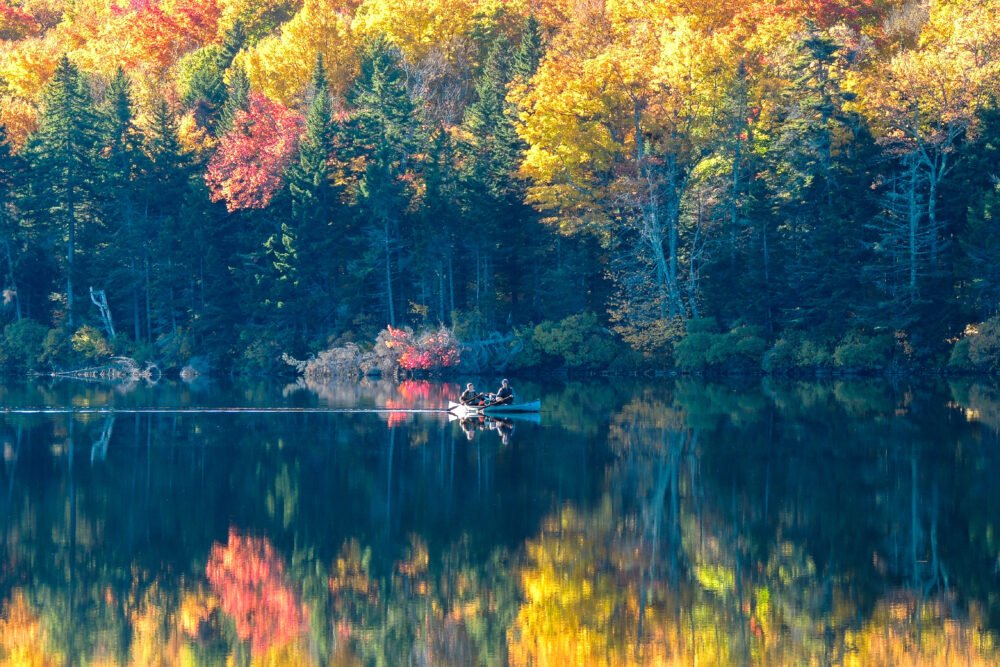 Contributed by Tara Schatz of Back Road Ramblers
New England is arguably one of the best places to experience fall foliage in the United States, and when it comes to leaf-peeping, Vermont definitely takes the prize.
If you have never experienced Autumn in Vermont, you are in for a treat. The trees start to change colors in late September and are usually at their peak in mid-October.
A road trip on Route 100 will take you 216 miles through the heart of the Green Mountains with incredible leaf-peeping opportunities, not to mention cute New England villages, cascading waterfalls, and serene lakes and ponds.
Highlights of a fall road trip along Route 100 include the Vermont Country Store in Weston, Moss Glen Falls in Granville, and the mountain town of Stowe, which is home to Vermont's tallest mountain. With forest covering three-quarters of the entire state, it's easy to see why fall foliage season in Vermont entices travelers from all over the world.
See the cherry blossoms in Washington DC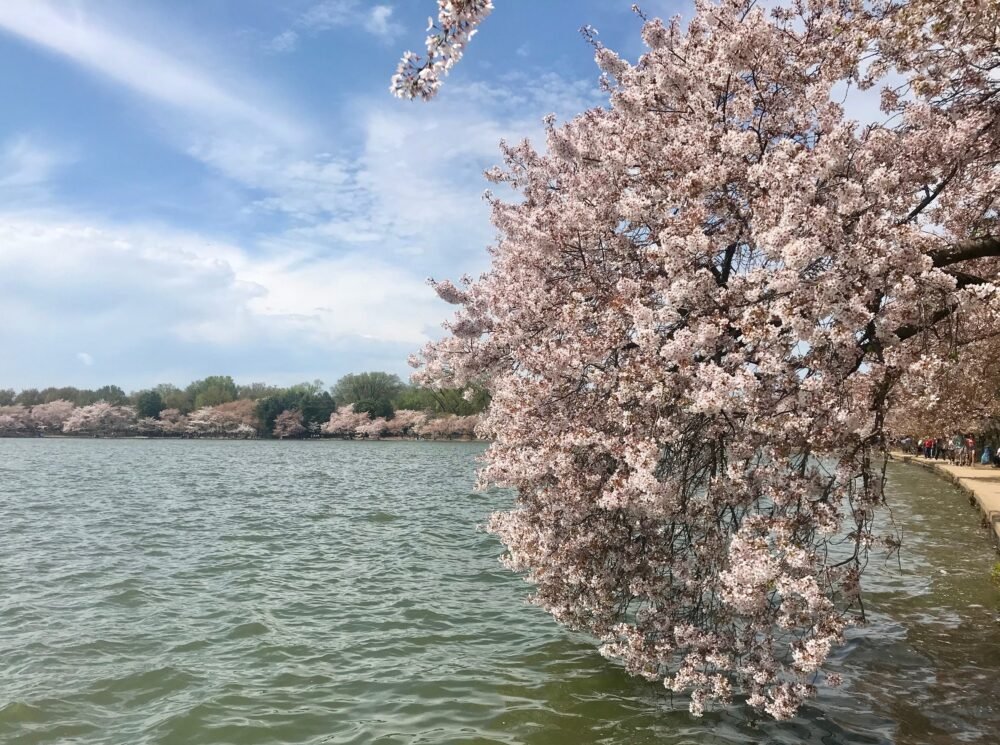 Contributed by Julie McCool of Fun in Fairfax VA
One of the most beautiful bucket list experiences in the Eastern U.S. is to see the cherry blossoms in bloom in Washington DC. Every spring, the cherry trees explode with pink and white blossoms adding color and delicate beauty to the backdrop of DC's granite monuments.
The Tidal Basin is one of the best places to see cherry blossoms in the DC region. Here, you can stroll a two-mile paved trail thick with blossoms. For a less crowded view, rent a pedal boat and enjoy the cherry blossoms from the water.
It's a fun way to capture gorgeous photos of the Washington, Jefferson, and MLK Monuments rising above the flowering trees. Parking at the Tidal Basin is very limited, but it's just a short walk from the Smithsonian stop of the DC Metro.
Attend a Broadway show in NYC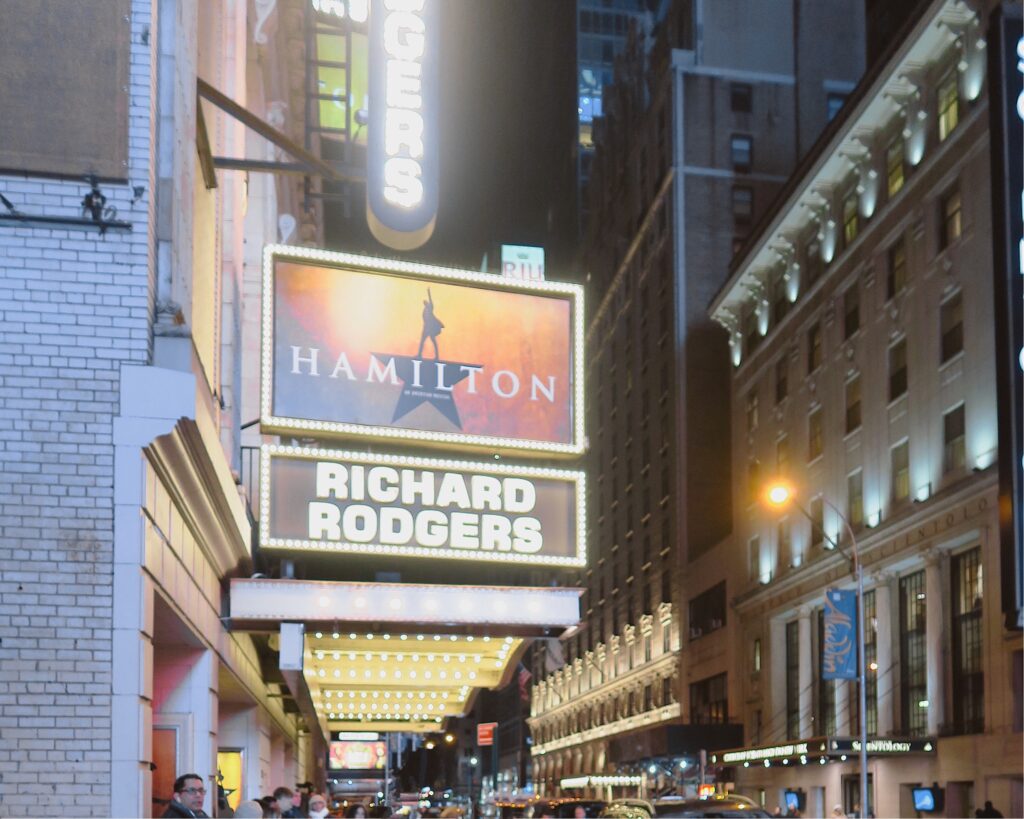 Contributed by Jennifer of World On A Whim
Attending a Broadway show during a visit to New York City should absolutely be included on your USA bucket list. There are very few things better in this world than watching professional singers belt out classic show tunes like "On My Own" from Les Miserables or the "Tonight Quintet" in West Side Story. You'll laugh, cry, and feel all the feels.
Eight shows are typically performed each week in one of the 41 professional theaters found in the Theater District in Midtown, Manhattan. Performances are held Tuesday through Saturday nights with matinee shows on Wednesdays, Saturdays, and Sundays. Monday nights are usually "dark" which means there isn't a show that night.
I'd recommend purchasing tickets well in advance from the box office if you are planning on seeing a popular show like Hamilton. If the musical has been on Broadway for awhile, you can probably find some tickets at TKTS, a discounted ticket booth with three locations in NYC.
Some of my personal favorite must-see shows that are currently on Broadway include Hamilton, Wicked, Phantom of the Opera, and Come From Away.
Visit the 9/11 Memorial and Museum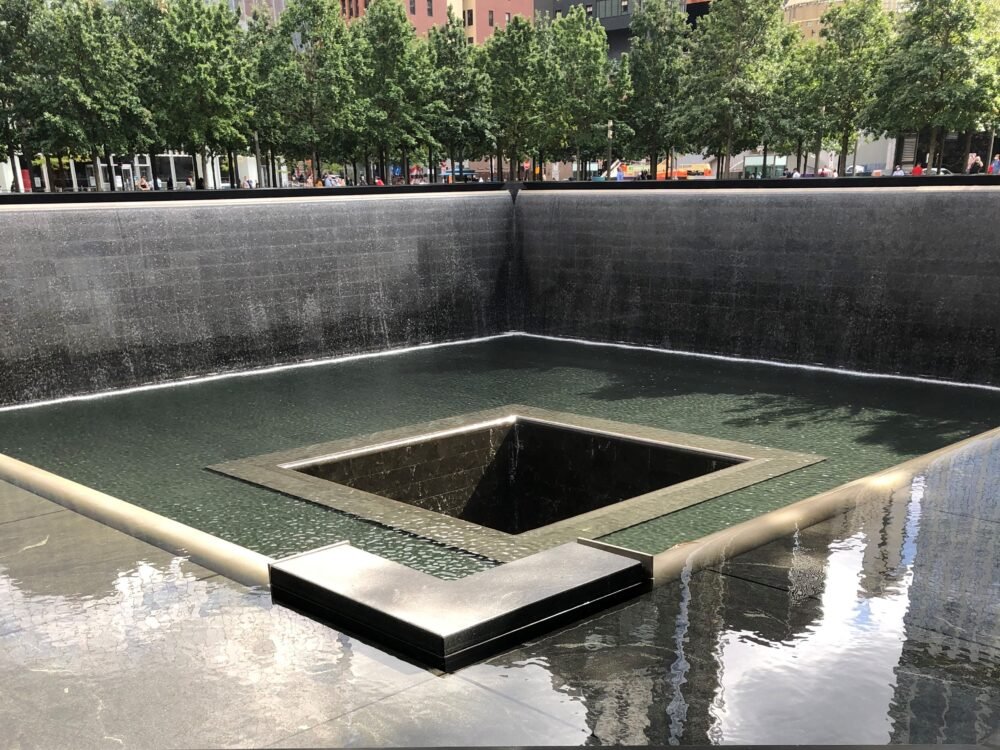 Contributed by Moshe of The Top Ten Traveler
The 9/11 terror attack on the US has left a deep hole in the soul of the American nation and had an impact on the whole world. The World Trade Center in New York City has changed its appearance in the aftermath of the attack and the 9/11 Memorial and Museum were built where the twin towers once stood.
The actual location of the buildings is now the Memorial with two big square pools, each about an acre in size, with 30 feet manmade waterfalls descending in, and another 20-feet-deep hole in their center. The Memorial represents "absence made visible", according to the architect, and seeing this place is a powerful emotional experience.
Next to the memorial stands the museum, with exhibitions telling the story of the attack (and also of the 1993 bombing of the WTC), and over 70000 artifacts from victims, survivors, and responders.
Walk around Downtown Manhattan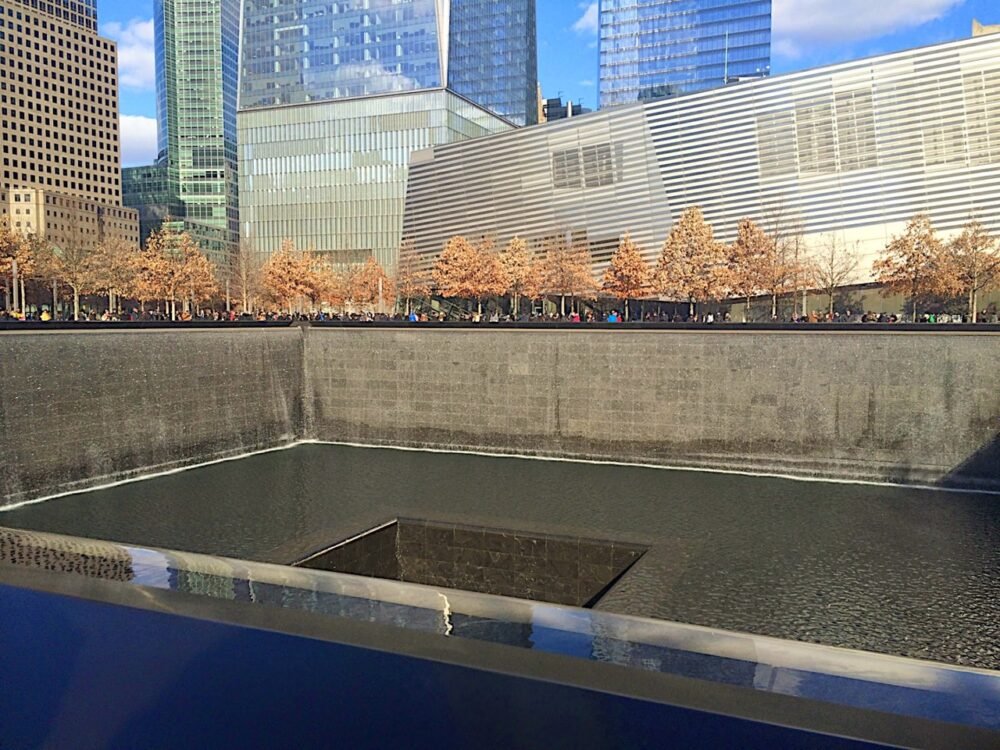 Contributed by Daphna of A Tiny Trip
There is nothing quite like the hustle and bustle of downtown Manhattan on a weekday morning!
Start your visit with a walk in the Financial District, where you can see the infamous Wall Street and take a picture with the Charging Bull. Then walk through the Oculus to One World Trade Center, where you can visit the One World Observatory for a view of New York City from the 100th floor. Pay tribute at the stunning World Trade Center Memorial before crossing to over to discover Battery Park City parks.
Walk through the parks, along the Hudson River to Bowling Green for a view of the Statue of Liberty. With time to spare you can even take a ferry ride to Liberty Island and Ellis Island!
Take in the views of Manhattan from Brooklyn Heights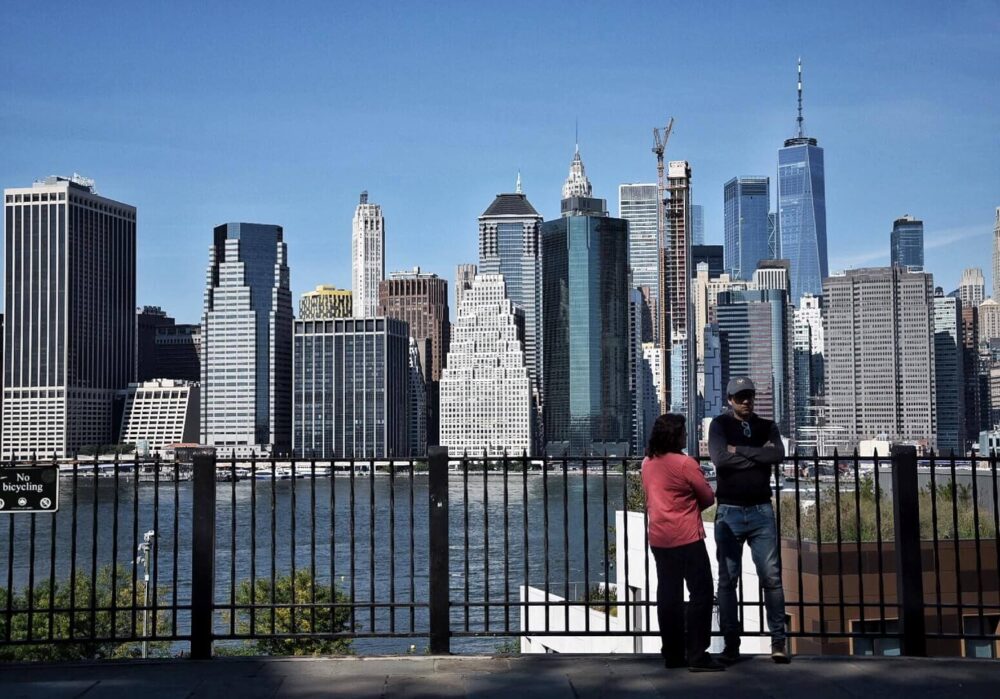 Contributed by Claudia Tavani of My Adventures Across The World
Whether you spend 4 days in New York or a full month there, you absolutely have to head to Brooklyn Heights.
This is one of the nicest neighborhoods in Brooklyn, and the first suburb of New York City, packed with Victorian-style buildings, lovely churches and quaint shops.
Yet, the main attraction there is the breathtaking view of Brooklyn Bridge and Lower Manhattan from the Brooklyn Heights Promenade. Hardly ever crowded at any time of year, this is a perfect place for a walk and for people's watching.
It's a great place to visit both during the day and at night, if you want to see the many lights of Manhattan.
Getting there is very easy: once you get off the Brooklyn Bridge, head south on Brooklyn Bridge Promenade and cross Whitman Park. Turn right on Tillary St. then left on Clifton St. and right again on Pierrepont St.
Stroll the Cliff Walk in Newport, Rhode Island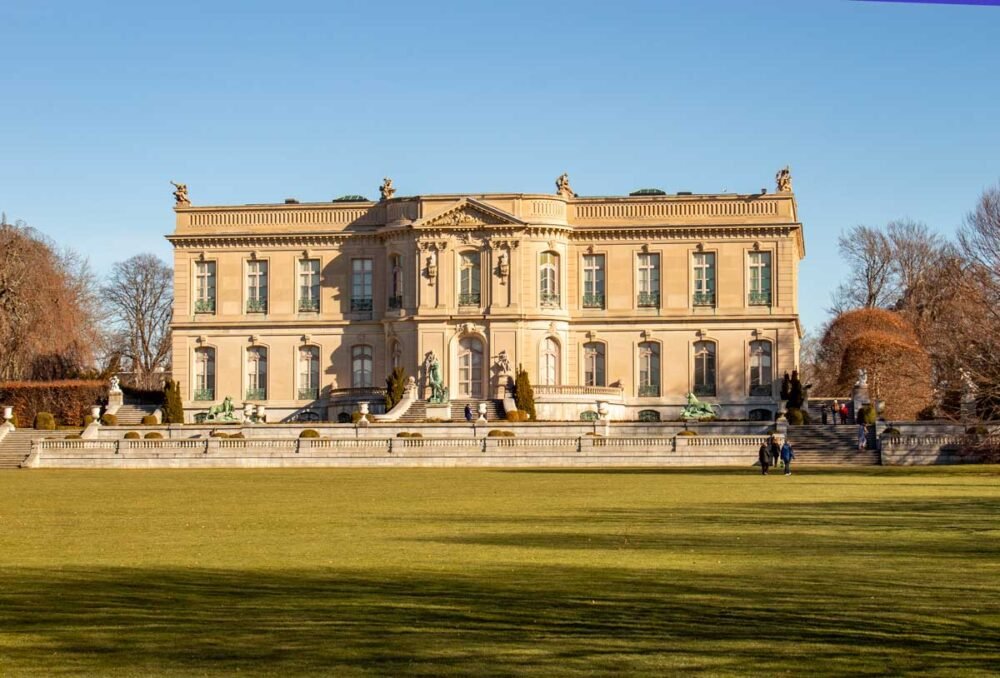 Contributed by Jackie Gately at Enjoy Travel Life

Newport is perhaps best known for opulent mansions, once summer "cottages" to some of the wealthiest families in the United States during the Gilded Age. For a nominal fee, you can tour the plush interiors of the mansions, now maintained by the Preservation Society of Newport County. It's especially wondrous to visit the Newport Mansions at the Holidays!

However, the most enjoyable—and free—way to see the mansions is to stroll along the Cliff Walk. This 3.5 mile public right of way over private property offers sweeping views to the Atlantic Ocean and the Newport Mansions. You'll discover stunning vistas of the mansions and their well-coiffed estates.

To begin the trail, follow the signs at First Beach. Two-thirds of the path is easy, but a small portion of the southern half is best-suited to appropriate shoes and some caution: you'll pass within steps of a 70-foot drop.
Tour Independence Hall in Philadelphia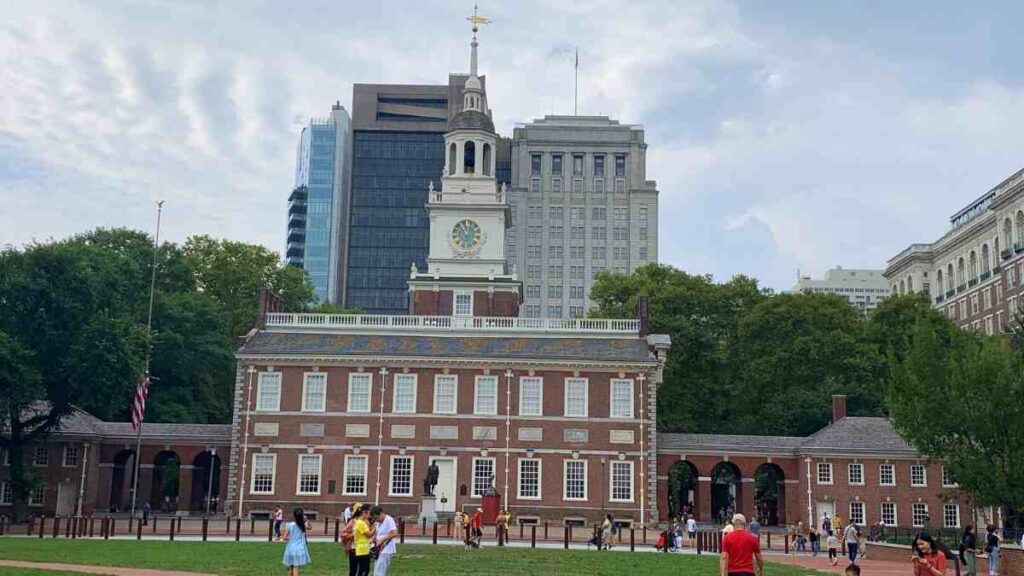 Contributed by Derek and Mike from Robe Trotting
Independence Hall is the most important building of the many Philadelphia historical sites. It's a landmark that belongs on any bucket list because the beloved structure not only hosted the Second Continental Congress and signing of the Declaration of Independence, it's also where the American Constitution was written and adopted during the summer of 1787.
The building where America was born is a UNESCO World Heritage site and has long been a symbol of freedom. Construction on the building finished in 1753 and it originally served as the Pennsylvania State House during colonial times. The iconic structure is where all three branches of Pennsylvania's colonial government met. When the colonies needed a meeting place, Pennsylvania provided its Assembly Room to the men of the Second Continental Congress.
The belltower of Independence Hall is the original home of the Liberty Bell, which is now located in a pavilion across the street. You can check Independence Hall off of your bucket list by reserving a spot on one of it's daily tours. The free guided tour lasts about 30 minutes and can be arranged from the nearby Independence Visitors Center.
Explore Colonial Williamsburg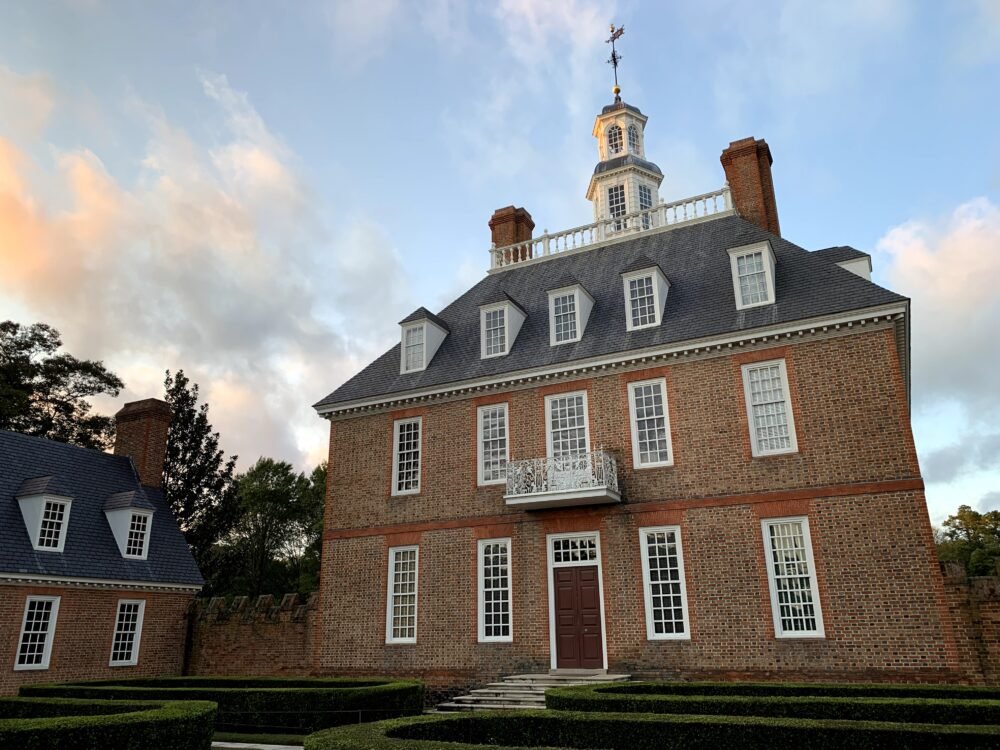 Contributed by Lyndsay of The Purposely Lost
As the largest living history museum in the United States, Colonial Williamsburg deserves to be on your USA bucket list.
Hundreds of restored, original buildings still stand from when Williamsburg, Virginia was the capital of the Commonwealth, and make up the exhibits of the museum.
Spend at least a day in Williamsburg wandering through the museum's buildings, learning about their history from historical reenactors, who will tell you about the Colonial era from a first-person perspective.
Colonial Williamsburg also offers various guided walking tours throughout its more than 300-acre grounds, focusing on different aspects of its history, including a few ghost tours.
Visit Nantucket by bike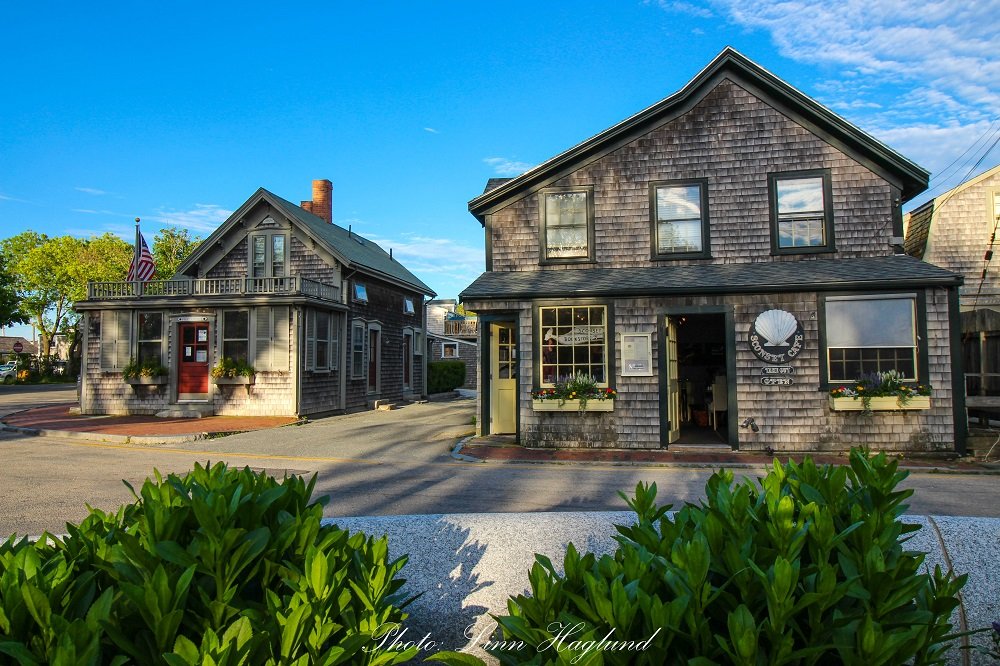 Contributed by Linn Haglund of Brainy Backpackers
Only a day trip from Boston or Cape Cod, you can explore the cute island of Nantucket by bike.
Either by bringing your own bike or by renting one on the island, Nantucket is crisscrossed with bike paths so you can enjoy the whole island. Make sure you go to Siasconset to explore some of the oldest houses on Nantucket.
The beach there is wonderful, and you can cycle all the way out to Sankaty Head Lighthouse. Explore the bike trails out to Madaket and Surfside for the beaches.
There are also great hiking opportunities in lush green forest and you get all the way to the trails only 15-20 minutes by bike from Downtown.
Go ice hiking at Ricketts Glen State Park, PA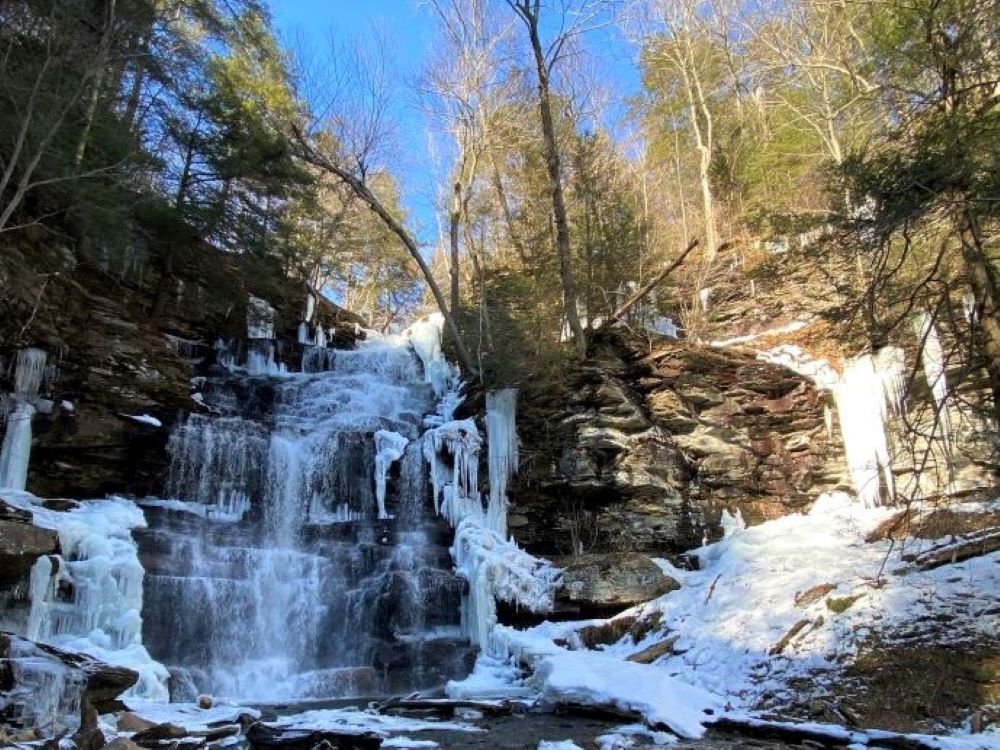 Contributed by Karen Dawkins of Family Travels on a Budget
Ice hiking at Ricketts Glen State Park in the Pennsylvania mountains is an exhilarating winter adventure. Geared up with winter coats, water bottles, and sunglasses, guides provide crampons for boots and ice picks for balance, for a fun winter adventure.
Trained guides lead tour groups down the Ricketts Glen falls trail to see the frozen wonderland created by the waterfalls each winter. Huge icicles, snow covered trees, and a shiny glaze of ice along the trail is breathtaking!
The star of the show is the 94-foot Ganoga Falls, with stunning ice walls muffling the sound of the rushing water. Conquering the trail is a thrill in itself, and the reward — stunning views few ever see — is totally worth it!
Do a Covered Bridges Bike Tour in New Hampshire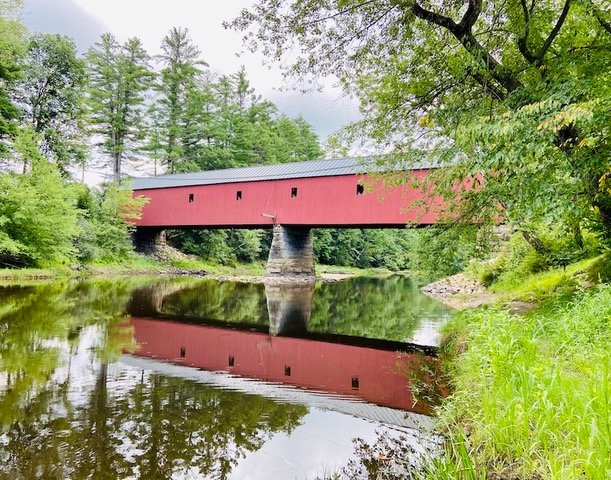 Contributed by Karen of Outdoor Adventure Sampler
What is more quintessentially New England that a historic covered bridge? The Bike the Bridges cycling loop in southern New Hampshire brings you past four picturesque covered bridges.
The 12-mile bike trip is one of many exciting outdoor adventures in the Monadnock Region of New Hampshire. The family-friendly cycling tour travels on quiet country roads and partially on the Ashuelot Rail Trail.
Starting in Keene, NH, you bike past farm fields with mountain views through quaint New England towns to discover each covered bridge. Stop at a farm stand to pick up treats for a picnic on Swanzy Lake along the way.
The covered bridges were built in the 1800s and bring you back to a time when life was more relaxed. This bucket list bicycle ride to the covered bridges is particularly stunning during the fall foliage.
Drive the Blue Ridge Parkway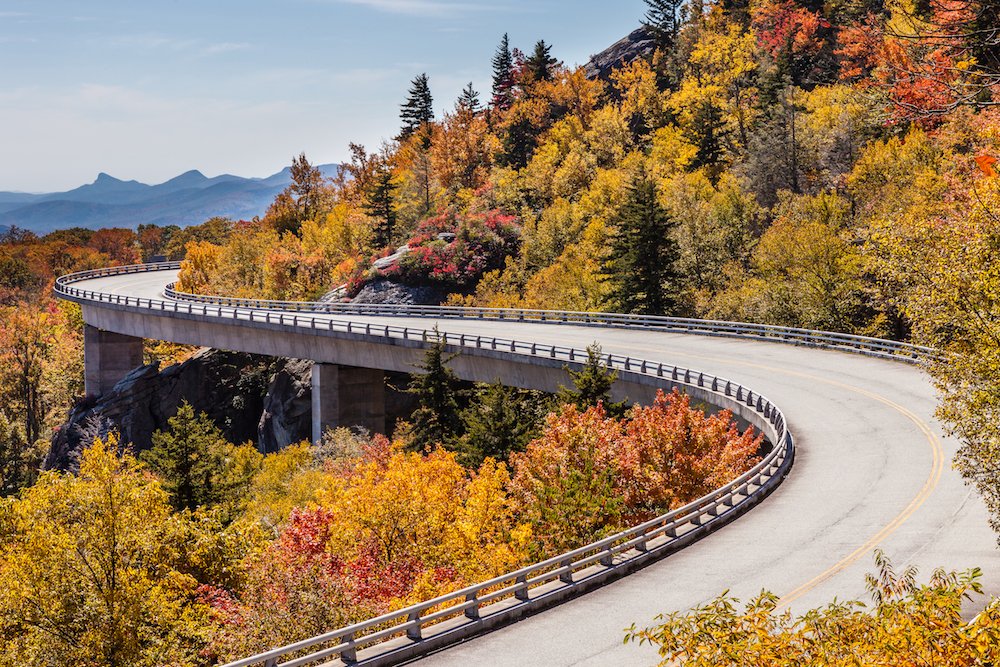 Contributed by Nicole Sunderland Of Bucketlistlists
One of the best USA bucket list destinations is the Blue Ridge Parkway located in Virginia. This unmissable location is most known for its beautiful drive. Hailed as one of the best drives in America, these twists and turns are packed with beauty.
The best activity on the Blue Ridge Parkway is driving to see the changing of colors. A top fall bucket list item is the fall foliage. Along these 469 miles of grandeur is rolling mountains with shades of red, orange and yellow as far as the eye can see on a clear day.
USA Bucket List: Hawaii & Alaska
Hike the Manoa Falls Trail in Hawaii
Contributed by Clara from Petite Capsule
Hiking the Manoa Falls Trail in Hawaii is a must for your USA bucket list. It is a beautiful walk before arriving at the 150-foot tall waterfall. There is lush green jungle-like vegetation, eucalyptus trees and a bamboo forest. The scenery may remind you of the Jurassic Park movie, as some of the movie was filmed here.
Manoa Falls is rated as an easy hike. You can do it when traveling with a baby and toddler, children, and adults. The length of the walk is 0.8 miles to the waterfall or 1.6 miles return. The path is mostly shady, which is excellent.
It is a dirt track, which gets muddy in some parts, especially after rain. As you get closer to the waterfall, there are stairs, and it gets a little steep and rocky as well. The Manoa Falls Trail is a fantastic activity to add to your USA bucket list.
Watch the sunset on Waikiki Beach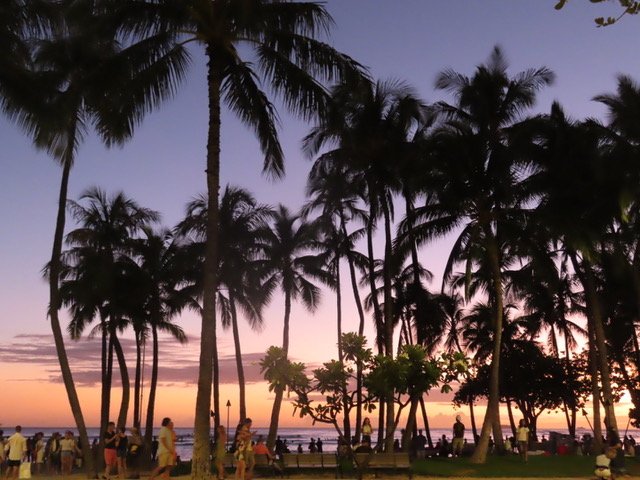 Contributed by Sally from Our3kidsvtheworld
Waikiki is the place you'll see on all the Hawaii postcards, a sun-drenched white sand beach, many a sun umbrella and bikini-clad tourists sun-baking or swimming in the year-round perfect conditions.
These perfect conditions also lead to the most spectacular evening sunset shows and all you have to do it look towards the horizon. You'll see a crowd of tourists and locals gathered each evening along the Waikiki beachfront waiting to see what mother nature serves up and whilst it's different every night, it's always dazzlingly beautiful.
Book a beachfront view room at any one of the many luxury hotels facing Waikiki Beach and enjoy the evening sunset from your balcony while sipping a cocktail before heading out for dinner.
Skydive over the North Shore in Hawaii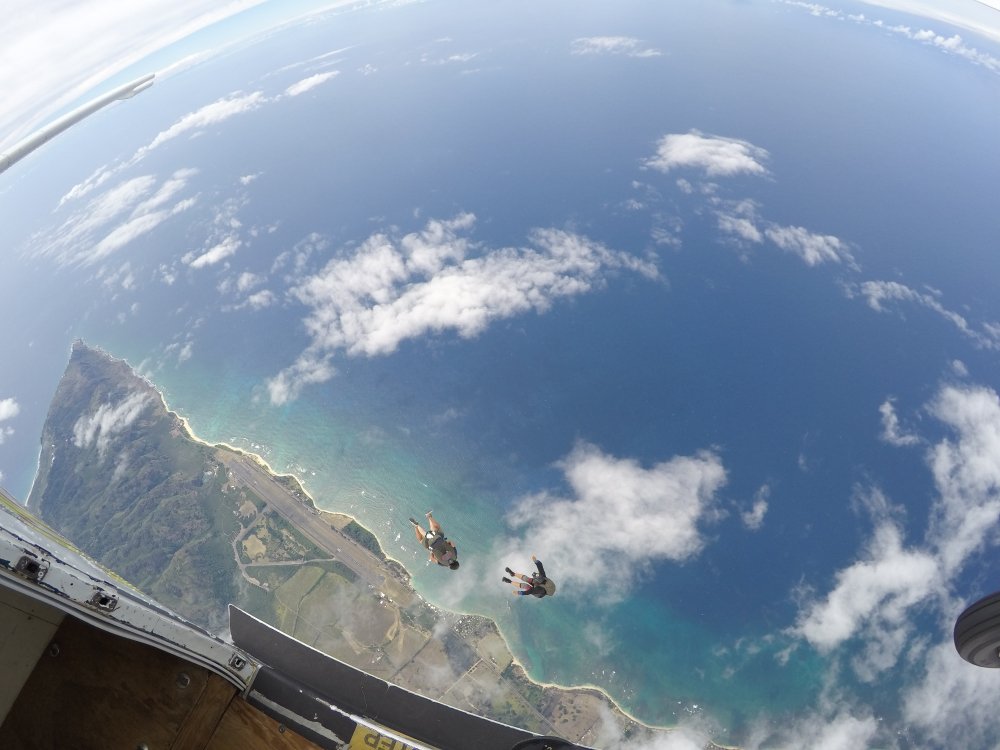 Contributed by Sara Stanisz of Our Kind of Crazy
Bucket list activities are always our favorite thing to do when we travel. And what better place to check off a top bucket list check of jumping out of an airplane, than to do it over the beautiful North Shore?!
Plus Honolulu, Hawaii is a great vacation spot for couples and families! Skydiving in Hawaii not only gives you the thrill you seek, but also gives you some of the best views in the world when you're floating down on your parachute.
We saw sea turtles in the water below, watched the waves crash up to the island, and had the most serene experience. It's definitely one to add to your bucket list!
Take a North Shore Oahu road trip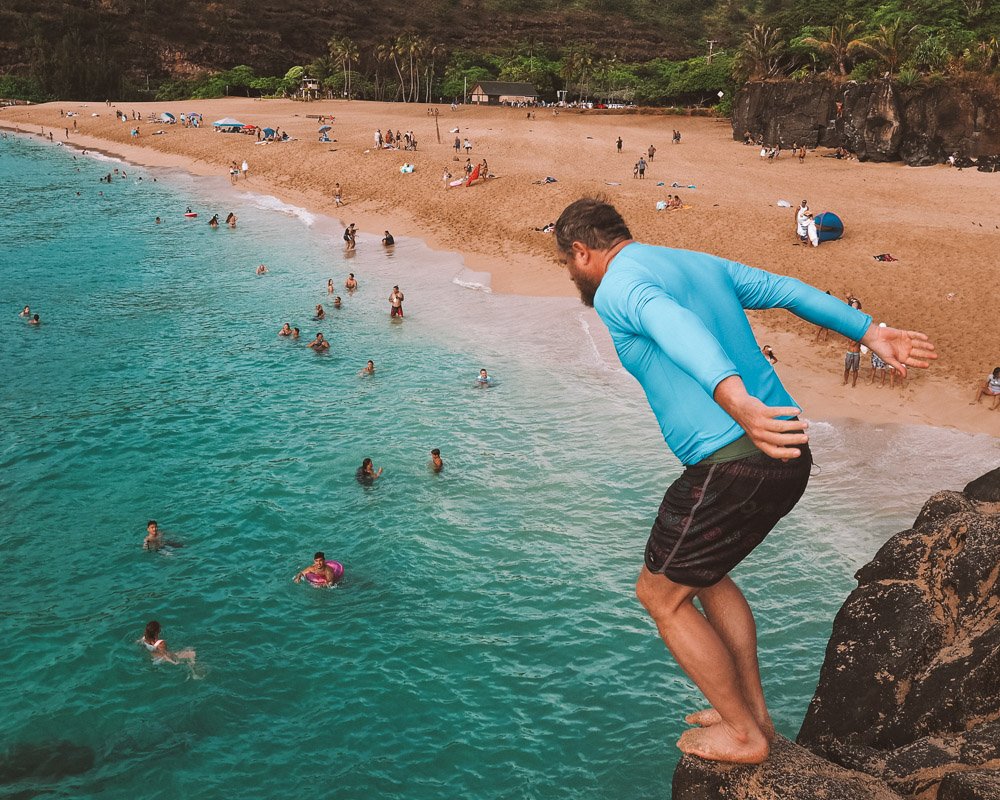 Contributed by Amanda of Fly Stay Luxe
Known for its big wave surfing, gorgeous waterfalls and delicious food trucks, the North Shore of Oahu is much more laid back than the tourist mecca of Waikiki on the other side of the island.
Spending a full day road tripping along the North Shore of Oahu is the perfect way to explore this beautiful side of Hawaii's main island.
If you're staying in Waikiki, I recommend starting the day at Haleiwa town and making your way north towards Turtle Bay. However, if you plan to stay around Turtle Bay, this road trip can easily be done in the reverse!
First up – grab a morning coffee from Island Vintage Coffee in Haleiwa, and check out the local markets in town before heading north along the Kamehameha Highway towards Waimea Bay. Here you can try cliff jumping into the turquoise ocean waters, or take a short hike to the beautiful Waimea Falls.
Continue along the highway to Shark's Cove for some of the best snorkelling in Oahu. This is also a great place to stop for lunch at one of the famous food trucks on North Shore Oahu for a feast of garlic shrimp or tacos. Two of the best food trucks are located right across the road from Shark's Cove!
After lunch, jump back in the car and continue north towards Banzai Pipeline. If you're visiting between the months of November and February, you can watch hardcore surfers tackle the epic waves (and also go whale watching in Oahu!). Alternatively, check out nearby Ehukai Pillbox Hike for some epic views over the ocean, if that's more you scene.
Finish up the day with afternoon snorkeling at Turtle Bay, where you'll have a good chance of spotting the beautiful Hawaiian green sea turtles during the calmer months (June to August). For the adventure-seekers, another great place to finish your road trip is Climbworks at Keana Farms, where you can experience a thrilling sunset zipline ride.
Visit a luau in Hawaii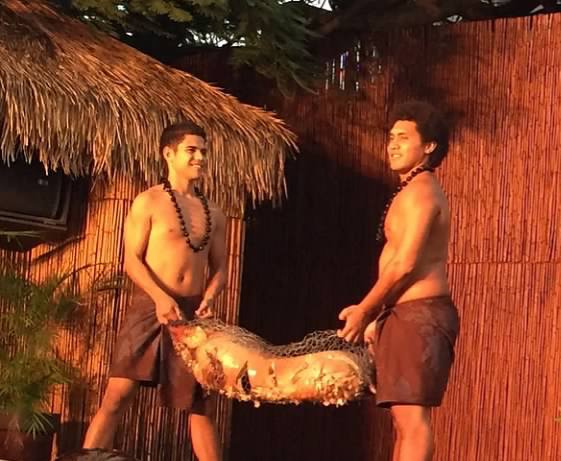 Contributed by Alexis Robinson of Sorta Crunchy Mama
My husband and I traveled to Maui, Hawaii for our honeymoon. We did a ton of fun activities while we were there but a luau was one of our favorites!
It can be a little touristy but we loved getting to see traditional hula, fire dancers, Listen to Hawaiian music, and watch them roast the pork in the sand.
We had a delicious dinner and it was a great end to our visit. It's something everyone who gets to Maui should do at least once (and if we ever go back I'd love to do it again!).
Anywhere in the USA
Watch a Live NBA Game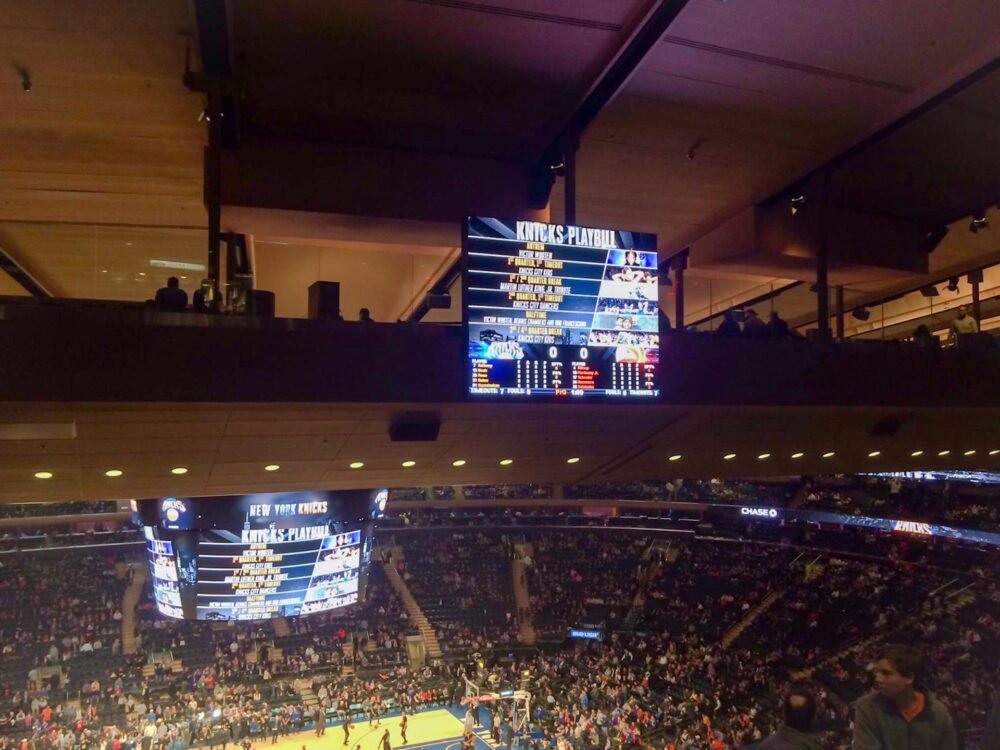 Contributed by Maria and Rui of Two Find a Way
When we booked our plane tickets to New York, the first since we did was checking if there were any NBA games during our stay. We got lucky, and in a few minutes, we had our tickets to see the Knicks vs the Hawks play at the Madison Square Garden.
It was one of the most expensive parts of our budget trip to New York City, but it was also one of the most fun experiences we've ever had.
If you're not a fan of the sport, watching a basketball game may not seem particularly enticing, but truthfully, basketball is just a part of the show during a NBA game.
There is plenty of entertainment besides the game: the historic arenas, the energy around you, the food, and, of course, the halftime shows (there was even live music when we went). With so much going on, we felt like we were in one of "those" movies we grew up watching.
Our experience was extra special because it was Martin Luther King Jr.'s Day, but we'll always try to watch an NBA game when we go back to the USA (no matter the date or the location!).
Pin This USA Bucket List!
Allison Green is a former educator turned travel blogger. She holds a Masters in Teaching and a B.A. in English and Creative Writing. Her blog posts merge her educational background and her experience traveling to 60+ countries to encourage thoughtful travel experiences that both educate and entertain. She has been a speaker at the World Travel Writers Conference and her writing, photography, and podcasting work has appeared in National Geographic, CNN Arabic, CBC Canada, and Forbes, amongst others. Now based in the San Francisco Bay Area where she grew up, she has also lived in Prague, Sofia, and New York City.