Vienna is one of the most picturesque cities in Europe, with its stunning Baroque and Gothic architecture and rich cultural history.
If you have 4 days in Vienna, you're in for a treat: you have plenty of time to discover the beautiful capital city of Austria.
And you may even have enough time for a day trip to Vienna's neighboring city just down the Danube River, Bratislava, or another magical town in Austria.
If you have more than 4 days in Austria, you can keep on going!
You can explore all the great things to do in Graz (the second-largest city in Austria), spend some time in Salzburg, relax in the charming lakeside town of Hallstatt, or depart from Innsbruck for all things Alpine!
What to Know Before Visiting Vienna
Getting Around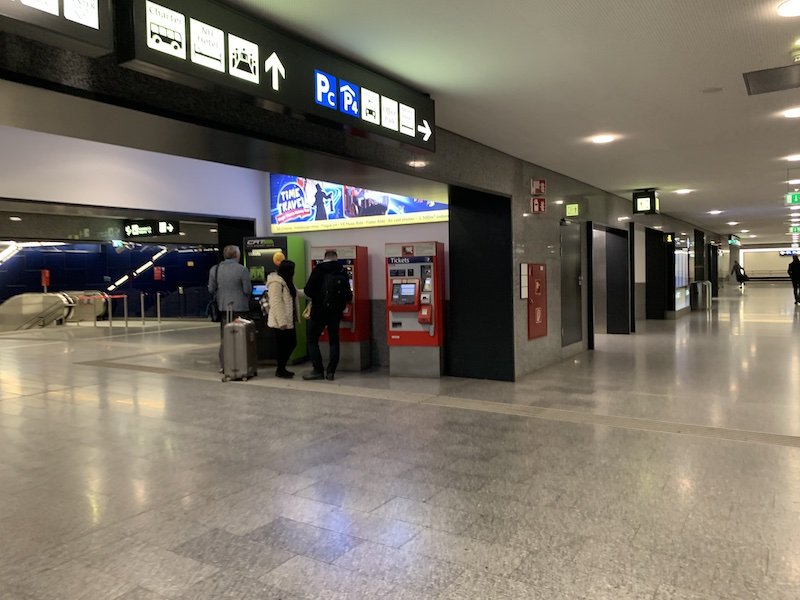 Note: This post contains affiliate links, which means I may receive a small commission if you purchase something through one of these links. Thank you for supporting the free content on this site! For more information on affiliate links and cookies, see my disclosure page for more details.
There is no need to rent a car in Vienna. Public transport in Vienna is fantastic and will get you everywhere you need to go for an affordable price.
Plus, the city center is already very walkable and compact. The first two days of this itinerary for Vienna, for example, can all be done on foot!
You can buy a day pass online here for around $18, which you can activate with your mobile device, which is good for 24 hours. This would really only be necessary on the third day of the itinerary.
Another option is a hop-on, hop-off bus. It's definitely not necessary, but it may be helpful for families or anyone for whom a lot of walking can be tiring!
Best Time to Visit Vienna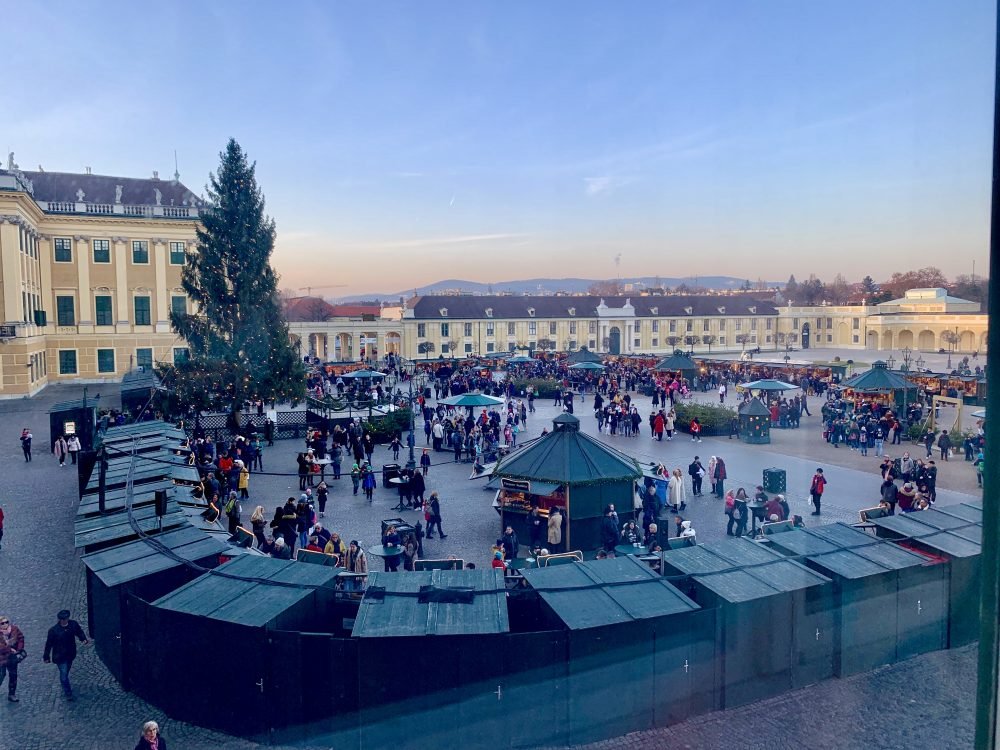 I've visited Vienna twice — once in the early fall and once in December during peak Christmas market season! It's one of the best places to visit in Europe in winter.
I absolutely loved visiting Vienna in winter — you can read all about my experience here!
If you're planning to visit during the winter, I suggest combining aspects of this Vienna itinerary with some of the unique winter activities in that post.
Vienna is also wonderful in the late spring and early fall. While summer can be beautiful as well, it can occasionally get quite hot and humid, plus it's often crowded with Europeans on summer holidays, especially in June and July.
Where to Visit Before and After Vienna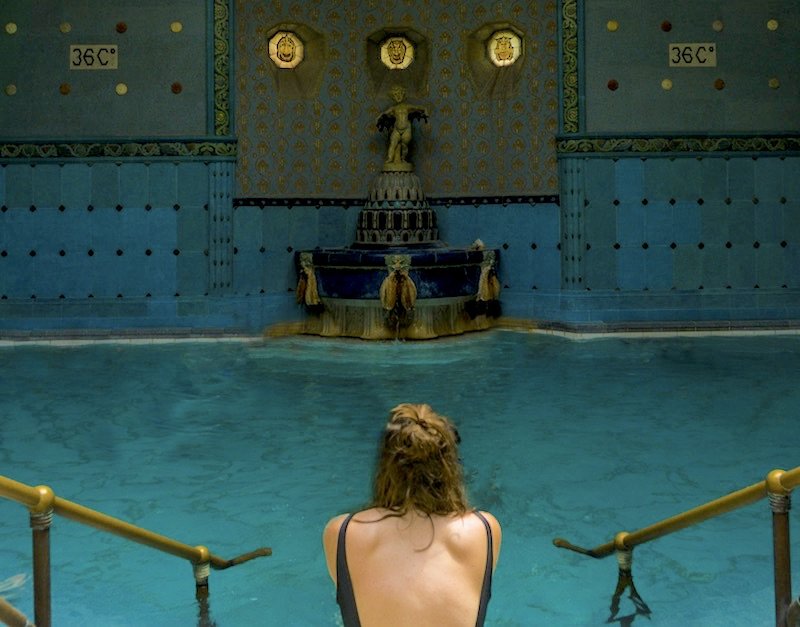 One of the best things about visiting Vienna is how central and accessible it is to other Central European cities. In fact, when I lived in Prague, I loved visiting Vienna as a weekend getaway!
Vienna is best paired with other Central European cities. A few possible itineraries could look like this:
Prague —> Vienna —> Bratislava —> Budapest
Munich —> Vienna —> Bratislava —> Budapest
Berlin —> Dresden —> Prague —> Vienna
Munich —> Salzburg —> Vienna —> Bratislava
The possibilities are endless! You may also want to refer to this post that suggests how to spend one week in Europe, 30 different ways!
Is the Vienna Pass Worth It?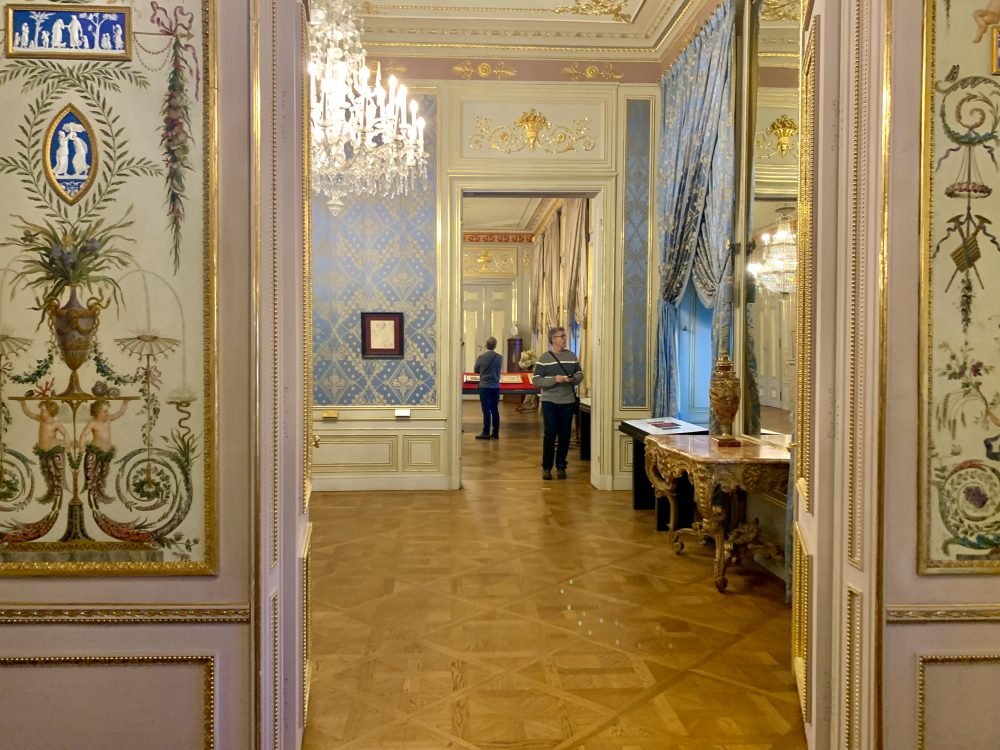 Honestly, it depends, but if you follow this Vienna itinerary and plan to use transit other than your own two feet — I think it's worth it.
I should note that I rarely say this — that's because many city cards exclude some of the best attractions, but that's not the case with the Vienna Pass.
Based on current exchange rate (June 2022), a one-day pass costs $91, two days costs $123, three days costs $160, and six days costs $203. Children under 6 are free, so long as an accompanying adult has a Vienna Pass.
The Vienna Pass includes unlimited rides on the hop-on, hop-off bus, plus admission to 60+ attractions, including the Schönbrunn Palace, the Spanish Riding School (performance not included — just a guided tour), the Giant Ferris Wheel, the Albertina Museum, Hofburg Palace, Belvedere Palace, and many others.
If you are following this itinerary, I suggest using a 3-day Vienna Pass and clustering your included admissions onto 3 days, and taking a guided day trip on the fourth day of the itinerary… but more on that later!
How This Vienna Itinerary Works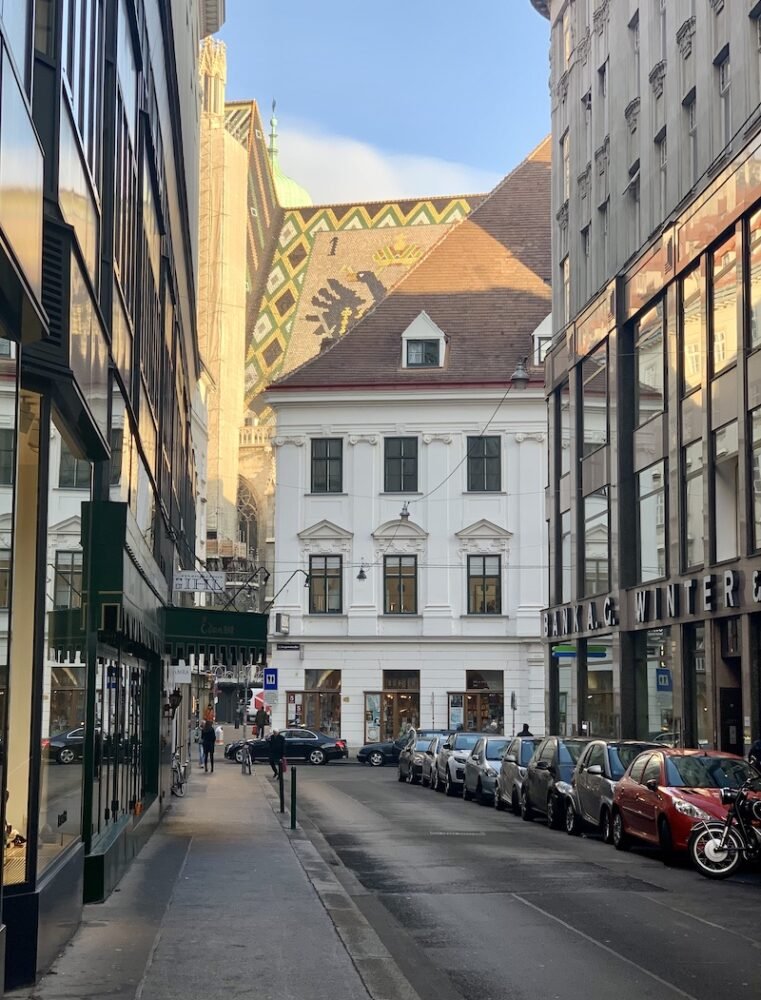 This 4 day Vienna itinerary is rather flexible, and there is no particular reason to follow the days in order.
I did structure it as a Saturday through Tuesday itinerary. If you follow it on those days, the events will all be available.
I also started more central at the beginning of the itinerary and branched out further as the days in the itinerary progressed, as I think this is how you get a better understanding of the city.
However, there are a few things on this Vienna itinerary that are day-specific. For example, shows at the Spanish Riding School (which are one of my favorite things to do in Vienna) only occur on Saturdays and Sundays.
Therefore, feel free to switch up the days of this itinerary in order to accommodate that (and don't worry, if your stay doesn't overlap with one of the shows, you can still see a training session or take a guided tour of the school — the latter of which is included with a Vienna Pass!)
Additionally, some activities — like concerts, museums, etc. — are closed on certain days of the week. Therefore, I suggest you think of each day as a cluster of activities that you can move around, rather than specifically following these days in the exact order they're laid out in
For the most part, this Vienna itinerary bypasses guided tours and walking tours, except where I think they truly add something to the experience or are necessary.
I do suggest buying ticket admissions and city passes in advance though, to skip any lines, as well as taking a guided day trip to take the hassle out of planning inter-city or inter-country transit.
I write my city itineraries the way I personally would like to experience them — independently, with plenty of room for wander and wonder.
However, I will sometimes break up the wandering with a guided tour when it simplifies transit or adds a lot of historical context I wouldn't get otherwise.
To me, this blend of guided and independent travel is the most rewarding way to experience rich, historic cities like Vienna!
Where to Stay in Vienna
Where to Stay on a Luxury Budget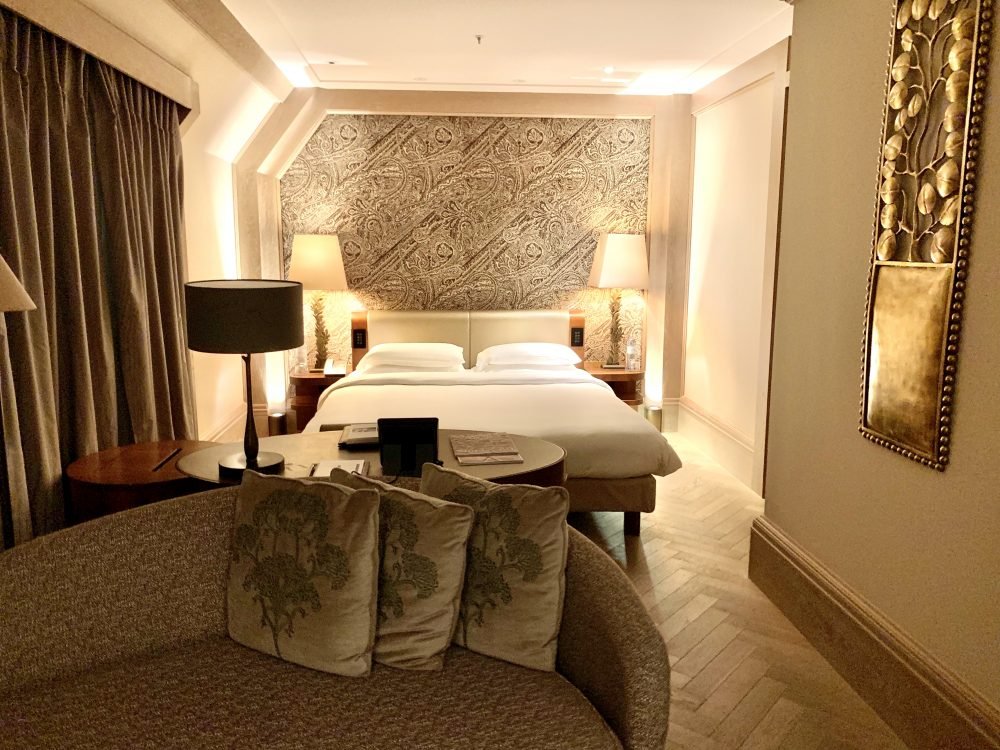 I stayed at the peerless Park Hyatt Vienna right across from Am Hof Square with its amazing Christmas Market in the winter, and I think it's the nicest hotel I've ever stayed at in my life!
Both the breakfast spreads (buffet and a la carte options) and the breakfast in bed were both equally phenomenal.
The rooms were basically like mini-palaces, the bathrooms were gorgeous with a marvelous tub, and everything was controlled electronically which basically made me feel like I was in the future.
I had dreamed of staying in a Park Hyatt since the Tokyo property in Lost in Translation, and it lived up to my every expectation of it — and then some.
Other shout outs go to the incredible spa center with an excellent steam room, sauna, and rain shower with a gorgeous indoor pool, the amazing on-site restaurants and their daily tea time, and excellent personalized service.
It is certainly pricy, but if you're staying in Vienna for a special occasion, it's the best option in town if your budget allows.
Where to Stay on a Mid-Range Budget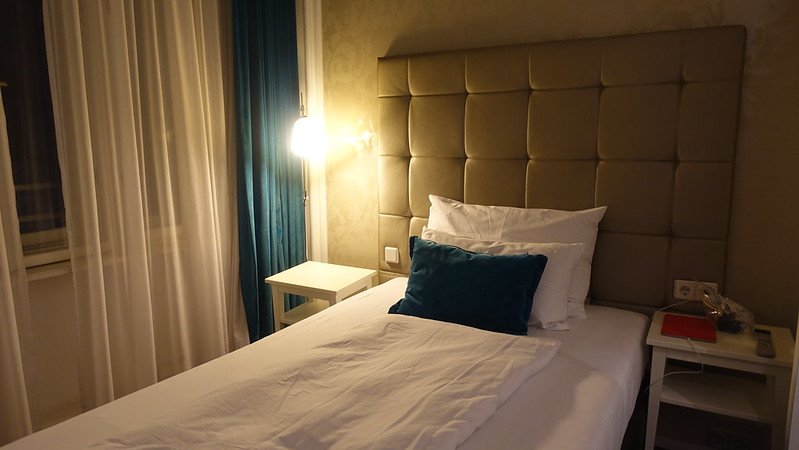 Of course, there are more budget-friendly options in Vienna — the Park Hyatt was where we stayed as it was a special occasion!
If you want something between a hostel and a five-star hotel, Vienna has tons of wonderful and unique options that won't break the bank.
Motel One is a trendy boutique hotel chain with a few options around Vienna – there's one by the Hauptbanhof (great if you're going to travel around Austria a bit) as well as one near Westbanhof.
Both offer sleek, design-focused, super-comfortable double rooms for around 100 euro a night, with lovely boutique touches and central locations near major transit hubs.
Where to Stay on a Shoestring Budget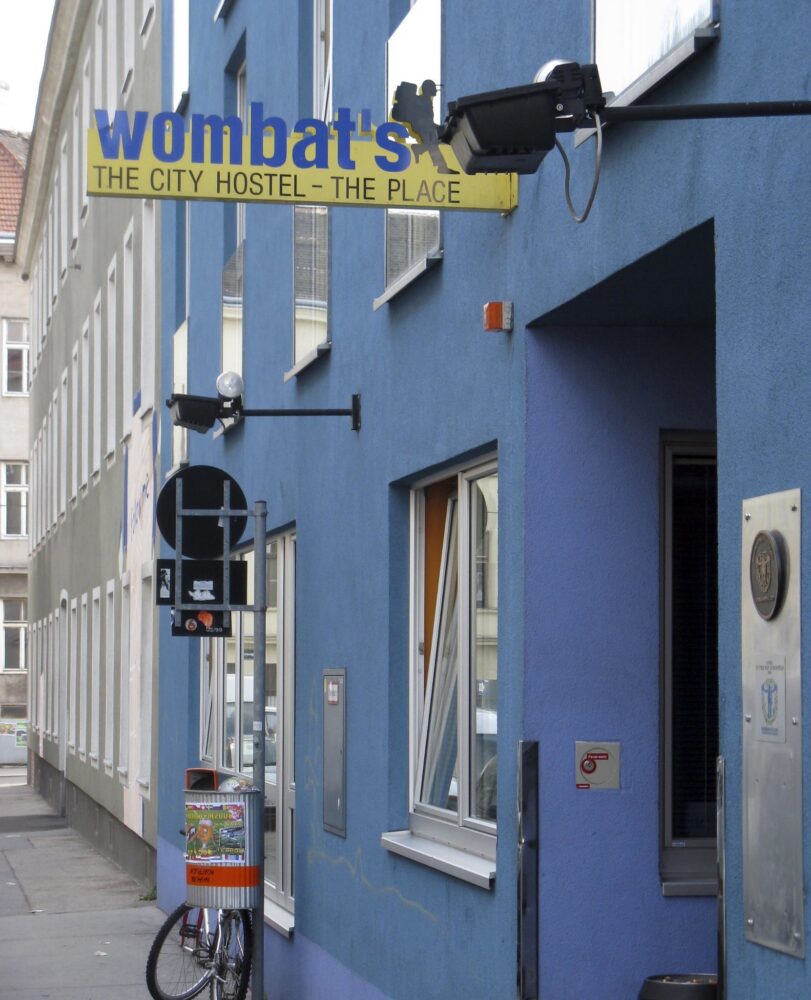 The first time I stayed in Vienna, I was a backpacker and chose the Wombats Hostel and have nothing but positive memories of it!
Though to be fair, my tastes have certain changed with time, and I'm not sure Wombats would be my style anymore. Once you've had a taste of the Park Hyatt, it's hard to go back!
But back to Wombats — it's a great hostel chain, social but not party-centric, with all the amenities you'd expect in dorms and also lovely double rooms at a budget-friendly price.
The double rooms are perfect for friends or couples who don't want to share a dorm room (as well as a Covid-conscious solo traveler)
Check prices, reviews, and availability of Wombats Hostel here
Your Perfect Vienna Itinerary
Day One: The Heart of Vienna
Start the day at St. Stephen's Cathedral.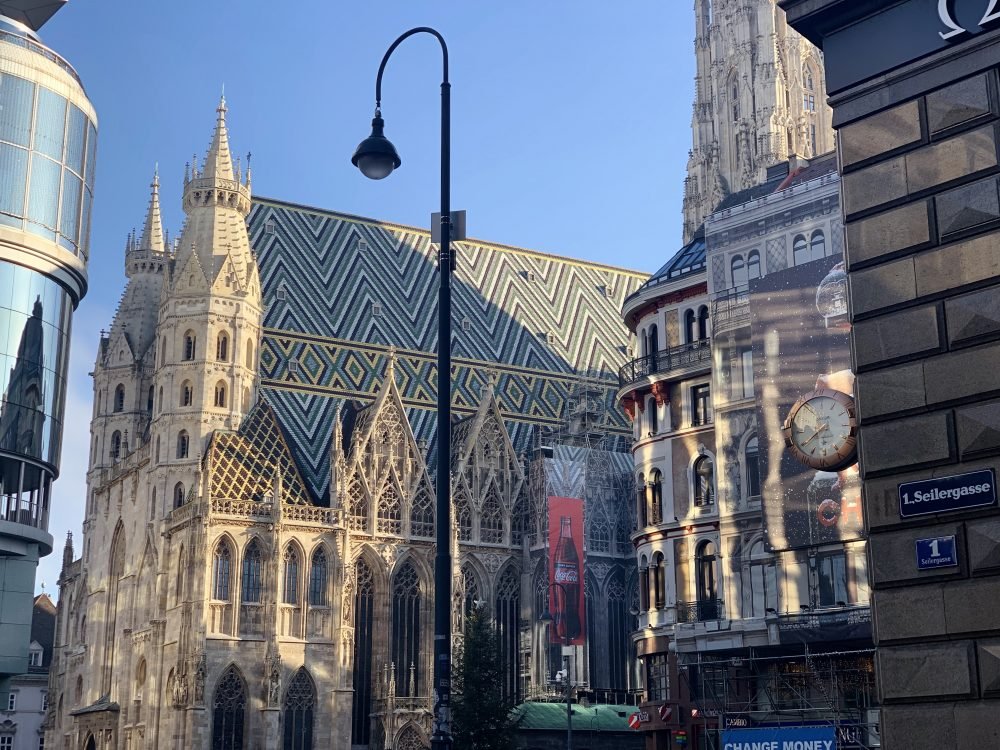 One of the most famous landmarks of Vienna, St. Stephen's Cathedral is located in the heart of the Innere Stadt, Vienna's Old Town.
This church has been renovated extensively to restore it to its original beauty after it was bombed extensively during World War II, and the work that has been done on it is simply magical.
The roof in particular has been perfectly reconstructed with the signature Vienna roof tile design that first made me fall in love with the city on my first visit back in 200 — a love that keeps drawing me back for more and more visits!
The interior of the Cathedral is beautiful as well but not quite as unique as the Gothic and Romanesque exterior and particularly the roof's tile-work.
That said, entrance to the Cathedral is free, so you might as well take a quick look inside!
Walk the Graben and window shop.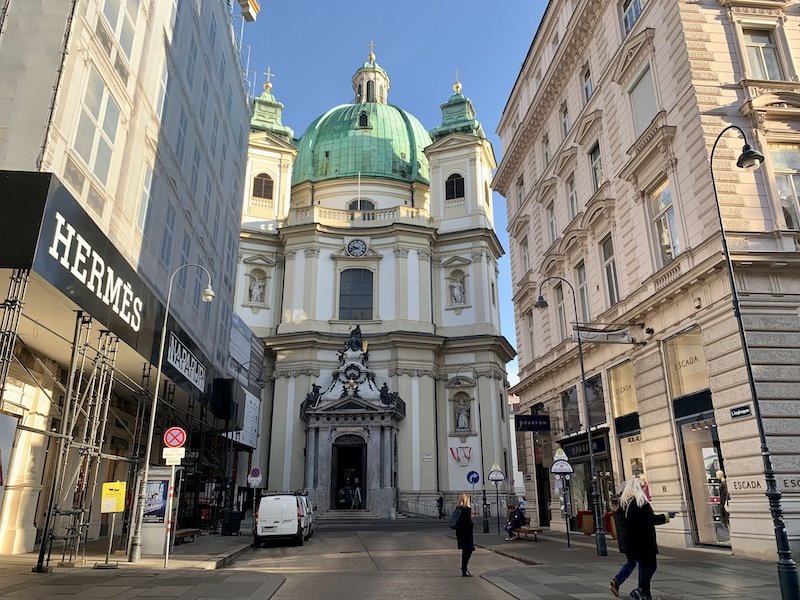 Austria is known for being a major luxury shopping destination, and nowhere is that more apparent than you walk down der Graben.
This street runs from the Stock-im-Eisen Platz (right next to St. Stephen's Cathedral) and ends at Kohlmarkt.
This intersection of der Graben and Kohlmarkt is where you'll find the nexus of some of the fanciest designer flagship stores, including Chanel, Rolex, Louis Vuitton, Burberry, HERMÈS, and Cartier — all in the same one-block radius!
If you've got money to burn, this is the place, but even if you're just window-shopping slash drooling, it's still a fun place to kill a little time in Vienna between your first stop and the next stop on this itinerary.
Wander through the Ferstel Passage.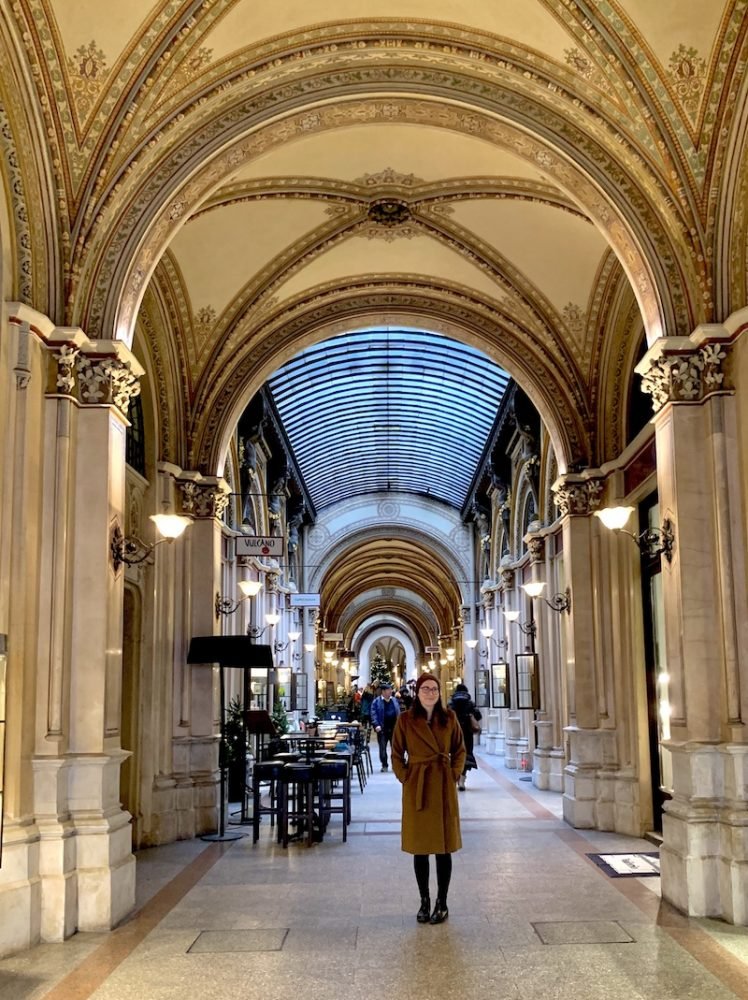 Make your way up to Bognergasse and walk until it brings you to Am Hof Square, which is home of a lovely Christmas market in the winter and the all-year home of the statue of Mariensäule at its center.
This is also where the gorgeous Park Hyatt Vienna is located!
Check out the lovely surroundings of Am Hof Square before making your way over to the Ferstel Passage, one of the most picturesque photo spots in Vienna.
This traditional covered passageway was built in 1860 and is reminiscent of the arcades you'll see in places like Paris and Milan.
There's also a fountain and a courtyard in the middle of the passageway, as well as a few boutiques and an excellent coffee shop, Caffè Couture.
On this day's itinerary is the 11 AM show at the Spanish Riding School, and to me, it's one of the #1 can't-miss events in Vienna.
Even if you're not a huge fan of horses and dressage (I am not), it is incredibly impressive what they have trained these horses to do!
If you're in a rush before the 11 AM show, stop for a coffee at Caffè Couture if you need a quick pick-me-up.
If you have time (let's say, it's before 9:30 AM, or 10 AM if there's not a line to enter the cafe), check out the next suggestion — Café Central, one of the most classic Viennese coffee houses in the city.
Stop for a coffee and cake at Café Central if you have time.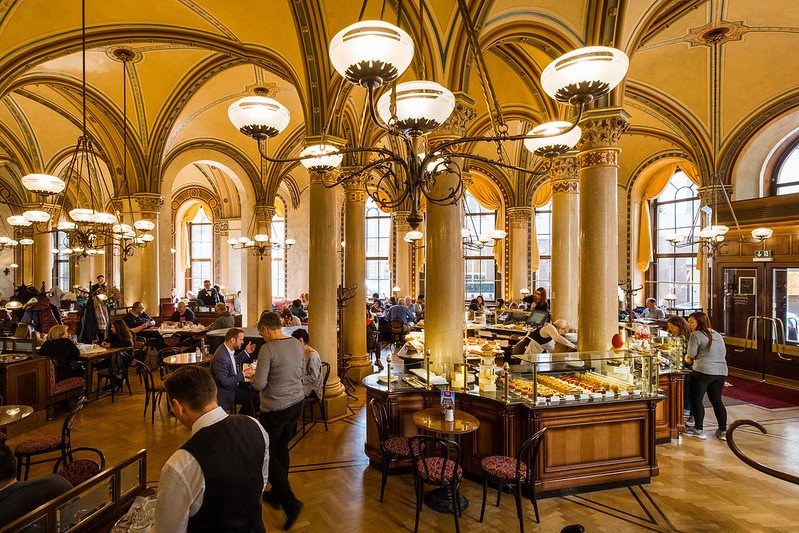 Vienna is known for its ornate coffee houses – so don't miss the chance to visit as many as you can during your Vienna itinerary.
Café Central is one of the most famous, and its central location makes it hard to miss. Other famous coffee houses include Café Sacher Wien (inventor of the Sacher torte) and Cafe Schwazenberg, but there are many others.
Viennese pastries and cakes are world-renowned — whether you opt for an apple strudel or a rich chocolate-based cake, you won't be disappointed!
If you don't have time now to indulge at Café Central, don't worry — its central location will ensure you can swing by for another visit another time.
Attend a show at the Spanish Riding School.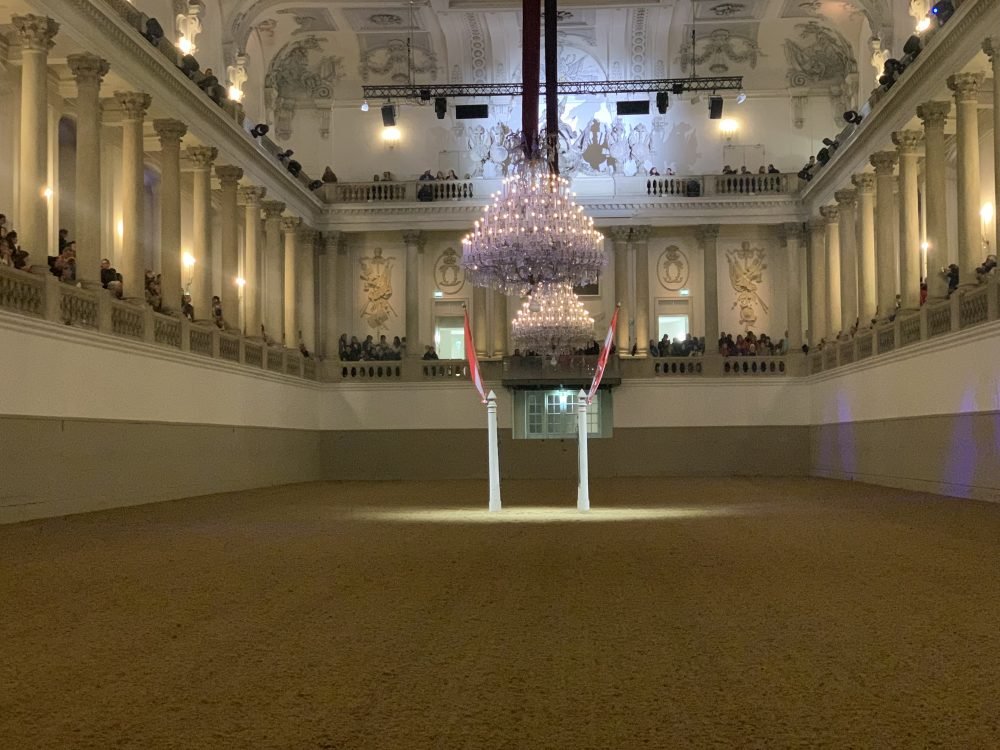 Weekends at 11 AM, there is a show at the Spanish Riding School that simply should not be missed!
I admit that I was skeptical about seeing a show at the Spanish Riding School. It was my horse-obsessed stepmother's idea, and I wasn't totally sold on it.
However, I thought it was really an amazing experience, and I strongly recommend everyone planing a trip to Vienna to add it to their bucket lists!
Although I loved horseback riding as a kid, I've had a few unfortunate experiences which have since left me a little disenchanted with horses.
That said, I was still utterly transfixed by the exquisite equestrian skills of the riders at the Spanish Riding School and the unique training their brilliant, snow-white Lipizzaner stallions learn in order to perform.
This school uses use exclusively Lipizzaner horses, just as the school has for several centuries. So what exactly is a Lipizzaner?
Basically, these horses are beautiful white stallion which originated from nearby Slovenia, but they were bred for centuries by the Habsburg dynasty.
There are several ways to see the horse trainers and the Lipizzaners, but my preferred way is attending the show.
This way, you can really see the horses work their magic, plus it's set in the exquisite baroque-designed Winter Riding School, with roots back to 1735.
The performance takes about 1.5 hours, and there are several different parts of the show. At first, you'll watch the younger horses practicing more basic gaits.
Later on, you'll get to see more skilled stallions showing off a dressage technique called the 'pas-de-deux', where the horses perform in a beautifully coordinated mirror image.
But the highlight to me is the way that the horses jump — a unique style unlike anywhere else, that simply must be seen to be believed!
Even if you can't go to a show, you still shouldn't miss the Spanish Riding School.
It is quite a unique place, with its beautiful riding hall and stables just steps away from the Hofburg Palace complex, tucked away almost invisibly in the heart of the city center.
Tickets for the shows (only available on weekends) do tend to sell out a few weeks in advance, so I suggest booking online.
I have a full guide to visiting the Spanish Riding School here, with 5 ways to visit the school.
Book your tickets to the Spanish Riding School performance here — or, if you can't see a show, book a guided tour of the school or a visit during a training session.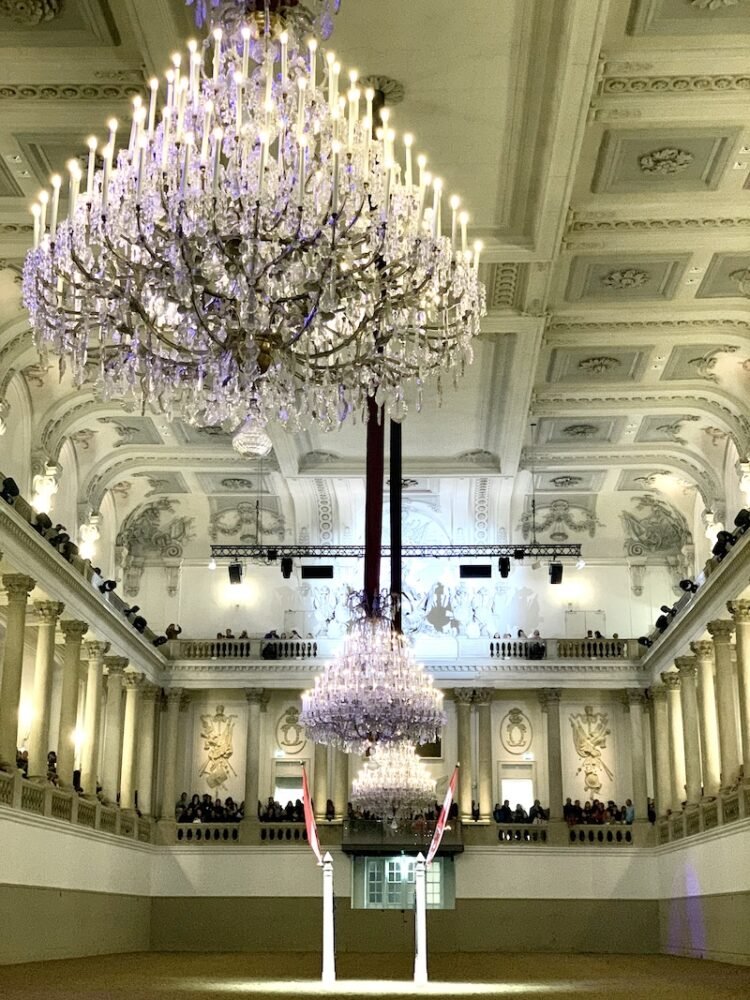 If budget is a concern, or you aren't visiting on a weekend, a ticket to watch their morning exercises is an option.
However, guests report that it's not that impressive, as it's not as structured or rehearsed as the show, which shows both the riders and the horses at their finest. However, the morning exercises run every day except Monday, so it's pretty easy to fit into any Vienna itinerary.
Another, perhaps better, option is a guided tour of the Spanish Riding School, which takes you to you both the winter and summer riding halls, as well as the stables and the Stallburg arcade.
Doing this tour, you'll get to see the Lipizzaners up close and personal, though there is a strictly no touching and no photos policy!
These tours also run daily except Monday.
Have a tasty Austrian lunch.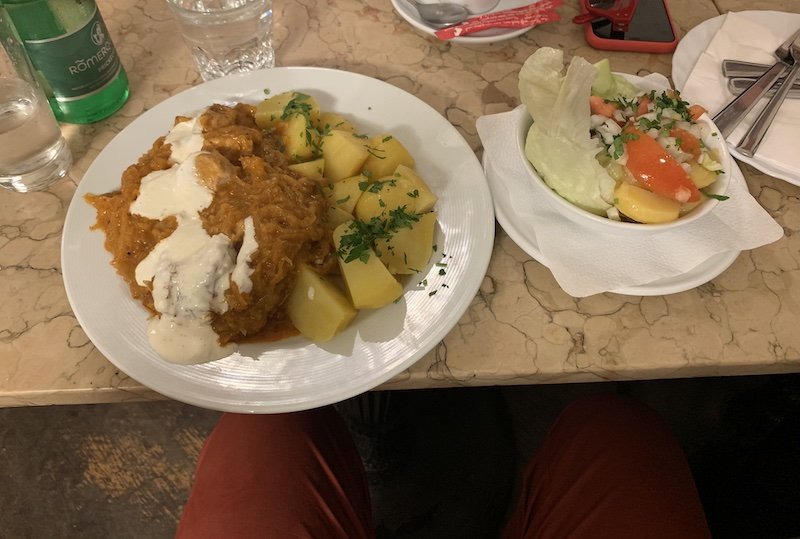 After all that, you're probably quite hungry, so it's time to indulge in a delicious and hearty Austrian meal!
To stick close to the area, I suggest either Restaurant beim Hofmeister or Brezlgwölb Cafe Restaurant.
Both feature menus filled with Austrian classics such as boiled beef, schnitzel, and Austrian potato salad.
Check out the Rathausplatz, home to Vienna's City Hall.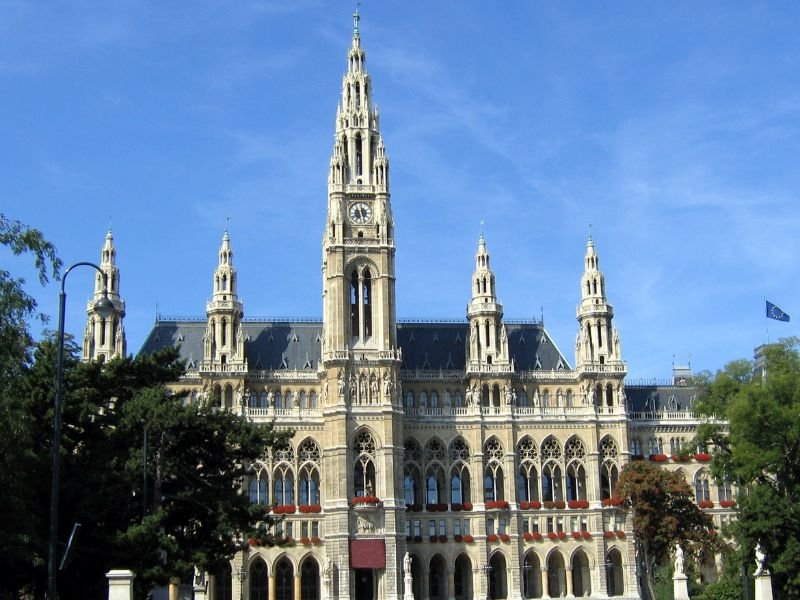 The Rathaus (City Hall) of Vienna is one of the city's key landmarks.
During the winter, one of Vienna's best Christmas markets is hosted right in front of the city hall, but even if you're visiting outside of the holiday season, it's still worth a visit!
The Vienna City Hall is gorgeous: it's a prime example of Neo-Gothic architecture and, for a short period of time, was the tallest building in the world.
Take a quick walk past it to admire the exterior architecture, but don't linger too long — we've still got a ways to go on this first day of your Vienna itinerary!
Walk through the Volksgarten.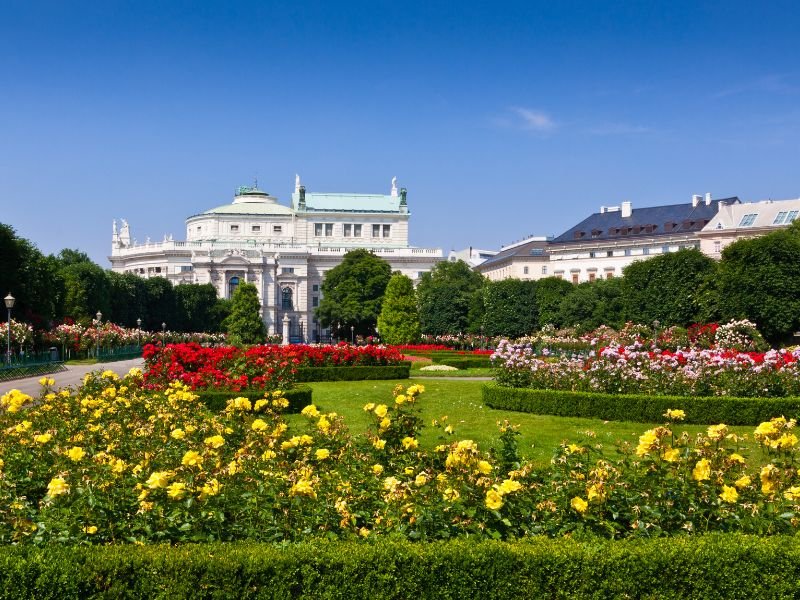 After walking past Rathausplatz, it's time to head to one of the largest parks in the center of Vienna: Volksgarten.
Located on Vienna's Ringstrasse, the garden was originally part of the Hofburg Palace and was opened to the public in 1823.
This is no average public park — there are temples such as Theseus Temple which are ornate and inspired by Roman design, as well as sculptures and memorials, such as the one to victims of Nazi persecution.
There's also a Rose Garden and other beautifully manicured areas to wander around!
Enjoy one of the most beautiful libraries in the world.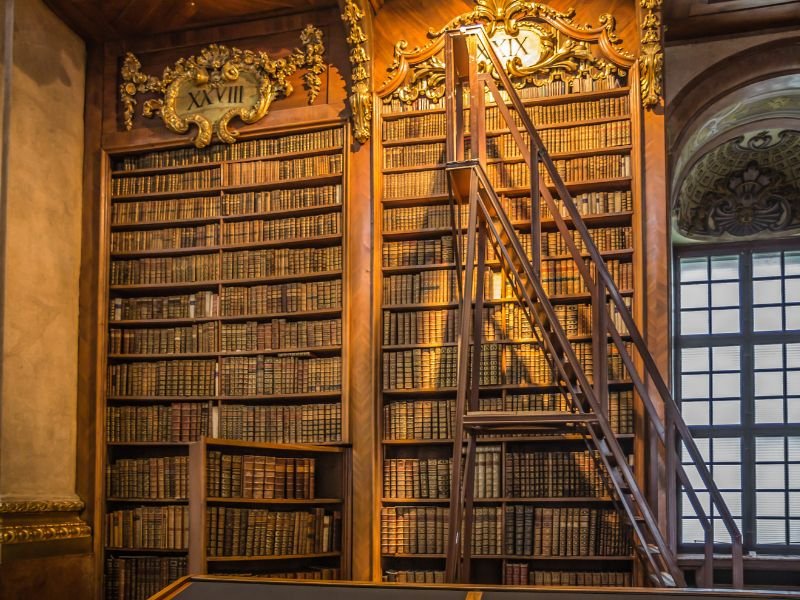 Tucked away in an unassuming part of the Hofburg Palace in the Neue Burg Wing of the complex, the Austrian National Library is absolutely stunning.
It has ticketed entry, and at just 4 euros, it's absolutely worth it — especially for bibliophiles, but fans of beautiful architecture won't be disappointed either!
Check out the Hofburg Palace complex.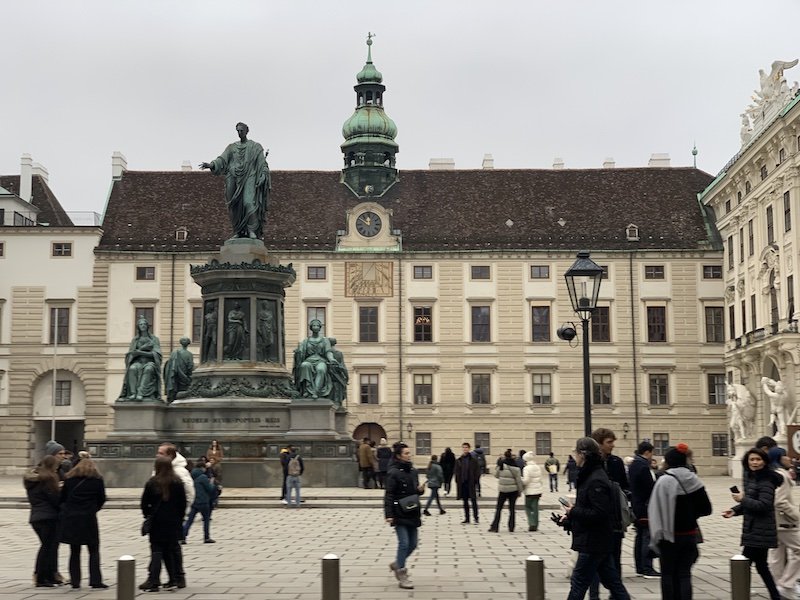 You've already dipped your toe into the Hofburg Palace complex area by checking out the Volksgarten and the National Library, but there's so much more to see in this area.
This imperial palace was the home of the Habsburgs for centuries, and was originally built back in the 13th century — though of course, it was improved upon and expanded many times since.
This was the winter residence of the royal family, whereas Schönbrunn Palace (which we'll visit on the third day of this itinerary, since it's outside the main city center) was the place where the royals lived in the summer.
Now, the Hofburg palace complex has been converted into several museums, including the Sisi Museum, The Imperial Apartments (Kaiserappartements), and the Silver Collection (Silberkammer).
Enjoy a fantastic schnitzel for dinner.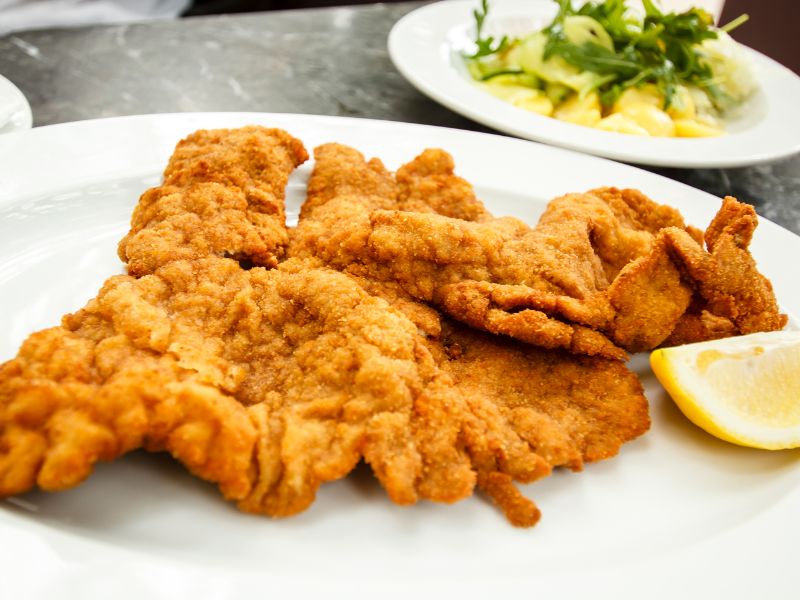 You've probably heard of Wiener schnitzel, but you may not have known that "Wiener" means Viennese in German!
Therefore, you simply must try a schnitzel while you're in Vienna — and it should be one of the best possible!
I suggest either Glacis Beisl (conveniently located in the Museum Quartier area) or Figlmüller (the most famous schnitzel house in Vienna, and also conveniently located in the Innere Stadt area).
Expect to spend about 15 to 20 euros on a schnitzel main dish, but it will be huge!
Day Two: Vienna's Art Museums & Culture Scene
Enjoy a delicious apple strudel and coffee for breakfast.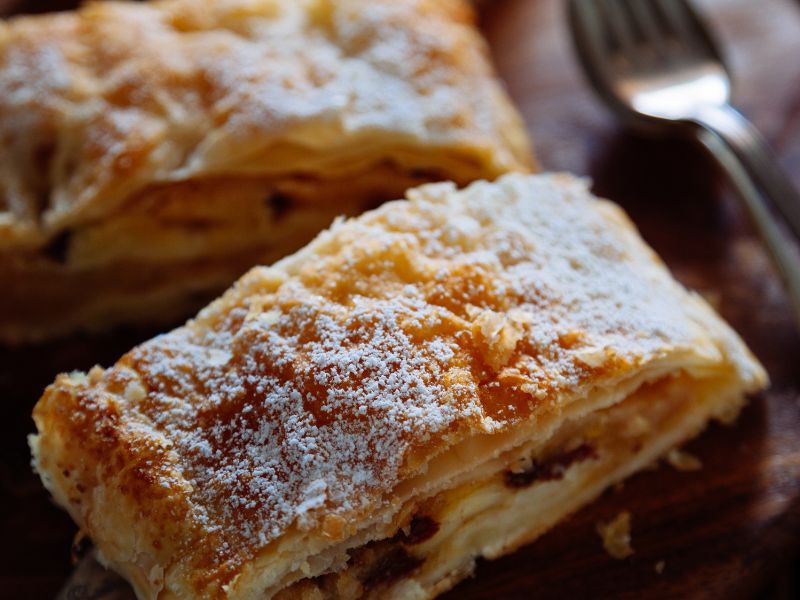 If you haven't had the opportunity to have a tasty Viennese apple strudel, it's time to seize the day!
There are many worthwhile places to grab a strudel and a coffee, but I'd suggest either Demel (a beautiful coffee house dating back to 1888), Cafe Mozart (a favorite amongst musicians and composers) or Gerstner K. u. K. Hofzuckerbäcker (another stunning coffee house that is a little more under-the-radar).
These are all located in the Innere Stadt area, making the next stop on this Vienna itinerary an easy walk!
Visit the Kunsthistorisches Museum Wien.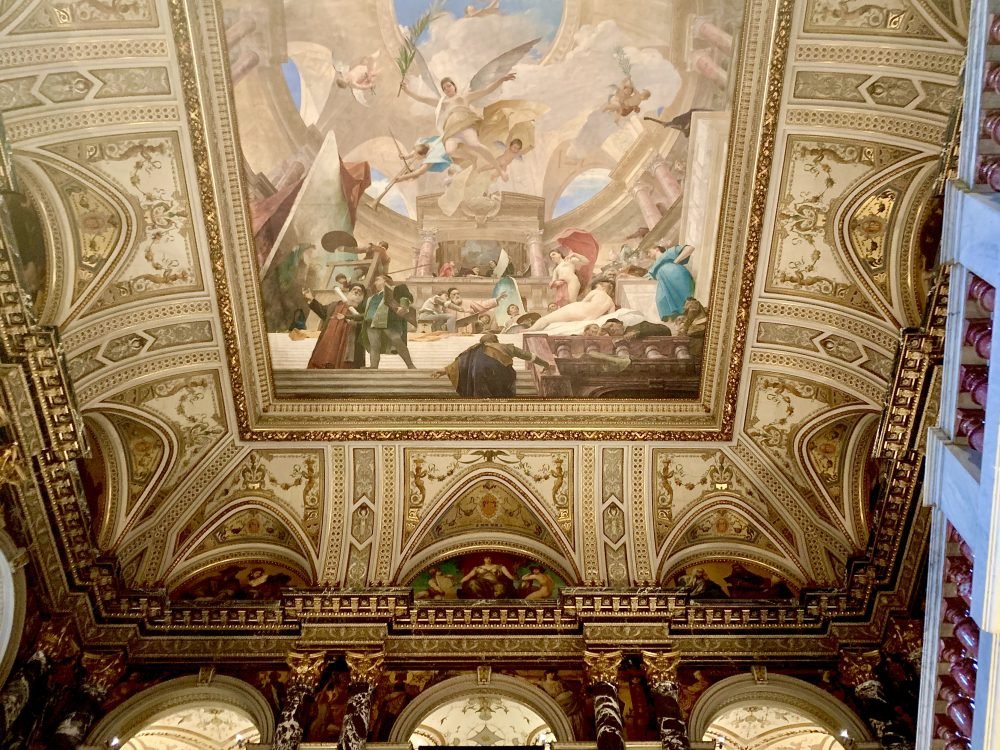 Located in the heart of the Museum Quarter (Museumsquartier), you shouldn't miss the Kunsthistorisches Museum (Art History Museum).
You'll notice this Vienna itinerary features quite a number of museums. I'm not normally the type to recommend museum after museum, but Vienna truly has some of the best museums in the world. It's hard not to recommend them.
This museum features Vienna's older art collection, whereas the Albertina Museum (later on this itinerary) hosts newer pieces.
Here, you'll find the largest collection of Bruegel's work in the world, with 12 out of his 40-odd known pieces permanently displayed.
As with many things in Vienna, the beauty of the buildings themselves is astounding.
One of the coolest parts of the Kunsthistorisches Museum is its exquisite ceiling painting and wall panels, featuring work from Gustav Klimt.
Hours: 10 AM to 6 PM daily (until 9 PM on Thursdays)
Check out the Natural History Museum or the Leopold Museum.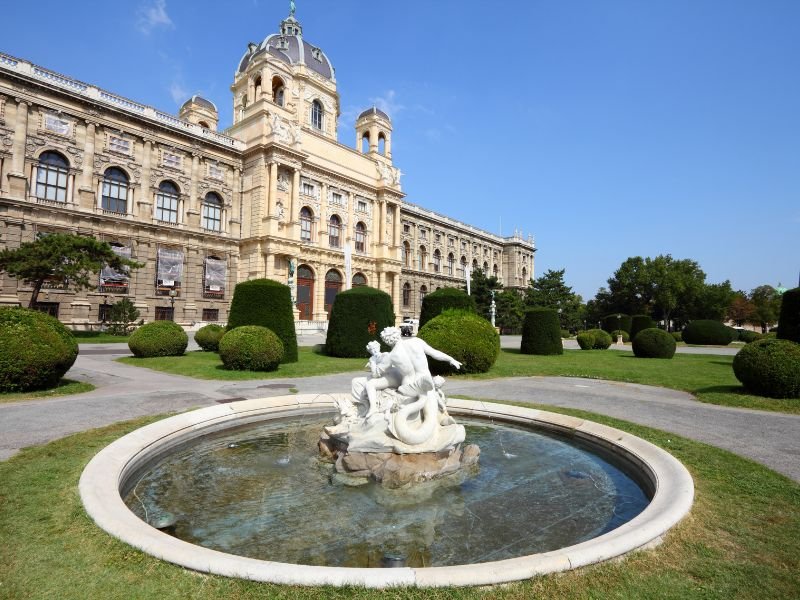 For the next item on this Vienna itinerary, I suggest picking between the Natural History Museum and the Leopold Museum, so you don't get total museum fatigue!
The Natural History Museum features everything from meteorites to fossils to taxidermy from animals across the globe to rare gems.
It's really impressive, and it's the better choice if you want to break up your art museums (since another is on the way) or if you're traveling with children.
Meanwhile, if you're a huge art fan and you want as much art as you can get, I suggest the Leopold Museum.
This museum focuses on modern Austrian art, including one of the largest selection of works from Egon Schiele (one of my favorite artists in the world, who created thousands upon thousands of illustrations and watercolors before his early death at the age of 28), as well as other famous Austrian artists like Gustav Klimt and Oskar Kokoschka.
Grab lunch at Cafe Tirolerhof.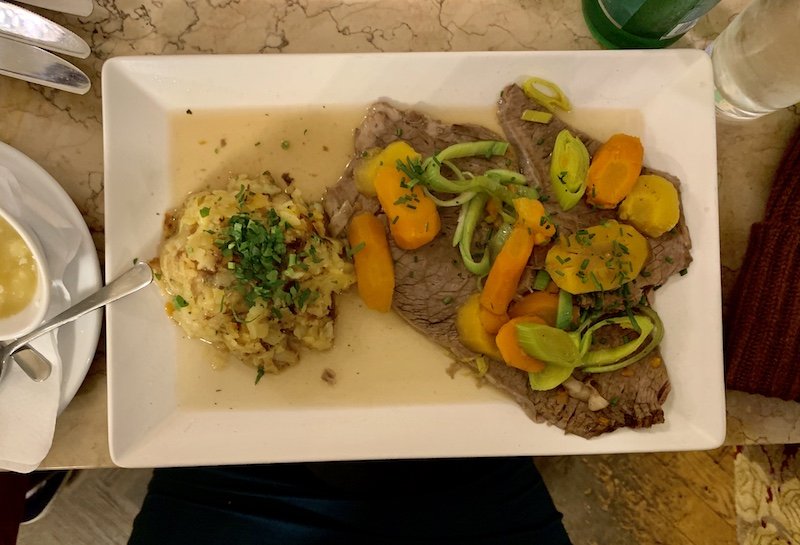 Once you've check out those two museums, you probably want to rest your feet and relax a bit.
Luckily, there's some great place to eat just a short walk away, and close to the next spot on our itinerary.
Cafe Tirolerhof features Viennese food from the Tirol region in a beautiful, 100-year-old café. Their lunch menu is really delicious and reasonably priced, with main dishes around 10-15 euros.
Check out the exhibits at the Albertina.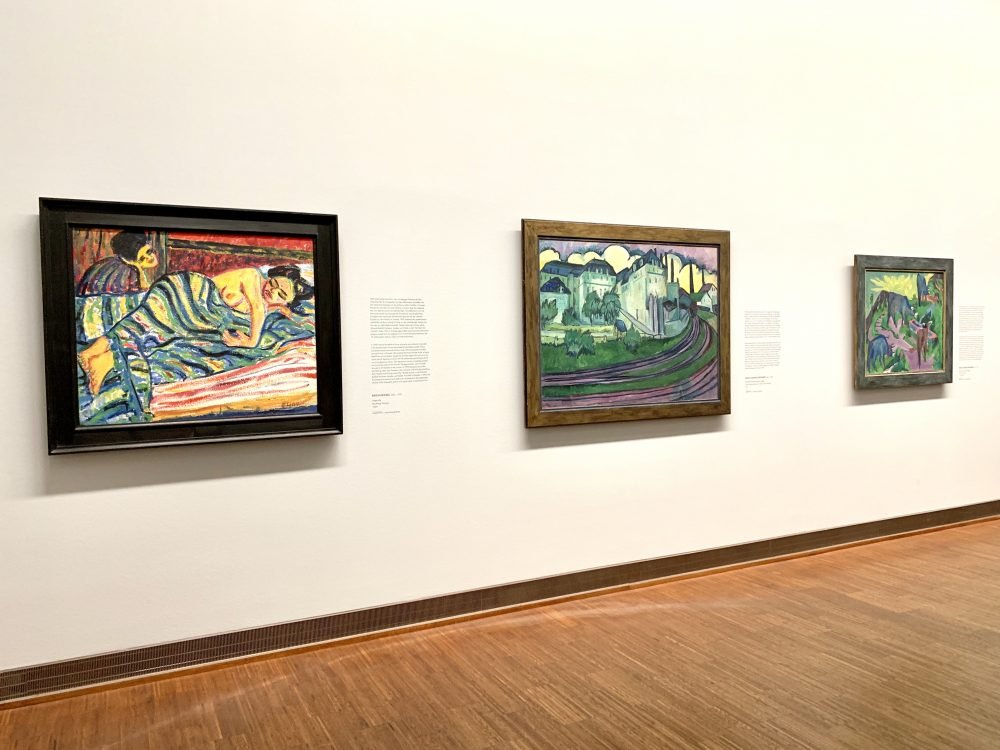 Ready for yet another museum? Please don't groan — the Albertina is really worth it!
Whereas the Kunsthistorisches Museum focuses on older art, the Albertina centers art from the 19th century onward.
The Albertina has one of the world's best collections of impressionist and expressionist art, which are two of my all-time favorite art movements. In fact, I'd say it's equivalent to Musée de l'Orangerie in Paris.
The Albertina is not strictly Austrian art, like the Leopold Museum is — you'll find more of the 'classic' artists from this era here.
Artists you'll find here include Renoirs, Monets, Picassos, Munchs, Chagalls, and more — there's also quite a nice contemporary collection as well.
When I was there last, there was a special exhibit of Albrecht Dürer's work that was really interesting!
The Albertina is one of Vienna's top attractions, so I suggest you pre-book your tickets here to avoid lines.
The temporary exhibits are often much more crowded than the permanent collection, so keep that in mind when planning your Albertina trip.
When I went, the Dürer collection was so full that it was difficult to walk through, but everything else was pretty clear.
Cost: €17 euro per adult | Free with the Vienna Pass
Admire the Vienna State Opera House (Staatsoper).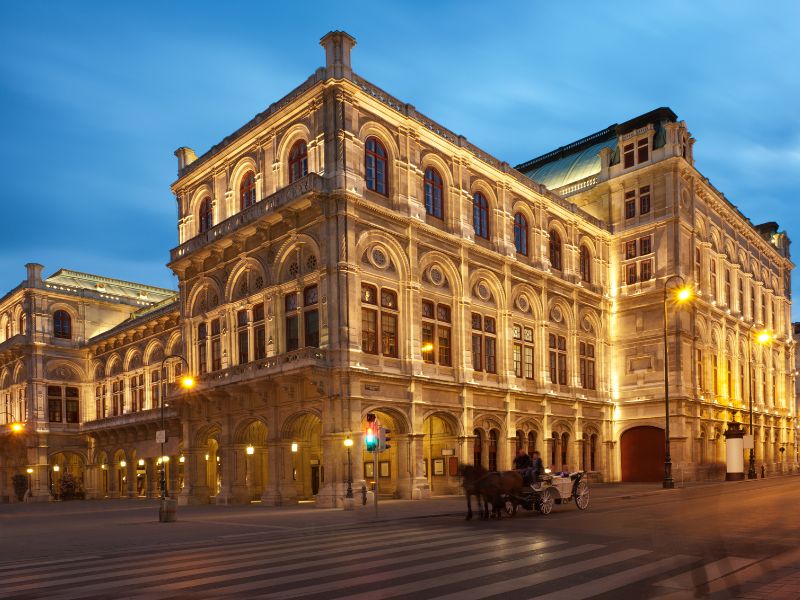 If possible, I suggest taking a tour of the Vienna State Opera House, also known as the Staatsoper.
However, the tour schedule for the Staatsoper is a bit erratic, and it's closed during much of the peak summer travel season.
Like many opera houses in Europe, it's closed to the public in July and August.
However, if you're traveling outside of those two months, it may be possible to book a tour of the interior of the opera house — or of course, you can also see a show at the opera if they're playing!
Day Three: Palaces & More Sightseeing
Grab a quick bite to eat.
This day of our Vienna itinerary has us breaking out of the Innere Stadt into the outskirts of the city, so I suggest grabbing something to eat before you head to the Schönbrunn Palace, where there are less food options.
Fuel up — we have a busy day ahead!
Start the day at the Schönbrunn Palace.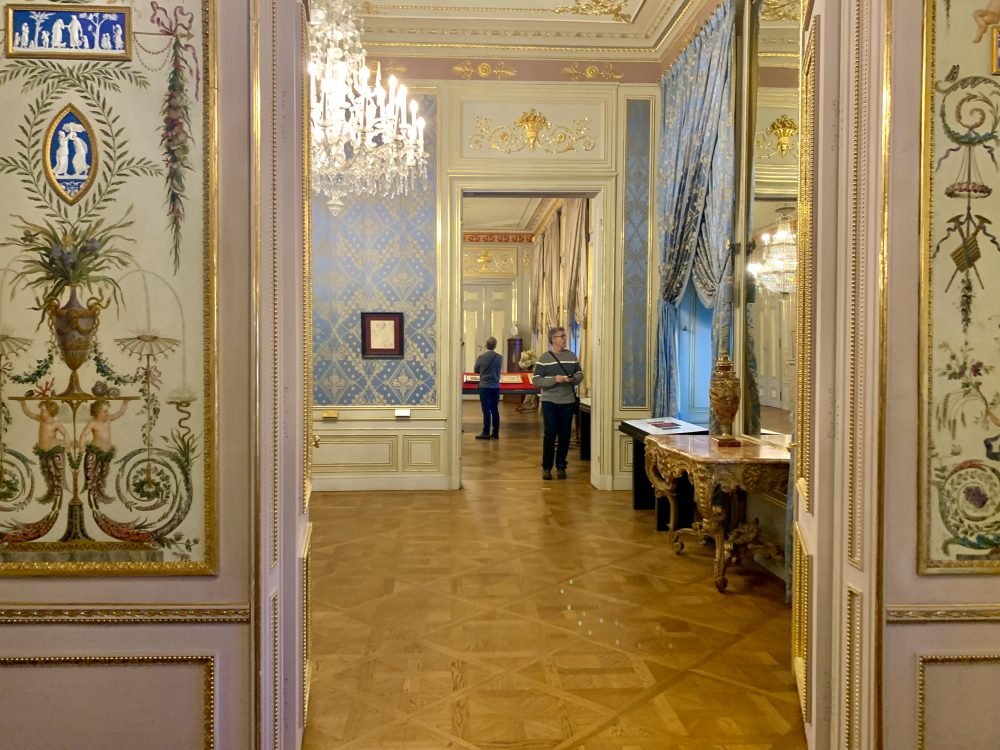 This stunning palace was once the summer residence of the 18th century Habsburg family — and now, it's an incredibly beautiful and opulent palace and grounds that you can tour and explore.
You can take a self-guided tour of the palace with an audio guide, but I think this is one of those instances where it's preferable to go on a tour with a licensed guide.
You get so much more history and context for the palace with a guide who knows the history of what happened in these rooms and can tell them in an engaging, narrative way.
This tour includes the 22 state rooms of Schönbrunn Palace, as well as the Orangery and the French-style Schönbrunn Gardens, finishing at the Gloriette which offers a stunning view of Vienna and its green spaces surrounding it from above.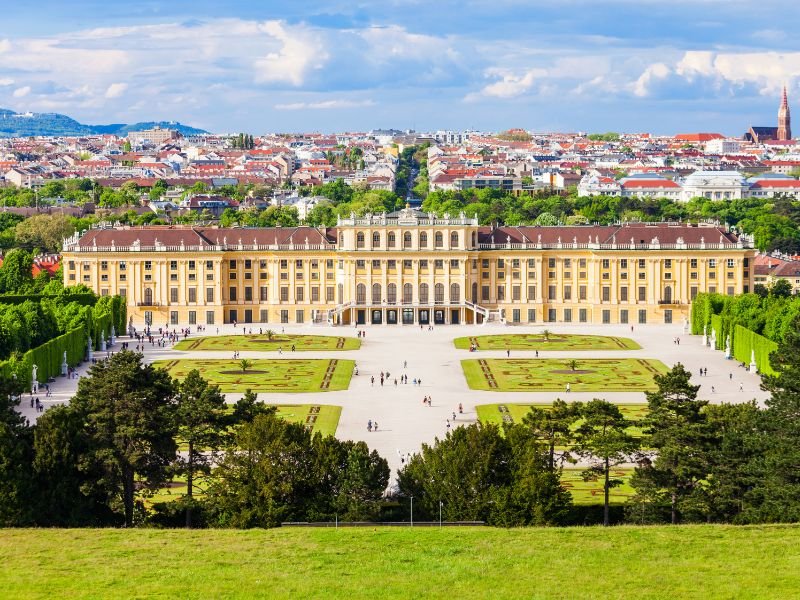 If you don't want to do a tour, you can absolutely self-guide with an audio guide.
The price is approximately $24 USD for the 22-room tour, $28 USD for the 40-room tour, or $33 for the grand including the garden attractions.
Hours: 9 AM to 5 PM daily
Cost: $45 for a guided tour; or $24, $28, or $33 for a self-guided tour with audio guide
Explore the Belvedere Palace complex.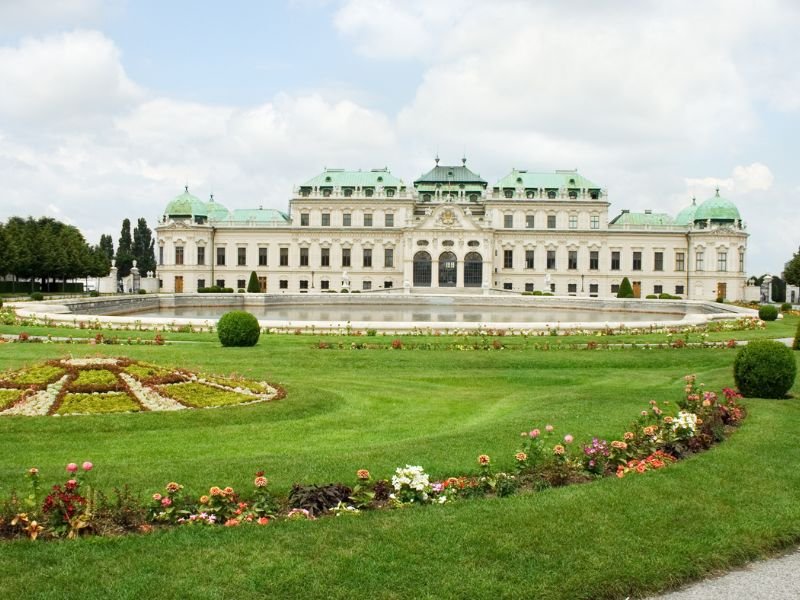 The Belvedere is actually home to two beautiful Baroque palaces — the Upper Belvedere and the Lower Belvedere — and is listed as a UNESCO World Heritage Site.
The grounds also include an orangery, a chapel, the palace's horse stables, a museum, a sculpture garden, and stunning park and garden areas.
In the Upper Belvedere area, you'll find the the Belvedere Museum.
This is one of the foremost museums in Vienna and is home to the largest collection of Gustav Klimt's work in the world, as well as other paintings and sculptures.
In the Lower Belvedere area, you'll find the orangery, horse stables, and garden area, but it does not include museum access.
There is also the Belvedere 21, which houses modern art.
Each of these require a separate ticket (the Upper Belvedere, the Lower Belvedere, and Belvedere 21 Museum) so you can mix and match to suit your interest and budget.
You can also just walk around the exterior if you don't want to pay for admission to another museum or palace.
Hours: 10 AM to 6 PM daily
Have lunch at the Cafe Kunst Haus.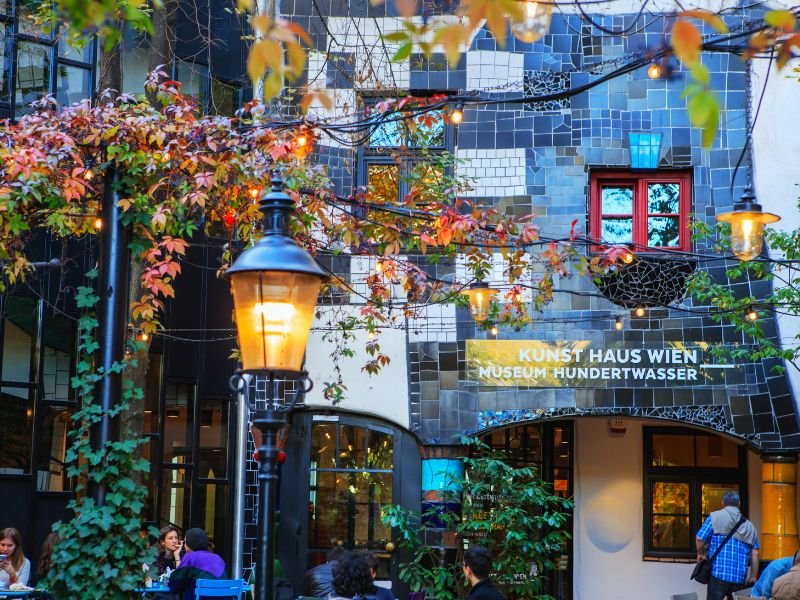 After you've been steeped in old-world grandeur, we're going to make our way over the Hundertwasser Village area — but first, lunch!
Inside the Cafe Kunst Haus, located in the Museum Hundertwasser, you'll find a whimsical interior designed by Friedensreich Hundertwasser and delicious food such as goulash, schnitzel, etc.
It's a great place to get you in the mood to exploring more of Hundertwasser's work!
Check out Hundertwasser Village and House.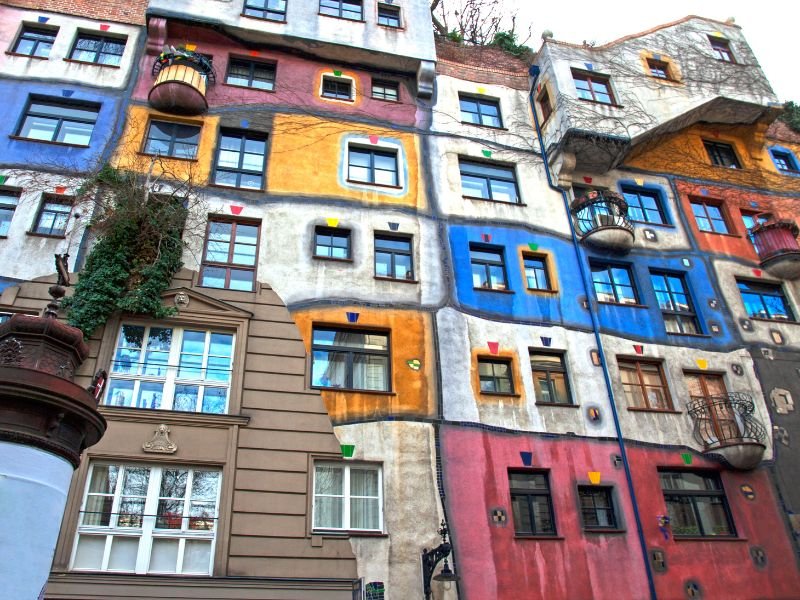 Hundertwasser Village is a unique place that provides an intriguing contrast to all the opulence of old world Vienna.
Constructed in 1991, the artist Friedensreich Hundertwasser took a disused tire factory and converted it into a multi-use center.
His vision was to revitalize the building without needing to tear it down, but to transform it through art, as well as implementing natural components.
The village's roof features an urban forest, with 30 trees that stretch nearly 50 feet high into the sky.
There's also the Hundertwasserhaus, an apartment building with a famously artistic exterior. This is one of his earlier concepts, which was built in 1985.
Seeing both of these buildings is a fun way to experiencing a more modern side of Vienna's cultural and architectural heritage, and seeing how it will continue to change over time.
Grab a quick bite before your show.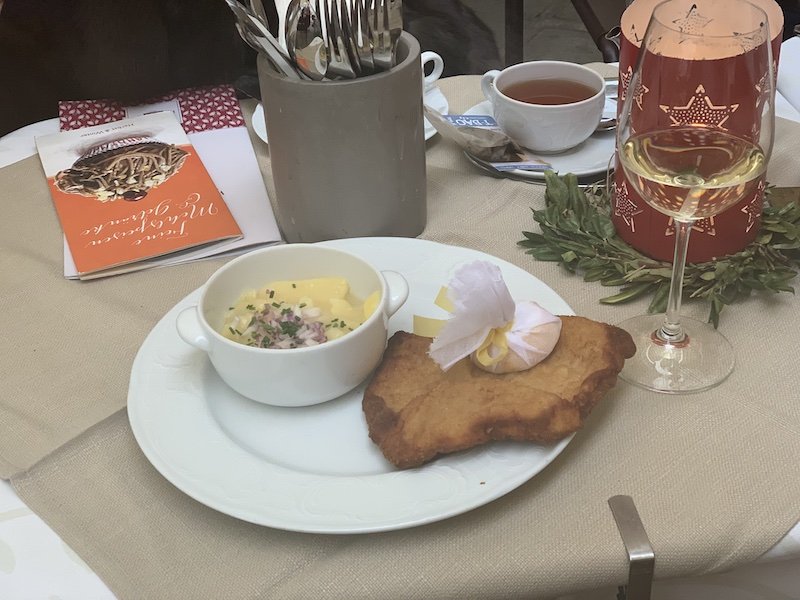 Next up on this Vienna itinerary is a classical music concert, which starts at 8:15 PM.
If you tend to get hungry early, you may want to grab something to eat before the show!
The concerts I've mentioned take place at Karlskirche and Musikverein, which are close to one another.
A good option might be the highly-rated Wiener Wiazhaus, which is a cozy, casual vintage-style eatery serving up Austrian classics.
Another option is the Naschmarkt which has a lot of different vendors in a food hall-style market, so you can grab something quick to eat here.
Enjoy a beautiful concert.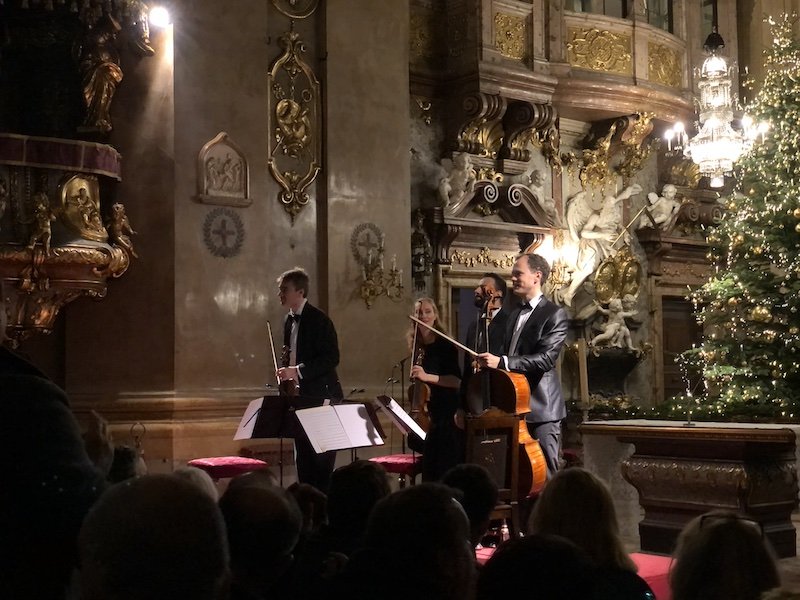 Vienna has a long and storied relationship with music, and what better way to cap off a night in Vienna than with a classical music concert?
There are several settings that host concerts.
The Vivaldi's Four Seasons concert at Karlskirche take place on Mondays, Tuesdays, Wednesdays and Fridays at 8:15 PM.
Prefer to hear some Mozart?
There are also concerts at the Golden Hall of the Musikverein on Fridays, Saturdays, Mondays, and Wednesdays, also at 8:15 PM.
Day Four: Day Trip to Bratislava or Hallstatt
Finally, on your fourth day in Vienna, I suggest breaking things up a bit and heading out of town! '
Vienna is close to many wonderful places that make an easy day trip, and if you've seen as much of the city as I've covered on this itinerary, you could certainly see more of it — or you could branch out a bit and go on a day trip!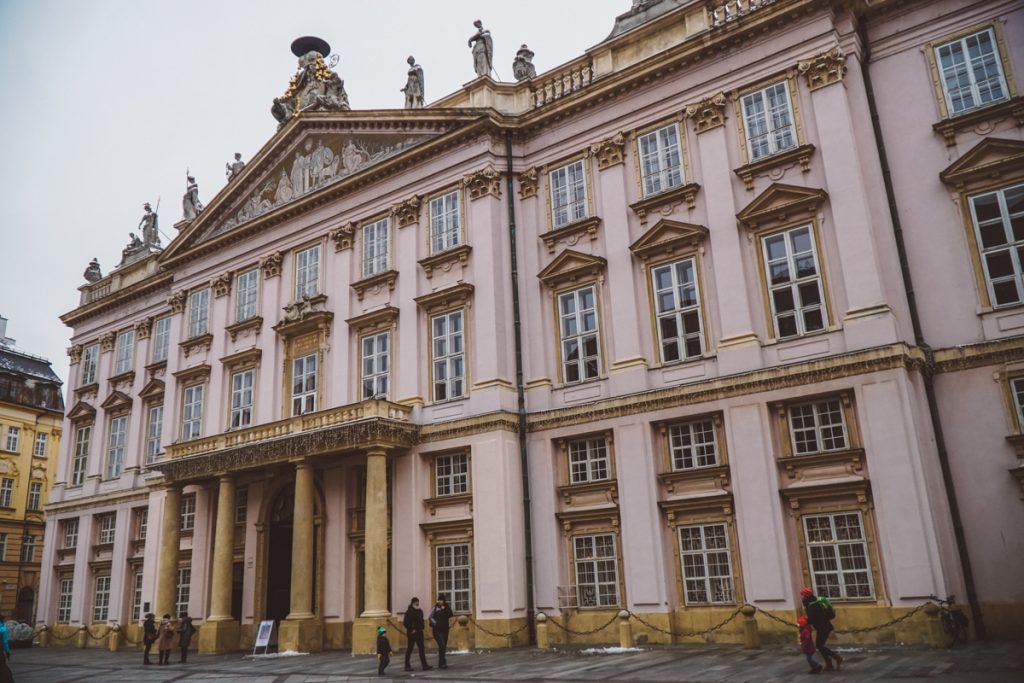 My top suggestion would be Bratislava! Despite being technically in another country, the capital city of Slovakia is only a short trip away by bus or boat, since both cities are on the Danube.
There's so much to do in Bratislava, but it's also a compact city that you can see the heart of quickly even in a short amount of time.
I suggest going with a guided tour, as they'll simplify the transportation and give you guidance so you don't miss any of the top sights in Bratislava.
This is the guided tour I recommend to visit Bratislava from Vienna!
However, if you prefer to self-guide your day trip to Bratislava, I have a full guide on what to see in a day in Bratislava here!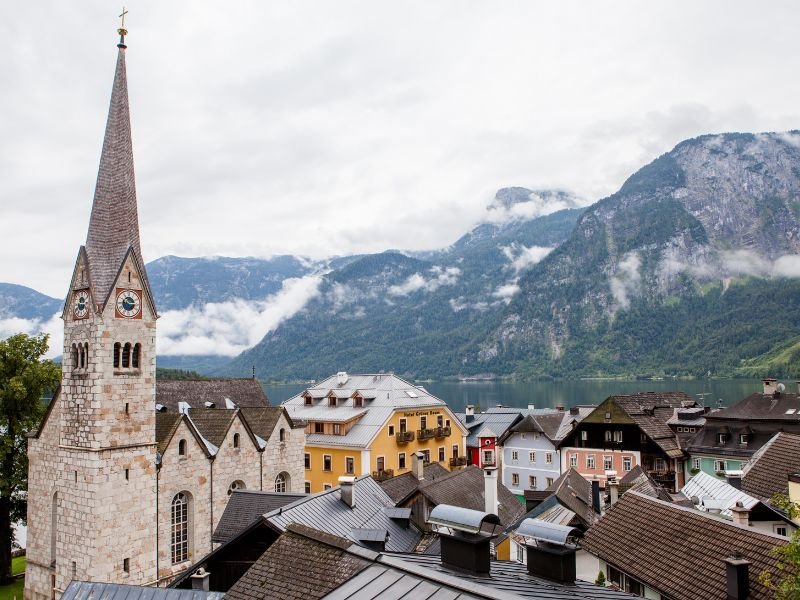 Another compelling option is taking a day trip to the charming town of Hallstatt in the Salzkammergut region.
If you've gotten enough of city life and want to see mountains, lakes, natures, and small towns, this is the trip for you! And if you're visiting in summer, the tour includes a boat tour across the lake!
Allison Green is a former educator turned travel blogger. She holds a Masters in Teaching and a B.A. in English and Creative Writing. Her blog posts merge her educational background and her experience traveling to 70+ countries to encourage responsible, enriching travel. She has been a speaker at the World Travel Writers Conference and her writing, photography, and podcasting work has appeared in National Geographic, CNN Arabic, CBC Canada, and Forbes, amongst others. Now a full-time traveler, she has lived in Prague, Sofia, New York City, and the San Francisco Bay Area.