It took me 3 visits to London for the city to finally sink under my skin. I found it expensive, crowded, and honestly, a bit overrated.
But finally, I get it: you need to give your London itinerary the right amount of time. You can't visit for a day or two and cross London off your list.
I'd say you need a minimum of 4 days in London to even start to understand it: 5 days in London or more is even better if you can swing it.
I think that the problem I had on my first London itinerary is that I spent too much time seeing all the traditional London landmarks and not enough time exploring the neighborhoods that make it so diverse.
As someone who used to live in New York for 9 years, I should have known better that there is more to a city than its most iconic attractions (though of course, those are worth seeing too).
What makes a city on the scale of London truly special is in the details: its colorful neighborhoods, its authentic eateries, its quirky local bars where you can rub elbows with locals — as well as its famous touristic sites.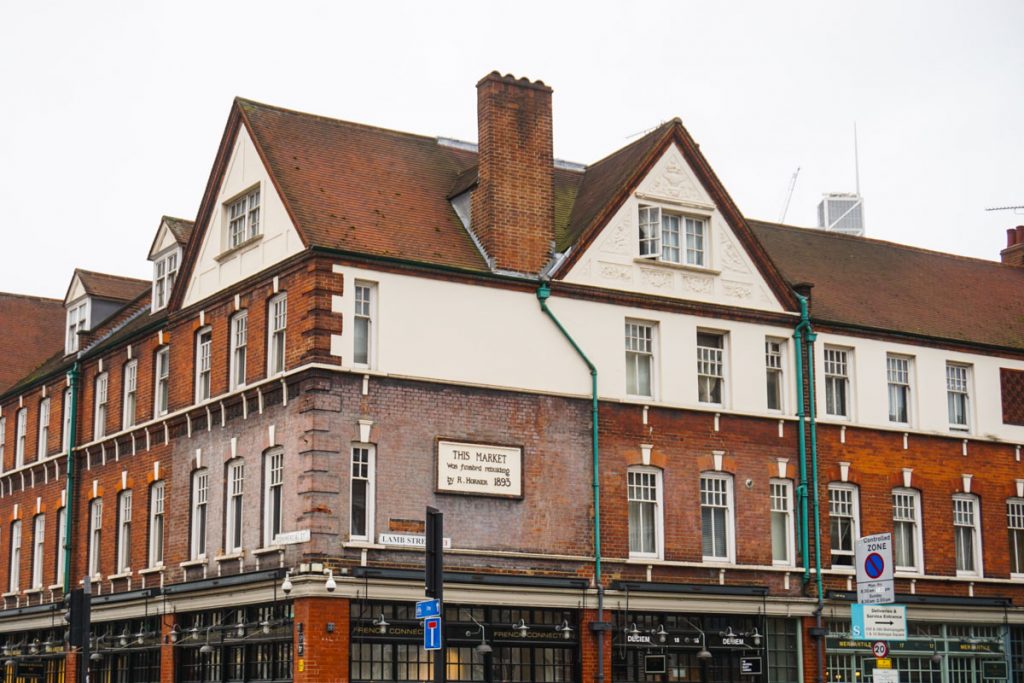 Note: This post contains affiliate links, which means I may receive a small commission if you purchase something through one of these links. Thank you for supporting the free content on this site! For more information on affiliate links and cookies, see my disclosure page for more details.
London has a charming diversity of neighborhoods, from the beautiful pastel rainbow houses of Portobello Road to the funky street art and rough edges of Shoreditch.
You can eat amazing Vietnamese food on Kingsland Road, have delicious curries on Brick Lane, or get a little tipsy at one of these London bottomless brunches, or go for a traditional afternoon tea at one of London's finest hotels.
Explore the variety of what London offers and appreciate it for its people as well as its landmarks, and you'll have a better understanding of why people are so charmed by traveling in England — myself included.
My 4 days in London itinerary will bring you to all of the most iconic landmarks and give you tips on how to reduce wait times and save money along the way.
But this itinerary for London will also show you a slightly hidden side of London that I've found in my repeated visits to the city, including some London hidden gems.
I hope this post will help you love London as much as I now do!
Visiting England in 2022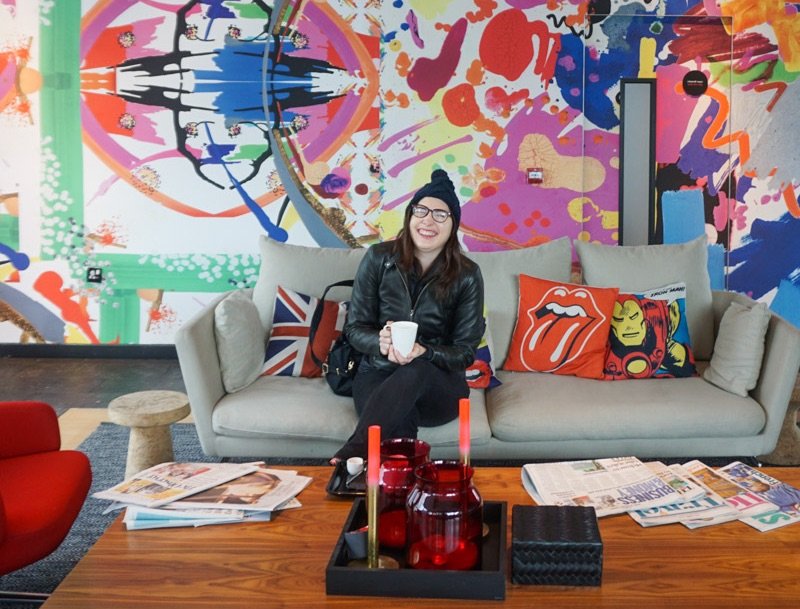 This post was last updated on June 22, 2022, and the information within is correct up to that date. Still, check the UK's website about Covid restrictions on travel to England before visiting to ensure nothing has changed!
It's become easier to enter the United Kingdom in 2022 with Covid restrictions loosening.
Since this is a London itinerary, we'll assume that you're flying into England.
They've eliminated the need to fill out the Passenger Locator Form, show proof of vaccination, quarantine, or provide a negative test.
Effectively, the logistics of traveling to England is no different than before the pandemic, though of course you should still take precautions for your own safety and the safety of those around you!
Where to Stay in London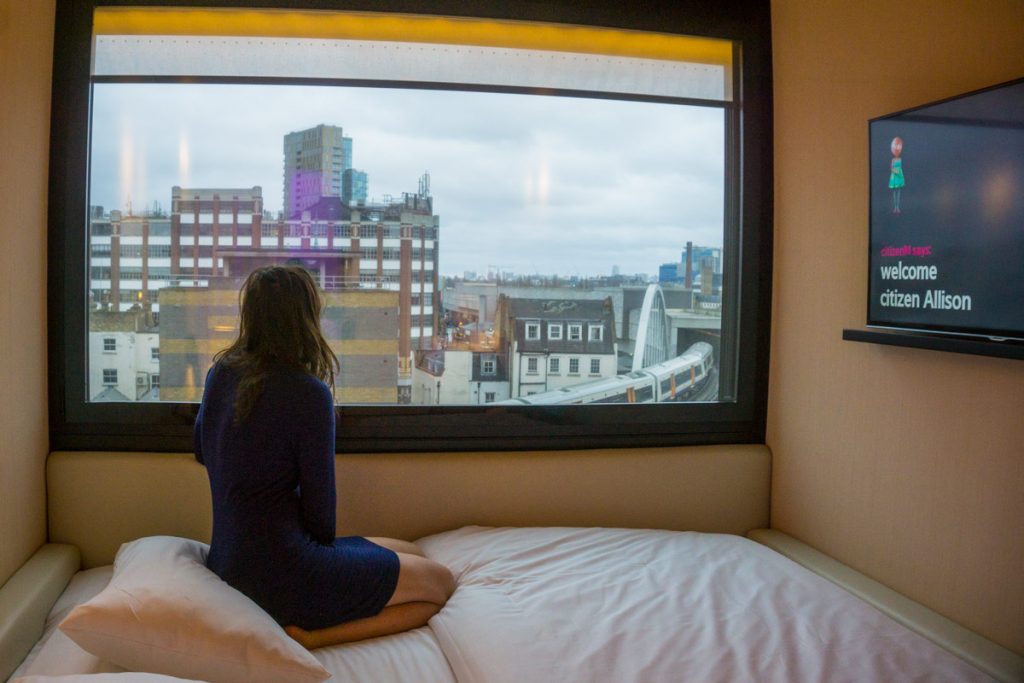 London is as huge as it is expensive, and picking a place to stay can be difficult.
I've written out a massive guide to where to stay in London for first-timers here, explaining the different neighborhoods and highlighting the best deals in each.
My advice for staying in London on a budget is a bit controversial, as I recommend staying close to the city center rather than trying to save a few bucks by being way far out.
For one, if you only have a 4 day London itinerary, you don't want to spend 2 or so hours of each day on the Tube going back and forth to your hotel each day. Plus, that can be rather expensive!
The best London hotels and hostels are central enough that you can walk to most major attractions, eliminating wasted time and tube fare.
You may pay a few dollars more, but trust me, it's worth it — and there are some excellent value hotels in central London these days.
Budget: If you are traveling solo in London on a strict budget and are looking for a central hostel, I recommend SoHostel, which is located in a central London location walking distance from sights like Buckingham Palace and the London Eye.
The décor is bright and colorful, a step above a lot of dingy hostels you'll find. The dorm rooms are a bit Spartan, but that's a hostel for you!
There's also a nice in-house bar where you can meet fellow travelers if you're not feeling up to checking out London's nightlife independently.
Mid-Range: My last time in London, I stayed at the citizenM in Shoreditch and recommend the experience highly.
Basically, citizenM is a chain of hotels that are cozy but not fussy, fusing quirky décor, affordable prices, and high-tech amenities.
We're taking shower doors that change color, remote-operated blinds that block out all light when you want to sleep in, and a 60-second self-check-in service!
They're always located in central areas and the prices are super affordable for what you get. The rooms are small, but cozy, with outlets and drawers thoughtfully placed to maximize space.
I stayed at the hipster Shoreditch location (check rates, reviews, and availability here) but I've also visited a friend at the more central Tower of London location and it was a dream – those Tower views are second to none (check rates, reviews, and availability here).
Luxury: If you're after luxury, don't worry – London has got you covered. There is an insane number of 5-star hotels in the city.
For understated yet classy design in a central SoHo neighborhood, I recommend the quaint, boutique Charlotte Street Hotel
For a more classic stay, The Beaumont is one of London's tried-and-true 5-star properties!
With amenities like a sauna, hammam, and spa in the hotel – plus lovely little added bonuses like free daily dessert treats from the stff and luxe heated marble floors in the bathrooms, it's one of the nicest places to stay in London if you have the money for it.
Day 1 of Your London Itinerary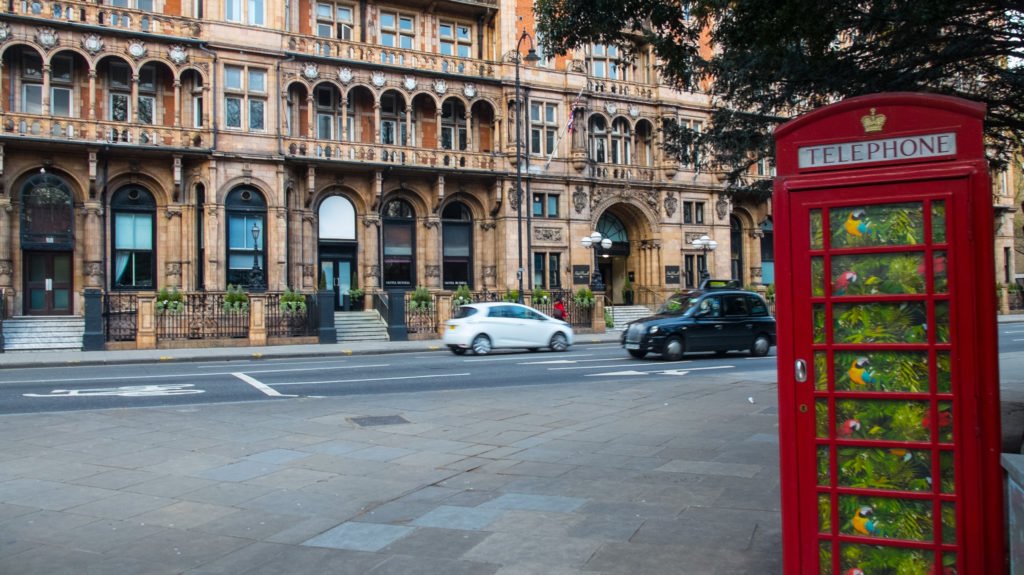 I've focused each day of this London itinerary on a particular area as much as possible, to maximize your time in London.
Riding the tube in London is expensive so I've tried to cluster activities as much as possible to minimize your time (and money) spent on transport.
One of my biggest London travel tips is to reduce your transport costs by walking as much as possible.
Luckily it's pretty easy to see most of Central London's main sights, so you won't need to spend a ton of time on the Tube.
That said, if you want to get out and explore some of London's neighborhoods, you will need to hop on the Tube at some points.
The London Underground is an iconic experience and I highly recommend using the Tube to get around the city when walking just won't do.
The city's black cabs are notorious for being insanely expensive. Luckily, Uber did just get continued permission to operate in London through at least 2024, so that's a viable option!
Walk through history at Westminster Abbey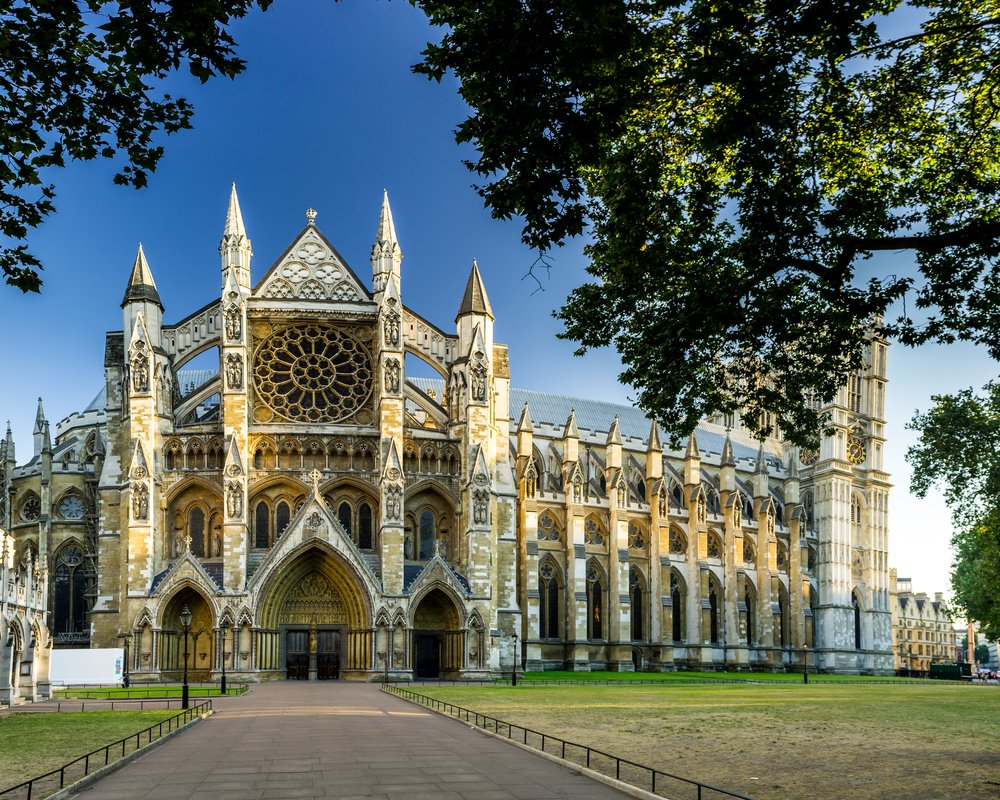 It's a UNESCO World Heritage site for its continued importance and relevance in British history as well as for its religious art masterpieces which date back to the 12th century.
Westminster Abbey has hosted royal weddings (most recently between Prince William and Kate Middleton — Harry and Megan got married at Windsor Castle), so it's a must on a royal-themed tour of London.
It's also the final resting place of 17 monarchs. Be sure to check out the beautiful architecture inside the church between the choir and the high altar, which is the setting of royal coronations.
Westminster Abbey is one of London's most popular tourist sites, and as a result, I recommend making it a priority to visit early your first morning in London.
Do note that unlike many churches, there is quite a steep entry fee associated with visiting Westminster Abbey: 23 GBP, about $30 USD.
It's easy enough to visit on your own, but if you can swing spending a little extra, I strongly suggest upgrading to a guided tour with a skip-the-line ticket to both save time and gain historical context about this immensely fascinating building.
Just seeing it with your own eyes is impressive, but knowing the fascinating 700-year history behind it is priceless.
I recommend this one because it includes a skip-the-line pass, entrance fees, a guided tour, plus a viewing of the changing of the guards at Buckingham Palace, the next activity on this itinerary, so it fits perfectly in your London itinerary.
Watch the changing of the guards at the iconic Buckingham Palace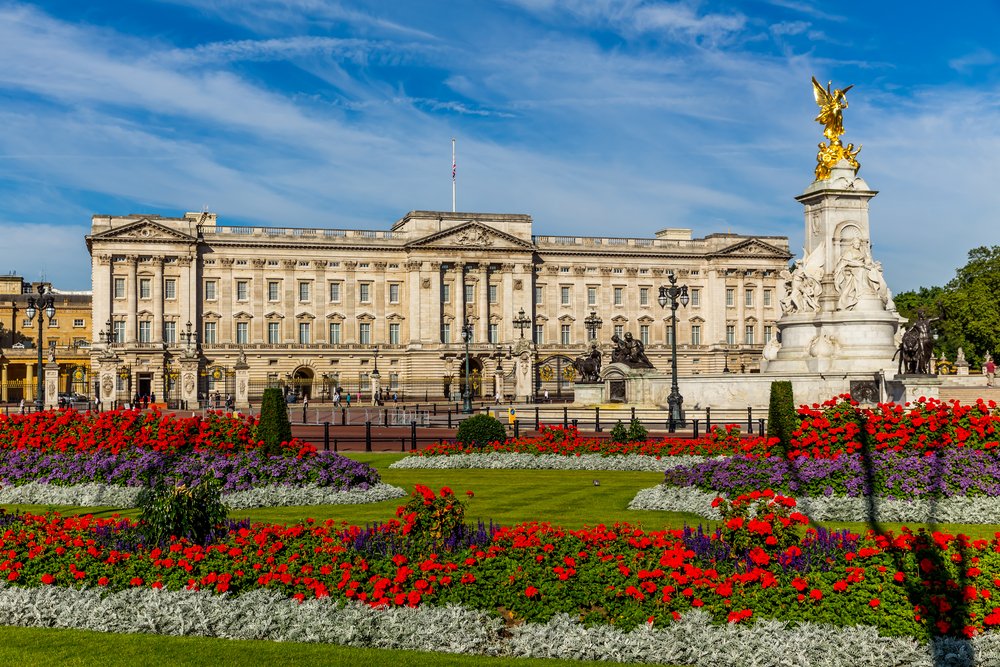 Anglophile or otherwise, you can't miss Buckingham Palace, the current home of Queen Elizabeth and home of UK sovereigns since 1837.
Today, Buckingham Palace acts as the administrative headquarters of the monarchy as well as a day-to-day residence for some of the royals.
Buckingham Palace is most known for its Changing of the Guard ceremony which occurs daily at 10:45 AM. The ceremony is free to watch and probably one of the most popular things that can be done in London!
Be sure to show up at least 15 minutes early (a half hour is even better) to see the pomp and celebration.
Inside, the palace is next-level extra with a whopping 775 rooms. The drawing room and grand staircase are especially jaw-dropping. However, you can see only the inside by purchasing a ticket to the State Rooms.
If you want to go inside, you'll have to plan your trip around it, as it's only open two months a year – in 2022, it'll be from July 22 through October 2.
If you happen to be planning your London trip during that time, you definitely should check a tour of the inside of Buckingham Palace (book way in advance here, as spots are limited given the short opening period).
Even if you can't go inside the Buckingham Palace during your time in London, make sure you save time to see the changing of the guard: it's a true must-see, whether your London itinerary is for 4 days or 1.
Stroll through Saint James' Park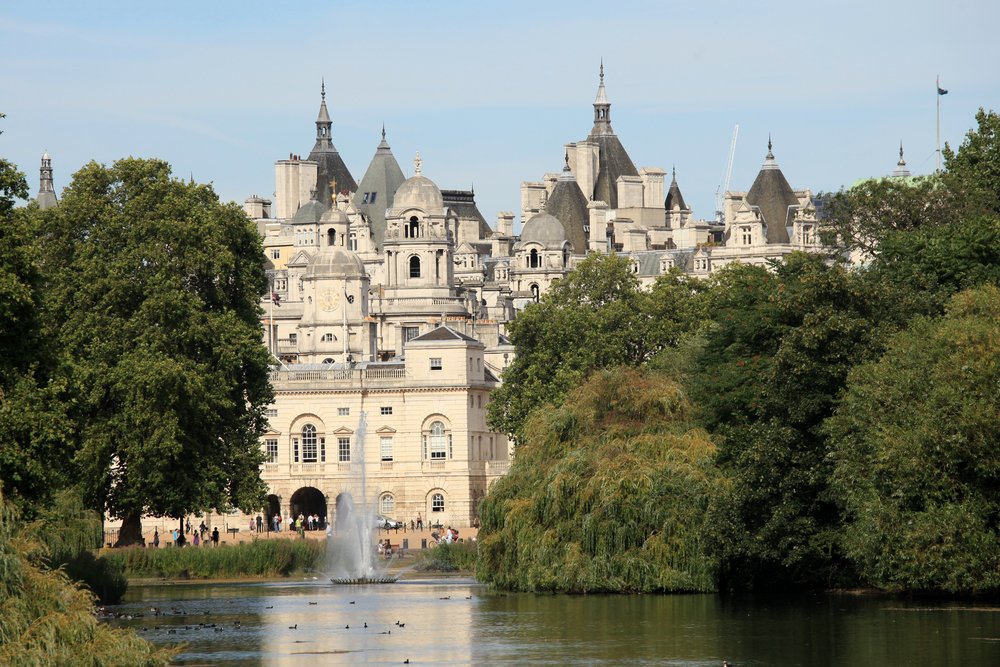 London has tons of green spaces, and in the city's rare moments of sunshine, you can see Londoners flock to the parks to get a sweet, sweet hit of that elusive Vitamin D.
Saint James' Park is one of the most beautiful and well-trafficked parks in London due to its location, but you can still find plenty of pockets of quiet in the park.
Check out the area by the pond for a peaceful scenic walk to refresh your eyes from all the beautiful buildings (and get you ready to see more!).
It's especially lovely in the spring, when daffodils and tulips are everywhere the eye can see.
Circle back to check out the newly-renovated Big Ben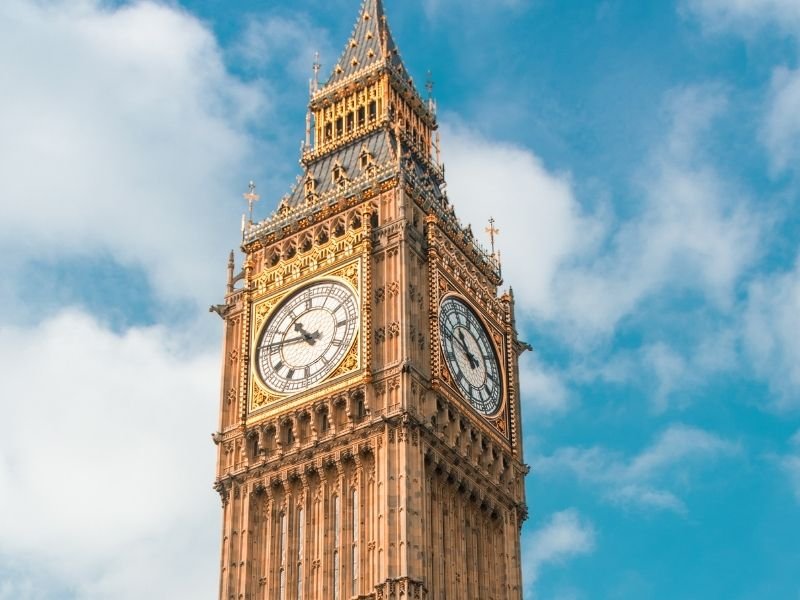 Is there any building in London that's as visibly synonymous with the city as Big Ben?
While the name of the clock tower is actually the Elizabeth Tower, Big Ben is the popular nickname for the tower at the north end of the Westminster.
To get really pedantic on you, Big Ben is the name of the bell, which was the largest bell in England for 23 years (but has since been unseated, because I guess England likes big bells).
The tower housing the clock is 96 meters tall, making it an easily recognized symbol of the United Kingdom, and it is so iconic that it's become a cultural monument recognized throughout the world.
Cross Westminster Bridge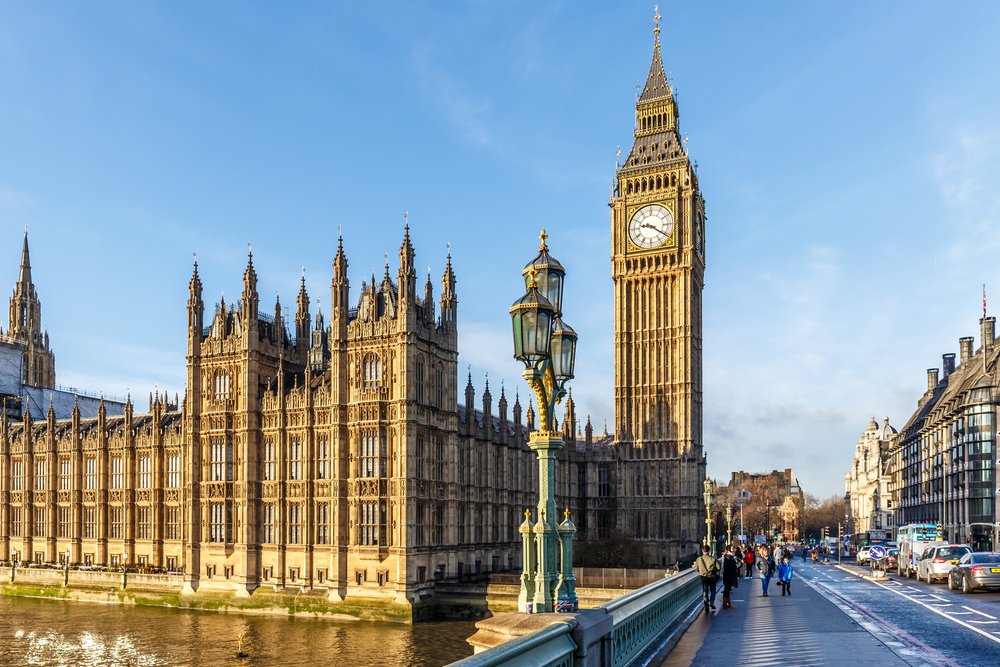 If you want one of the best views of Westminster Palace, you should cross the Westminster Bridge for picture-perfect photos over the Thames.
Sometimes you'll see performers and the like on the bridge so crossing the bridge in itself can be quite the cultural experience.
Do watch your bags here, especially while taking photos, as it can be crowded and thus an easy target for pickpockets.
Get a great view from the London Eye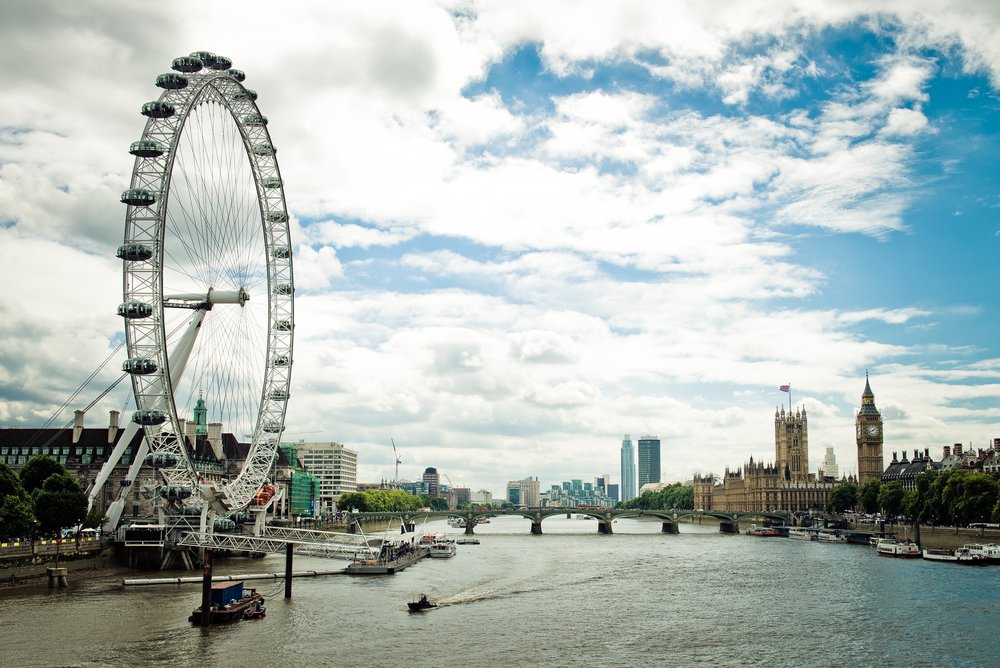 The London Eye is a bit polarizing: some say it's not worth it, others say its an essential London itinerary item, especially for first-timers.
I used to be part of the "not worth it" camp; now I'm obsessed with observation decks and always make room for them on any itinerary!
I honestly believe a trip to London is made all the better by taking a ride on the London Eye.
However, what I will say is that if you do want to ride the London Eye, you should definitely take a few pointers in mind to save some money, but more importantly, time.
No matter what you do, be sure to book a ticket in advance as the wait can be extremely, painfully long and nothing ruins a vacation faster than waiting in a long line – especially if you're traveling with kids in tow.
I strongly recommend booking tickets online in advance (you can do so here) to skip the line. Pick the option that says 'fast track' if you want to skip the line, as the standard ones will still involve quite a bit of waiting.
The fast track tickets are a little more money, but considering how precious your time is in London, given you only have 4 days, I think it's worth it to get to zoom past all the people waiting in line!
If you're traveling with kids (or the young at heart!) they will love the 4D experience that comes included on your London Eye ride if you book online.
Meanwhile, adult travelers – couples or group of friends alike – can opt to add a glass of Pommery-Brut champagne for about $8 USD extra, which is not a bad deal to enjoy one of the best views of London with some bubbles to celebrate!
Book London Eye fast track + champagne tickets online in advance, as you can't get this same deal in person!
Go for afternoon tea
Having an afternoon tea experience is one of the most quintessential bucket list items on any London itinerary.
There are lots of unique ways to go for tea in London – there are themed afternoon teas, like Winnie the Pooh, Charlie and the Chocolate Factory, or an Alice in Wonderland themed afternoon tea.
Alternately, you can pair your afternoon tea with some sightseeing by doing an afternoon tea river cruise along the Thames, taking in some of the most beautiful sights in London along the way.
It's one of the most beloved London activities (and it's relatively inexpensive to boot), with nearly 700 positive reviews averaging 4.6 out of 5 stars!
If you're on a tight budget but want to do tea, I recommend going for afternoon tea at the Wallace, which costs 19.50 GBP.
It's a relative bargain given the lovely environment and generous portions: I was stuffed after my tea!
Rest up and then go to a pub for dinner.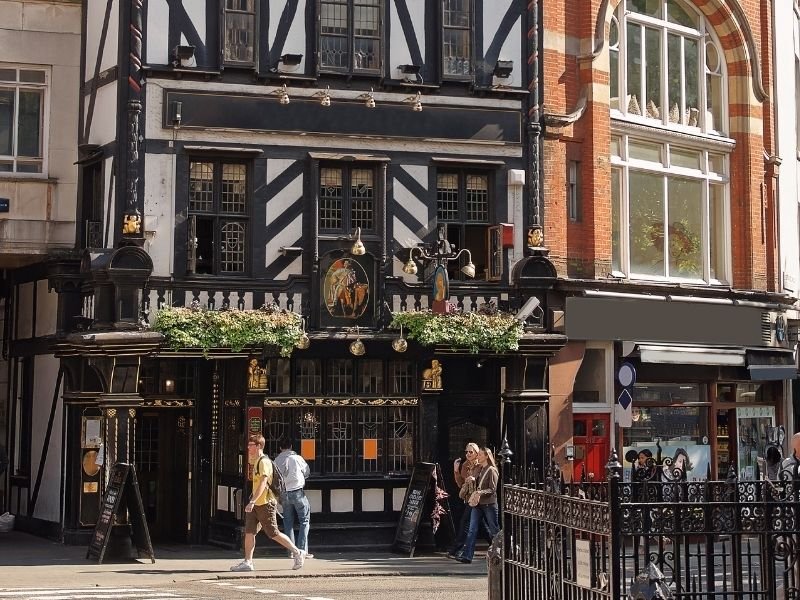 It's pretty likely that you'll be fairly full after your afternoon tea, so after getting some rest at your hotel, go for a walk and pick out a place for drinks and snacks or dinner, depending on how hungry you are.
I'd recommend going to a traditional English pub – it's a must-do experience in London.
Pubs traditionally will have some food that you can order alongside your pints if you're still hungry after your tea. Then, get an early rest as your next day is pretty packed as well!
Following a vegan diet? There are so many great vegan restaurants in London worth checking out!
Day 2 of Your London Itinerary
Since you saw a lot of the most famous British sights on your first day, day 2 of your 4 day London itinerary is all about arts and culture.
This day's itinerary will take you through some more famous landmarks in the city before ending in one of London's coolest neighborhoods, Shoreditch, where you can check out street art and eat delicious curries to your heart's content.
We'll start with the Tower of London: a great place to start the second day of a walking tour of London.
Learn the history of the Tower of London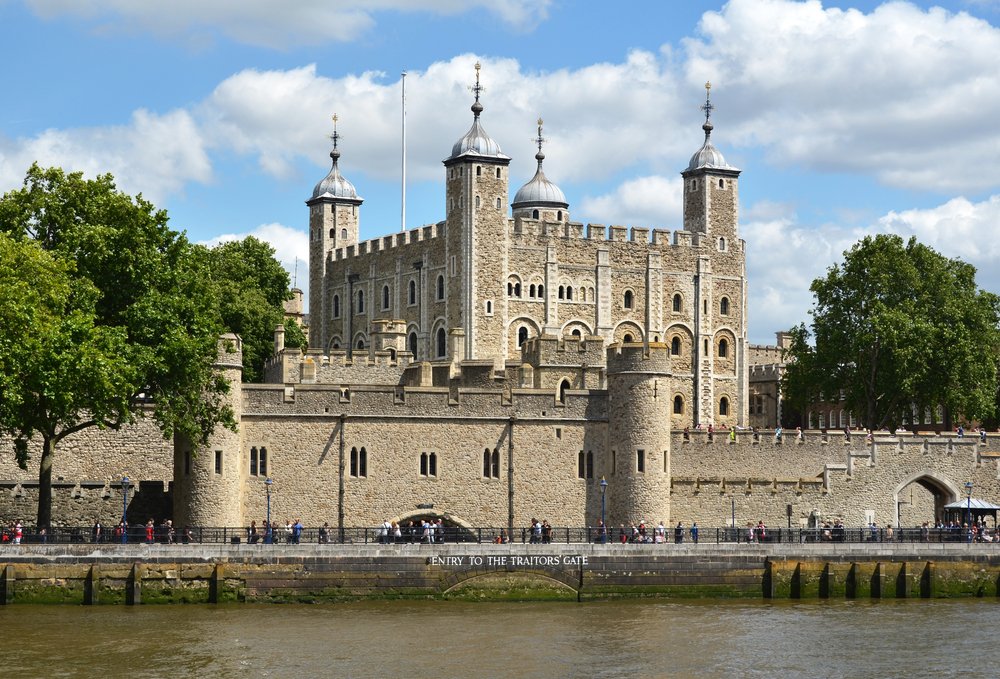 Built in 1066, the Tower of London is one of the oldest and most recognizable landmarks in the city, functioning as a royal residence for centuries.
With defensive walls and a quadrangular castle interior, it's incredibly photogenic and in remarkably good condition for being almost a millennium old.
While the Tower of London is beautiful today, its pretty façade hides a very dark past.
The Tower of London was once used a prison for those accused of treason, and the gate through which these prisoners entered became widely known as the "Traitor's Gate."
Heads of executed prisoners were often displayed along the gate as a warning to new arrivals, Game of Thrones style.
Now, the Tower of London has a far more sunny role: welcoming travelers eagers to see Britain's famous crown jewels as well as learn the history of this iconic building.
Tours cover the crown jewels, of course, but also go over the royal armories, the Bloody Tower, and more.
As this is another must-see on everyone's London itinerary, naturally, waits are long!
Outsmart the crowds by purchasing a skip-the-line ticket in advance, so you don't have to queue to buy a ticket. Bonus: it's actually cheaper than buying it at the door!
You can book yours here today and enter hassle-free, sweeping past the lines with a mobile voucher.
Save 10% and skip the line by booking your Tower of London ticket online
Cross the memorable Tower Bridge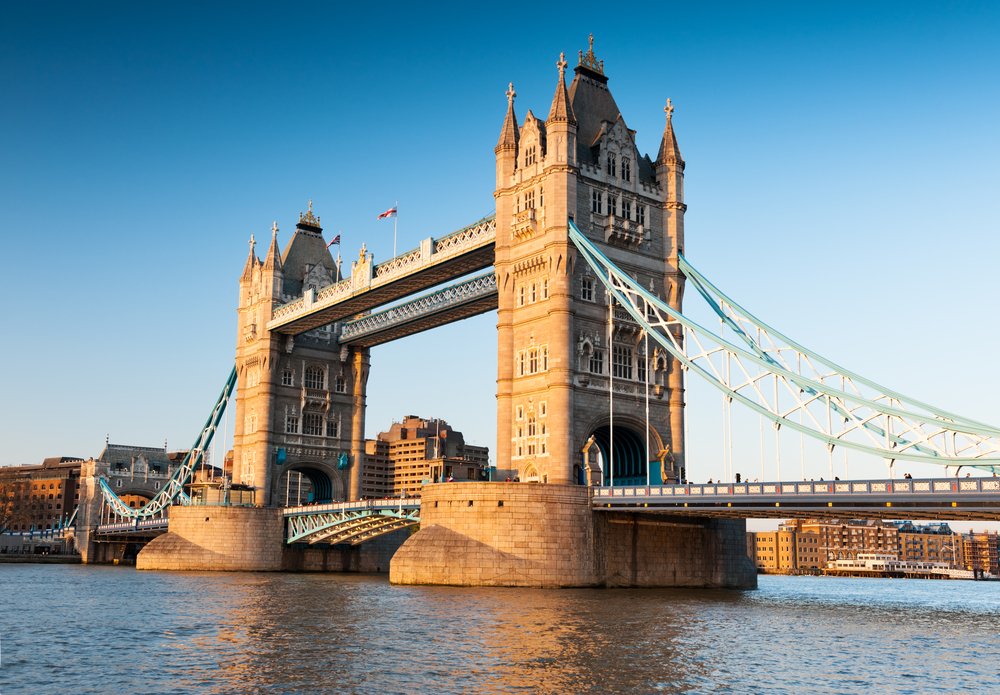 London Bridge is a misnomer: the famous bridge in London is actually called Tower Bridge.
Walking across it is one of the most iconic things to do on any London itinerary, and the best part is that it's free – a rarity in an expensive city like London.
True transportation geeks can ∫ of the Tower Bridge for an additional cost. You can enter inside the actual bridge and see the Victorian-era engine room that operates the drawbridge, as well as see exhibitions of the history of this famous bridge.
The engine room is particularly interesting, with coal burners, steam engines, and hydraulic technology.
However, those afraid of heights may not be happy to hear that the bridge has a see-through glass floor walkway over the bridge itself (giving a whole different meaning to the refrain "London Bridge is falling down"!).
Check out the Shard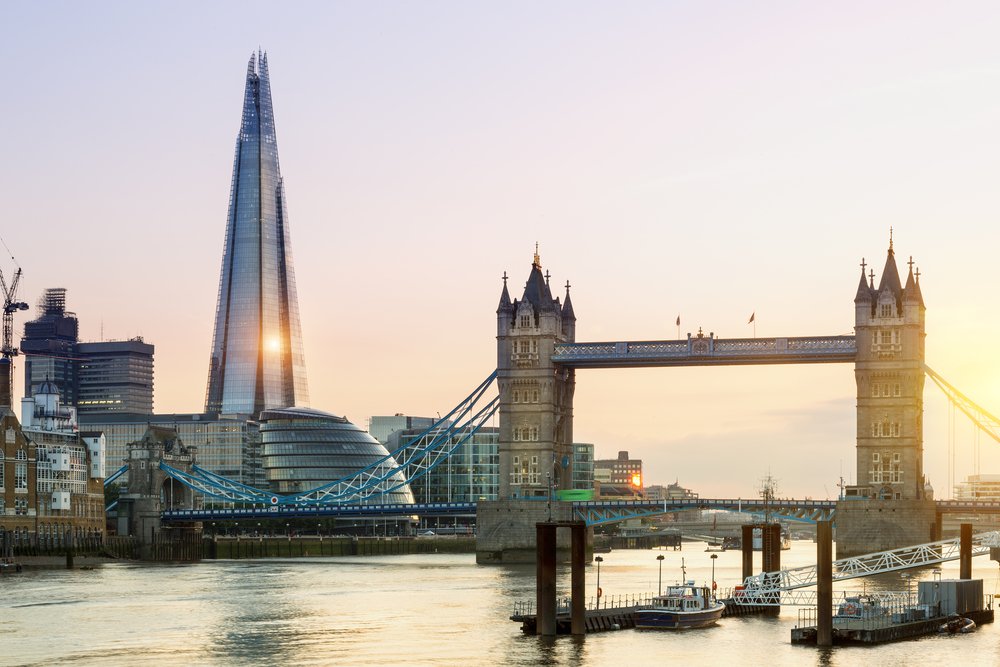 If you didn't do the London Eye — or you just love epic views and don't mind spending extra on both — you may want to take in the view at The Shard instead.
It has an outstanding view of the Tower of London (whereas the London Eye has a better view of Westminster Palace).
Of course, it is rather expensive – we're talking £21.50 when you book well in advance and £30 on the day of.
However, it is a slightly less touristy option compared to the London Eye, which is often ultra-crowded, so if you want sky-high views without as many people around, I'd opt for The Shard.
Even if you don't go up the Shard, it's pretty cool to look at from the exterior: 95 stories of modern architecture looming over the South Bank.
It was designed by an Italian architect and is one of the most distinctive pieces of modern architecture in the city (the other being the ultra-weird Gherkin near Shoreditch).
Don't waste time waiting in line! Tickets cost more on the same day, so book in advance and receive discounted admission – plus a glass of complimentary champagne!
Drool your way through Borough Market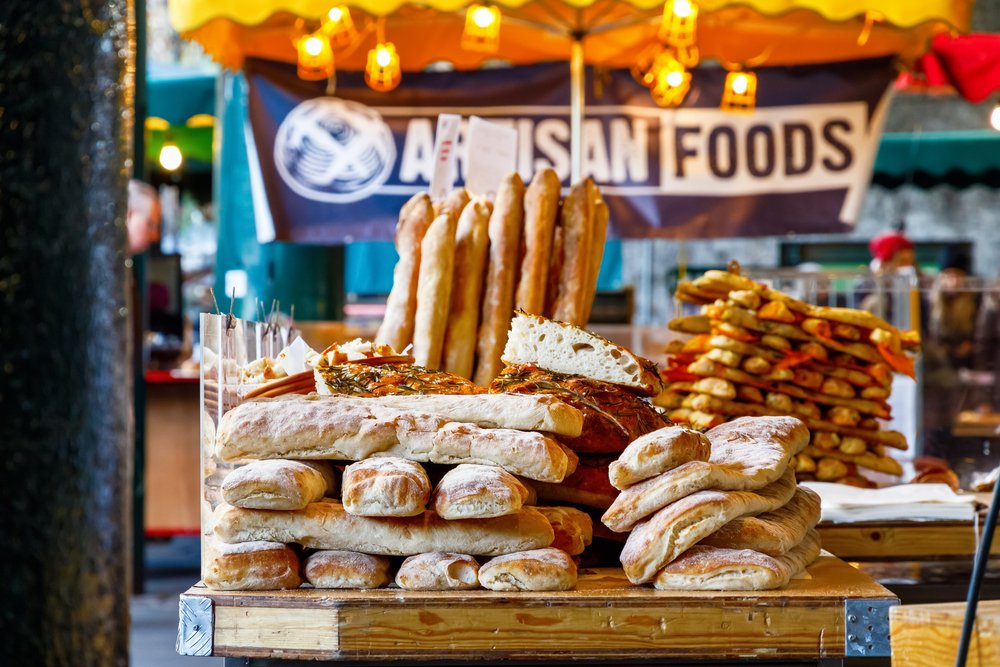 Borough Market is one of the oldest and largest food markets in London – a city that is full to bursting with food markets.
There are tons of high-quality food vendors selling some of London's more affordable eats – you can find delicious sandwiches, paellas, and more. Read a complete guide to Borough Market here.
The market also sells produce and specialty foods, particularly imported European food items like Italian pasta and sauces.
There's also butchers selling fresh meat, high-quality fruits and vegetables, and deliciously tasty pastries.
Get a blast from the past at the Globe Theatre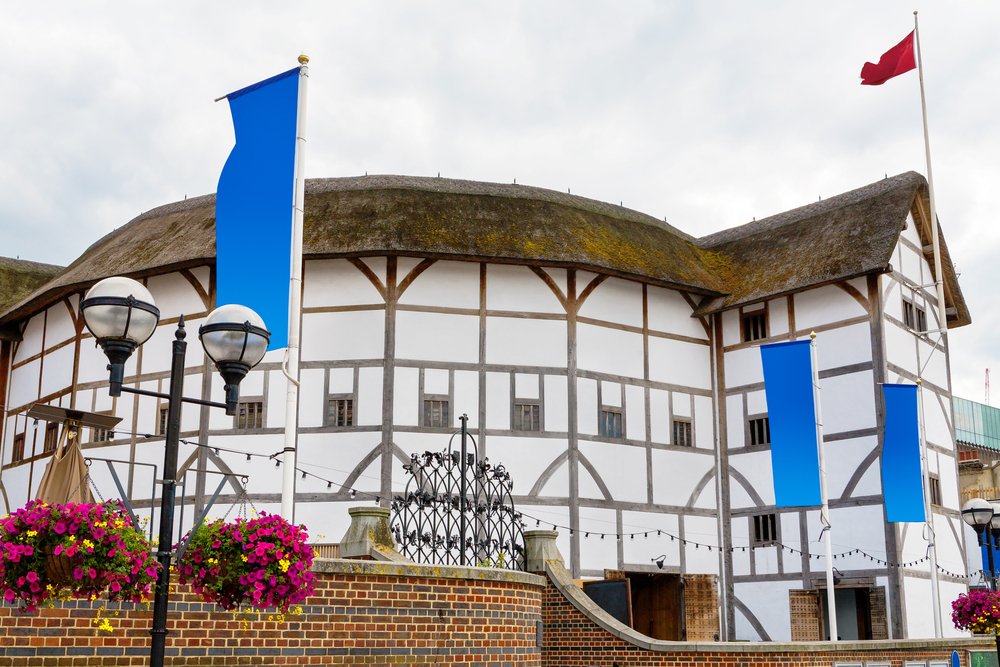 London has had a lot of famous residents over the years but perhaps none so iconic as Shakespeare!
The Globe Theatre on London's South Bank is a copy of the original Shakespeare's Globe Theatre.
The original theatre dates back to 1599, but lived only a few short years: it was destroyed by a fire 14 years later, rebuilt a year later, then demolished 30 years later.
It stayed exactly this way until 1997, when architects endeavored to reconstruct the original building, poring over the available evidence in order to create a faithful approximation of the original.
Today, The Globe Theatre is home to several plays throughout the year; alternately, it can be seen on a guided tour for true Shakespeare nerds like myself (I literally took not one but two Shakespeare-specific classes in college)
Pre-book 30-minute guided tours of Shakespeare's Globe here if you want to learn more about its history!
Get cultured at the Tate Modern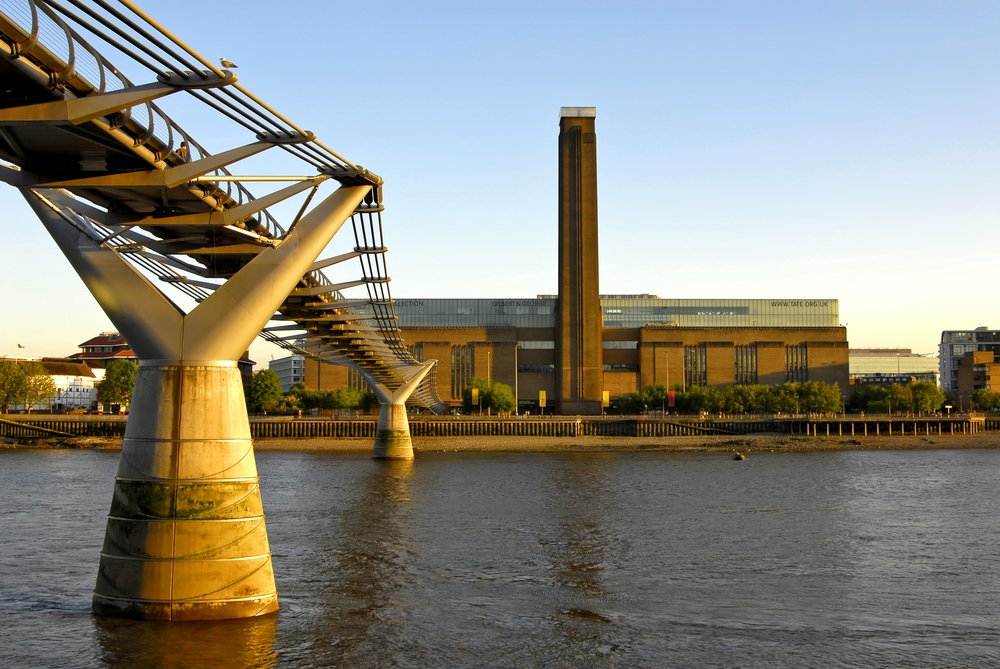 Give your wallet a rest with Tate Modern, where admission is blissfully, beautifully free!
One of my favorite things about London is that most museums offer free admission, because they are state-funded (with the exception of special exhibitions, for which there is an extra charge).
Of course, any donations for the museum are well-received!
The Tate Modern features provocative modern art with a heavy focus on the past century.
It's a great place to spend an hour or two and since it's right next to The Globe Theatre, it's a natural stop on your London itinerary.
Pro tip: if you thought the Shard was too expensive, there's a free viewing platform at the Tate Modern! It is only 10 floors vs. to the Shard's 70-odd stories, but the free price tag is hard to argue with.
Take the Tube to Shoreditch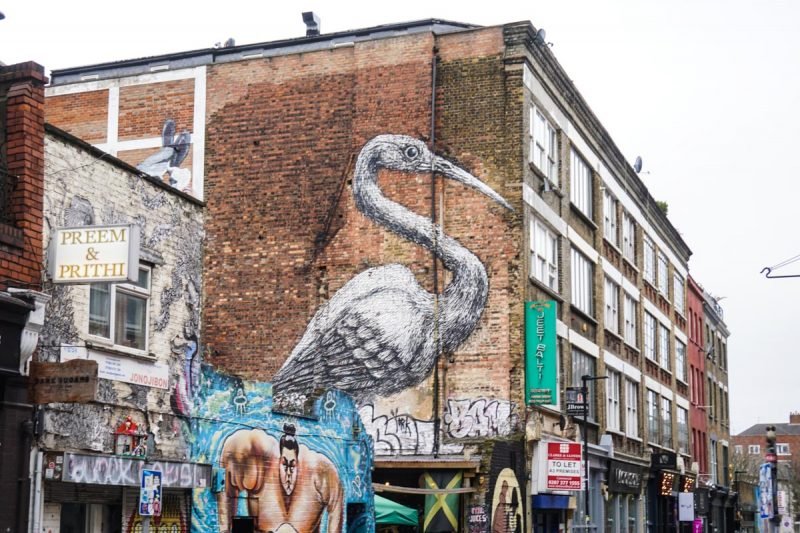 Take a 15-minute walk to either the London Bridge or Borough metro stop, where you'll take the Northern line to Old Street.
From there, you'll be in the heart of Shoreditch, one of my favorite neighborhoods in all of London.
What you'll want to do in Shoreditch depends on how much time you have. I highly recommend taking a walk down Brick Lane and checking out the street art in that area and around Redchurch Street, which is the other center point of street art in Shoreditch.
Besides checking out the street art, I recommend walking to Old Spitalfields Market, which is a historic marketplace with lots of delicious street food and fun shops to explore.
Princelet Street and Wilkes Street are two really cool streets with historic buildings with gorgeously painted doors and shutters.
I've actually written an entire post on things to do in Shoreditch so you can check that out, but note that many of the attractions on that post are focused on what you should do if you're in Shoreditch on a Sunday when all the markets are thriving.
Eat Indian food on Brick Lane or at Dishoom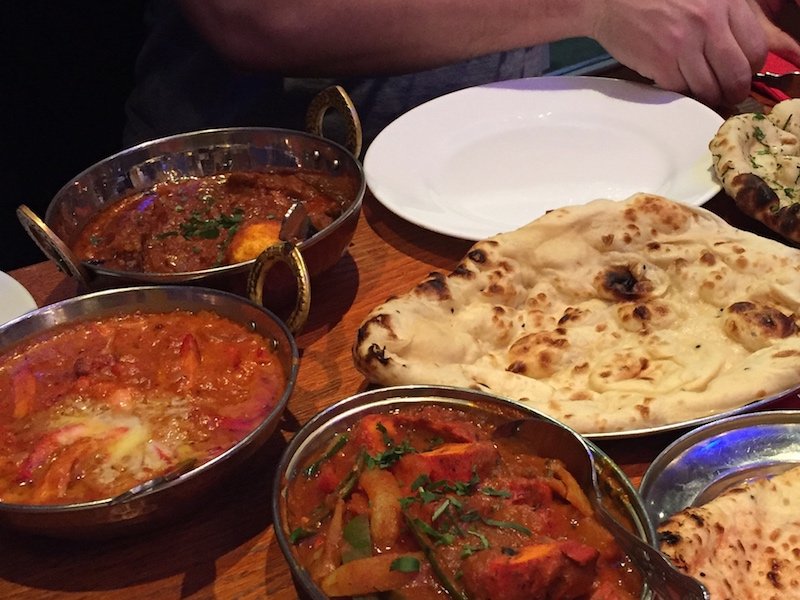 British food gets an unfairly bad rap, in my opinion.
The joy of a multicultural place like London is that you can get delicious food virtually everywhere!
One of my favorite cuisines in the world is Indian, and there's no better place than Shoreditch to enjoy it.
Brick Lane is home to countless Indian eateries each vying for your patronage. Ignore Aladin, as it's overrated.
Try to get a good deal from one of the other guys instead – they'll often throw in a free bottle of wine or free appetizers in order to win your business.
If you're prepared to wait (or you're eating at an absurdly early hour) you can check out Dishoom, which has some of the best Indian food in the entire city.
However, waits can border on the truly ludicrous — often upwards of one hour — so if you only have 4 days in London I'd understand if you don't want to spend a few hours of a day just waiting in line!
Day 3 of Your London Itinerary
The culture-fest continues with some of London's best museums, all of which are wonderfully free!
I also recommend trying to obtain tickets at a discount to one of London's plays or musicals.
If you have something specific you want to see, then you may want to shuffle the order of this itinerary so you can be at the TKTS booth when it opens.
But if you just want to see any show, this is the most convenient way to structure your day to minimize walking time.
Start at the British Museum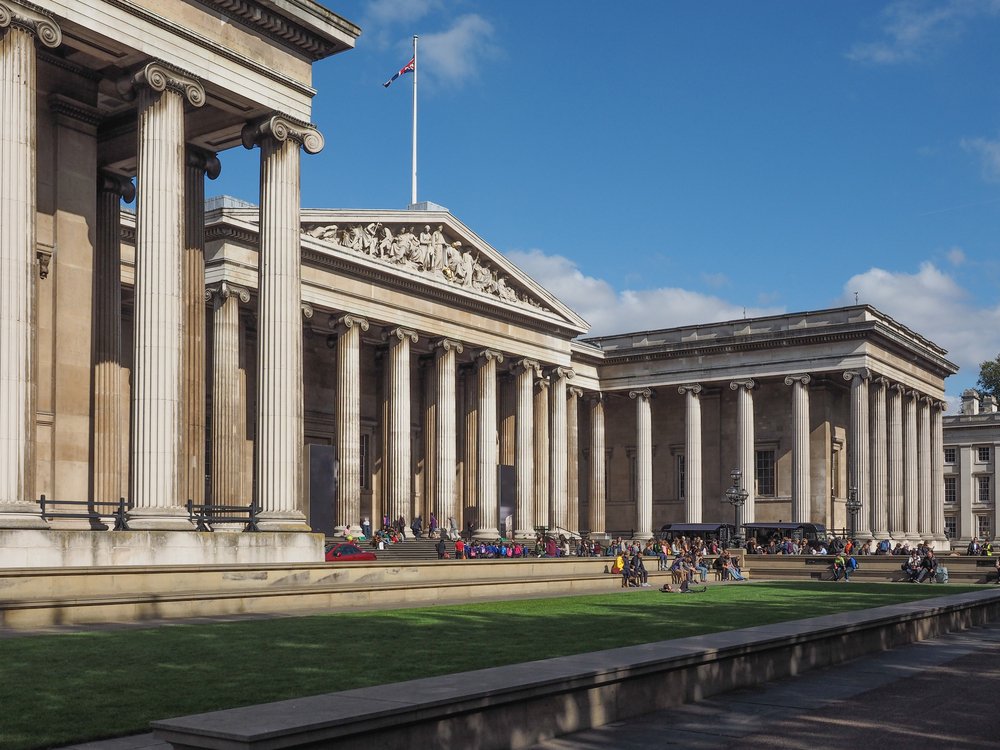 The British Museum is one of the most interesting museums in London, although it must be acknowledged that the means by which the British Museum acquired the majority of their pieces is ethically awful (thanks, colonialism).
Still, for better or worse, countless artifacts from around the world exist in the British Museum, and entry to enjoy them is free with the exception of any special exhibitions you may want to see.
Established in 1753, the British Museum has gone through several incarnations, including its most recent renovation which is infinitely photographable.
Like virtually all museums in the U.K., it is a public institution, meaning that admission is free and donations are accepted but not solicited.
The scope of the British Museum is wild, focusing broadly on the culture, art and the history of human beings, spanning several millennia of human history.
Many of the most famous historical objects in the world are housed in the British Museum, including the remains of Egyptian mummies and the legendary Rosetta Stone.
My personal favorite wings are the Egyptian, Japanese, and Korean wings. There's simply no way to see it all, so grab a pamphlet and choose 3-4 sections to focus on during your time at the British Museum.
It would take 4 days in London to even cohesively cover the British Museum, so don't even try! Just focus on your own personal highlights and your experience will be all the better for it — trust me.
Explore the area around Covent Garden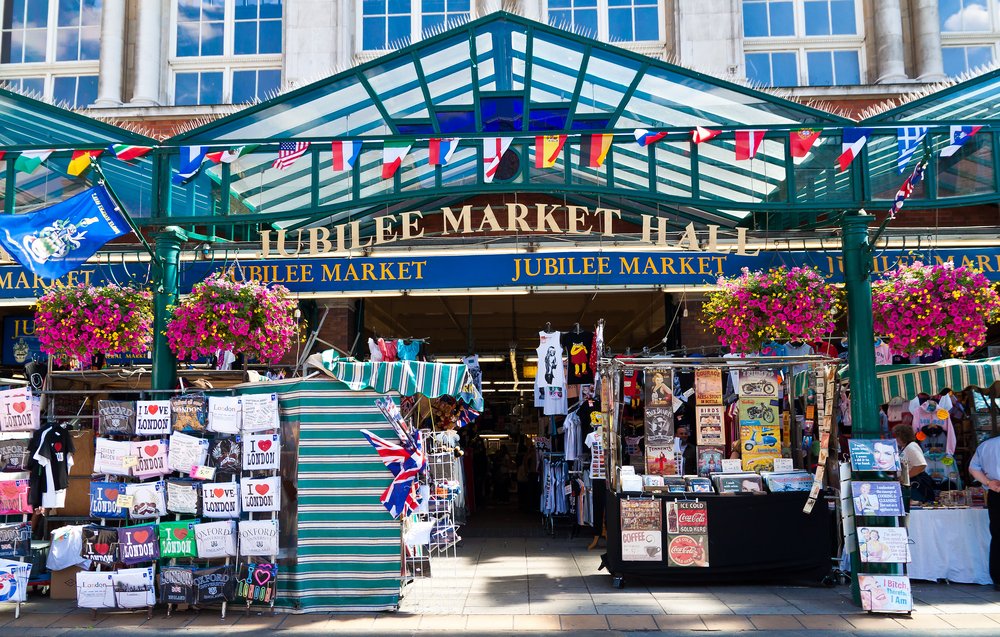 Between Charing Road and Drury Lane is the small but lovely district of Covent Garden.
Full of street performers and musicians, Covent Garden is a beloved destination for those who enjoy culture, food, shopping, and Britain's national sport – day drinking.
There's plenty to see around Covent Garden, which boasts famous attraction sites such as Freemason's Hall, the Covent Garden Market, the London Transport Museum, the Somerset House, and the Royal Opera House.
You can pick and choose what you want to see, but I personally just enjoy walking around the main area near the subway station and seeing the different performers and indulging in a bit of window shopping.
Go for a Harry Potter-themed walking tour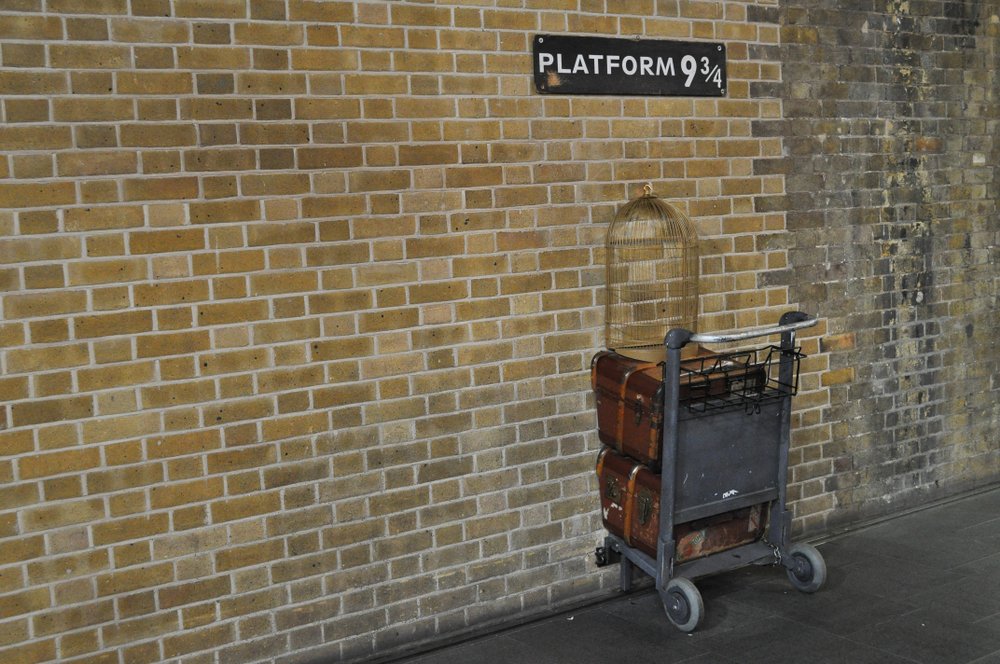 As a certified Harry Potter geek, I highly recommend doing a Magical London walking tour.
This tour covers Kings Cross Station, including the famous Platform 9 ¾ trolley, and Diagon Alley with hits like the Leaky Cauldron, sights that inspired J.K. Rowling's writing, and much, much more over the course of 2.5 hours.
You'll see over 20 magical sights on your walking tour through London with your enthusiastic, Harry Potter-loving guide, who will be full of fun facts, trivia, and quizzes along the way!
Tours come in several languages – English, French, Spanish, Italian, and German. Tours start at noon in English and 10 AM and 2 PM in other languages. This tour is exclusive to Get Your Guide, so book in advance today!
Check out the National Gallery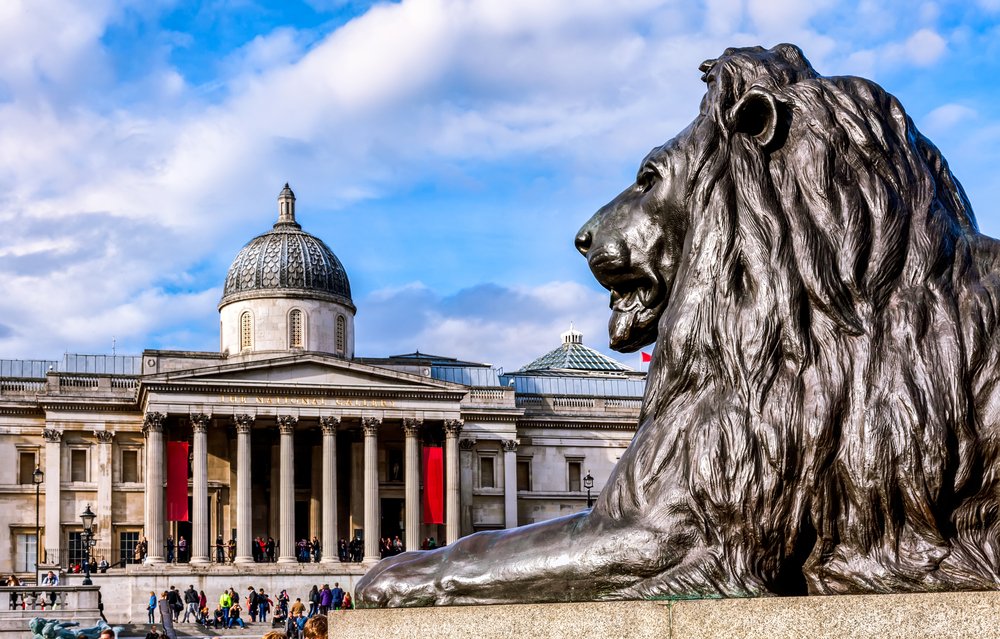 Yet another free museum!
To me, the best thing about London museums being free is that you don't have to feel guilty when you don't see everything (which is a miserable way to see a museum, anyway).
Even if you just stop in and stroll around for 20 or 30 minutes, it's enough to see some of the art and take in the gorgeous architecture of this 19th-century building.
The National Gallery specializes in art from the mid-13th century onwards, stopping at 1900 (where the Tate Modern steps in).
See the iconic Trafalgar Square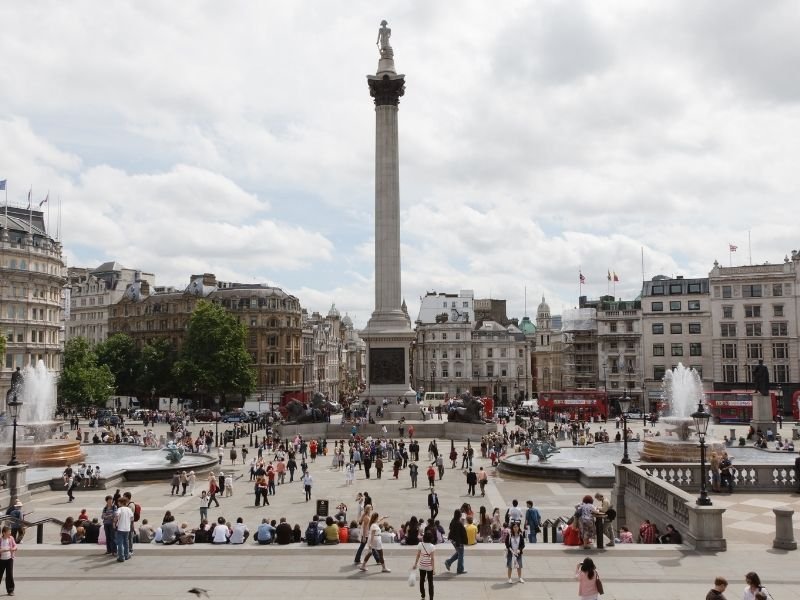 Trafalgar Square in central London has beautiful fountains, monuments, and statues and has been a significant landmark since the 13th century.
It's also been an important flashpoint for political rallies, such as the Million Women March in 2017.
It is one of London's top tourist attraction sites, and tourists flock here every year.
Sure, you'll have to battle a bunch of selfie-stick wielding tourists, but it's a London icon for a reason, so it's worth a quick pass, especially if you're already in the area for the National Gallery!
Photograph colorful Notting Hill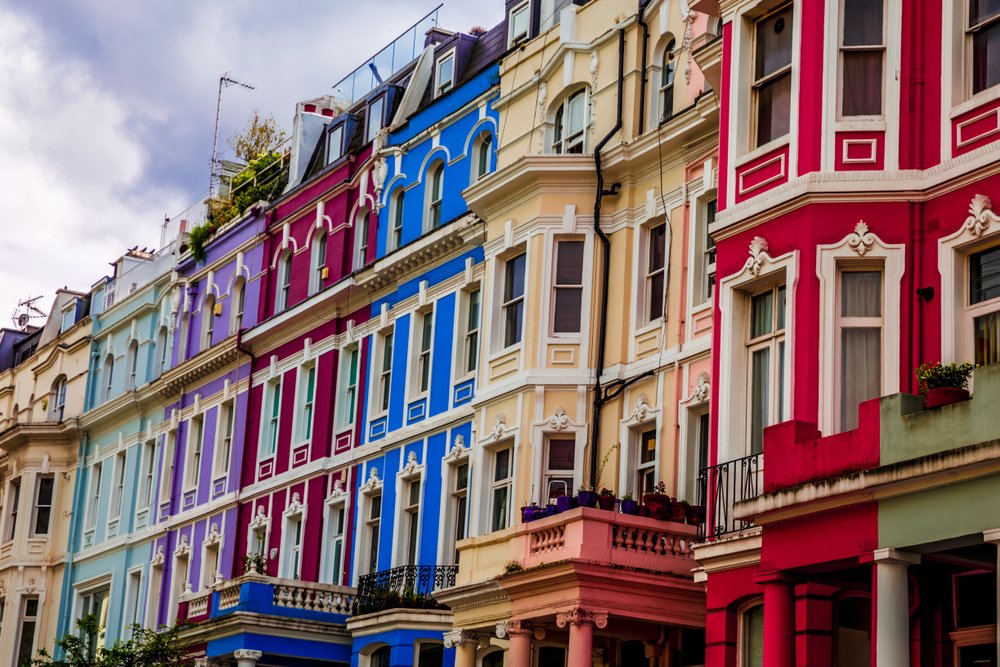 From here, you'll want to hop on the subway to the district of Notting Hill. Trust me!
If Instagram has any impact on your travel planning, you'll likely already have Notting Hill on your London itinerary.
North of the posh district of Kensington, Notting Hill is one of the districts in west London and it's known for its colorful pastel buildings.
Besides its gorgeous houses, it's also home to high-end shopping, trendy Instagrammable restaurants, and beautiful terraces.
This district captivates tourists with its charm and pastel-colored houses. In the spring, Instagram girls descend on the neighborhood in a fit of wisteria hysteria.
In August, every year, people celebrate Notting Hill Carnival, one of Europe's biggest street carnival parades, complete with marching bands, costumes, street food, and calypso music.
Hunt for treasures at the Portobello Road Market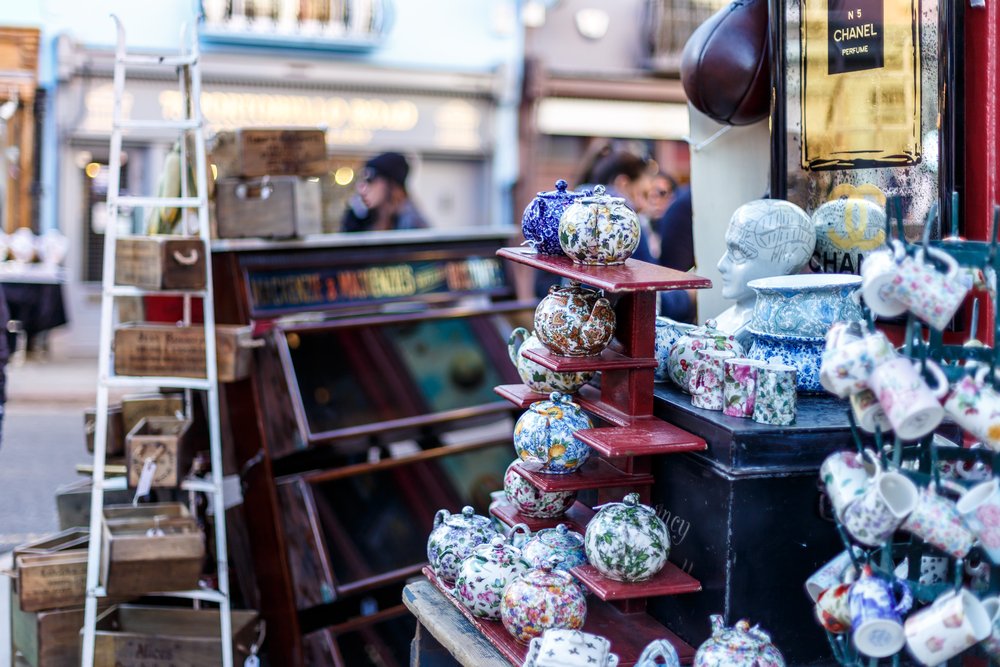 If you're a geek for antiques, you can't miss the Portobello Road market — it's the world's largest and best known antique and second-hand clothes market.
It is located in the Notting Hill district and has over a thousand dealers. Yup – more than a thousand. Extra much?
It is one of London's most loved landmarks and has the widest range of antiques in all of Britain.
In addition to selling antiques, the market is also a haven for lovers of food, music, books, and fashion.
There is a lot of treasure to discover in the Portobello Road market, so be sure to allocate an hour or two to explore it thoroughly.
Return to Central London for dinner and a show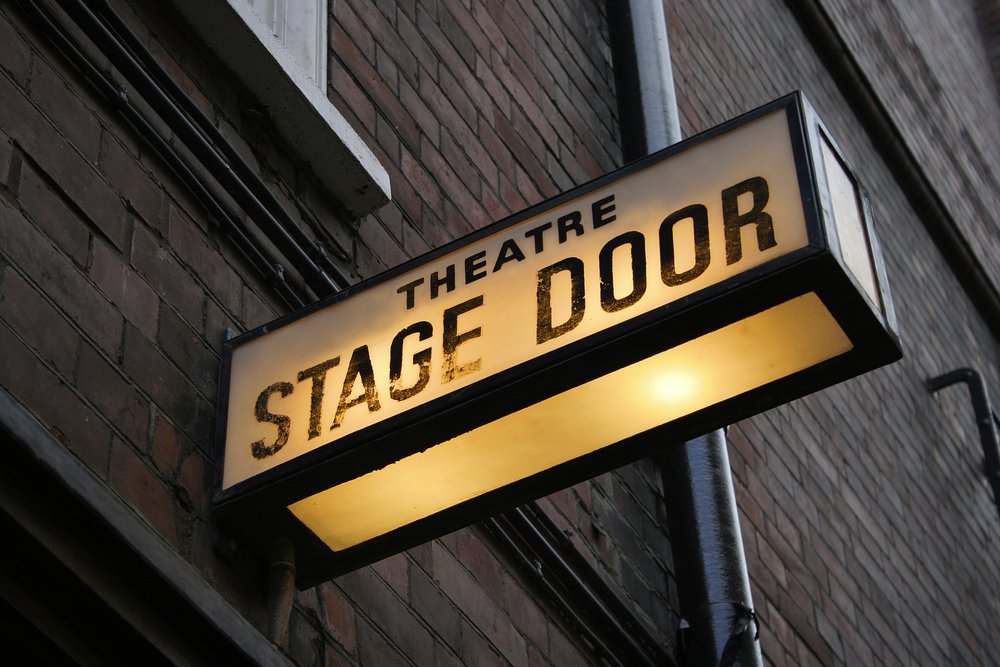 Assuming you booked a theater ticket for the night, you'll want to head back to London's West End area by the evening for an early dinner and a show.
Be sure to give yourself adequate time to return to Central London from Notting Hill!
I very nearly missed my showing of People, Places, & Things and had to sprint across London in a mad dash (0/10, highly recommend avoiding – especially when you're a Yankee like me who's not used to looking the 'wrong way' down a street!).
I recommend eating at Rosa's Thai in the 7 Dials neighborhood near Leicester Square for some of the best Thai food in London at affordable prices.
I'd prefer to eat before my show, personally, but it is open until 10:30 PM so there is a chance you could make it after your show, depending on how long it goes.
If not, there are still plenty of great places to eat around 7 Dials, so you can just wander and find something that is open.
The play I saw, while excellent, is no longer being shown, but you have plenty to choose from still!
Day 4 of Your London Itinerary
By now, you should have seen most of the London top sights!
We'll start the day with a half-day trip — one of two options, depending on your interest — and then explore a London neighborhood with the remainder of the day!
Start the day with a half-day trip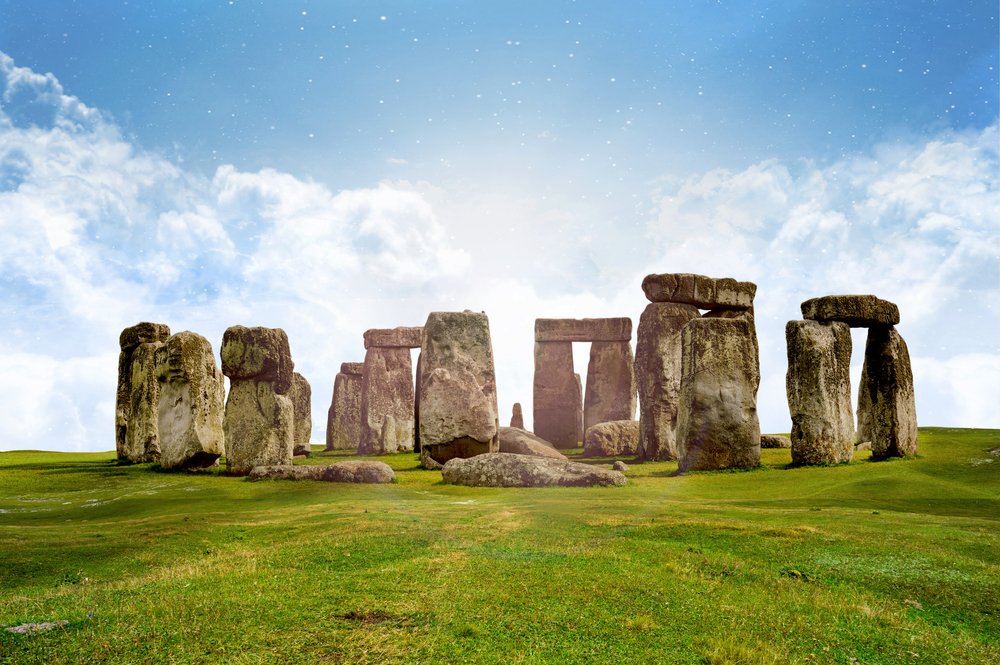 Depending on your level of nerdiness, there are two day trips I recommend: A Warner Brother's Harry Potter Studio tour or a half-day excursion to Stonehenge.
Wizard nerds like myself will be in heaven at the Warner Brothers' Harry Potter studio tour, which you're likely to share with upwards of 6,000 of your fellow geeks on any given day (it is literally the highest-rated attraction in the world).
This enormous studio in Leavesden, England (about 90 minutes away from London) was used for much of the filming of the Harry Potter movies. It's now a permanent exhibition that offers an authentic, behind-the-scenes glimpse of the Harry Potter films.
Studio tours include transport and entry and allow you 3.5 hours to explore Diagon Alley, see Platform 9 and 3/4, pretend you're in Dumbledore's Office, and get crunk off some Butterbeer.
It can be a pain to get here independently with public transit, so a shuttle is way preferable. Book your Harry Potter Studio tour here!
People who prefer history will want to opt for a trip to Stonehenge, where you can see some of the oldest and most mysterious man-made structures in the world.
Stonehenge is over 5,000 years old, a designated UNESCO World Heritage Site, and weighs a combined massive 40 tons.
No one knows how the rocks were installed here or their significance, making it one of the longest-enduring historical mysteries.
Plus, The views heading into the English countryside are worth the trip alone!
While easy enough to get to Stonehenge independently, a guided tour simplifies transit, streamlines travel time, and provides interesting historical context for the wonders of Stonehenge. If the simplicity of a guided day trip appeals to you, book your Stonehenge day trip here.
Return to London in time to explore one or more of its neighborhoods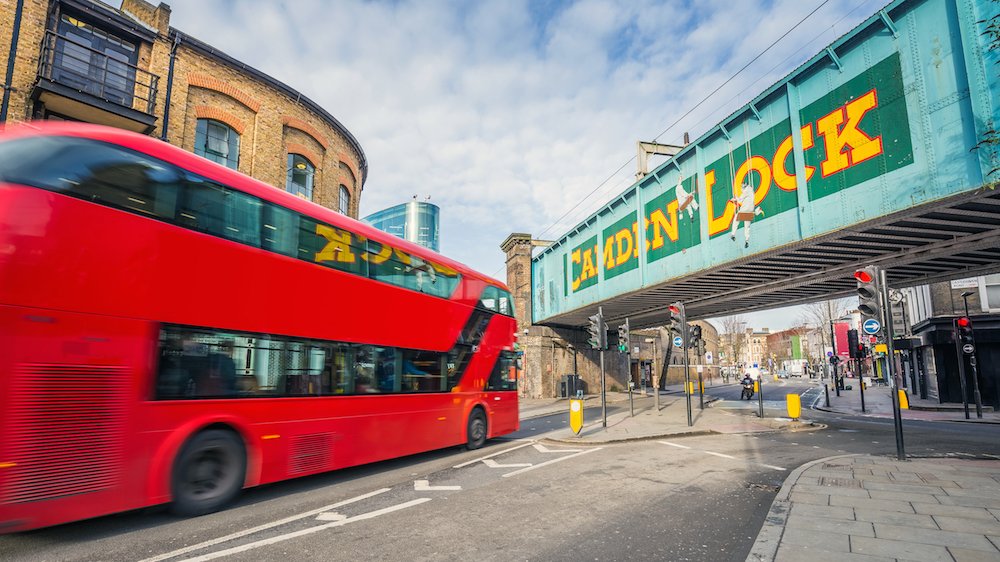 On the last of your 4 days in London, don't try to jam in any more sights or museums.
Instead, just spend the final evening exploring one of London's many exciting neighborhoods, photographing the pretty buildings and taking in the neighborhood vibes.
If you want a posh neighborhood to stroll around, you can't miss the fancy streets of Belgravia. This neighborhood is where you'll find upscale townhouses, embassies, and the nicest hotels in London, not to mention plenty of window shopping opportunities. Hyde Park is also great for a stroll.
Another great neighborhood to explore is Camden in northwest London. You'll find lots of funky boutiques with unique exteriors, an outdoor market, and an eclectic mix of cuisines, not to mention historic landmarks like the Chapel of St. Etheldreda. Amy Winehouse fans will enjoy seeing a statue dedicated to her, as she used to live in Camden.
Finally, another option is Soho, where you'll find excellent nightlife options, including cocktail bars, restaurants, and plenty of trendy boutiques that are almost definitely out of your budget.
Allison Green is a former educator turned travel blogger. She holds a Masters in Teaching and a B.A. in English and Creative Writing. Her blog posts merge her educational background and her experience traveling to 60+ countries to encourage thoughtful  travel experiences that both educate and entertain. She has been a speaker at the World Travel Writers Conference and her writing, photography, and podcasting work has appeared in National Geographic, CNN Arabic, CBC Canada, and Forbes, amongst others. Now based in the San Francisco Bay Area where she grew up, she has also lived in Prague, Sofia, and New York City.