Wandering the medieval streets of Monteriggioni, it's easy to feel like you've stepped into bygone era, Outlander-style.
Located along the Via Francigena route, Monteriggioni simply couldn't get any cuter.
This entirely-walled-in small village is part of the Tuscan province Siena, and definitely vies for the prize of being one of Tuscany's most scenic towns.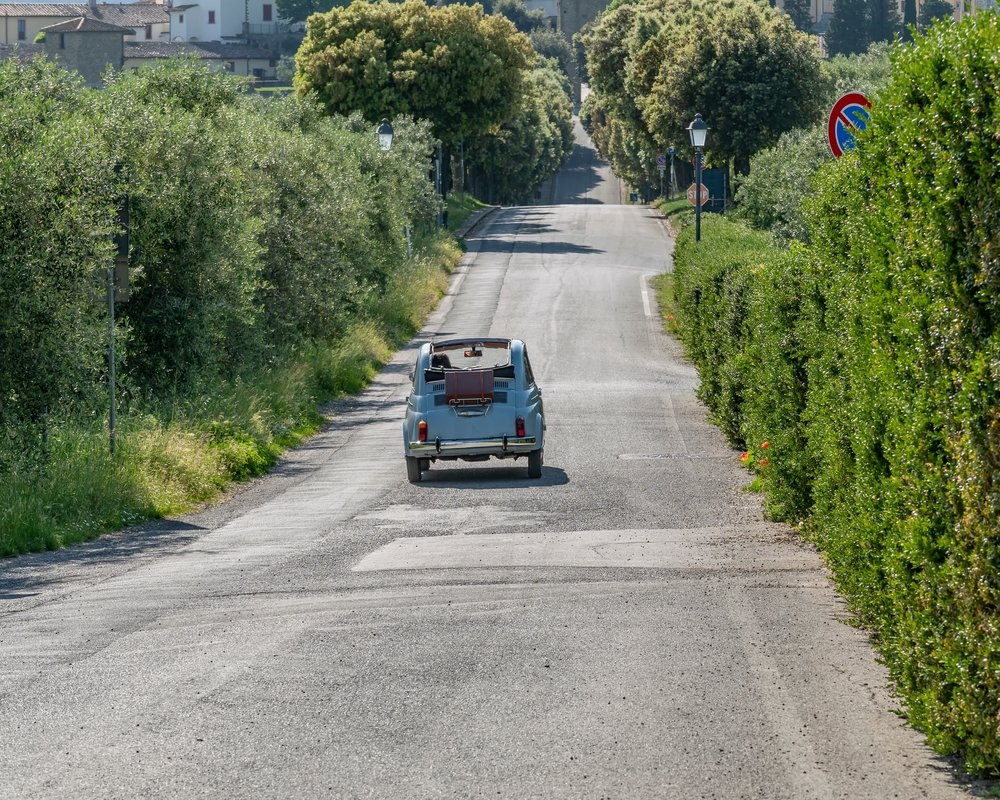 Note: This post contains affiliate links, which means I may receive a small commission if you purchase something through one of these links. Thank you for supporting the free content on this site! For more information on affiliate links and cookies, see my disclosure page for more details.
And who can blame it? Monteriggioni exudes an air of timeless charm that's hard to resist and easy to lose yourself in.
We could blab on and on about its narrow alleys, medieval architecture, and panoramic views of the rolling hills of Tuscany.
But really, it's the ineffable things: the peaceful vibe that can only be found in an ancient, historic small town that makes it so compelling.
Read on to figure out why this town is a must-see on Tuscany road trips and day trips from Florence!
Note that it can be difficult to get here with public transit — so renting a car is the best way to see Monteriggioni.
This is a great day trip to make while you're staying in one of the Tuscany pool villas in the area, too!
A Brief History of Monteriggioni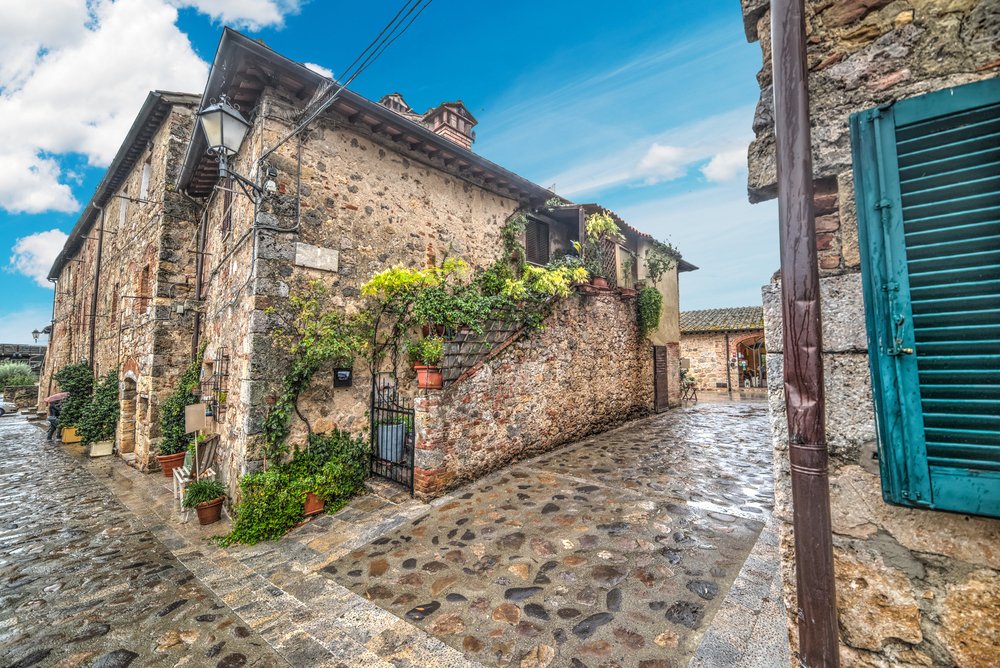 Monteriggioni's history dates back to the early 13th century when the town was first built. It was intended as a strategic outpost for the former Republic of Siena (so-called before the Unification of Italy).
Strategically atop a hill, its convenient location was home to impressive stone walls that enclosed the city — and 14 towers used for defensive surveillance — were witness to countless battles between the powerful city-states of Siena and Florence, which was home to the tour-de-force that was the Florentine empire.
Today, Monteriggioni stands as a testament to medieval engineering and offers visitors a rare glimpse into Italy's rich past pre-unification.
Things to Do in Monteriggioni
Admire the Castello Monteriggioni.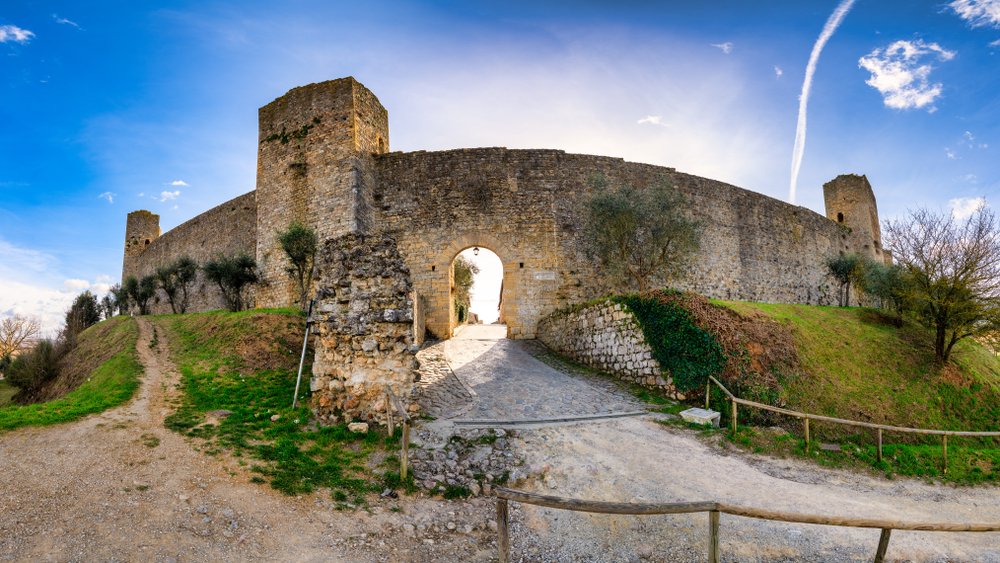 The Castello Monteriggioni is the focal point of the town, a striking fortress that dominates the skyline with its imposing walls and towers.
Bearing witness to the wars of the 13th century, this well-preserved castle once had a major role as strategic outpost.
Today, the Castello Monteriggioni is both a historic site as well as providing an awe-inspiring photo backdrop!
Wander amongst its incredible walls and towers.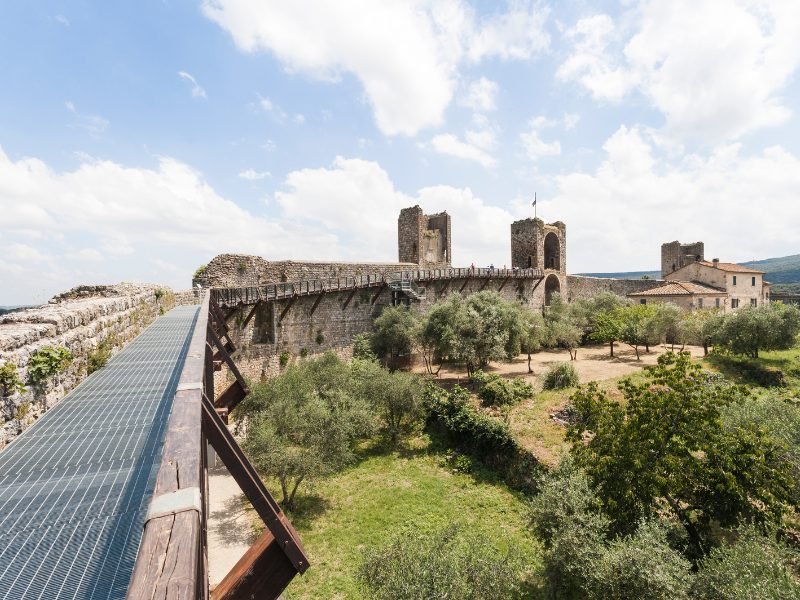 To fully grasp the scale of Monteriggioni's formidable defenses, be sure to walk along the ancient city walls that still encircle the town.
It's even more impressive when you think about how old it is — and how perfectly preserved the high walls remain today.
The nearly 600-meter-long fortification provides a fantastic opportunity to admire not only the expert engineering, but also the surrounding countryside and the town's towers up close.
For a small fee, you can also climb one of the towers and enjoy a bird's-eye view of the town and the picturesque Tuscan landscape beyond.
Explore the Arme Museum.
The Arme Museum (written as the Monteriggioni in Arme in Italian) is a fascinating local attraction that's great for history geeks and military buffs.
This small but mighty museum shows the town's military history through an extensive collection of artifacts: in particular, medieval weapons and armor.
Located within the ancient city walls of Monteriggioni, this small museum offers an immersive experience into what Monteriggioni was like before its current iteration.
Walk through Porta Romana and Porta Fiorentina.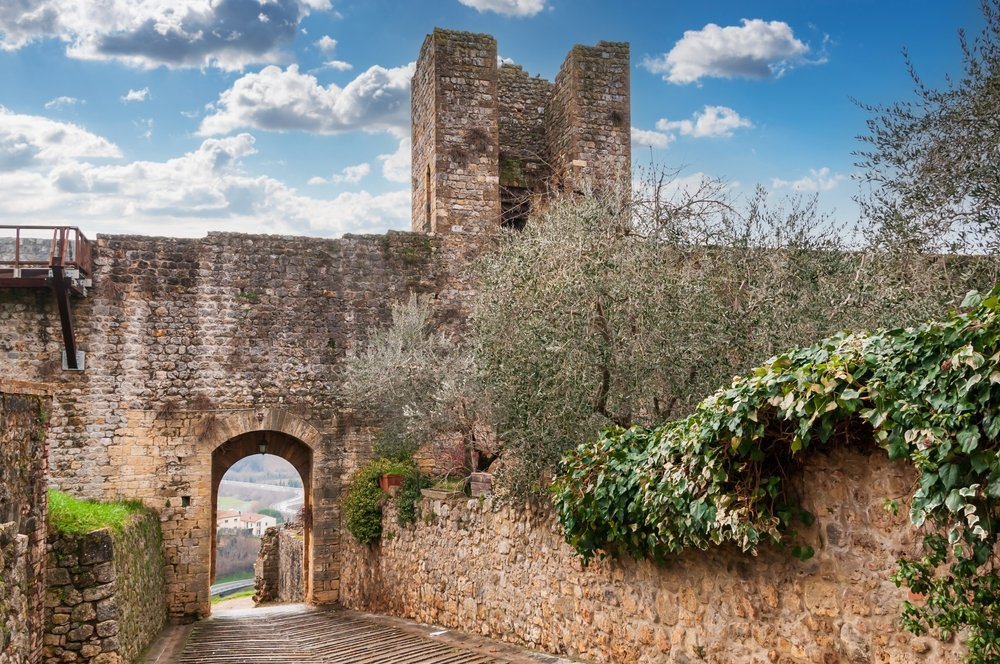 One of the main gates of Monteriggioni, Porta Romana and Porta Fiorentina are key landmarks you can't miss while visiting Monteriggioni.
The fact that they still exist is a testament to both the town's strategic importance and impressive fortifications and the well-engineered nature of them, as they still exist beautifully today.
These well-preserved gate, adorned with the emblem of the republic of Siena, provides a fitting entrance to the enchanting walled town.
As you pass through Porta Romana and Porta Fiorentina, you'll immediately be transported back to a time when Monteriggioni served as a critical outpost in the ongoing struggle between Siena and Florence.
Take a wander through the Old Town.
​One of the best ways to appreciate Monteriggioni's unique charm is to simply wander through its narrow streets, allowing yourself to be enveloped by the town's enchanting atmosphere.
The rustic stone houses adorned with colorful flower pots and the sound of laughter emanating from local trattorias make this town feel simultaneously ancient and utterly alive.
Learn more history at the Museo delle Armature.
There's even more war history here at the the Museo delle Armature (Italian for the Armor Museum).
This little museum showcases a varied collection of armor, weapons, and other historical artifacts that show the extensive craftsmanship of this period.
Kill some time in Piazza Roma.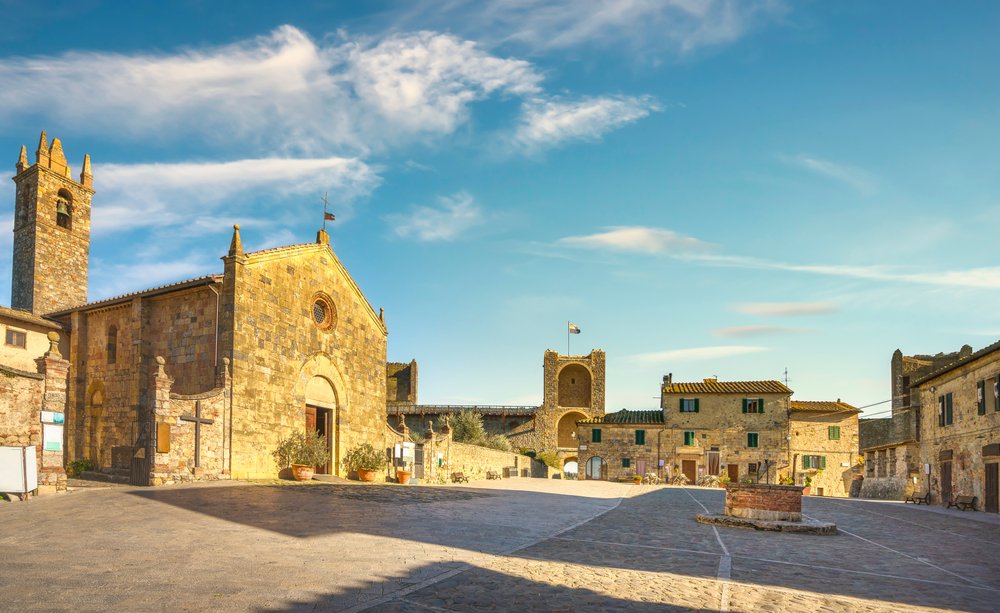 ​Piazza Roma is the heart of modern Monteriggioni.
While much of the city is stepped in the past, Piazza Roma is very much in the present: a picturesque square surrounded by stone buildings and people going about their day.
There are a few key buildings on the Piazza, including the magnificent Church of Santa Maria Assunta.
This is a great place to kick your feet up after wandering the walls — grab a cappuccino and soak in the enchanting atmosphere of this medieval gem.
Wander through the Giardino Pubblico.
​Monteriggioni's Public Garden, also known as the Giardino Pubblico, is a peaceful oasis within the town's ancient walls.
With its green, quiet ambiance and ample shaded benches, this charming garden offers many places to sit and escape the buzz of the town.
Enjoy a leisurely picnic here, or simply bask in the serenity of this garden amidst an enchanting medieval town.
Visit the Church of Santa Maria Assunta.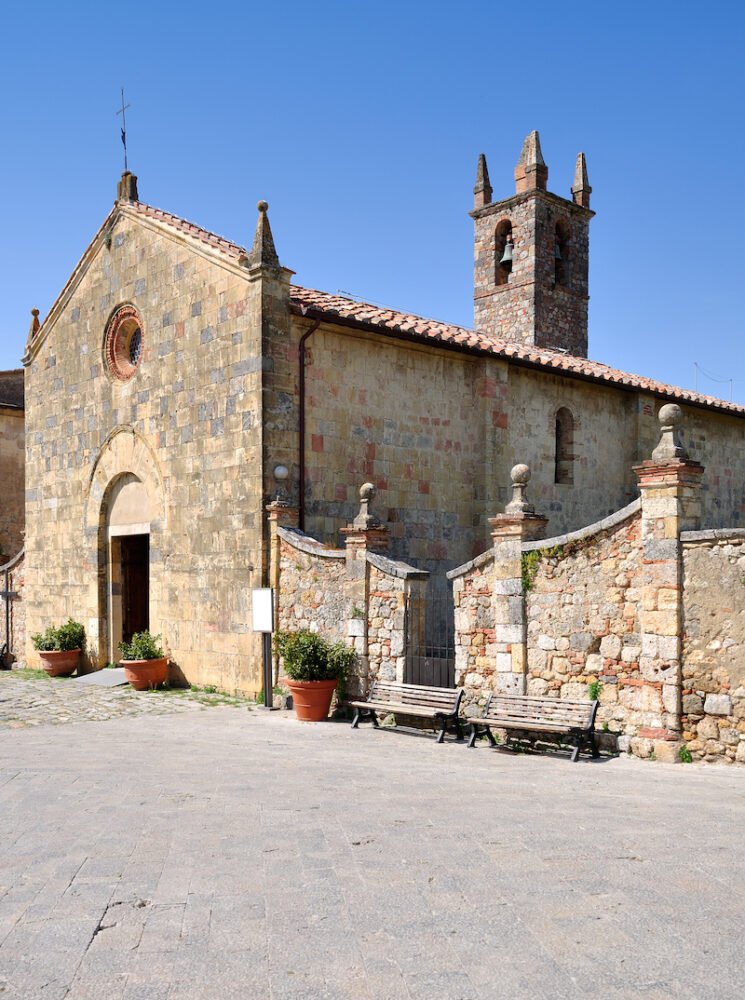 Make sure to visit the central Piazza Roma, where you'll find the Church of Santa Maria Assunta, a lovely example of Romanesque architecture.
This 13th century church is known for its rose window, stripped-down façade, and stone gate.
Small with just one nave, it's still an incredibly remarkable church, with exquisite frescoes featuring biblical scenes like that of the Madonna and her child.
Visit in time the Monteriggioni di Torri Si Corona festival.
For a truly unforgettable experience, visit the medieval town during its famous Monteriggioni di Torri Si Corona in July.
The entire town transforms into a medieval wonderland complete with knights, jesters, and all sorts of characters from the Middle Ages.
Explore Monteriggioni's food scene.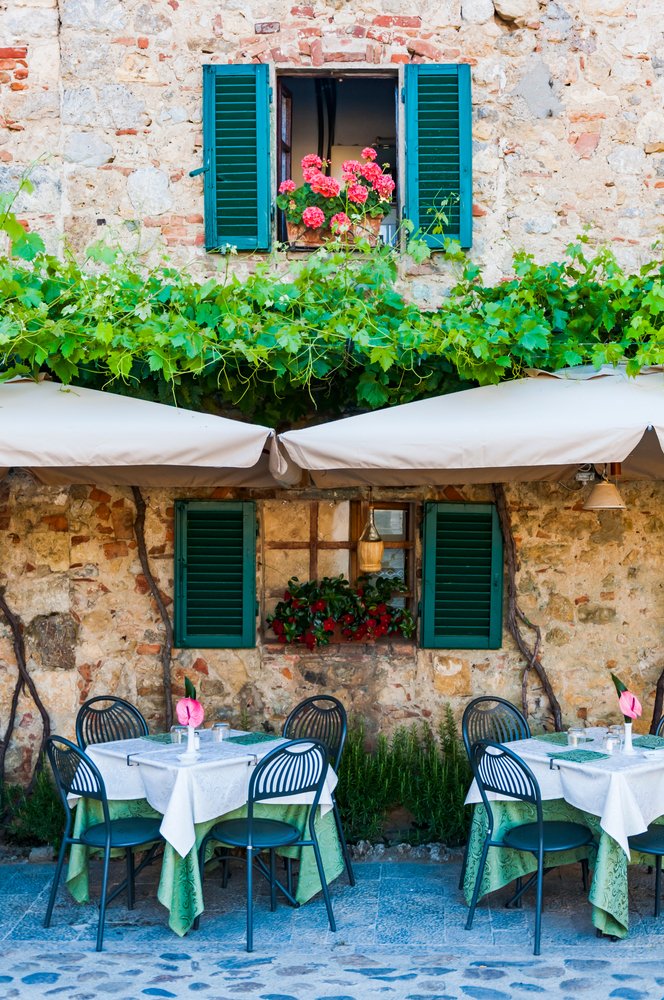 No visit to Tuscany would be complete without indulging in the region's renowned gastronomy, and Monteriggioni offers plenty of opportunities to do just that!
Cozy trattorias and rustic osterias serve up delicious traditional Tuscan fare such as ribollita, pappa al pomodoro, and pici.
Better yet, pair your meal with a glass (or two) of the local Chianti wine, and you'll have a dining experience that is nothing short of divine.
Where to Stay in Monteriggioni
Monteriggioni boasts a selection of charming accommodations that perfectly complement the town's timeless allure.
From rustic agriturismos to elegant boutique hotels, you'll find a range of options to suit every taste and budget.
One of our favorites is the Castel Pietraio, a beautifully restored medieval castle offering luxurious rooms and an idyllic setting amidst the rolling Tuscan hills.