Colorful coral reefs visible through shallow waters, tropical fish darting in and out of protected coral gardens, rays and reef sharks swimming in water so clear you can see it from the boat: these are some of the things you'll see while snorkeling in Moorea.
I planned most of my trip to French Polynesia to focus on diving in Moorea as well as diving in Tahiti.
However, I did also want to enjoy a little snorkeling in Moorea to see what it had to offer for people who are not SCUBA certified, and frankly, I was extremely impressed!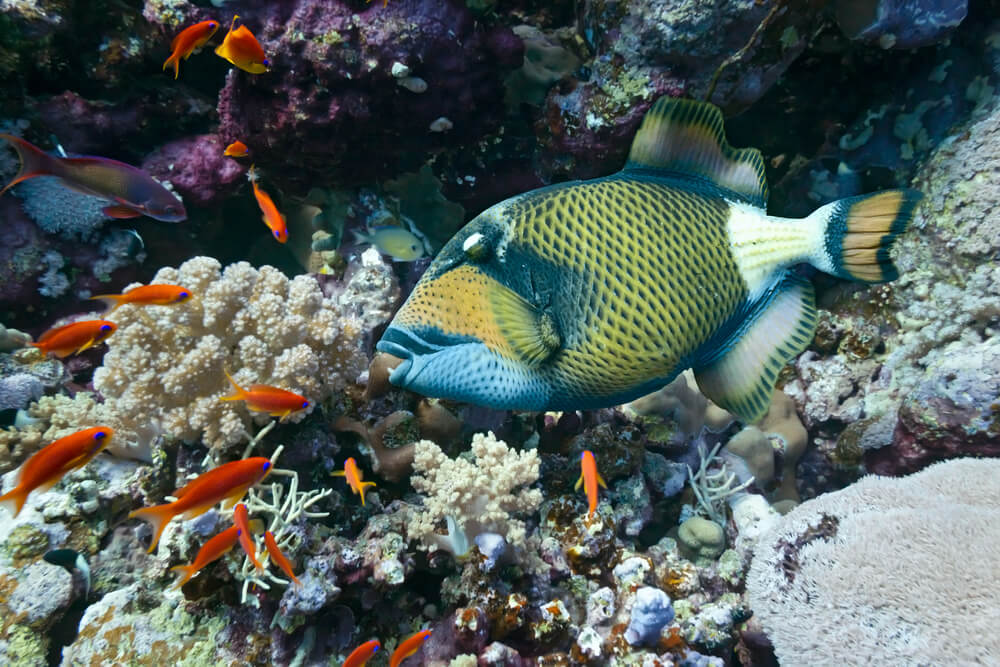 Note: This post contains affiliate links, which means I may receive a small commission if you purchase something through one of these links. Thank you for supporting the free content on this site! For more information on affiliate links and cookies, see my disclosure page for more details.
Located in the pristine waters of the South Pacific Ocean, Moorea is a small island that packs quite a punch.
While Bora Bora and Tahiti may be more famous names, Moorea is a comparatively lesser-known paradise, and there's a surprising amount of great things to do in Moorea.
You'll find better prices, fewer crowds, and extremely pristine aquatic landscapes as a result!
Our Snorkeling Experience in Moorea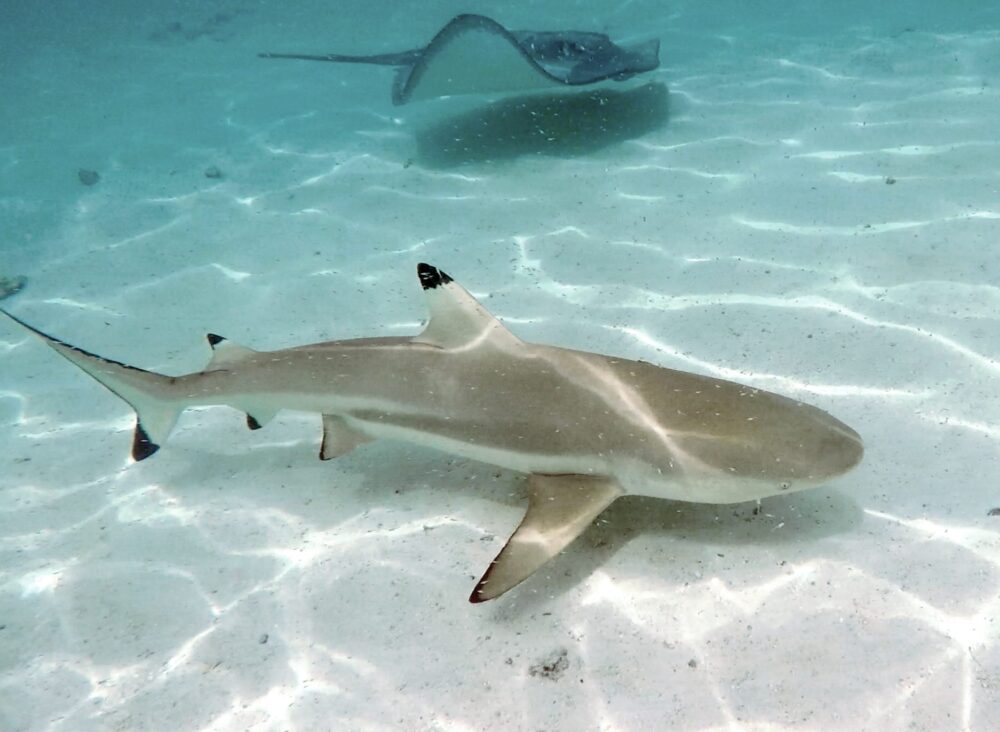 In our 5 days in Moorea, we spent 2 days diving and 2 days snorkeling and 1 day exploring the island.
On our first day, we did a catamaran cruise with Polynesian Spirit that we booked via Manawa.
I can't think of a better way to start off our trip to Moorea and Tahiti — it was the perfect way to brush off that jet lag dust! I mean, It's hard to feel anything other than awe when snorkeling in Moorea.
The catamaran cruise has two daily departures, one in the morning and one in the afternoon. We opted for the afternoon one that departed at 1 PM and booked ourself a taxi to the pier.
When we arrived, our captain and guide greeted us warmly and told us a bit about what we'd see that day. We booked a small group tour, but it ended up being a private boat with just the two of us and our guides!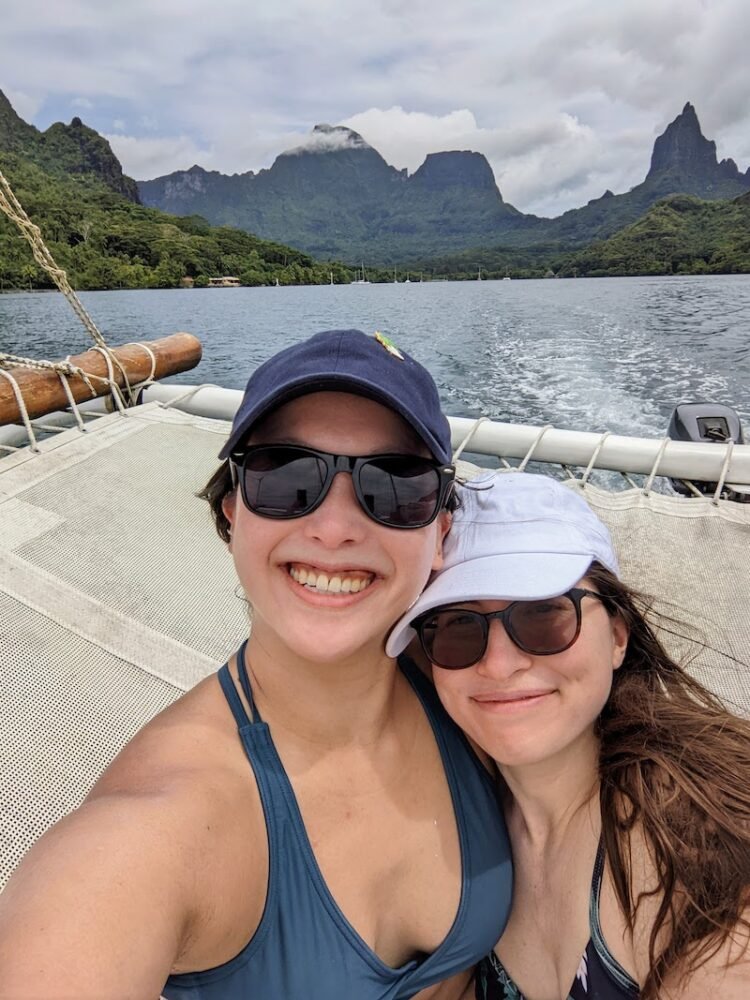 We left from the Opunohu Marina and watched as we went further and further into the Opunohu Bay, with Magic Mountain and the Belvedere forming the Moorea 'skyline' behind us shrinking as we departed.
They brought us to two different snorkeling spots: a shallow area with tons of pink whiprays (a type of sting ray) and blacktip reef sharks, and another channel between two small motu (islets) with coral gardens teeming with fish.
The first spot is in Moorea's lagoon in front of the now-closed Intercontinental Moorea, and it's located on Google as the "Banc de Sable Raies et Requins"– sand bank for rays and sharks, and that's exactly what you get!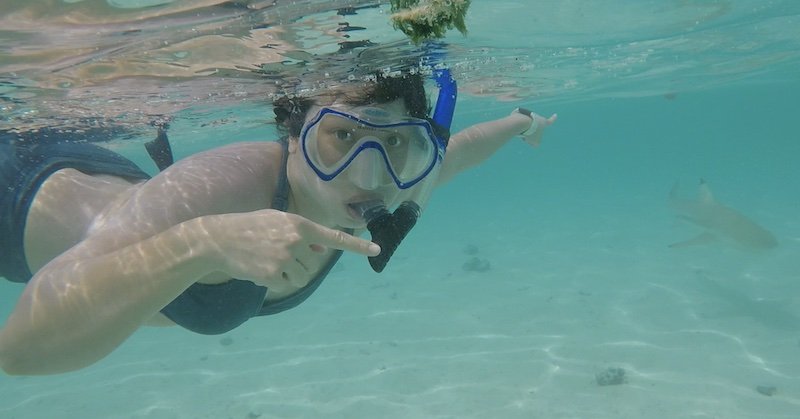 Teeming with rays, angelfish, damselfish, and black tip sharks, I was entranced by snorkeling in Moorea from before I ever left the boat…
The water in the shallow lagoon is so clear, you're practically in a glass bottom boat just looking off the side of the boat!
This snorkeling was one of the best spots for shark viewing I've ever seen!
It had more sharks and rays than when I visited Shark Ray Alley in the Belize Barrier Reef, which I never thought I would be able to top.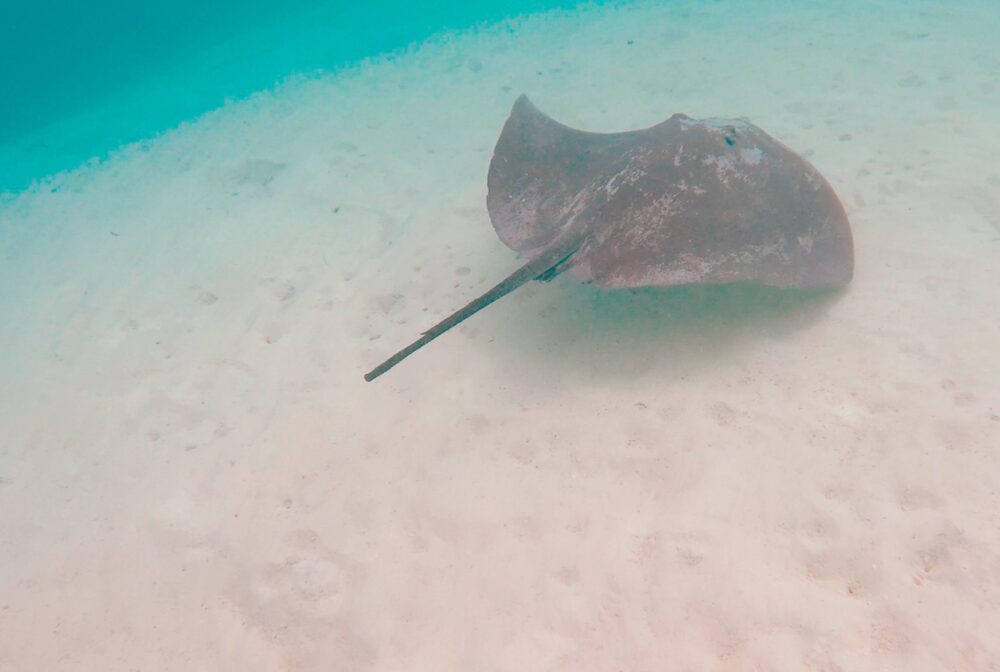 The next stop was in the channel between Motu Fareone and Motu Tiahura, in what's called "Coral Garden Tiara" on Google Maps. We paused to have some fresh fruit and juice — locally made in Moorea! — before we went back underwater.
As soon as we jumped in, I was surprised to see some of the healthiest looking coral I've seen in decades!
Brilliant vibrant purple coral, yellow, and reddish-pink coral all formed a beautiful underwater kaleidoscopic landscape, where even more vibrant marine life darted and made their home.
In a short period of time, I saw a huge variety of colorful tropical fish, from colorful rainbow parrotfish to sergeant majors to Moorish idols to Achilles tang to peacock groupers and so many more!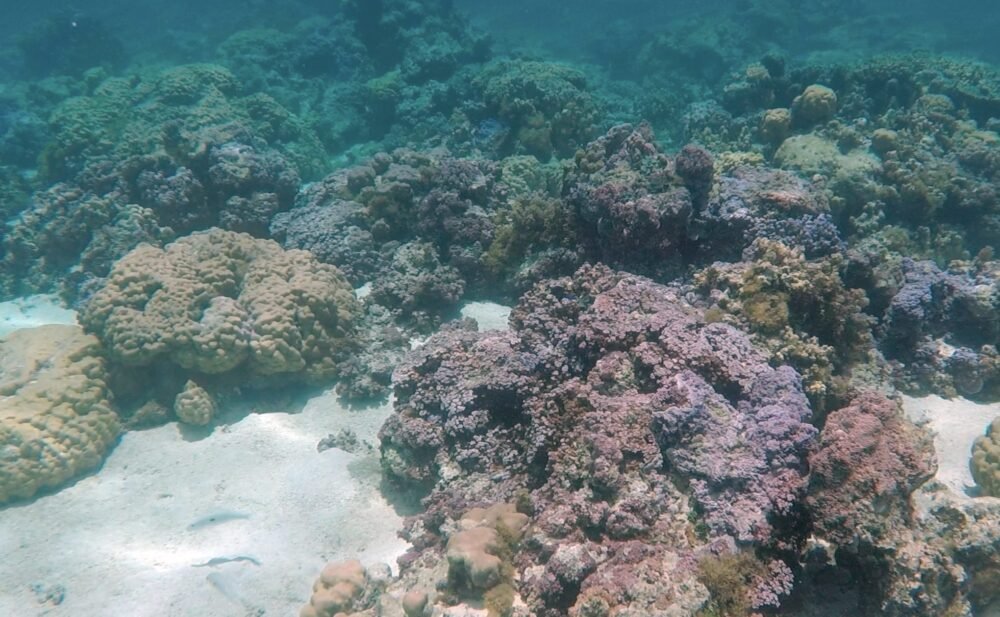 It was an amazing way to spend an afternoon and I highly recommend taking this boat tour to visit these incredible snorkeling spots. Your local guide will bring you directly to the best spots easily.
It is possible to visit these two spots without a tour by heading the Plage des Tipaniers and renting a kayak from the Hotel Les Tipaniers. You must either rent a kayak or pay for a day pass; there is no free entry to this beach.
However, I personally don't love snorkeling from a kayak — it's difficult to get in and out of it, plus you have to make sure your kayak doesn't float away while you're snorkeling, which means circling back a lot.
I much preferred the experience of having a boat ride take us directly to the best spots so we could enjoy them easily!
On another day, we went independently to Temae Beach, which is known as one of the best beaches in Moorea (and one of only a few public beaches), boasting some of the healthiest reef life on the island of Moorea.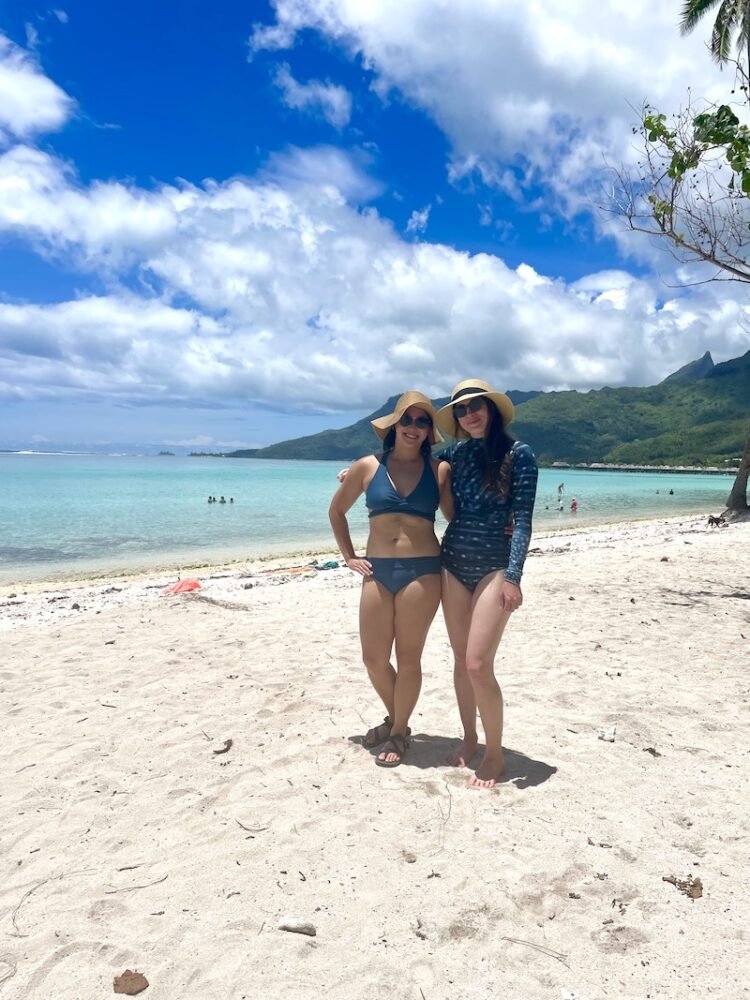 This is best visited as a shore snorkel excursion because you don't need to pass over any deeper water to get here — you can literally just swim up to the reef!
You'll want to bring your own snorkel gear (and water shoes for the beach, which is pebbly/rocky) because there is no place to rent snorkel equipment here. There is a food truck though, making it easy to spend the day here!
You do have to swim out a bit to get to the reef, so make sure you are a strong swimmer and be sure to bring fins so that you don't tire yourself out swimming!
Start snorkeling and head right towards the Sofitel (one of the best overwater bungalow resorts in Moorea) where you'll find some incredible reef life when you get out about ~50 meters.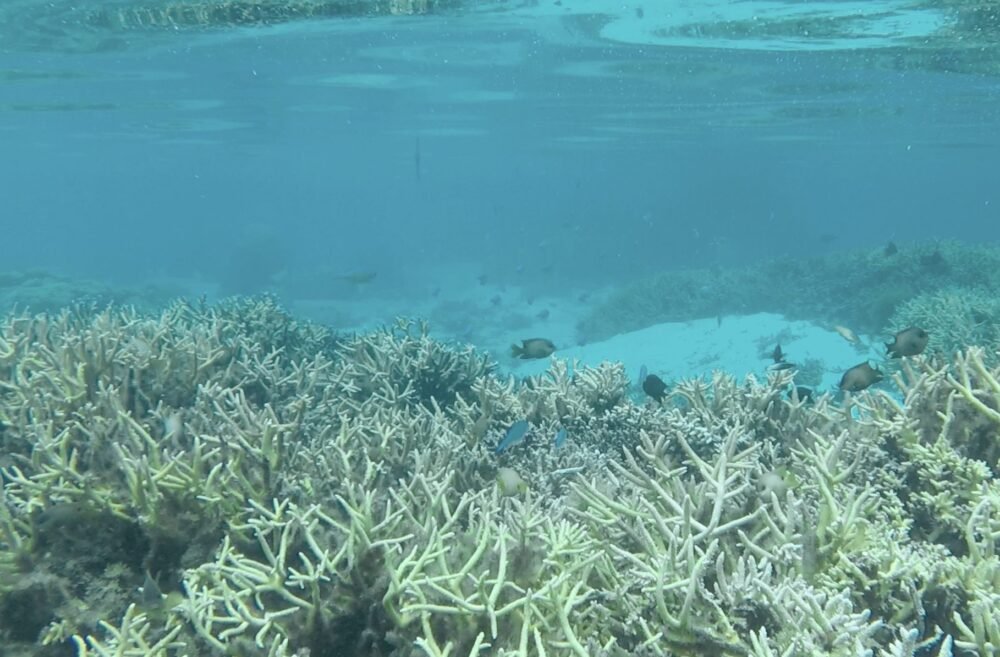 I'm talking fields of staghorn coral, vibrant neon giant clams that look straight out of Alice in Wonderland, and an unimagineable number of reef fish species that I can only begin to try to recall!
You can snorkel on Temae Beach before the Sofitel and you can also access the house reef of the Sofitel near the bungalows because access to the beach is not restricted; you will simply have to walk over from Temae Beach.
I saw blue damselfish and clownfish, orange-lined triggerfish, surgeonfish, squirrelfish, and blue-green cromis among the uncountable species of fish!
What You Can See While Snorkeling in Moorea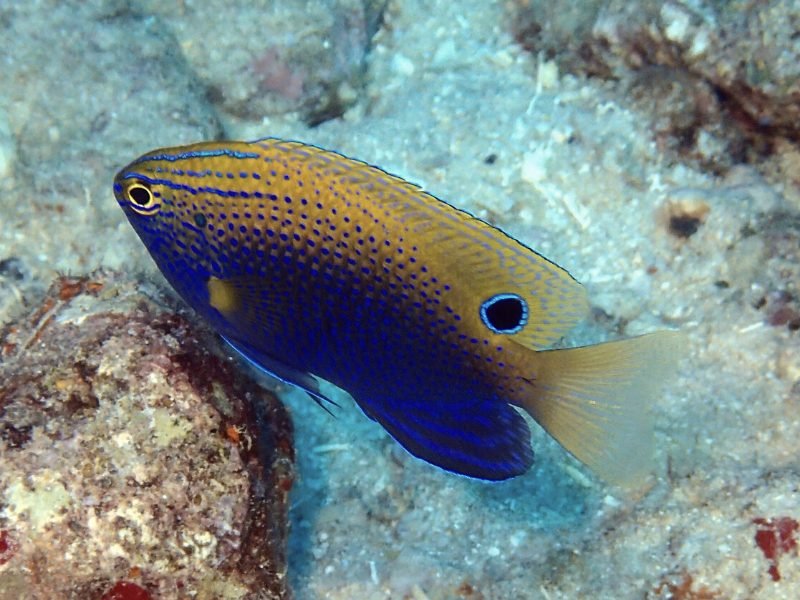 The crystal waters of Moorea — and the French Polynesian islands in general — are a great place to see all sorts of sea life!
Of course, we've already talked about the grey reef sharks (blacktips — you will likely only see whitetips if you dive) and the rays, but what else might you see?
While we didn't happen to see any sea turtles while snorkeling, we saw countless — literally countless — while diving.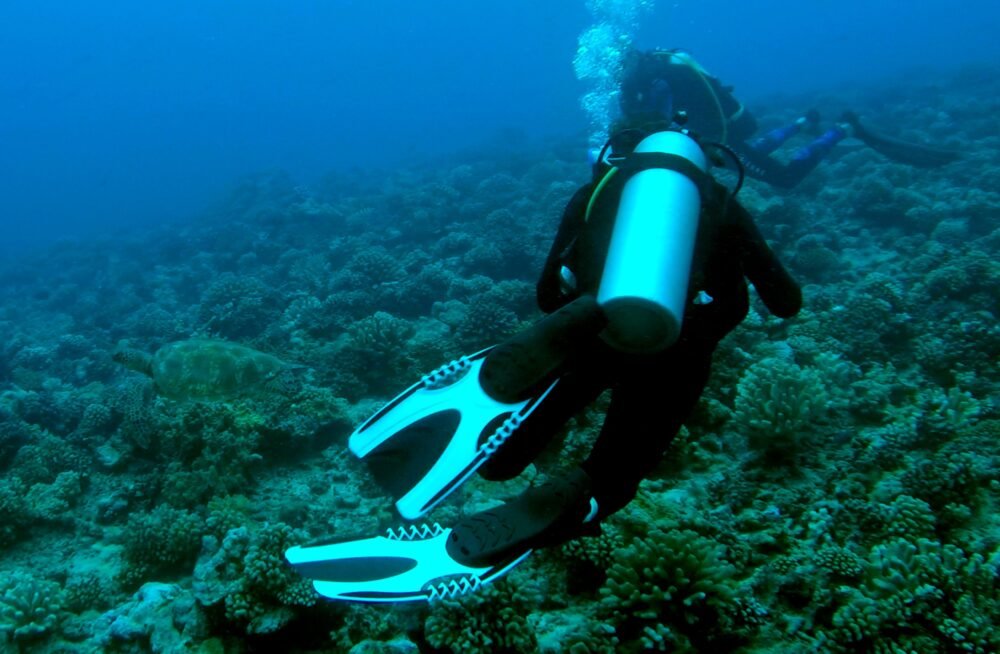 However, it is definitely possible to see them while snorkeling if you're lucky, especially if you take a boat trip where you may see them surfacing!
We didn't see any octopus or moray eels while we snorkeled in Moorea, but we did see them in Tahiti, and it's likely very possible that you would find them in Moorea too with a little luck!
Some of the most common fish species you'll find in Moorea include all sorts of butterflyfish (threadfin, racoon, reticulated, ornate, teardrop… the list goes on!), triggerfish (watch out for these guys — they can be territorial — including lagoon and orange-lined), wrasse (like the sixbar wrasse, the colorful African coris, the blue-striped orange tamarin, and so many more)…. and I'm just getting started!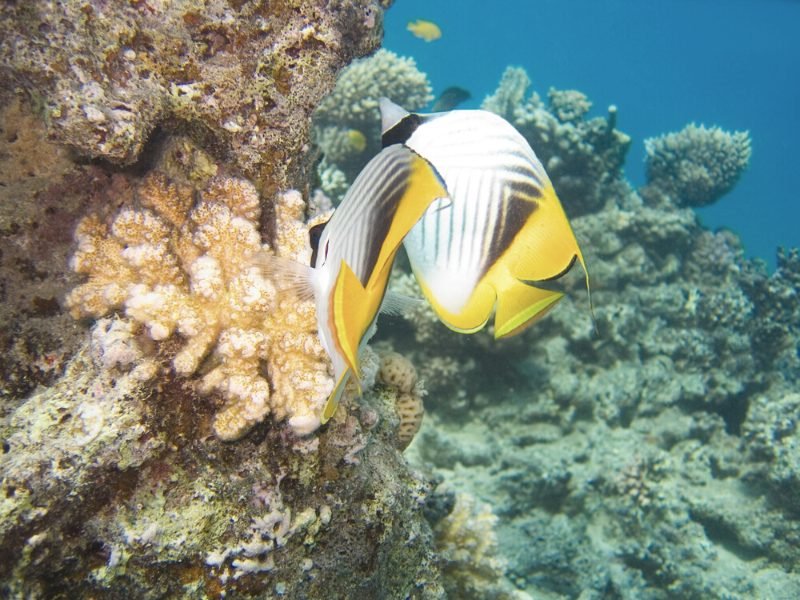 If you're lucky, you may also see the Napoleon wrasse and spotted eagle rays.
These are two things we unfortunately did not see during our time in Tahiti and Moorea!
Best Snorkeling Tours in Moorea
Catamaran Sailing and Snorkeling Excursion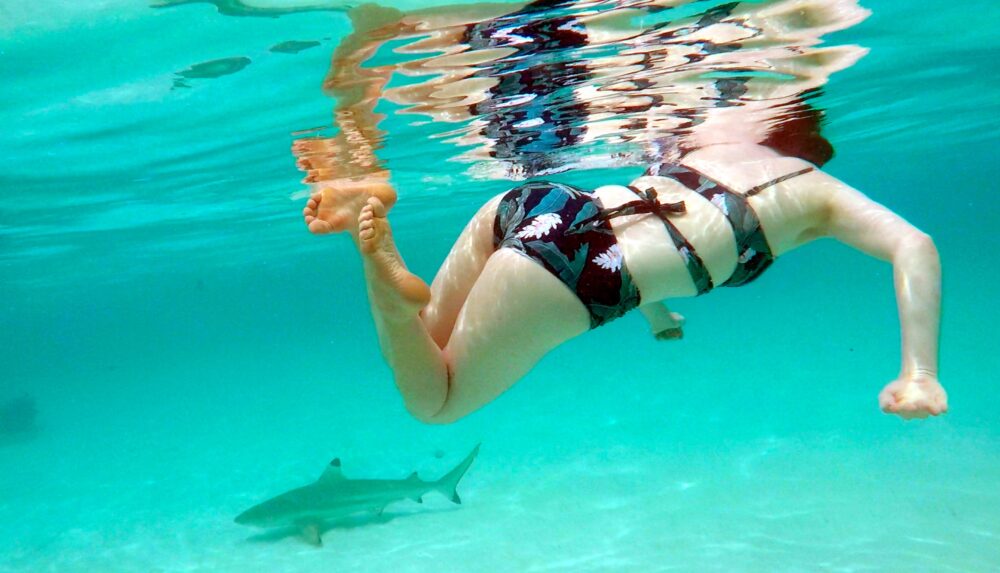 For in-water encounters with blacktip sharks and stingrays in Moorea's crystal clear lagoon, followed by a dip in the coral gardens to admire the biodiversity of its aquatic life, this catamaran cruise is the perfect half-day snorkeling excursion in Moorea.
With a maximum capacity of six guests, you're guaranteed an intimate, relaxing experience where you can trly take in the beauty of the lagoon and appreciate the marine animals.
Plus, this tour did not feed the sharks and rays, unlike another tour we saw…
Book your catamaran cruise — the same one we did — with Manawa here!
Humpback Whale Snorkeling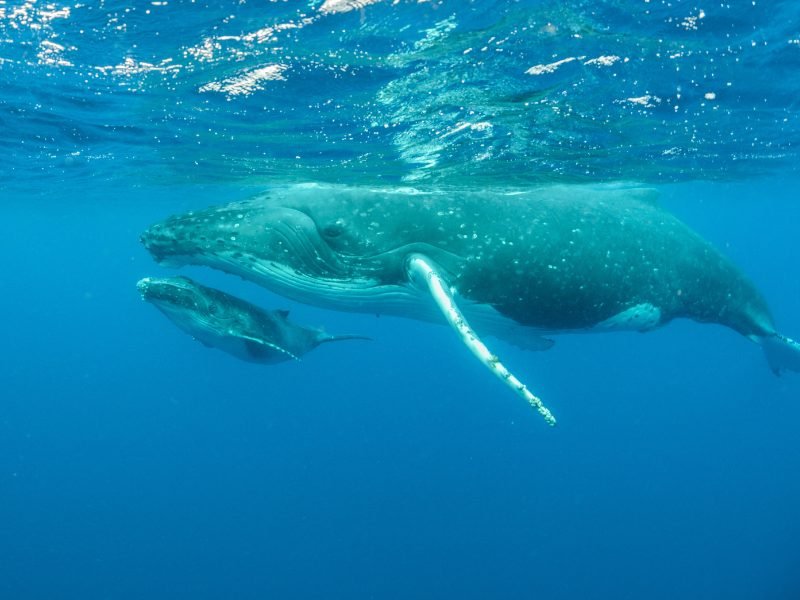 If you're visiting Moorea when the humpback whales visit, this is the perfect opportunity to have a snorkeling experience like no other!
Boats will take you out to the deeper waters where humpbacks come to enjoy the warm waters of Moorea and Tahiti to birth, mate, and nurse their young.
This opportunity is only possible between July and early November so if you're in Moorea during the high season be sure to book a whale snorkeling experience!
I recommend this whale snorkeling experience as the divemaster we dove with had positive things to say about this tour operator.
Sadly, we came to Moorea in mid-November and most of the whales had already left… although we did see one lone whale still in the waters from our dive boat one day!
Night Snorkeling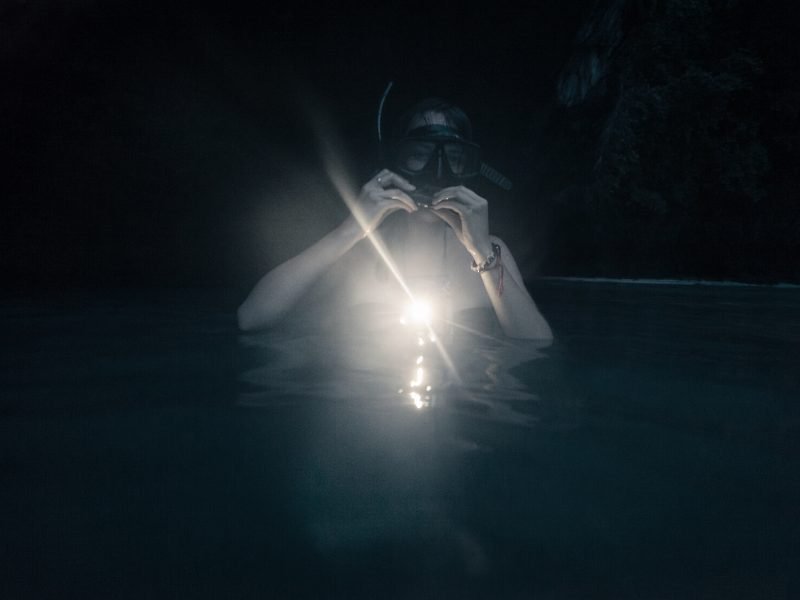 We had actually booked this night snorkeling experience but unfortunately had it canceled due to stormy weather.
If you're not afraid of the dark, why not extend your ocean exploration with an amazing night adventure snorkeling with species that typically are only more active at night?
This includes octopus, scorpionfish, moray eels, lobsters, crabs, shrimps, and all sorts of other marine life that prefers night to day!
This unique tour will show you a side of the ocean that you won't typically see while making sure you're safe and having the best experience possible.
5 Best Snorkeling Spots in Moorea
Temae Beach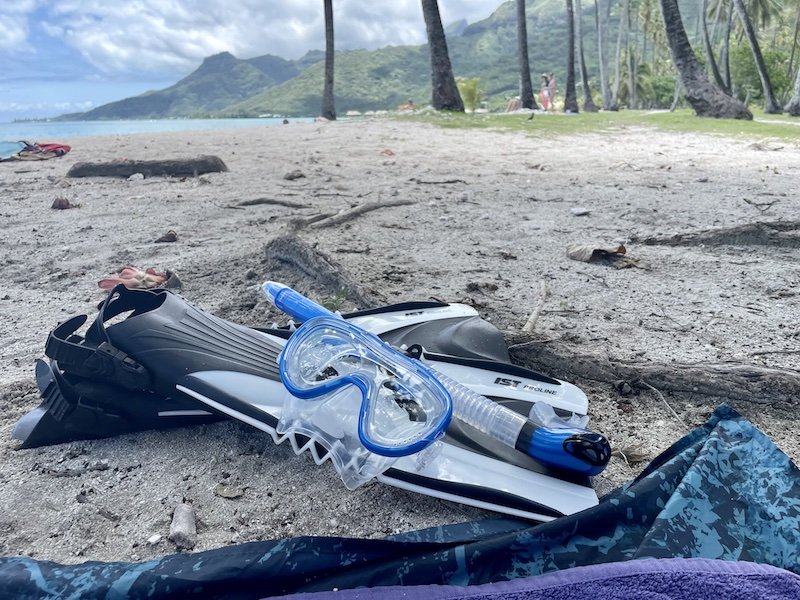 Already mentioned above, but it deserves another shout for its incredible coral gardens so close to shore.
Stay on Temae Public Beach or walk to the overwater bungalow area of the Sofitel for the best snorkeling: crystal clear waters, marine wildlife like you can't imagine, and anemone gardens housing quirky clownfish!
Tiahura Beach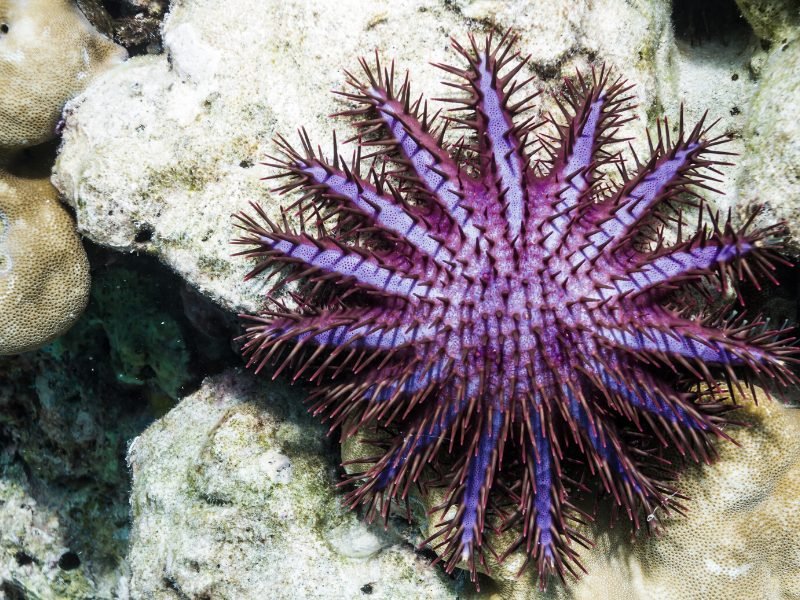 Further past the two motus, you'll find Tiahura Beach, a public beach with shore access to beautiful reefs. Here, you'll find clownfish and anemones, angelfish, porcupinefish, wrasse, and more.
Keep an eye out for the rare crown-of-thorns starfish, which looks like a purple sea urchin and a starfish had a baby! If you head close to the pontoon area, there's a small area where you might find turtles or even eagle rays!
Tipaniers Beach (for Motu Fareone and the Shark Sandbar)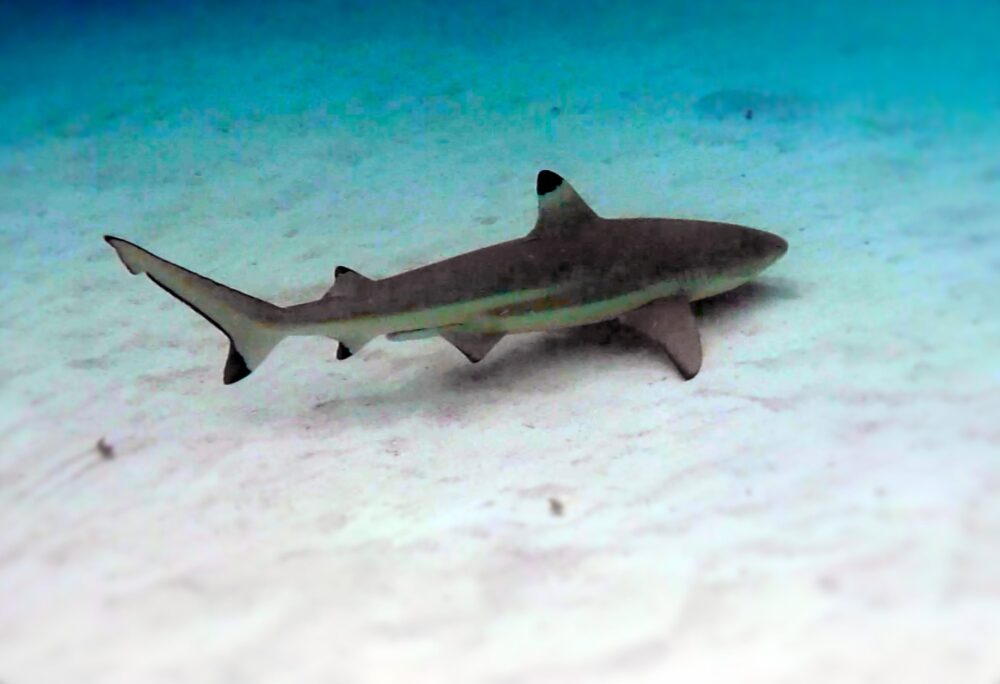 This non-public beach has managed access via the Hotel Les Tipaniers, but the price is not extortionate (at least compared to the Hilton, below), about $15 for day use.
This is where you can access Motu Fareone and the coral garden there, which I mentioned above on the snorkel tour I did, as well as the sandbank where you'll find all the reef sharks and rays!
You can also eat at Coco Beach Restaurant on Motu Tiahura which will allow you to snorkel there
Lagoon at the Hilton Moorea Lagoon Resort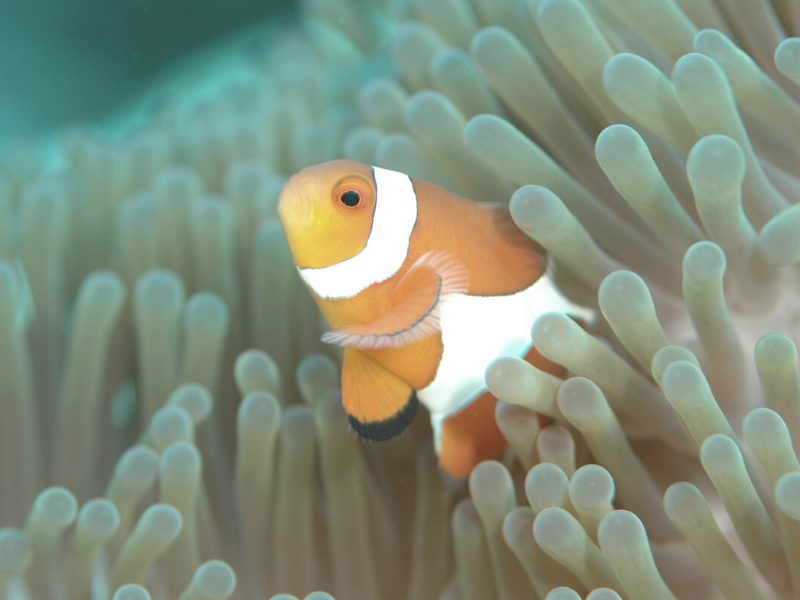 Unfortunately, this is not a public beach because the beach access is strictly managed by Hilton — which one of the best places to stay in Moorea, but also one of the priciest!
However, if you're not staying as a guest, you can still buy a guest pass here for around $90 for a day, which also includes lunch and use of their pool and beach amenities.
Here, you'll find many of the usual suspects: soooo many butterflyfish, several kinds of wrasse, lagoon triggerfish, damselfish, clownfish hiding amongst the anemones, and even adorable spotted boxfish if you're lucky!
Ta'ahiamanu Beach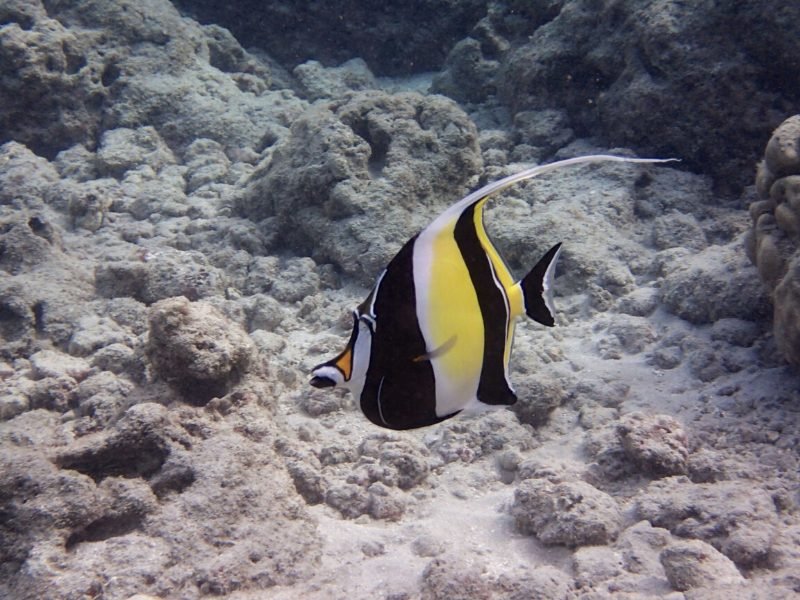 This public beach located on Opunohu Bay is another great free snorkeling spot! There's plenty to see all within 10-20 meters off the shore, so no need to swim out long distances in order to see the sea life here.
This is also one of the more pristine beaches on Moorea, with palm trees swaying and lovely white sand.
Allison Green is a former educator turned travel blogger. She holds a Masters in Teaching and a B.A. in English and Creative Writing. Her blog posts merge her educational background and her experience traveling to 60+ countries to encourage thoughtful travel experiences that both educate and entertain. She has been a speaker at the World Travel Writers Conference and her writing, photography, and podcasting work has appeared in National Geographic, CNN Arabic, CBC Canada, and Forbes, amongst others. Now based in the San Francisco Bay Area where she grew up, she has also lived in Prague, Sofia, and New York City.