The Mediterranean island of Sicily lies at the very edge of Europe, and it's location gives it an interesting cultural mishmash rarely found in the otherwise rather monocultural Italy.
Spending 4 days in Sicily is just enough to satisfy your senses, give your skin a sun-kissed look and leave you itching to book your next trip back to the island.
Despite appearing on the small side when you look at a map, Sicily is in fact the largest island in Italy!
Traversing the island from North (Palermo) to South (Marzamemi) is an arduous 3.5 to 4-hour drive along winding roads.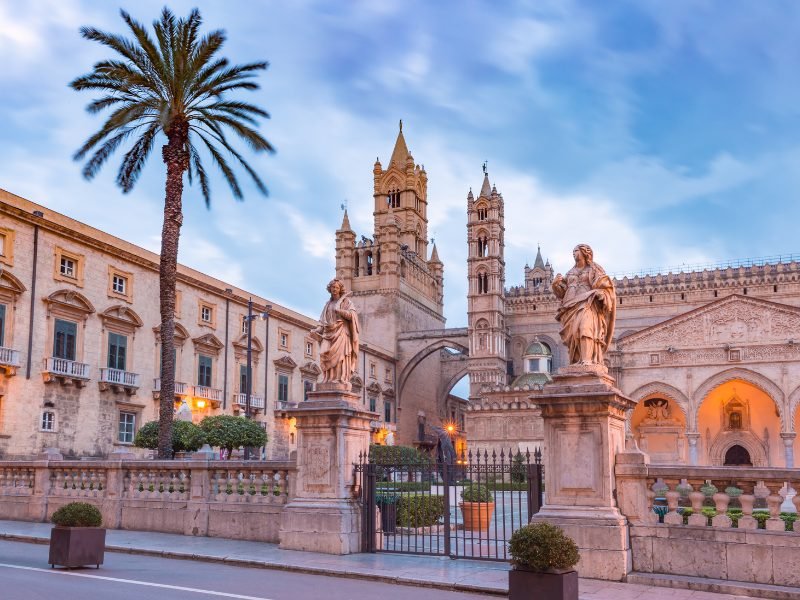 Note: This post contains affiliate links, which means I may receive a small commission if you purchase something through one of these links. Thank you for supporting the free content on this site! For more information on affiliate links and cookies, see my disclosure page for more details.
While the scenery might be breathtaking, the questionable Sicilian driving skills combined with the lack of clear signage might make driving around a bit more adventure than you bargained for.

Therefore, to ensure you get the very best out of your 4 days in Sicily and come back cultured and well-rested, this guide will focus on the Northern part of the island.
Unfortunately, this means skipping some famous places on the island (Catania, Agrigento and the Valley of Temples, Taormina, Siracusa, etc.)
This abridged 4-day Sicily itinerary has yourself based in the buzzing capital of Palermo and venturing out on day trips to explore the very best of the island with minimal fuss and stress!
Alternately, if you only have 3 days in Sicily, you can read this 3 day Palermo itinerary which abridges this itinerary even further!
Where to Stay for Your Sicily Itinerary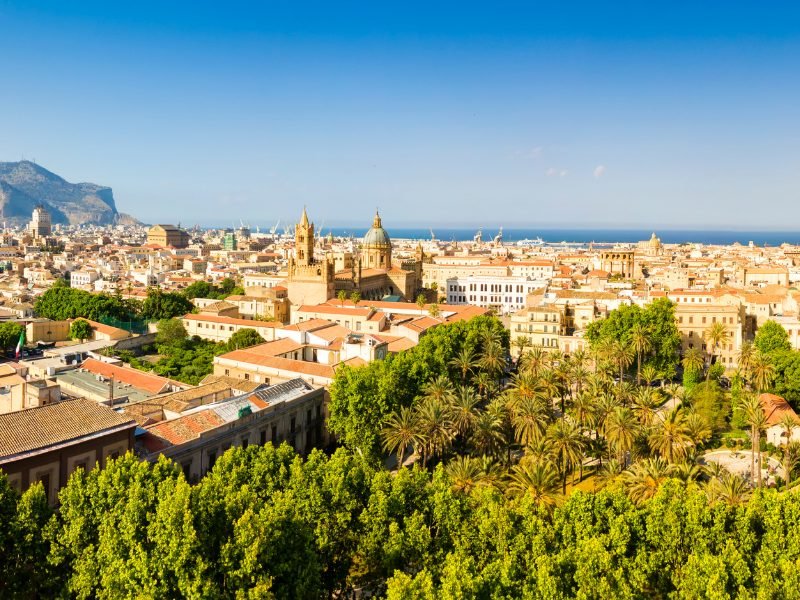 As your Sicily itinerary for 4 days will be reasonably packed, the best area to stay in Sicily is Palermo. Not only are there many flights here, as it's the largest city in Sicily, but it's also a great central location to use as a base.
Staying in Palermo offers you the possibility to head to Western Sicily (Erice & Segesta) or delve into the delights of Eastern Sicily (Taormina & Mount Etna)… without endless hours stuck on a tour bus or in the car!
Simply put,the capital of Sicily is the very best place to start exploring the island. Palermo is loud, chaotic and positively brimming with energy.
There are a lot of things to do in Palermo, one could easily spend a full week exploring the inner folds of the city while munching down on the exquisite street food the city is famed for!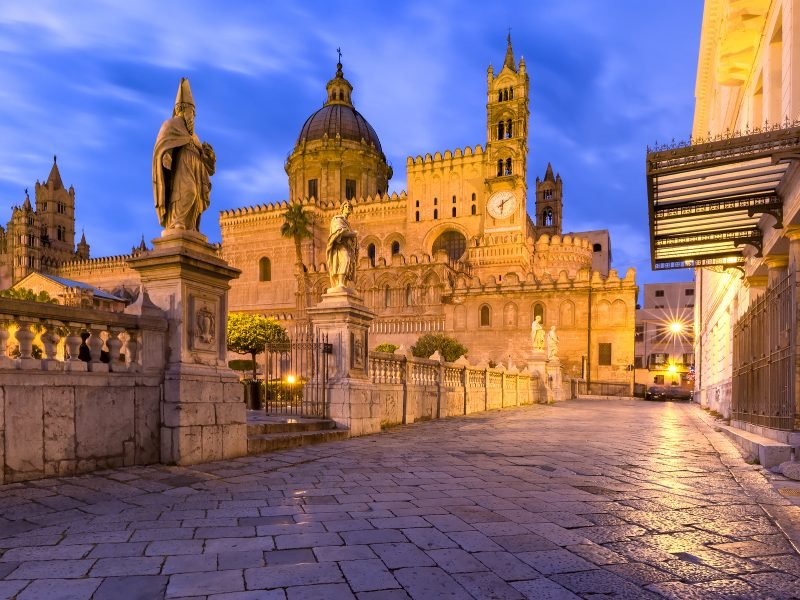 Palermo might appear a little rough around the edges at first glance. Beautifully restored 12th-century Arab-Norman cathedrals stand shoulder to shoulder with crumbling palazzos held up by sheer willpower.

Underneath the rough veneer lies a city that has managed to throw off the yoke of the mafia and years of political turmoil, inviting tourists to enjoy the beauty of Sicily safely.
Recent years have seen a marked increase in funding earmarked for tourism. In practice, this has translated into a safe historical center, the opening up and renovation of many churches and palaces, and an uptick in high-quality restaurants.
Ready? Here's how to spend your 4 days in Sicily!
Getting In & Around Sicily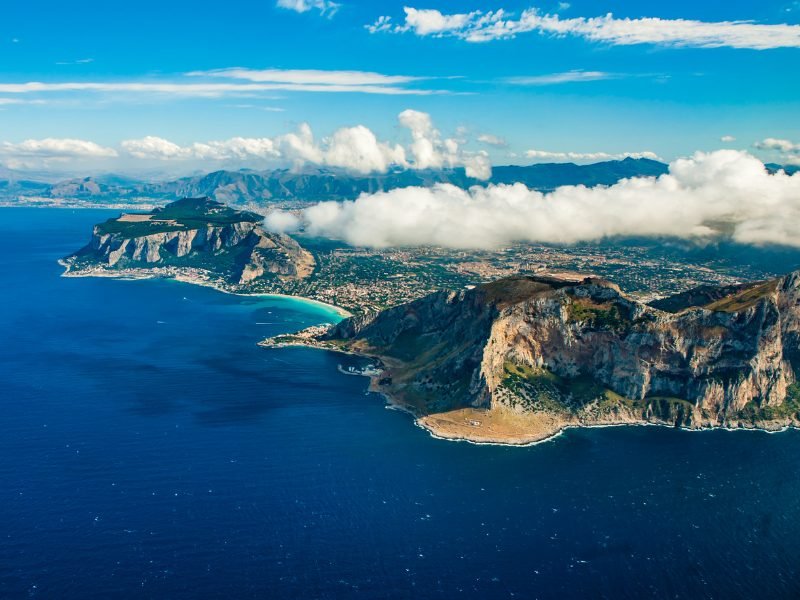 For this short Sicily itinerary, it is most convenient to arrive at Palermo Airport.
Important: Don't fly into Catania airport, as that's on the other side of the island and won't work for this 4 day itinerary.
This Sicily itinerary has you based in Palermo for the whole trip, taking day trips rather than moving around the island and staying in multiple places.
It's easy enough to take public transportation from the Palermo airport to the city center.
There are usually two trains per hour, and it costs around €6 one-way to get between the airport and the city.
If you prefer to rent a car to have more flexibility, I suggest you read this comprehensive guide on renting a car in Sicily to avoid any issues!
If you do book a rental car, I suggest going through Discover Cars to search for the best deals (and also to weed out any poorly-reviewed companies).
Keep in mind that picking up at the Palermo airport will always give the best price. Picking up in Palermo's city center will typically add a premium!
🚗 Best Sicily Rental Car Prices: Discover Cars

This search engine not only looks at the typical rental car agencies (which can be $$$), it also looks at local, small Sicilian agencies that may offer better deals. Their pricing is straightforward (no bait-and-switches) and they offer free cancellation if you need it.

➜ Check rental prices in Sicily with Discover Cars here!
Don't forget full coverage insurance! Car rental prices in Italy always include the collision damage waiver, but not full coverage in case of other incidents or accidents.
Luckily, Discover Cars offers affordable full coverage — better prices than you'd get at any car rental counter for sure — typically around $7 USD per day.
Not a bad price for complete and total peace of mind when renting a car in Sicily!
If you don't want to book a rental car, but you want a smooth transition when you arrive in Sicily, you can also book a transfer with Welcome Pickups for a convenient flat fee.
Booking a transfer with a reputable company like Welcome is a great option if taking public transportation when you first arrive stresses you out or if you have a lot of luggage — but you don't want to rent a car the entire trip.
Still, driving in Italy makes things a lot easier, so that's what I recommend if you feel up to it: it'll make this 4-day Sicily itinerary a breeze.
Sicily Itinerary, Day One: Palermo's Historic Center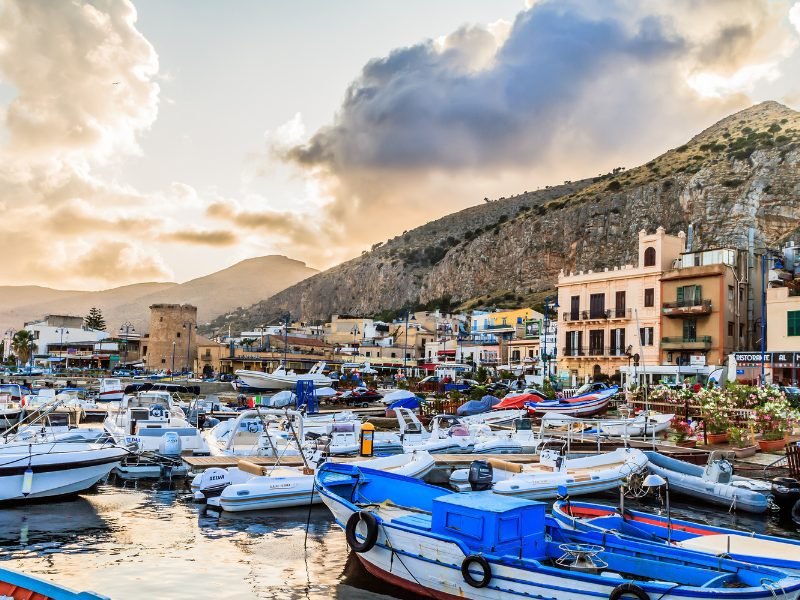 First-time visitors will want to spend at least two days exploring the Historical Center of Palermo!
While it might look small on Google Maps, it is in fact jam-packed with UNESCO World Heritage sites and vistas that will have you scrambling for your camera.
This is why we have 2 days of this 4-day Sicily itinerary dedicated to a self-guided walking tour exploring Palermo — let's go!
Check out Teatro Massimo.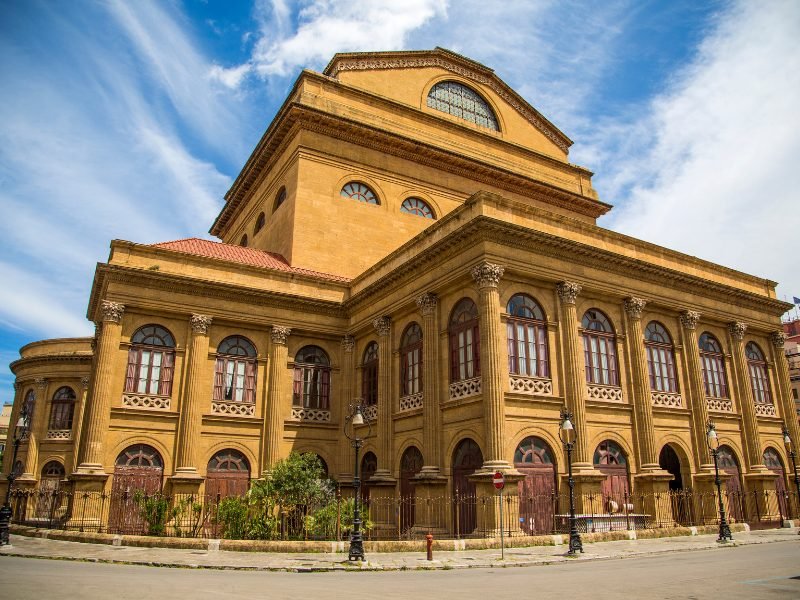 Start the day at of the most beautiful buildings in Palermo: Teatro Massimo, which was built in the late 19th century.
Despite standing for more than a century, it's still Italy's largest opera house (and the third largest in all of Europe!).
The tour brings you through the foyer, auditorium, royal box, and even the buildings top floor with has beautiful views over Palermo.
You can take a 30-minute guided tour during its opening hours, which start at 9:30 AM.
I suggest starting here, because the next item on our itinerary leaves from in front of Teatro Massimo!
Take a delicious Sicilian street food tour.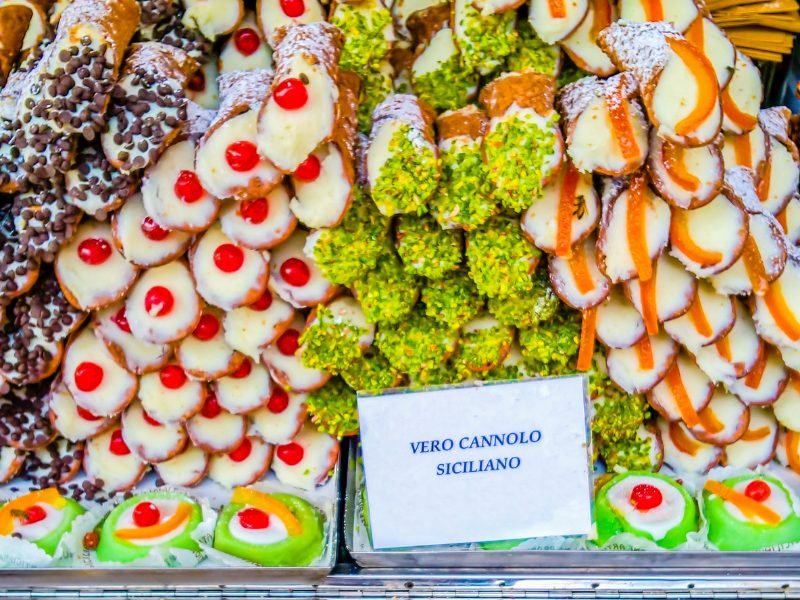 Sicily is known for its delicious food — and you simply can't visit Sicily and not explore its delicious street food scene!
I always suggest doing a street food tour near the beginning of your trip.
Why? That way, you won't accidentally make any repeats — or if there's a place or a dish you simply love, you know to go back or order it again!
Also, while it may be a food-focused tour, you'll also get a bit of historical context and it'll help you get your bearings around the city.
This Palermo street food tour includes six different samples, including a beer in the oldest tavern in Palermo. You'll also get a little view of two different food markets that locals love.
Tour start times vary between 10 AM and 11 AM depending on season, with more options available in June through August, so it's perfect to do right after Teatro Massimo.
Discover the Norman Palace and Palermo Cathedral.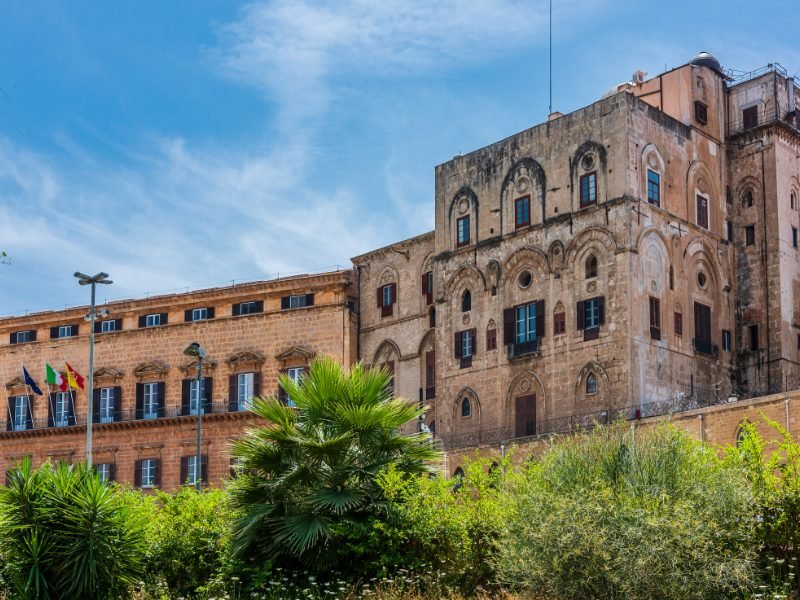 Use your first day in Palermo to get acquainted with the city and – depending on the season – to acclimatize to the stifling heat!
Marvel at the 12th century Norman Palace with its glittering Palatine Chapel, covered in golden tiles depicting various biblical scenes.
Afterwards, be sure to enter the Palermo Cathedral.
While the inside is slightly drab, the steep climb to the rooftop will reward you with unparalleled views over the city.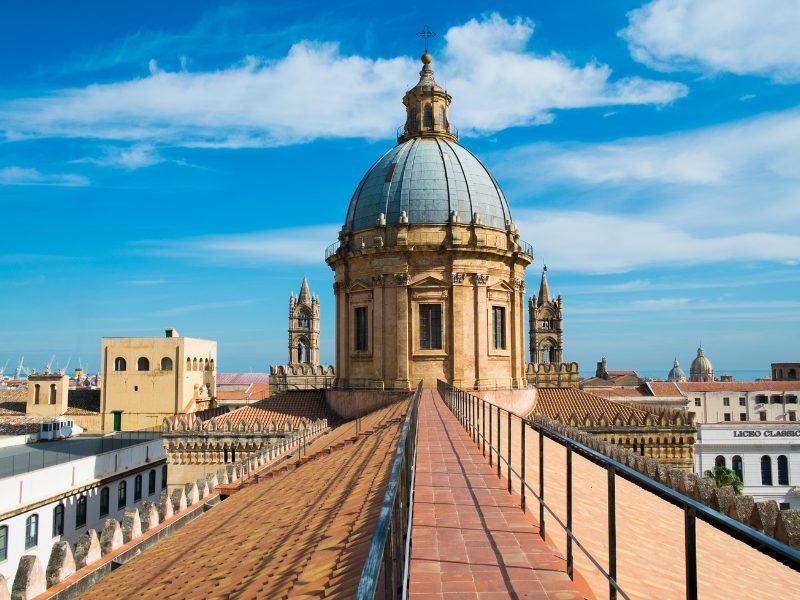 Take in the views of the Asmundo Palace.
Saunter across the street to the Asmundo Palace to see how the Sicilian aristocracy used to live.
This palace (palazzo in Italian) features baroque style detailing, beautiful Venetian-style shutters, frescoes from the 18th centurty Sicilian artist Martorana, and more. It's sumptuous from every angle!
This is also one of the top spots to get the very best photography angle over the Palermo Cathedral!
Check out the many churches in Palermo.

Walk further down the oldest road in Palermo, Corso Vittorio Emanuele, deeper into the heart of the city towards Piazza Pretoria.

Wipe away any previous definition of the word "opulent" by stepping into the Church of Santa Caterina where artists went on a Baroque frenzy!
Make sure to purchase the ticket that includes a visit to the church, the monastery and the rooftop. The nuns at the monastery make delicious sweets, well worth the indulgence!
The rooftop has two viewing platforms, one overlooking Piazza Pretoria the other the twin Arab-Norman churches of San Cataldo & La Martorana.
Sicily Itinerary, Day Two: More of Palermo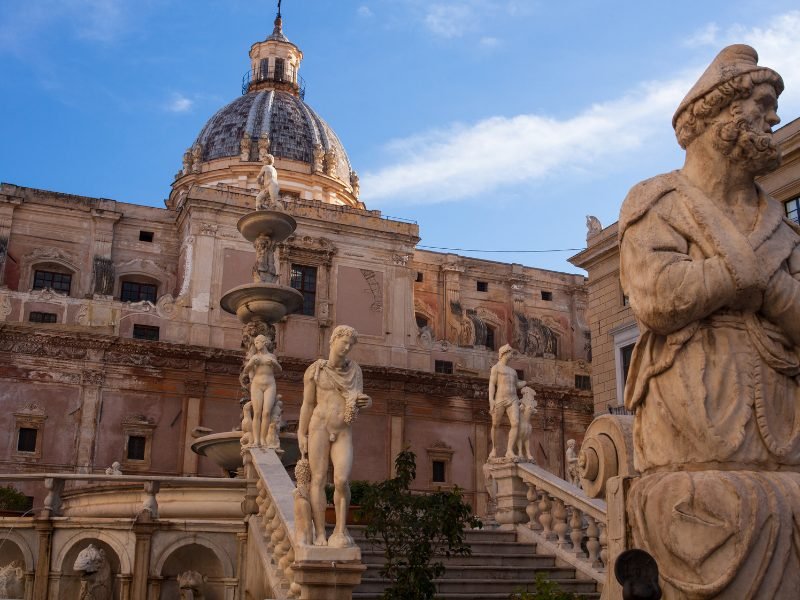 Your next day of this 4 day itinerary of Palermo is all about getting a little bit off the beaten path of Palermo's historic city center.
This is the time to wander and explore at leisure, discovering the charming side streets, small cafes, and boutiques that gives Palermo its characteristic charm.
Explore the little alleys of historical Palermo.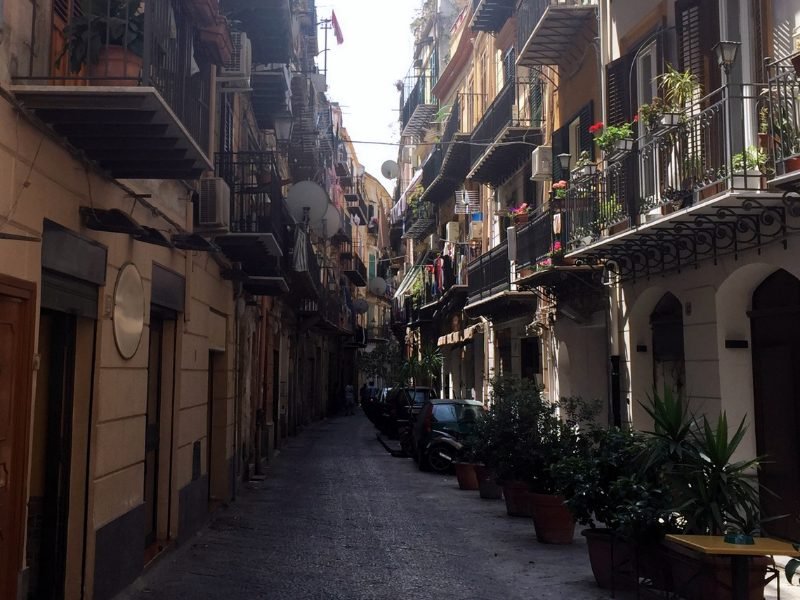 Spend the morning exploring the many little alleys that radiate out from the Corso Vittorio Emanuele.
Google Maps is spotty here, so save yourself the frustration and put away the phone and simply meander instead!
Here in Palermo's Old Town, streets give way to tiny squares, often lined with plenty of local cafés filled with boisterous locals sipping their coffee and munching on a pastry or – if you come around 7:30 PM – an ice-cold Aperol spritz!
Visit the historical markets in Palermo.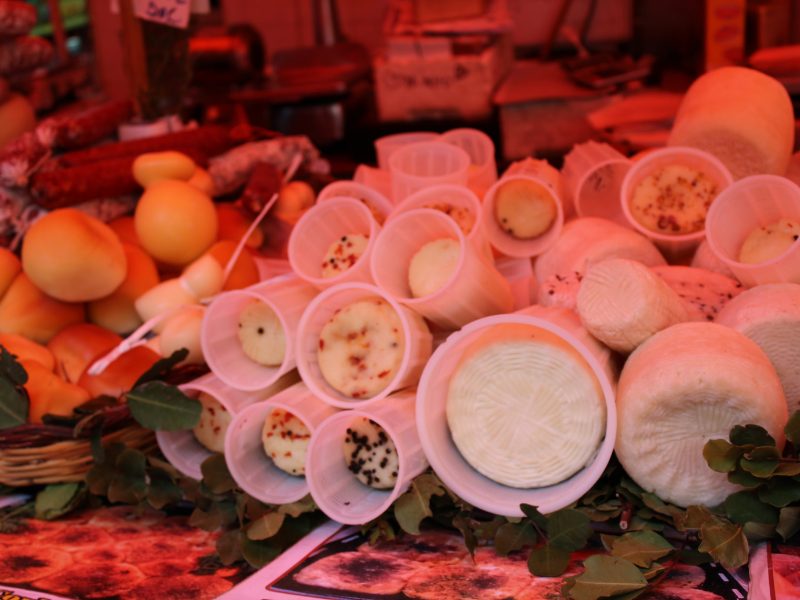 On day two of this Sicily itinerary, a visit to the historical markets of Palermo is an absolute must: La Vucceria, Ballaro, and Il Capo are the most visited.
Ballaro and il Capo are great spots to try some of the famous Palermitan street food — perfect if you're hungry for lunch!
If you're an adventurous eater, make sure to save room for a typical spleen sandwich fresh off one of the many grills in the Ballaro market!
Ballaro is also known for being a great fish market, so if spleen isn't your thing, there is a wide variety of seafood to try as well.
Spend the afternoon at the beautiful coastal suburb of Mondello.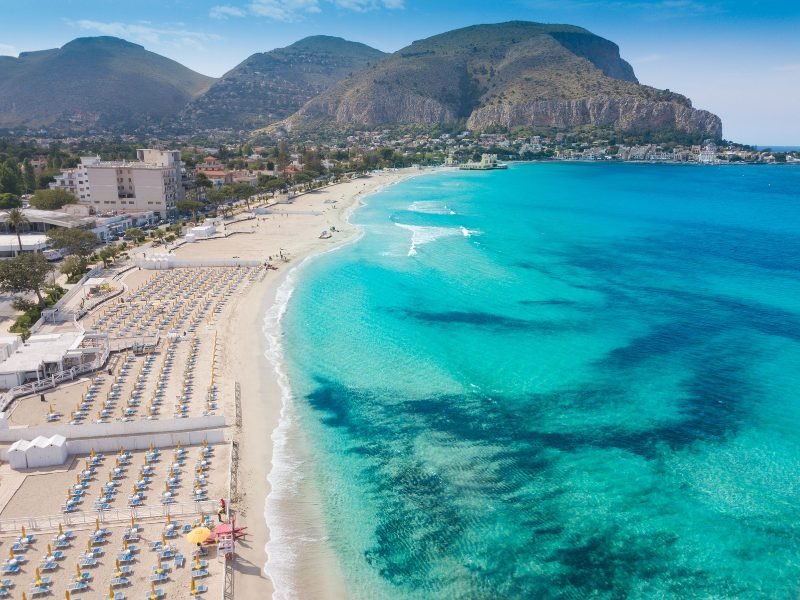 The nearest beach to the Historical Center is located in Mondello, a suburb of Palermo.
Traditionally the summer residence of the wealthy Palermitans, Mondello has now become the hangout spot of choice for local youth who flock to the beach in droves in the summer months!

Mondello is home to one of the few sandy beaches in Sicily, as well as beautiful Liberty villas (the Italian version of Art Nouveau) and a great rooftop bar overlooking the sea (the Charleston).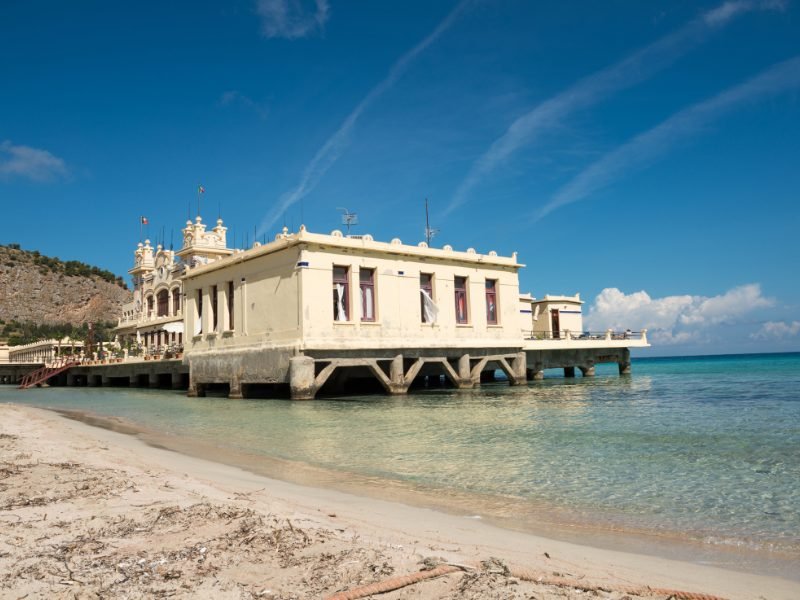 Choose to lounge around on the free beach or spend a €25 per person for a lido, which includes the use of a sun lounger and umbrella for the day, which is a lot more comfortable.

Due to its proximity to Palermo, Mondello tends to get very busy during the summer months. If you want to grab a spot on the free beach, it's best to get there as early as possible to stake your claim.
If you're planning to rent a lido, these tend to have more availability even in the afternoon, as morning beach-goers will leave to go for a lunch.

Getting to Mondello from Palermo is very straightforward. Grab the local bus number 806 and pay €2 for a single journey to Mondello.
The bus ride takes anywhere between 40 minutes to one hour, depending on the traffic and the number of stops made along the way.
Sicily Itinerary, Day Three: Monreale & Cefalù
Time to head out of the big city and on to explore some of the many villages in Sicily that make this island so special!
The most popular villages around Palermo are those of Monreale and Cefalù, both known for their UNESCO-listed 12th century Arab-Norman cathedrals.

Since time is of the essence and you are looking to squeeze in as many of the highlights of Sicily as possible into your 4 days in Sicily, you can combine Monreale and Cefalù in a one day visit, then return to Palermo.
This post will go over how to visit both independently using public transportation; however, it's easier and less stressful to take a guided tour, especially if you have limited time.
This small group tour includes Monreale and Cefalù on a convenient half-day tour, so you still have an afternoon to enjoy Palermo or just relax back at the hotel.
If you'd rather self-guide, keep reading to learn how, including transportation directions.
Start the morning in the charming village of Monreale.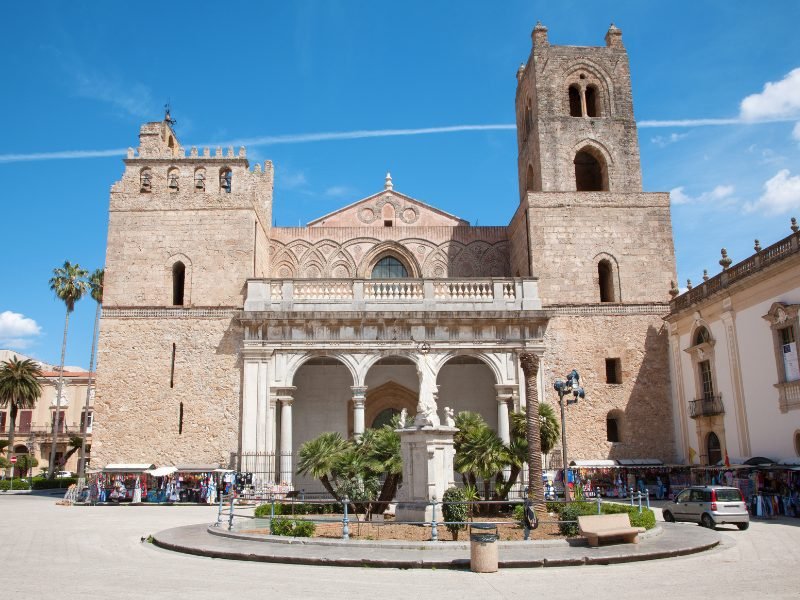 Monreale is an adorable small town on the outskirts of Palermo.
Were it not for the jaw-dropping cathedral and equally impressive views over Palermo it might well have faded from the well-trodden tourist route!
However, given the above-mentioned, as well as the proximity to Palermo, it is a very popular destination for anyone visiting Palermo as part of their Sicily itinerary.
To get there, take the direct bus (number 389) departing from Piazza Indipendenza in Palermo— the ticket costs just €1.60 for a trip.
Visit the Arab-Norman Cathedral and the Benedictine Cloister.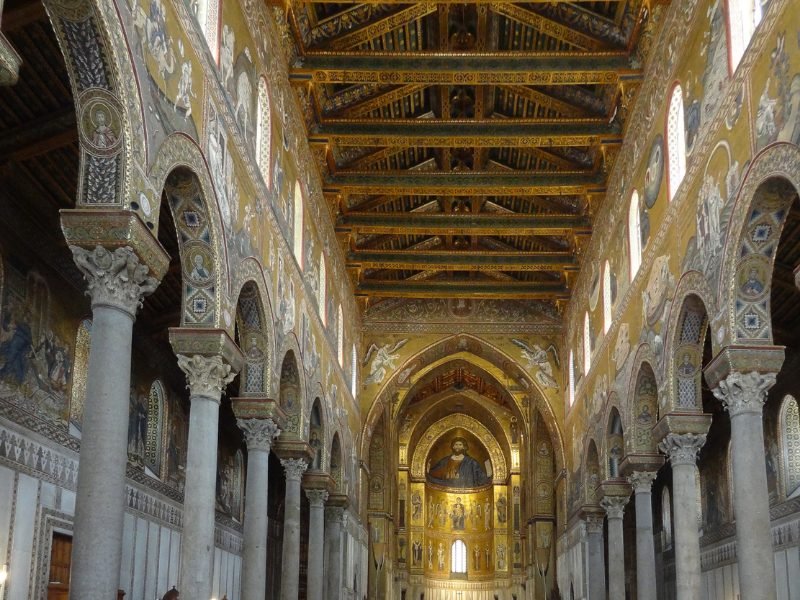 The main highlights of Monreale are its UNESCO-listed Arab-Norman Cathedral (Duomo di Monreale) which contains both a cloister and a rooftop terrace, as well as the Benedictine Cloister just around the corner from the Cathedral.
Walking into the Cathedral, it will become abundantly clear why it has been given the UNESCO honor!
The 6,000 square meters of golden-mosaic covered ceiling covered is unlike anything you will have ever seen.
These Byzantine mosaics were hand-painted many centuries ago and continue to impress travelers from all over the world, and are beautifully well-preserved.

Tickets to both the Cathedral and the Cloister can be purchased at the entrance of the Monreale Cathedral.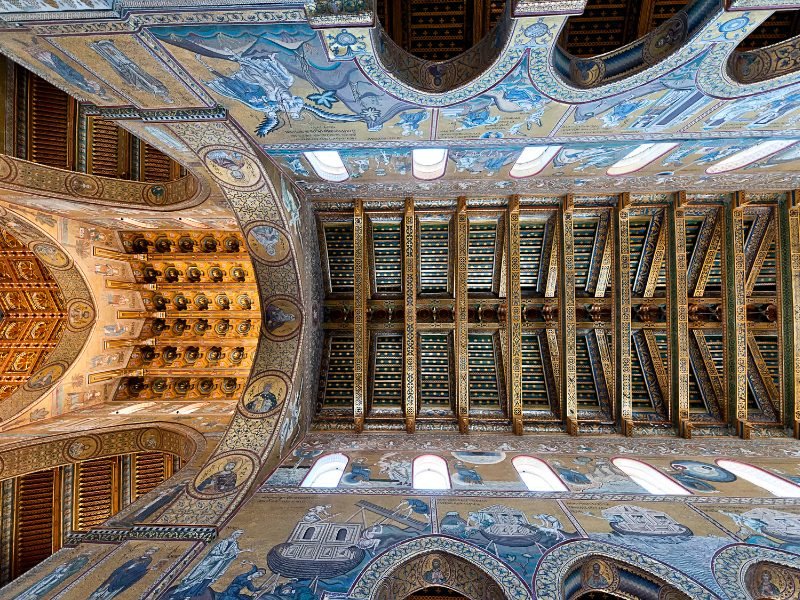 Technically the Cathedral is free; however, if you wish to see the Monreale Cloister and access the rooftop terrace a ticket is required.
Due to their religious importance, it is important to note that both sites require a modest dress code, meaning both shoulders and knees should be covered.

If you want to maximize your time, aim to be in Monreale by 9:00 AM in order to explore the Cathedral and Cloister tourist-free.
Most tour groups reach Monreale by 10:00 AM, at which point both sites are positively heaving with tourists.
The earlier you get here, the better a time you'll have — and the more time you'll have to dedicate to Cefalù!
Continue on to the charming fishing village of Cefalù.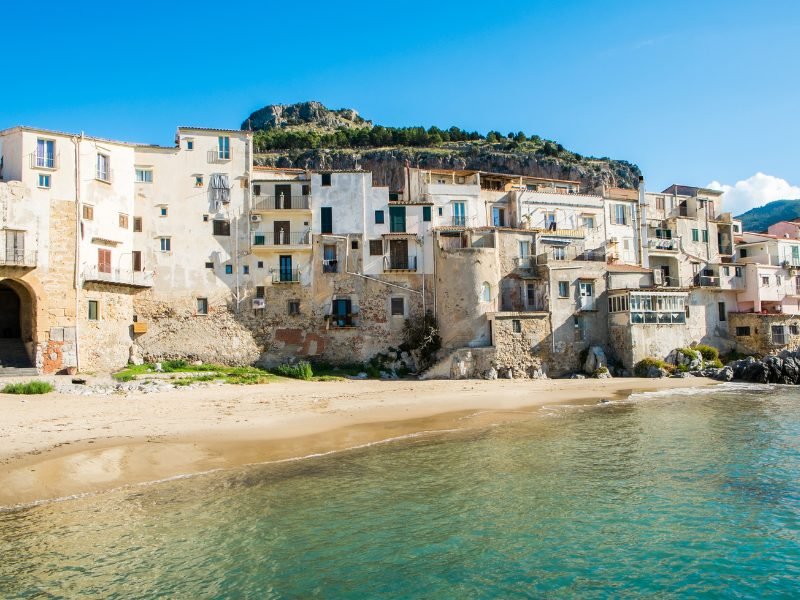 To get to Cefalu, you'll first have to backtrack to Palermo via the same bus you used to arrive in Monreale.
Next, take the direct train from Palermo Centrale to Cefalù. The ride takes between 40 to 55 minutes (prices start at €7 one-way).
The little fisherman village of Cefalù is slightly larger than Monreale and warrants as much time as you can give it — time permitting, of course!
Start your time here with the UNESCO-listed 12th century Arab-Norman Cathedral (Duomo di Cefalù) and marvel at the ingenuity of the architecture.
This beautiful cathedral has withstood multiple earthquakes, two world wars, and the unforgiving hands of time without barely a scratch!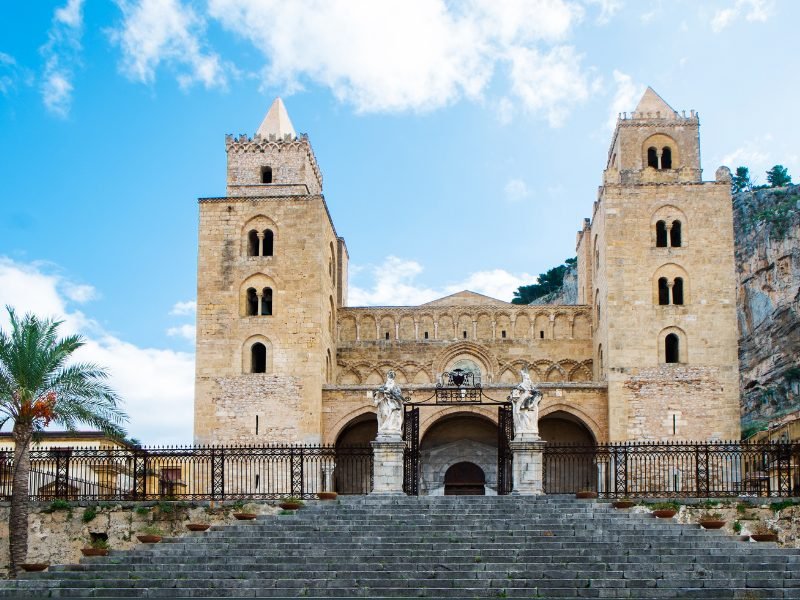 Other important historical sites in Cefalù include the Castello di Cefalù (home to the Temple of Diana), the historic marina Porta Pescara, and the Chiesa di Santo Stefano.

Wander along the car-free Corso Ruggero that runs through the heart of Cefalù, lined with shops selling everything from vegetables to souvenir trinkets.
The adventurous traveler can opt to head to the northern end of the Corso and hike up to the Rocca which lies at 269 meters above sea level.
This spot offers the very best lookout point over Cefalù — it's a must if you're an avid photographer.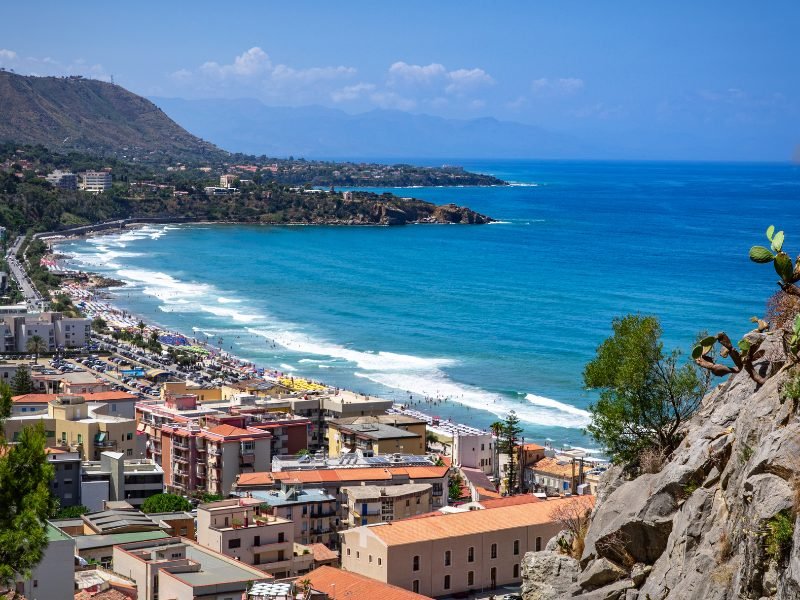 Hit the beach in Cefalù

After working your glutes exploring the Rocca and Castello area, head over to the Lungomare Giuseppe Giardini.
This little stretch of road nestled between the beach and the Historical Center of Cefalù is a prime people-watching spot, that is much-beloved by the local older gentleman who often gather here to play typical Sicilian card games.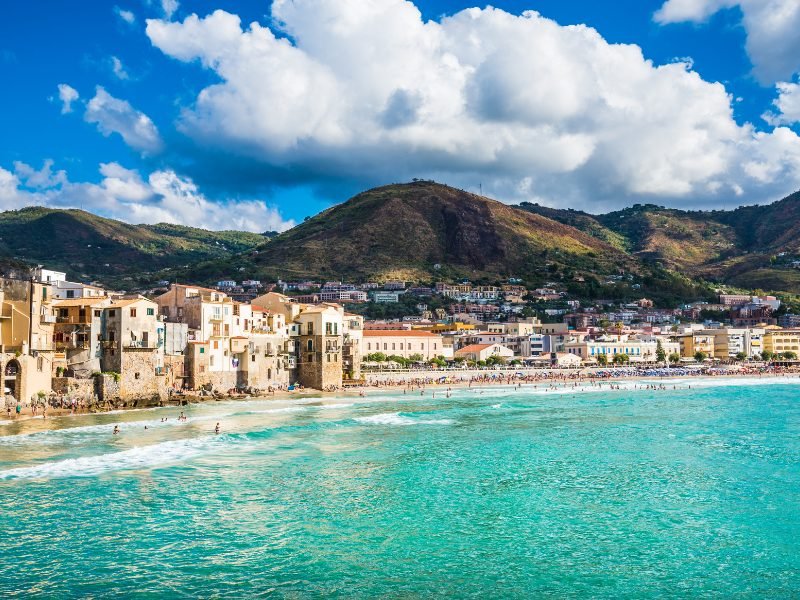 Unlike Monreale, Cefalù has a long stretch of beach and pristine turquoise waters to splash around in.
After some people-watching along the Lungomare, head straight for the beach. Sun beds and umbrellas are available to rent at the lido — about €20 per person per day.
Sicily Itinerary, Day Four (Option 1): Temple of Segesta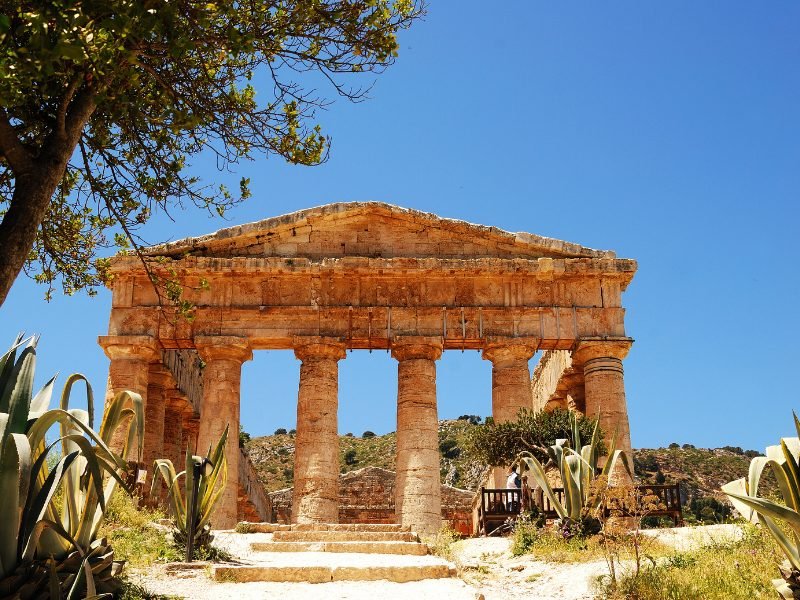 Cefalù and Monreale are great villages to showcase the Arab-Norman history of the island. However, the Normans were not the only conquers of the island.
You might be surprised to find out that some of the best-preserved Greek temples are in fact not in Greece but right here in Sicily!

Though you have but 4 days in Sicily, a visit to at least one ancient Greek temple is an absolute must if you're a history fan.
And in fact, one of the best-preserved ancient Greek Temples on the island is relatively close to Palermo, the Temple of Segesta.

Various legends are flying around about the founding of the ancient town of Segesta. According to some it dates back to 2,000 BC; others believe that colonists from ancient Troy were amongst the first to found this city.
Whatever the origin, most people agree that by the 5th century BC, the city of Segesta was thriving and an important trading hub for the region.
Around this time, the construction of the Doric temple in Segesta commenced; sadly it was never finished… as is abundantly clear by the lack of a roof!

Today, the temple still stands proudly some 1,000 feet (350 meters) above sea level.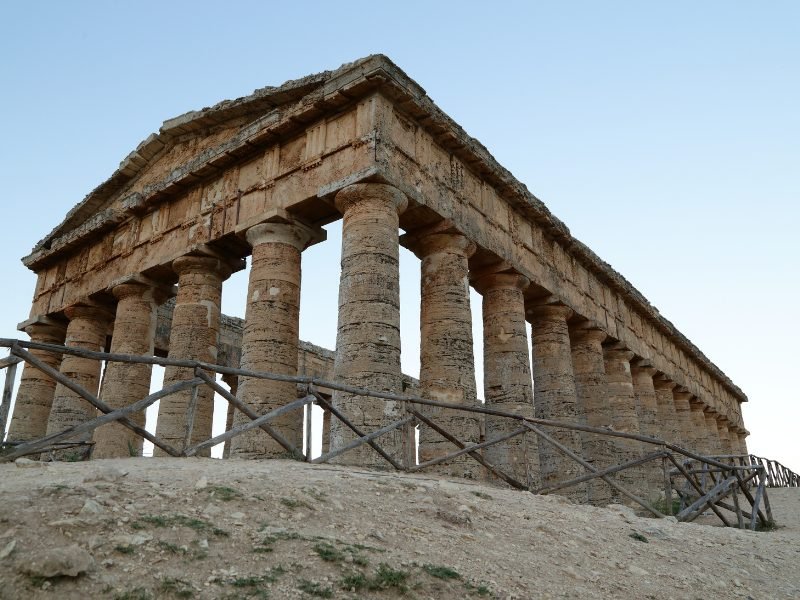 The entrance of the park is slightly lower than the temple, so both your glutes and camera will be hard at work as you make the trek uphill in the direction of the temple!
While in theory, there are trains and buses to the Temple of Segesta, it's far easier to go on a tour — you'll also get to add on other destinations and see more.
This small group tour covers not only the Temple of Segesta archaeological site, but also the charming village of Erice near Trapani, and the famous salt pans which you'll find along the coast near Trapani and Marsala.
Book your tour of Segesta, Erice, and the Trapani salt flats here!
Sicily Itinerary, Day Four (Option 2): Taormina & Mt. Etna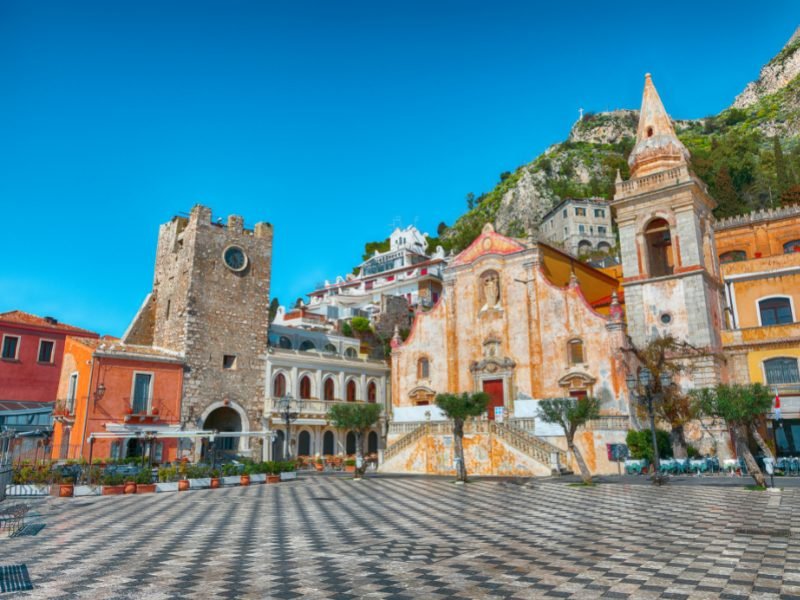 Sicily has an abundance of beautiful places to visit… but sadly, four days in Sicily is simply not enough to visit all of them.
This is why we're giving you another option to choose between for the final day of your Sicily itinerary!
Two of the most popular places to visit in Sicily are the ancient town of Taormina, well known for its ancient Greek Theater offering spectacular sunset views of Mount Etna located a mere 34 miles away (55 kilometers) away.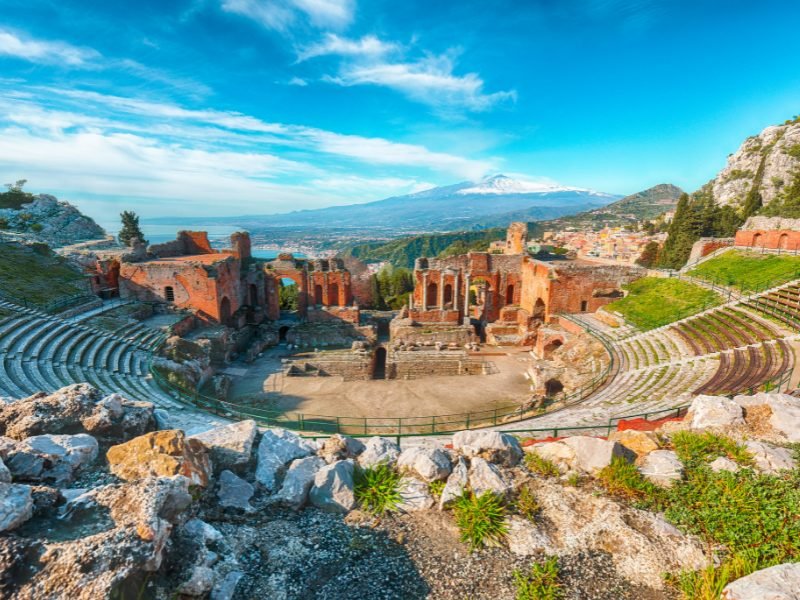 And of course, for many people, a visit to Sicily wouldn't be complete without visiting Mount Etna itself, the highest and most active volcano in all of Italy.

Hiking Mount Etna in itself is a very popular activity for both locals and visitors alike, but it's not for the faint of heart!
Walking up to 9,500 feet (2,900 meters) is possible without a guide, the last section of a final 1,200 feet (400 meters) — where you'll see the famous craters — is only possible with a knowledgeable guide.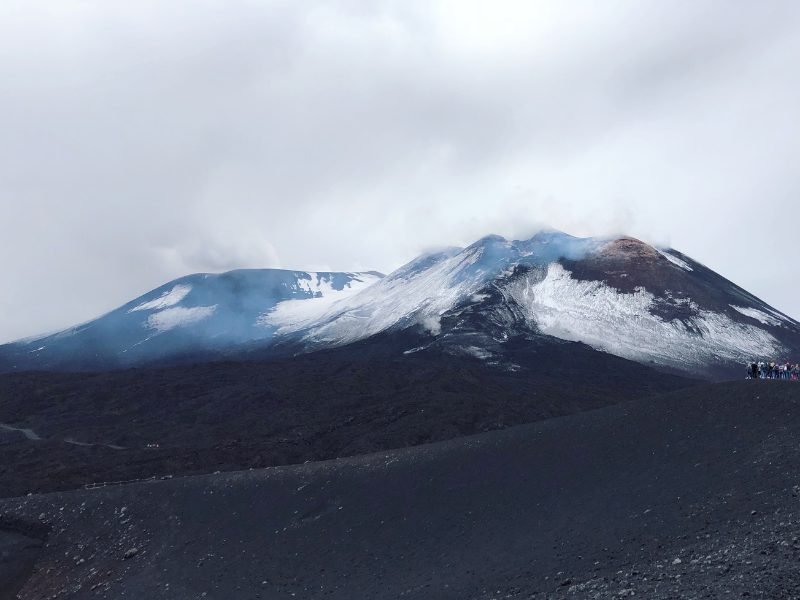 However, with only one day, it's better to take the funicular from Crateri Silvestri up as far as you can on Mt. Etna, which will bring you to 8,200 feet (2,500 meters high).
This is not quite the top of Mt. Etna, but you can still get epic views over Taormina, Isola Bella (home to the prettiest beach in Taormina!), and more.
If it's not too cloudy at the top, you may be able to see Etna's crater from afar.
It's not really possible to do this independently as a day trip if you use public transportation from Palermo, so I suggest a day tour if you choose to do Taormina and Etna.
Alternately, you can rent a car for this day.
Recommended Hotels in Palermo
This stunningly renovated, 20th-century hotel is one of the most prestigious hotels in Palermo, making it a fantastic option for a luxurious stay. It's located in the heart of Palermo, near many sights and attractions. Its furnishings are the definition of opulence: chandeliers, oil paintings, marble, and rich wooden antique furniture. There are also great amenities such as a piano bar, a fitness area, a sauna, and spa center.
This lovely boutique guesthouse not far from Teatro Massimo is a fantastic place to stay for a reasonable price in Palermo. The rooms are beautifully designed, with minimalistic furnishings that are nevertheless rather luxurious. Everything is modern and comfortable, and guests raved about the hospitality of the host.
Budget: La Querencia (Check Availability Here)
This charming affordable Palermo guesthouse, also near Teatro Massimo, is a great place to stay if budget is a concern but you don't want to skimp on comfort or convenience. The rooms are simple but spacious and comfortable, and you'll feel at home with the kind hosts. There's also a lovely terrace to enjoy!
What to Eat in Sicily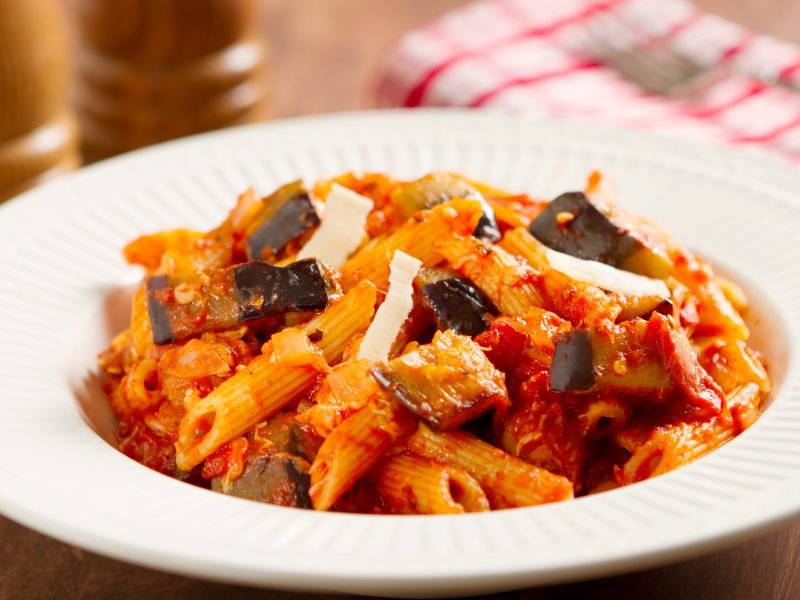 You simply cannot go Sicily and not try the many culinary delights everywhere!
Sicilian cuisine has been influenced by both the numerous conquerors that called Sicily home over the centuries — as well as the need for creative solutions in the kitchen when the money ran out.

The former explains the use of spices rarely found in traditional Italian cuisine (such as cinnamon), while the use of breadcrumbs instead of parmesan in various dishes is a clear demonstration of the latter.

If you want to add a few things to your Sicily foodie bucket list, here's what we suggest:
Arancina: Fried balls of rice made with either Ragu or Butter. Found in every bakery and to be eaten for breakfast, lunch or a snack.
Pasta a la Norma: The quintessential Sicilian Pasta made with eggplants, tomato sauce and topped with mouthwatering ricotta salata
Pasta con le Sarde: Pasta with sardines and anchovies topped with breadcrumbs
Cannoli Siciliani: Flaky pastry shells brimming with silky ricotta topped with a sprinkling of pistachio crumble.
Brioche with Gelato: In Sicily, rather than serve gelato out of a cone, they fill a sweet bun (brioche) with at least two flavors of gelato to the point of exploding!
If You Have More Than 4 Days in Sicily…
Catania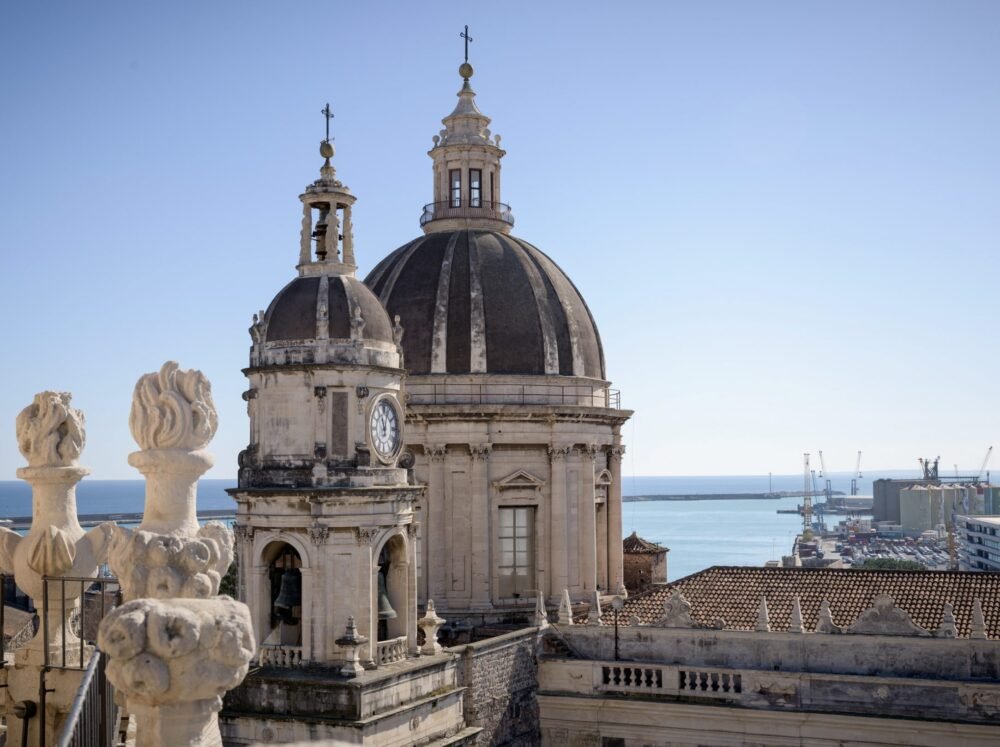 Another great place to add to your Sicily itinerary is Catania, located on the east coast of Sicily further south than Taormina.
If you have extra time, 2 days in Catania is perfect!
Catania is one of the nine cities and towns in the Val di Noto known for its Baroque architecture, as these towns were all rebuilt after a massive earthquake in 1693.
Other famously rebuilt towns in the ornate late Baroque style include Caltagirone, Militello, Noto, Palazzolo, Ragusa, Ispica, Modica, and Scicli.
Catania is best known for its beautiful cathedral which is surrounded by its main square, Piazza del Duomo, as well as its beautiful late Baroque architecture such as the Church of San Benedetto and its famous fish markets.
Catania is another great place for day trips, as it's close to Mt. Etna Volcano, Siracusa (Syracuse), the baroque towns of Val di Noto, and more.
Siracusa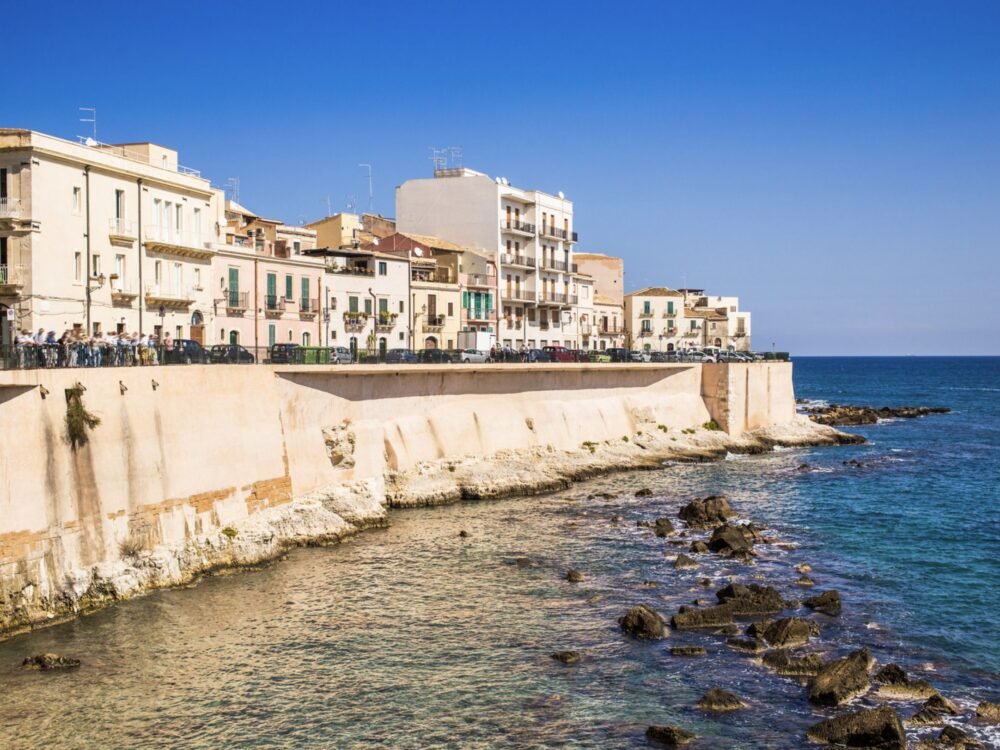 Also on the east coast of Sicily but further south still than Catania is the beautiful city of Siracusa.
Siracusa is best-known for its old town of Ortigia, located on a small island and connected to the Sicilian 'mainland' by bridges.
Siracusa also has a Roman amphitheater and a Greek theater, and its archaelogical richness is on display at the local Museo Archeologico.
Trapani & Marsala
Another option to extend your Sicily trip would be to explore Sicily's west coast, checking out the coastal cities of Trapani and Marsala.
Along the way, there's the beautiful beach town of San Vito Lo Capo which is also worth a visit.
In this area, you'll also find famous historic salt pans, which have historically been an important part of the Sicilian culture and economy.