Sicily is Italy's largest island and one of its most picturesque regions.
It is a fantastic destination to discover archaeological sites, visit charming little towns, explore beautiful nature, and relax at the beach!
I lived in Italy for over 15 years and had the chance to visit Sicily twice — but honestly, this Mediterranean island is one of those places where I'd never tire of returning, and I suspect you'd feel the same.
The lively atmosphere in the cities, delicious food, gorgeous architecture, and spectacular coastline all make Sicily the perfect place for a summer holiday.
This article covers my picks for the most beautiful beachy vacation spots in Sicily — from important seaside cities to charming coastal villages and stunning nature preserves!
You can explore some of these places on a short Sicily itinerary or spend two or three weeks driving around the island to check them off.
Here are the best beach towns in Sicily to help you plan a perfect summer holiday. Pack your bathing suit and beach towel, and let's get going!
Getting to These Beach Towns in Sicily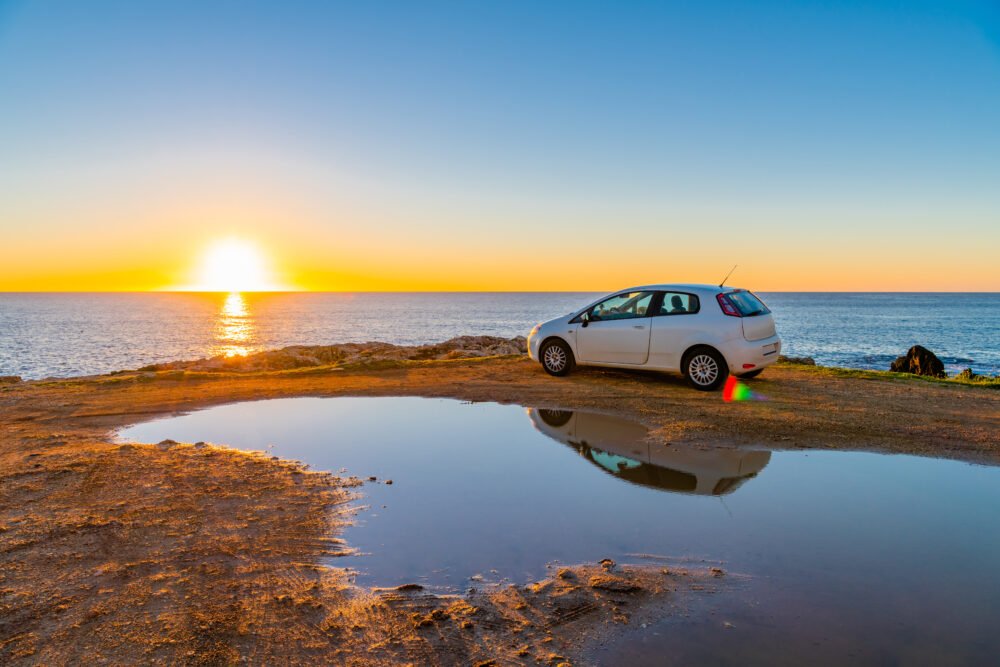 Note: This post contains affiliate links, which means I may receive a small commission if you purchase something through one of these links. Thank you for supporting the free content on this site! For more information on affiliate links and cookies, see my disclosure page for more details.
The best way to travel around Sicily's beautiful coastal towns is with your own rental car.
Not all of Sicily's beach towns, especially the smaller villages, are accessible by public transit — plus, it can take a long time, and luggage can make those trips a hassle.
I wrote a full post on renting a car in Sicily here, but here's the quick down-low.
First of all, who to rent with? I always pick Discover Cars to search for the best deal for multiple reasons.
🚗 Best Sicily Rental Car Prices: Discover Cars

This search engine not only looks at the typical rental car agencies (which can be $$$), it also looks at local, small Sicilian agencies that may offer better deals. Their pricing is straightforward (no bait-and-switches) and they offer free cancellation if you need it.

➜ Check rental prices in Sicily with Discover Cars here!
Note that while these Sicily rental car prices include the mandatory Collision Damage Waiver, they do not include full coverage.
Luckily, you can purchase full coverage on Discover Cars for as low as an additional $7 per day, depending on your rental, and have full peace of mind that no matter what happens, you'll be covered.
The Best Coastal Areas & Beach Towns in Sicily
Mondello (Palermo)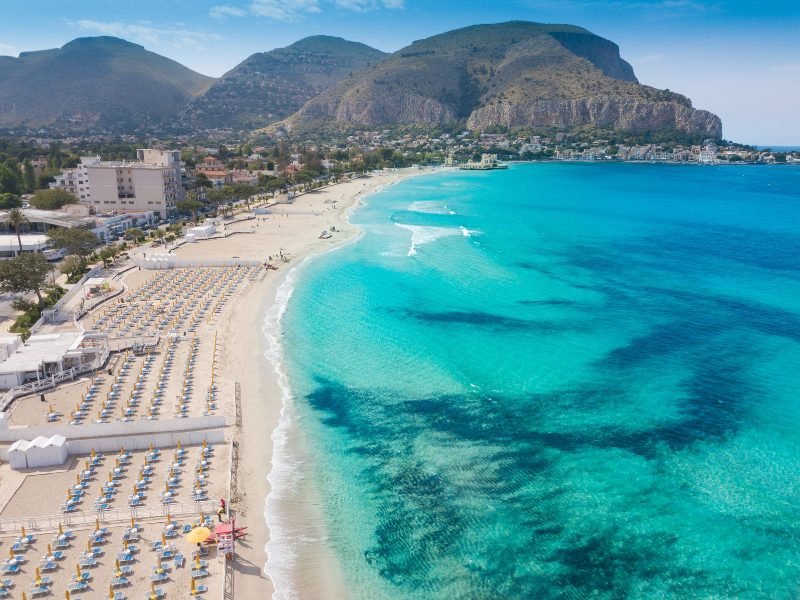 Sicily's capital Palermo isn't just a gorgeous city filled with stunning historical landmarks and museums. It's also a lovely beach destination in its own right! 
I recommend first spending 2-3 days exploring Palermo before heading to its nearby beaches.
Just outside the city center, the charming borough of Mondello is a lovely area for a beach trip in Sicily — and you won't even have to leave Palermo to reach it!
Mondello Beach boasts silky white sand and turquoise waters, but that's not all it offers.
Architecture geeks will admire the historical bathing establishment housed in an Art Nouveau building known as Charleston, which now houses the restaurant Alle Terrazze.
The only downside of Mondello is that it can get pretty crowded during the peak tourist months of July and August, being a beautiful beach so close to Palermo.
Besides that, it's the perfect destination if you are visiting Palermo and are short on time.
While visiting Mondello, you may also check out the nearby nature preserve, Riserva Naturale di Capo Gallo, for spectacular coastal views and gorgeous rocky beaches.
San Vito Lo Capo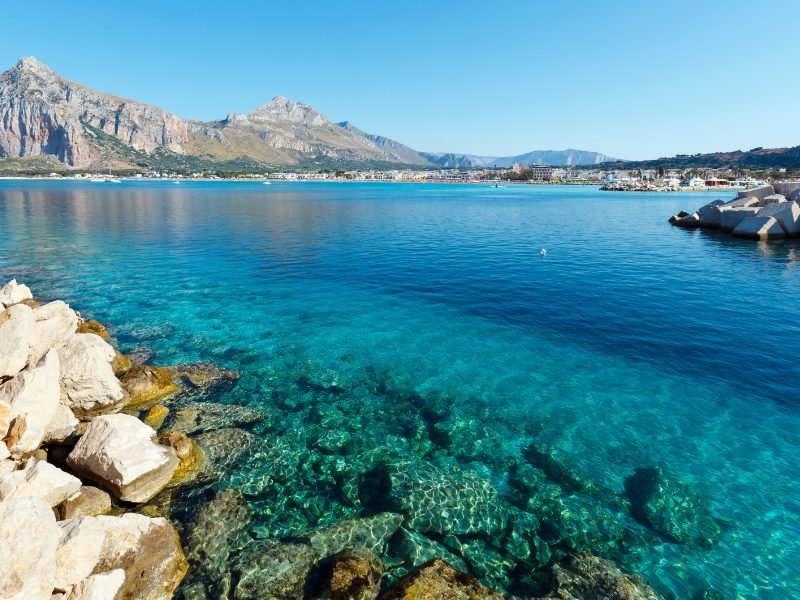 Close to Trapani at Sicily's northwestern tip, the stunning San Vito Lo Capo is a small Sicilian coastal town you shouldn't miss.
Best known for its beaches, San Vito Lo Capo also boasts stunning Arab-Norman architecture and the Capo San Vito lighthouse.
The town lies at the foot of Mount Monaco, a rocky peak you can climb for panoramic views of the coast!
The best thing about San Vito lo Capo is that it has a wide sandy beach right by the town center, so it's a perfect location if you want to avoid renting a car or taking public transportation to get around.
Plus, its beach is very scenic, with the turquoise waters and Mount Monaco towering over it at one end of the beach.
It's easy to get to, too: you can reach San Vito Lo Capo in approximately two hours by car or bus from Palermo.
Riserva dello Zingaro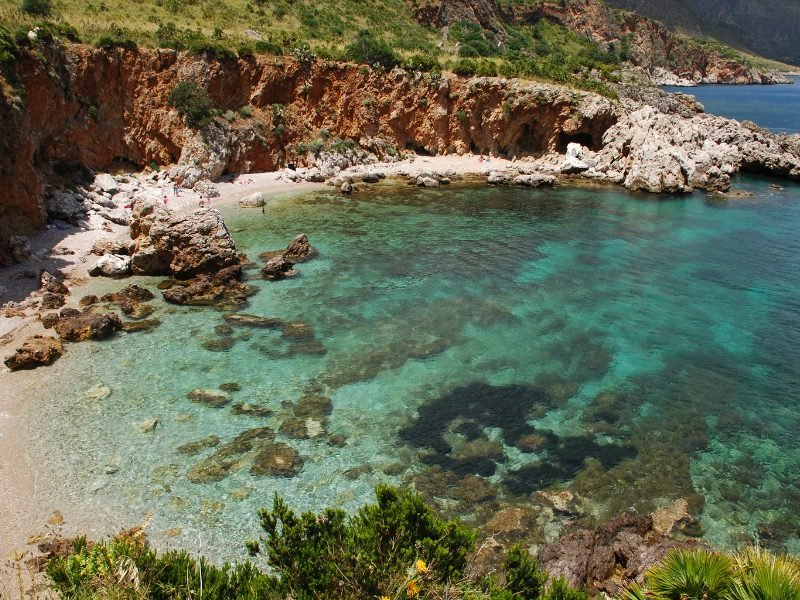 While not technically a beach town, Riserva dello Zingaro is one of the most beautiful beach locations in Sicily and deserves a spot on this list!
Located towards the northwestern tip of the island, close to San Vito Lo Capo, this nature preserve is a wild area of virtually untouched nature and crystalline turquoise waters.
Taking the coastal walk allows you to admire sweeping views of the Tyrrhenian Sea and the area's rugged coastline.
Along the way, you can descend to a couple of small coves where you can spend some time sunbathing and swimming in crystal clear waters.
To get off the beaten path a bit, discover the small beaches at Cala Marinella, Cala Berretta, Cala del Varo, and Cala Capreria — you'll find precious few tourists sharing the beaches with you here.
The coastal path from the south entrance near Scopello to the north entrance close to San Vito Lo Capo is about 4 miles (7 km) long.
If you want to do the entire walk, bring water and food to be well-fed and hydrated, as there aren't many amenities here.
Alternatively, park your car and walk to the nearest beach.
There's no accommodations in the nature reserve, so we suggest staying in either San Vito Lo Capo (above) or Scopello (below), which bookend this beautiful reserve.
Scopello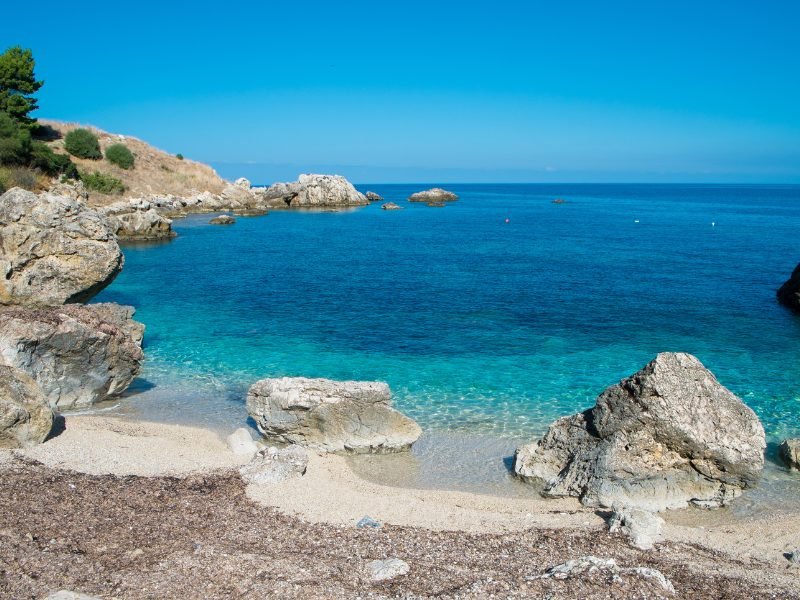 Scopello is a magnetic little coastal village on Sicily's northern coast, between San Vito lo Capo and Castellammare del Golfo.
In winter, the tiny village has just over 100 inhabitants, but that number swells to several thousand during the summer!
This delightful Sicilian beach village is known for its captivating coves, clear waters, and eye-catching rock formations.
Tonnara di Scopello is easily the most picturesque spot in a village full of scenic places!
It's home to a historical tuna-fishing estate (now a museum), the ruins of an old tower overlooking the little beach, and the sea stacks Faraglioni di Scopello just off the coast.
Other lovely beaches in this area are Cala dell'Ovo, Cala Mosca, and Cala Mazzo di Sciacca.
Best of all, Scopello is easy to get to; it's just a 20-minute drive from Castellammare del Golfo and about one hour from Palermo.
Taormina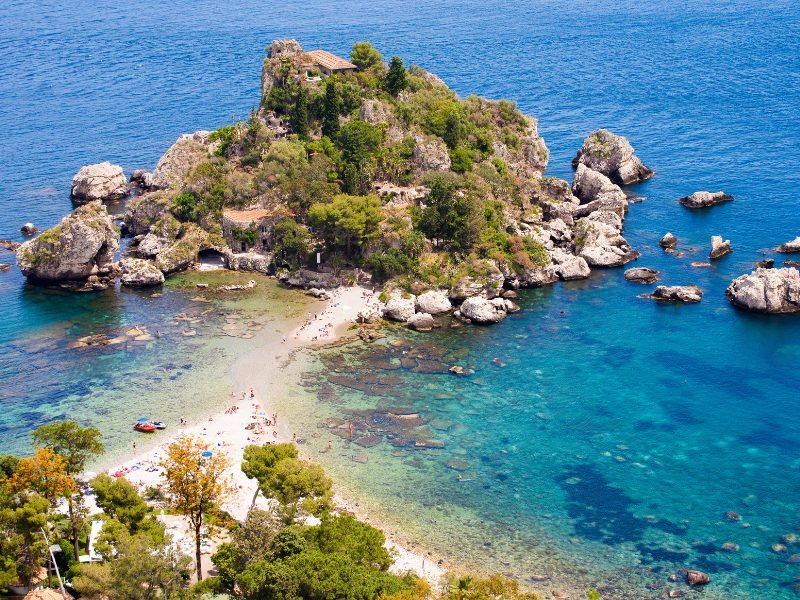 Halfway between Messina and Catania, the hilltop coastal town of Taormina is among Sicily's most popular tourist destinations… and that's only set to rise with its spotlight in the most recent season of The White Lotus!
The town is well-known for its ancient Greek theater overlooking the sea and the gorgeous panoramic views from its historic center.
It's also a great jumping-off point for day trips to the fiery Mount Etna, where you can sample some of Sicily's best wines!
But Taormina is also home to some beautiful beaches, so you can combine your cultural visit with a few days of relaxation!
The beaches of Isola Bella and Mazzarò are the most popular ones; the latter is connected to the center of Taormina by a mountain cable car offering sweeping coastal views, and it's a must-do while in Taormina!
The small island (also a nature preserve) of Isola Bella is just off the coast in front of the beach with the same name. When the tide is slow, a narrow strip of sand allows you to walk there!
Just south of Taormina's center, Giardini Naxos is another beautiful area with lovely sandy beaches between Catania and Taormina.
The town was once a Greek colony named Naxos, which you can learn about in the Museum and Archaeological Area of Naxos.
Capo d'Orlando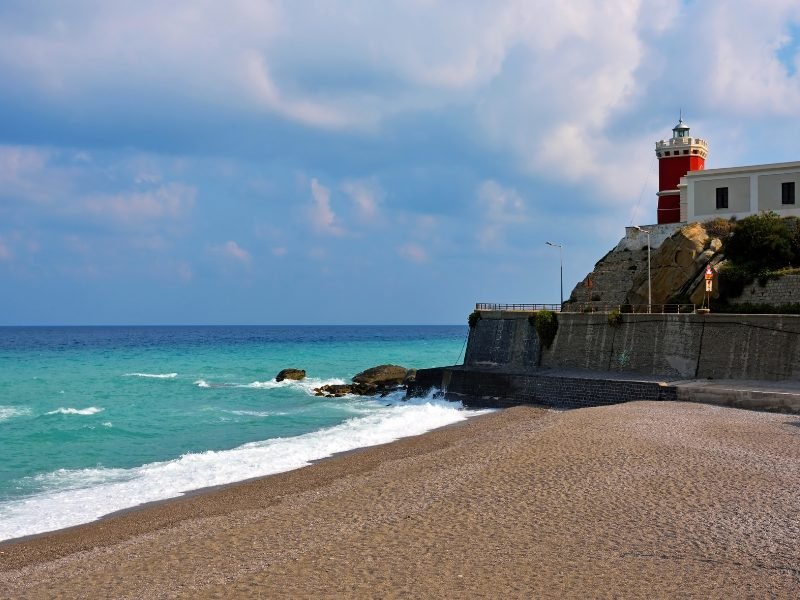 Only one hour from Messina, the small-but-memorable Capo d'Orlando is a lovely beach town on Sicily's northern coast.
The town is a popular summer destination, beloved for its long sandy beach dotted with beach clubs, clear waters, and many restaurants offering gorgeous sea views.
Aside from its long beach stretching down through the town center, you can also check out San Gregorio beach on the eastern shore.
If you want to try other activities besides swimming and sunbathing, try climbing to the Pineta del Monte della Madonna to enjoy panoramic views.
You can also visit the Sanctuary of Maria S.S. and check out the Capo d'Orlando lighthouse.
In short, Capo d'Orlando is the perfect Sicilian beach destination if you want to stay in a medium-sized town that offers many accommodation options, restaurants, and beaches within walking distance.
Best of all, if you have extra time, you can hop on a ferry to the Aeolian islands, Sicily's best-kept secret!
Cefalù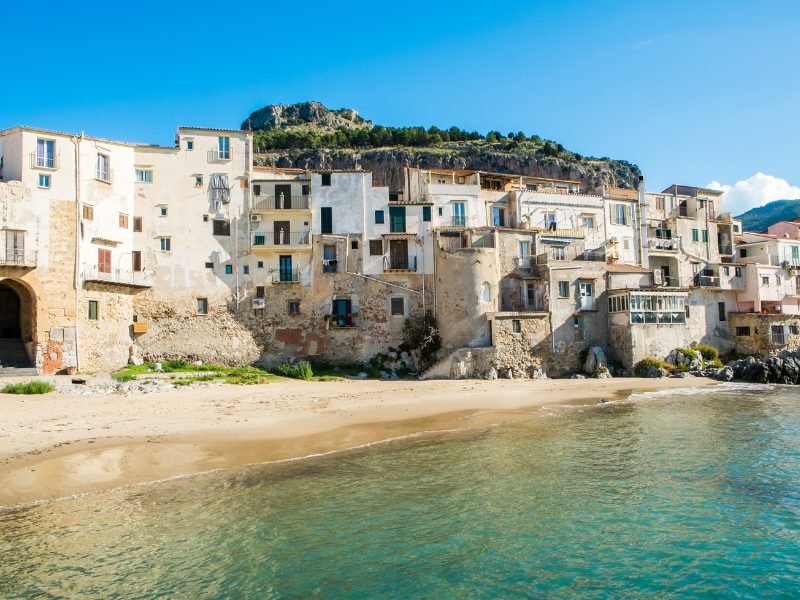 Better known for its Arab-Norman cathedral (a UNESCO World Heritage Site since 2015), the coastal town of Cefalù is only one hour east of Palermo.
But there's more to Cefalù than its UNESCO accolades: don't miss the hilltop Cefalù Castle boasting spectacular coastal views and the pristine coastline that makes Cefalù a Sicily summer hot spot!
The long sandy beach of Cefalù quickly fills up with colorful umbrellas during the summer months when tourists flock to the town to enjoy the crystal-clear water and convivial atmosphere.
Beyond the beaches, Cefalù's historical center has many impressive landmarks, from beautiful churches to medieval buildings.
The lovely town and accessible beach make Cefalù a perfect destination, especially if you don't want to rent a car in Sicily.
The town is served by a train station, with regular train rides that take one hour to Palermo and 2.5 hours to Messina.
Trapani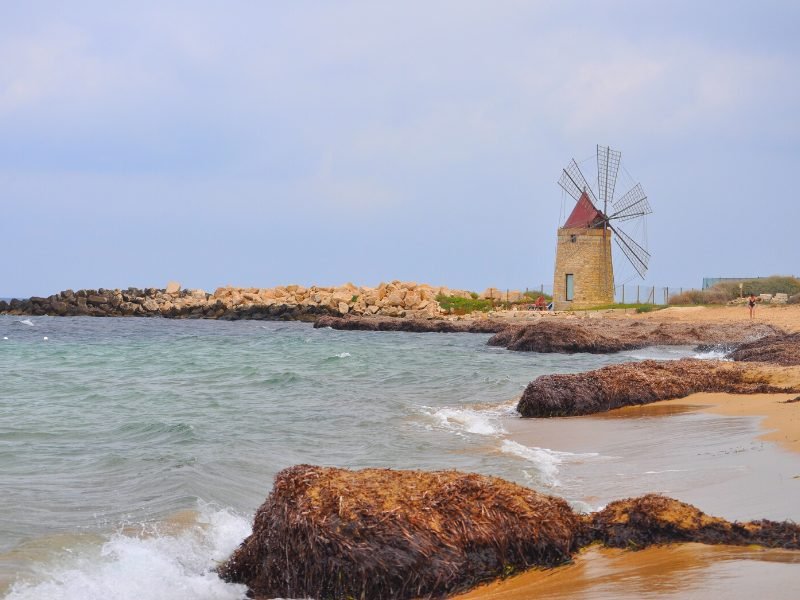 If you want to spend your summer holiday in a relatively big city with beautiful, accessible beaches, Trapani is one of the best beach cities in Sicily!
The city is served by an international airport connecting several European cities with budget flights.
There is much to do in Trapani and its surroundings — it's tough to get bored here!
Visit beautiful landmarks like the San Lorenzo Cathedral, the Ligny Tower, and the city's historic fish market, Piazza Mercato del Pesce, in the historical center.
Other must-see places in Trapani are the salt production site Saline di Trapani e Paceco and the nearby hilltop little town of Erice.
As for beach destinations near Trapani, Spiaggia di San Giuliano is one of the most popular and accessible beaches in Trapani!
If you have extra time, plan to spend a day exploring the stunning nature preserve Riserva Naturale Orientata Monte Cofano.
Walk along the coastal paths, admire the spectacular views, and relax on Torre Tono or Agliareddi beach.
Milazzo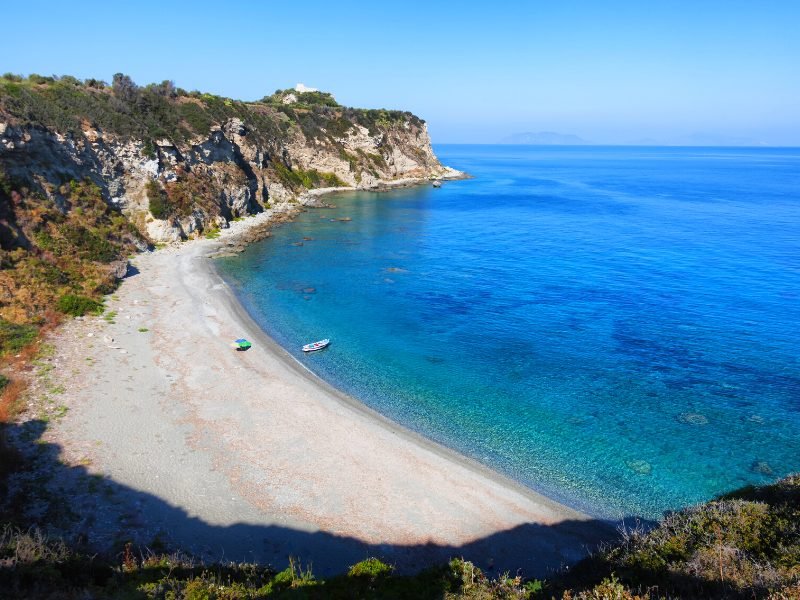 Located a short drive from Messina, the Sicilian beach town of Milazzo is set on a small peninsula extending into the Tyrrhenian Sea.
This lovely town's history dates back to ancient Greek myths! Supposedly, it's the legendary location of Ulysses' shipwreck and subsequent meeting with Polyphemus.
At the tip of the peninsula, Capo Milazzo is a scenic spot for coastal views, especially at sunset.
On both shores of the narrow cape, you'll find stunning rocky beaches with crystalline waters.
Some of the best beaches in Milazzo are Baia del Tono, Ponente Beach, Baia delle Renelle, and Capo di Milazzo Beach.
Perhaps most enticing of all, you'll find the natural pool Piscina di Venere at the peninsula's tip!
Close to the center of Milazzo, the medieval hilltop Castello di Milazzo offers panoramic views of the town.
The town's historical center is lively, full of historical buildings and people enjoying bustling restaurants and bars.
If you want to get a bit off the beaten path, you can catch a ferry to the Aeolian islands from the port of Milazzo for even more Sicilian beach exploration!
Siracusa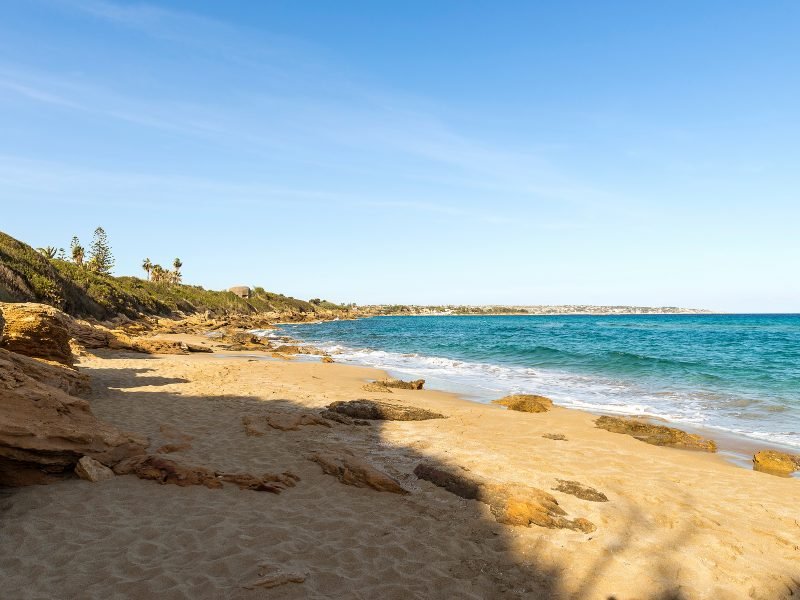 Effortlessly combining exceptional archaeological sites, a spirited historic center, and pristine beaches, Siracusa is one of Sicily's most beautiful beach cities.
Siracusa's historic center is located on a small island, Isola di Ortigia, connected to the mainland by two bridges.
Here, you'll find most of the area's historical landmarks, like the ruins dating back to Ancient Greece!
Siracusa is also home to the Neapolis Archaeological Park, showcasing many Ancient Greek and Roman ruins.
As for the beaches near Siracusa, you'll find them both north and south of the city.
Although a few beaches are accessible from the city center, you'll need a car or public transportation for the most beautiful ones — but it's well worth it, in our opinion!
North of Siracusa, you can find the lovely pebble beach Spiaggia La Tonnara, while to the south, you can go to Arenella Beach, Minaret Beach, or Spiaggia Punta del Pero.
Lido di Noto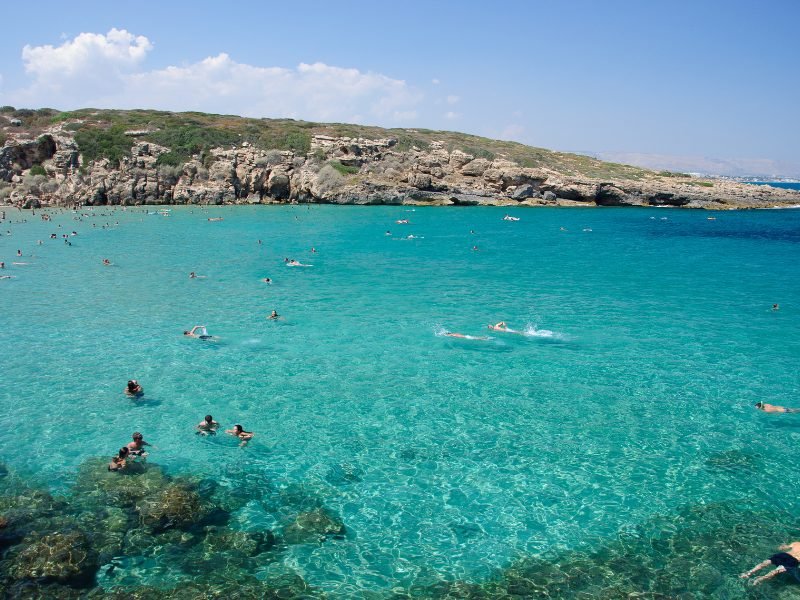 South of Siracusa, the lovely Lido di Noto is exclusively a beach destination.
This beach is Noto's coastal area, the well-known city found further inland.
The coast is one long string of sandy beaches with restaurants and hotels overlooking the sea.
You'll find both beach clubs (lidos) renting out umbrellas and sunbeds and sections of the public beach where you can relax on your towel and BYO picnic.
While you'll enjoy the endless beach and its restaurants, there is little more to Lido di Noto.
An even more beautiful beach can be found at Calamosche Beach, about a 20-minute drive from Lido di Noto.
Consider combining a stay on the coast with a few days in the nearby city of Noto, famous for its stunning Noto Cathedral and other historical landmarks.
Porto Empedocle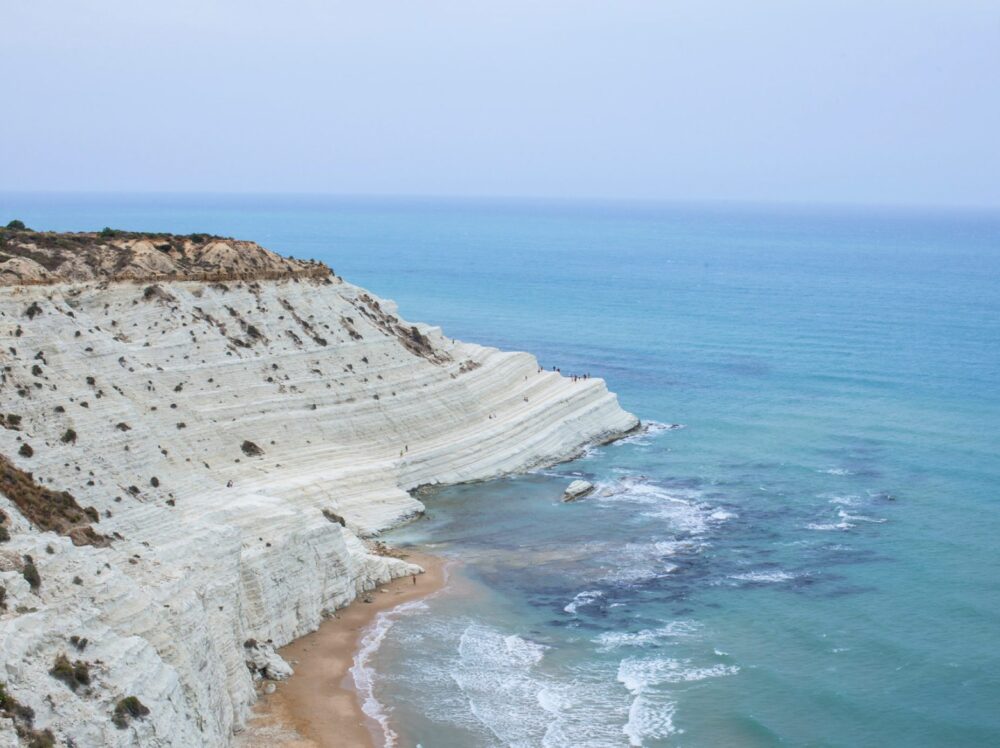 Porto Empedocle is a small beach town in Sicily, located south of Agrigento.
The town's mouthful of a name comes from the Greek philosopher Empedocles, who lived in the Ancient Greek city of Akragas (now Agrigento).
This delightful coastal town is a popular beach destination due to its location near one of the most renowned beaches in Sicily, Scala dei Turchi.
Located just 10 minutes from Porto Empedocle, Scala dei Turchi is a white marlstone cliff that eroded over millions of years, eventually forming a shape akin to a staircase.
The name, meaning 'Turkish Steps' in English, comes from the many incursions of pirate ships that would dock here.
For another option, the nearby Majata Beach is also a lovely place to spend an afternoon, and the beach enjoys a spectacular view of Scala dei Turchi.
The main beach of Porto Empedocle is also beautiful and more accessible from the town center, with several restaurants and beach clubs to enjoy.
Mazara del Vallo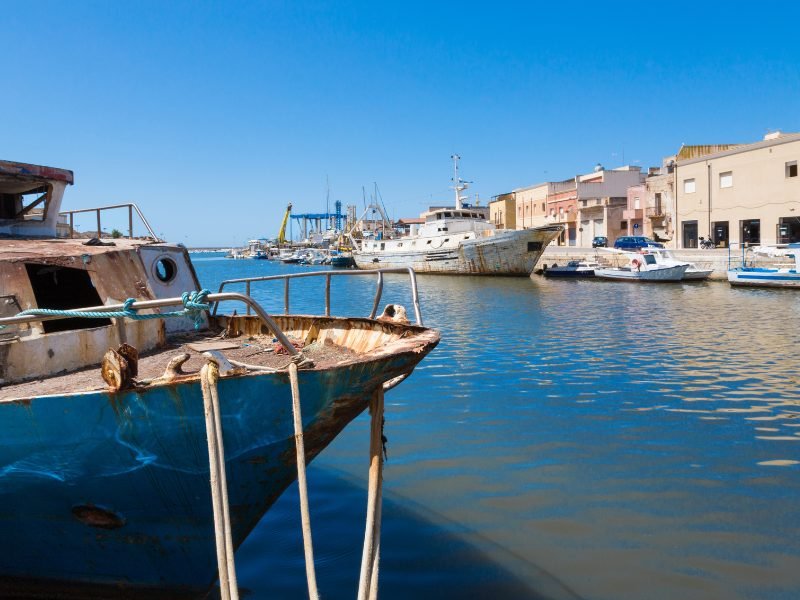 Just south of Marsala, the town of Mazara del Vallo is better known for its Arabic architecture.
In fact, this town still maintains its historic Kasbah, the ancient Arab neighborhood dating back to the Arab occupation of the 9th century.
Mazara del Vallo is somewhat of a visual timeline of Sicily's turbulent past, seen by its beautiful churches and ruins from its various occupations by the Greeks, Romans, and Normans, to mention just a few.
Of those, the must-see sights are The Cathedral of the Holy Savior, the Norman Arch, and the Museum of the Dancing Satyr.
Outside Mazara del Vallo, you'll find beautiful beaches where you can sunbathe and swim in crystalline waters.
One option is Litorale di Tonnarella, a long sandy beach you'll find if you head in the direction of Marsala.
To the south, Approdo dei Saraceni, Caletta Nana, and Lido Costanza are a few spots worth checking out.
Sciacca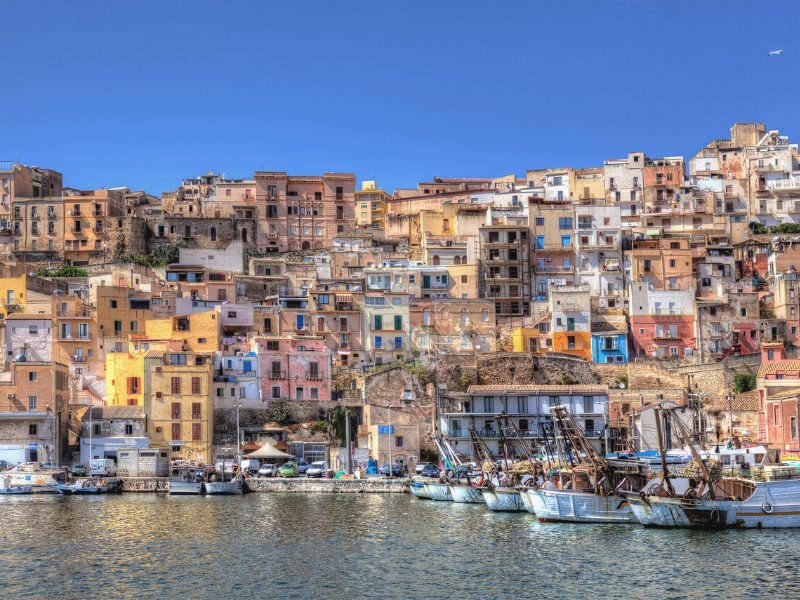 The colorful Sicilian coastal town of Sciacca is halfway between Mazara del Vallo and Agrigento.
The picturesque fishing town is atop a small hill that looks even more beautiful from the sea, where you can truly appreciate the visual of the old houses stacked one on top of the other!
Sciacca is known for its thermal baths, ceramics production, and Carnival celebrations.
But the town also boasts quite a few lovely beaches, like Tonnara Beach, Spiaggia del Lido, and Spiaggia di Contrada Foggia.
Sciacca also offers exciting museums, dozens of delicious restaurants, and a gorgeous old town with public artworks, ceramic decorations, and picturesque vistas with coastal views!
Castellammare del Golfo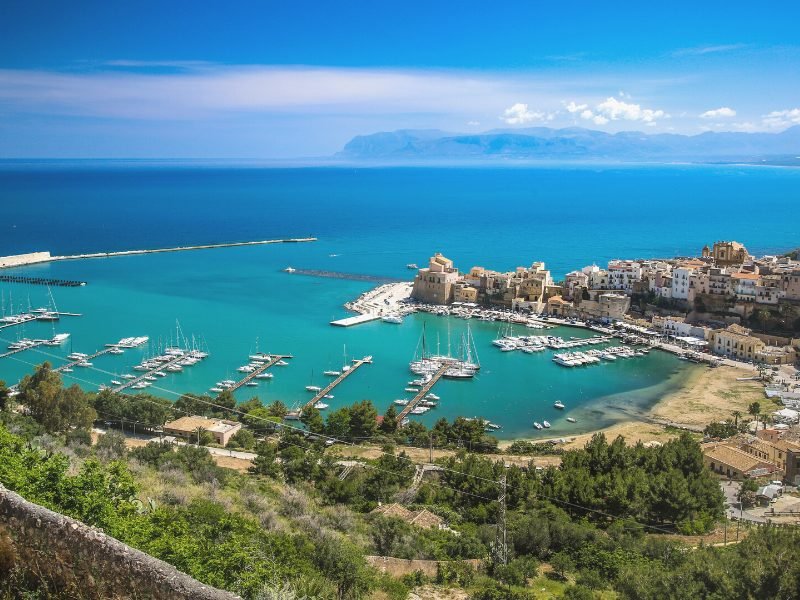 The most iconic spot in Castellammare del Golfo is the seaside Arab-Norman castle, which gives the name to this coastal town.
However, the town itself is also a popular beach destination in Sicily!
Within a short distance from the town center, you'll find many little beaches and coves with crystal-clear waters.
Driving to the west towards Scopello, you can stop at Cala dei Sogni, Cala Bianca, Cala Ofelia, or the pebble Guidaloca beach.
To the east, Spiaggia Plaja is the closest beach.
If you don't feel like driving or taking public transportation, there's even a charming little beach right by the town center, Cala Petròlo.
Check out the scenic viewpoint at Belvedere Castellammare del Golfo for the best coastal and town views!
Another option is the nearby Santuario della Madonna della Scala, which also offers gorgeous panoramic views.
There is much more to discover around Sicily, both on the coast and inland, but this list should give you enough options to start narrowing down the best beach towns in Sicily!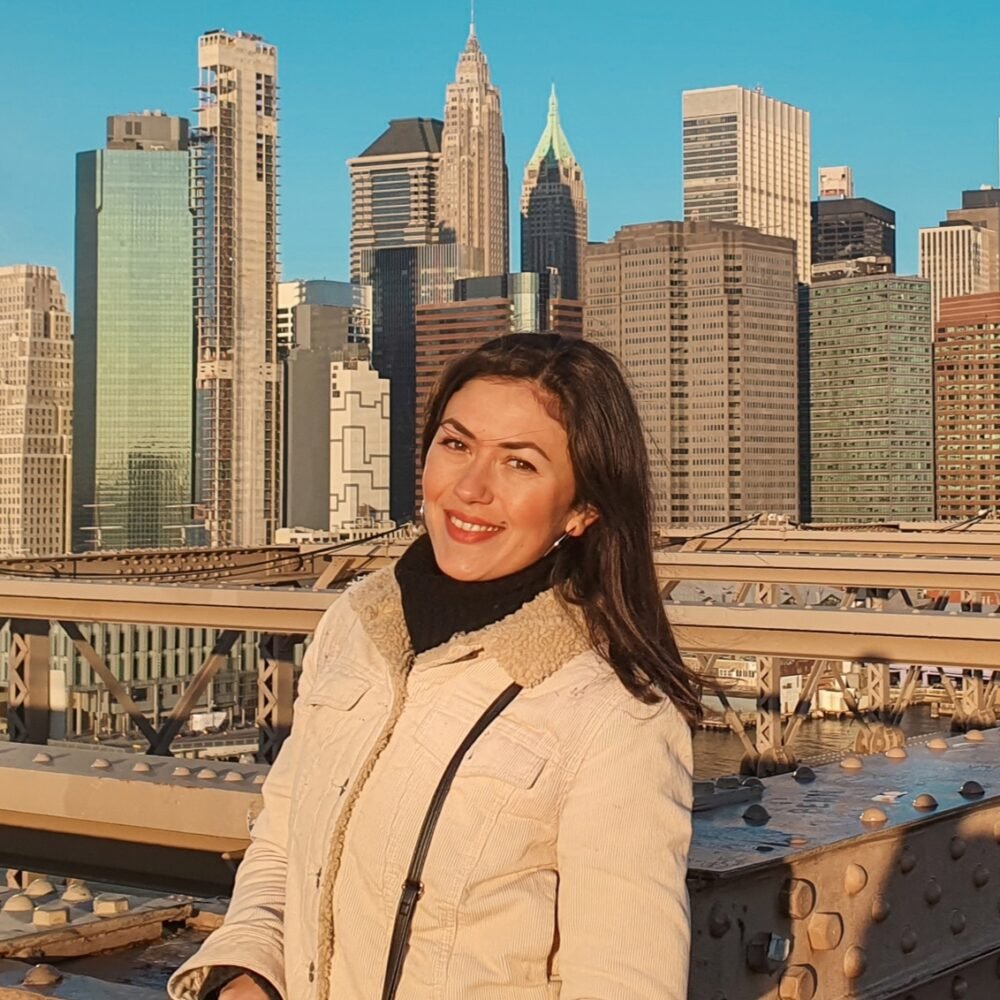 Roxana is a Romanian-born freelance travel writer who has lived in Italy for over 15 years. She has a Master's in Journalism and a Bachelor's in Film Studies. Her mission is to find hidden gems, even in the most popular travel destinations, and to inspire people to explore new places and cultures with the same curiosity! When she is not traveling, writing, or planning her next trip, she is either binge-watching TV shows or reading books.