Perched atop a hilltop with a spectacular ocean view, you can't miss the small but gorgeous town of Taormina, halfway between Catania and Messina.
I had the fortune of visiting Taormina twice on my trips to Sicily while living in Italy, and I love it so much that it's easily in my top three places to see on the island!
Taormina's picture-perfect location allows you to simultaneously admire the spectacularly sparkling coast and the often-rumbling Mount Etna in the background.
Note: This post contains affiliate links, which means I may receive a small commission if you purchase something through one of these links. Thank you for supporting the free content on this site! For more information on affiliate links and cookies, see my disclosure page for more details.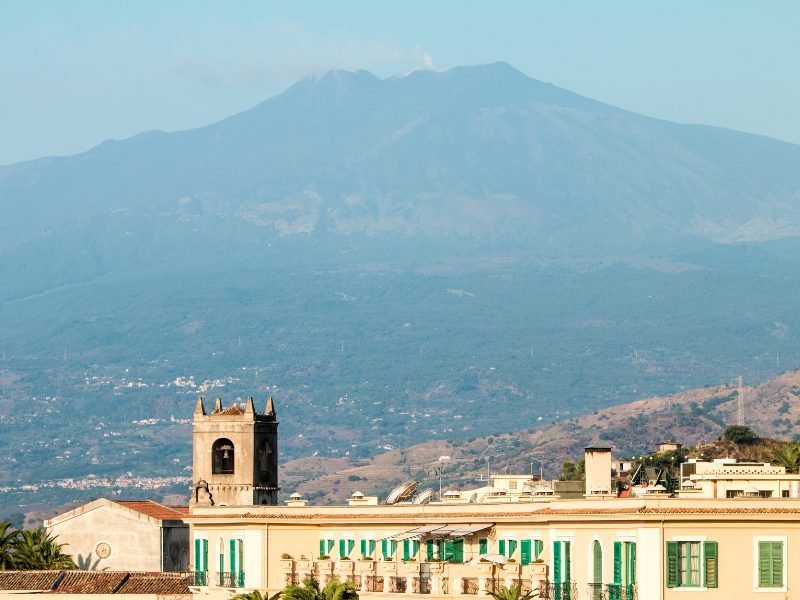 This charming Sicilian coastal town offers the perfect combination of cultural activities, history, beaches, and even hiking trails on the volcano, which is just one hour away.
Although the town is relatively small, you can easily spend a couple of days exploring everything it offers, its main highlight being the Ancient Greek theater with a spectacular view over the coast and Mount Etna!
Taormina is also a perfect location for a beach holiday in summer or even late spring and early fall.
In this article, I'll cover the best beaches near Taormina, all accessible within a half-hour drive, most of which you can also easily reach by public transport.
From small, scenic beaches to long stretches of sand, there are plenty of Taormina beaches for every type of beach-goer!
Getting to These Taormina Beaches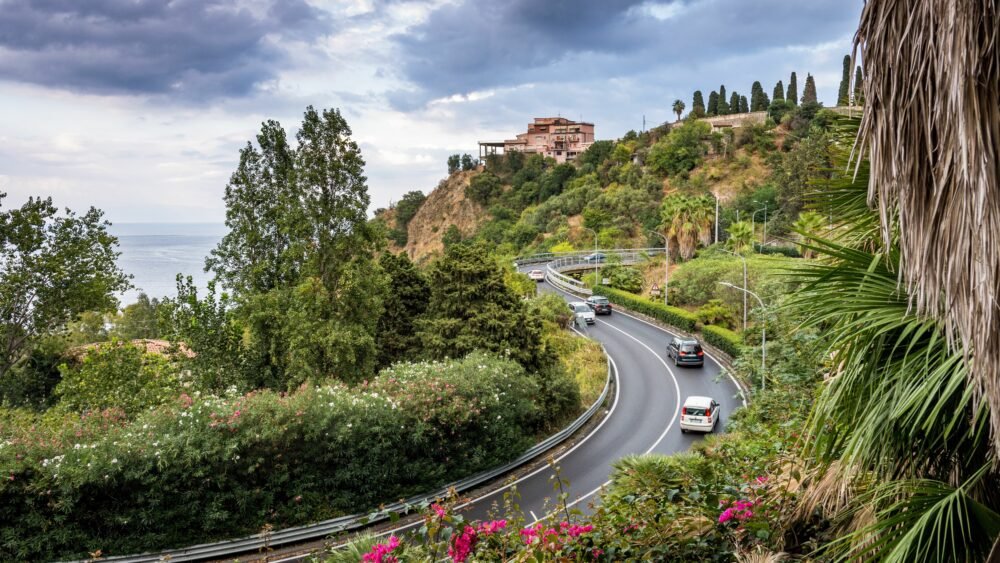 I've noted where you can easily reach a Taormina area beach by public transit, as well as Taormina beaches that are best accessed by rental cars.
Whether you choose to rent a car or not depends on your overall Sicily itinerary and objective.
If you want to visit lots of off-the-beaten-path beaches and hop around Sicily's coastal towns with no stress, renting a car is not only a good idea, it's a must. (But read this guide to renting cars in Sicily first!)
If you are doing a city-only trip, visiting only larger destinations like Catania, Taormina, and Palermo, a car may not make the most sense unless you want to make lots of stops along the way.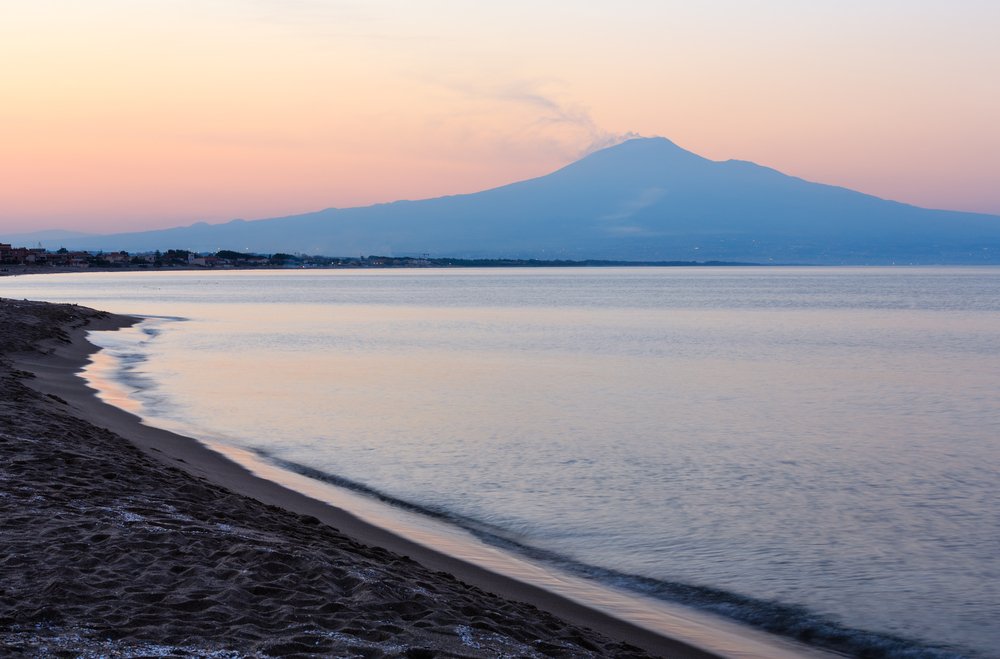 If you do rent a car in Sicily, I highly recommend (and use personally!) Discover Cars.
They get the best prices compared to other car rental search aggregators, plus they show ratings and reviews easily so you can weed out unreliable companies.
Plus, their full coverage insurance is some of the cheapest around, typically adding only around $7 a day to have total peace of mind about your rental.
Be aware that Italy rental car prices only include a collision damage waiver, not full coverage, so you'll definitely want to add on full coverage to avoid any headaches if something goes wrong with your rental.
🚗 Best Sicily Rental Car Prices: Discover Cars

This search engine not only looks at the typical rental car agencies (which can be $$$), it also looks at local, small Sicilian agencies that may offer better deals. Their pricing is straightforward (no bait-and-switches) and they offer free cancellation if you need it.

➜ Check rental prices in Sicily with Discover Cars here!
The Best Beaches in & Near Taormina
Spiaggia di Isola Bella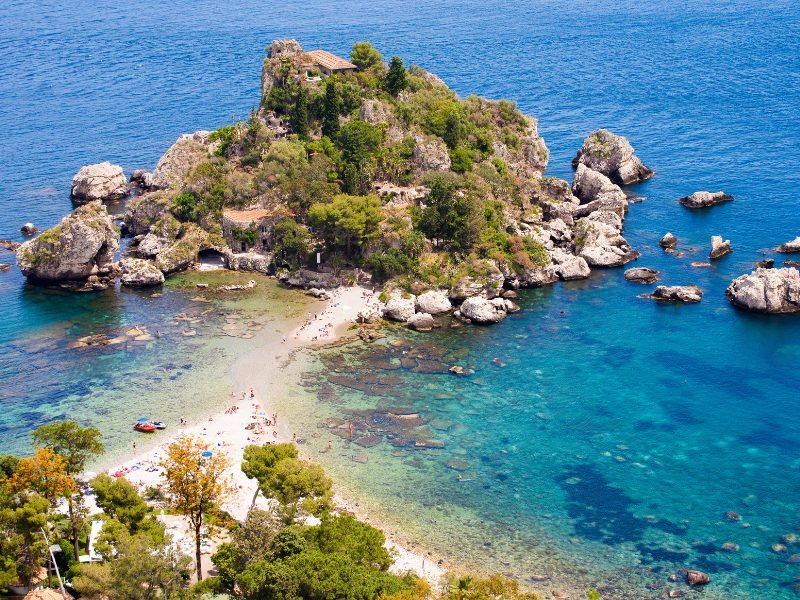 The pebble beach of Isola Bella, located on the island of the same name, is not only the closest beach to Taormina but also the most scenic.
Given its proximity to the center of Taormina, you can expect to find it jam-packed in the summer months. Plan to arrive early to find a good spot!
The beach is extremely popular, not just for its convenient location but also for its gorgeous views over Isola Bella.
You can walk along a narrow strip of land to the island when the tide is low. Just be sure to wear water shoes, as the mix of pebbles and shells can hurt your feet!
The beach of Isola Bella has areas where you can relax for free on your own towel, but there are also sunbeds and umbrella rentals at Mendolia Beach Club.
Don't worry if your stomach starts rumbling — you can find a few restaurants nearby to grab an aperitivo or have lunch!
Spiaggia di Mazzarò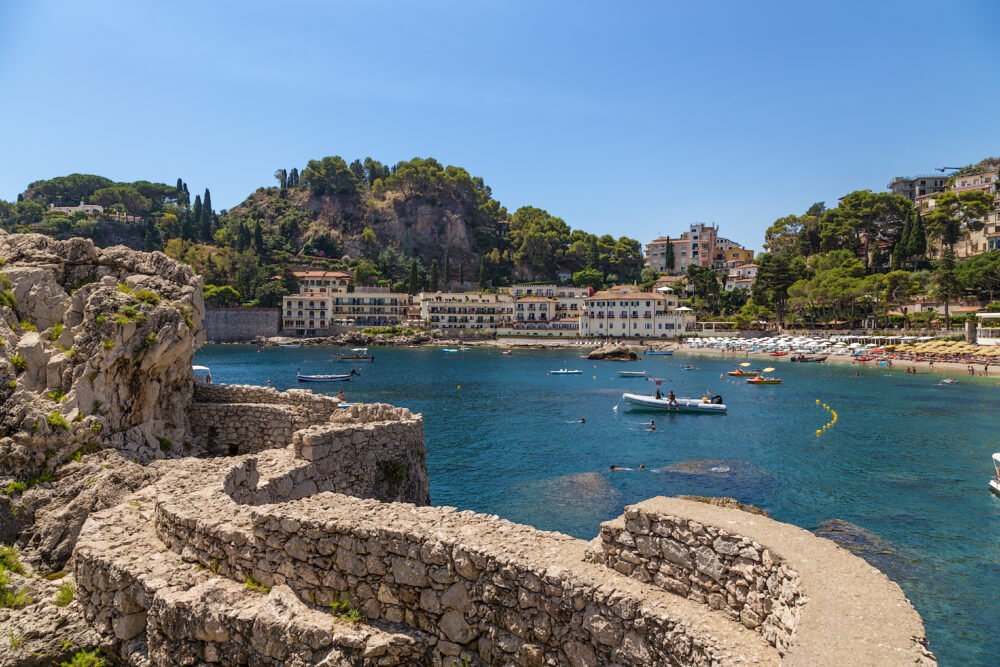 Spiaggia di Mazzarò is another scenic beach in Taormina.
The absolute best thing about this beach is that you can reach it via cable car from the center of Taormina, so you can admire spectacular coastal views on your way there and back!
A cable car ride is only €3; you can also get a daily pass for 10€ if you think you will use it multiple times.
The ride only takes three minutes, so keep your camera ready — you won't want to miss a beat.
Mazzarò Beach has several beach clubs renting out sunbeds and umbrellas if you want to park there for the day.
Lido La Pigna and Lido Il Delfino also have restaurants where you can enjoy a seafood lunch with a beautiful view.
If you want to avoid renting a sunbed, you can also relax on the free portion of the beach.
However, be aware that this area is relatively small and the beach is rather famous, so get there early to find a spot!
Spiaggia di Spisone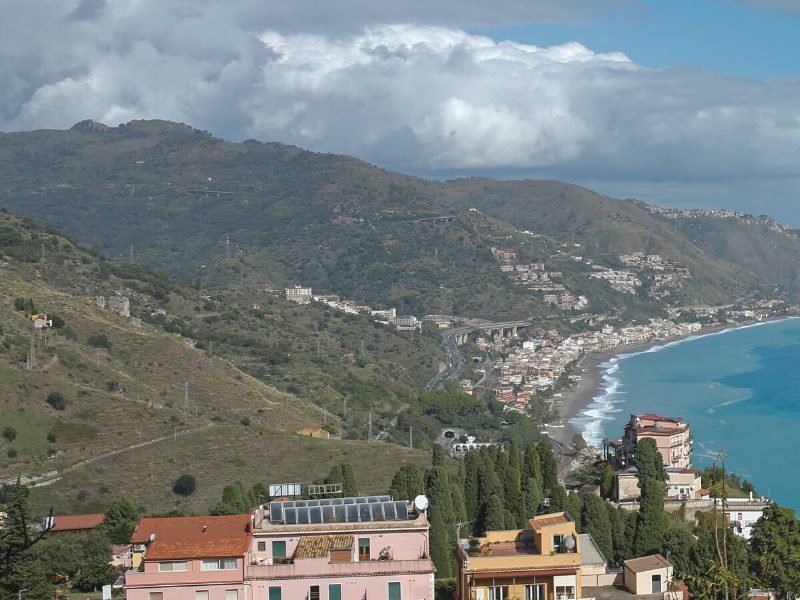 Spiaggia di Spisone is located just 10 minutes north of Taormina by car, making this a favorite beach near Taormina.
If you are relying on public transportation, you can catch the bus from Taormina and get off at the stop Taormina Via Nazionale 175 right by the beach.
You can also walk roughly 15 minutes from the beach of Mazzarò to Spisone — it's a beautiful walk, and you can take the cable car down and back to shorten the trek!
If you want to rent an umbrella and sunbeds, try Lido Tao Beach Club or Lido La Dolce Vita.
There are also small portions on the beach where you can lay down your towel and enjoy the beach for free.
The beach is made of sand and tiny pebbles, and the water is crystalline, a perfectly clear blue.
The restaurants along the beach are great for a cold drink or lunch after some sunbathing.
Though it is less crowded than the two beaches in Taormina, Spiaggia di Spisone still gets busy during July and August, Sicily's high season.
Spiaggia di Letojanni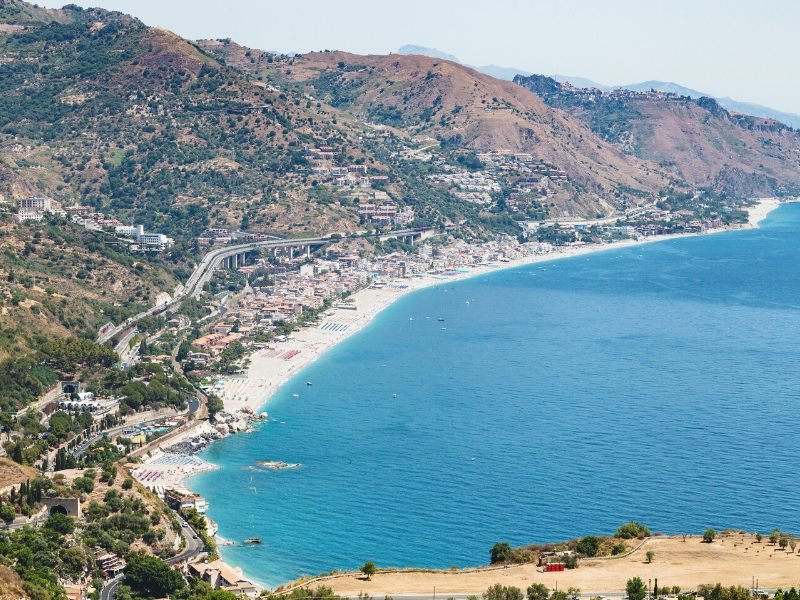 Letojanni Beach is a 15-minute drive from Taormina if you have a rental car, but it's also easily accessible by public transit.
No car? No problem. You can easily reach it by bus in about 25 minutes from Taormina Bus Terminal or by train in just 5 minutes from Taormina-Giardini.
The long sandy beach is mostly free, although you'll also find a few beach clubs that rent out sunbeds and umbrellas.
The beach is usually relatively quiet, so it's perfect if you're looking for a place to relax without too many people around!
The water at Letojanni Beach is usually calm and crystalline, perfect for swimming and wading.
Only a few minutes from the beach, on the street that runs all along the coast (Via Luigi Rizzo), you'll find many restaurants, bars, and gelaterias where you can enjoy a refreshing break.
There are also many accommodation options in Letojanni if you want to spend a few days by the beach!
The prices here tend to be lower than in Taormina, so it's good if you want to save some money.
Spiaggia di Mazzeo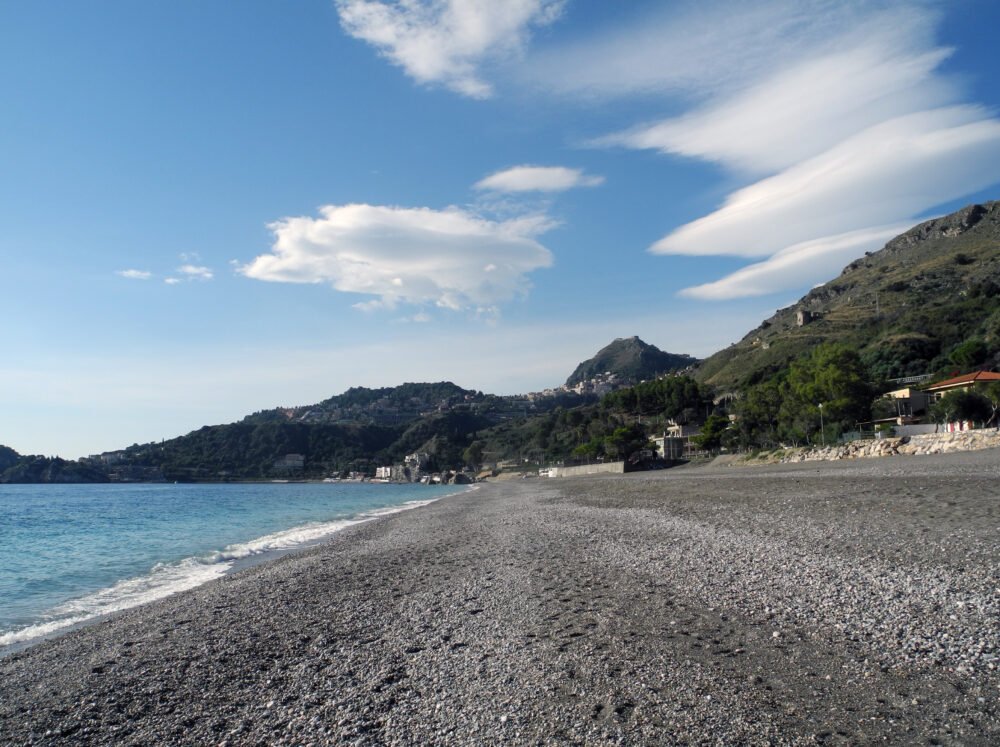 Located roughly 15 minutes by car from Taormina, Spiaggia di Mazzeo is just before Letojanni beach.
If you get there by public transportation, you can catch the same train to Letojanni or the bus that will take you just two minutes away from the beach.
The beautiful pebble beach is bathed by turquoise waters and features long free stretches of public beach as well as beach clubs renting out sunbeds.
Many of these beach clubs also have restaurants, which is perfect if you want to spend an entire day soaking in the sun and have a nice lunch break with a sea view!
Aside from the beach clubs, you'll also find several other restaurants specializing in seafood.
Have lunch at Ristorante da Fabiana and get a refreshing gelato at Salvuccio.
Like in Letojanni, you'll also find convenient accommodation options facing Mazzeo Beach.
Spiaggia di Villagonia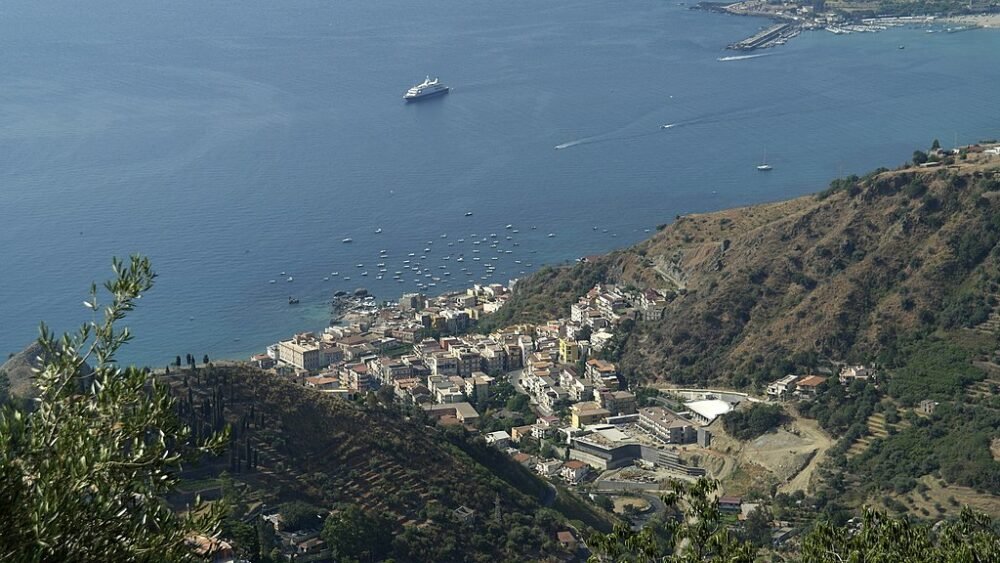 Just south of Taormina, Villagonia is a small town better known for the train station of Taormina-Giardini, which serves the town of Taormina.
If you are looking for a beach close to Taormina center but less crowded than Isola Bella or Mazzarò, Villagonia is a good option!
The beach may not be as scenic as the ones closer to Taormina, but it's an excellent and convenient option if you want to spend a few hours relaxing and going for a swim.
You can reach the beach in just 20 minutes of walking from the center of Taormina, or you can catch the local bus that takes less than 10 minutes.
The bus is a better option to return to Taormina if you want to avoid the climb, which is especially brutal in the Sicilian summer sun!
Spiaggia Schisò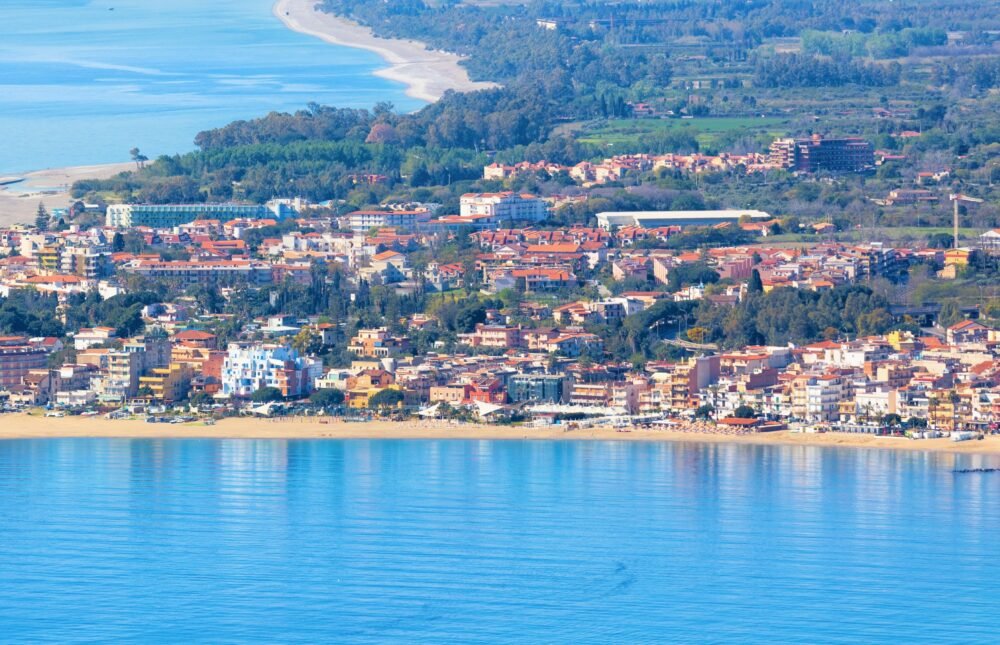 Spiaggia Schisò is the main beach of the small town of Giardini Naxos, just south of Taormina.
Being so conveniently located close to all the main attractions in Giardini Naxos, the beach can get crowded during the peak tourist season, but it's still a good option for a beach near Taormina if you plan to arrive early.
But you really ought to arrive early — this beach is also near Catania, so it draws crowds from both cities.
Considerable portions of the beach are free, but there are also a few beach clubs with restaurants and sunbed rentals.
Among the most popular beach clubs are La Nike Beach, Café de Mar, Lido la Romantica, and Sayonara Beach.
Within a short walking distance from the beach, you'll find just about anything you need, from bars and restaurants to supermarkets and various stores!
Combine a morning or afternoon at Spiaggia Schisò with a visit to the charming town of Giardini Naxos for a perfect day trip from Taormina.
Best of all, it's easily accessible, whether you've rented a car or not. The town is about a 15-20-minute bus ride from the center of Taormina!
Spiaggia di Recanati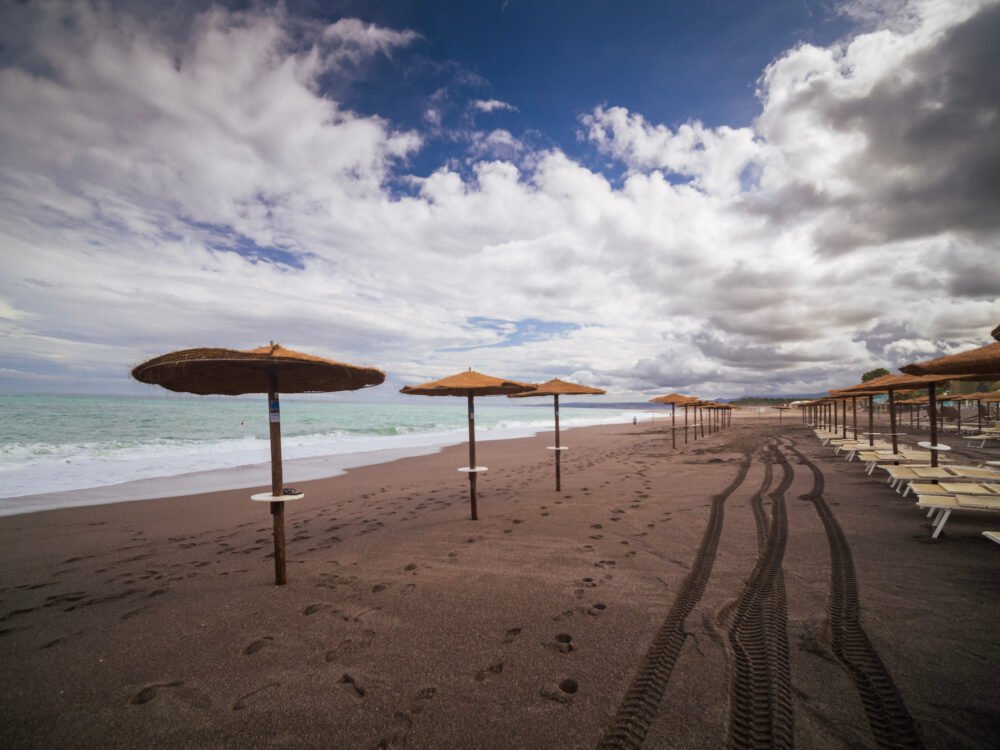 Spiaggia di Recanati is another beautiful beach in the small town of Giardini Naxos, just a ten-minute walk south of Spiaggia Schisò.
The beach is connected to Taormina, accessible via train or bus.
The bus is the most convenient option of the two, as it only takes 15 minutes and leaves you at the Recanati Bus Terminal, less than 10 minutes from the beach.
The area is served by many restaurants, bars, and even several accommodation options in case you want to spend one or more nights right by the beach.
You'll also find a good balance between ample public beach portions and for-hire beach rentals like chairs and umbrellas.
Overall, Spiaggia di Recanati is the quainter alternative to the main beach of Schisò in the center of Giardini Naxos.
At the same time, it's close enough to the town, so you can combine your beach day with a stroll around the lovely port area of Giardini Naxos or learn about the area's history at the Museum and Archaeological Area of Naxos.
Spiaggia di San Marco di Calatabiano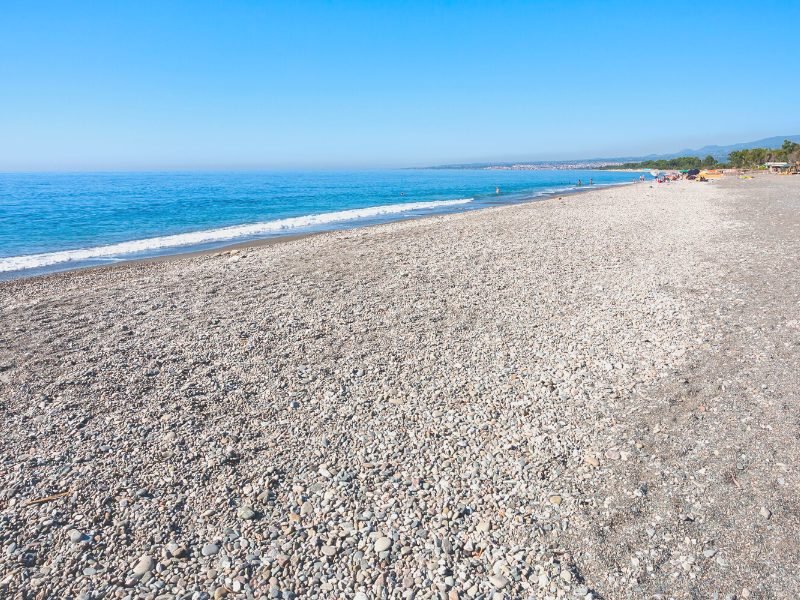 The picturesque San Marco di Calatabiano Beach is just south of Giardini Naxos, separated from the Recanati Beach by the mouth of the Alcantara River.
Unfortunately, the beach is difficult to reach if you don't have a car since the closest bus and train station is Alcantara, just outside Giardini Naxos, which would require a rough half-hour walk.
If you plan on renting a car in Taormina, this beach is a great option to escape the crowds in Taormina and Giardini Naxos!
There are plenty of free parking spots along the road, so you won't have problems finding parking.
The beach is made of tiny pebbles, which means that the water is even clearer than usual (but you will want to wear shoes on the beach, especially water shoes).
Most of the beach is free to the public, but you'll also find a couple of beach establishments renting out sunbeds and umbrellas.
Note that there are not many services nearby, like bars and restaurants. Bring water and food if you plan to spend a long time at the beach — a slight downside, but one worth paying for the peace and quiet you'll experience here!
Marina di Cottone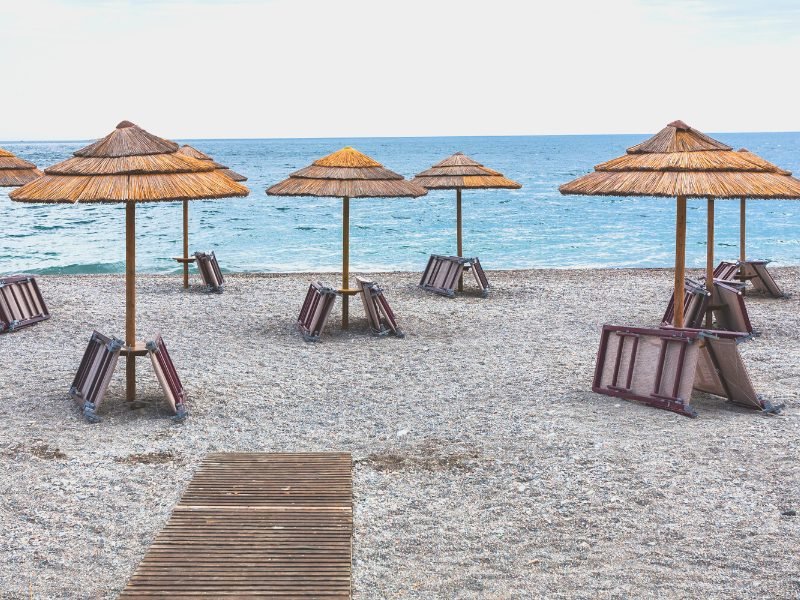 The beach of Marina di Cottone is just south of San Marco, in the town of Fiumefreddo Sicilia.
Like San Marco Beach, Marina di Cottone is only convenient if you have your own car. The nearest train station in Fiumefreddo Sicilia is a whopping 40-minute walk from the beach!
Marina di Cottone is very similar to San Marco, with tiny pebbles and lovely, crystal-clear water.
You'll find a beach club near the parking lot with a restaurant, Lido Bosco Marino. You can rent sunbeds here and have lunch with a view!
The nearby Mare Kambo is another good restaurant option for delicious pasta and some of the freshest seafood you can find on the island!
The beach of Marina di Cottone is a half-hour drive south of Taormina.
The train to Fiumefreddo only takes 10 minutes from Taormina-Giardini, but the long walk from the train station makes this a bad option (unless you plan to also hire a taxi from the train station).
Spiaggia di Sant'Alessio Siculo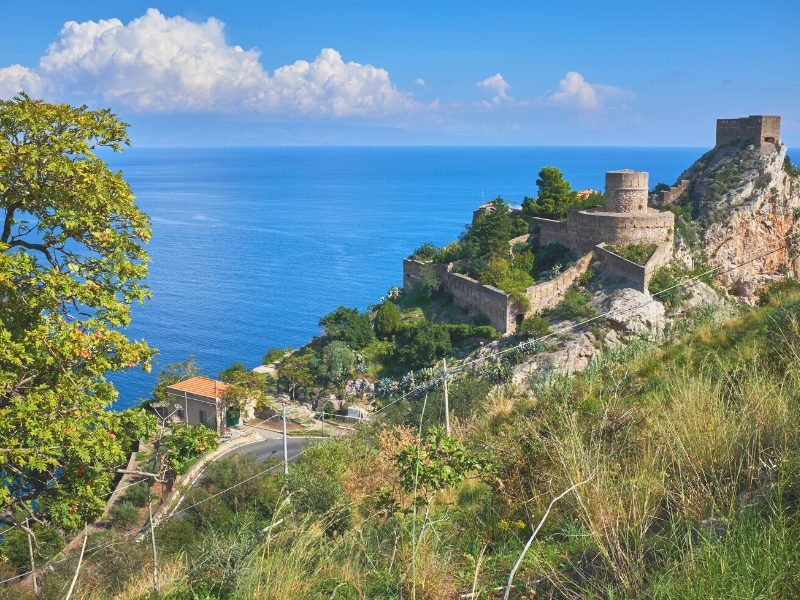 The beach of Sant'Alessio Siculo, roughly 25 minutes north of Taormina, lies at the foot of a scenic headland, where the Castle of Sant'Alessio Siculo overlooks the sea.
The beach extends roughly half a mile (about 1 km), so there's plenty of space to find a nice spot — yes, even during the high season!
The public free beach is interrupted here and there by a few bathing establishments where you can rent sunbeds and umbrellas.
At the back of the beach, the small town of Sant'Alessio Siculo has plenty of restaurants, bars, and gelaterias where you can enjoy a lunch break or just a refreshing drink or scoop of icy-creamy gelato.
The town is served by a train station just a two-minute walk from the beach, so it's convenient if you intend to visit the beaches near Taormina by train.
The train ride is only 10 or 15 minutes from Taormina-Giardini, depending on if you take a local or express train.
Spiaggia di Santa Teresa di Riva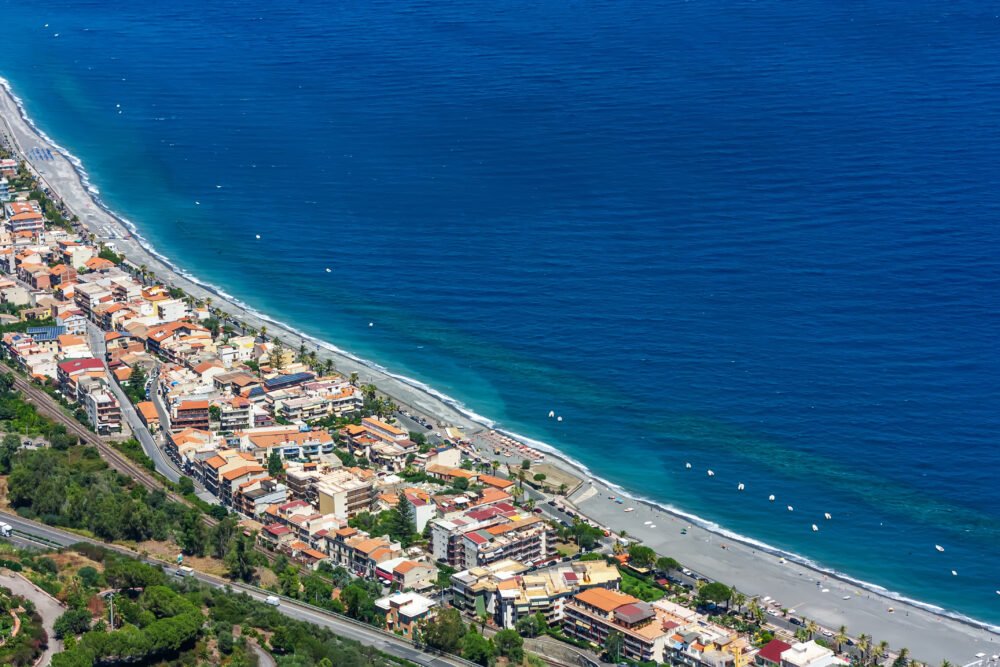 The beach of Santa Teresa di Riva is a bit further away from Taormina, but it's still easy to reach, even if you don't have a car.
The train from Taormina-Giardini takes just over 10 minutes to S. Teresa Di Riva station. By car, it takes roughly half an hour from the center of Taormina.
Santa Teresa di Riva is a small coastal town with a long sandy beach and sparkling-blue crystalline waters.
The beach stretches all along the main road and is mostly free, though you can find a few beach clubs in the northern part if you want to rent sunbeds and umbrellas.
Best of all, the beach even got a Blue Flag certification for sustainability standards!
Although being so close to a busy big road means dealing with the constant traffic (and Sicilian driving!), you'll only need to cross the street when you want to sit down for lunch or grab a refreshing gelato.
Lastly, being such an extensive stretch of beach, it's hard to find this Taormina beach too crowded!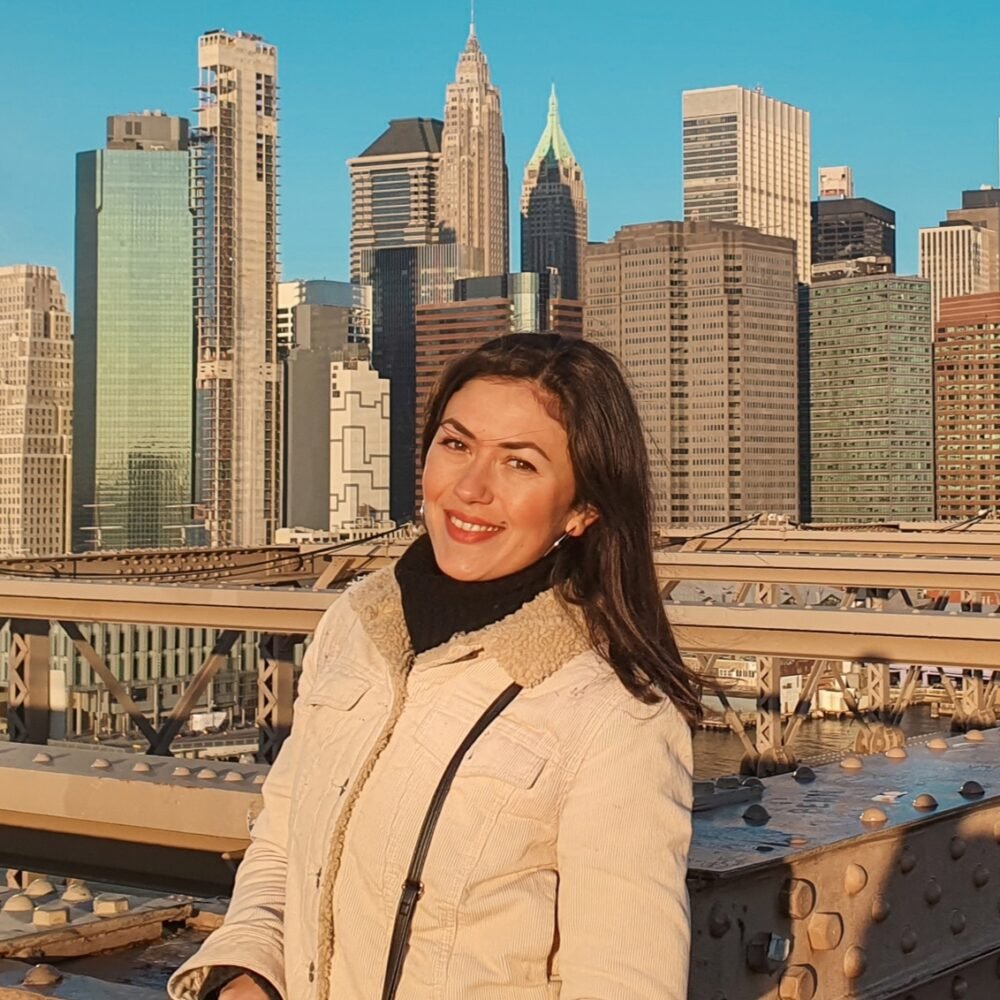 Roxana is a Romanian-born freelance travel writer who has lived in Italy for over 15 years. She has a Master's in Journalism and a Bachelor's in Film Studies. Her mission is to find hidden gems, even in the most popular travel destinations, and to inspire people to explore new places and cultures with the same curiosity! When she is not traveling, writing, or planning her next trip, she is either binge-watching TV shows or reading books.