Positano is quite possibly the most famous town on the iconic Amalfi Coast, located just to the south of Naples.
The dramatic coastline the region is celebrated for is dotted with picturesque little villages made of colorful houses stacked on top of each other on tall cliffs.
No other Amalfi Coast town is more emblematic of the region than Positano, with its iconic beach and serpentine streets offering glimpses of the coastline.
Note: This post contains affiliate links, which means I may receive a small commission if you purchase something through one of these links. Thank you for supporting the free content on this site! For more information on affiliate links and cookies, see my disclosure page for more details.
I traveled throughout the Amalfi Coast twice while living in Italy, in early autumn and in winter, and Positano was positively delightful on both occasions.
I recommend spending a full two days in Positano to get the full experience.
You'll have time to wander around the narrow alleys, relax on the beach, try the delicious cuisine at gorgeous restaurants overlooking the sea, and go for a short hike for even more sweeping coastal views.
This Positano itinerary will cover the places and activities you shouldn't miss on a short trip to this picturesque Amalfi coast town.
How to Get to Positano
By Rental Car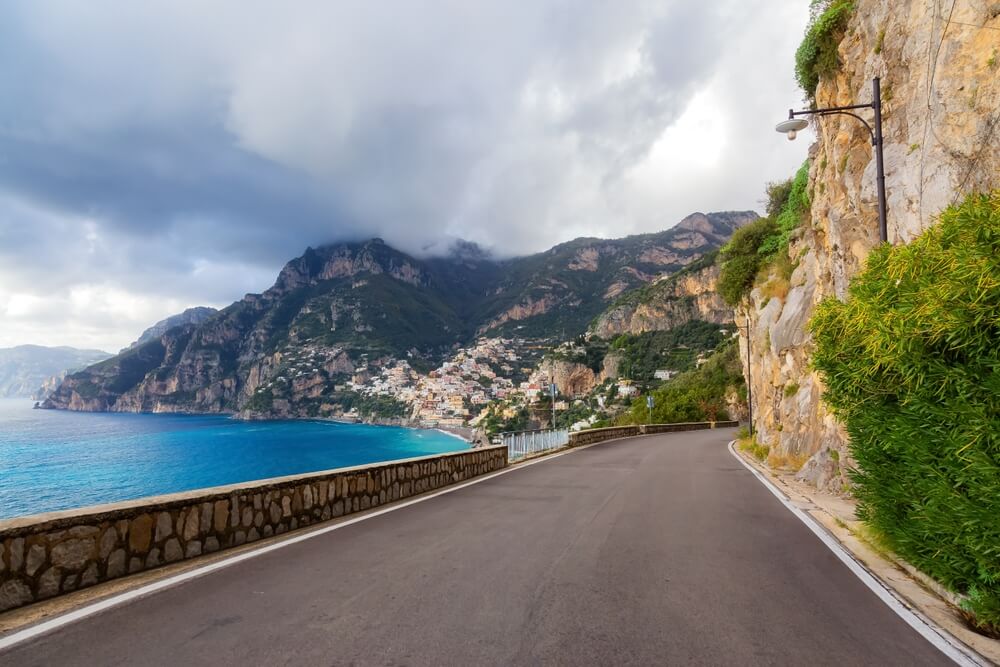 Renting a car in Italy is the easiest way to get to Positano, especially if you're flying into the Naples Airport.
Generally, renting a car in Naples is fairly inexpensive, and it can be very convenient for getting around the Amalfi Coast area, such as visiting its beaches.
That said, it can also present some challenges, like the difficulty of parking in Positano and dealing with traffic along the coastal road.
That said, I think the benefits of renting a car for Positano outweigh the drawbacks.
Generally speaking, you can get the best price on your car rental at the Naples airport.
I recommend using Discover Cars to compare prices as they search 500+ rental agencies (including small, local Italian companies) to get you the best deal, finding companies many other search engines miss.
By Bus and/or Train
If you won't be renting a car to explore the Amalfi coast, you can reach Positano by bus from Sorrento or Salerno.
In Sorrento, Bus Number 5070 departs from in front of the Circumvesuviana station, the train line connecting the city to Naples. The ride only takes about 45 minutes.
If you'll be coming to Positano from Salerno, the journey is a bit longer. You have to take bus 5120 to Amalfi (approximately 75 minutes) before catching the same bus 5070 to Positano, so your total travel time will be almost two hours. 
If you prefer not to deal with buses or trains, you can skip all that with an airport transfer from Welcome Pickups, where you pre-book an airport taxi and the driver will greet you and help with your luggage.
By Boat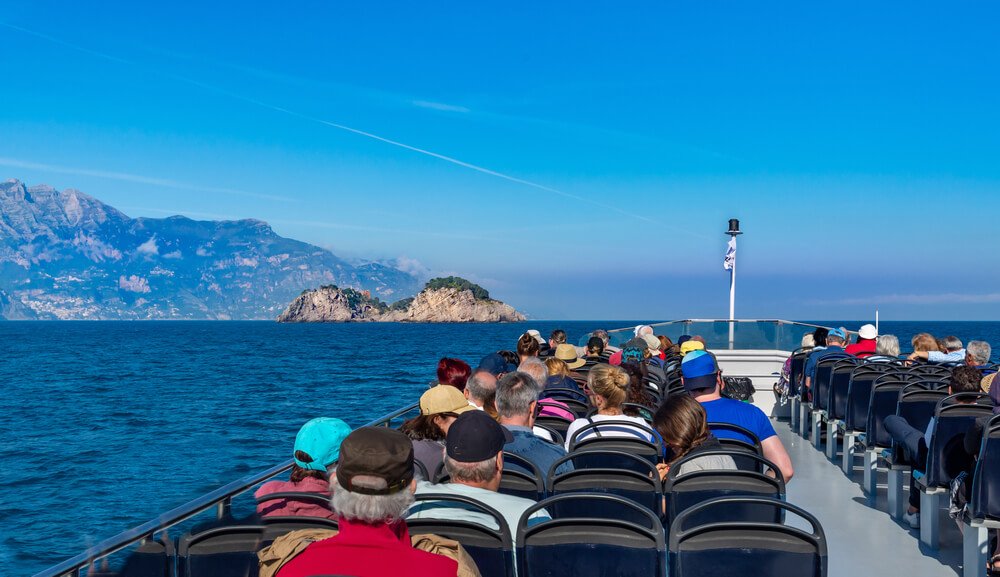 Of course, if you prefer the scenic and more adventurous route, since Positano is a coastal town, there's always the nautical option: from Naples, Salerno, and Sorrento, you can catch a boat to Positano (or other Amalfi towns).
While the coastal journey offers gorgeous views, it can be a bit of a challenge for those suffering from motion sickness.
The entire coast is one big curve after the other, so be prepared, and maybe choose the shorter option.
There are also ferries that run directly from Capri to Positano, so you can spend a day in Capri before your Positano itinerary.
Best Time to Visit the Amalfi Coast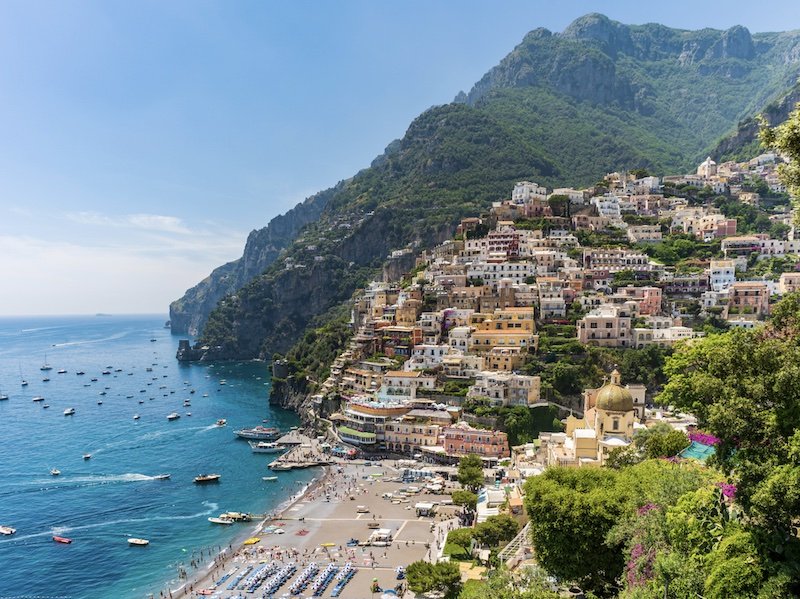 Having explored Positano in both February and October, I can safely say that any time of year is great to discover the Amalfi coast.
In wintertime, you'll likely find Positano nearly empty, which I loved.
In summer, on the other hand, expect the town to be packed with travelers on vacation.
Positano attracts a mixed crowd of visitors, from day trippers to influencers and celebrities stopping by on their yacht trips.
If you want to find a spot to settle in on the beach, you'll have to get there early.
Summer travel to Positano isn't all bad, though!
The town is livelier in summer, and you'll find more restaurants and bars open since some of them close for the season during winter.
If you want to strike a balance between gorgeous weather and smaller crowds, try to schedule your trip around April or October.
If you're lucky, the weather may even be warm enough to spend a few hours at the beach!
Positano Itinerary: Day 1
Explore Positano by foot.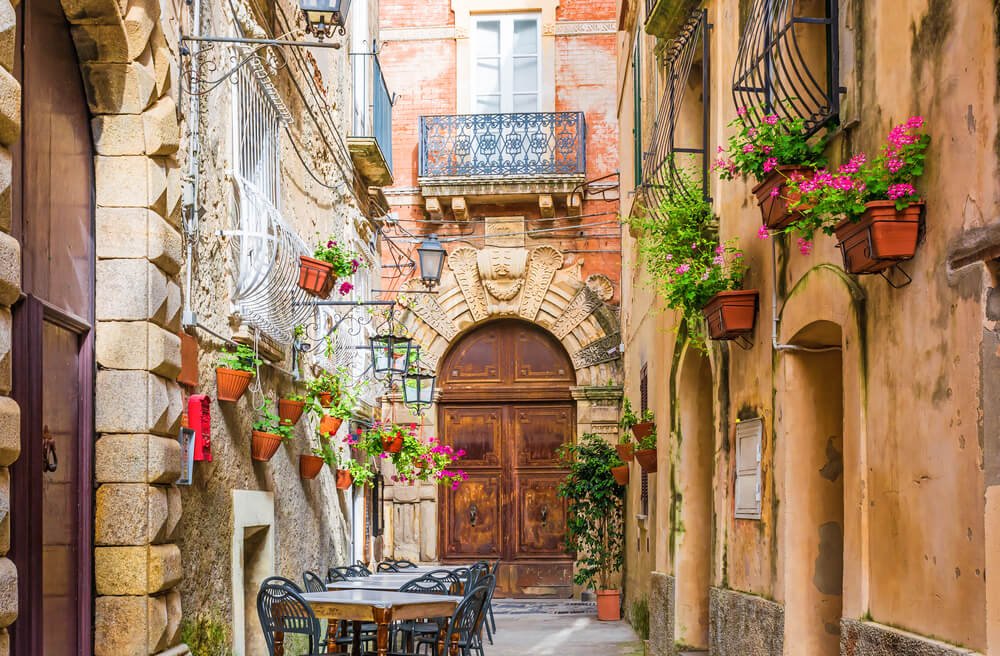 What better way to start your first day in Positano than with a coffee by the beach? At Positano Paradise Lounge Bar, you can find exactly that.
After enjoying the delicious coffee and beautiful scenery, it's time to explore the town.
The best thing to do in Positano is also the simplest: just walk around and find gorgeous points to enjoy scenic views overlooking the coast.
You can find some of the best views of Positano from Via Cristoforo Colombo, nearly any point along Viale Pasitea, and the main road Amalfi Drive.
For precise directions, just search Google Maps for Fotopoint Positano for a beautiful viewpoint on Amalfi Drive.
Positano is also filled with the most charming shops selling all kinds of souvenirs, from local food to clothing and, most notably, gorgeous ceramics.
You simply can't go to Positano and not take the chance to admire the ceramics.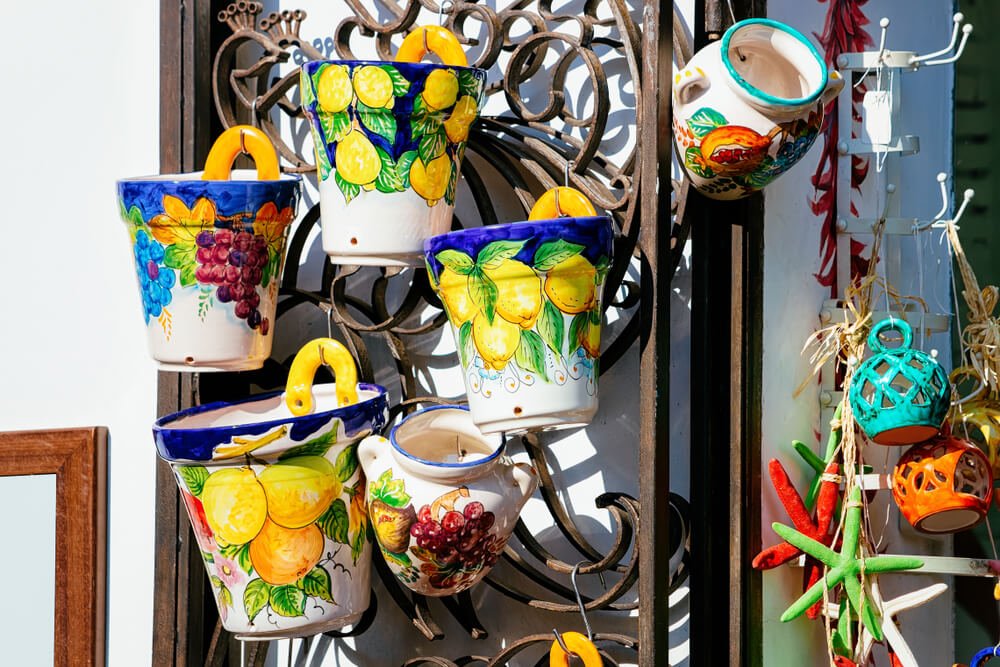 While the core of ceramics production on the Amalfi Coast is in Vietri sul Mare, you'll find shops in every village along the coast.
Some of Positano's most renowned ceramics shops are Ceramica Assunta, Emporio della Ceramica, and The Art of Ceramics.
Whether you just want to admire the beautiful vases and crockery or buy some souvenirs to take home, it's worth checking out some (or, if you're ambitious, all!) of these shops.
Keen-eyed observers may notice how nearly all objects are decorated with lemons.
That's not by coincidence, as the lemon is a prominent local symbol, given their presence all over the coast.
Amalfi Coast lemons are of a specific variety called Sfusato d'Amalfi, known for their sweet taste, unlike other lemon varieties.
While shopping around Positano, don't forget to buy some limoncello and lemon candy to take home!
The bright, fresh citrus flavor is sure to bring back happy memories of this perfect Positano vacation.
Visit the Church of Santa Maria Assunta.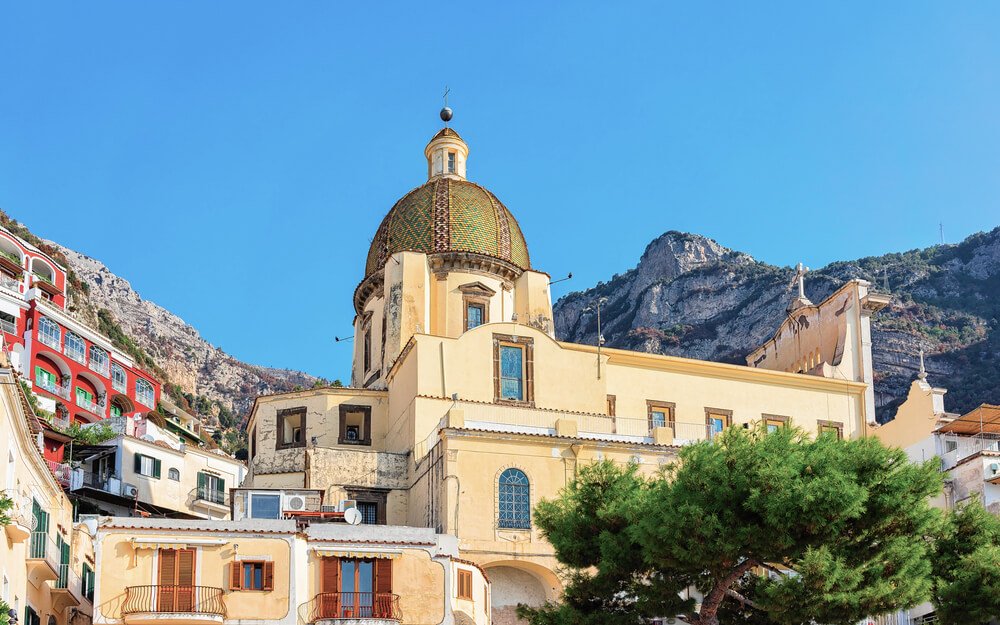 In the lower part of Positano, visit the Church of Santa Maria Assunta.
This is the most important church in town, and it was once part of the Benedictine monastery of St. Mary.
The church is best known for its iconic ceramic dome and for housing a Byzantine icon of the Holy Virgin.
According to local legend, the icon arrived in Positano through nothing short of a miracle.
The Byzantine icon was on a ship of Benedictine monks sailing by Positano. The ship suddenly came to a stop offshore from Positano, and the sailors could not keep sailing.
Supposedly, they heard a voice saying "Posa Posa," which translates to "put me down," and is the inspiration for the name of Positano.
The ship's captain decided to listen to the voice and head for shore, intending to leave the icon in town. As the story goes, it was at that exact moment that the ship began sailing again.
Subsequently, the icon was given as a gift to the inhabitants of Positano, who decided to build a church in honor of the Virgin.
As you see it nowadays, this church is the product of a restoration in the late 18th century, which used to be a 10th-century monastery.
Few relics of this previous life of the church remain, but above the bell tower door, you can see a bas-relief that depicts a creature with a dragon-like form.
Discover Roman ruins at MAR Museo Archeologico Romano.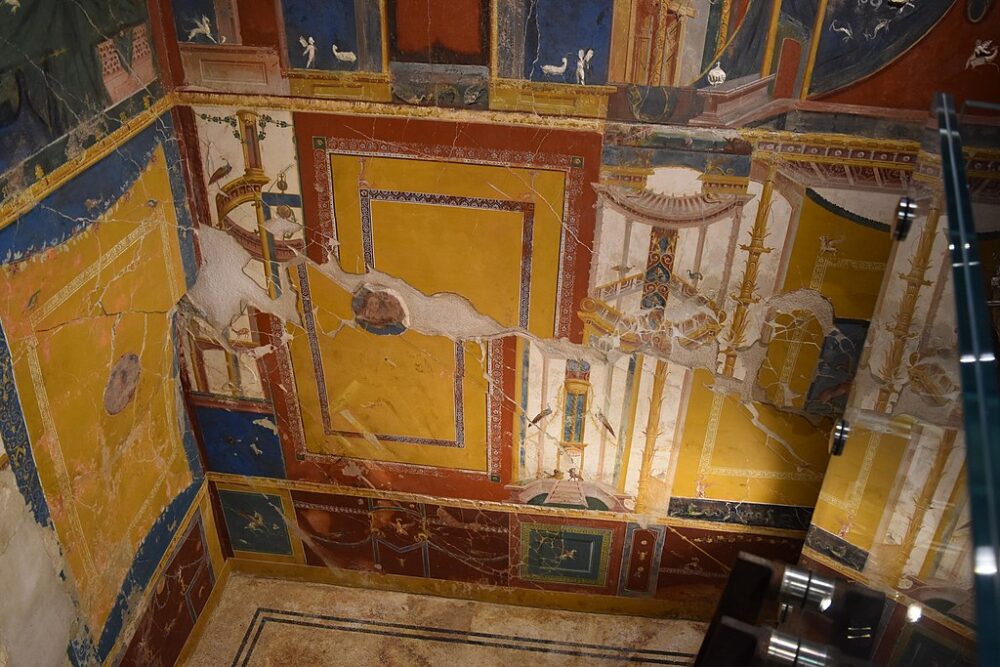 Next to the church, you can visit the Roman Archaeological Museum, or "MAR".
Drop in to join a guided tour with an archaeologist who will tell you everything there is to know about the Roman Villa dating back to the 1st century BCE that lies just below the church.
The Roman Villa d'Ozio was covered by the ash and pumice of the Vesuvius eruption of 79 AD.
In fact, the fact that the famous eruption that destroyed Pompeii reached the Amalfi Coast is a relatively recent discovery!
The first excavation to bring the ancient Roman villa to light took place between 2004 and 2006.
A second campaign from 2015 to 2016 uncovered additional areas but, for the most part, the luxurious villa remains buried.
Although the eruption didn't cause the same level of damage, pyroclastic materials did reach the coast and preserved the villa under two meters of what turned into a type of rock known as "tuff".
In the guided tour, you'll get the chance to admire the incredibly well-preserved mural paintings of the 4th Pompeian style in vivid colors.
In addition to the murals, you can also examine several objects uncovered in the excavations.
Have a lunch break.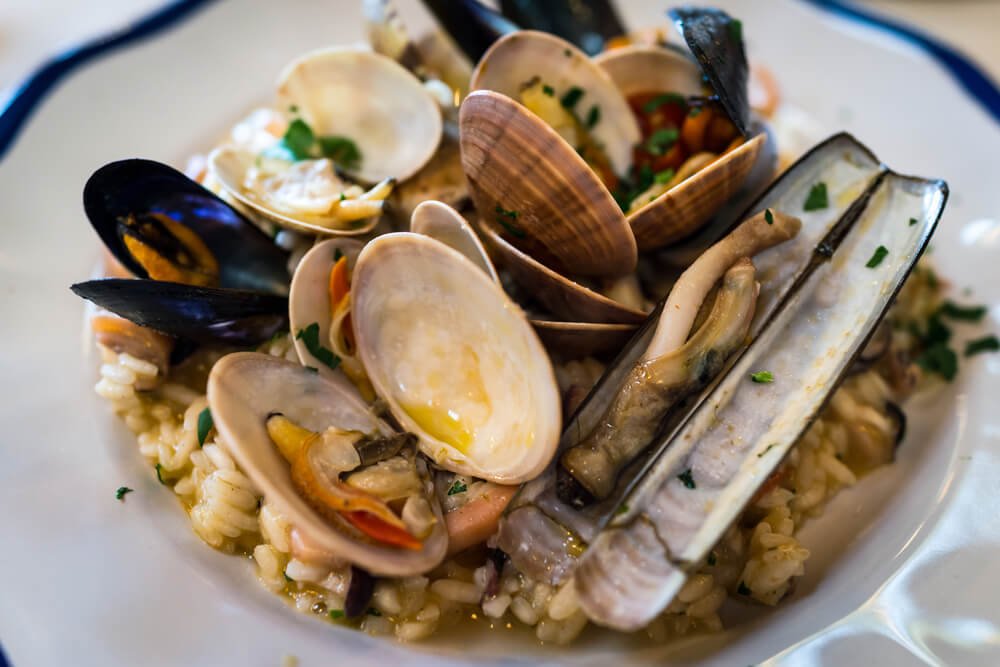 Positano offers numerous opportunities to enjoy lunch with a gorgeous view.
However, be prepared for these restaurants to be quite expensive by Italian standards. After all, you are also paying for the view.
If you want a nice meal at a decent price, try the delightful fresh pasta and pizza at Saraceno d'Oro. For delicious seafood, head to Il Grottino Azzurro.
If you just want to have a quick bite and save your time for more sightseeing, try the flavorful sandwiches at Simone's Sandwiches, though note that this place is usually just open seasonally, from late spring to early fall.
The next activity will be a bit season and weather dependent — you can either go for a stunning hike or spend some time relaxing at the beach.
Option One: Go hiking at Le Tese di Positano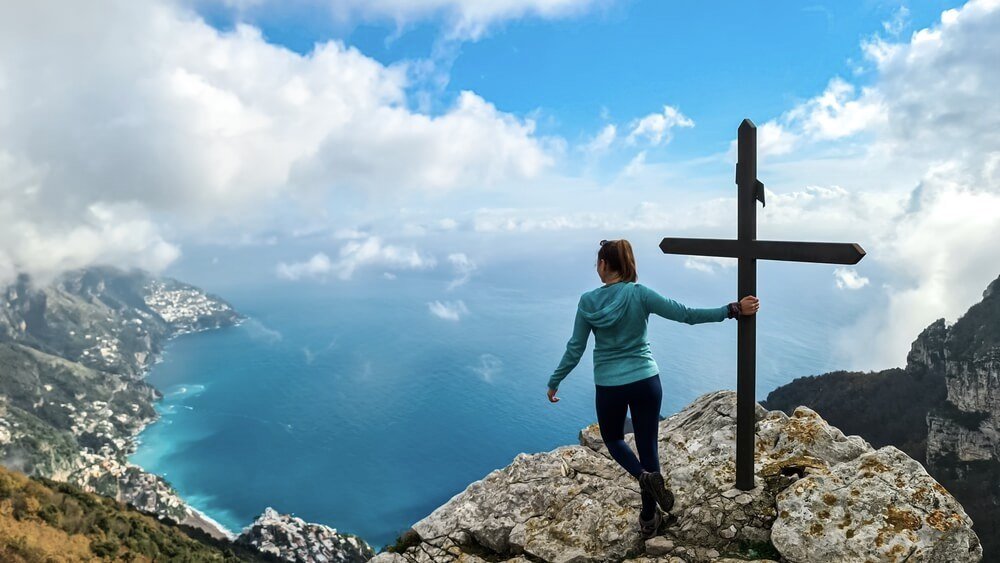 If you want to go hiking, Le Tese di Positano is a short and easy trail.
The path starts in Via Corvo, northeast of Positano, and ends at Belvedere Santa Maria Del Castello.
At first, you'll have to climb several steps, then continue along a path until you reach the scenic overlook point with a stunning view.
While it may be hard to believe today, this narrow and rough trail used to be the only road connecting Positano to the villages of the Lattari Mountains.
The hike up takes at least an hour, but it can take longer if you stop frequently for breaks.
Be sure to bring enough water and a few snacks, and avoid it if it's too hot.
At the end of the trail, all of your hard efforts will be rewarded when you reach the scenic overlook at Santa Maria del Castello and admire in the breathtaking view of the dramatic coastline.
From this viewpoint, descend back to Positano and treat yourself to a refreshing granita (similar to a lemon sorbet) or gelato.
Try the granita inside a lemon at Collina Positano Bakery for a delightfully citrusy twist on the classic dessert.
Relax at the beach.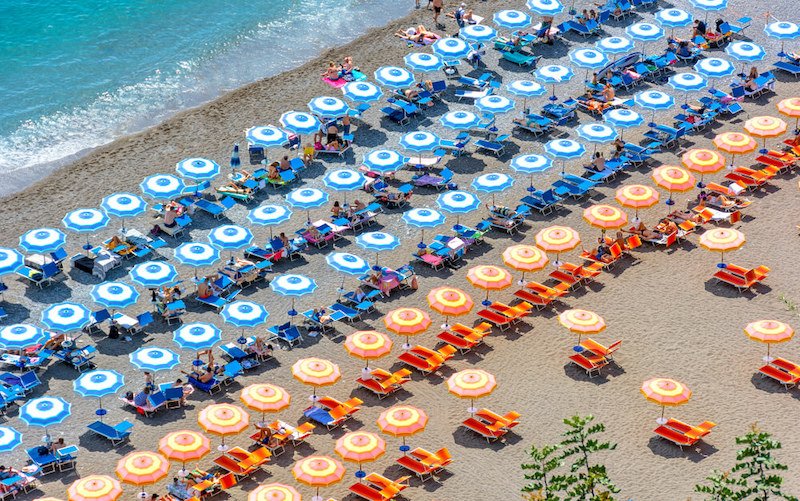 If going on a hike sounds like a bit more work than you'd like on a relaxing vacation, you can spend a few hours just kicking back at the beach.
You'll have your choice between the main beach, Spiaggia di Positano Marina Grande, or walking for about ten minutes to check out Fornillo Beach.
The main beach tends to be more crowded, especially in the peak summer months.
Although Fornillo Beach may not have the same picturesque background, it's a delightful little beach.
As a bonus, the road connecting Fornillo to Spiaggia Grande is also very picturesque!
Watch the sunset from Nocelle.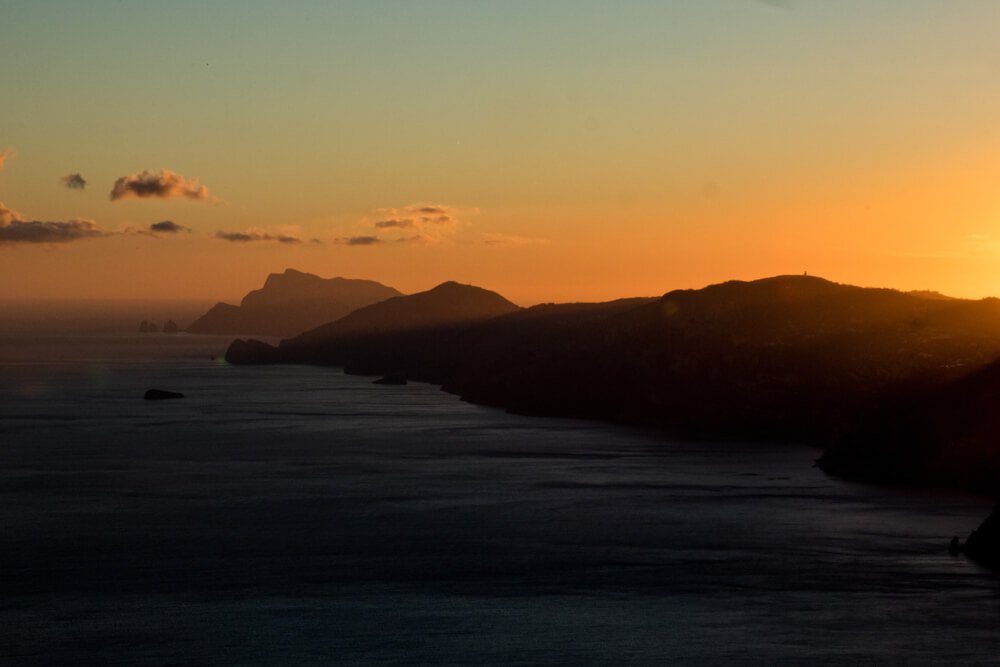 If you have time left and are up for a challenge, walk to Nocelle to watch the sunset.
You'll need to climb a long stairway starting on Amalfi Drive just outside Positano, near Arienzo Beach.
I won't lie to you, the climb is challenging, but once again, the view from the top is worth it.
When you reach Nocelle, you can stop at Lemon Point for a refreshing lemonade to drink while taking in the view.
Remember, what comes up must go down… and those same steps will be awaiting you on the return.
If you do a sunset hike, be sure to bring a headlamp for the walk down — you don't want to stumble!
You can also time this for a late afternoon hike if you don't want to walk back down in the dark.
Also, be aware that while the walk up is about 30 minutes, the walk back will take around an hour, since you also have to backtrack to Positano town itself.
Have dinner in Positano.
Back in Positano, it's time for dinner at one of the many restaurants with terraces overlooking the sea.
Luna is a charming option if you are looking for a more refined location.
Alternatively, head to the historic Da Vincenzo Positano 1958.
Although it doesn't have a view, it serves some of the best pasta dishes in town. This restaurant is open only from April to early November, however.
Positano Itinerary: Day 2
Go on a day cruise of the Amalfi Coast.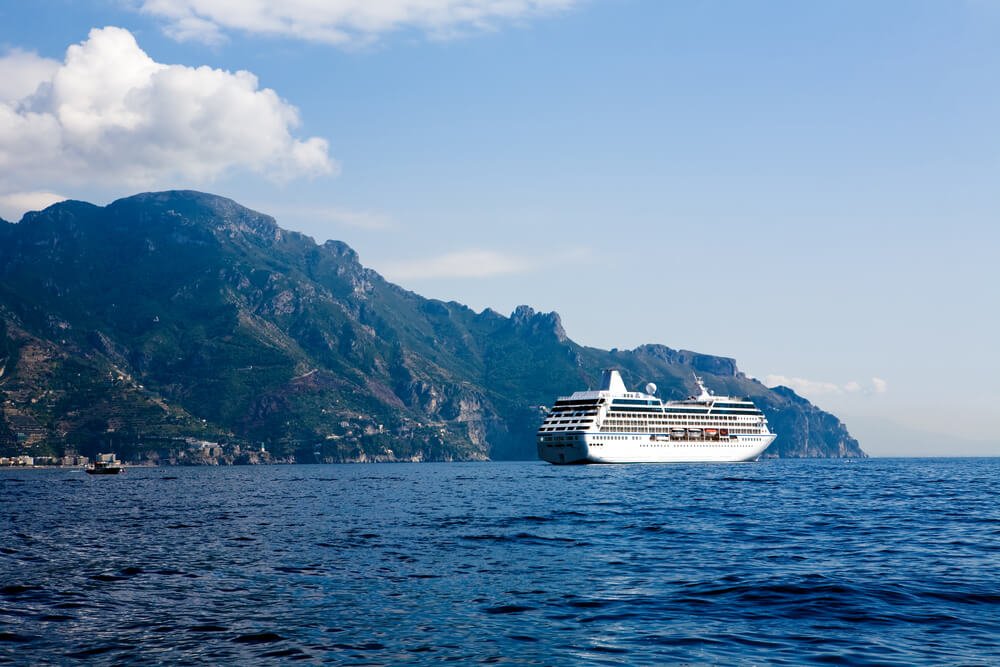 One of the best ways to experience the Amalfi Coast is on a cruise. You'll find many day cruise options from Positano, online and on-site.
If you travel in summer or even late spring, I recommend booking online in advance to secure your spot.
This Small-Group Amalfi Coast Day Cruise is one of the best options from Positano. The small group size allows you to really enjoy the trip and get a more personal experience.
An expert skipper will guide you along the coast, passing by stunning sea caves and charming villages. The cruise sets sail in the morning from the main beach of Positano, Spiaggia Grande.
You'll be passing by the picturesque village of Praiano and the stunning Furore fjord before arriving in Conca dei Marini.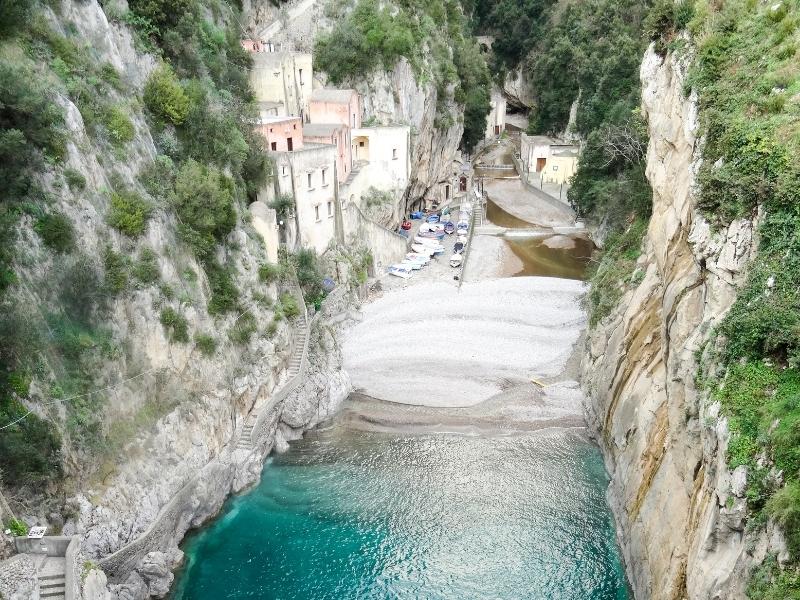 You can join an optional tour of the Emerald Grotto in Conca dei Marini, but there is an extra charge to do so, so factor that in.
A fisherman discovered the sea cave by accident in 1932, and it soon became a popular attraction.
Sun rays enter the cave through an opening creating beautiful reflections on the surface of the crystalline waters.
After Conca dei Marini, you'll reach Amalfi, the town that gives the name to the coastline.
Here, you get a few hours to explore on your own and have lunch. You can stay in Amalfi or catch a bus to Ravello.
If you explore Amalfi…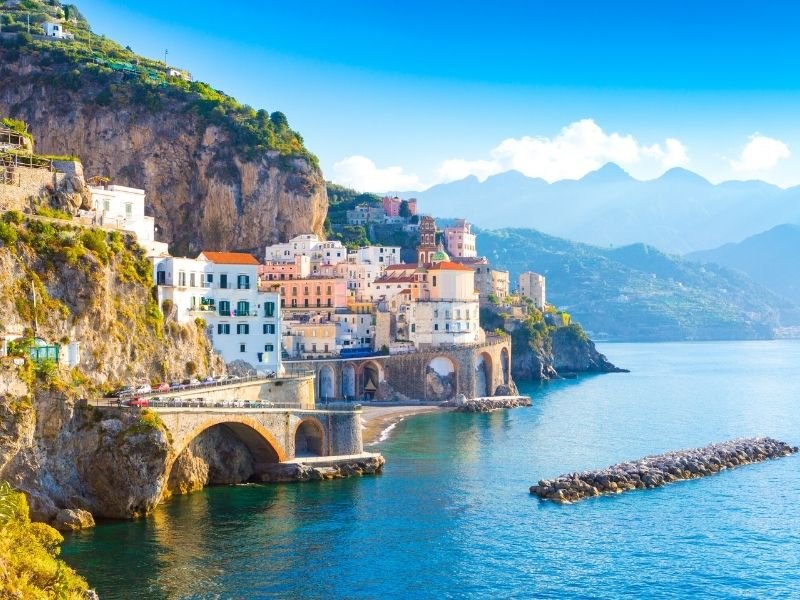 Start by visiting the beautiful 10th-century Amalfi Cathedral with its ornate Moorish façade.
You can enter the cathedral for free during mass.
However, for a small €3 fee, you can visit the cathedral, the crypt, and the gorgeous 12th-century Moorish cloister, Chiostro del Paradiso.
You can stop for lunch at one of the many restaurants near the cathedral. Try delicious seafood pasta at Ristorante La Piazzetta or Taverna degli Apostoli.
Spend the rest of the time exploring Amalfi's lovely alleys and climbing the narrow stairways for gorgeous panoramic views.
The street leading to the hilltop Amalfi Cemetery has some of the best coastal views, especially from the Belvedere Cimitero Monumentale.
If you explore Ravello…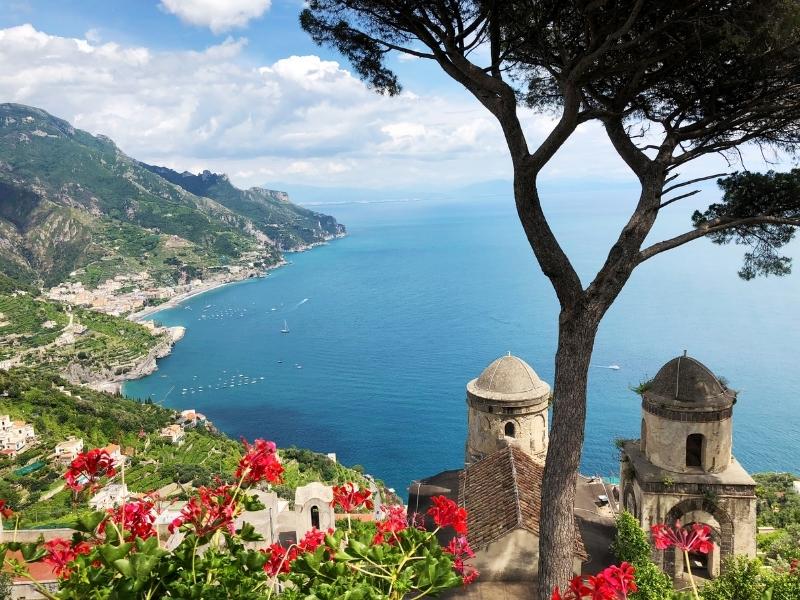 If you'd rather skip Amalfi and visit Ravello instead, you can catch a bus right by the Amalfi port that will take you to the hilltop village in less than half an hour.
Ravello is best known for its stunning gardens offering sweeping coastline views.
Visit Villa Cimbrone Gardens to experience the dramatic views from the iconic Terrazza dell'Infinito.
Another garden worth visiting is Villa Rufolo, boasting delightful, landscaped gardens and a beautiful Moorish palace.
If you want to stay for lunch in Ravello, try Osteria Ravello or Ristorante Vittoria, both offering tasty local dishes paired with beautiful views.
After the Amalfi or Ravello visit, your guide may lead you to Maiori and another beautiful sea cave where you can go for a swim.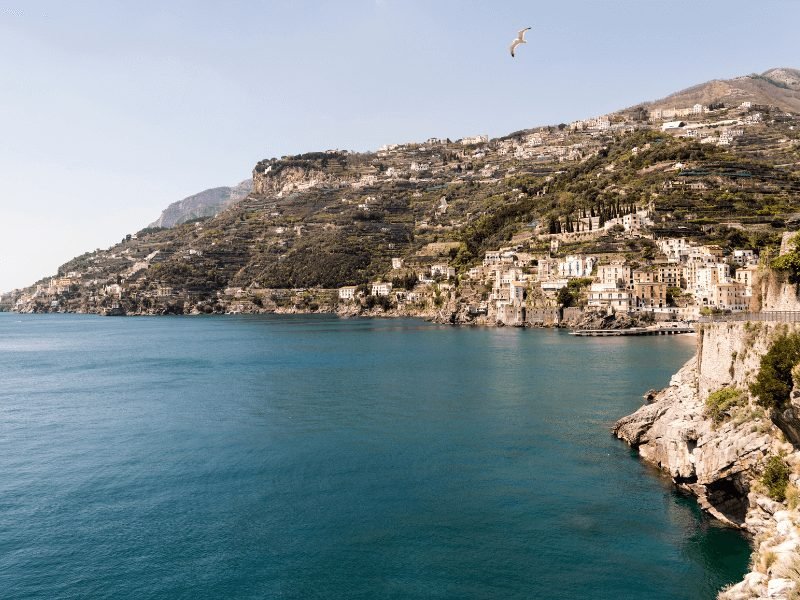 The last part of the tour that includes Maiori and the nearby sea cave is not always guaraneed, as it depends on how much time you have left.
Either way, you'll be back in Positano by the late afternoon, with enough time for another sweet sunset and fantastic meal.
Taking a guided tour with a boat cruise is a great way to experience the Amalfi coast and some of its villages on a 2 day Positano, where you don't have much time.
If you prefer exploring the coast on your own, you can also catch a boat ride from Positano to Amalfi and visit both Amalfi and Ravello.
Of course, you'll miss out on the sea caves this way, but you'll still get the gorgeous coastal views.
Walk around Positano and have dinner.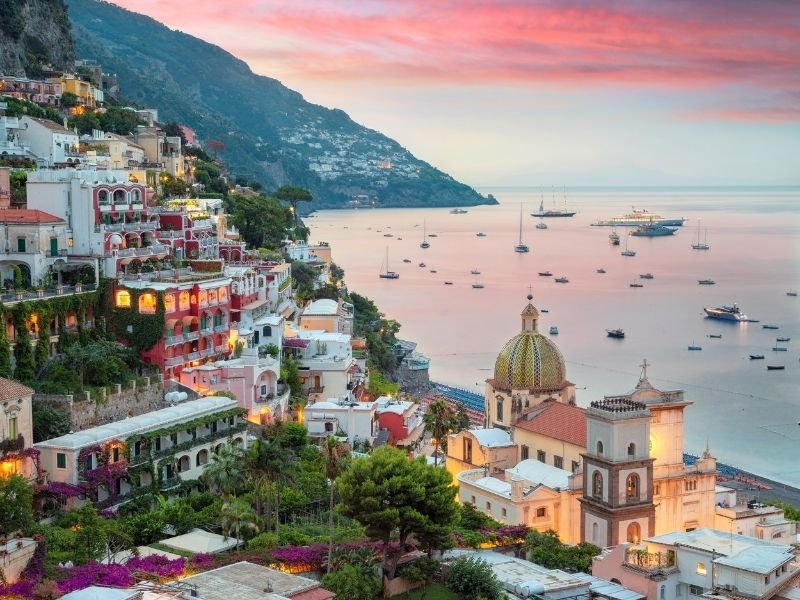 Once you're back in Positano, spend the rest of the afternoon checking out other lovely viewpoints and getting lost through the narrow alleyways.
For your last dinner in town, treat yourself to a delicious meal with a view at Orama Restaurant or La Sponda.
If you're visiting Positano and can afford to extend your trip, visit some of these other charming villages on the Amalfi Coast.
You may also want to read this 5-day Amalfi Coast itinerary if you are planning on visiting multiple villages.
Where to Stay in Positano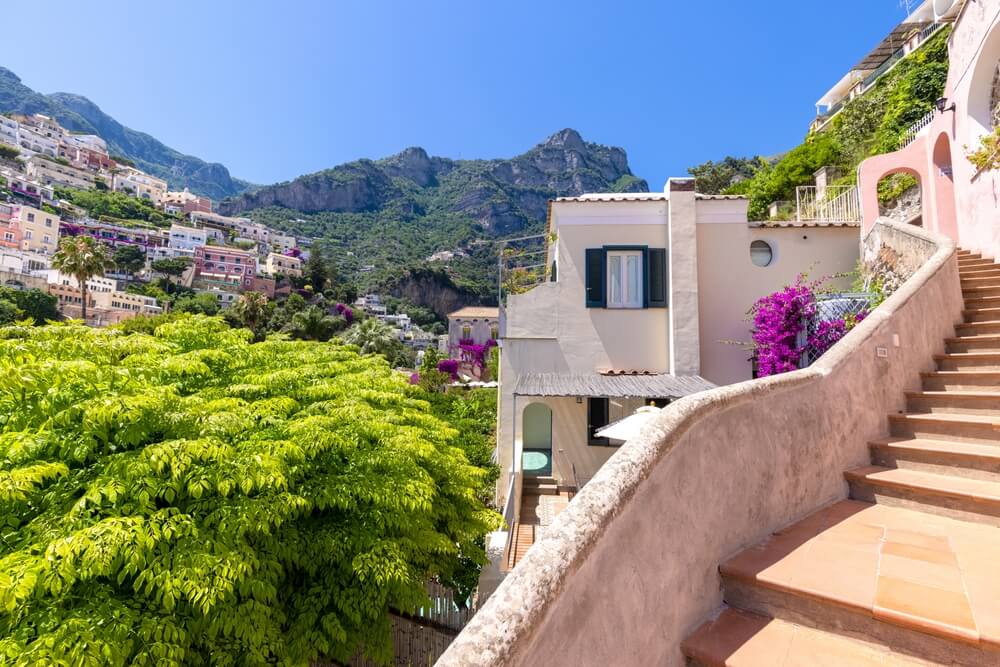 Budget
The Relais Il Sogno de Positano provides a relatively cheaper option for accommodation in Positano, although the term "budget" can be subjective in this town!
You can indulge in spacious and colorful rooms that offer scenic views of the sea, although the location is a bit further away from the main town area.
Nonetheless, considering the considerable difference in pricing with other options in Positano, the distance is a reasonable trade-off, especially with the picturesque environment to walk around in.
↳ Check prices, availability, and reviews here!
Mid-Range
Looking for a sweet spot to stay in Positano without breaking the bank? Look no further than Hotel Conca d'Oro!
This mid-range gem is located right in the heart of town and features chic minimalist rooms with a few elegant Amalfi touches.
Most of the rooms feature stunning views of the sea, though if you don't have your own balcony, the terrace is the perfect spot to catch a sunset. You'll be living the high life without spending all your dough!
↳ Check prices, availability, and reviews here!
Luxury
Hotel Villa Franca is the real deal when it comes to luxury on the Amalfi Coast. But buckle up, because the price tag might make you shed a tear or two.
That being said, you're in for a treat with two fine dining restaurants and a jaw-dropping rooftop pool with views that will leave you speechless. There's also swanky O'Spa Wellness Center that features a Turkish-style hammam.
Oh, and let's not forget about the stunningly designed rooms that offer mind-blowing views of the sea!
↳ Check prices, availability, and reviews here!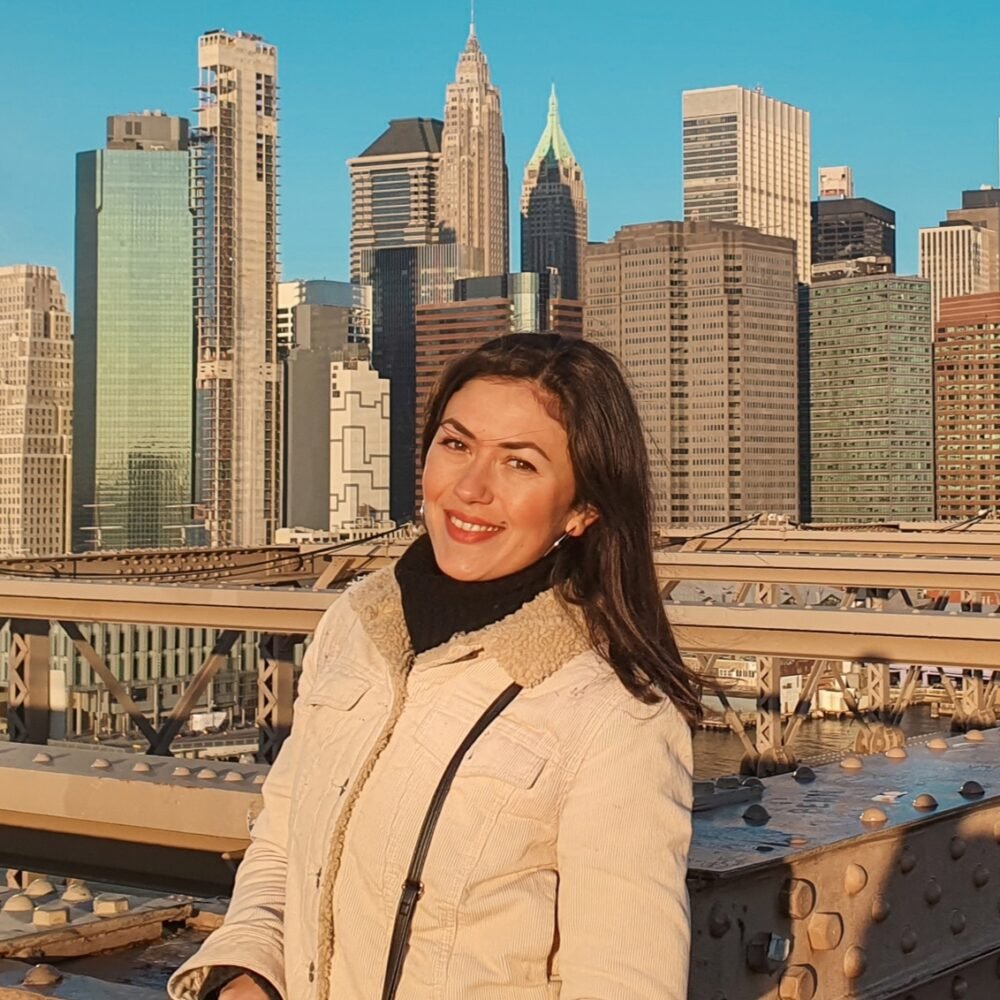 Roxana is a Romanian-born freelance travel writer who has lived in Italy for over 15 years. She has a Master's in Journalism and a Bachelor's in Film Studies. Her mission is to find hidden gems, even in the most popular travel destinations, and to inspire people to explore new places and cultures with the same curiosity! When she is not traveling, writing, or planning her next trip, she is either binge-watching TV shows or reading books.