As a continent, Europe is perfectly suited for road trips!
The distances between countries are short – at least in this American's eyes – so you can easily see several countries on one quick trip, or very thoroughly explore one country in depth.
While the rail and bus system in Europe is quite advanced, there's really no better substitute than having your own car.
This way, you can explore as much as possible and get off the beaten path whenever you like.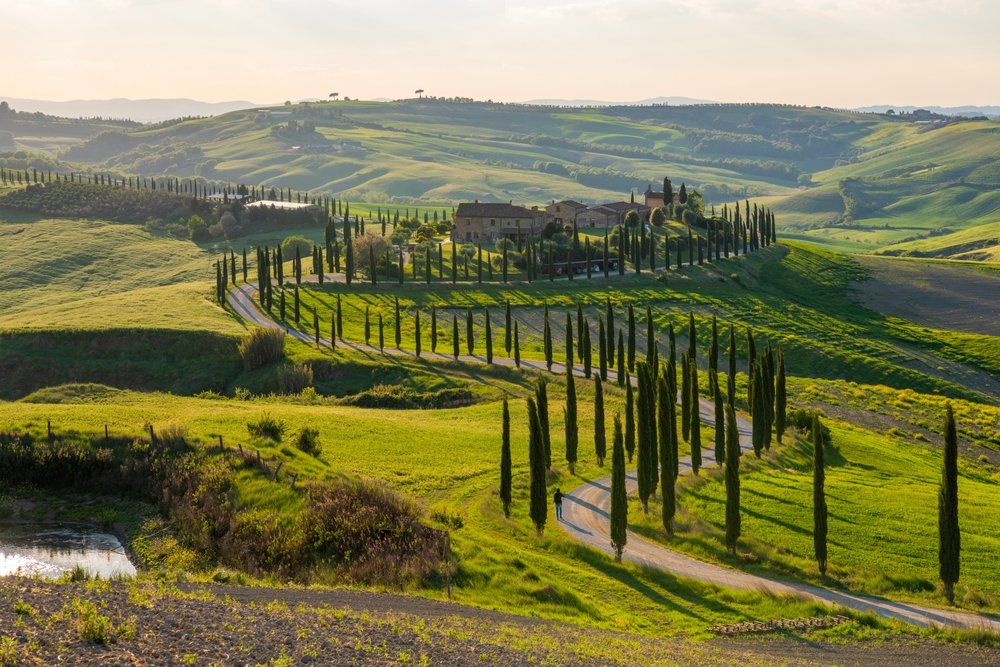 Note: This post contains affiliate links, which means I may receive a small commission if you purchase something through one of these links. Thank you for supporting the free content on this site! For more information on affiliate links and cookies, see my disclosure page for more details.
I asked some travel bloggers to share their expert opinions on what some of the best road trips in Europe are, and they didn't disappoint!
Check it out below and get inspired!
But first, we'll cover a bit of the nitty-gritty of renting a car in Europe, since you'll likely need to handle that before going on any of these Europe road trips!
Renting a Car in Europe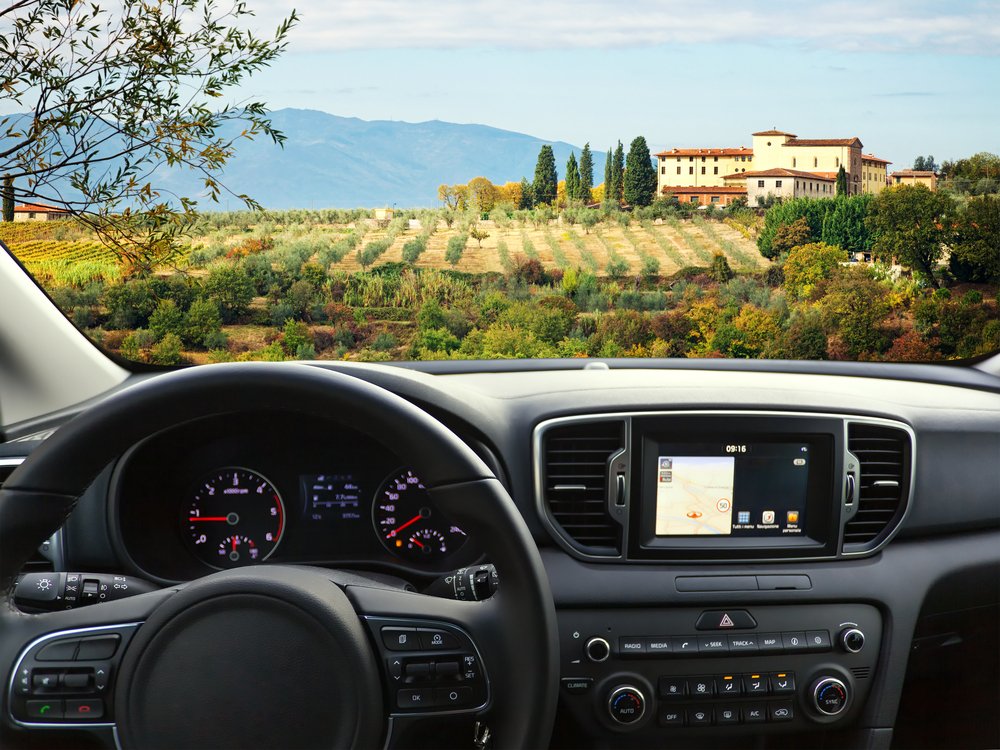 Renting a car in Europe can be a bit intimidating.
What side of the road will I drive on? (Usually the right, unless you're in the UK, Ireland, or Malta).
Will they have automatic cars? (Yes, but you'll want to double-check that you don't accidentally book manual, since automatic supplies are limited.)
Who to rent with? I always pick Discover Cars to search for the best deal for multiple reasons.
For one, they search all the local agencies, not just the big names like Hertz, Avis, etc. which I often find to be overpriced and slam me with all sorts of extra fees.
For another, their full coverage insurance is one of the cheapest I've seen — starting at just $7/day, whereas when I book it at a rental counter, it tends to be $20/day on average.
(I always book full coverage when I travel because the peace of mind is worth the minimal extra cost)
Lastly, their cancellation policy is generous, so if my plans change at the last minute, I won't be out of luck.
🚗 Best Europe Rental Car Prices: Discover Cars

This search engine not only looks at the typical rental car agencies (which can be $$$), it also looks at local, small agencies that may offer better deals. Their pricing is straightforward (no bait-and-switches) and they offer free cancellation if you need it.

➜ Check rental prices in Europe with Discover Cars here!
The Best Road Trips in Europe: UK & Ireland
Five Ferries Route, Scotland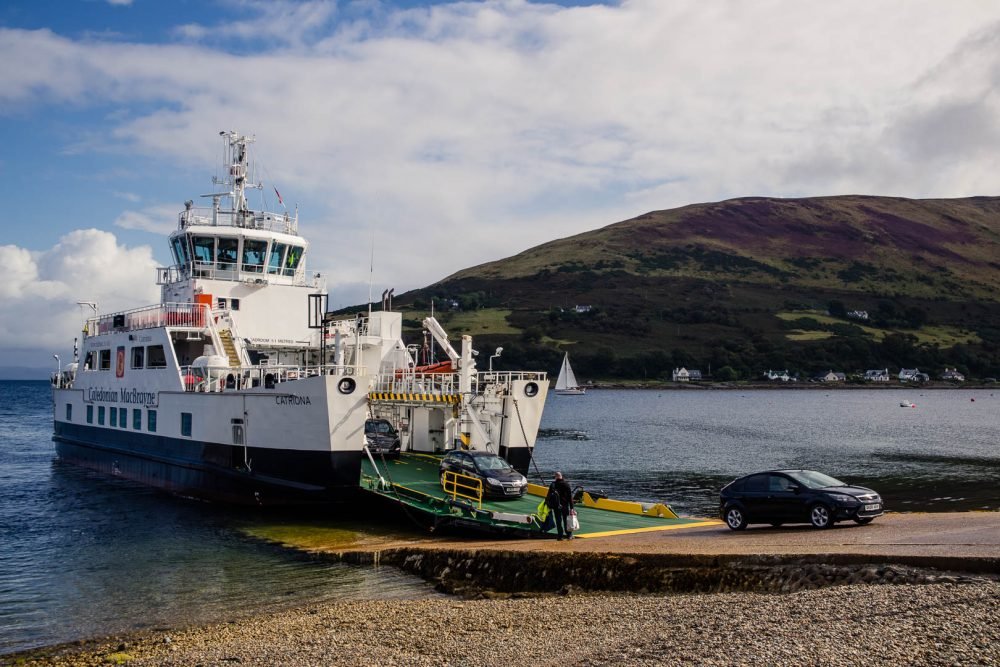 Rent a Car in: Glasgow or Edinburgh
Route: Androssan – Isle of Arran – Kintyre Peninsula – Cowal Peninsula – Isle of Bute – Ayrshire Coast – Glasgow or Ardrossan
The Five Ferries Route on the west coast of Scotland is traditionally a cycle route, but who says the 55-mile loop can't be equally done by car?
It's the perfect island-hopping road trip if you're short on time. 
The route is named after the five ferries one must take between the mainland and various islands and peninsulas in this jagged coastal landscape.
The road trip begins in Ardrossan, a seaside town with a busy ferry port around 35 miles southwest of Glasgow.
Set sail to the Isle of Arran and on to the Kintyre peninsula. From there make your way to the Cowal Peninsula, the Isle of Bute and back to the Ayrshire coast on the mainland.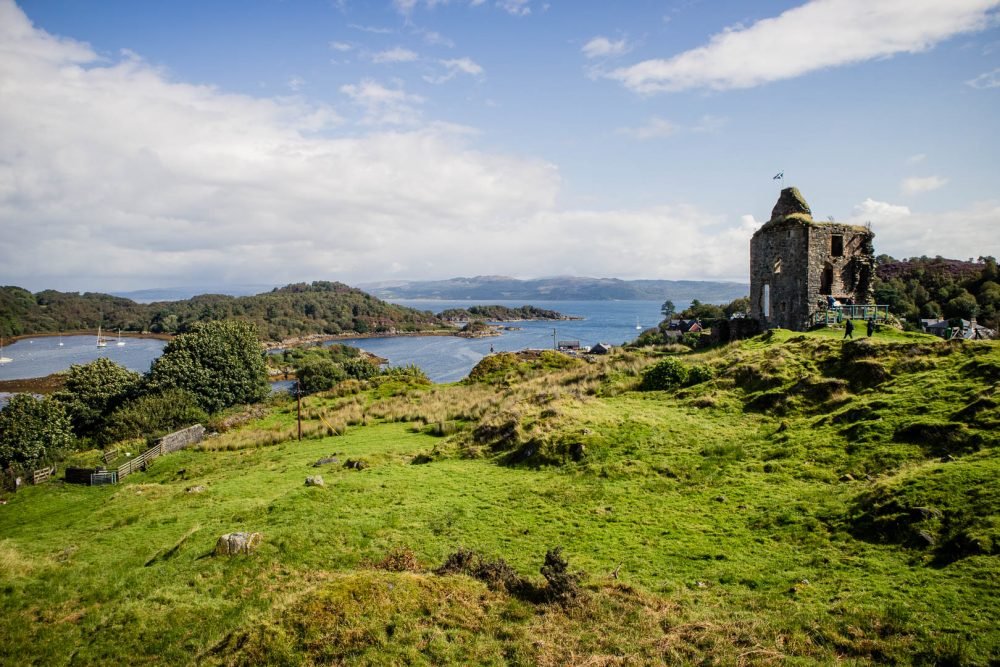 The first stop on the Five Ferries Route is the Isle of Arran. It is also known as Scotland in miniature and boasts a little bit of everything Scotland has to offer.
Stunning mountains and white sandy beaches, baronial and ruined castles, locally made produce from beer to cheese, an independent whisky distillery, and even some fascinating standing stones.
Spend at least one full day on Arran before heading on to the ferry.
Next up is the Kintyre peninsula. The ferry from Lochranza on Arran arrives in Cloanaig near the top of the peninsula.
If you are pressed for time, you can simply take in the nearby sites (Skipness Castle and Tarbert Castle) before heading on to Portvadie on the next ferry.
Alternately, you can spend a couple of days in the area to explore everything the long finger-shaped peninsula has to offer.
From the beautiful lighthouse at the Mull of Kintyre to the whisky distilleries in Campbeltown, stunning beaches and bay along both coasts or a day trip to the Isle of Gigha, there is a lot to see here.
The next part of the Five Ferries Route takes in a remote part of Scotland called Argyll's Secret Coast.
While it's not really a secret, this area on the Cowal peninsula is so far off the beaten path, few people venture here.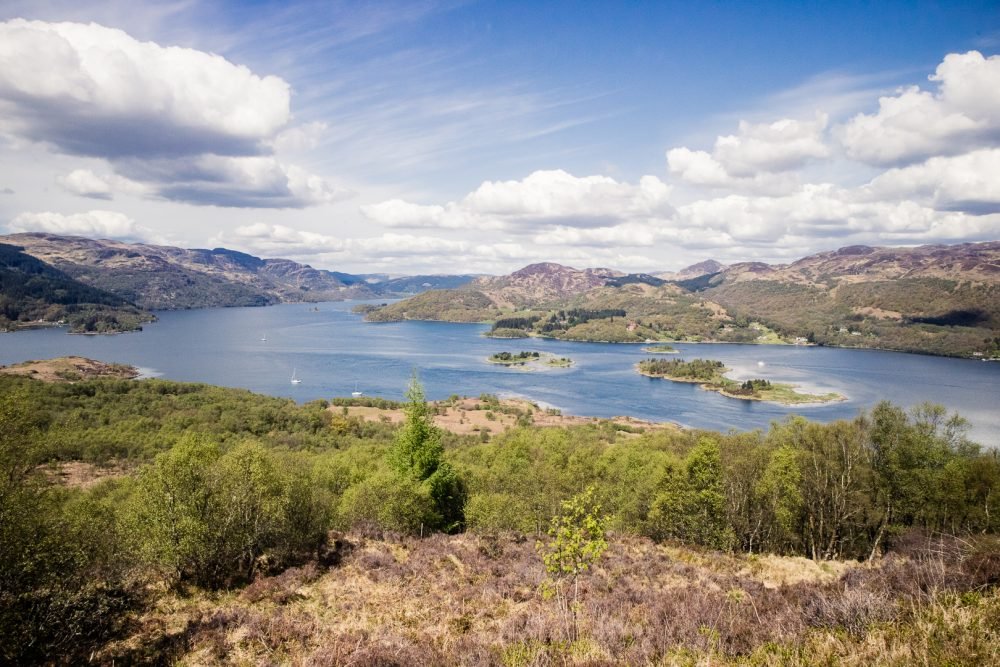 Your efforts will be rewarded with stunning natural beauty, breathtaking scenery and welcoming and vibrant villages.
From Colintrave (on the second finger of the Cowal Peninsula), catch the short ferry across to Rhubodach on the Isle of Bute.
Bute is a true hidden gem among Scottish islands – super easy to get to from Glasgow, lots of things to do, yet a complete underdog in comparison to the likes of Skye, Mull or Islay.
Visit Mount Stuart and spend a few hours on the beaches of Ettrick Bay or Scalpsie Bay.
Hike from Kilchattan Bay to the remote Glencallum lighthouse and visit the sites around Rothesay.
I'd say that 1-2 full days on the island is enough to see the highlights.
Finally, make your way back to the mainland. From Wemyss Bay, head on to Glasgow or continue down the Ayrshire coast back to Ardrossan.
Stop for ice cream and Scottish Viking history in Largs and visit the colorful Kelburn Castle.
By Kathi from Watch Me See
NC 500, Scotland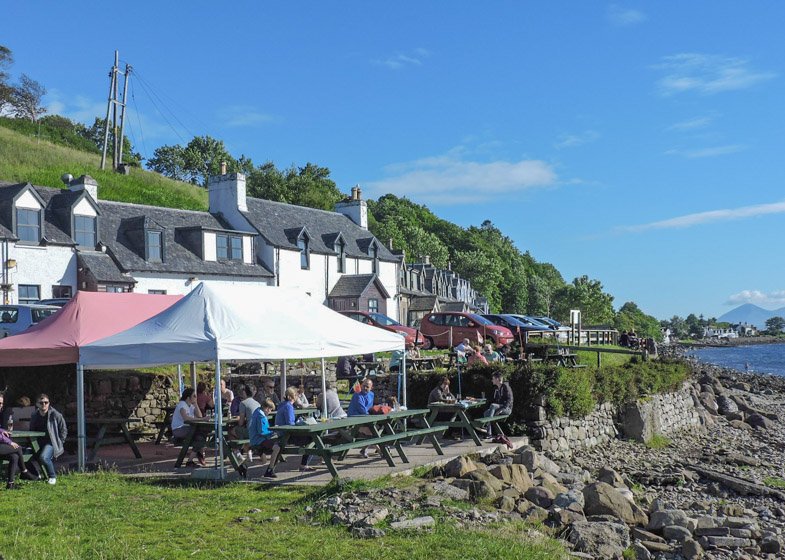 Rent a Car in: Inverness or Edinburgh
Route: Inverness – Sheildaig and Gairloch – Ullapool – Durness – Dunnet Head and John o' Groats – Orkney Islands or back to Inverness
Historic castles, white beaches, turquoise water, local food, live music, Highland coos, fresh air, hills, whisky distilleries – what's not appealing about Scotland's North Coast 500? 
The UK's answer to Route 66 starts in Inverness and goes around the Scottish Highlands over just over 500 miles in a loop route.
There's no right or wrong way to drive around the route but the roads are mostly single track so you need to be careful when you meet other cars.
Use the passing places to pull in so locals and fellow road trippers can enjoy the space too. 
Starting in Inverness head west over Scotland's most terrifying road, the Bealach Na Ba. Crawl around the corners and pray that no one is coming the other way!
Your first food stop is Applecross. Enjoy lunch at the pub and enjoy the views by sitting in the outside area if the weather is on your side.
Next, head through the small villages of Sheildaig and Gairloch stopping at the secret beaches, Mellon Udrigle Beach and Gruinard Bay.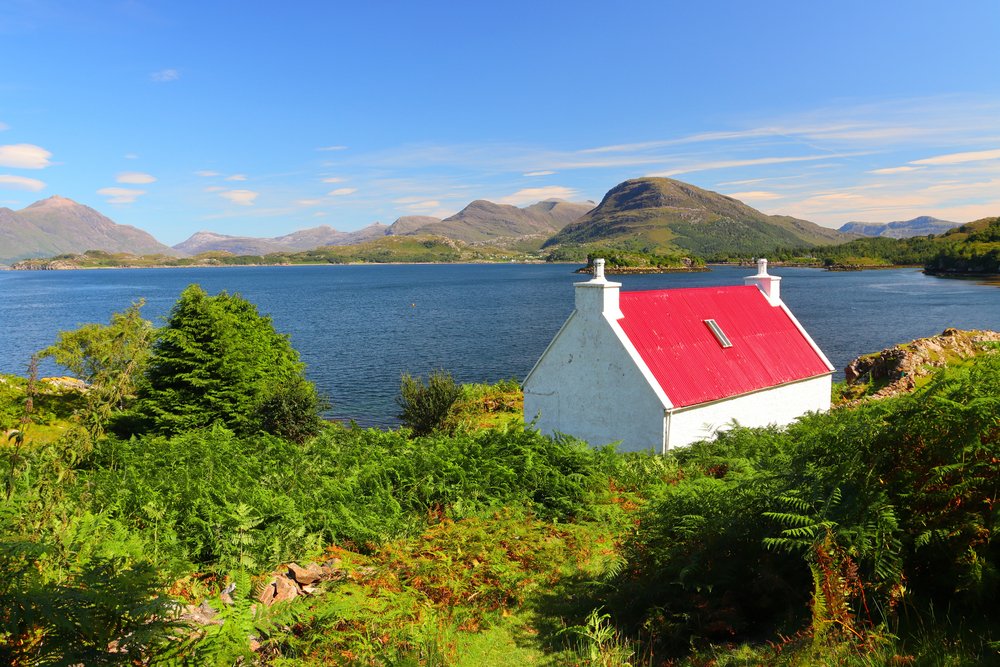 This section of the trip includes a drive through the majestic Beinn Eighe National Nature Reserve.
You will most likely want to spend the night in either of the two villages mentioned above, which one really depends on availability. 
The next section takes you to the spirited town of Ullapool. There's always live music at one of the three hotspots, The Ceilidh Place, The Arch Inn or the Argyll Hotel.
It is worth spending an evening here and setting off a little later the following day. Scotland has a zero-tolerance drink driving policy. 
Heading north to Durness, make a pitstop and take a short walk to the ruins of Ardvreck Castle at Loch Assynt. Enjoy the crazy landscape of the B869 to Achmelvich Beach.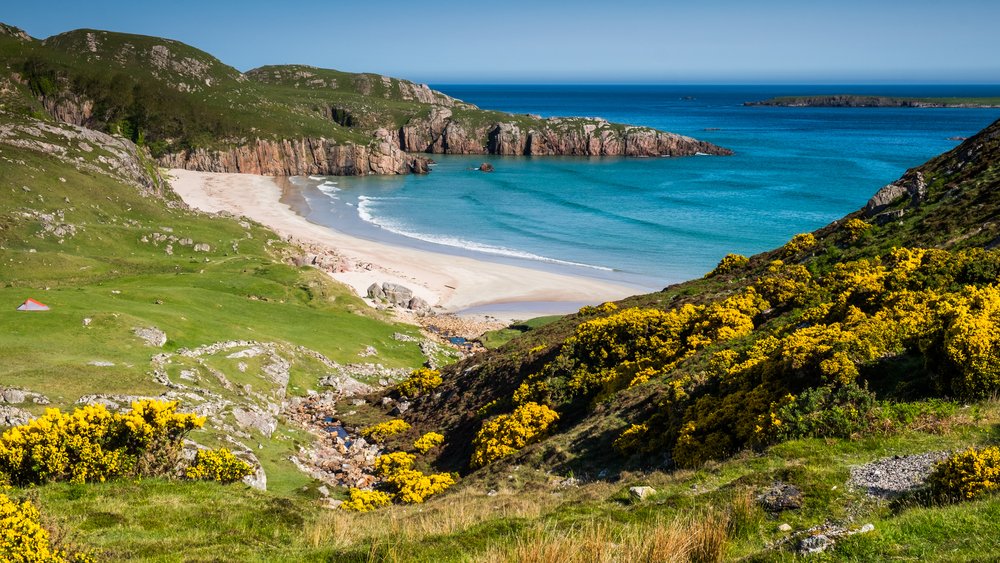 At Durness visit Smoo Cave and pay the £5 to ride the boat inside in the cave.
Next head up to Dunnet Head and John o' Groats, the most northern tip of mainland Scotland!
From here you can catch a ferry to Orkney or start your route down the east coast of the Highlands stopping at the castles and distilleries along the way.
The designated driver gets to choose the lunch spots!
Spend some time dolphin spotting at the Black Isle before ending your trip back in Inverness.
By Gemma Armit of Two Scots Abroad
Edinburgh to Isle of Skye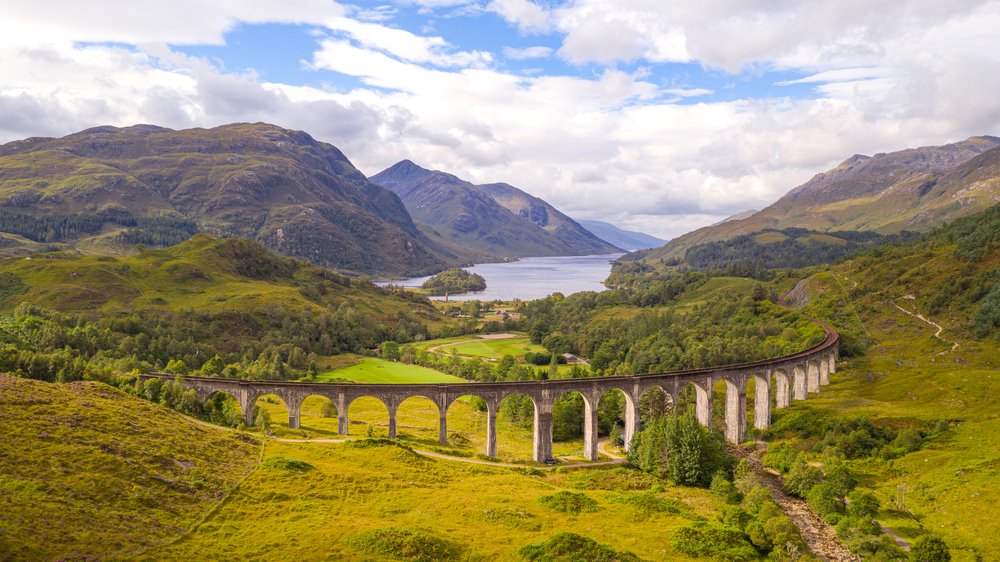 Rent a Car in: Edinburgh
Route: Edinburgh – Loch Lomond – Glenfinnan – Loch Ness – Isle of Skye – Edinburgh
Scotland is an ethereal place where you can expect to find emerald green hills, bright blue waters, trendy cities, and never-ending countrysides.
With the country being fairly small in size, it is possible to see most of Scotland during a short Europe road trip.
As we were on a bit of a time limit ourselves, we only had 5 days to explore and we saw a lot in that short space of time.
Starting your Scottish road trip in super trendy Edinburgh, it's best to explore the city on foot.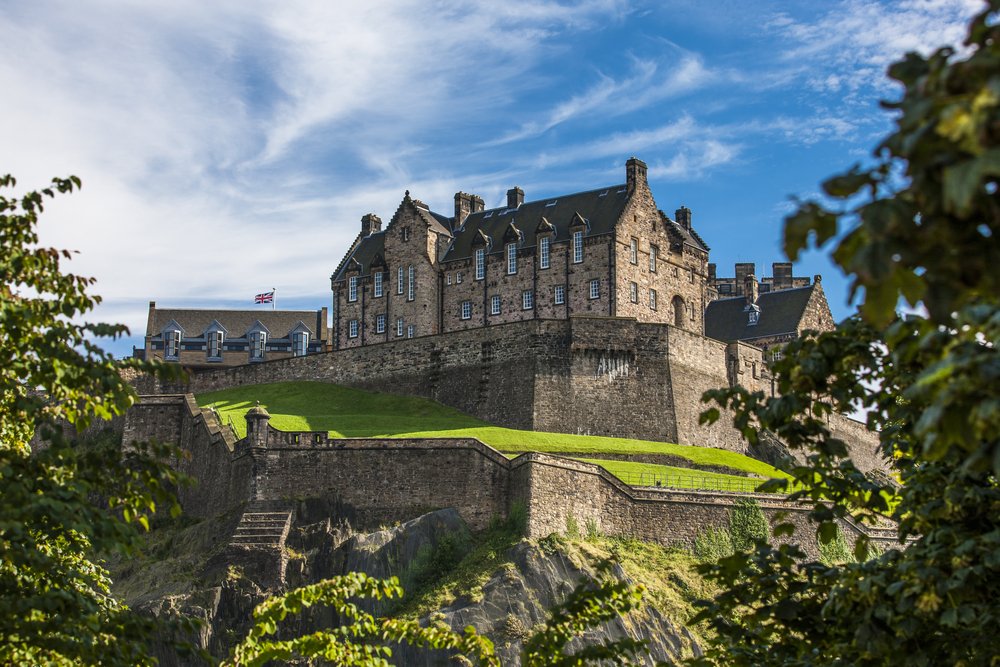 A visit to the Edinburgh Castle to learn some fascinating histories is a big recommendation, as is eating haggis in the local restaurants and admiring the Edinburgh skyline from the top of Holyrood Park.
Driving west from Edinburgh, you can discover Loch Lomond in the Trossachs National Park, which is really beautiful to see.
When visiting Scotland, it's definitely a must to explore as many of its vast lakes as you can, given how much Scotland is renowned for them.
There is a pathway to take you along around the outskirts of the lake, or you can opt to see the lake from on top of it instead – in a canoe or kayak!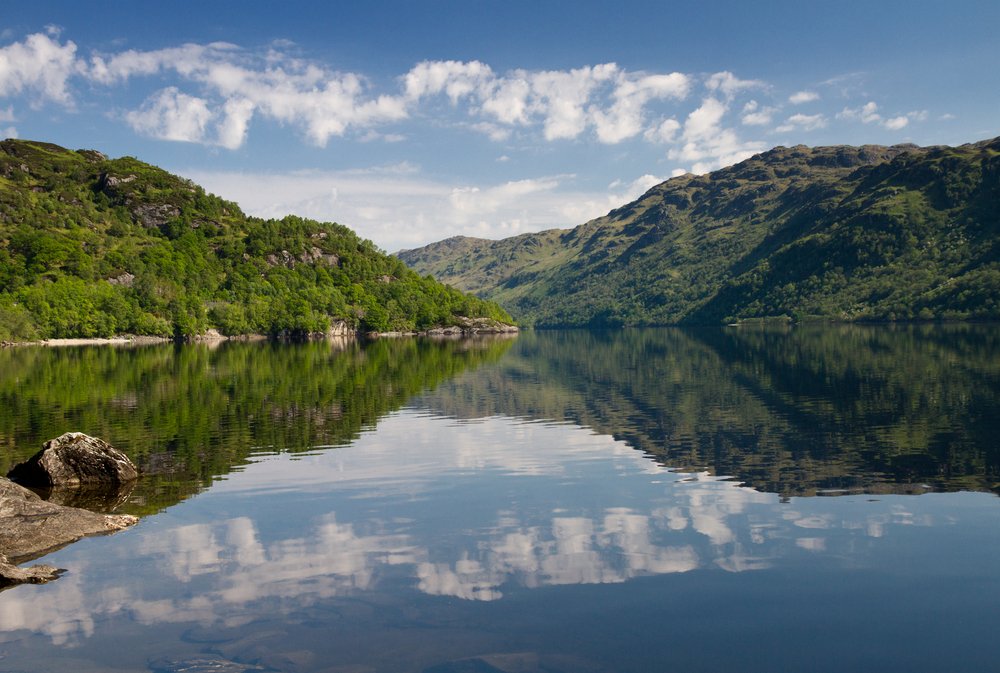 Glenfinnan isn't on most travelers' lists when visiting Scotland, but if you're a Harry Potter fan, then this is an absolute must.
Glenfinnan Viaduct is a filming location from the second movie and is the perfect place to see the Jacobite Steam Train chug past (or better known as the Hogwarts Express)!
Loch Ness is of course a must-see in Scotland, especially if you're interested in learning more about the legends behind the Loch Ness monster.
Given just how vast this lake is, you will likely not see the whole of it. But there are plenty of places to park up your car and explore its outskirts by foot.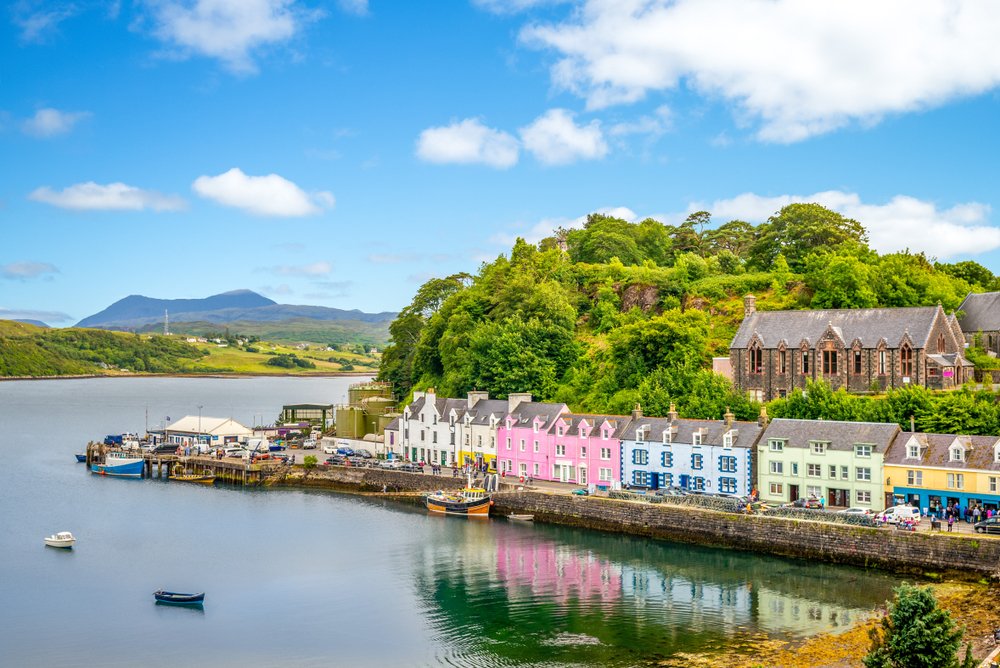 Next, drive the main road of the Isle of Skye so that you can see as much of it as you can.
This also makes for a really simple circular route!
Portree is a great pit stop for various restaurants, bars, and shops, but my advice would be to head to the northernmost tip of the island.
From here, you can see some old castle ruins and fabulous views across the sea.
By Justine of Wanderer of the World
Wales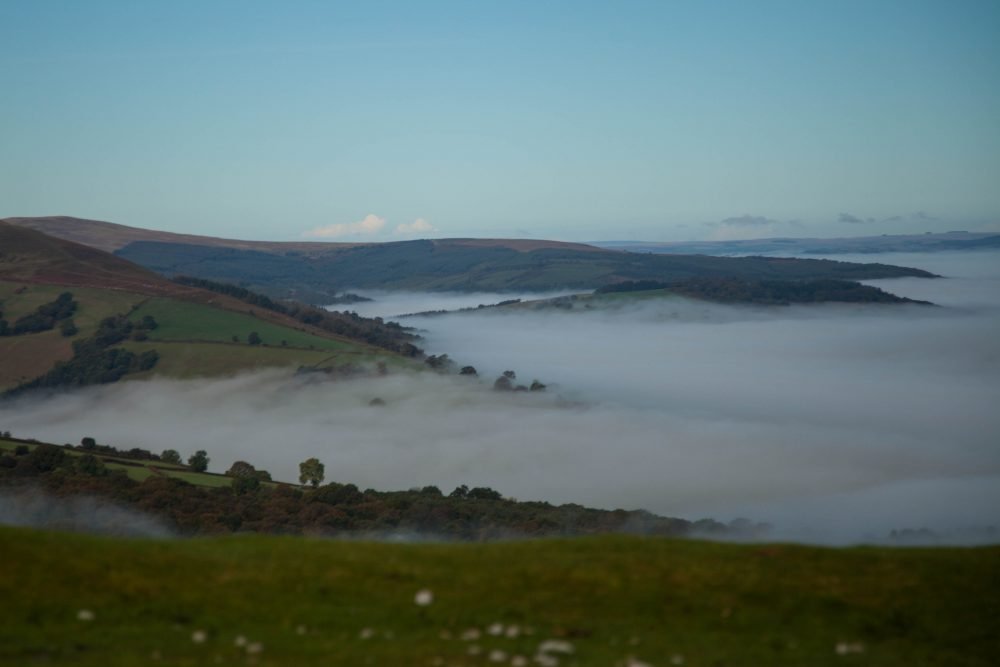 Rent a Car in: Cardiff
Route: Cardiff – Raglan – Brecon – Rhayadar – Conwy – Snowdonia National Park – Aberystwyth – Tenby – Cardiff
One of the best road trips to take in Europe has to be a tour of Wales!
Once a kingdom in its own right, this small country lies in the West of the United Kingdom.
It's a beautiful, rugged country with rivers, lakes, mountains, coastline, and much more.
To tour Wales, it is best to start in Cardiff, the capital, in the south east. Do not spend too much time here first though — just pick up your car and start heading north.
Enjoy some of the best castles in Wales by visiting Caerphilly, Chepstow, and Raglan.
From Raglan, you should head to Brecon and enjoy the mountains of the Brecon Beacons National Park.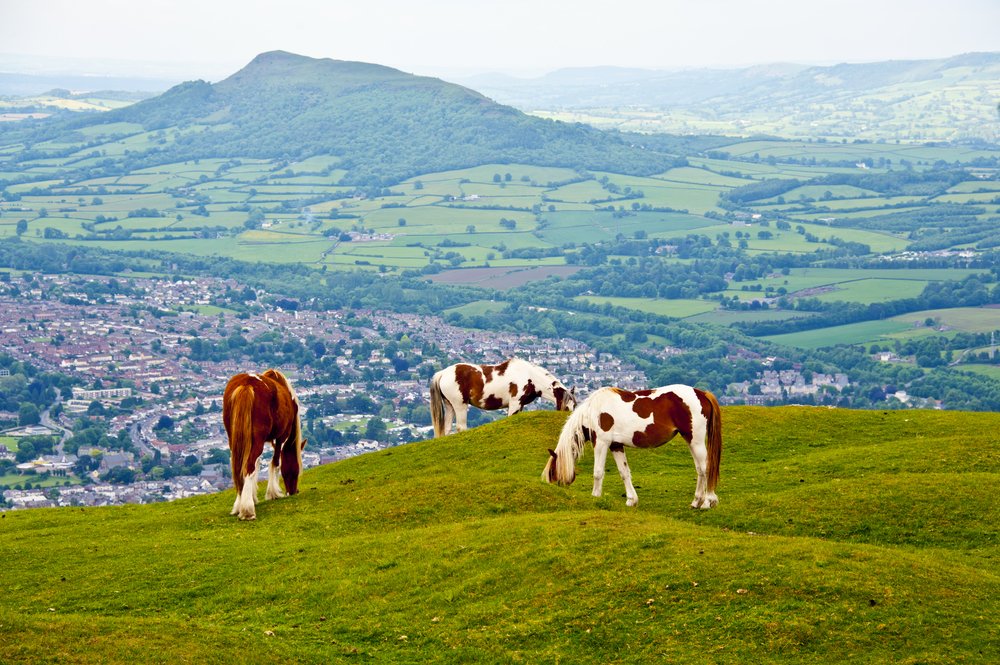 If you are adventurous and enjoy hikes, then take a day to scale Pen-y-Fan, the highest peak in South Wales.
It will take a couple of hours, just make sure weather conditions are favorable and bring layers, drinks and snacks.
Stay in Brecon Castle, now a hotel in the town of the same name and enjoy wandering the streets of this quaint little town.
From Brecon, continue north along the A470, stopping in Builth Wells for lunch before continuing to Rhayadar, your next stop on your tour of Wales.
This town will be your base for exploring the beautiful area of the Elan Valley.
The Elan Valley is an area of natural beauty centered around three reservoirs.
While the reservoirs are man-made, the surrounding area is beautiful with amazing scenery.
It's worth spending a day driving around the reservoirs or hiking some of the hills.
From Rhayadar, head to the north coast and Conwy, famous for its magnificent castle, which is a must-visit.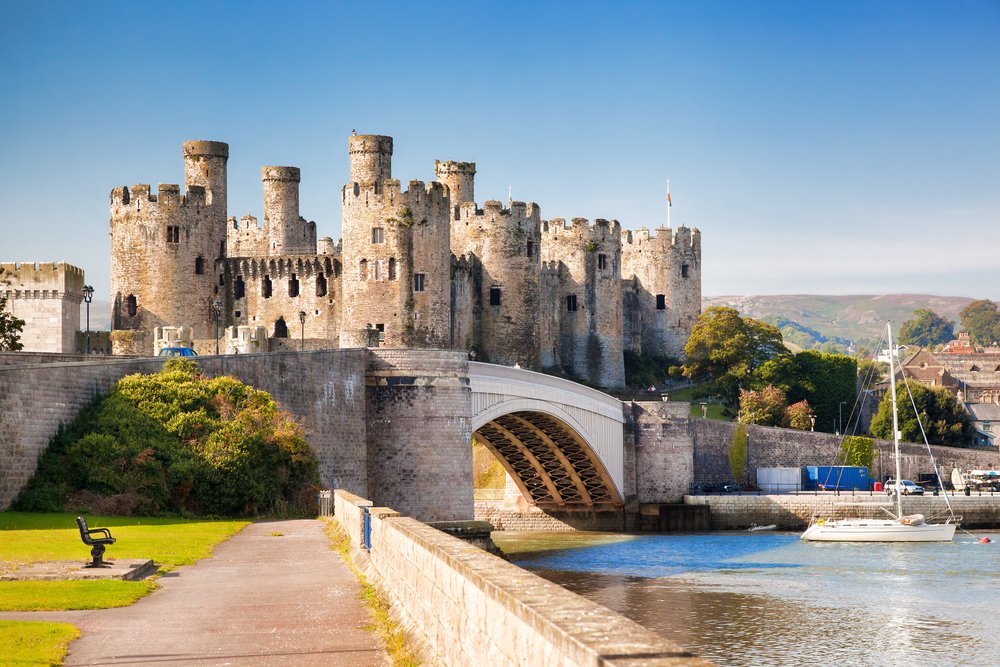 Use Conwy as your next base for exploring the north coast of Wales, Anglesey and Bangor.
From Conwy, head south towards the Snowdonia National Park, using their Porthmadog or the very pretty Portmeirion as your base for spending a few days exploring the Snowdonia National Park.
If your fitness levels are good, you could scale Snowdon, the highest mountain peak in Wales.
If you do not fancy that, you can get the tourist train up to the peak of Snowdon.
The Snowdonia National Park is one of the most beautiful areas of Wales and is a must-visit on your road trip.
Visit the small ruined castle at Harlech, the pretty seaside town of Barmouth, before heading south towards Aberystwyth.
You could stay here if you arrive late and enjoy a walk along the seafront.
From Aberystwyth, head south along the coast towards the Pembrokeshire coastline where you must visit St David's, Solva and Pembroke Castle in the town it shares its name with.
You could make Tenby, a colourful, picturesque town, your base for exploring the beauty of Pembrokeshire.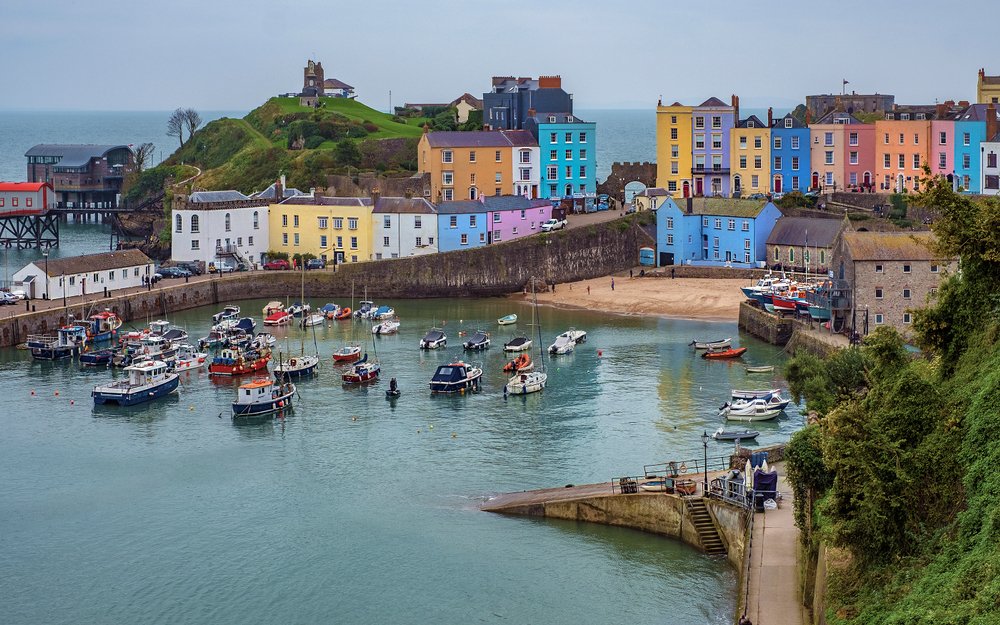 And when you have finished exploring West Wales, return to the capital Cardiff to explore everything this vibrant city has to offer. 
If you are visiting Wales as a family, ending your road trip in the capital is a must as there are so many things to do in Cardiff with kids.
From Cardiff Castle to St Fagans, Cardiff Bay and the city centre, this is a great place to end your exploration of Wales.
To cover the length and breadth of Wales, you will need at least a week to ensure you can visit all the places mentioned here and to have some time to get out and explore.
If you have more time, even better, as you can take your time and really soak up all that Wales has to offer.
At each town mentioned there will be hotels and guesthouses to stay in and plenty of cafes, restaurants and even pubs to eat and relax in.
By Cath of Passports and Adventures
Ireland's Wild Atlantic Way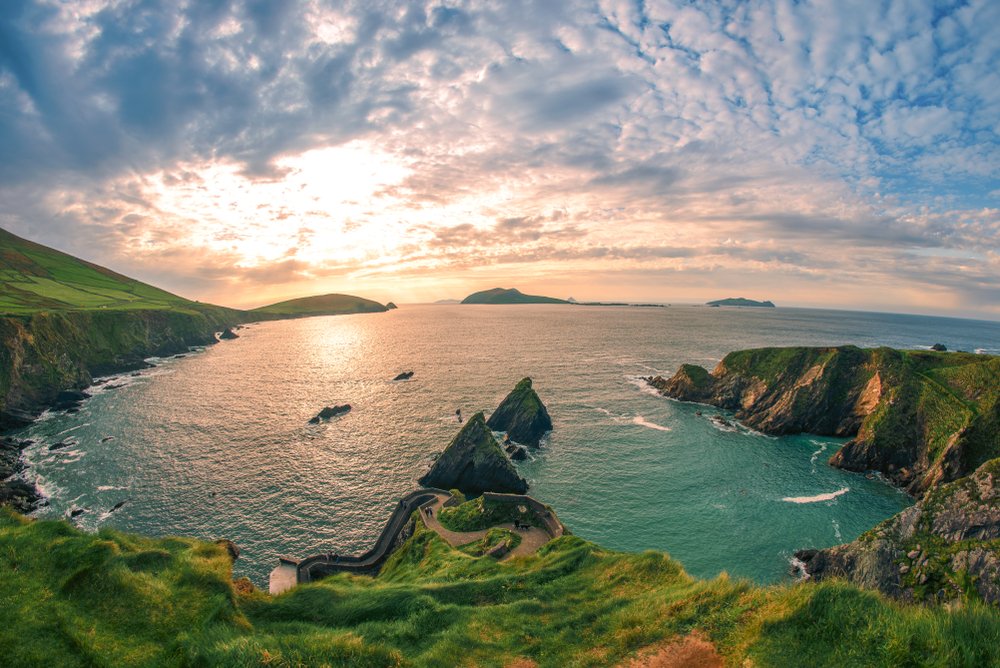 Rent a Car in: Galway or Dublin
Route: Galway – Connemara National Park and Kylemore Abbey – Doolin (& Aran Islands) – Dingle – Galway
There is no country in the world that's makes for a better road trip than Ireland!
The rolling fields, herds of sheep bounding their way down the road, and stunning coastline make the Emerald Isle the perfect road trip destination.
There are tons of options here for a road trip since the country is packed with scenic Irish drives.
A few popular choices include the Ring of Kerry, the Antrim Coast in Northern Ireland, and the Wild Atlantic Way which includes Slea Head Drive. 
The Wild Atlantic Way is the perfect introduction to driving in Ireland and includes some of the country's most famous roadside attractions.
Fly into Shannon Airport in Galway to pick up your rental car. You can spend the night here or immediately head north.
For your first stop, begin in Connemara National Park and Kylemore Abbey.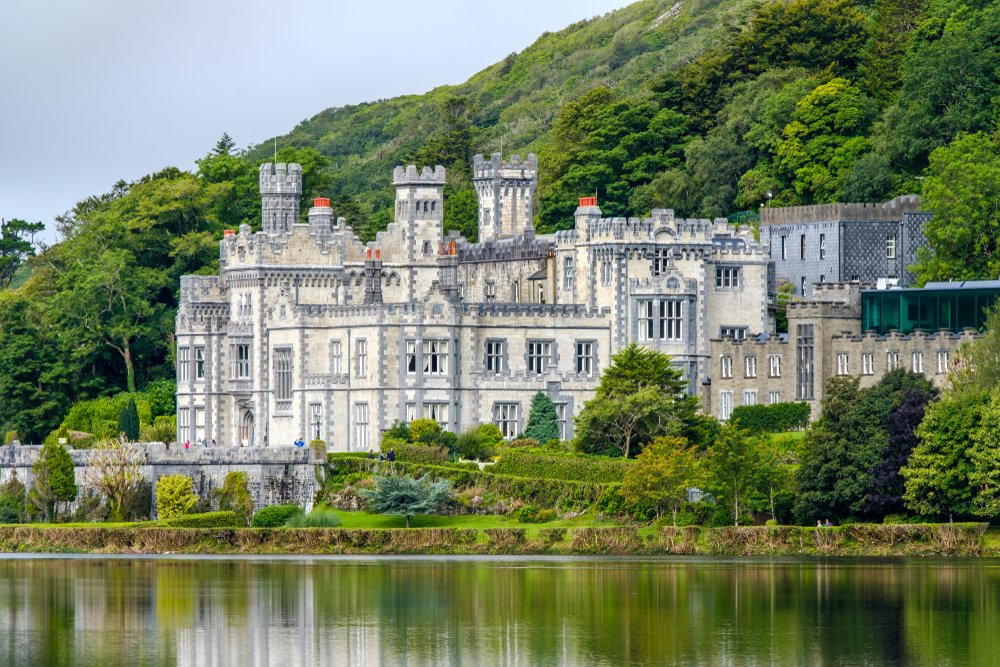 One of the country's most famous Instagram spots, the picturesque abbey is one of the most famous postcard images from Ireland.
Next head south to Doolin. This is the perfect place to base yourself to see both the Cliffs of Mohr as well as a day trip out to the Aran Islands.
Make sure to spend some time driving through the Burren before you leave this part of the country.
As you make your way south, you will arrive in Dingle. This colorful town is the perfect place to relax for a night or two.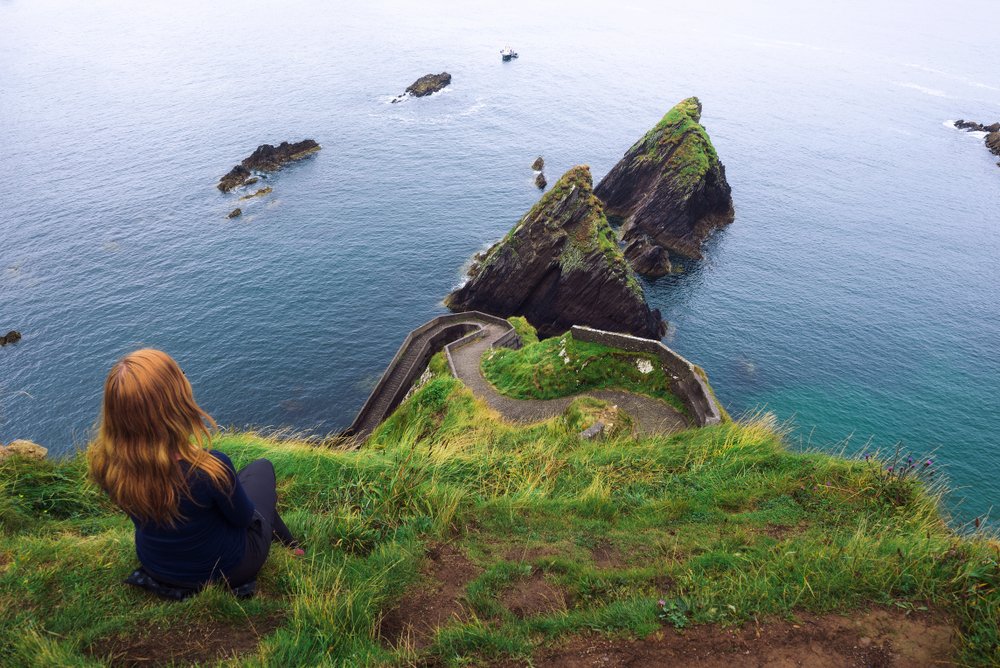 While here make sure to do the Slea Head Drive, visit the Dingle Distillery, and go on a Dingle Dolphin tour.
You can make a day of it, or you can enjoy more of Dingle's activities and extend your time here. 
As your trip reaches its end, drive back to Galway. Spend a day exploring this lively city before turning your car back in at the Shannon Airport.
By Stephanie of History Fangirl
Southern England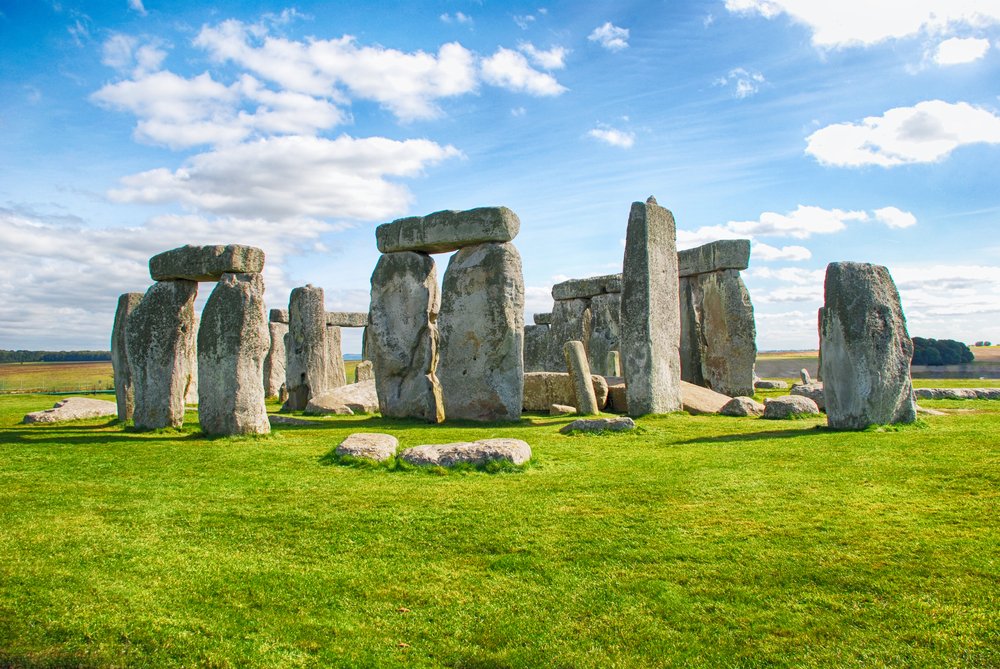 Rent a Car in: London
Route: London – Cotswalds – Bath – Cheddar Gorge – Stonehenge – Seven Sisters – London
When going to England, do not limit yourself to simply doing a London itinerary!
Around London, you will find historic towns, picturesque villages, and beautiful landscapes. Here is our plan for your successful road trip of southern England.
First up, head to the Cotswalds. The nearly 80-km range of limestone hills, among which the sources of the Thames are hidden, attracts with idyllic landscapes.
A trip to the Cotswolds will be perfect for outdoor enthusiasts. Almost everything – from dog huts, garden walls and houses to churches and castles – is made of material mined in local quarries.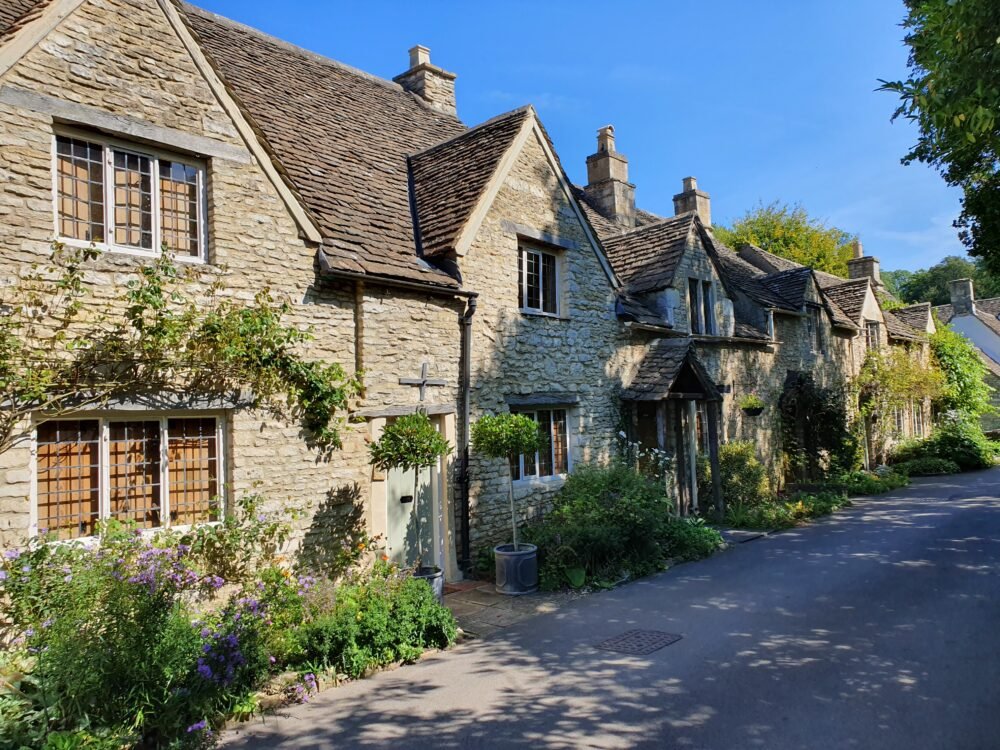 The northern part of the hills is considered more picturesque than the southern one because of the higher hills.
At 300 m, at the intersection of eight roads lies Stow-on-the-Wold, one of the highest located towns of England, which dates back to prehistoric times.
Next up, spend a day in Bath. Bath is close to the only natural geothermal springs in the British Isles.
In the spa town, inscribed on the UNESCO World Heritage List, Roman baths and pump rooms have been perfectly preserved.
The place also impresses with Georgian architecture, including sandstone buildings that blend in perfectly with modern buildings.
Bath was the destination of trips already 2,000 years ago!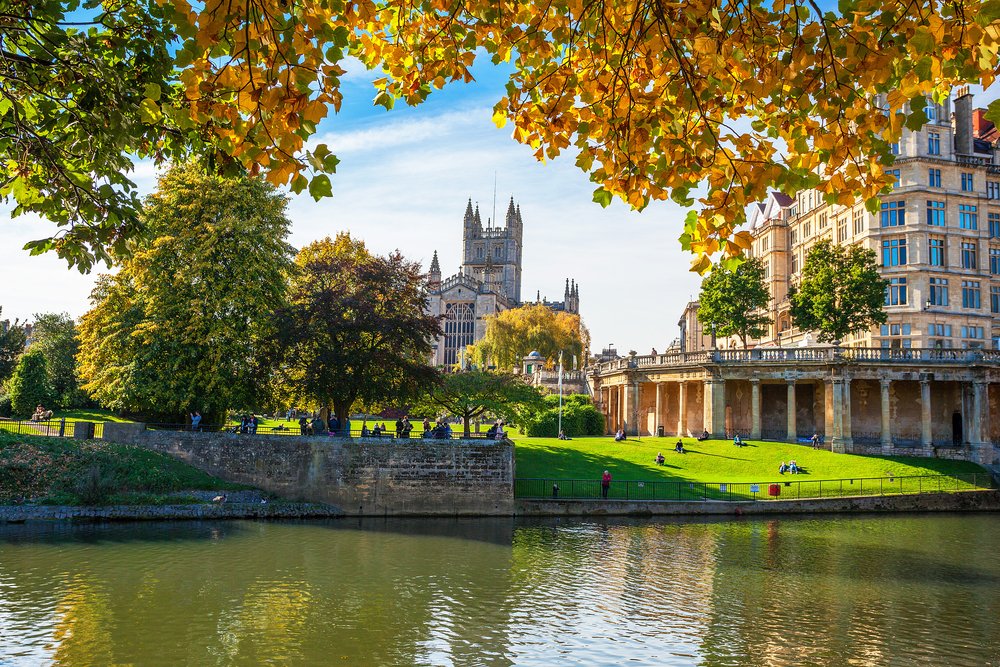 The beauty of the spa and the beneficial influence of waters on humans again attracted tourists in the 18th century.
Today, many visitors believe that mineral water from Bath is a remedy for various ailments.
Next up, time to hike the Cheddar Gorge! Cheddar Gorge is the largest limestone gorge in Great Britain.
It is located near the village of Cheddar, in the southern part of the Mendip Hills, in the English county of Somerset.
The rocks that make up the gorge are full of caves, and one of them found in 1903 the oldest human skeleton in Great Britain (9,000 years old), called the Man of Cheddar.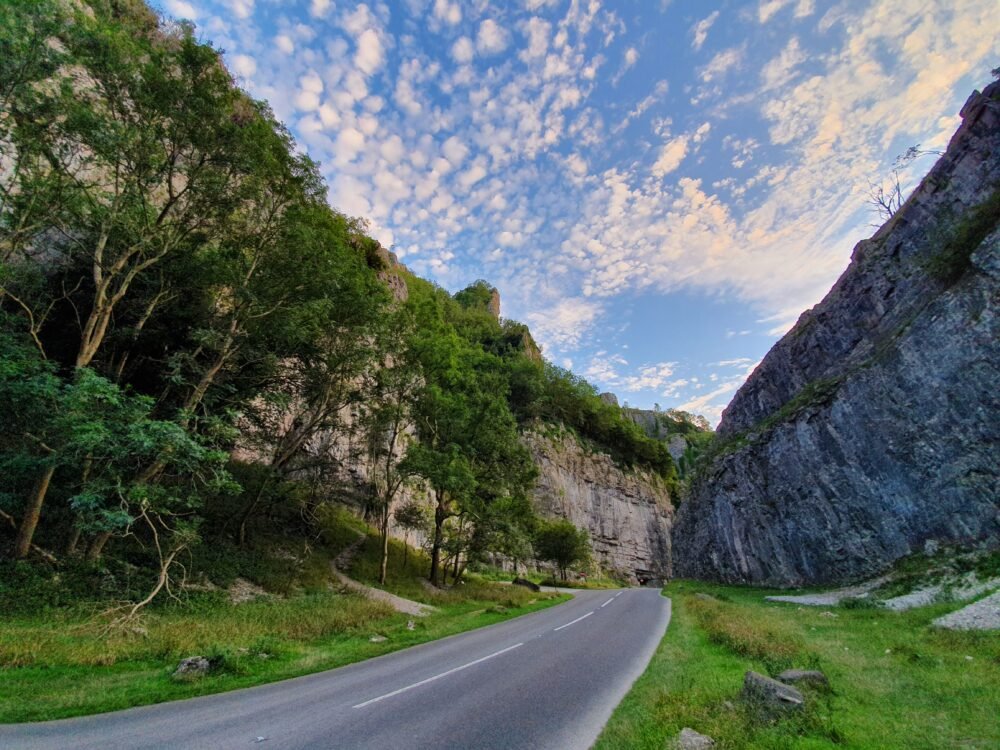 Cheddar Gorge, along with caves and the nearby village, is a popular tourist attraction attracting about half a million tourists a year.
Next up is one of England's greatest attractions: Stonehenge.
The Stonehenge stone complex is one of the oldest megalithic structures in Europe and one of the most recognizable structures in Great Britain.
It has been inscribed on the UNESCO World Heritage List since 1986.
Some say that Stonehenge was used to observe the sky and stars, others that pagan ritual ceremonies were held there.
The mystery also remains how prehistoric peoples managed to transport these huge stones to the place where they are now, about 5,000 years ago.
Finally, hike the Seven Sisters in East Sussex. There you can see for yourself the amazing work of nature which certainly are white cliffs aptly named Seven Sisters.
The chalk cliffs are located between the towns of Seaford and Eastbourne in the area of Seven Sisters Country Park.
It is certainly an interesting fact that there are eight hills instead of seven as the name suggests.
There is so much to see in the southern part of England.
But to see it all you will need to spend a bit longer on the road trip around southern England!
By Darek of Darek and Gosia
Central England & Cotswalds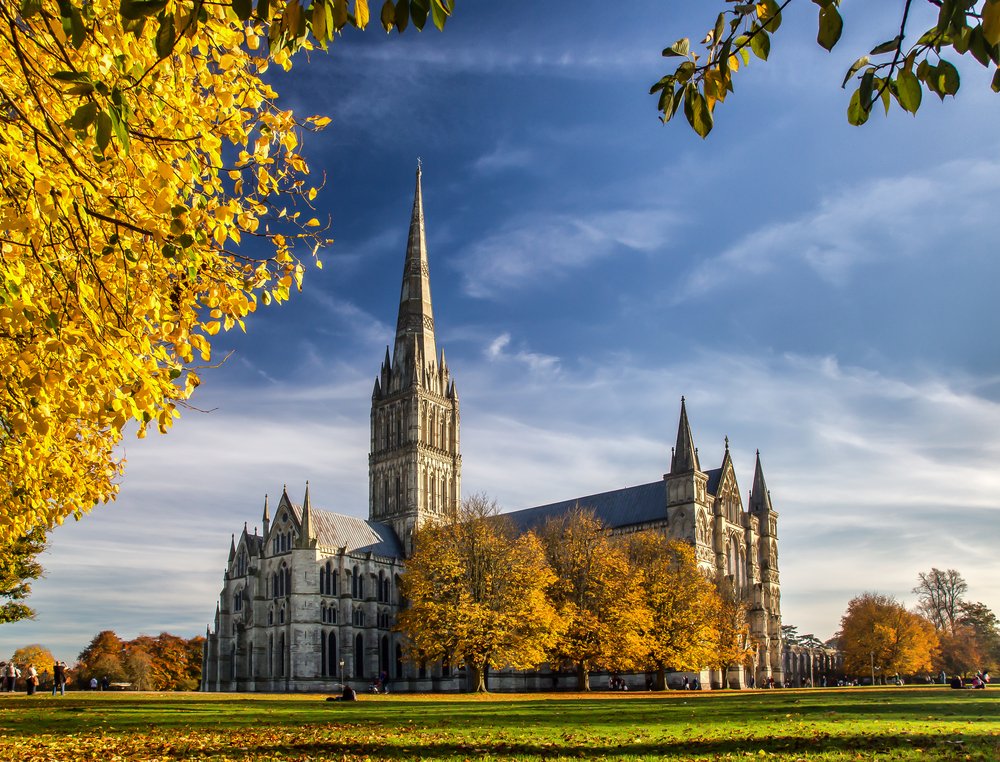 Rent a Car in: Salisbury
Route: Salisbury – Stonehenge – Bourton on the Water and Castle Combe in Cotswalds – Bath – Salisbury
One of the best road trip ideas for England has to be the Cotswolds and central England.
This entire area is filled with cute villages, pretty roads and incredible views over the rolling English countryside- as long as you are lucky enough to do it on a clear day!
I'd recommend starting in Salisbury, a fabulous city with plenty to do and see, including one of the best cathedrals in the UK. There are great shops and plenty of bars and cafes to get you started.
Whilst there, you have to head out to Stonehenge and see the world-famous stone circle.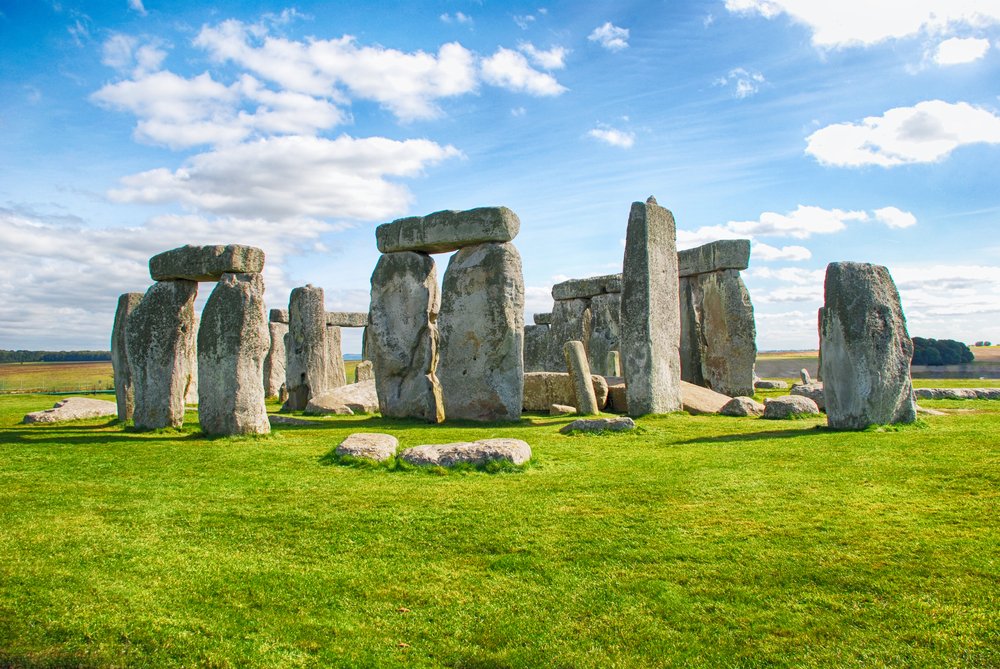 You don't need to stop unless you have time — you can see it quite well from the road, but expect long queues as everyone slows to take photos.
If you do choose to stop, tickets can be bought on the day but there may be a wait in high summer.
From here, head to the Cotswolds. This collection of pretty villages has become famous as being picture-postcard cute and is the perfect place for Instagram shots.
I highly recommend the villages of Bourton on the Water and Castle Combe – both have been called the prettiest villages in England.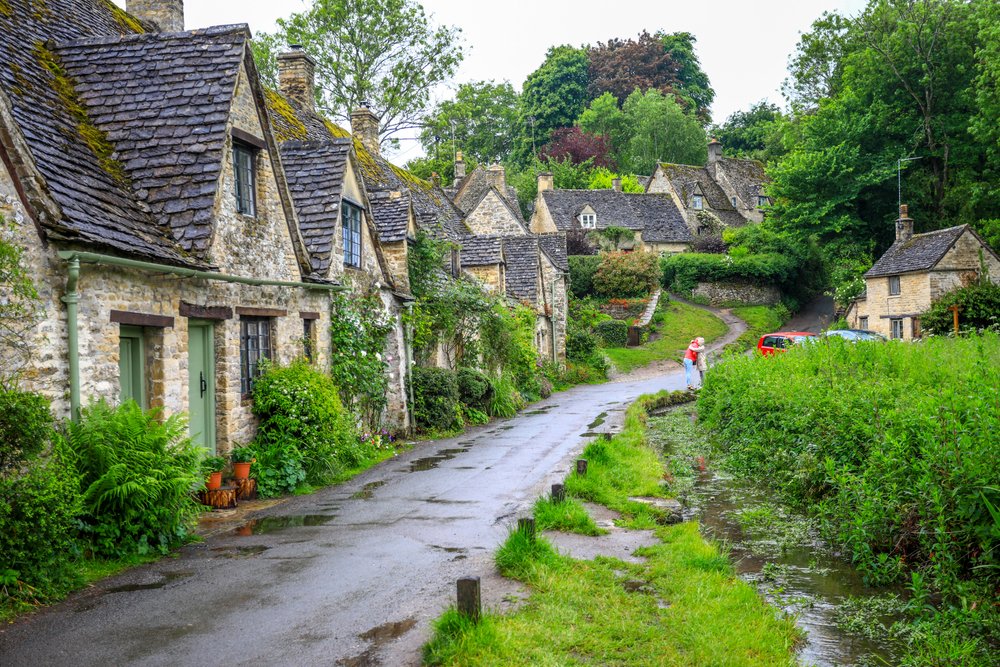 You can drive around as many villages in the Cotswolds as you have time for and there are plenty of places to stay in the area if you want to explore for a few days.
Alternatively, end your road trip in Bath. This beautiful city is built from local 'yellow' stone, which looks spectacular in the evening sunset.
It is a bustling city with plenty of nightlife and things to do.
I also recommend staying a night (or two) and enjoying an afternoon tea at the Pump rooms (an English tradition), as well as exploring the city on foot. 
By Kat of Wandering Bird
The Best Road Trips in Europe: Nordics
Iceland Ring Road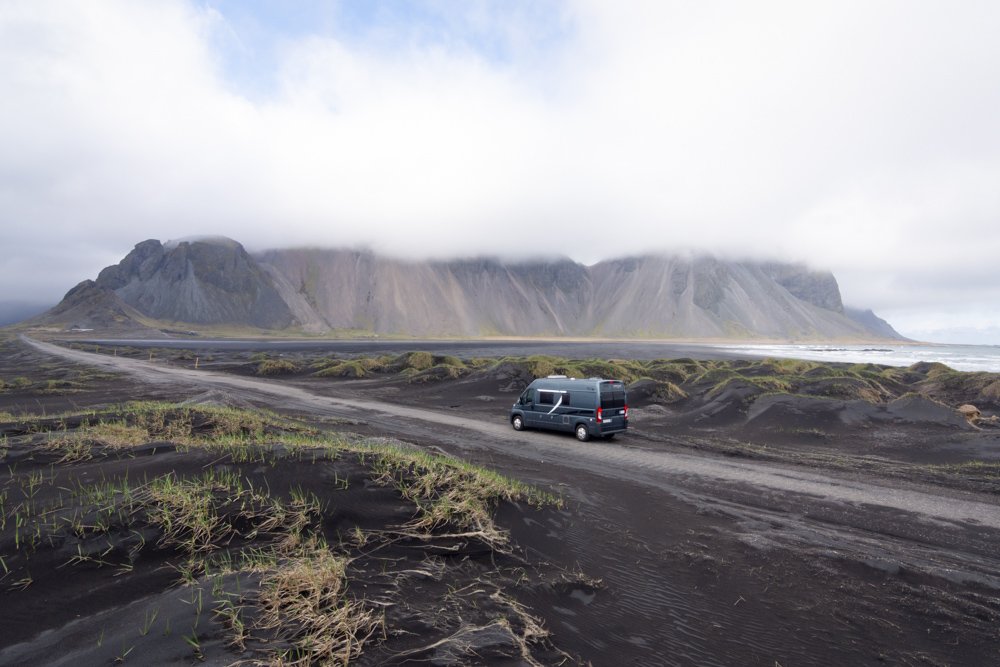 Rent a Car in: Keflavik (Reykjavik)
Route: Keflavik – Seljalandsfoss and Skogafoss – Jökulsárlón Lagoon – Detifoss – Mývatn Nature Baths – Snaefellsnes Pensinsula – Reykjavik – Keflavik
When it comes to iconic road trips in Europe it's hard to beat the Ring Road around Iceland.
True to its name, Iceland's Ring Road runs the circumference of the island and allows you to take in most of the country's top sights. 
Even though it is just 1,330 kilometers and you can technically drive the Ring Road in just 16 hours, most people spend 10-14 days doing it.
That's due to the plethora of spectacular waterfalls, beautiful hikes, and inviting hot springs along the route.
You'll almost certainly begin and end this road trip in Keflavik, due to that being home to Iceland's largest airport. From there you'll head east along Iceland's Southern coast.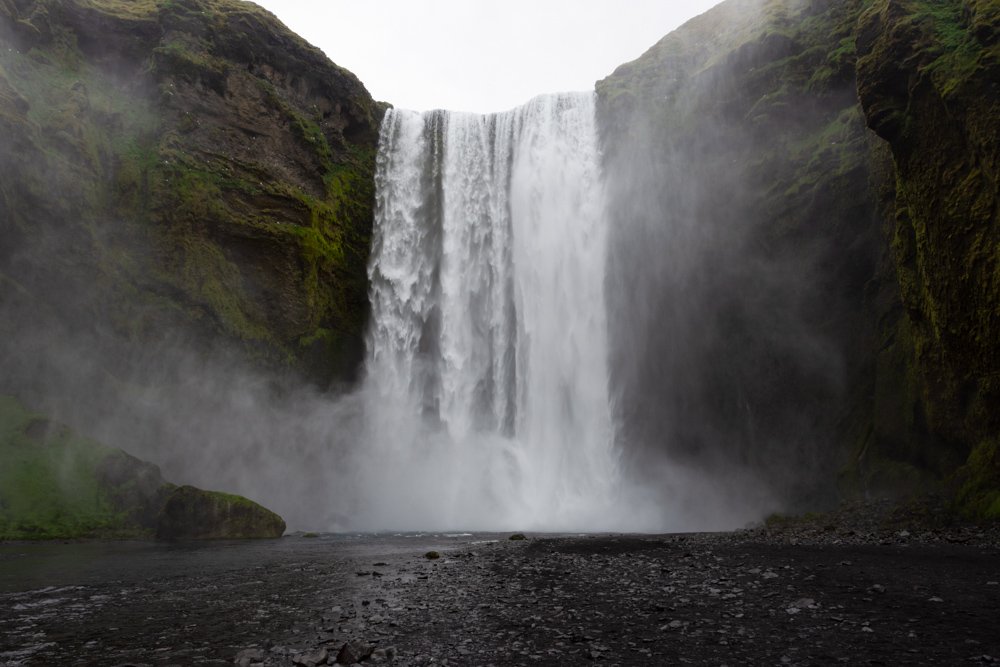 The first 2 stops on this road trip that you absolutely cannot miss are 2 of Iceland's most famous waterfalls – Seljalandsfoss and Skogafoss. 
Seljalandsfoss is a 60-meter high waterfall that pours down in front of an overhanging cliff face that allows you to walk behind the waterfall. 
Skogafoss is an equally tall waterfall but with an impressive width of 25 meters making it one of the largest waterfalls in Iceland.
You can walk right up to the base of Skogafoss if you don't mind getting absolutely drenched by the spray from the falls.
The next stop on your trip is Diamond Beach – a black sand beach covered in tiny bits of ice that sparkle like, well, diamonds.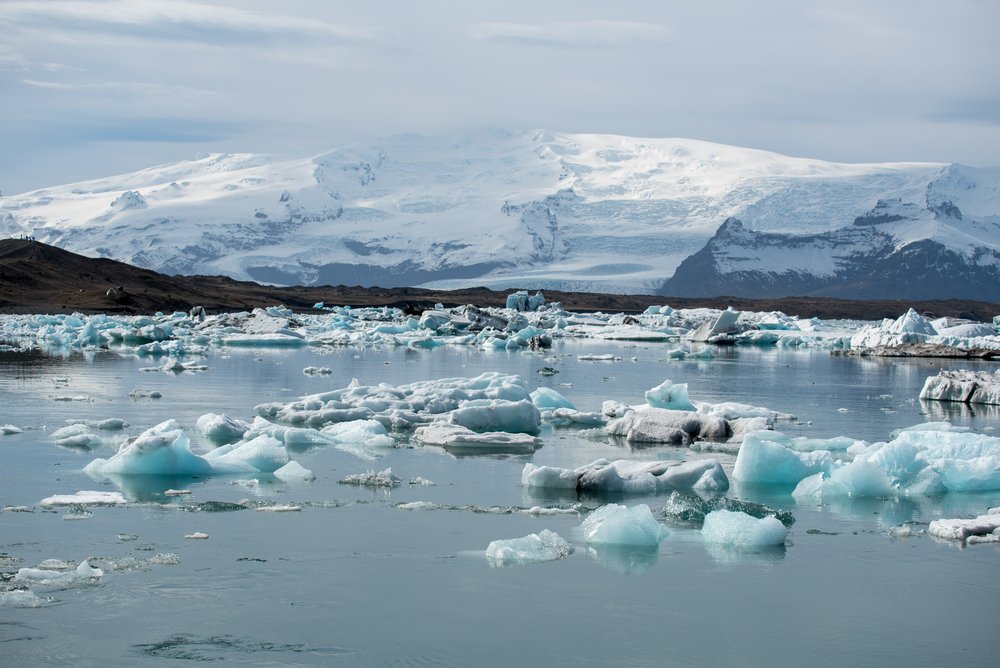 This beach sits in front of the Jökulsárlón Glacier Lagoon.
Giant icebergs break off of the Jökulsárlón glacier and float out to sea where they are broken up.
They're then washed back ashore by the waves of the Atlantic Ocean, forming a lagoon with these beautiful glacier remnants!
From here, you'll round the southeastern corner of Iceland and start heading north up the eastern coast.
The road winds its way in and out of endless fjords on this side of the island and you'll encounter scenic views the whole day.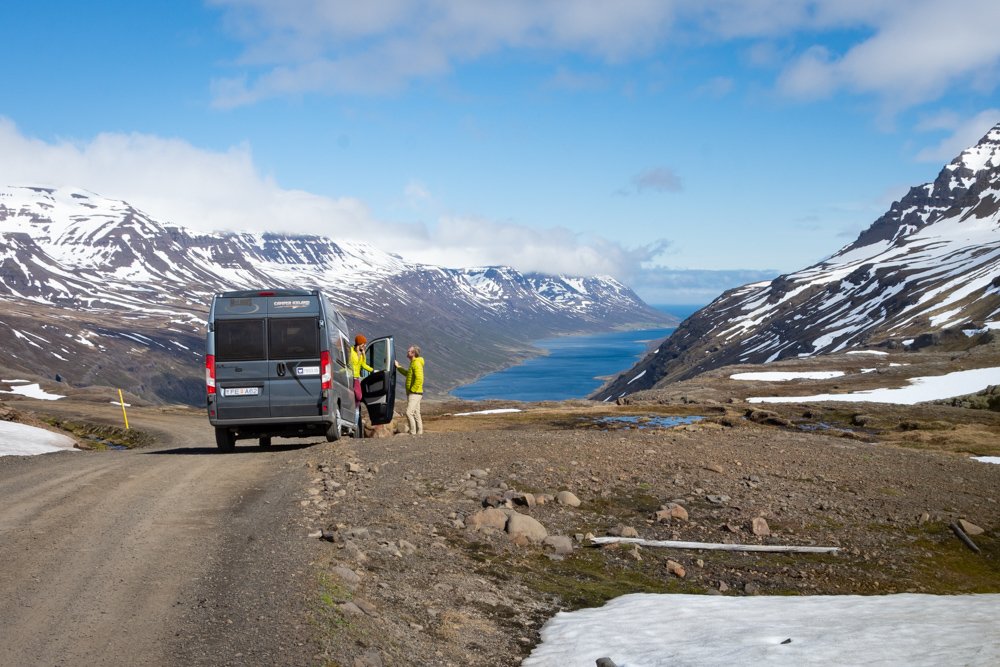 On the northern side of the country, you'll want to make sure you stop at Detifoss.
While this waterfall drops just 44 meters, it is an impressive 100 meters wide. And with almost 200 cubic meters of water flowing over it every second, Detifoss is the second most powerful waterfall in all of Europe.
After all the driving and exploring you have been doing you have earned some rest, so spend a day relaxing at the Mývatn Nature Baths.
The water is the same striking turquoise color as the famous Blue Lagoon, but it's 1/3 of the price and much less crowded.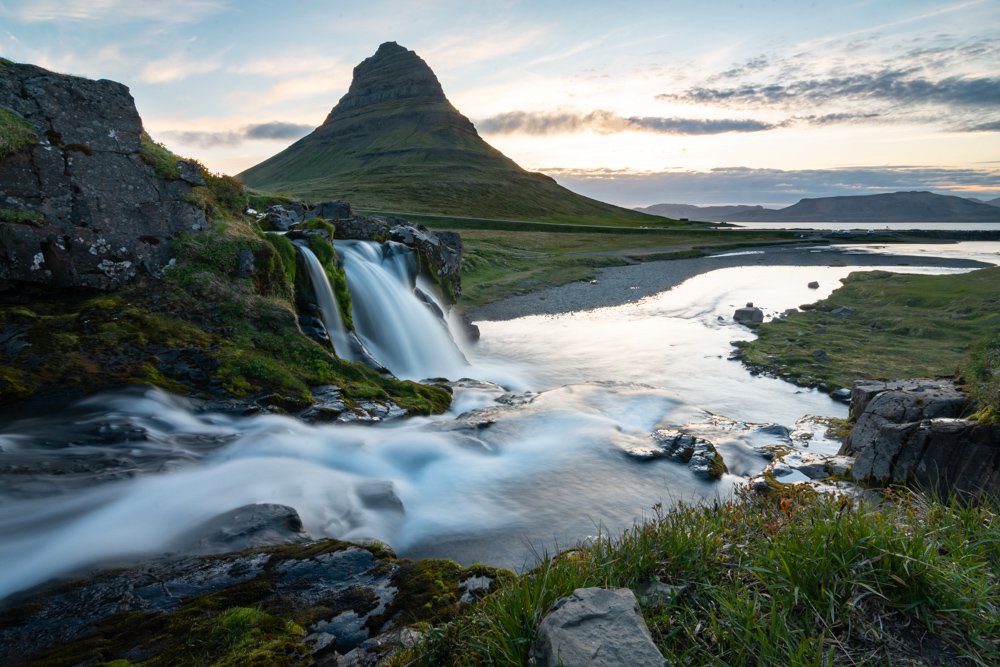 As you round the west side of Iceland you're in for a treat!
The Snæfellsnes Peninsula is home to stunning waterfalls, stunning views, and cool hikes.
The most common stop on the peninsula is at the iconic Kirkjufellsfoss Waterfall with Kirkjufell Mountain in the background. 
If you still have time left in Iceland you can spend a couple of nights in the capital city of Reykjavik. Otherwise, head back to the Keflavik airport for your flight home.
By Nick & Val of Wandering Wheatleys
Icelandic Westfjords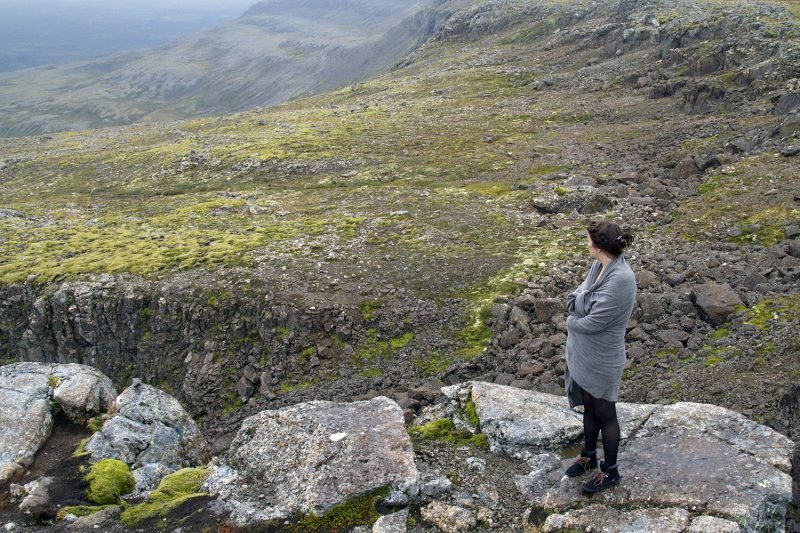 Rent a Car in: Keflavik
Route: Keflavik – Bíldudalur – Ísafjörður – Hólmavík – Dynjandi – Keflavik
Most people who arrive in Reykjavík hire a care to drive the Golden Circle, or head south. This is pleasant, but your trip could be so much better if you simply drove north, into the Icelandic Westfjords!
The Westfjords are home to some of the most jaw-dropping scenery you will witness in this already staggeringly beautiful country.
They are also quite remote – the area only sees a fraction of the tourists that otherwise flock to Iceland every year.
There were long stretches of the road where we simply did not pass any other cars at all.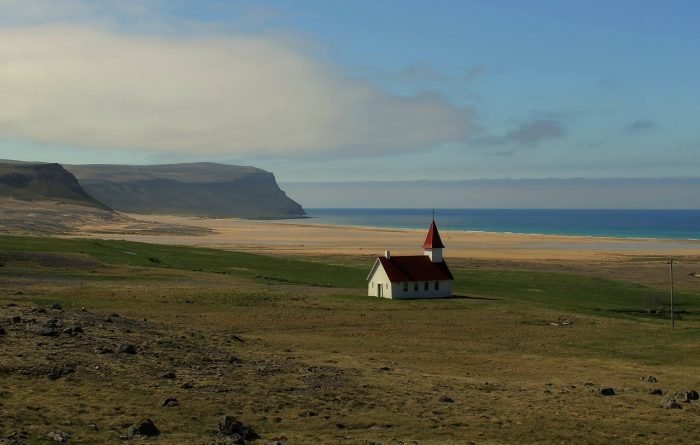 There's plenty to do in the area, beyond simply gaping at the scenery. I recommend visiting the little town of Bíldudalur, which is located far north enough to catch the Northern lights (as we did one night in early autumn).
Ísafjörður is the capital of the region and acts as an excellent base for exploring the area. There are constant festivals held in the town throughout the summer.
If you like museums, Iceland has some good'uns. In this region of the country you'll find the Sea Monster Museum and the Museum of Icelandic Sorcery & Witchcraft in Hólmavík.
One of the displays is a replica of 17th century necropants. Google it. It's worth going for this alone.
And it wouldn't be an Icelandic experience without a waterfall – Dynjandi Waterfall is massive and has the advantage of not being constantly swarmed by tourists!
By LC of Birdgehls
Senja, Northern Norway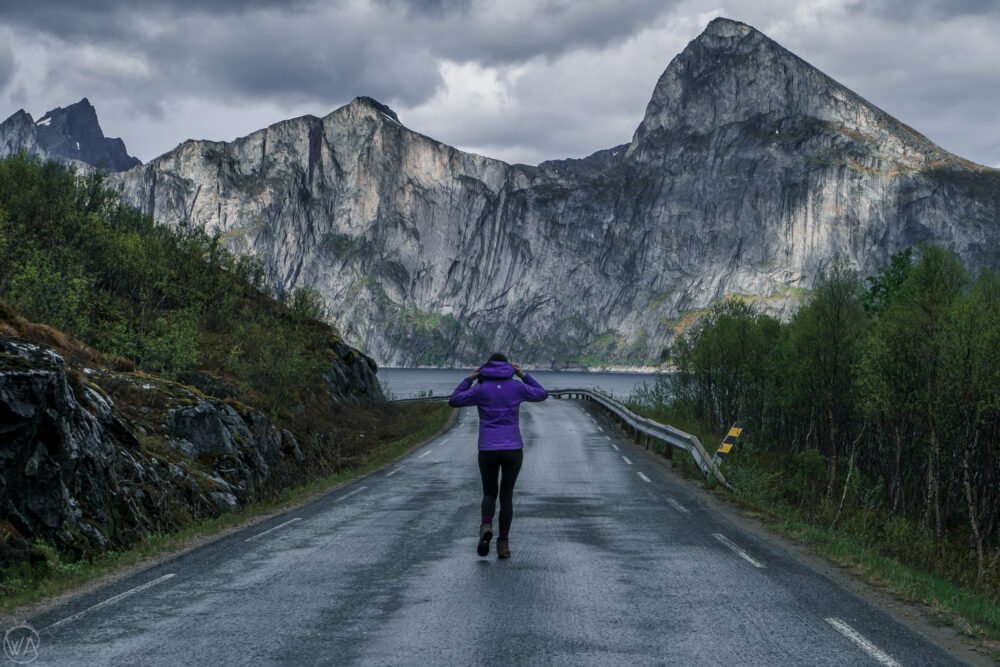 A road trip on the island of Senja in Norway makes for an unforgettable experience. Jagged mountain peaks plummeting to the sea, turquoise water, white sand beaches and wild nature describe Senja perfectly.
Senja is an island located in the Troms Country in Northern Norway above the Arctic Circle. It's the second largest island in Norway with the area of 1 589.35 km2. Thanks to its northern location, in the summer the sun doesn't set, which is called a midnight sun phenomenon. In winter, there is a polar night and an opportunity to see the Northern Lights.
Senja is best to be discovered by car. There is public transport on the island, but it's scarce and not always easy to manage. There are a lot of places that are worth visiting and stopping by, so having the car is convenient.
The Norwegian National Tourist Route runs through Senja, passing through some of the most beautiful parts of the island. The route is 102 km long and it runs from Gryllefjord to Botnhamn, with short detours to Mefjordvær and Husøy. If you want to go on a road trip on Senja, I recommend following a National Tourist Route. And if you have more time, extend the road trip further.
I recommend starting the route from Botnhamn or Husøy, a picturesque tiny island with one of the most active fishing communities in Senja. A place worth taking a break in is Ersfjordstranda, a famous beach with fine, white sand, and green sharp mountain backdrop.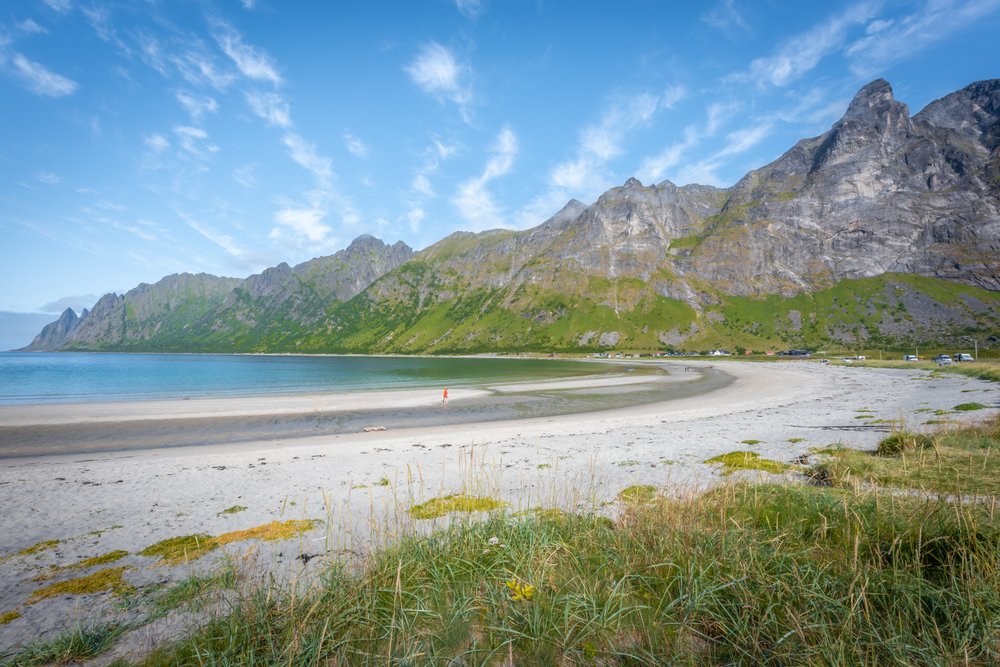 The next stop is Tungeneset, a wooden walkway overlooking the Oksen mountain and the crashing waves of the North Sea. Another viewpoint worth driving to is Bergsbotn. This 44-meter long viewing platform lets you admire the waters of the Bergsfjord and the mountains behind.
Other places to visit during the road trip on Senja are the Hesten hike with a view to Segla mountain, the Segla hike, Ånderdalen National park, and Hamn I Senja.
By Aga of Worldering Around
Lower Scandinavia
Take a trip through southern Scandinavia to experience the maritime culture and learn Viking history in just a little over a week.
Start in Gothenberg, Sweden: the home of the Fish Church. Drive north up Sweden's west coast stopping at the Stone Ship, a Viking burial ground.
Be sure to spend a few days in Oslo, Norway's capital. To learn details about Viking history, spend at least half a day in the Viking Ship Museum. From there drive the winding roads across Norway to see the magnificent fjords.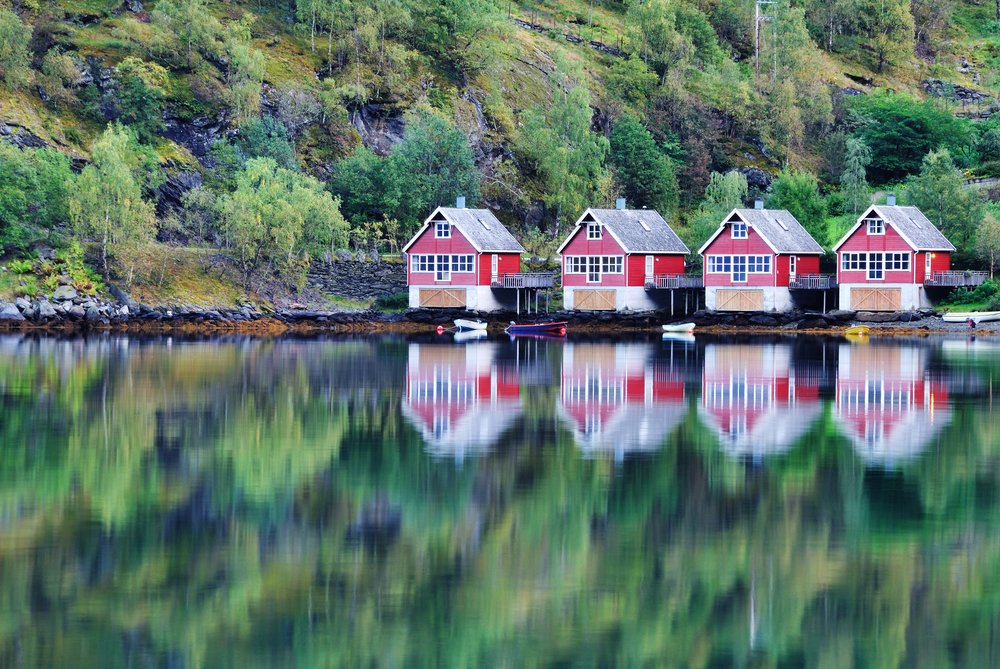 Spend at least one night in Flam, Norway exploring the fjords, waterfalls, and fairy-filled forests. Continue to the coast, visiting Bergen and Stavanger, learning about Norway's industrial and immigrant cultures.
Take an overnight ferry ride into northern Denmark, a worthwhile experience in itself. Head through the flat farmland of Denmark until you reach its capital, Copenhagen.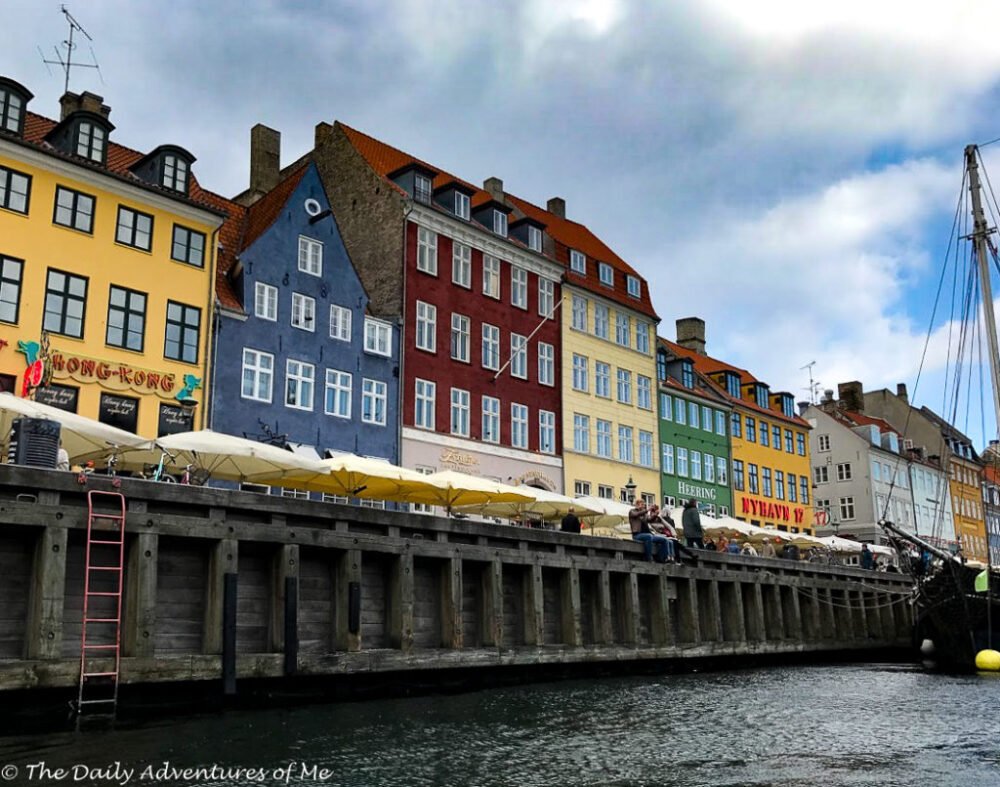 Spend time in this cultured, seaside city and visit its famous garden and amusement park, Tivoli Gardens. Finally, head to Hamlet's Castle before taking the very short ferry ride back over to Sweden, and your Scandinavian road trip is complete.
By Jamie Italiane of the Daily Adventures of Me
Best Road Trips in Europe: Western Europe
Tuscany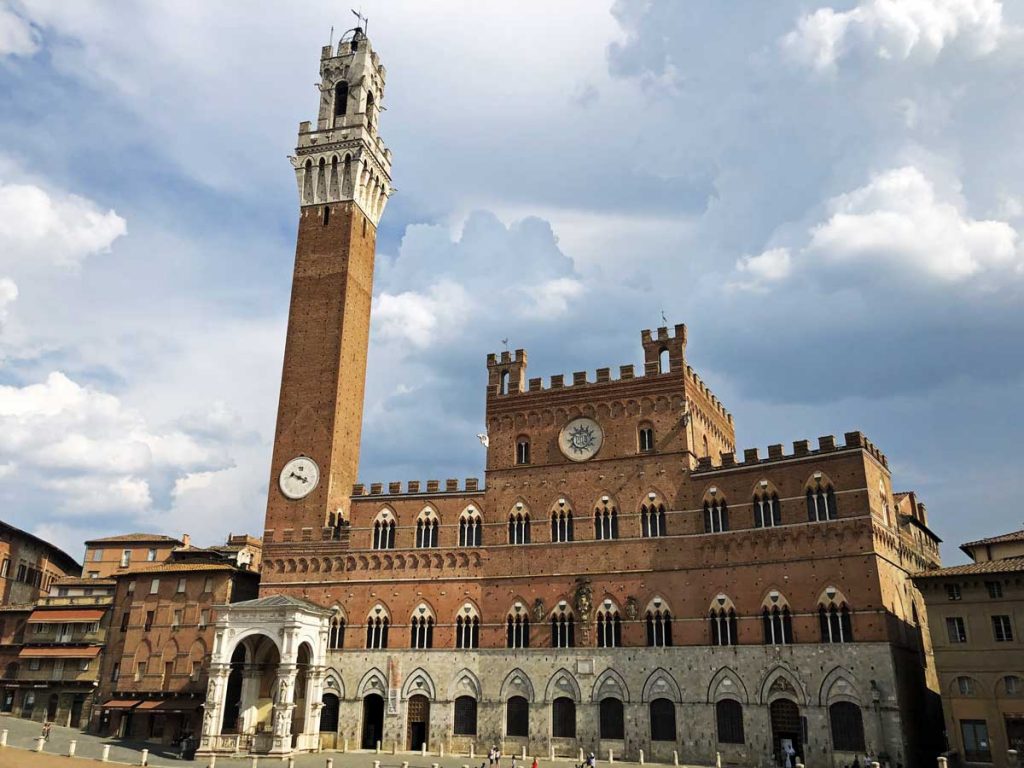 By Matt of It's All in Italy
If you're visiting Italy on vacation and are planning the ultimate Italy road trip, the drive from Rome to Florence is a special one as you'll be passing through the stunning Tuscan countryside for at least half of the trip.
Starting in Rome, here's a fantastic driving itinerary that takes you through some of the most historic and picturesque cities and towns in the heart of Italy…
Departing from Rome, make your first stop in Bolsena, situated on a beautiful lake by the same name. The quaint village of Bolsena is a must stop for a quick stretch, a traditional Italian meal such as wild boar ragu and perhaps a walk by the lake.
The largest volcanic lake in Europe, Lake Bolsena is an essential stop on your road trip from Rome to Florence.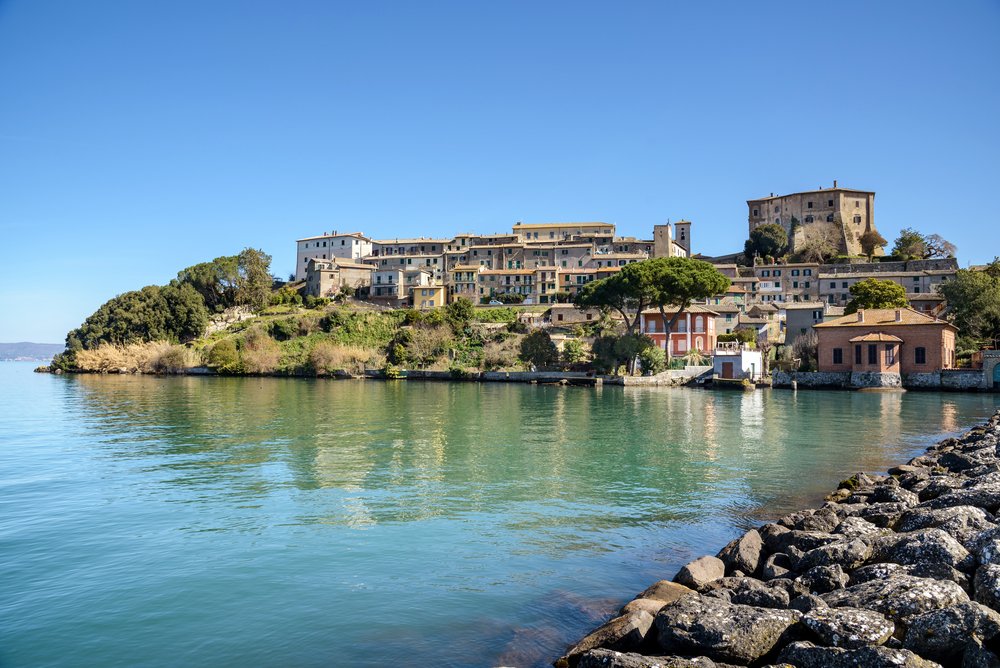 Next up is Montalcino – a name wine lovers will recognize! the Medieval hilltop town is famous for its unique wine, especially its Brunello di Montalcino. Offering spectacular views over the region, dotted with vineyards, you'll really feel like you're absorbing the best Italy has to offer when you visit Montalcino.
Afterwards, head to Siena. Perhaps it's a little less known than its more popular neighbor Florence, but no less interesting, Siena is distinguishable by its medieval brick buildings and its popular town square, Piazza del Campo with its iconic 14th-century tower, Torre del Mangia.
Next up on your road trip is Monteriggioni – one of the smallest medieval fortified hilltop towns in Tuscany. Monteriggioni is a special place to spend a few hours, either experiencing Italian village life, walking the walls for stunning vistas of the Tuscan countryside or enjoying a meal and locally produced wine.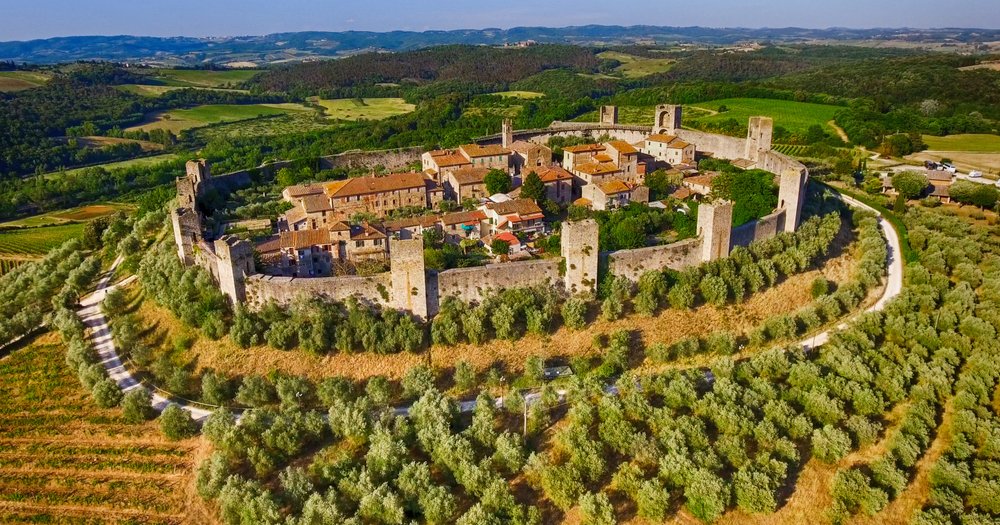 Finally, you'll arrive in Florence, where you'll feel the unique history of this special city, home of the Renaissance. With countless statues, monuments and artworks, you'll run out of time before you run out of things to see. Must-sees include Michelangelo's 'David' statue, Uffizi Gallery, the Ponte Vecchio (Old Bridge), Palazzo Vecchio (Old Palace) and finally, the city-wide views from Piazzale Michelangelo.
Whether your road trip will be continuing after Florence, this itinerary could satisfy your travel bug for years to come. Enjoy!
Sardinia
By Claudia Tavani of Strictly Sardinia
A road trip along the south-eastern coast of Sardinia is an excellent way to enjoy one of the most beautiful parts of the island, especially in the summer months, and it can be done as an easy day trip from Cagliari.
The obvious starting point is Cagliari, the capital. From there, take SS554 all the way to the end, and then follow the signs to Villasimius. You can stop at various beaches along the way, all of them different and all of them beautiful.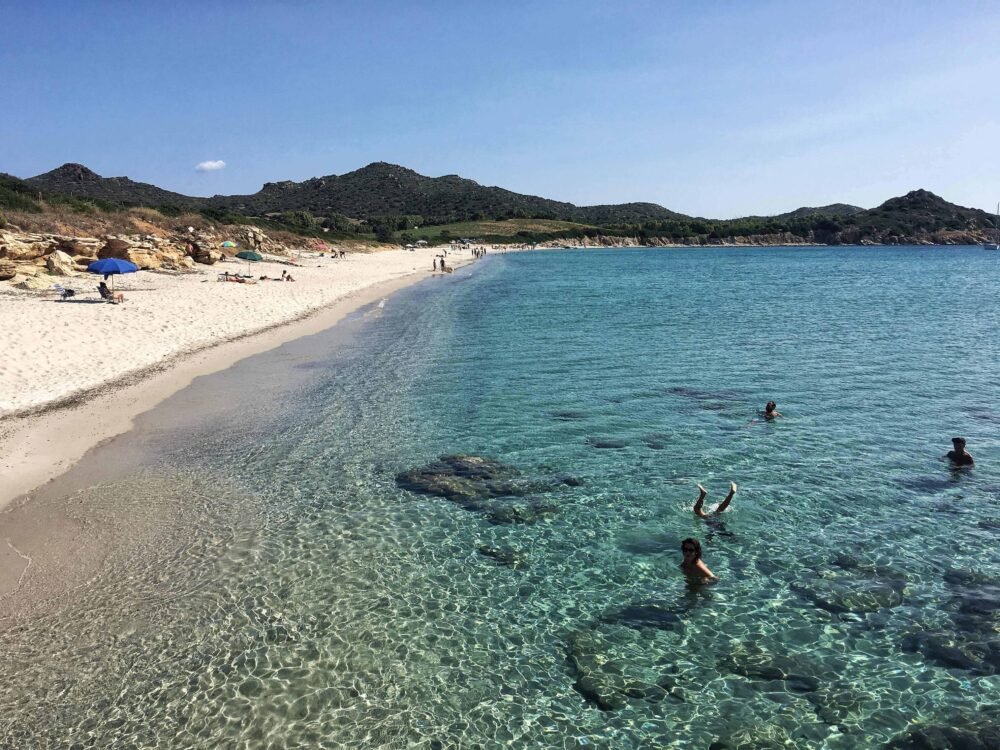 Your first stop should be Cala Regina. This small, rocky cove will surprise you with its transparent waters, perfect for swimming or just for relaxing. If you want to get splendid views of the beach from above, make sure to follow the narrow trail on the right hand side of the parking lot.
Next, make a stop at Mari Pintau. A favorite of locals, this is another small cove with large pebbles, but contrary to Cala Regina, the seabed is actually sandy so perfect for standing up once you get in the water. As this beach is very well protected from the wind, you will usually find very calm waters.
Hop back in the car and follow the coastal road to Villasimius. It's windy and slow, but the views are impressive and you will often be tempted to stop for photos. Although Villasimius is home to many beaches, some of them only allow a limited number of people in – which means you'd have to get there at the break of dawn to get your own spot.
Once you pass the village of Villasimius, you can head towards the scenic Cala Pira, which contrary to the other already mentioned beaches is sandy. This small beach is surmounted by a Spanish watchtower (there are many scattered around Sardinia), which you can see from the outside – however, the best views are actually from the southern side of the beach.
Pack up and head to Cala di Monte Turnu, another small sandy cove with incredibly clear waters and well protected from the wind. It will take you about 10 minutes to drive there from Cala Pira. From Cala di Monte Turnu, it is a short drive to get to Costa Rei, one of the most popular summer destinations in Sardinia.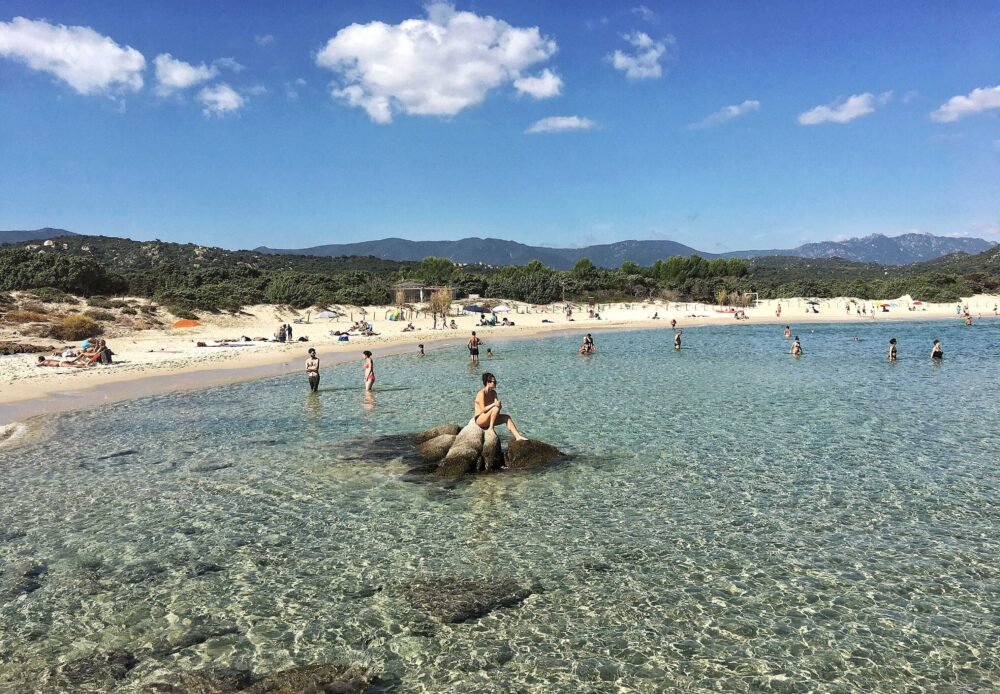 The beach in Costa Rei is long and sandy and perfect even for families with children. The transparent waters will invite you in for a swim. Along the beach there are several kiosks. If you want to have dinner in Costa Rei, Chaplin is a budget friendly trattoria that focuses on fish and seafood dishes – make sure to try their swordfish carbonara.
Costa Rei is a good place to stop for a couple of days if you don't want to drive all the way back to Cagliari. There are various holiday homes for rent, but you need to book well in advance via one of the local real estate agencies. If, on the other hand, you'd rather head back to town, you can get on SS125 as the drive is much smoother and quicker from there.
Puglia, Italy
By Maria & Katerina of It's All Trip To Me
A land of sun and endless plains filled with century-old olive trees and vineyards, the region of Puglia in Southern Italy feels as though it's made for a road trip.
The best way to enjoy a road trip across Puglia is by following a circular route that begins and ends in either Bari or Brindisi, the two main entry points to the region, as both of these cities have a port and an international airport alike.
With countless picture-perfect towns, pristine beaches and unique sites of natural beauty, the sky's the limit when it comes to essential stops you need to make while road tripping across Puglia.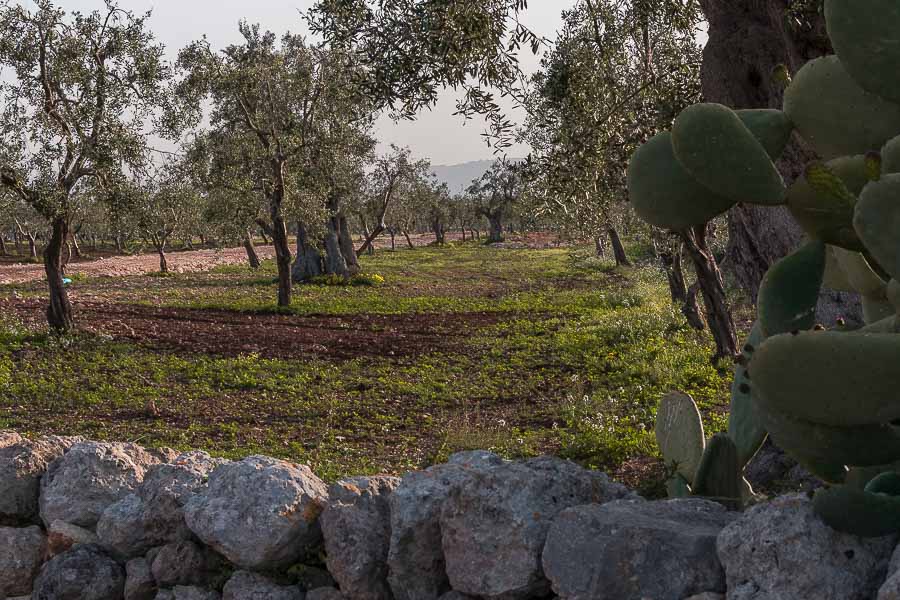 However, there are some places that you most definitely have to add to your itinerary. These include the beautiful towns of Trani, Polignano a Mare and Monopoli that adorn the region's Adriatic Coast, some of the most stunning towns in Itria Valley such as Alberobello, Locorotondo and Cisternino, as well as dazzling Ostuni and easy-going Otranto.
The important thing to keep in mind here is that you should take your time while roaming the authentic and breathtaking region of Puglia. This sun-kissed piece of land in Italy's South hides at its core the essence of the laziest and most nostalgic Italian summers.
This is evident at the historic centers of its medieval towns, the jaw-dropping courtyards of the most impressive estates that have been turned into unique farm-stays as well as the plentiful beaches of turquoise waters and abandoned watchtowers.
Puglia is where you'll get to mingle with locals more than anywhere else in Italy. It is a region that doesn't suffer from overtourism. At least not yet. Food is delicious and always prepared with locally grown ingredients. Available activities you can try range from hiking or cycling through the stunning countryside to attending cooking classes with people whom you'll be calling friends from then onwards.
Yet it's on the road that Puglia will steal your hearts forever. All along its scenic routes, away from impersonal and grey highways, it's where you'll witness the magic of Puglia unfold right before your eyes.
Castle Circuit, Germany
By Becki from Meet Me In Departures
This circular trip starts and ends in the German city of Köln (Cologne), it covers the south-west region of Germany going down as far as Stuttgart before completing the circuit through the Rhineland's. Ideally, you'd want approximately 4 or 5 days to complete it, although a more leisurely week is better.
This castle route is one of the best road trips in Germany, as you'll get to see beautiful fairy-tale castles, the ancient Black Forest as well as picturesque cobbled towns.
In brief, the places on this circuit are Koln > Frankfurt > Mespellbrunn Castle > Stuttgart > Bad Wildbad > Heidelberg Palace > Koblenz > Eltz Castle > Rheinstein Castle > Cochem Castle > Bonn > Köln.
From the city of Köln head in a south-easterly direction towards Frankfurt. It's well worth spending at least half a day exploring the Old Town and getting lost in the pretty cobbled streets.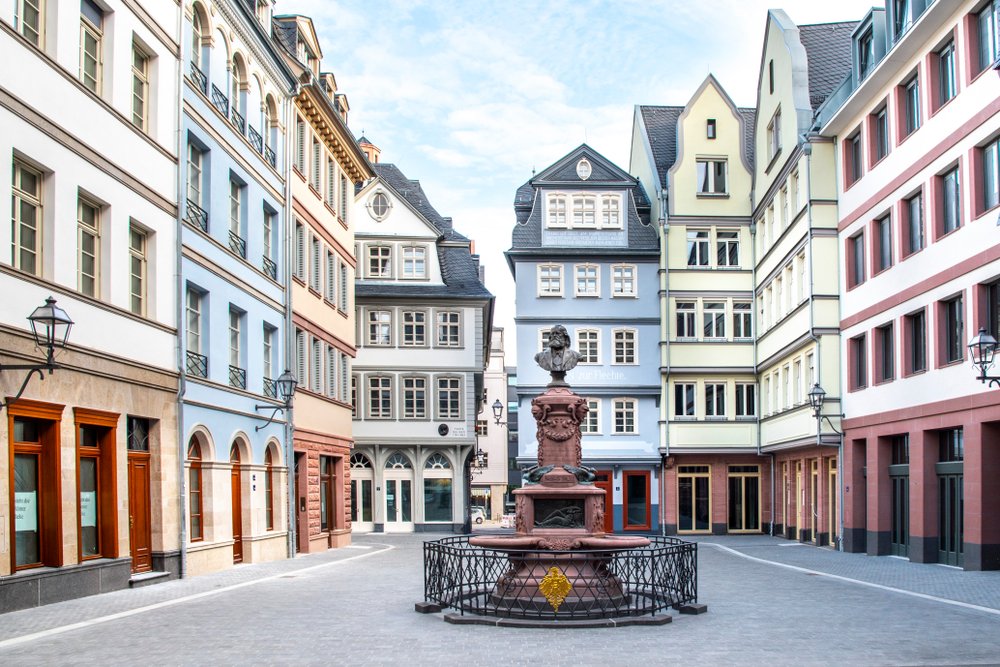 From here, continue the journey towards the first castle on your road trip, Mespellbrunn Castle. If you've ever ready the fairytale Rapunzel, this is probably the sort of tower she was kept in. The tall and circular tower overlooks a pretty lake. Make sure you take the guided tour inside the castle too.
The final stop of the day is in Stuttgart. You'll probably arrive quite late in the day, but enough time to explore the town, get a nice meal with local beer. This is also a great place to spend the night too. The next morning finish exploring the town before heading north-west towards Bad Wildbad. If you have time, spend longer here to explore some of the fabulous walking trails.
After you've visited the Black Forest, keep heading north-west to the university town of Heidelberg, and Heidelberg Palace. This complex gets quite busy, so you might need several hours here to see everything. The town is also quite lively, with a bustling town square. Stay overnight in the town.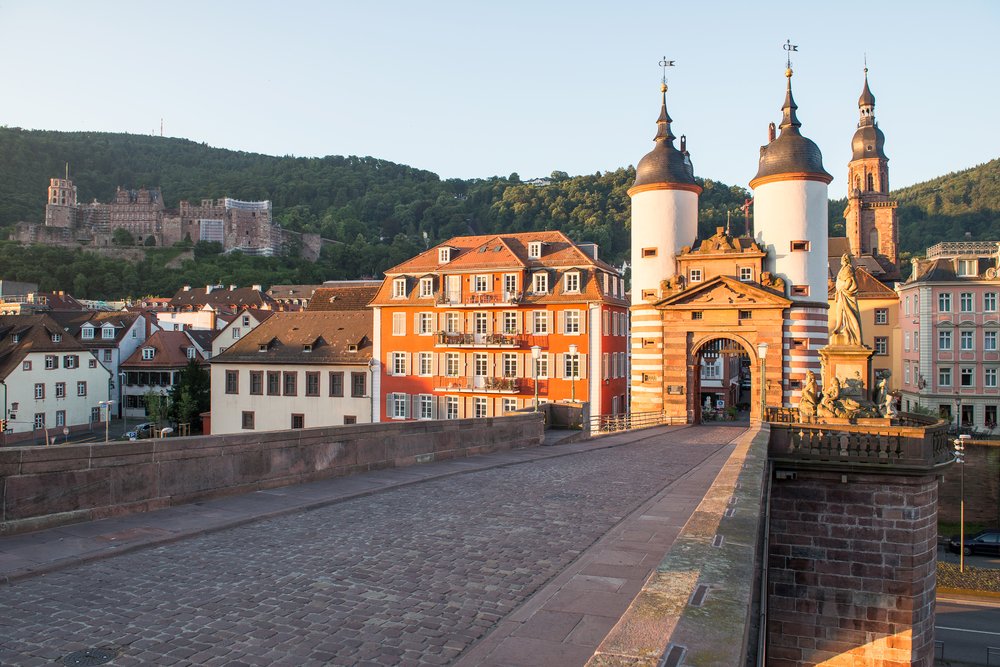 The next day you'll be heading towards the picturesque town of Koblenz with its quaint buildings. Spend a couple of hours here before driving on to Eltz Castle.
Eltz Castle is the quintessential fairytale castle, it's perched on a rock, in a valley, with a stream running next to it, all surrounded by ancient woodlands. You'd probably want a couple of hours here. It's also worth getting the tour inside the castle.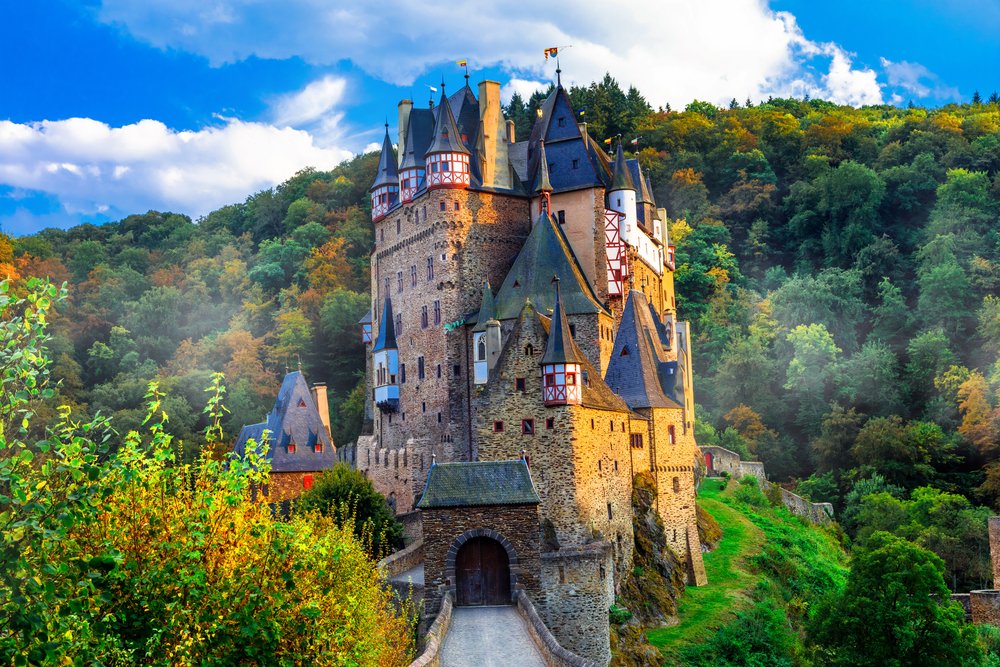 The next destination on this road trip is to the smaller Rheinstein Castle overlooking the Rhine River. It often gets overlooked, so it's quieter than lots of the other castles, it does have an interesting crypt as well as the turrets and roof you can climb up to.
Continue driving towards the town of Cochem and Cochem Castle. The colourful town is situated along the riverside, with the castle overlooking the surrounding vineyards. This is also a great place to try the local wine. From here head towards the town of Bonn, as well as wandering through the town, be sure to visit the fabulous castle.
From Bonn, complete the circuit and drive back to Köln. If you're looking for something to do in Cologne, make sure you climb the cathedral.
Provence to Nice via the Gorge du Verdon
By Anne Sutherland-Smith from Pretraveller
An amazing European road trip is the 350 km (220 mile) drive from Avignon to Nice via the Luberon hilltop village region and the Gorge du Verdon, the deepest gorge in France. Plan to take at least four days to drive this route to enable you to have enough time to properly explore each location.
Day 1 starts from the ancient Roman town of Avignon. You start your journey by traveling east 36km / 22mi / 45 minutes to your first stop, Fontaine-de-Vaucluse, to see the amazingly clear natural spring waters, which flow out of a 230m high cliff.
Plan to spend 1-2 hours exploring the township and see the most powerful natural spring in France.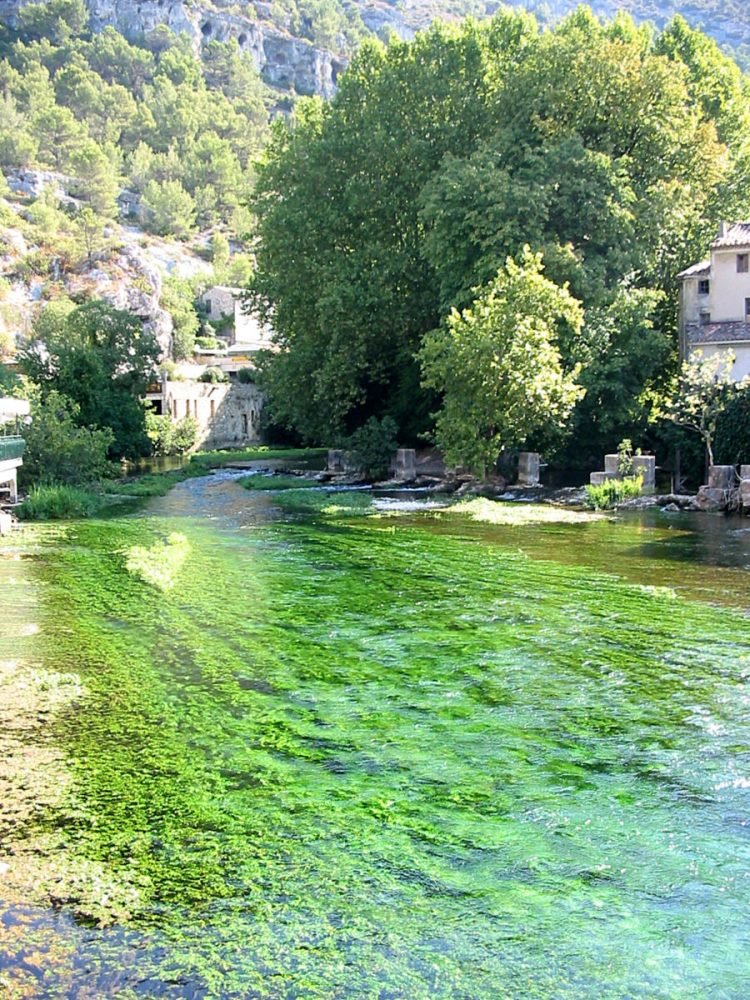 Your second stop is the hilltop town of Roussillon, a beautiful winding drive of 31km / 20 mi / 55 minutes.
Roussillon means 'red' in French, and the town lives up to its name by being surrounded by amazing red cliffs and is also located in the center of the biggest ochre deposits in the world. Enjoy at least 1-2 hours exploring the beautiful colors, art galleries, and fantastic natural views of the Luberon countryside.
Your next stop is the amazing Provencal Colorado, an old ochre quarry which is located 20km / 12 mi / 25 minutes drive east from Roussillon. You will enjoy the short walk through this site, where you can see amazing shades of red, orange, yellow, white and black, with streaks of blue and green. Plan to take 1-2 hours to explore the site at your leisure as it is truly amazing! Plan to stay overnight at accommodation located near Moustiers-Sainte-Marie (a 45km / 28 mi /1 hour drive further east), ready for an exciting adventure exploring the Gorge du Verdon the following day.
Day 2 starts by deciding which route to take to explore the Gorge du Verdon – you can drive on either the north or south side of the gorge – the northern route is called Route des Gorges (or the rive droit – right bank), and the southern route is called the Route de la Corniche Sublime (or the rive gauche – left bank). From the northern route you can also access the circular one way Route des Cretes loop where you can see amazing cliffs and views.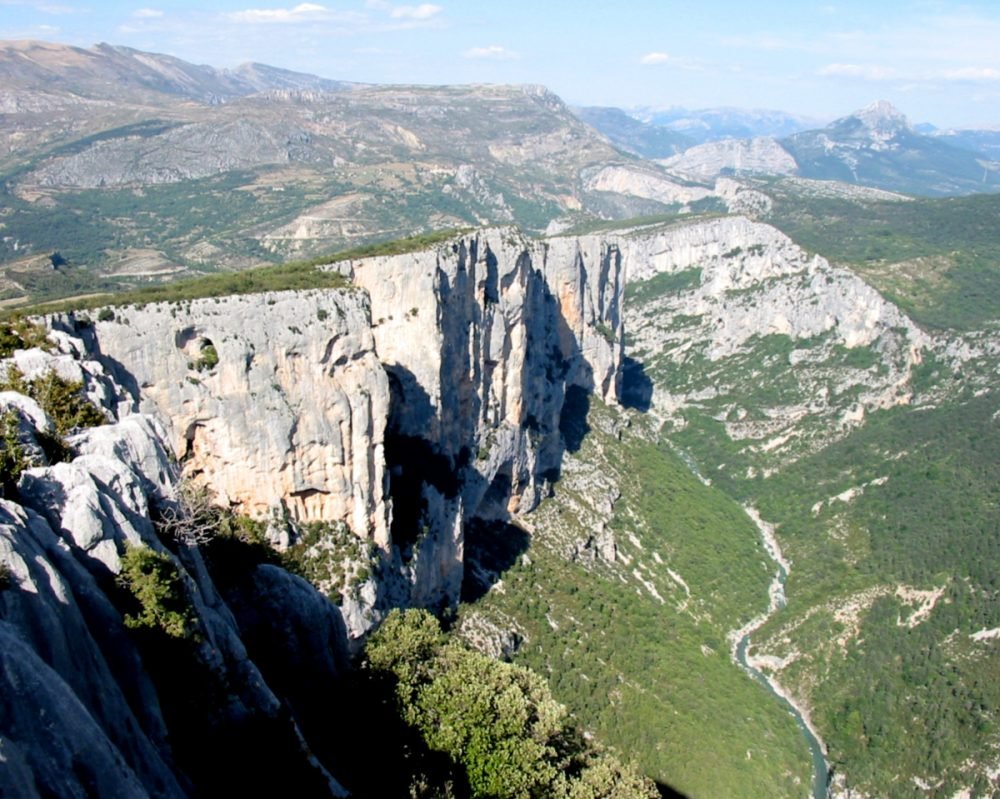 You can take either one or two days to explore the Gorge du Verdon region – for one day plan to drive the Route des Gorges and ensure you also take the circular Route des Cretes loop before driving on to either Castellane or Trigance.
If you have two days then take the Route de la Corniche Sublime, and plan to stop at the township of Les Salles sur Verdon to hire a boat or kayak to explore the river before driving the route through to Trigance. On day two you can drive along the Route des Gorges to the Route des Cretes, before returning to Trigance or Castellane.
On your final day you can drive from either Castellane (63km / 40 mi / 1:05 hrs) or Trigance (70km / 44 mi / 1:10 hrs) to Grasse, where you can enjoy several hours exploring the perfume capital of the world. The surrounding fields are covered in flowers during the peak season! Your final seaside destination is Nice, a drive of 42km / 26 mi / 40 minutes.
Provence (Luberon Valley)
By Martina Grossi of The Global Curious
Far from the Côte d'Azur bling packed with beaches and flashy vibes, and closer to calm sunsets gazing across the countryside, lies Provence, in France. Medieval villages made of stone buildings hanging on to cliffs, abbeys, lavender fields, vineyards, and that classic French grace that never gets old.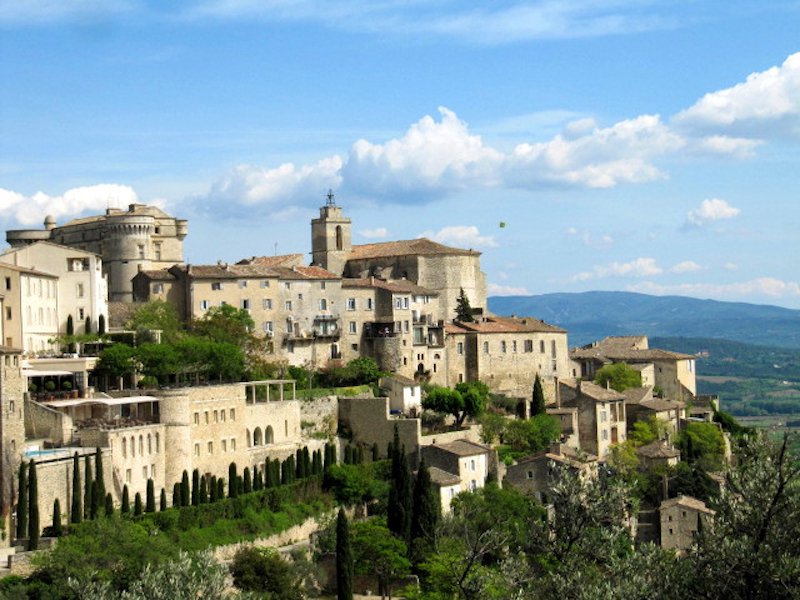 Travelers looking to relax and get a taste of the sybarite life should definitely spend between 3 to 7 days exploring one of Europe's most charming regions.
The area's expansive countryside, tranquil settings, and proximity between highlights make it an ideal option for road-trippers! You could easily rent a car or motorbike and do a whole loop, or head south toward the Riviera for your itinerary's grand finale!
Avignon is where this itinerary kicks off! Avignon is a small city and a great way to ease your way into the region. Explore the XIVth century Papal Palace, the famous Avignon Bridge, and take a stroll around the city's tree-lined boulevards.
Then head west and hit Arles, an absolute must for art and history lovers. For Roman ruins, visit the Arles Amphitheatre, and then discover the streets that inspired some of Van Gogh's most famous paintings.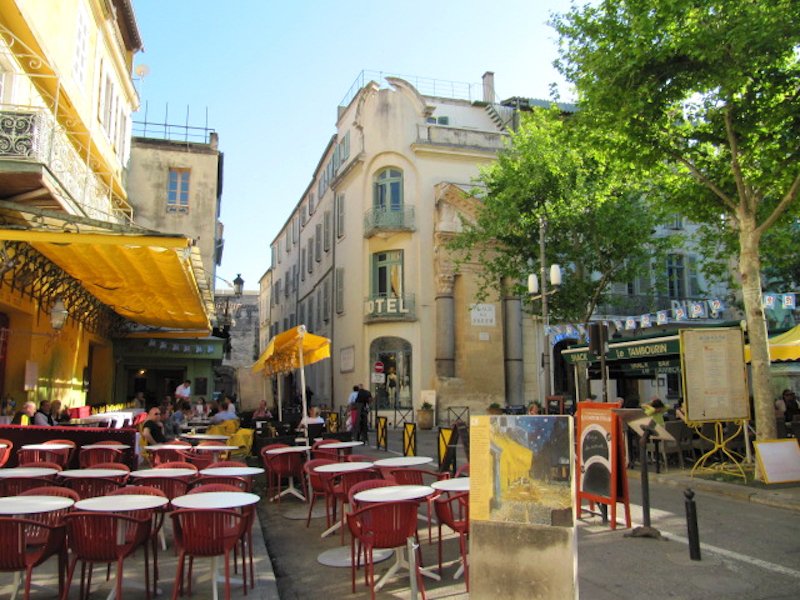 Once you've checked two of the region's most important cities, get right into the soul of France's countryside! Wander the Les Baux castle, tour the Saint-Paul Asylum -where Van Gogh spent his final year-, go wine tasting around Saint Remy, and catch a sunset in Roussillon!
For a movie-set worthy spot -literally- spend a morning enjoying Gordes panoramic views and the village's central square. This hilltop town appears in Russell Crowe's 2006 movie, 'A Good Year,' and it's considered to be one of the most beautiful villages in France.
To crown your Provence road trip, spend a day chilling by the most famous and gorgeous spot in the whole region! The Sénanque Abbey was built in the XIIth century and now remains as a monastery, a retreat place for guests, and an expansive lavender field. You'll truly feel like you've escaped reality and jumped into a painting here!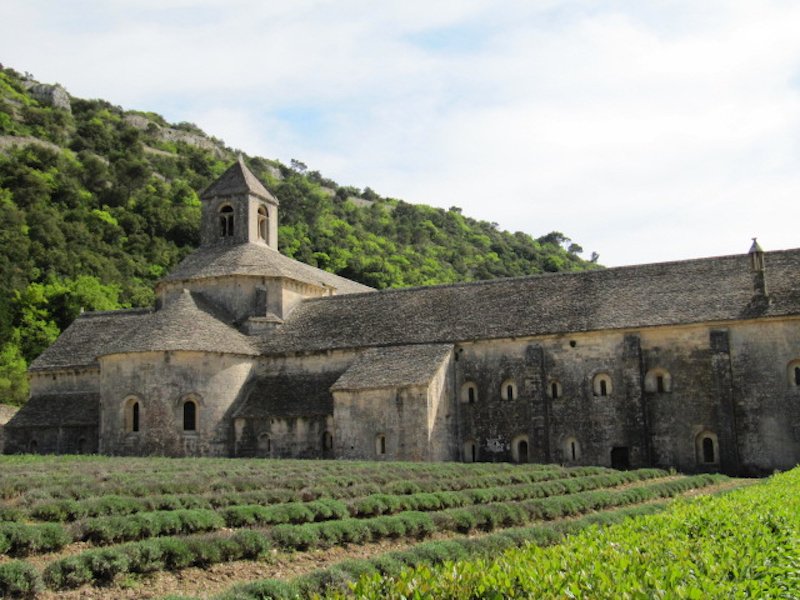 Once you've finished your 'Provencal holiday,' either circle back to Avignon, or keep driving south, toward the French Riviera. A word of caution! Don't be surprised if you feel like giving up everything to move there and become a poet -just blame it on the lavender, the wine, the food, and the views!
Dordogne Valley, France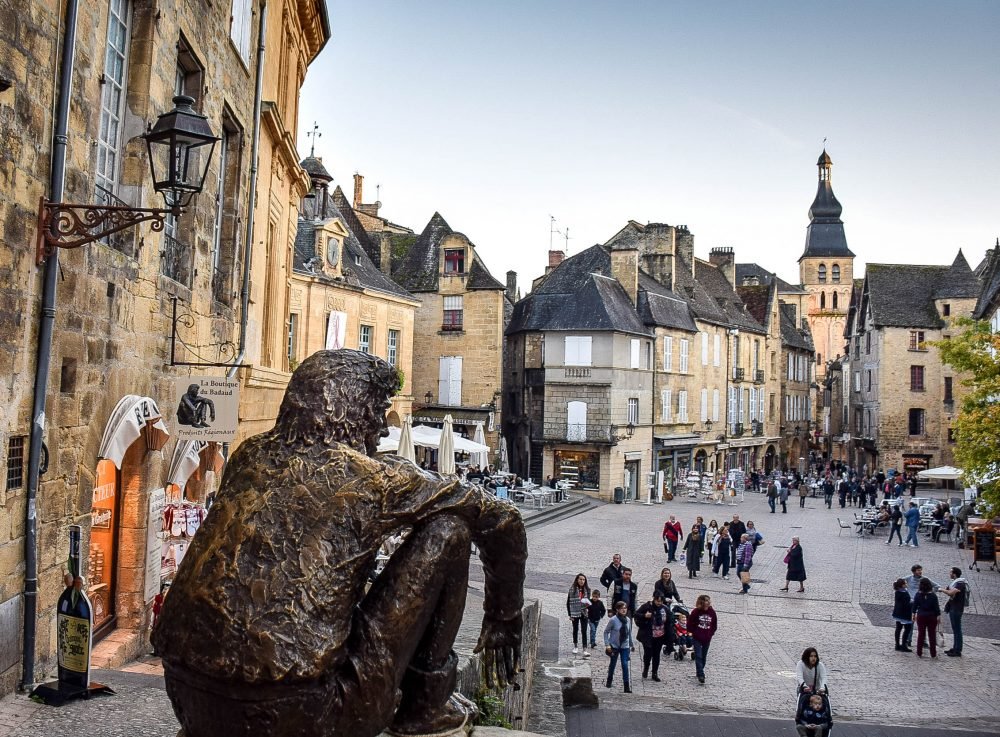 By Cindy Baker of Travel Bliss Now
The Dordone region in the southwest corner of France couldn't be more perfect for a road trip. There are miles of quiet country roads, lined by forests and vineyards, and dotted by quaint, medieval villages where castles and fabulous gourmet fare await.
Many international visitors will arrive in Bordeaux, close to the Atlantic coast. Treat yourself to at least two days of wining and dining in the city, culminating in a visit to the interactive wine museum, La Cité du Vin.
Form Bordeaux, it's 1.5 hours via the A89 to your first stop in the Dordogne, the town of Bergerac. Enjoy the pretty town square, the narrow streets lined with half-timbered houses and the Maison de Vins de Bergerac in a beautiful old cloister. Spend the afternoon or stay overnight in Bergerac before proceeding to Sarlat-la-Canéda (Sarlat), in the heart of the Dordogne.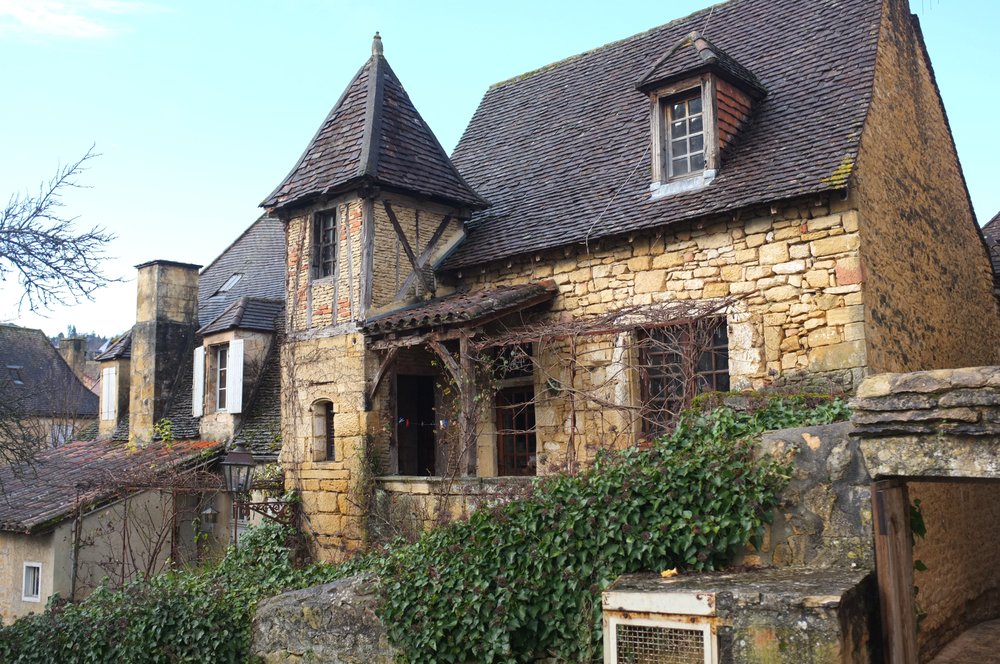 Sarlat is the perfect base for two or three nights to explore some of the most beautiful villages of France. These include the castle towns of Beynac-et Cazenac, La Roque-Gageac and Domme. Sarlat, itself, is a pretty, well-preserved medieval town. It's also known as a gourmet's delight, specializing in truffles, foie gras and wine. A great place to stay to soak in the old world charm of Sarlat is Les Suites Sarladaises.
From Sarlat, head north to the romantic village of Brantôme. On the way, stop in at the Lascaux International Centre for Cave Art to see incredible, prehistoric cave paintings and have lunch at Le Dejeuner sur L'Herbe, a hidden away cafe by the river in lovely Saint-Léon-sur-Vézère.
Brantôme is known as the Venice of the Dordogne because the village is surrounded by a river. The highlight is the town's ancient abbey, but be sure to take some time out for romance with a stay at the Relais & Châteaux, Le Moulin de l'Abbaye.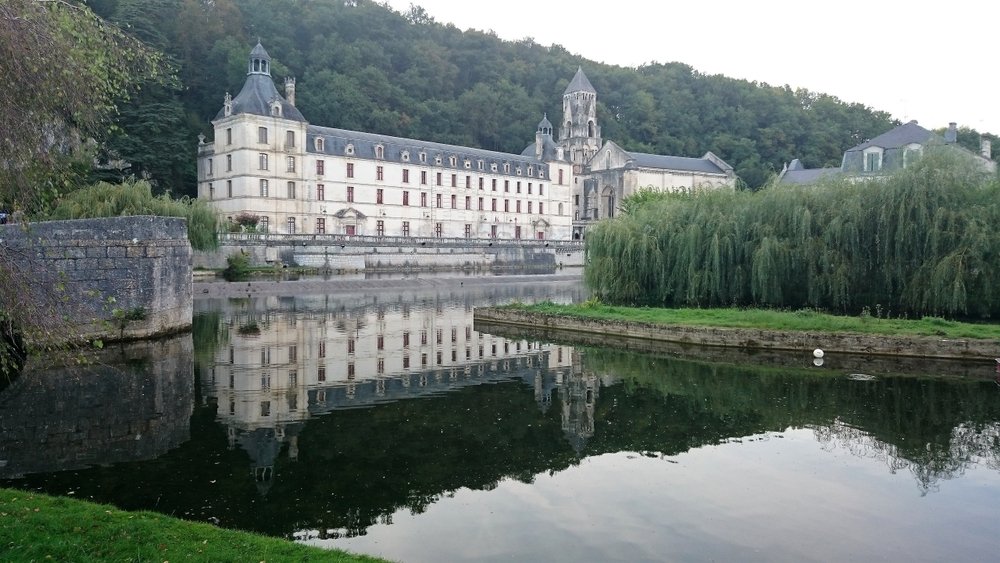 The final stop in the Dordogne is Périgueux. In the very unlikely case that you haven't had enough to eat on this road trip yet, Périgueux is often called the culinary heart of France. Try to time your visit to be there for market days on Wednesdays or Saturdays to sample the best delicacies of the region.
After you've had your fill in Périgueux, it's time to head back to Bordeaux. The entire road trip could be done in as little as 5 days, but take your time (more like 9 – 10 days). Enjoy the slower pace of French country life and all of the delicious things it has to offer.
Southern Portugal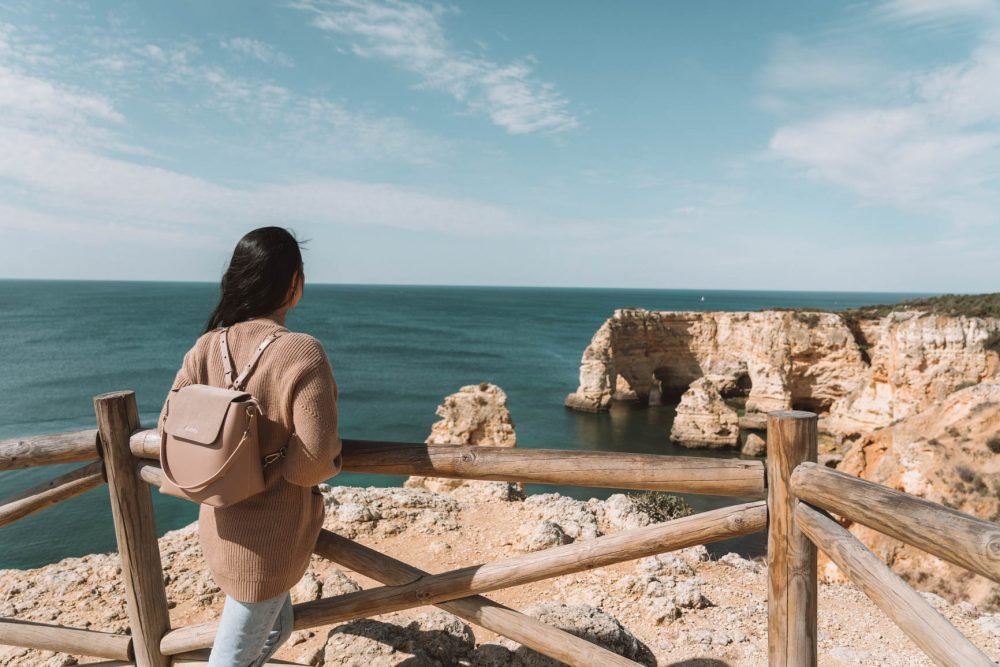 By Diana of In Between Pictures
What better way to explore Portugal's hidden gem than by road-tripping? This road trip itinerary will take you from the vibrant Portuguese capital to the breath-taking cliffs of Algarve, stopping along the way to visit charming small towns.
Begin your Portuguese road trip in Lisbon. The colorful city packs lots of things to see and do, and you could easily spend a week here exploring its nook and crannies. While in Lisbon, make sure to watch the sunset at one of the many Miradouro, get lost in the colorful neighborhoods, visit the oldest bookstore in the world, and go on a free walking tour.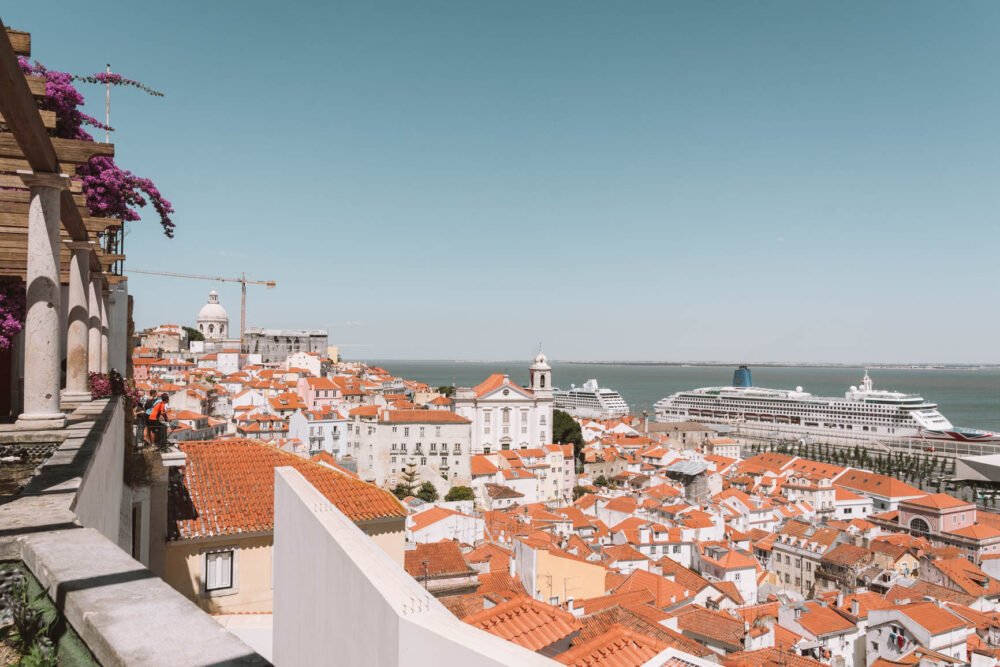 After Lisbon, make your way to Sintra. Besides Lisbon, Sintra is probably the second most popular place to visit in Portugal. Here you will find the famous Palacio da Pena as well as many other beautiful palaces. The old town is a UNESCO Heritage Site, so it is not to be missed. Pick up the car rental early in the morning and make your way to Sintra. Once you finish exploring, make your way to Evora.
Next up is Evora, the capital of the Alentejo region, is a UNESCO Heritage site and one of Portugal's most beautiful medieval towns – a hidden gem! The small town also makes a great base if you want to explore the region.
After Evora, head to Elvas. Elvas is located east of Portugal near the border with Spain. This small town exudes Portuguese charm with its narrow streets and whimsical façade. It was once a defense point, but now, Elvas is a peaceful, picturesque town.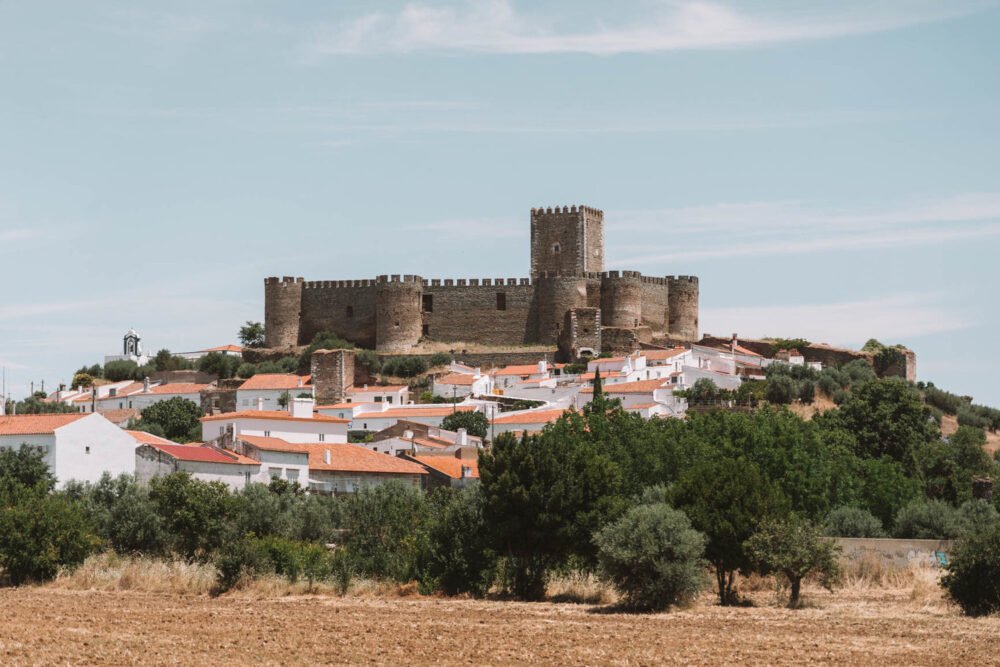 Next up is Monsaraz. Monsaraz is a beautiful medieval village perched on a hilltop overlooking the Alentejo plain. The quaint town is filled with colorful bougainvillea amid whitewashed cottages. It is a great place to spend a few hours strolling the cobblestone streets and enjoying the panoramic view.
Elvas and Monsaraz are small and close enough that you could visit both places on the same day. If you have extra time, add Marvão to your itinerary as well.
Finally, end in the Algarve in Lagos. Lagos boasts the most spectacular views in Portugal, not to mention beautiful beaches and scenic hiking trails. The old town is a charmer too! If you enjoy nature and outdoor activities, you are going to love Lagos.
The nearest airport in Lagos is located 30 minutes away in Faro. You can return the car by the airport before departing.
Portugal makes it easy to explore for road-trippers. Most hotels outside Lisbon, as well as attractions, offer free or affordable parking. The roads are smooth and easy to navigate, and driving distances are relatively short.
Southern Spain
By Reshma Narasing of The Solo Globetrotter
Andalucia in southern Spain is one of the best regions for planning a road trip in Europe. What's special? Well, splendid monuments boasting Moorish architecture, magnificent castles, pretty beachside towns, excellent food & drinks(Think Tapas and Sangria), beautiful roads along the coast flanked by stunning landscapes dotted with vineyards – Do you need any more reasons? This Spain itinerary can be done in about twelve days or more if you want to.
Start at Seville, one of the most popular cities in Spain, which is a perfect place if you are flying to the town. Spend a few days admiring the iconic Plaza de España, the bell tower La Giralda, the Royal Palace of Alcázar. Walk amidst the pretty cobbled streets, taste the best Tapas with Sangria in one of the many excellent restaurants, spend your evenings watching the enthralling Flamenco dance performances by local artists.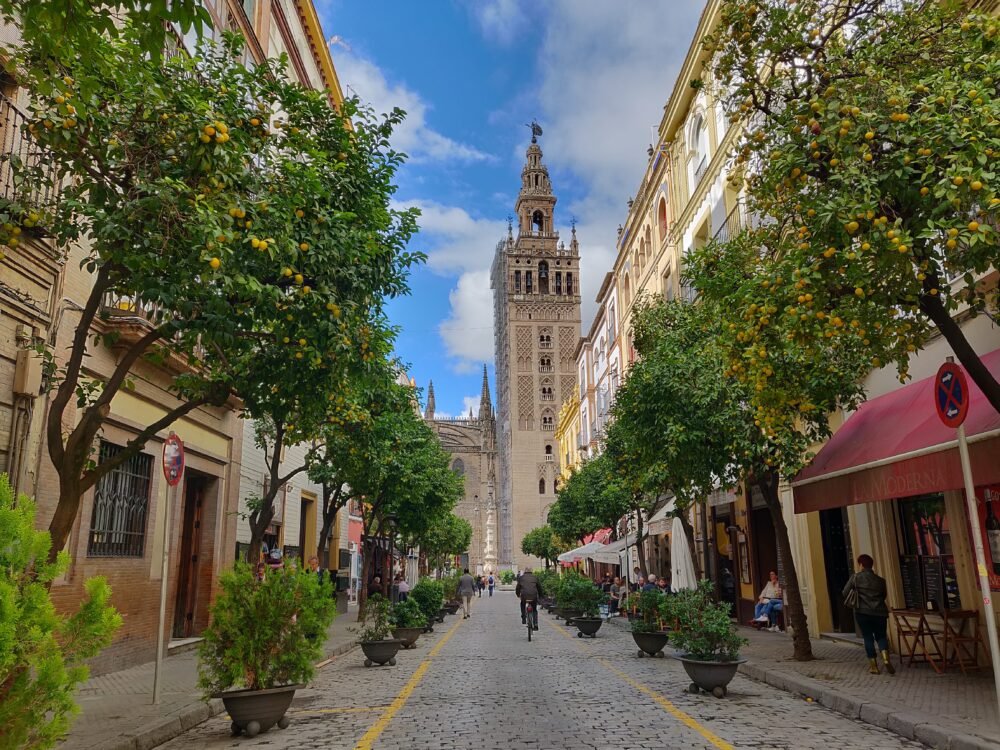 Leave Seville to arrive at Cordoba, one of the most famous ancient cities in Andalucia with a rich history, and the epicentre for two religious faith. You can cover the highlights in a day or better, spend at least two nights here. Check out the historic Mosque-Cathedral of Córdoba, the second largest mosque in the world after Mecca, renowned for its grand confluence of Moorish-Renaissance architecture.
Next to it is the beautiful Alcazar of the Christian Monarchs. Take a walk admiring its grandeur. In the evening, stop on the Roman Bridge of Córdoba for capturing panoramic views across the river.
Next, it is time to get a peek of south Spain's beach line at the port city of Málaga, which was one of the prominent ports during the Roman empire. You can choose between hitting the beaches and enriching monuments. Even if you are not into history, don't miss Alcazaba, a medieval Moorish castle for its excellent location and gorgeous views of the sea. Close to it is the remnants of a Roman Theatre, dated 1st Century BC. For more views, head to the hilltop palace Castillo Gibralfaro.
If you want to relax instead, head to Costa del Sol Occidental known for its lovely beaches, cliffs and bays spending the day soaking in the sun, enjoying the sand and Sangria.
Drive next to Granada, enjoying the beautiful landscapes surrounding the Sierra Nevada mountains, before moving up the coast. Granada is a classic example of Moorish medieval architectural grandeur. It is the city of Palaces, Cathedrals and fortress – each more beautiful than the other.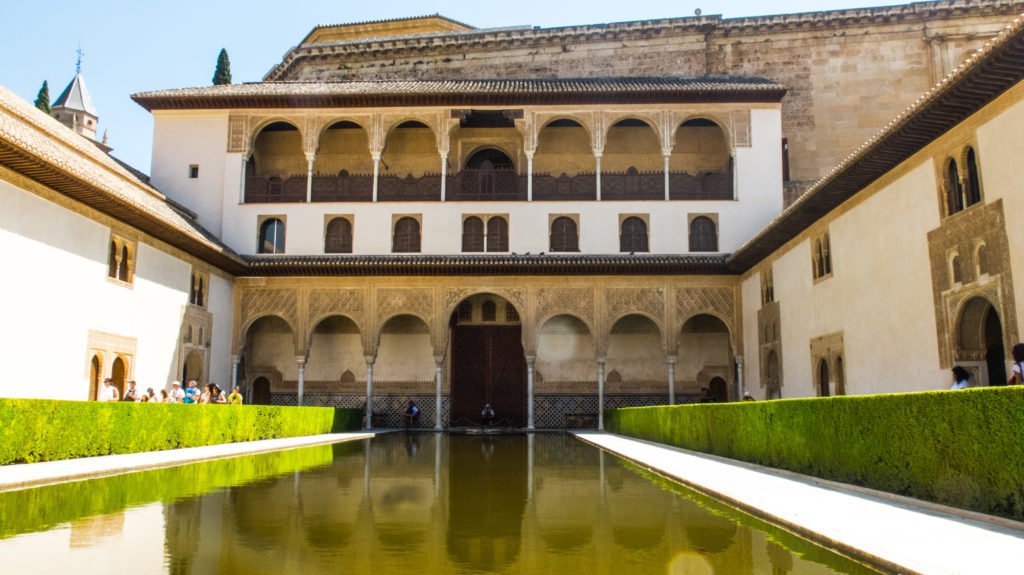 Explore the fortified palace Alhambra which consists of several stately buildings and gardens, the summer palace The Palacio de Generalife, medieval Catedral de Granada & the old town.
Head next to Cartagena, the ancient Roman city and port with lovely beaches for a more relaxed time, after castles and forts. Stay close to La Manga so that you can enjoy the beaches nearby. Visit the iconic Roman Theatre, which also has a museum. Wrap up this fabulous road trip by heading to Murcia, from where you can fly out.
Belgium
By Bhushavali of My Travelogue by Bhushavali
Namur is the capital city of the Wallonia Region of Belgium and is the home to Namur Castle which Napoleon Bonaparte described as the 'Termite Mound of Europe'. While exploring the citadelle is free for all, the fascinating thing here is the guided tour (ticketed) of the underground tunnel system! Apart from the Castle, there are quite a few things to do here including, visiting the Belfry which is one of the UNESCO World Heritage Sites in Belgium.
Stop next at Wepion which is known for its strawberries. There is a museum dedicated to the local strawberry cultivation techniques and of course there's an orchard. A visit in late spring or summer is perfect to experience strawberry cultivation, first hand! Of course, anytime of the year, it is possible to shop for yummy strawberry preserves and other products.
The next stop would be Les Jardin d'Annevoie, which is a huge garden filled with several fountains. While on the first look, they might look like regular fountains, but these were built in mid 18th C, without any motors, but with merely basic laws of physics of pressure and flow! The water is all fresh all the time because it constantly flows in and out of the river Meuse. There is a chateau in the midst of this garden, but now it is under renovation. With waterbodies and swans, it is indeed very picturesque.
The next stop is the very unique Railbikes of Molignee. Long back, Belgium was extremely well connected by railway lines. Today some of these lines have fallen into disuse and have now been converted to rail biking activity. It's quite unique and we get to bike through tunnels and some areas of spectacular views. This would take between 2 to 3:30hrs.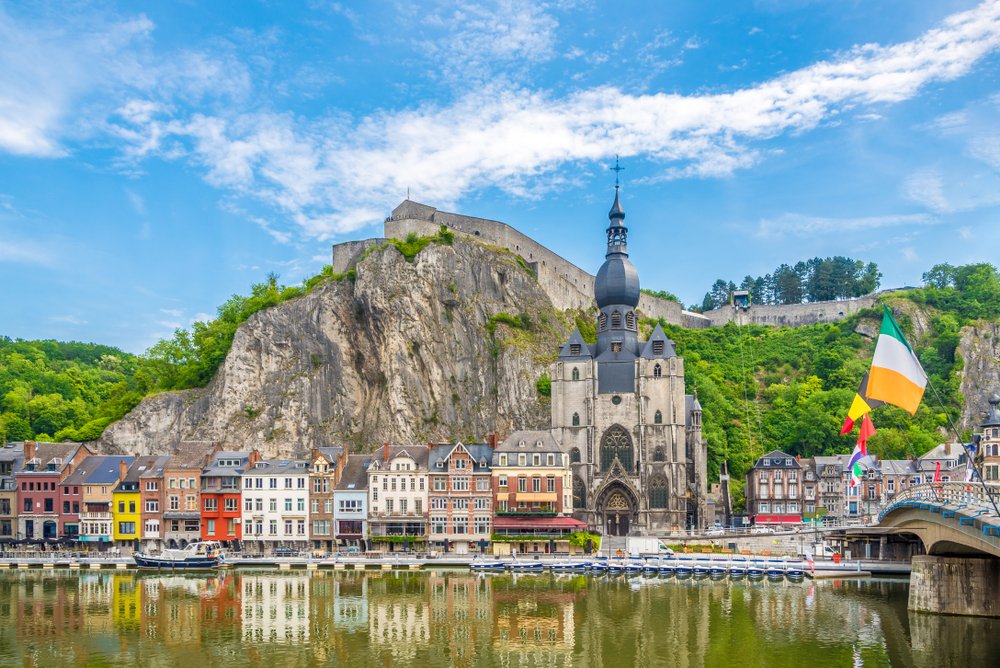 The final stop of this journey would be Dinant, which is one of the most fascinating little towns! First, it is the birthplace of the musical instrument Saxophone! A bridge here is filled with art installations of huge saxophones!
The Notre Dame Cathedral with the imposing castle at the back is very picturesque. The best way to experience Dinant is by taking a cruise or by kayaking. Also, it is possible to do quite a few adventure activities here including rock climbing, ziplining, and more.
Netherlands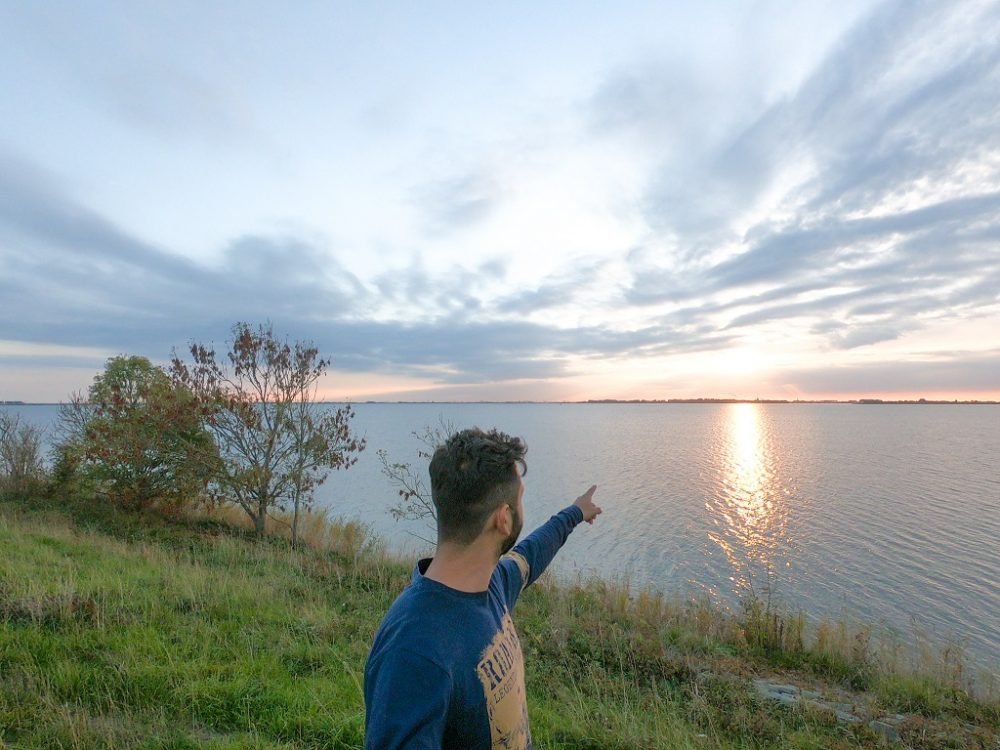 By Umang Trivedi of Travelmax
Amsterdam is a revelation for many first-timers. It was my first European city and going from a comparatively conservative country like India, I had built sky-high expectations from the European city.
When I reached Amsterdam, these expectations were not only met, but exceeded! Moreover, I did a road trip to the fishing towns of Marken & Volendam which offered me a view of the beautiful Dutch countryside as well. This short road trip added more flavors to my visit to the Netherlands and at the end of the day, I was in love with the country.
In order to go to the fishing towns of Marken & Volendam, you need to go through the Amsterdam – Noord region. There are public busses going between Amsterdam city & the towns of Marken & Volendam and you can pick the specific route. However, if you have your own car, driving down to these fishing towns will give you a memorable experience.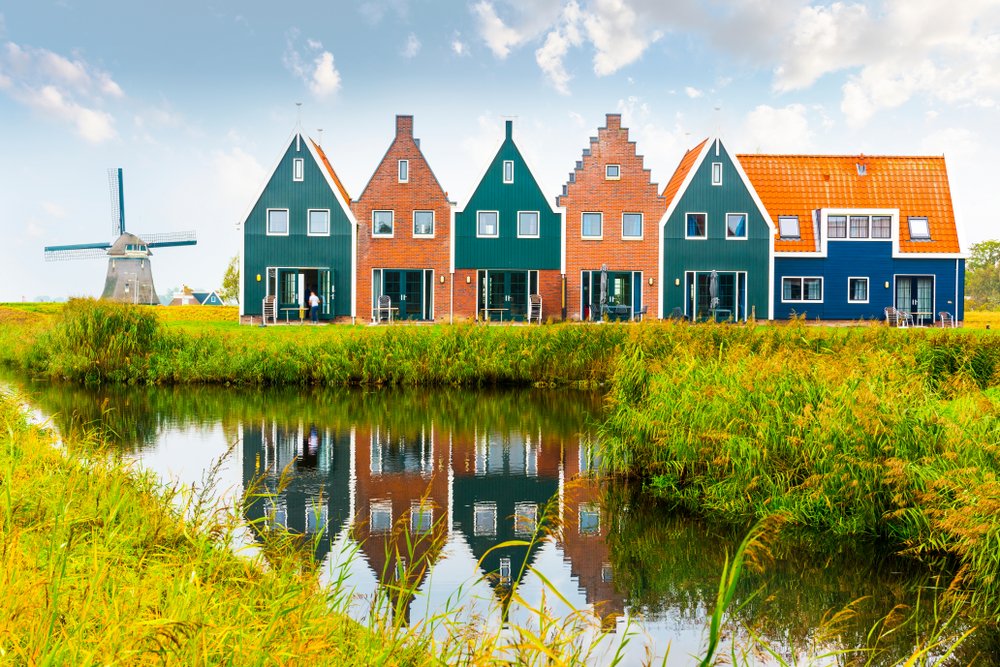 You can easily return to Amsterdam, but I'd recommend staying in one of the cute Airbnbs in Marken or Volendam. Frankly, I'd recommend staying in Marken because of one beautiful hike which I have suggested below as 5th stop. This hike is completely untouched and will give a spectacular sunset view.
The road to Marken is a treat, because a narrow stretch of road is engulfed by water on both sides. A worthy road trip indeed.
Here are the 5 stops which you can consider on this road trip from Amsterdam to Volendam to Marken.
Start with Adam's Lookout & This Is Holland experience. I am mentioning this as one attraction as they are adjacent to each other. Adam's Lookout will give you a bird's eye view of the Amsterdam city from a swing located at top of a high rise building. This Is Holland experience will give you a virtual tour of the Netherlands with 4D effects and flight simulation.
Next, visit the Volendam Museums. After enjoying the various views of Amsterdam, head to Volendam and enjoy the 3 museums: Volendam Museum, Palingsound Museum, and the Cheese Factory.
Next up is the city of Marken and its famous shoe factory. From Volendam, after lunch, you can leave for Marken to see the Shoe Factory. These shoes are basically clogs – a Dutch symbol – a locally preferred footwear style from yesteryear. You can see the shoes being made along with an interesting collection of clogs as well.
Afterward, check out the Marken Lighthouse: There is a lighthouse in Marken town that offers a wide view of the ocean. Unfortunately, you cannot go to the top of the lighthouse, but can surely spend some peaceful time at the nearby benches.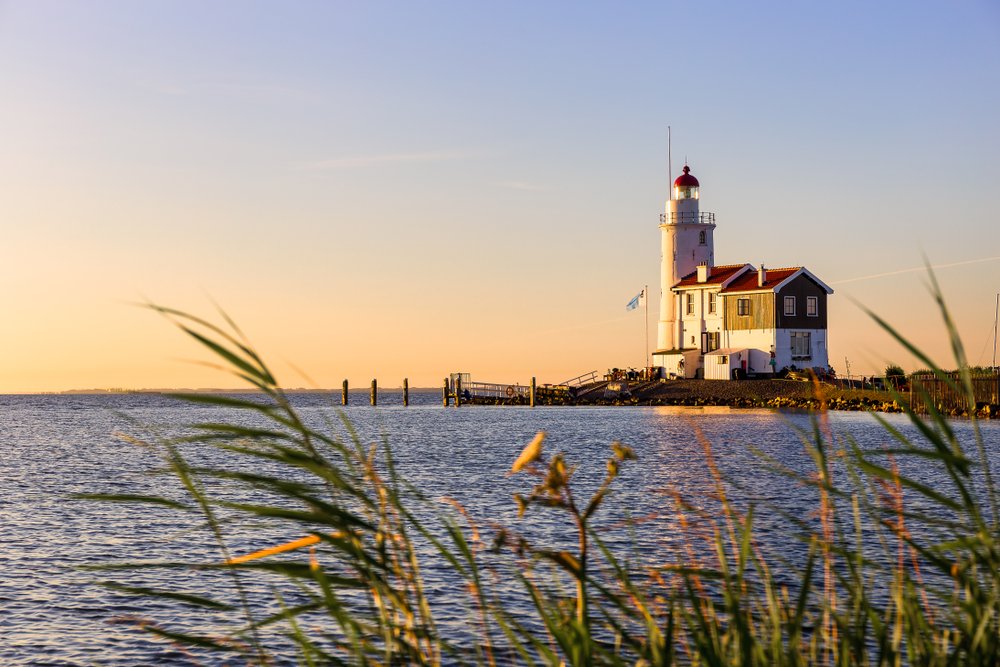 Finish up with the Marker Landtong hike. This is nothing but a hiking stretch on a slightly elevated piece of land with ocean both sides. It's popular as a dog walking track among locals, but lesser-known in the tourist circuit. This hike goes on till you can reach the land's end. It offers some beautiful sunset vibes and views.
After this sunset, you can consider heading back to Amsterdam. You can also stay back in Marken as the morning can be very peaceful!
Best Road Trips in Europe: Central & Eastern Europe
Mini Balkans (Croatia, Montenegro & Bosnia)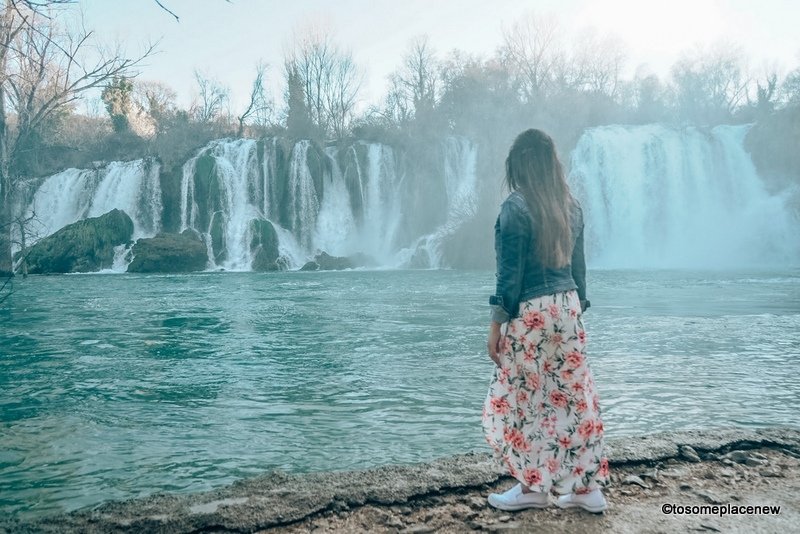 By Mayuri of ToSomePlaceNew
One of the amazing European road trips to take is to the Balkans. On this road trip, you can explore some of the popular destinations like Split and Dubrovnik in Croatia, and then visit Bosnia & Herzegovina and Montenegro.
Start this epic road trip in Split in Croatia (if you are traveling from overseas most likely you will arrive in Zagreb and you can travel to Split from Zagreb in about 4 hours). Explore the old town of Split, admire the Doelicitian' Palace, Temple of Jupiter and stroll the lovely Split Riva Promenade.
Next day start for Mostar in Bosnia Herzegovina. Split to Mostar is only a 2 hour drive away. Ensure you carry your passport, and a license plate (from car rental companies) to cross the border.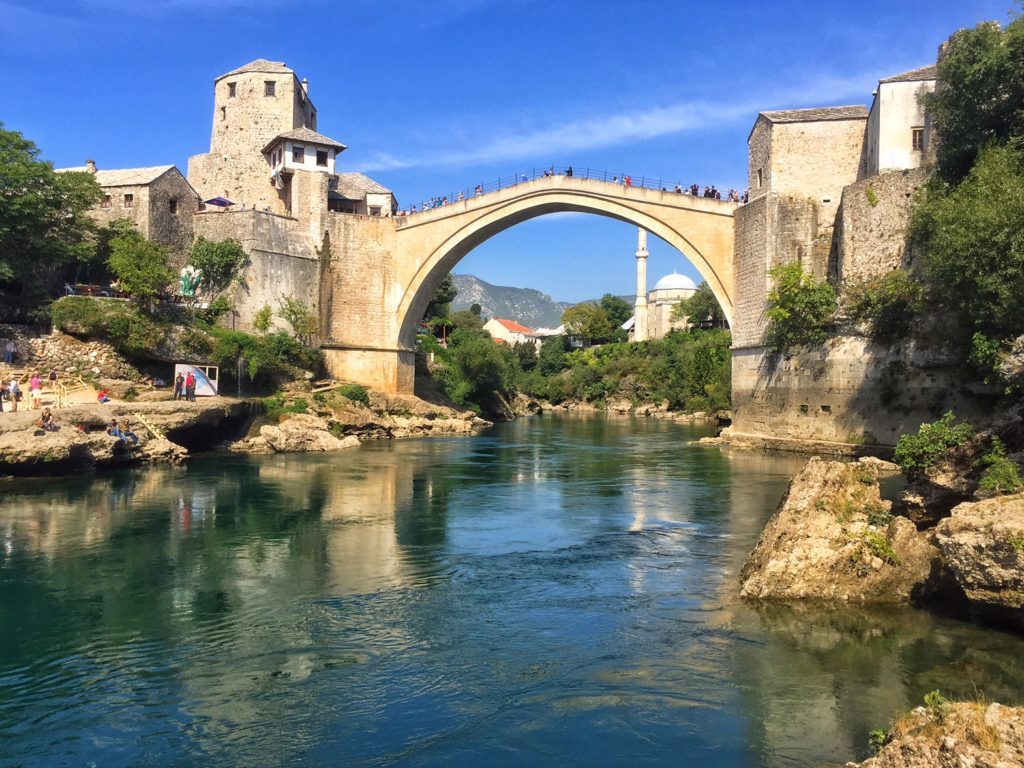 In Mostar, fall in love with the Stari Most (old bridge) in Old town, and learn about its history, and how the town is shaping up after the 1992 Siege. In and around Mostar old town, is the Crooked Bridge, pretty bazaars and cafes, Mostar Peace Tower and the war exhibitions.
Spending a day or two in Mostar is a good idea, and when ready head to the stunning Kravice waterfalls, also located in Bosnia-Herzegovina. Mostar to Kravice is only 45 minutes away, making it a perfect stop before arriving in Dubrovnik, back to Croatia.
At the Kravice waterfalls, go for a swim, kayaking, boast tour or just admire the stunning falls. The water is perfect for a swim in the summer months.
The border crossing in Bosnia Herzegovina (to Croatia) can get super crowded in the peak tourist months, so factor in the time as you plan your road trip stops. Aim to reach Dubrovnik hotel by evening, so that it's easy for sightseeing the next day.
In Dubrovnik, visiting the historic city walls are a must. Opt for a walking tour in the old town and visit the city highlights like the Rector's Palace, Sponza Palace, Dubrovnik Cathedral, Saint Franciscan Monastery, Placa, to name a few.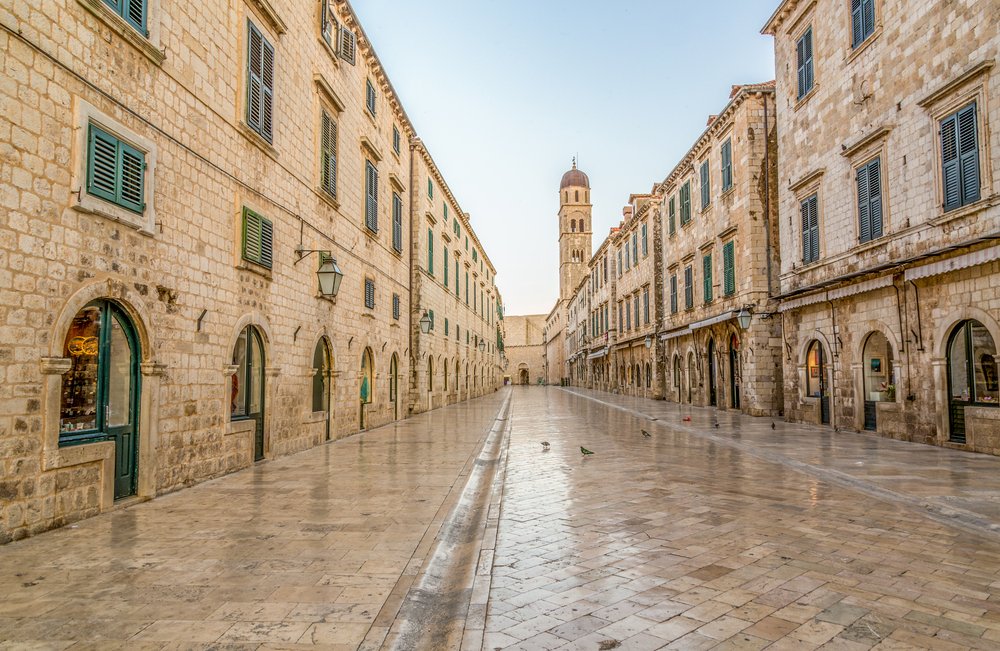 Don't forget to pig out and eat in one of the outdoor cafes, relishing Balkan cuisine. When in Dubrovnik hit the beaches or embark on an island tour from the old port. This will be one of the highlights of this road trip – the Adriatic will leave you speechless!
From Dubrovnik, make your way to Montenegro – this time for the Kotor Bay. Dubrovnik to Kotor is only 2 hours away. Depending on the time you have on the road you can either explore more of Montenegro, starting in Kotor, then heading to Budva and then Stevi Stefen.
However, you are pressed for time, take a day or road trip to Kotor Bay and Perast. Kotor is a coastal town in Montenegro, and it is filled with Adriatic charm with orange rooftops and the stunning blue waters.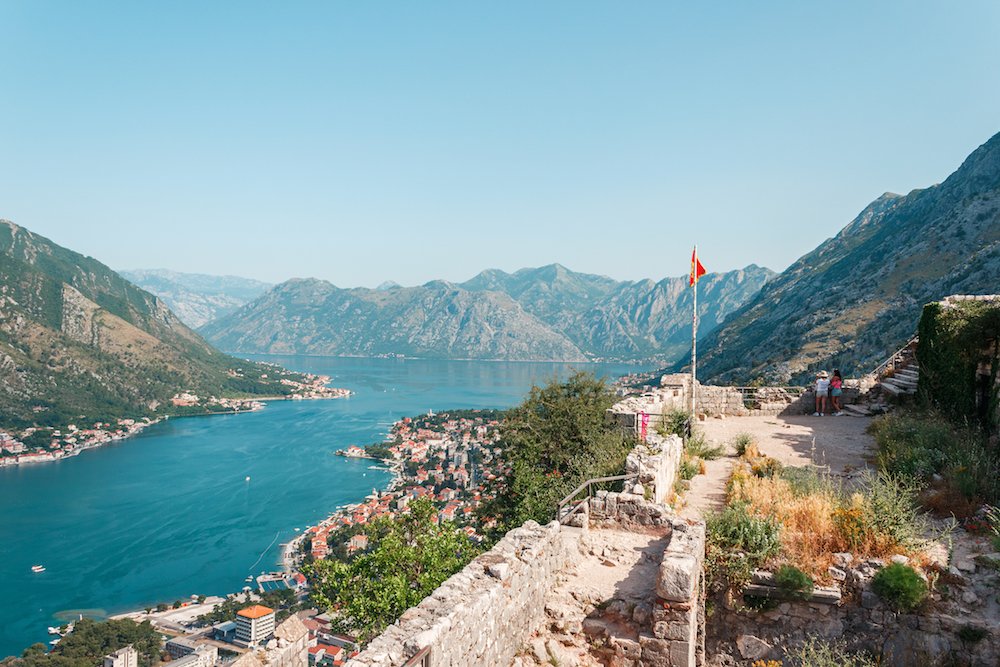 You can easily spend a day or two here, wandering through the old town and square, including visiting the iconic Kotor Cathedral. Boat tours are quite popular here.
Perast is also located near the Bay, just north of Kotor and is known for the island of Our Lady of the Rocks. These two destinations will definitely give you a taste of what Montenegro's coastline has to offer.
Croatia (Zagreb to Dubrovnik)
By Maggie Turansky of The World Was Here First
"One of the best ways to see the highlights of Croatia is by hitting the open road and, if you want to be able to see some of the most iconic areas that this beautiful Adriatic nation has to offer, the drive from Zagreb to Dubrovnik is an excellent option.
Starting in Croatia's dynamic capital, this road trip can take you by some of the most spectacular natural and coastal scenery in the country along with stops in some historic towns and cities. Leaving Zagreb, make sure to stop in the incredible Plitvice Lakes National Park. Spending at least a night near the park will ensure that you can visit early in the morning and avoid the large crowds that descend on this incredible area by the late morning.
From the inland highlight that is Plitvice Lakes, make sure to include a stop on Pag Island, which is easily reached by a bridge. This island is known for its cheese production and, if you're visiting in the high season, you may even have the opportunity to visit a dairy and sample some of the award winning cheese.
From there, spend a night or two in the historic city of Zadar, or head a bit further south to enjoy the lovely town of Sibenik or the beautiful Krka National Park.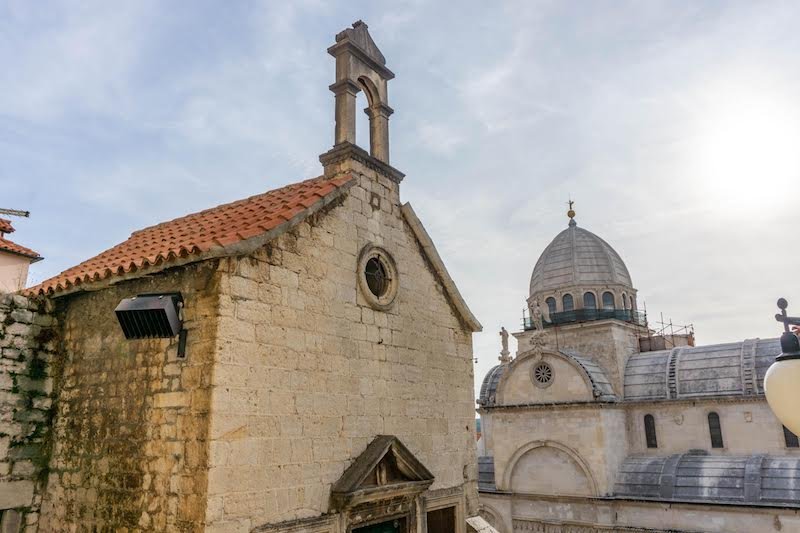 On a road trip from Zagreb to Dubrovnik, you also can't miss Croatia's second-largest city of Split. There are countless things to do in Split and the city is well-situated to explore a number of Dalmatian towns and even countless Croatian islands. Make sure to spend at least a few nights in this beautiful and historic city in order to really do it justice.
When you finally make it to Dubrovnik, you will have seen so much of Croatia that you're sure to have completely fallen for this beautiful country!
Crete, Greece
By Chrysoula of Travel Passionate
Crete is the largest of the Greek islands and can be visited as a year-round destination. From the wildflowers and hikes in spring to the beaches, archaeological sites and sunshine of summer, Crete makes a wonderful destination for a road trip as there really is so much to see and do.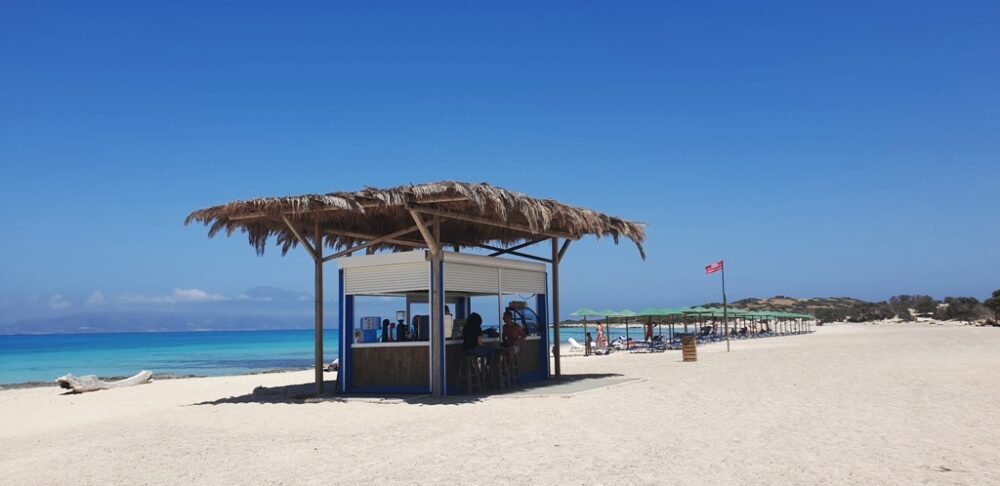 Start your Crete road trip in the coastal town of Agios Nikolaos that sits perched between the lake and the sea with quaint cafés and restaurants looking out over the water in every direction. You can begin your journey with a relaxing day or two here, soaking up the laid-back way of life; wandering along the marina and visiting the small church that gives this town its name.
From here, you'll make your way on to the port town of Sitia. This friendly settlement has a rich history of Venetian and Turkish reign, the remains of which can be seen in the town's architecture such as the restored Venetian Fort which now plays host open-air theatre performances.
While the town itself is more catered to the locals living there than to tourists, Sitia does serve as the gateway to the Richtis Gorge, a dramatic natural landscape that is a favorite among walkers. Travel down to the small village of Exo Mouliana just outside of Sitia to enjoying hiking in the gorge, starting early to avoid the heat of the day and ending up at the blissful Richtis Beach for lunch!
The hike takes around 3-4 hours and follows lush landscapes, old water mills and the Richtis waterfall which is a lovely place to take a dip.
Your road trip then moves on towards Kato Zakros a region famed for an ancient settlement from the Protopalatial Period (1900-1700 BC). Today, visitors can explore the archaeological site which features ancient tombs, palatial ruins and religious ceremonial grounds. Guests can take a guided tour of the site in summer to learn about the history of the region in more depth.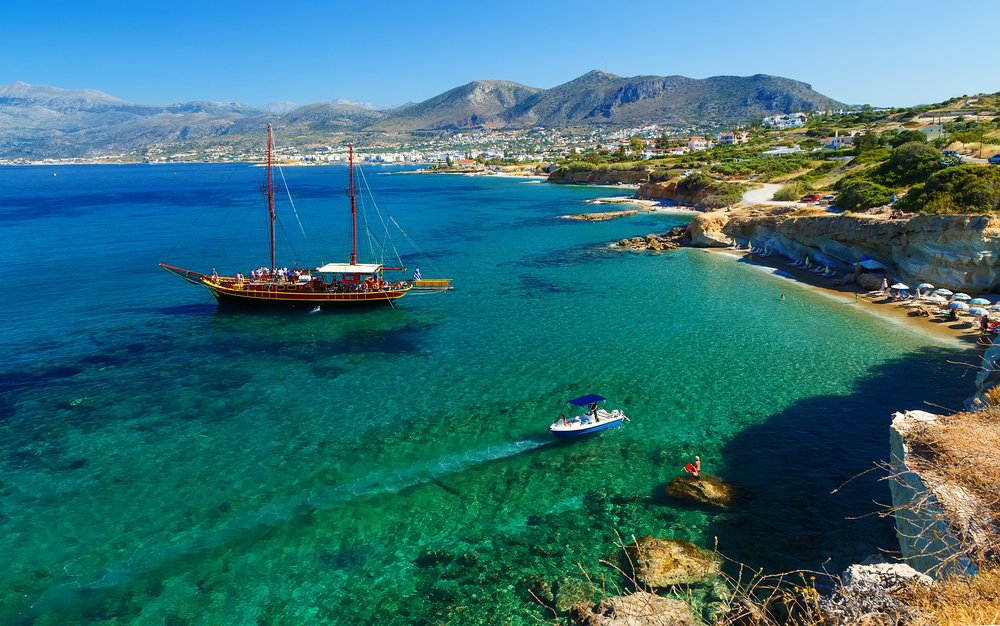 The penultimate stop on your Crete road trip is the town of Ierapetra on the southern coast of the island. This bay is known for having the highest temperatures and most amount of sunny days in Greece so it's the perfect spot for some sunbathing and relaxation. Thanks to the town's locale nestled between the mountains of western and central Crete, Ierapetra sees very few cloudy days so don't forget your swimsuit and sun screen and enjoy the beach!
While staying in Ierapetra you may also want to catch a boat out to Chrissi Island for day trip, a small stretch of white sand buried in the azure waters of the Libyan Sea. This island boasts a stunning landscape of forest, sea, sand and sunshine and with a church, lighthouse, bar and taverna and one house being the only structures on the island, Chrissi really is a peaceful place to be!
After spending your last few days relaxing on the beach, you'll return to the town of Agios Nikolaos to drop off your car and continue your vacation or catch your flight home.
Hungary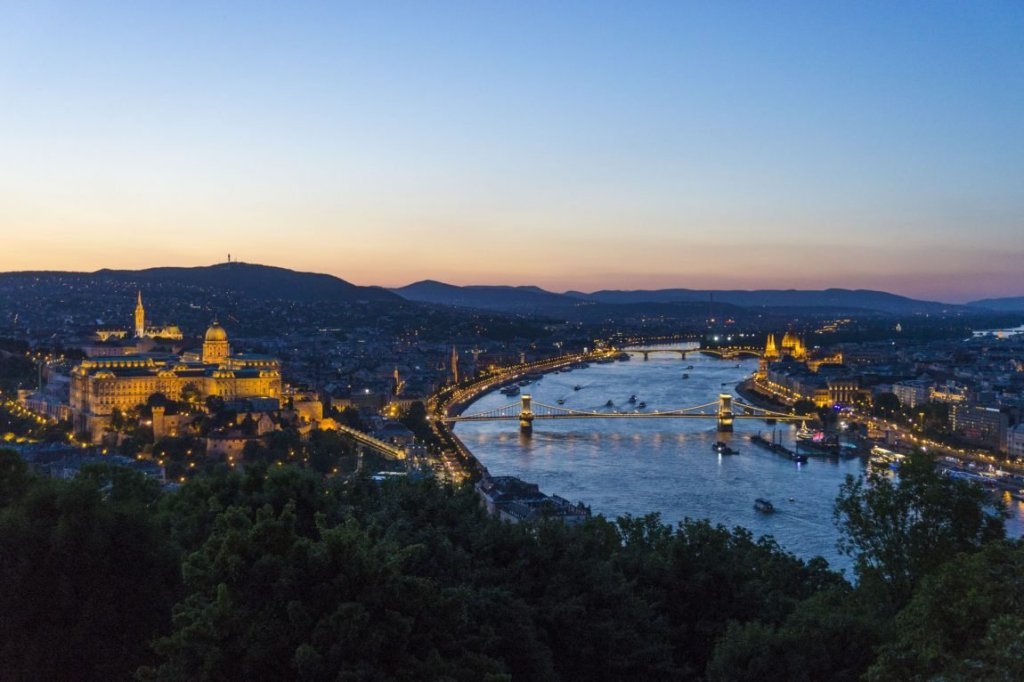 By Giulia of Travelling Sunglasses
Even though Budapest is undoubtedly the most famous destination in Hungary, there are plenty of charming towns worth including in a road trip.
Due to the small size of this Central-European country, it is easy and quick to travel from city to city. After landing in Budapest, reach the Southern cities of Szeged and Pecs; then, head North-West to Balaton lake to visit the towns of Tapolca and Balatonfured; end your Hungary road trip in Budapest.
Budapest, the pearl of the Danube, is not your usual European capital: it carries the signs of time and wars, it is experienced, yet young and full of life. Discover the grand, Austro-Hungarian palaces from the mid-1800s in Pest, and explore the iconic landmarks of Mathias Church and Fisherman's Bastion in Buda.
Head South to the city of Szeged, close to the Serbian border. After being destroyed by a flood in 1879, Szeged was rebuilt as a jewel of Art Nouveau architecture. Make sure you visit the imposing Dom Cathedral and the eclectic New Synagogue: the intricate decorations of the former and the glass dome of the latter are masterpieces of Hungarian art and skill. Check out here more things to do in Szeged.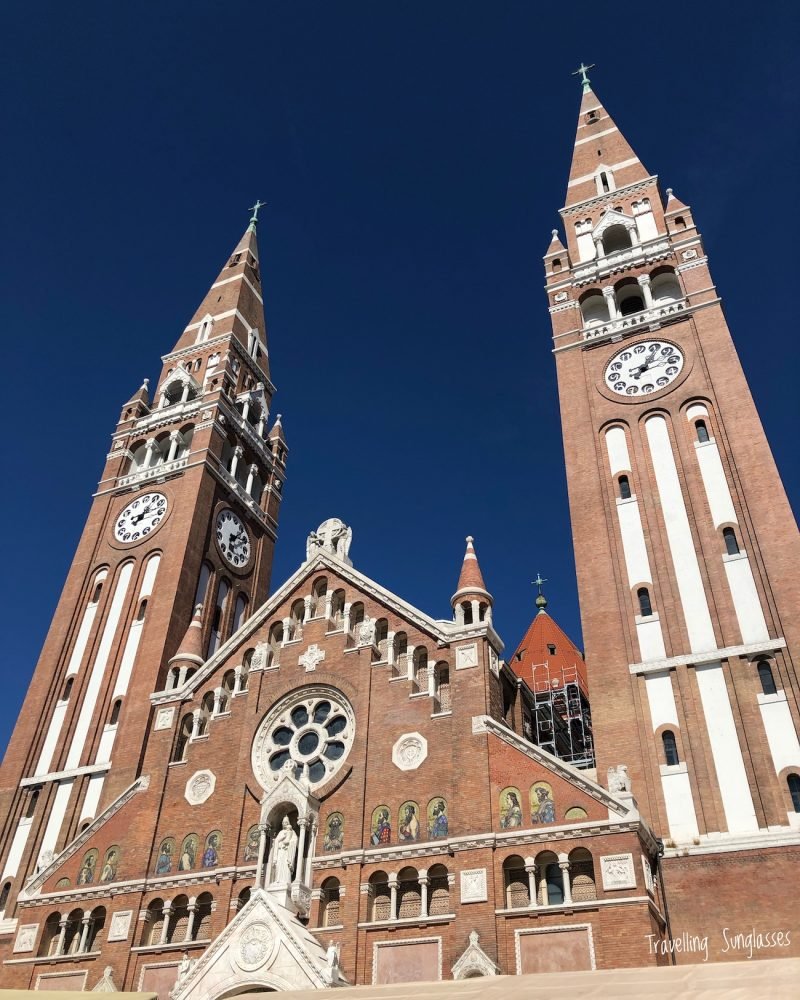 To the West is Pecs, famous for the Zsolnay ceramics factory: the colorful roof tiles and decorations you saw in Budapest are produced here. The museums at the Zsolnay Cultural Quarter showcase artifacts of incredible beauty and quality. The city centre features beautiful eclectic and neo-Baroque buildings and two major places of worship: the unusual Pasha Mosque-turned-Church and the huge neo-Romanesque Cathedral.
Balaton Lake is the Hungarian Sea in this landlocked country. Surrounded by tourist destinations and hills covered with vineyards, there are plenty of towns to visit.
Tapolca is a hidden gem located on the northern side of Balaton Lake, 15 km away from the shore. The heart of the tiny city centre has a fairy-tale charm: a small lake surrounded by colorful houses, a church and a water mill. The Lake Cave also deserves a visit: rowing a boat on crystal clear waters in an underground cave is a magical experience.
Balatonfured is one of the largest towns on the shores of Balaton Lake. Stroll on the promenade with an ice cream in your hand to get a feeling of a typical Hungarian summer. Nearby, on top of a peninsular hill stretched into the lake, is the beautiful Tihany Abbey, established in 1055. The views of Balaton Lake and the surrounding countryside are gorgeous.
The Hungarian road trip ends in Budapest. Enjoy your last gulyas soup and say goodbye to the Danube river!
Slovenia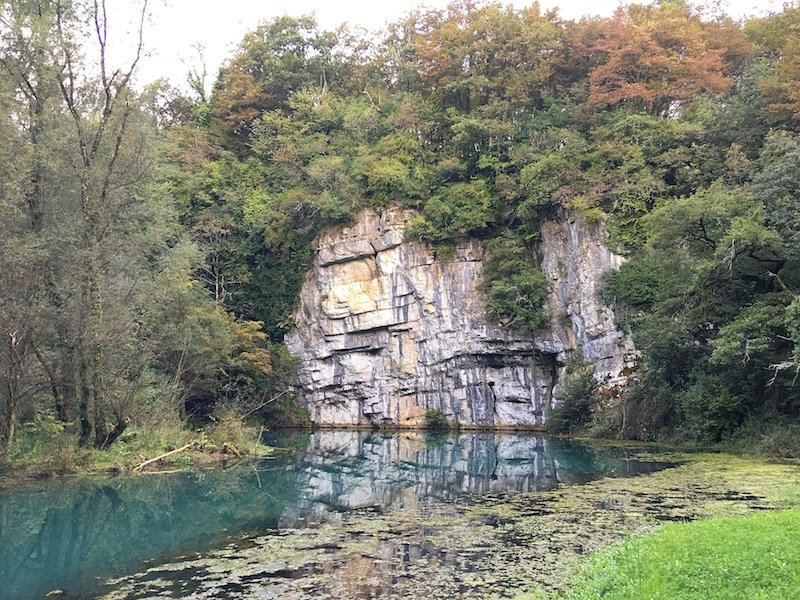 By Claudia of My Adventures Across the World
Going on a road trip is one of the best things to do in Slovenia. This involves driving around the incredible scenic countryside, hitting beautiful lakes, spotting castles, crossing forests, discovering lovely cities and meeting the friendly locals.
The first stop of the perfect road trip itinerary in Slovenia would have to be Ljubljana, the gorgeous capital. The city is packed with lovely sights, good museums, and beautiful parks. My top recommendation, however, is to do a food tour. This would include a wonderful sample of all the local eats (and wine too) and is a great way to learn more about the culture of the country.
Lake Bled would be the second (and obvious) stop. The gorgeous lake can be best seen from Bled Castle, and can be explored on a lovely boat ride.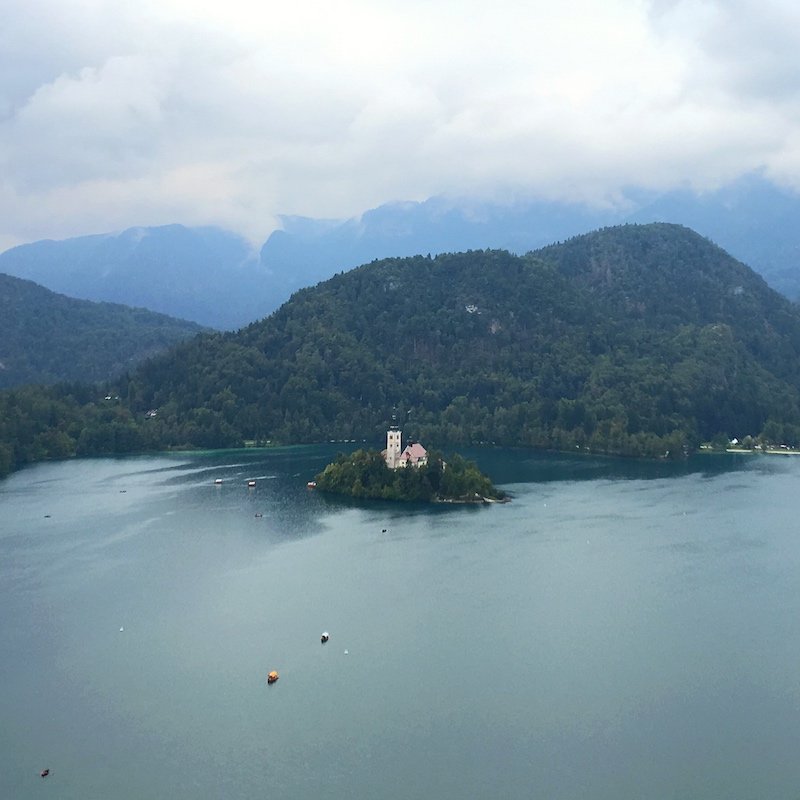 Getting off the beaten path when driving is incredibly easy, and thus I would wholeheartedly recommend heading to Bela Krajina to follow its Wine Road.
Slovenia has a great wine tradition, and Bela Krajina is a great place to learn more about it. Road tripping, it is possible to admire the beautiful hills covered by vineyards, and visit some of them to have a taste (remember not to drink and drive!).
Driving around Bela Krajina, don't miss the Kolpa River, a gorgeous scenic area with some hidden gems like an abandoned mill, the ruins of various castles, thick forests and hidden archeological sites. It is also possible to go rafting.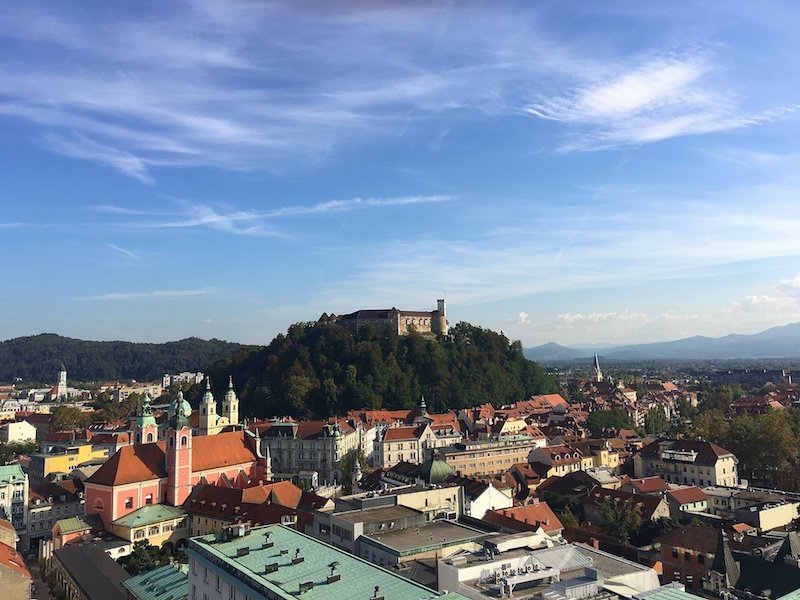 Finally, when visiting Slovenia on a road trip, I recommend stopping by some of its lovely small cities. Semic, in Bela Krajina, dates back to the 13th century. Metlika, on the left bank of the Kolka River, has a beautiful castle dating back to the 15th century and a nice parish church.
Switzerland (Zurich to Geneva via Bernese Oberland)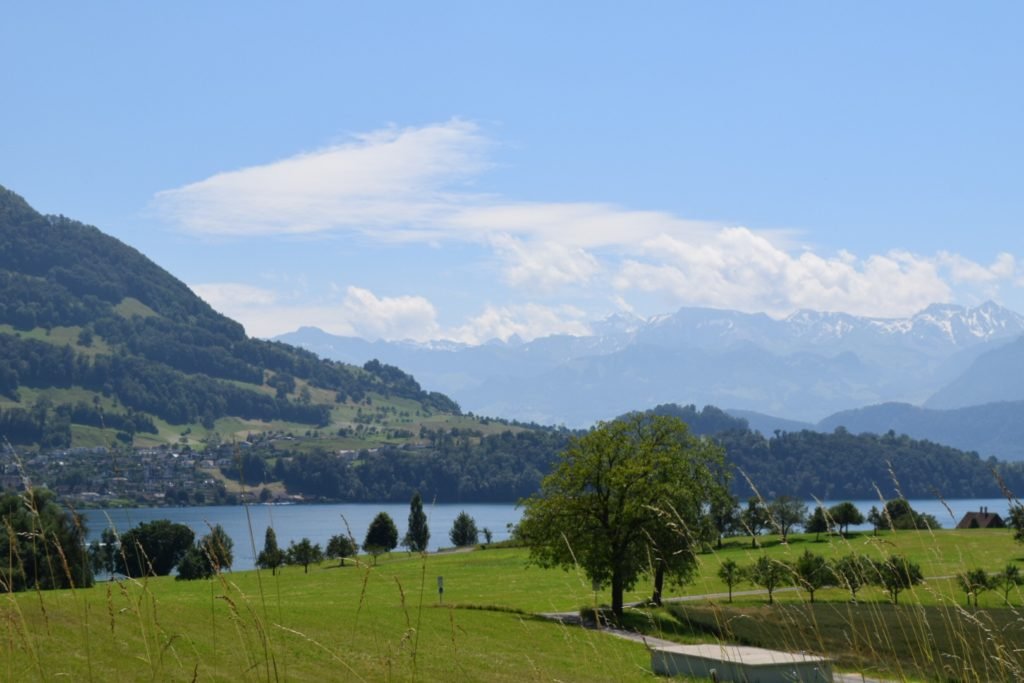 By Arzo of Arzo Travels
So tiny, yet so awesome! Switzerland is such an extremely beautiful country and I truly believe that road tripping through Switzerland should be on everybody´s bucket list!
Why? I cannot think of any other place that is packed with so much gorgeousness in such a small space. If you are looking for picture perfect sceneries where each detour is a blessing, rather than a problem, then Switzerland is the place to get a car and start a road trip.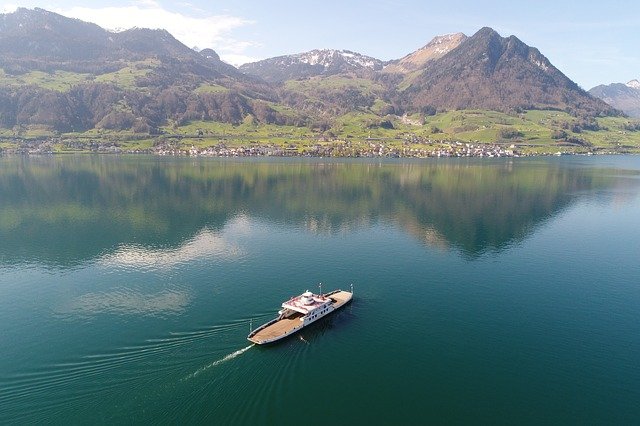 It is not only the scenery (great lakes in the most beautiful colors, and wonderful mountains – some of them world-famous) that is beyond stunning. You´ll also find some great and very lovely towns and villages, and even some lively cities – well, basically you have it all.
Since Switzerland is not big, you can see a lot without having to drive thousands of kilometers to see all the beauty. Plus Switzerland is super safe and it is easy to drive.
You can't miss Zürich, where you can visit the most expensive shopping street in the world: Bahnhofsstraße. Lucerne is another highlight. After seeing the world-famous Chapel Bridge drive to and the hidden gem "Weggis" to swim in the clear lake with a view of the Alps.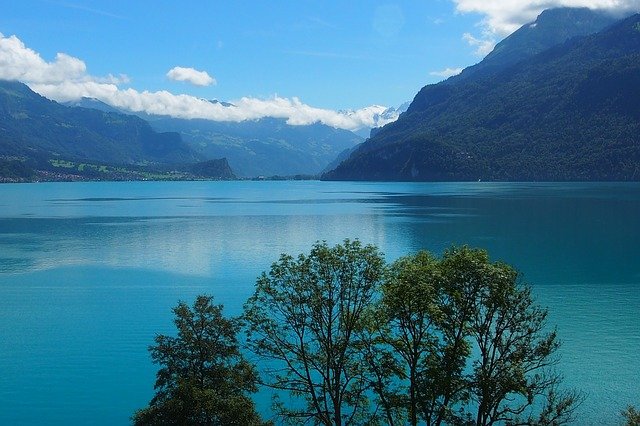 Bernese Oberland is my absolute favorite area in Switzerland. It is home to places like Interlaken, where you could hike up Harder Kulm to enjoy a fantastic view and you should do a boat tour on Lake Brienz.
Don´t forget to visit places like Thun, Bern, Grindelwald or the Furka Pass and plan in some extra time to stop along the way, soak in the beauty and enjoy some picnics at the many lakes.
The Italian-speaking part of Switzerland (Lugano and Lucarno) can also convince with its beauty (though driving there is a bit….let's say Italian-style). If you are heading to Locarno definitely put Valle Verzasca on the list and swim in the emerald green water!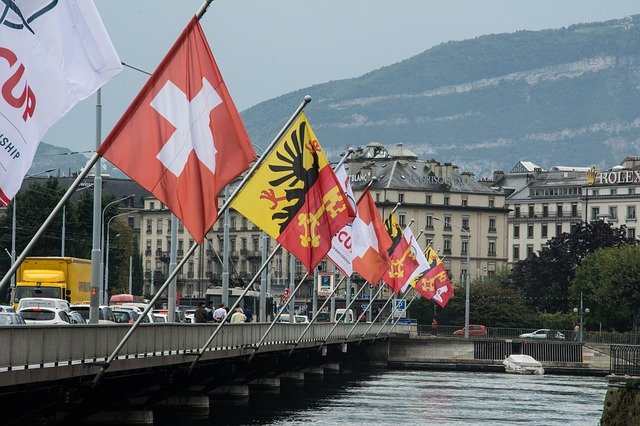 Finally, you must visit Geneva. I admit that driving the freeway from Luzern to Geneva is not a highlight, but once you have arrived in the French-speaking part of Switzerland, you'll enjoy the scenery and experience a touch of France in Switzerland.
Switzerland (Zurich to Bachalpsee)
By Nisha of Nerdy Footsteps
Switzerland is a small country with an abundance of natural beauty. The best way to explore it is on the road.
To see the best of what Switzerland offers, take the road trip from Zurich to Bachalpsee. This road trip will take you through stunning shimmering lakes, beautiful lakeside towns, and villages, waterfalls, Alpine peaks, green meadows, creeks, and frozen lakes. Yes, all on one road trip!
Start your road trip from Zurich and drive in the direction of Lucerne. Laying by the namesake lake, Lucerne is one of the most charming cities in Switzerland. With attractions like the medieval age Chapel bridge or the Lion monument, it has made its unique place in the tourist itineraries. Kids will love the Swiss museum of transport.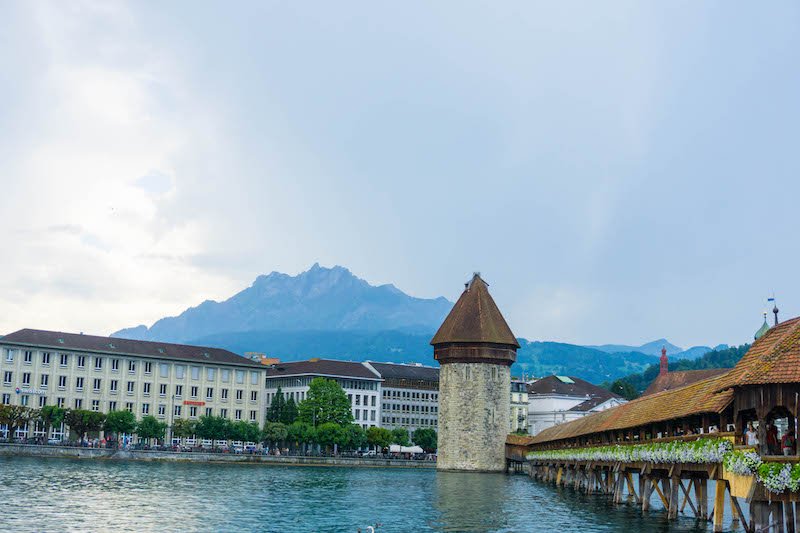 A short drive away is Interlaken, the adventure activity hub of Switzerland. From paragliding to rafting, there is a lot of adrenaline rushing activities you can choose from. Nestled between the Lake Thun and Lake Brienzer, Interlaken justifies the tourist attention it gets. For a bird's eye view, take a funicular to Harder Kulm.
The journey from Interlaken to Grindelwald is my favorite chunk of the trip. The journey itself is stunning and refreshing with waterfalls rolling down the alpine peaks, on every turn. Once in Grindelwald, feel free to explore the petite village on foot. Park your car and get lost in this paradise. The traditional wooden Swiss houses and the green meadows paint a beautiful picture of Switzerland.
But don't stop here. Take a 30 minutes gondola ride (expensive but justified) to the First mountain pass for the amazing Alpine views. Up at First, you can get a 360-degree panoramic view of the are on the Tissot walk, which is free of cost.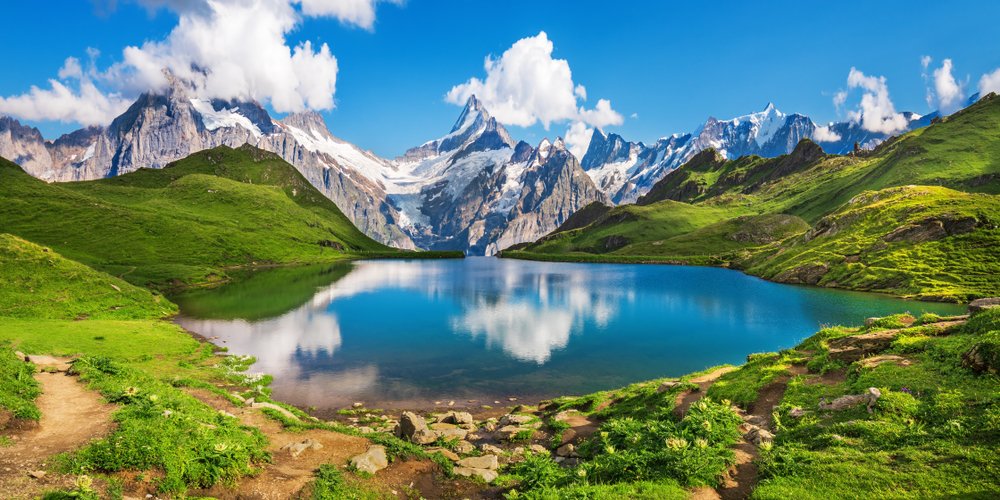 You can also take a short hike/walk from First to Bachalpsee, one of the most beautiful serene lakes in Switzerland. Secluded due to its location, the Bachalpsee lake makes for a perfect picnic spot on this road trip.
This road trip offers you a glimpse into all the natural wonders Switzerland offers. Be it the Alpine views or the beautiful glacial lakes, every stop on this road trip will make for an unforgettable memory.
Romania to Austria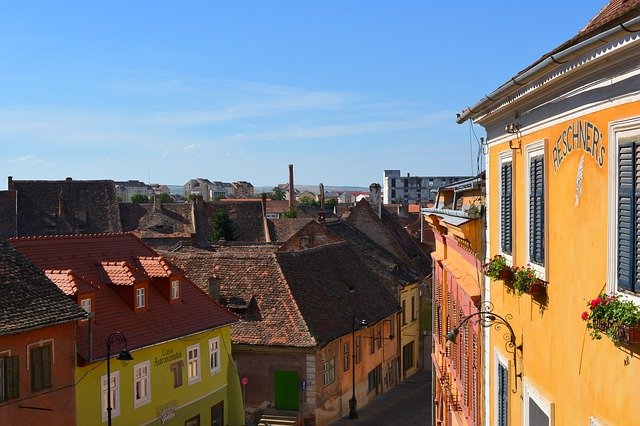 By Raluca of Whisper Wanderlust
One of the reasons why I like Europe is that you can visit many countries in a short time, and each of these countries has its own culture, people, architecture, and especially landscapes. For this reason, a month ago my boyfriend and I decided to go on a spontaneous road trip, where we would visit 5 countries in 7 days.
We started in Sibiu, Romania, where we rented the car for the road trip. Of course, we took advantage, and we got lost on the streets of the old center. We admired the beautiful architecture of the pastel-colored houses, whose roof windows seem to resemble some eyes spying on you. We also visited Paltinis, a mountain resort just 30 km away, where we had lunch on green grass at a height, with a dreamlike panorama in front of us and many sheep that were quietly grazing.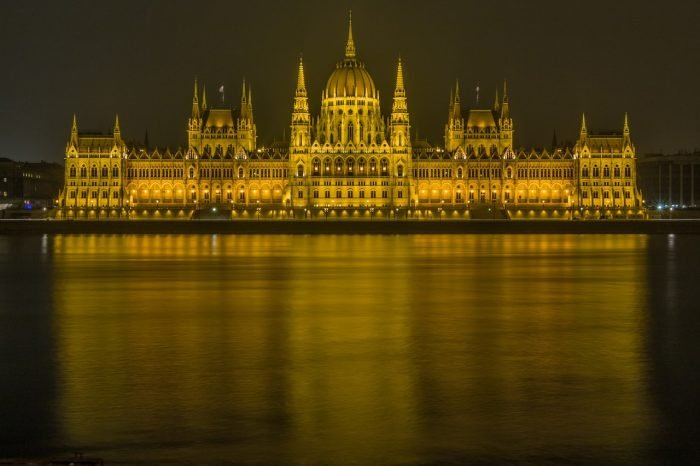 From Romania, we headed straight to the capital of Hungary, Budapest, an underestimated city from my point of view. Budapest is superb, it has sensational neo-Renaissance architecture and many places where you can get a picture-perfect panorama of the city, such as Fisherman's Bastion or Citadella. One of my favorite buildings is the Palace of Parliament.
Next, we moved onto Croatia to visit the Plitvice Lakes National Parks. This national park with its stunning waterfalls has long been on my bucket list, and I'm glad that I finally had the opportunity to visit it on a perfectly serene and warm day of May. I almost have no words to describe how beautiful the place is. Although I always had the feeling that the colors of the lakes have been edited in the photos on the internet, I was surprised to discover that they are just as turquoise in reality.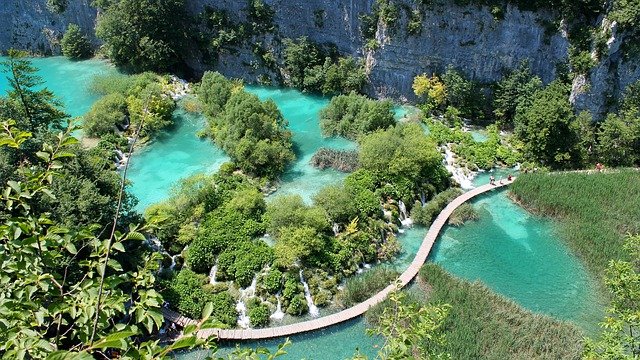 After, we moved onto Lake Bled in Slovenia. I didn't know much beforehand, so I was pleasantly surprised when I finally saw it. The country is full of towering mountains and forested hills. It is a very green and very beautiful country, so I was already expecting to be conquered by Lake Bled, the famous lake situated at the foot of the Alps in the northwest of the country. And yes, I was.
Our final country was Austria. The first stop was in Zell am See, one of the most beautiful places I've ever seen. We stayed on the shores of Lake Zeller See, surrounded by picturesque chalets. Also, in Zell am See, we tried the Alpine Coaster in Kaprun, which was a sensational experience I was eager to try. From Zell am See, we went to Hallstatt to check out a fairy tale spot where swans are spotted on the lake, and everything looks perfect as if you were looking at a postcard.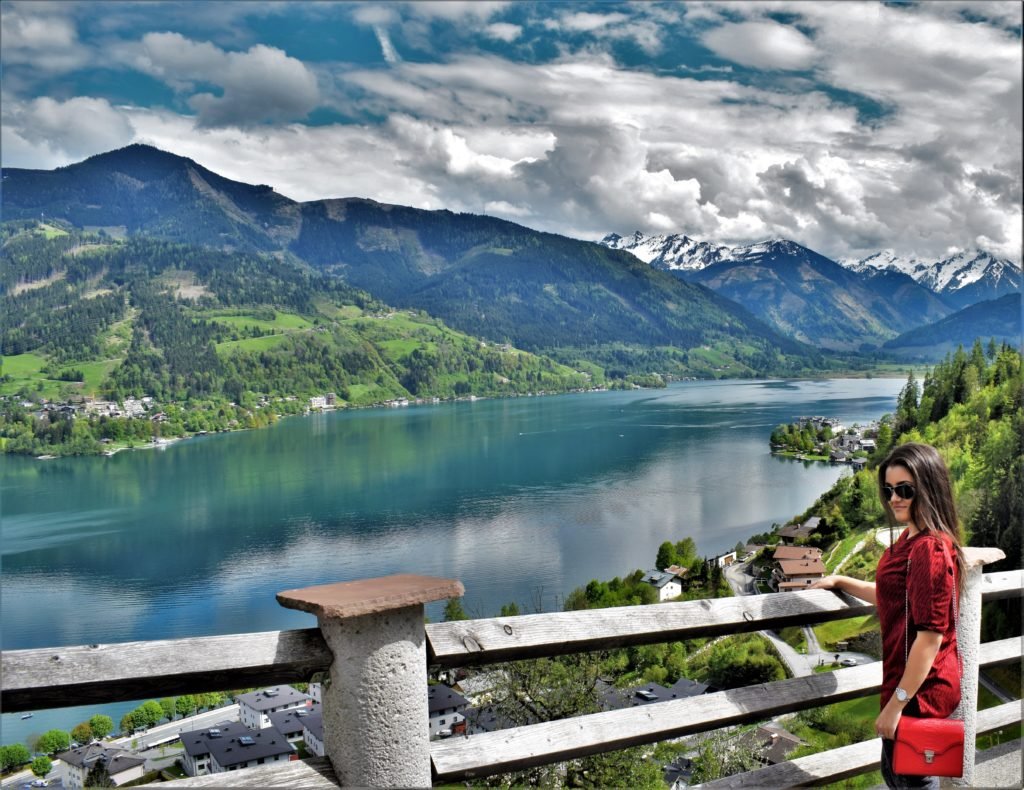 After a few hours in Hallstatt, we headed to Vienna, the capital of Austria, an elegant and romantic city, with rich culture and colorful buildings, whose Baroque and Gothic architecture will definitely conquer you.
Northern Italy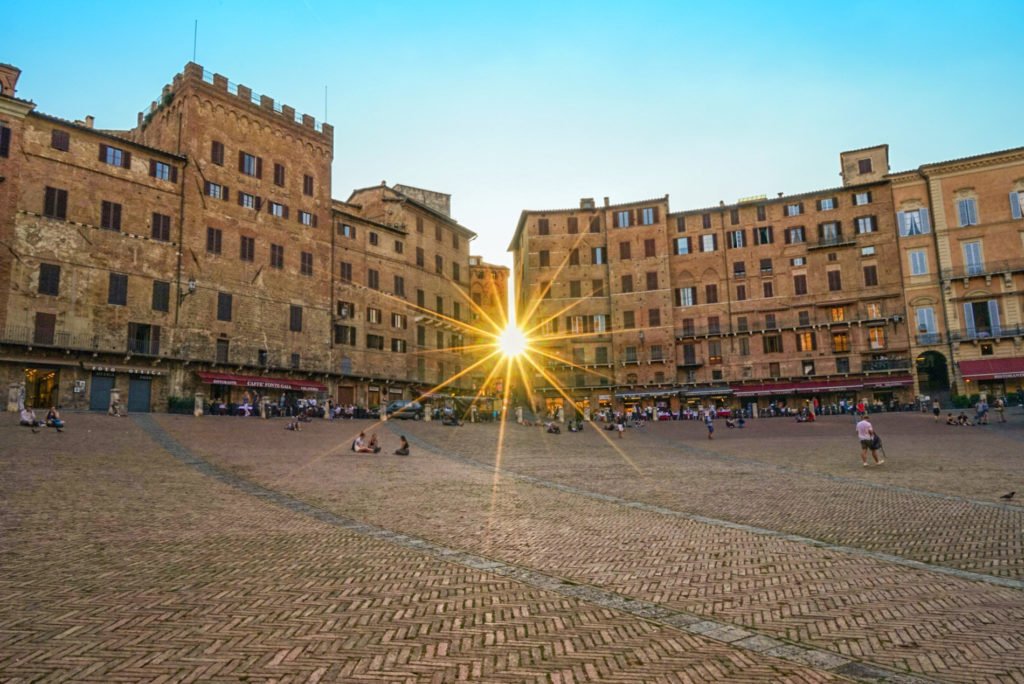 By Geoff & Katie of Wandertooth
Road-tripping through northern Italy's Tuscany and Emilia-Romagna regions is an awesome way to see Northern Italy's most beautiful cities and towns, as well as get off-the-beaten path a bit.
The region is well set-up for road trips, with many hotels just outside the cities offering free or affordable parking, and the historical cities offering affordable paid parking lots just beyond the pedestrianized areas, making it easy to park and explore.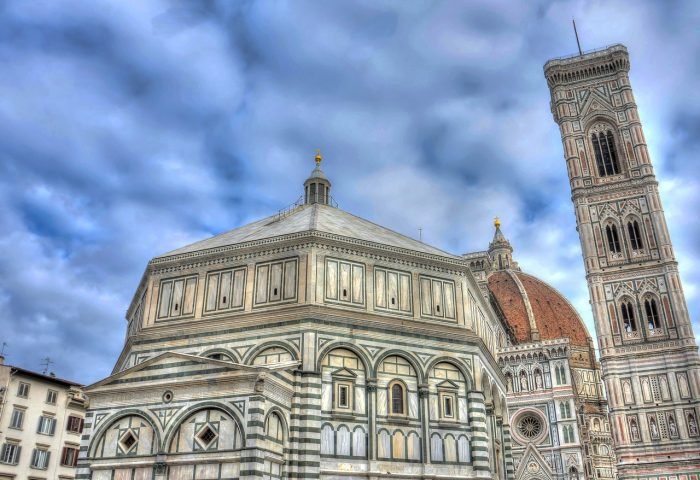 We picked up our rental at Bologna airport, and drove south to start our trip in Tuscany. I'd recommend budgeting at least 2 days to explore Florence's neighborhoods and catch the panoramic sunset from Piazzale Michelangelo.
Siena deserves a day as well, with time to climb the tower in Piazza del Campo for great city views. Take a day trip from Siena, and hit up Monteriggioni and San Gimignano, two of Tuscany's most beautiful towns.
From Siena, I recommend driving through the Chianti region to San Marino, one of the smallest and richest (per capita) countries in the world.
Perched at the top of a mountain, with castle-like towers standing watch over the Italian plains below, it's easy to see why San Marino is an independent country that's never been conquered! It offers incredible, fairytale-esque views, so be sure to charge your camera battery. For a fun souvenir, hit up the tourist office for a San Marino passport stamp (€5).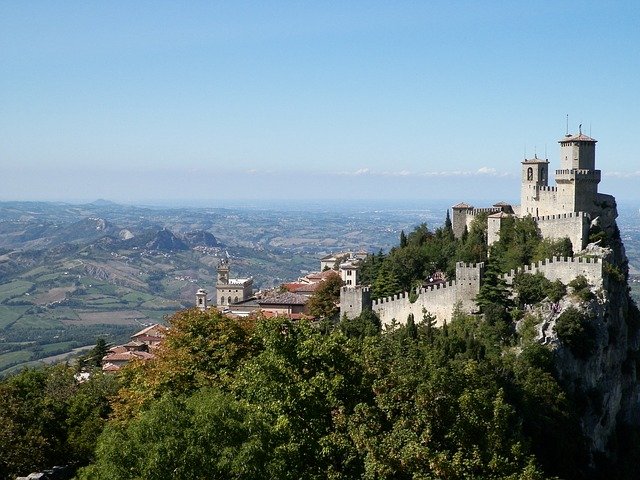 The beach-side city of Rimini is the most convenient Italian city to base yourself after a trip to San Marino, but isn't worth more than a night; enjoy a seaside dinner before heading northwest the next day, to the pretty, low-key university city of Bologna.
Despite the name, spaghetti bolognese is nowhere to be found on Bologna's menus: look for tagliatelle al ragu instead, if you want to try this local classic. Centrally located, Bologna is a great base with a car, or you can return the car and take the train to visit the lovely small city of Ferrara, or even visit some of Italy's more well-known cities, like Venice or Verona, as a day-trip.
Amalfi Coast, Italy
By Helga from ShegoWandering
This is possibly one of the most authentic, dreamy, and colorful road trips along Italy. Heading from the Rome down south takes us to places with breathtaking scenarios, and allowed us to see a different view and perspective of the Italian lifestyle.
The fist stop on the road trip is always Naples. The city that has many faces, and gives many impressions. Naples is the colorful south Italian city, where you can have a deep look into the culture, and it really differs from everything you'd see in Rome, or on the Amalfi Coast.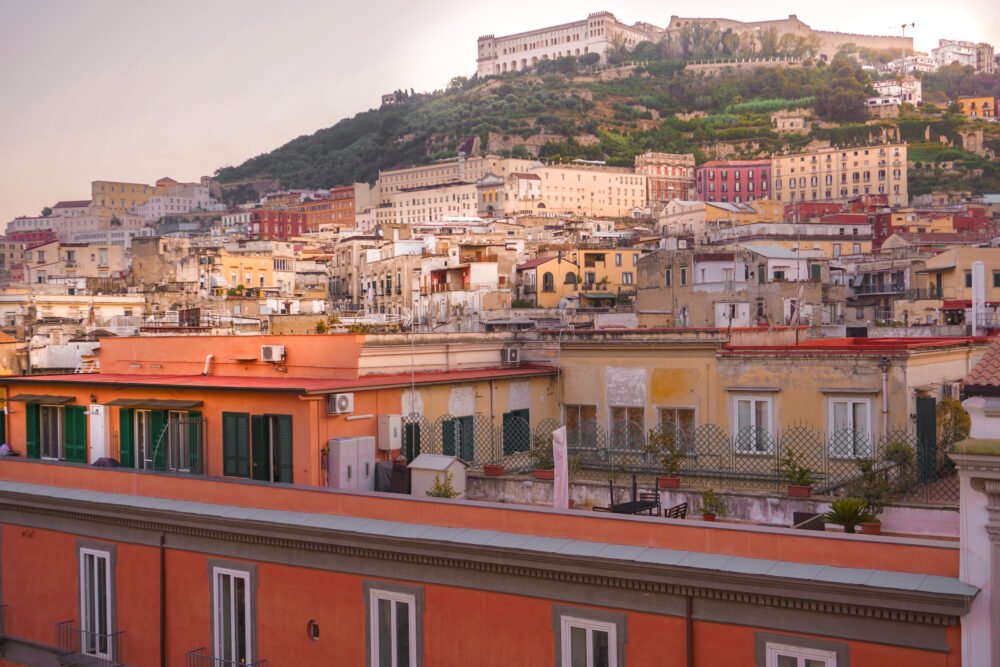 Busy streets, colorful buildings, loud people, crazy drivers. Yes, that's Naples! But Naples is also about the authenticity, the breathtaking monuments and panoramic views. Seeing the Vesuvius volcano from the city, with an amazing panorama from Castel San' Elmo, or admiring the sea from Castel dell'Ovo is really a must. Oh, and don't forget about Naples's specialty, the pizza! If you have the chance to spend at least two days in Naples, that's really suggested to have enough time to explore it!
Down from Naples, the next stop must be Pompeii, the town that was once covered in lava, after an exploration of the Vesuvius volcano. Pompeii can be visited at any time of the year, however you'll always need to pay an entrance fee.
Leaving behind the coast of Naples, we're arriving into the Sorrentine bay, with the first stop being Sorrento, the charming Italian lemon town. Sorrento is on top of the cliffs, overlooking the bay.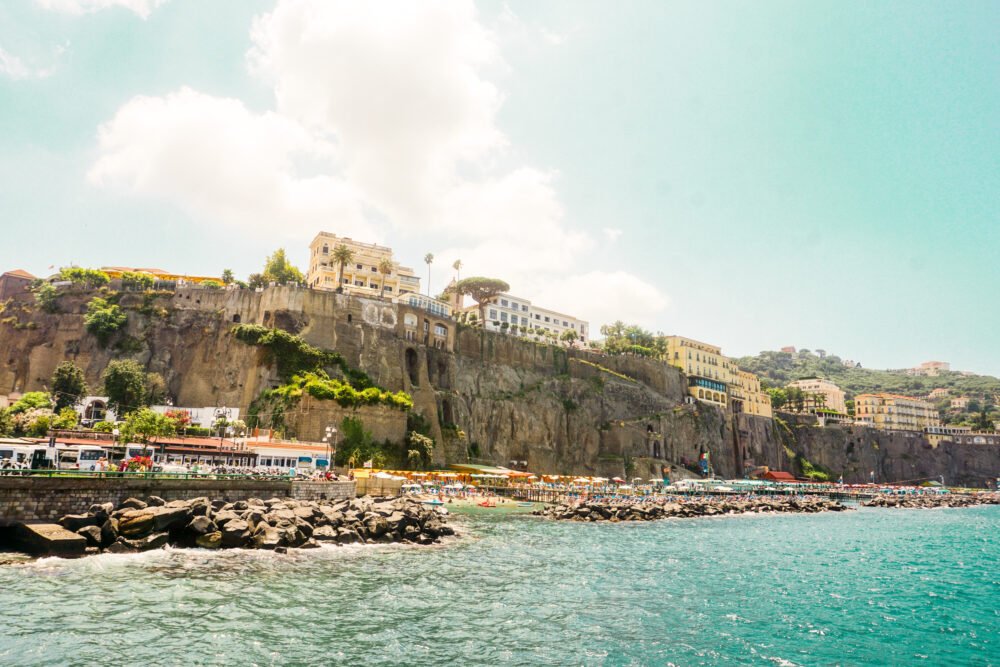 A colorful little town, where you can walk under lemon trees, watch a sunset from the Villa Comunale, and enjoy the vibrant nightlife in the coastal town. Sorrento is a great place to spend the night, as there are many accommodations here, for lower budgets as well!
Right after Sorrento, driving over the other side of the peninsula on a road that's built on the cliffside, offers an unforgettable experience. Imagine a tiny, sinuous road, where on one side you have huge cliffs above, and on the other side, you have a view of the sea.
This road leads us to the dreamy little town of Positano. The cliffside town is known for its beautiful colors, and beautiful landscapes, as well as its tiny beach with a great view of the cliffs, and the colorful town.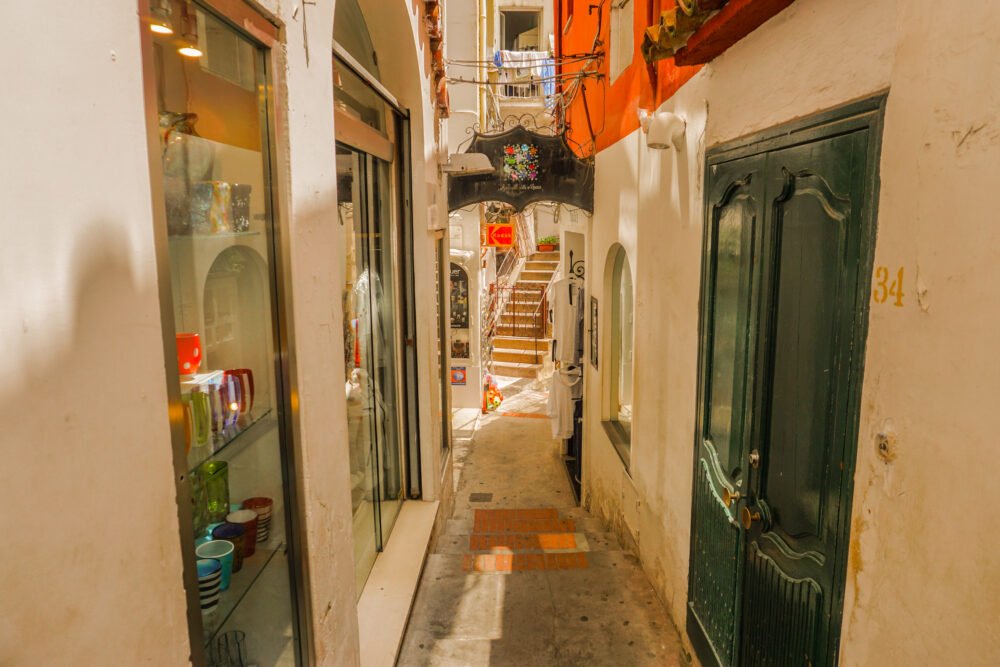 Right after Positano, the next stop should always be Amalfi. A town just as charming as Positano, but with a beautiful town center and the famous Amalfi Cathedral, that really deserves a visit!
If you're on a road trip and you want to add some more places to visit, driving down until Salerno, with a stop in this other famous cliffside town called Ravello will make your Amalfi Coast experience complete!
French Riviera
By Liza of Tripsget
One of the most amazing road trips we have ever done is the road trip to the French Riviera or Côte'D'Azur. In order to explore the French Riviera properly, you will need at least 7-10 days, but it's also possible to do it just during 4 days. Nice is a wonderful starting point for this trip. Actually, if you're only doing this trip over 4 days (like we did), it makes sense to be based in Nice during all the 4 days. Why? Because the distances in the French Riviera are not so long!
So, which places are totally worth seeing during your road trip in Côte'D'Azur?
Nice is a very beautiful and quite big French city with a wonderful promenade – Promenade des Anglais, where you can stroll during the evenings in France. The sea in Nice is really blue – you won't believe your eyes!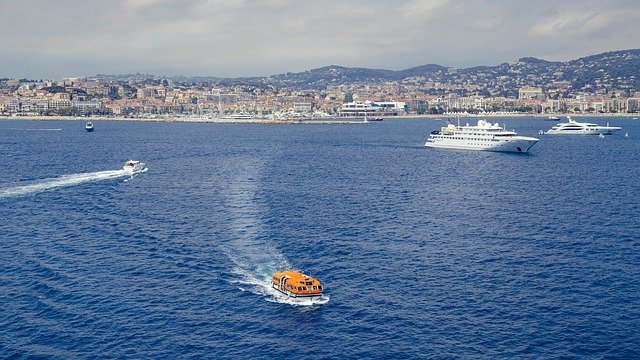 Cannes is another iconic destination you have to visit during your trip to the French Riviera. It's lavish, posh, and has amazing seafood restaurants. Maybe you're even lucky to get to go to the Cannes Festival.
St. Tropez is a lovely French village, which happens to be home to some of the most expensive restaurants and clubs in France. It's a place for the billionaires to park their yachts and enjoy the nice weather in France. For the rest of the people, it's just a lovely place to spend a couple of hours!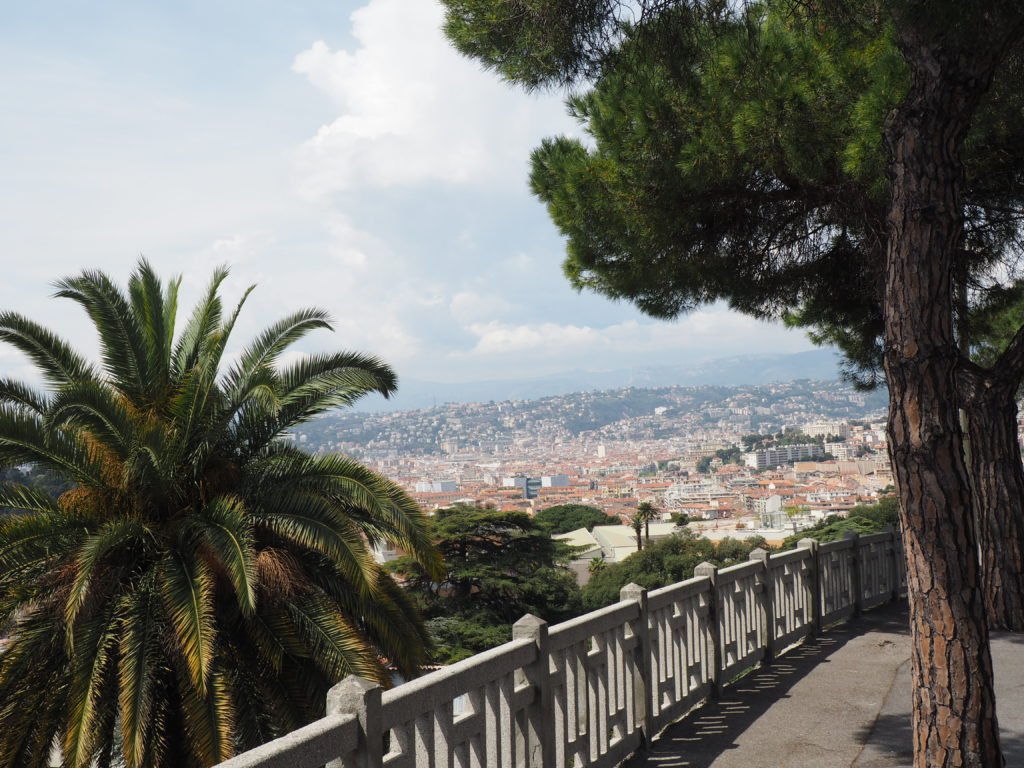 St. Paul de Vence is a unique medieval French village located on top of the hill just 30 minutes away from Cannes. There are plenty of crafts and arts you can buy and in case you're planning to have a dinner there – you need to make a reservation in advance!
Monaco is actually a separate country, but there is no passport control or anything to enter this tiny country. Its capital, Monte Carlo, is world famous for its casino and the shops and restaurants in Monaco are among the most expensive in the world!
Bavaria & Beyond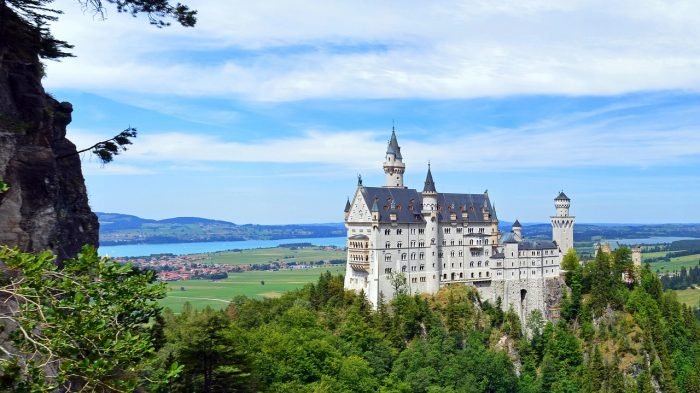 By Dean of La Vida Global
Combine three countries, stunning scenery, unique buildings and plenty of good food and beer and get an awesome Bavaria road trip experience that only takes about 600 miles of leisurely driving.
We set off from Munich, but not before spending a few days to take in all that this place has to offer. Our first stop will be the charming old town of Regensburg. Take a few days to explore the alleys of the medieval Old Town district and the beautiful riverside areas before heading back out on the road.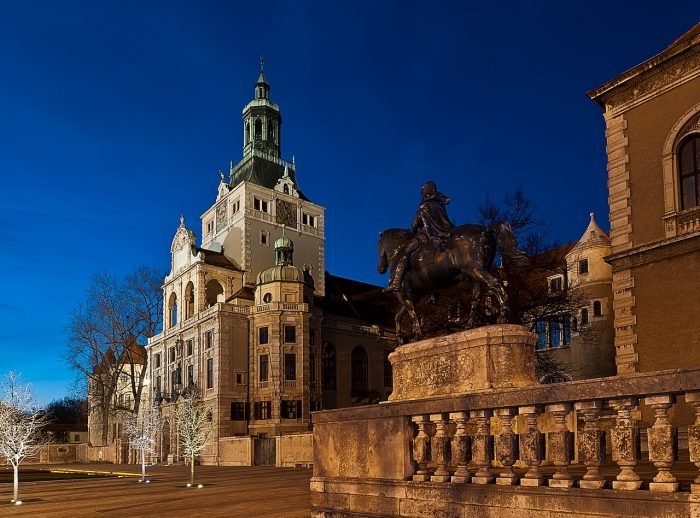 A quick detour on the way to our next stop will take you to see one of the most interesting buildings in Germany. Feel transported to ancient Greece as you witness Walhalla high on the hills overlooking the Danube.
Next we arrive in the fairytale town of Cesky Krumlov. Much photographed but still unspoiled by high tourist numbers, this tiny town will capture your heart. While in the Czech Republic, make sure to sample some of the seemingly thousands of beers on offer.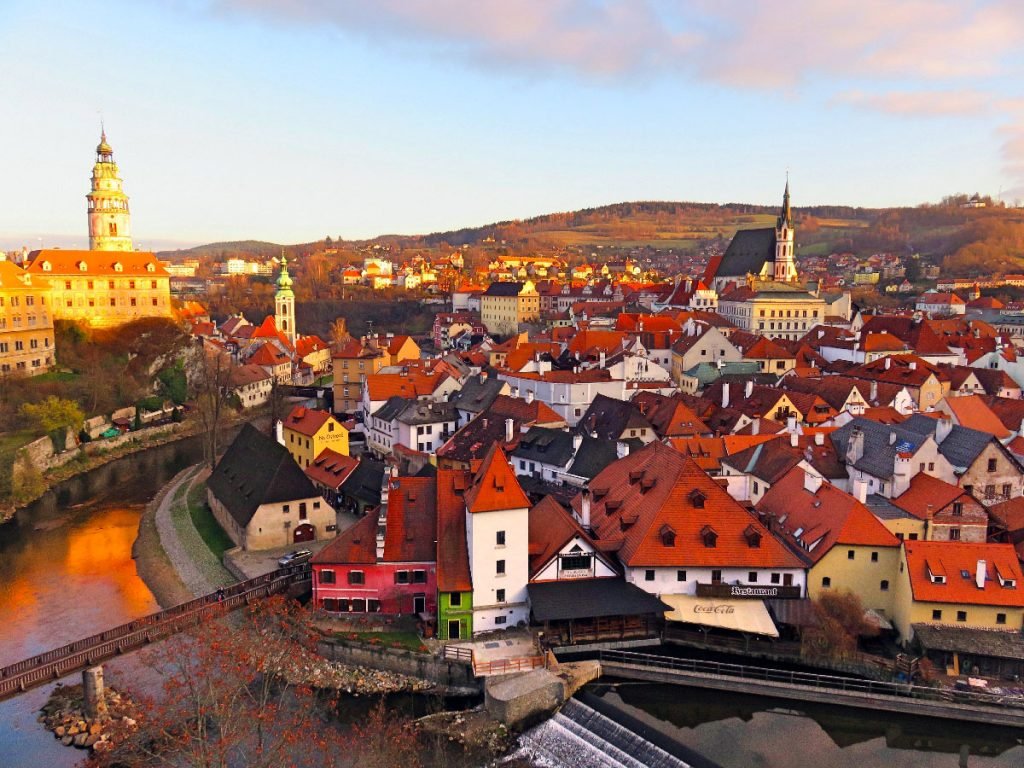 After a short stay we find out if the hills really are alive with the sound of music. Our destination is the cultural city of Salzburg in Austria. Be sure to take the funicular to the top of the hill and explore the castle, the views are sure to impress. For more iconic things to do, visit the Sacher Cafe for the original Sacher Torte or take a "Sound of Music" tour.
Another detour after we depart Salzburg not only takes us along some of Europe's most scenic roads but brings us to Berchtesgaden with some of the most amazing views in Bavaria.
Our final stop keeps us in Austria but gives us a totally different type of town. Innsbruck is all about the mountains which you can scale using the Nordkette funicular to reach as high as 2250 meters for some stunning views. Be sure to try some strudel and then spend the evening around the river.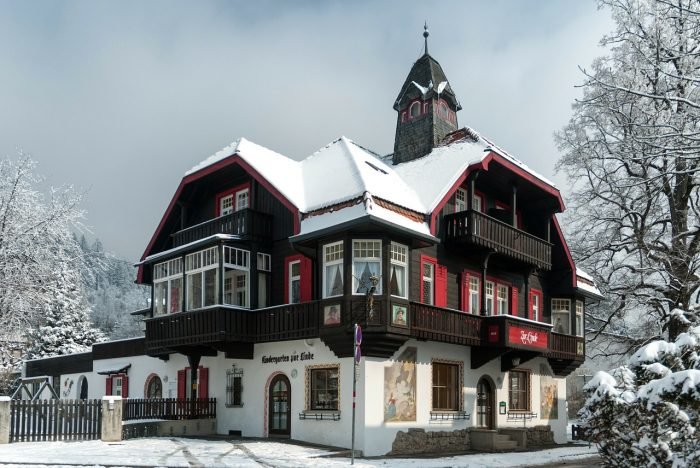 Time to round off the trip and head back to Munich but not before our final detour which takes us to arguably the world's most famous castle, Neuschwanstein. Whether nature gives you the white background of winter or the colors of fall, this is a place that makes average photographers look good and creates lifelong memories.
Europe is perfect for road trips as it allows you so much variety over short distances. Bavaria and beyond is one of the best parts of Europe for that experience.
Montenegro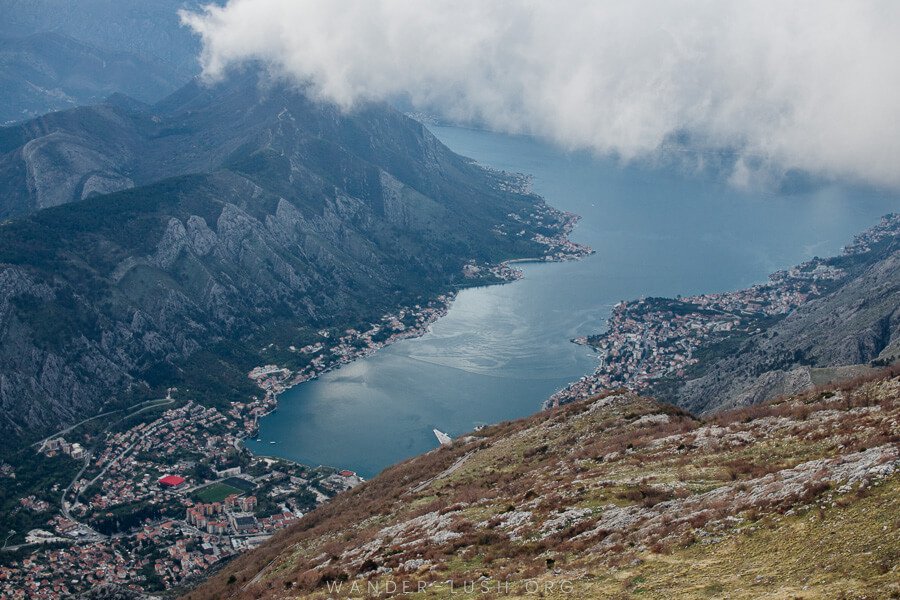 By Emily of Wander-Lush
Petite in size and packed with stunning landscapes and interesting small towns, Montenegro is a terrific place for a road trip. The Bay of Kotor and the Adriatic Coastline are particularly well-suited to self-driving.
You have the option to start this road trip in either Podgorica, Montenegro's capital city, or in Tivat on the southern end of the Bay of Kotor. Both cities have international airports and plenty of car hire agencies to choose from. End your trip in Herceg Novi on the opposite side of the Bay, close to the border with Bosnia and Herzegovina.
If you need to return your car in the same place you hired it, you can easily turn the route into a loop by adding a few extra hours of driving on the final day. Set aside a minimum of 5-7 days total, more if you want to spend time lounging on the beach or hiking in the hills above the bay.
If coming from Podgorica, start your road trip by crossing the bridge over Skadar Lake. Stop in Virpazar for a short boat trip through the marshy swamps of the largest lake on the Balkan Peninsular before continuing to the coast. Sveti Stefan (the bizarre beach town with its privately owned, off-limits island) is a good place to base yourself for a few nights. The first of two UNESCO-Listed old towns, Budva, is just 15 minutes' up the road.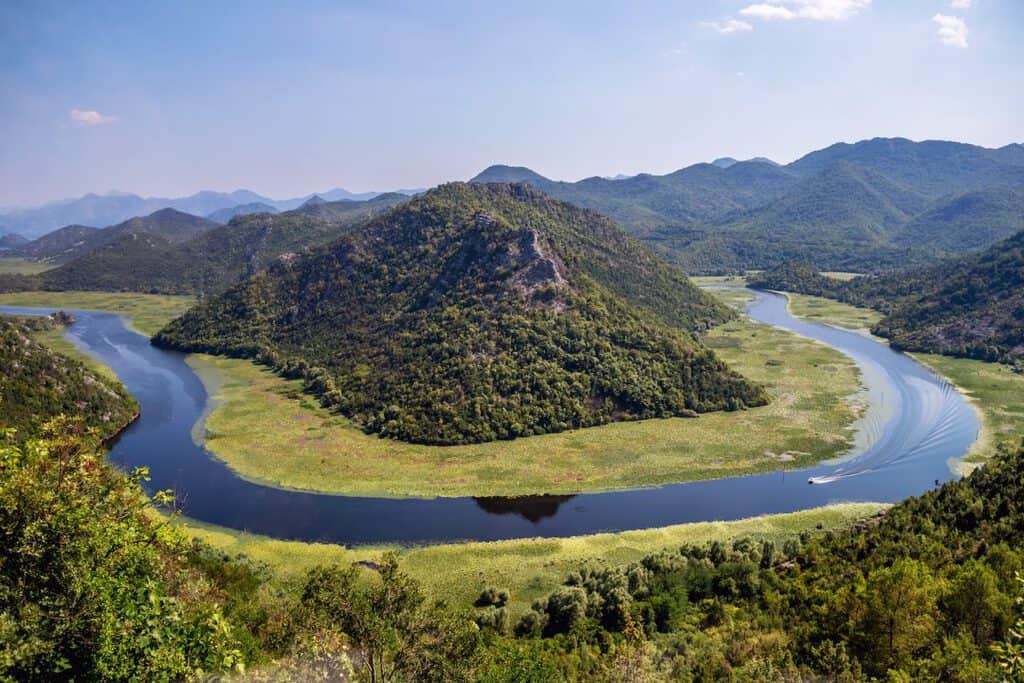 From Budva, cut across to reach the Bay of Kotor, the highlight of Montenegro with its beautiful Venetian towns and secluded coves. Kotor is a must-see; set aside a full day to wander the Old Town and climb up to the fortress for a view. Further along the bay, Perast has a shallow harbor and is a lot quieter than Kotor by contrast because it doesn't get the same cruise ship crowds. Stay here for a couple of days, exploring the charming streets by foot and taking a boat to Our Lady of the Rocks, an artificial island built from shipwrecks and topped with a gorgeous chapel.
For a break from the beach, you can make a detour between Kotor and Perast to visit Lovcen National Park. This involves driving on the infamous Kotor Serpentine, a road with 25 switchbacks that offers spectacular views of the entire bay. Your final stop, Herceg Novi, has yet another gorgeous old town and plenty of swimming beaches and hiking trails. If you're returning to Podgorica, stop at Ostrog Monastery, Montenegro's most sacred pilgrimage site, along the way. You can easily extend your itinerary by continuing to Durmitor National Park in the country's mountainous north.
Driving in Montenegro is pretty safe and straightforward. Just be wary that it's often very difficult to find a street park in the busier towns, especially Budva and Kotor. Choose accommodation with secure on-site parking, and avoid driving in Montenegro during peak summer season.
Albania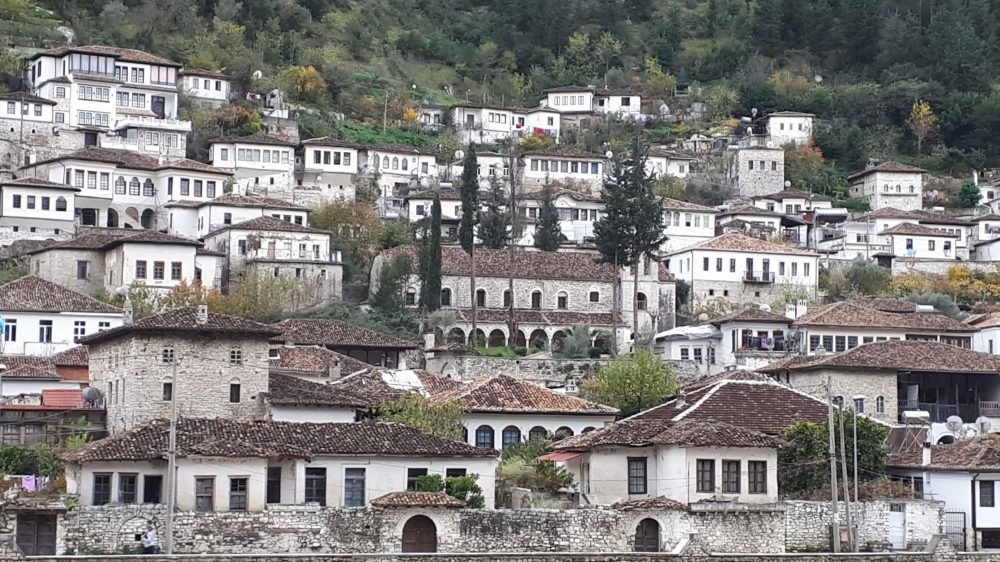 By Erin of Three is Us
Start your Albania road trip in Tirana. As the capital city and the only international airport in the country, Tirana is a likely spot to start a road trip through Albania. (If you're arriving from Greece, just do this road trip in reverse!)
Spend a few days exploring the capital city of Tirana. Skanderberg Square is the main square, located in the center of Tirana. This large, open pedestrian area is named after the Albanian national hero Gjergj Skenderbeu and is surrounded by some of the most important buildings in the country. South of the square lies many monuments and museums reflecting on the communist times, such as the Blloku area, Postbllok monuments, Bunker Art and House of Leaves museum.
Before leaving Tirana, head up to Mount Dajti on the Dajti Express cable car. Mount Dajti National Park at the top of the mountain is a great place to hike and has an impressive view of the city.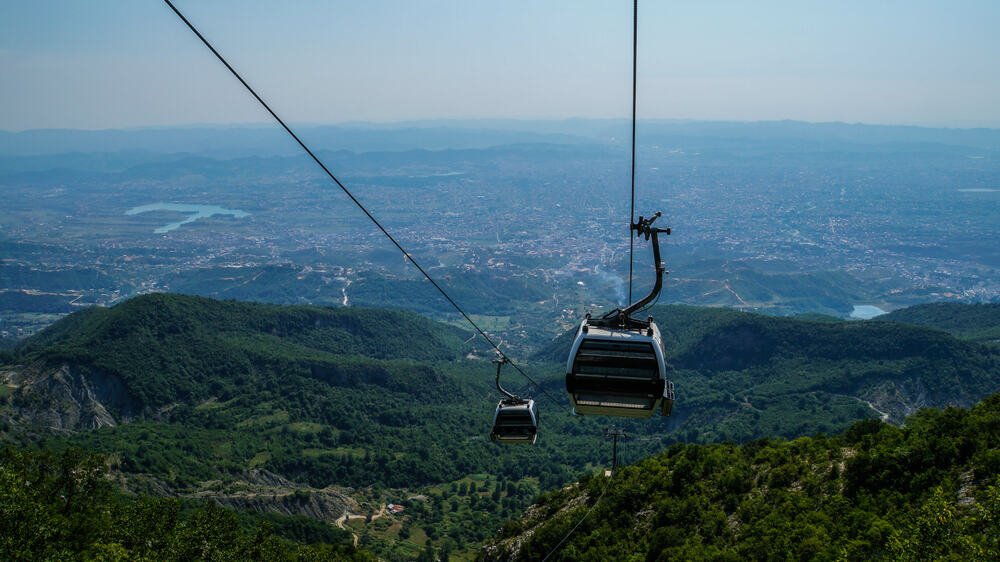 After a few days in Tirana, head west to the port town of Durres. Originally the capital city, Durres is the oldest city in Albania and one of the oldest in Europe. Known for its' Roman amphitheater, it also has sandy beaches and excellent restaurants along the water.
From Durres, head south to Berat. Perched high above the town is Berat Castle, one of the last inhabited castles in Europe. A UNESCO World Heritage Site, Berat is also known as the City of 1000 Windows. Traditional white houses are built close together, rising up the steep hills and their large wooden windows seemingly overlook the town, earning Berat its' nickname.
From Berat, head west towards the coast to the town of Vlorë. This is where the Adriatic and Ionian seas meet, which makes for excellent beaches. There are beaches in the city and also stretching down the coast for a few kilometers. Vlorë is also where Albanian Independence was declared. Flag Square and an independence monument in the center of town pay tribute to this.
From Vlore, head further south to Gjirokastër. Like Berat, Gjirokastër is a UNESCO Heritage Site, earning the distinction for its' well-preserved and rare Ottoman-style architecture. It's also the birthplace of communist leader Enver Hoxha and writer Ismail Kadare.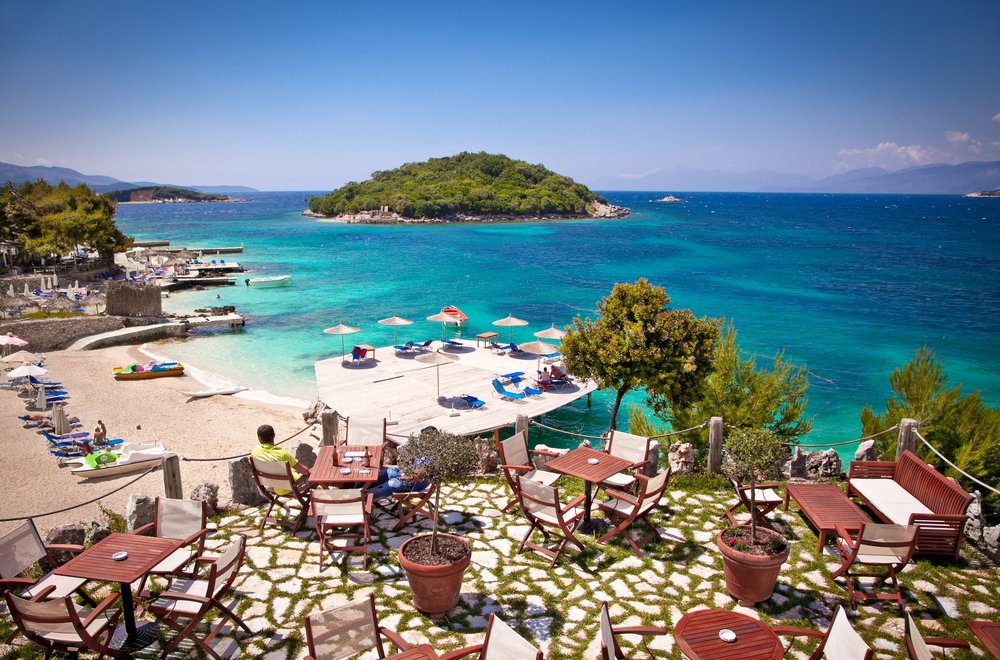 Head back to the coast and visit the town of Sarandë. Often called the capital of the Albanian Riviera, it's a popular beach destination. Boasting a perfect beach climate and surrounded by hills of olive groves, it's a perfect place to relax and finish your road trip of Albania.
Grossglockner High Alpine Road (Austria)
By Anjali Chawla of Travel Melodies
A road trip through one of Europe's highest alpine road, Grossglockner High Alpine Road or Grossglockner Hochalpenstrasse is hands down one of the most awesome road trips in Europe or rather the world.
How can you not feel the adrenaline rush through your veins as you climb to 3,000 feet while swishing around the 36 hairpin turns? The Grossglockner is a 48 km stretch that starts in Salzburg and ends in Carinthia.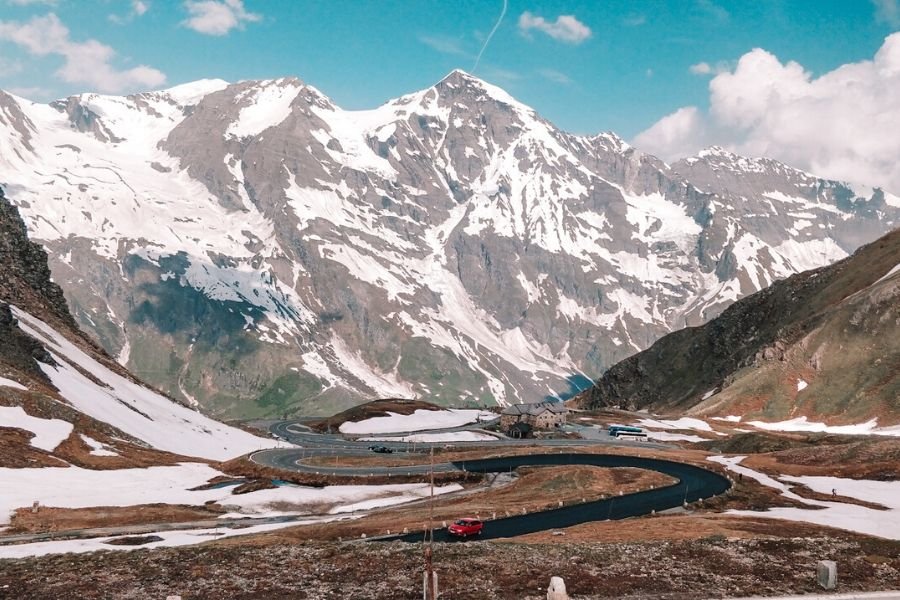 The best part about the road journey is it taking you through the oldest national park in Austria and one of the largest in Europe, Hohe Tauern National Park. Meaning, you're going to witness the mother nature up close. Snow-clad peaks, gleaming white glaciers, gushing waterfalls, lush grasslands, lakes as clear as crystal, rare and exotic flora, and fauna, and well, in short – the road trip has it all!
There are tons of amazing stops to make along the Grossglockner road trip. The road is dotted with amazing attractions like museums, themed playgrounds, expositions, and offers scenic hiking opportunities. To tell the truth, you'd not wait for the stop to stop and admire the ethereal beauty all around.
Wild-& Erlebnispark Ferleiten, a wildlife park that's home to about 200 animals in the Alps, should be your first stop on this iconic road trip, especially if you're traveling with kids.
Make Haus Alpine Nature Exhibitions your second stop to know more about the alpine ecology as it was during the construction of the engineering marvel called the Grossglockner.
The most thrilling stop on this road trip itinerary will be Edelweißspitze, famously known as Biker's Point for the right reason. You can't, in your right mind, drive up to this highest vantage point in a car, taking into account a narrow winding access road and the harsh winds. What's so special about it? It gives you a 360-degree panoramic view of the region encompassing more than 30 mountains. You can park your car and walk up to the lookout point to enjoy the view.
Fuschar Törl is a must-stop as it unfolds the first view of the mighty Grossglockner. You may want to stop at Fuschar Lake and pay a visit to Herbert Haslinger, who tames alpine marmots at Mankei-Wirt. You can meet and have fun with the adorable marmots.
Visited by Emperor Franz Josef along with Empress Sissi in 1856, Kaiser-Franz-Josef-Höhe is a unique vantage point that offers the views of Grossglockner, Pasterze (Austria's longest glacier), the black mountain, and Glocknerwand, and Johannisberg mountains. Also, many of the famous Grossglockner hikes like Gamsgrubenweg Trail and Pasterze Glacier Trail start from here.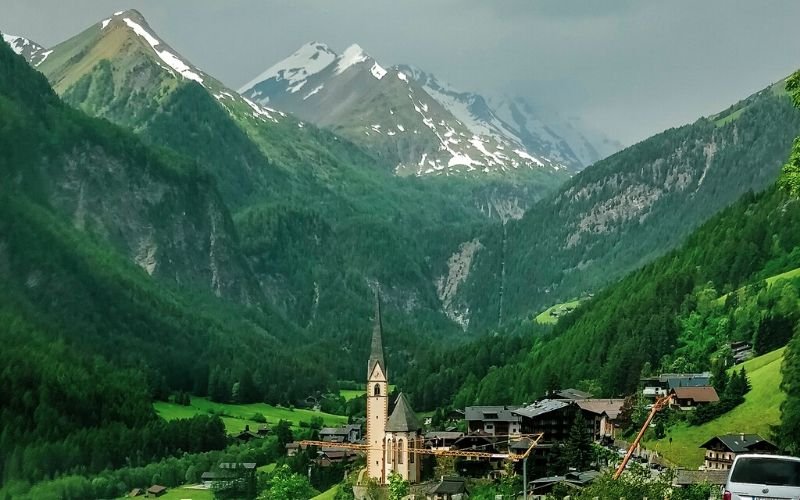 The last leg of the road trip is Heiligenblut, a quaint village known for its church of St. Vincent.
Pin These Europe Road Trips for Future Inspiration!
Allison Green is a former educator turned travel blogger. She holds a Masters in Teaching and a B.A. in English and Creative Writing. Her blog posts merge her educational background and her experience traveling to 60+ countries to encourage thoughtful  travel experiences that both educate and entertain. She has been a speaker at the World Travel Writers Conference and her writing, photography, and podcasting work has appeared in National Geographic, CNN Arabic, CBC Canada, and Forbes, amongst others. Now based in the San Francisco Bay Area where she grew up, she has also lived in Prague, Sofia, and New York City.